You know how some people love to read novels in their spare time? Well, I can get lost in a good cookbook for hours.
The best kind of cookbooks broaden my knowledge of ingredients, methods and combinations. They inspire me to jump up and whip something together in the wee hours of the night. And, of course, the recipes taste GOOD.
Over the past few years, these cookbooks have helped guide my thinking on nutritional needs for me and my family, as well as educated me on new methods and ingredients to use while cooking and baking vegan and plant-based meals. They are also a source of inspiration for healthy eating, wellness and really, really good food.
These cookbooks would make excellent gifts for your foodie friends and family.
Most of the time, my iPhone or iPad is accompanying me in the kitchen instead of a cookbook. So, I'll also share with you the apps I use to keep track of my own recipes and recipes I've discovered on the internet.
Vegan and Plant-Based Cookbooks I Love
The Starch Solution – Carb-Friendly, Plant-Based Diet and Cookbook
The Starch Solution by Dr. John McDougall, MD and Mary McDougall helped me to finally understand how weight gain and weight loss works. It is the only "diet book" I have ever read that didn't make me feel like if only I had more willpower I could lose 30 pounds in a month. This book is reasonable, well-researched and makes sense. In addition to the recipes here, Dr. McDougall and his wife, Mary, have thousands of free recipes on their website to peruse and try.
I highly recommend this book.
Read it cover to cover.
Forks Over Knives – Plant-Based Diet and Cookbook
Forks Over Knives: The Plant-Based Way to Health is the companion book to the documentary that started this vegan, plant-based journey for us. I recommend watching the documentary first. The book provides more information and over 125 recipes to get you started.
The Engine 2 Diet – Plant-Based Diet and Cookbook
The Engine 2 Diet: The Texas Firefighter's 28-Day Save-Your-Life Plan that Lowers Cholesterol and Burns Away the Pounds by Rip Esselstyn shows that a vegan, plant-based diet is healthy and effective for active, fit individuals. There are also Texas firefighter-tested and approved recipes that are delicious.
Isa Does It – Vegan Comfort Food Cookbook
Isa Does It: Amazingly Easy, Wildly Delicious Vegan Recipes for Every Day of the Week by Isa Chandra Moskowitz is vegan comfort food at it's best. Nothing in this book tastes like what uneducated people think vegan food tastes like. Expect amped-up flavor and comfort food. Drool.
Eating Clean – Vegan, Gluten-Free Clean Eating Cookbook & Detox
Eating Clean: The 21-Day Plan to Detox, Fight Inflammation, and Reset Your Body by Amie Valpone is a new addition to my cookbook collection. My friend, Helen, introduced me to the book and I have been thoroughly enjoying exploring and experimenting. So far, my favorite is the Moroccan Chickpea Crust Pizza with Carrot Cashew Herb Drizzle. Vegan, gluten-free and clean recipes.
Tangy, Tart, Hot and Sweet – Mouthwatering Food Journey and Cookbook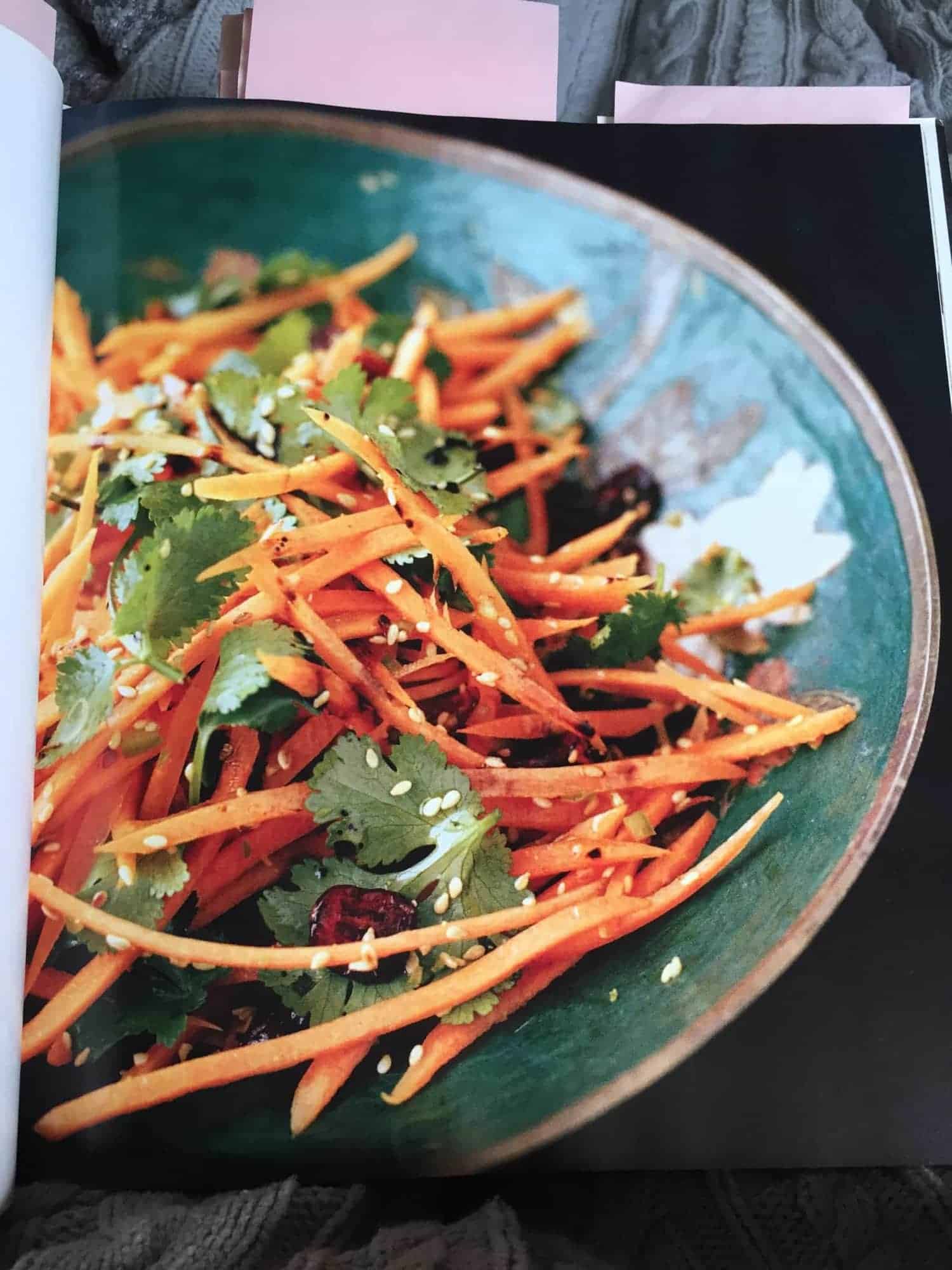 Tangy, Tart, Hot and Sweet – A World of Recipes Every Day by Padma Lakshmi is such a joy to read. While this is not a strictly vegan cookbook, many of the recipes are veggie-heavy and can easily be converted. She takes you on a culinary journey like no other. The stories she shares about her memories of food make you feel like you were there. Exotic ingredients. Fresh flavors. Mouthwatering photos.
Blissful Bites – Vegan Cookbook
Blissful Bites by Christy Morgan was the first vegan cookbook I bought, because I attended a cooking demo/class by the author, Christy Morgan, here in Houston. So, it was the first introduction to making my own beans, using tofu in new ways and just really healthy eating.
iPhone Recipe Apps
Evernote App
Evernote – My #1 App for Recipes
When I'm working on a recipe, I keep my recipe, notes and photos in Evernote. This is a powerful note-taking app that has Mac, iPad, iPhone and Android apps and is free to use. They also have a web clipper, so that you can save recipes you find on the web for later use. You can organize your notes into folders to keep things sorted. But, it's not necessary for those us that are organizationally challenged.
Everything, even text in photos, is searchable in Evernote. It even tries to decipher handwritten text in photos, although it has trouble translating my chicken scratch. So, no need to be excessively organized. Looking for the Venezuelan Cilantro Avocado Sauce? Search "venezuelan" or "cilantro" or "onion" (one of the ingredients). It will find your note.
Pinterest App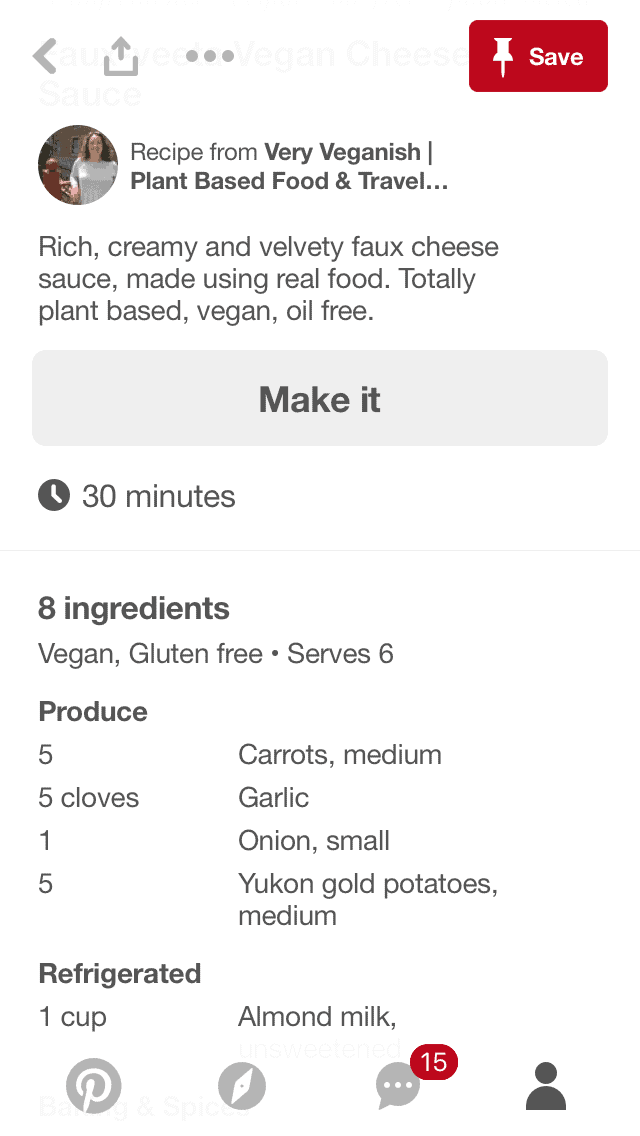 Pinterest – My #2 App for Recipes
Pinterest is better classified as a search engine than a social network. In fact, reports are that it is the 4th largest search engine on the internet. So, chances are, you're going to find recipes you love searching there. If I don't have a recipe saved in Evernote, I have it saved in one of my Pinterest boards.
Rich pins on Pinterest make it easy to see ingredients before you decide to pin the recipe. Just scroll down a bit under the photo and you'll see the ingredients in the recipe without having to click over to the website. If it's chockfull of things you don't want to cook with, move on.
Forks over Knives Recipes App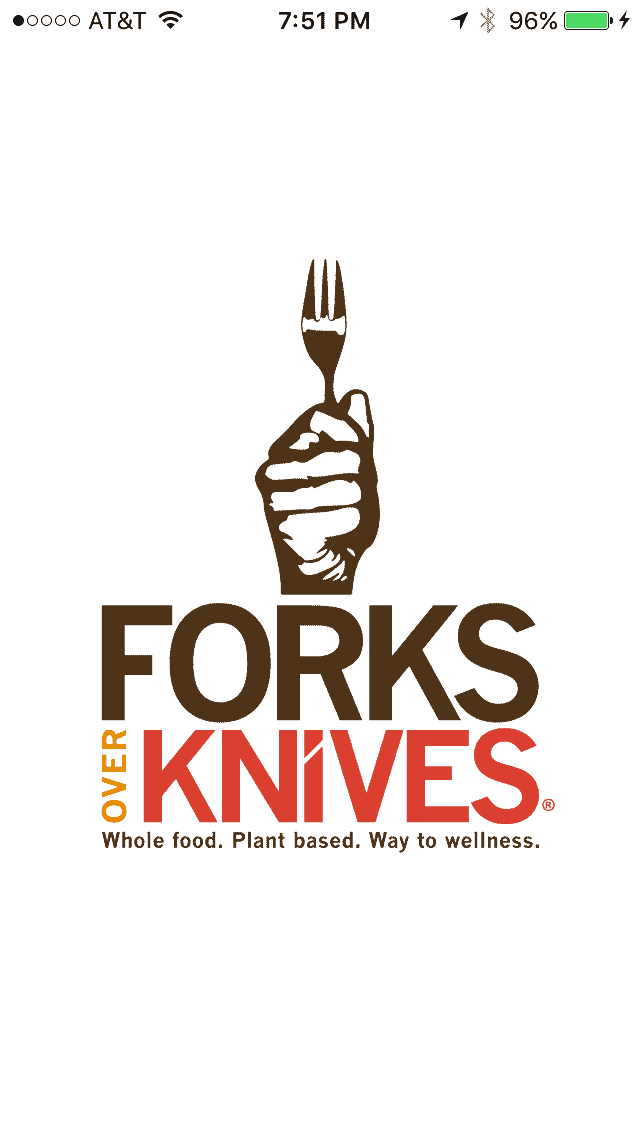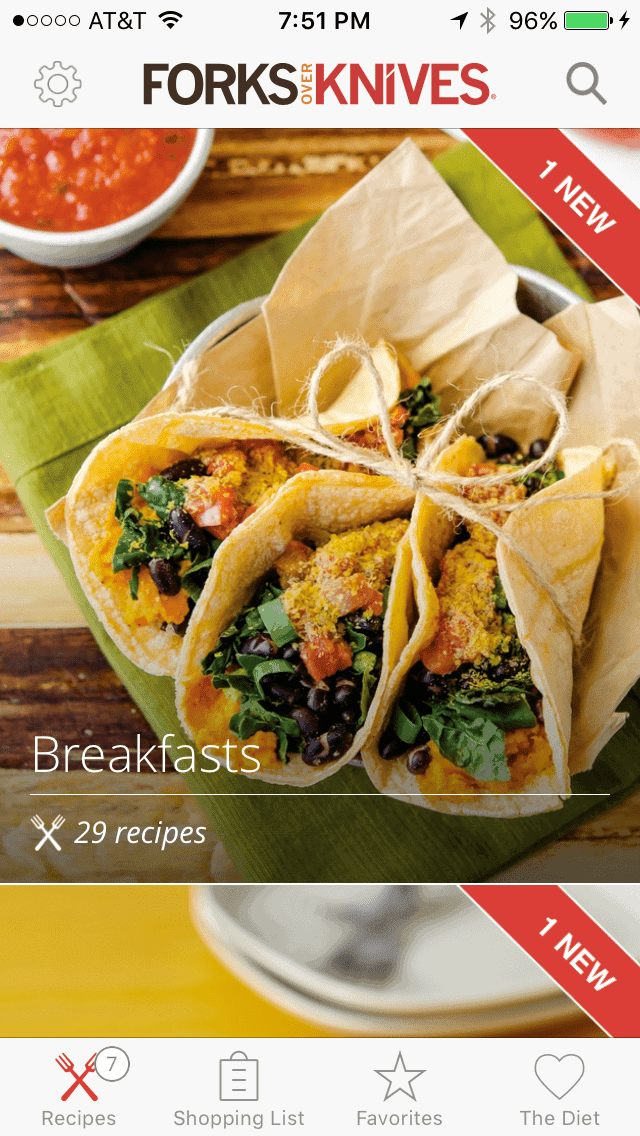 Forks Over Knives – My #3 App for Vegan & Plant-based Recipes
I know without a doubt that the recipes I'm seeing here are all plant-based vegan, with no added oil. So, I can browse without having to overly tax my mind and pantry thinking of substitutions. It also has options to hide recipes with nuts or gluten.
BONUS! Oh She Glows Vegan Recipe App
Oh She Glows – My #4 App for Vegan Recipes
This app is absolutely gorgeous and full of beautiful vegan, plant-based recipes to try.
Whole Foods
Unfortunately, I can no longer recommend the Whole Foods App. It served as a wonderful resource for years because you could easily filter their over 3,000 recipes into categories like "vegan". There is a delicious Mediterranean Chickpea Stew I served over couscous that I have referred to many times over the years.
During the last update, they removed the recipes from the app. You can still search for them on their website, thankfully. But, I had saved many, many recipes on the app that are now lost.  <insert sad face>
Your Turn: Do you have a favorite veganish cookbook or app you use for recipes?
Pin for Later!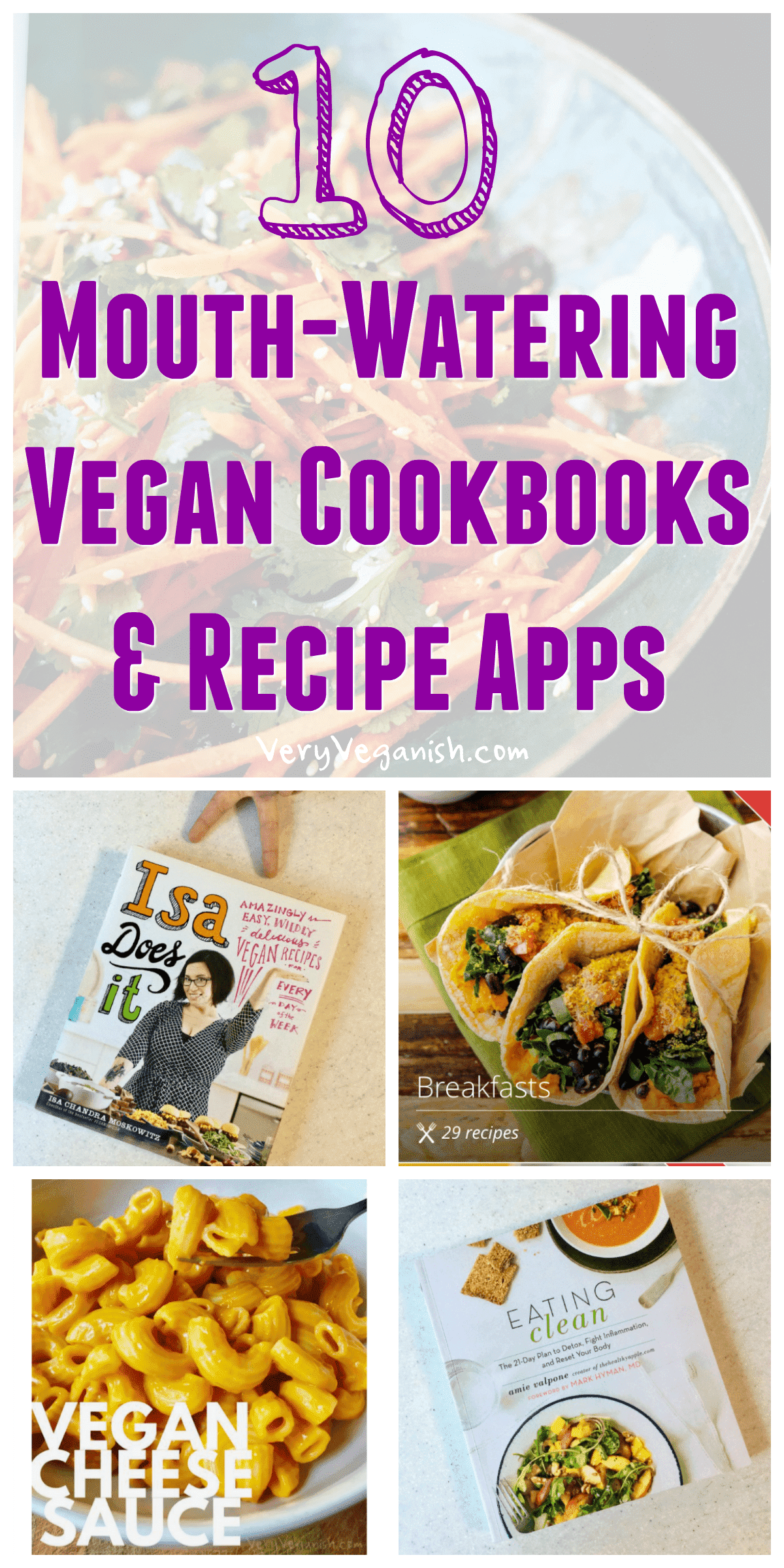 This post contains affiliate links.  That means that if you click on them and purchase something, I may receive a small commission.  This helps support the blog and our family.  We thank you!