We have made several trips to Kentucky over the years to visit friends.  It's a beautiful place throughout the year, but the fall is especially breathtaking.  Especially on those narrow windy roads when you'd be completely content to get lost and enjoy the silence.
The town we visit is Liberty, in Casey County.  It has two, no, three stoplights, I think.  The locals say it's "just like Mayberry".
One of the highlights of the town of Liberty is Staat's Bakery.  A small family-owned and run establishment, Staat's is big on heart and quality.
Our favorites are their dutch round bread and shortbread cookies.  They specialize in dutch pastries, including crisp and delicious stroopwafles.
Owners Catherine and Blaine Staat are as sweet as their sweets.
Staat's carries local flour from Weisenberger Mills, which it also uses in their various baked goods.  Catherine was so enthusiastic about the long-standing mill that we made time to visit it when we went to Lexington.
Weisenberger Mill is located on South Elkhorn Creek in Southern Scott County, Kentucky.  According to their website, "the creek has provided the water to power the mill's twin turbines since the 1800's. Six generations of Weisenbergers have operated the mill at the present location since 1865."
If you head south from Liberty into the South Fork Road area, you'll be delighted by a beautiful and quaint community of Amish and Mennonite families, who run a number of businesses in the area.  Two we frequent when we're in town are Laverne's Country Store and Sunny Valley (formerly Nolt's). Both offer a wide variety of locally grown produce and locally made jams and jellies, along with many other things.  Come in the fall and you can also pick up gorgeous mums and incredible fresh apples by the bushel.
It's fun to find the really strange pickled items.
Back at our friend's house, a cup of tea by the fireplace is serenity.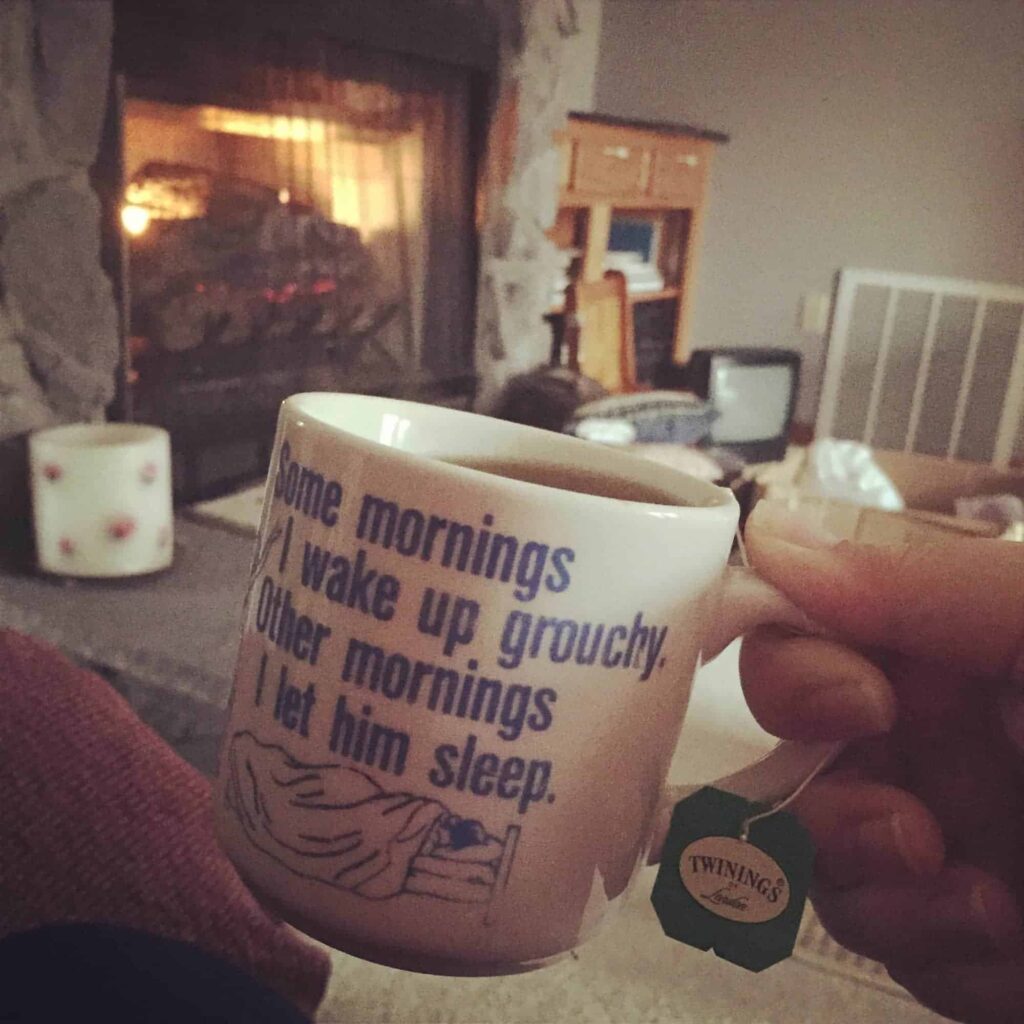 At our friend's house outside town, random wild produce grows at different times of the year, such as these wild green onions. We've also seen pokeweed (a green that tastes like spinach) and wild chamomile grows in their driveway.
Another spot we've recently come to love is Blue Bird Cafe in Stanford, about 20 minutes northeast of Liberty. One of Central Kentucky's premier farm-to-table restaurants, it was a real gem for Houstonians far from home that are used to being spoiled by a plethora of top notch eateries to choose from.  In addition to having really great food and being vegan-friendly, this is where I was introduced to Elmwood Teas.  And, you know how much I love tea.  The Kentucky Blend black tea was like a good strong English Breakfast.  We have since visited Elmwood Teas in Danville and tried many of their teas.  Elmwood deserves it's own post in the near future.
Kentucky is a place we never tire of visiting, mainly because of the good friends we have there.  But, the surrounding area is a delightful supplement to fine association.