Hands down, the most incredible experience I had in the Yucatan was swimming in a cenote (pronounced "seh-NO-tay"). Swimming in a cave is a once in a lifetime experience.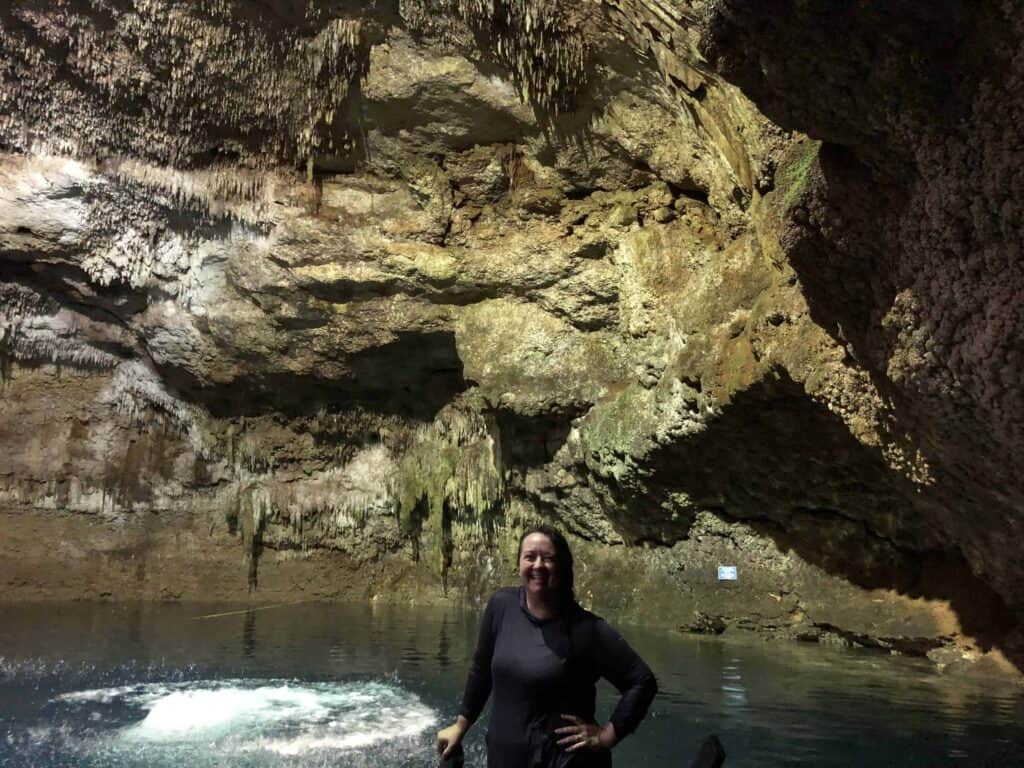 Jump to:
What is it? Just a cave?
What is a cenote, you ask?
A cenote is a natural pit, or sinkhole, resulting from the collapse of limestone bedrock that exposes groundwater underneath.
Basically, it's a natural, freshwater pool INSIDE A CAVE.
You can find cenotes in several places around the world, but the Yucatan Peninsula is especially known for their many breathtaking cenotes.
What to do: Swimming in a cave
Can you swim in a cenote?
While it would be amazing just to see into a cenote, you can actually swim in one.
Or, if you're freaked out by that or don't swim too well in deep water, you can just walk around in the water at shallow cenotes, or float, or sit on the side.
If you're especially adventurous, there are tours that will take you scuba diving in cenotes. I'm not there yet, folks. Sorry!
I can swim but have never been scuba diving. The thought is a little scary to me.
Can you get sick from swimming in a cenote?
We swam in Cenote Tankach-Ha and did not get sick. But, we were mindful not to get the water in our mouth or swallow any water.
In general, it is wise to follow the hygiene rules you would follow at a public swimming pool or even the ocean. Rinse off before and after and don't drink the water.
Which one to go to
Cenote Tankach-Ha
They have many different cenotes around the Yucatan, depending on what you and your family and friends want to experience.
Some are shallow, some are deep, some are big, some are small.
We chose Cenote Tankach-Ha, near the Mayan town of Coba from a brochure given to us when we left the Coba Ruins.
Driving up to the cenote, it looks like nothing much.
You pay your fee (about 55 pesos per person in cash), park and go change into your swim suit and rinse off in the showers provided. Life jackets are available, as well.
Then you head down a very steep and wet wooden spiral stairway, into the cenote. At the bottom, you step onto a wide concrete platform covered in a few inches of cold water.
There is one large fluorescent light and a "lifeguard". I use the term loosely, because he didn't move a muscle while we were there and may very well have been asleep.
How deep is Cenote Tankach-Ha?
Ranging from 4-35 meters deep with crystal clear water, Cenote Tankach-Ha is primarily for groups who can swim or want to dive from one of their two diving boards.
However, if you're not feeling brave, you can hang out on the concrete platform, dangling your feet over the side taking in the beauty and delighting in watching the tiny catfish swimming around.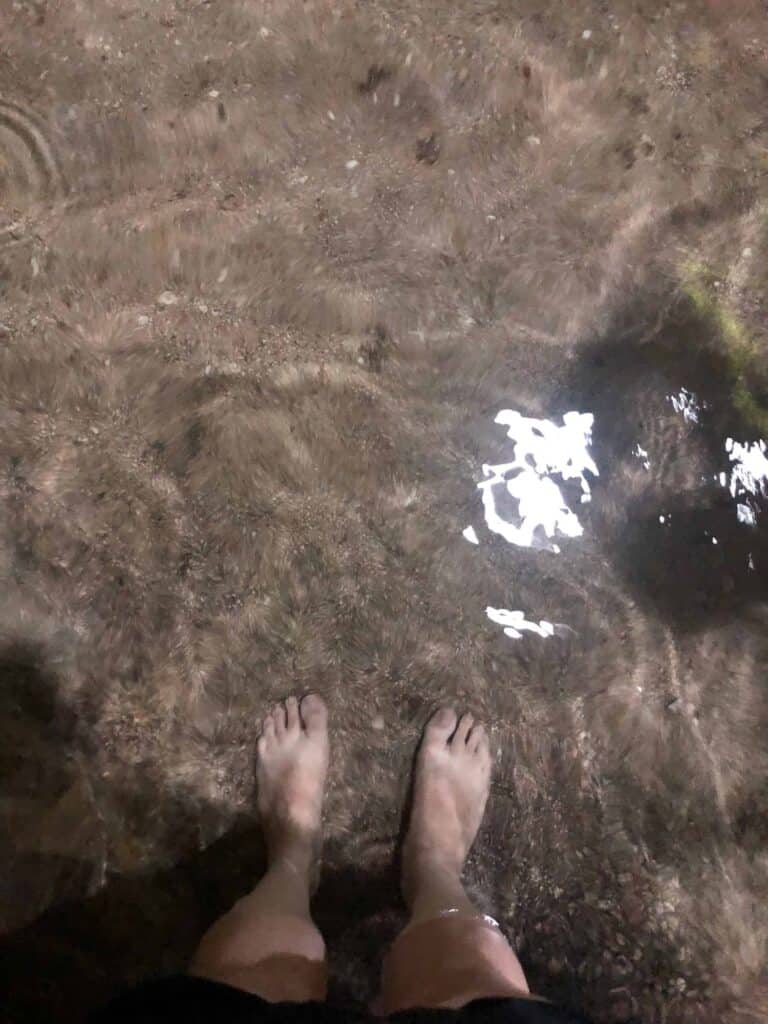 The water is cold. Like take your breath away cold. You get used to it being in the water after awhile.
It's quite refreshing after hiking the Coba ruins in the heat. I highly recommend experiencing a cenote while you're in the Yucatan.
How to get there
Getting there from Playa and where to eat
Cenote Tankach-Ha is about 90 minutes from Playa. The driving route takes you through Tulum, which has many fantastic places to stop for breakfast.
For something quick and a restroom break, stop at the Super Aki Tulum at the corner of highways 307 and 109. There is an ATM right there, also, if you need to get cash out.
We ate at El Pez Hotel Tulum, a beautiful beachside hotel/restaurant, to fill us up before making the trek to the ruins.
Eating a leisurely breakfast under a huge palapa staring at the ocean was a peaceful way to start the day.
Be sure you have time, because they do not rush here. I think it took 15 minutes to get another piece of toast.
But, this 'I'm not rushing for anything' mentality that is somewhat typical of coastal towns and islands, is part of the allure of Mexico, isn't it? Embrace it and allow it to slow you down.
Once in Coba, we chose to hike the Coba Ruins first, then cool off in the Cenote, which I highly recommend, because you will be tired and hot after going to the ruins.
Bring some snacks (bananas, nuts, totopos and guacamole in a cooler) and bottled water along because you'll want a bite after getting back to the car.
There are a few places to eat lunch or dinner in Coba, but we chose to stop back in Tulum for dinner because they have so many options before heading back to Playa for the evening.
Have you been to a cenote? Where was it? Did you enjoy your experience there?
You might also like...