Grocery stores are some of my favorite places to go, y'all.  Even if I know what I need to get, I can't help but wander around, up and down every aisle, exploring the smorgasbord of possibilities.
So, I had to go check out the new Whole Foods in Westchase, on Westheimer at Wilcrest, just west of Beltway 8.  Our hairdresser used to have her studio in the shopping center with the old Whole Foods across the street from their new location.  In fact, that's where I tried Israeli pearl couscous for the first time and fell in love with it.
The new store is bigger than the old one and has the features of a brand new Whole Foods, as you would expect: Fresh Juice and Smoothie Bar, Beer Station with local brews on tap, Made to Order Sushi, etc.  When I walked in, I was struck by the openness.  Sometimes, a walk through a Whole Foods can feel a bit like a maze, but this location seems to be laid out with more space horizontally and vertically.
There were plenty of deals to be had on produce, white orchid plants, even Veganaise (we like the Grapeseed Oil version).  And, quite a few samples out to try, as well.  The assorted pickled samplings from Hat Creek Provisions were especially delicious.  Tangy, but not overpowering.
There were tons of vegan and plant based options to choose from in the refrigerated section.  Plus, a plethora of plant based milks. Yippee!
Food safety managers were on hand checking the temperature of the gorgeous olive and antipasto bar, which was reassuring.
The vegan mediterranean pizza was calling my name but I had plans to go to Oishii afterwards, so I resisted.
The seating area was packed with opening day visitors.  While the area was a good size, the tables are directly in front of the check out lanes, so there's not much privacy.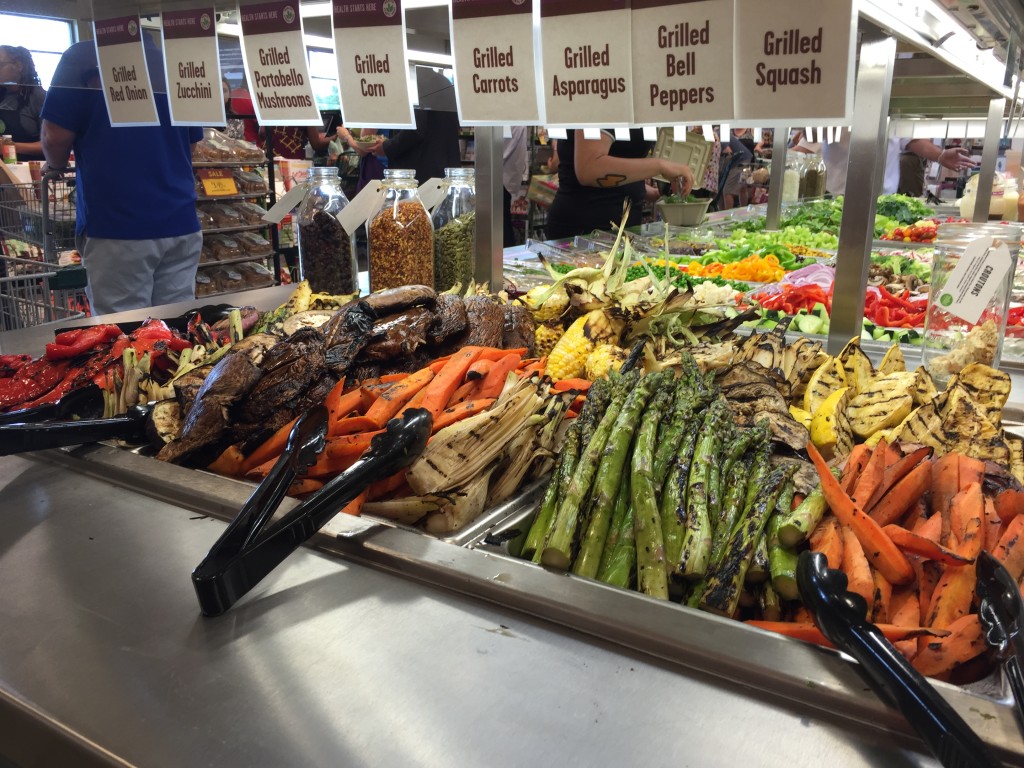 Sushi burrito?  Hello!  I could totally go for one of those.
No Whole Foods post would be complete without what our family calls "crunchy bread".  Whole Foods has the best tasting French baguettes this side of the Atlantic.  We are known to buy two - one for dinner and one for the car ride home.
Overall, the store is beautifully designed and well-appointed.  I encourage you to check it out if you're in the area!