Mohonk Mountain House is a historic mountain resort nestled in the Shawangunk Range of the Catskills in upstate New York. The resort has a wide range of premium amenities (at a premium price), but for this post I will be sharing the perks we enjoyed as day guests.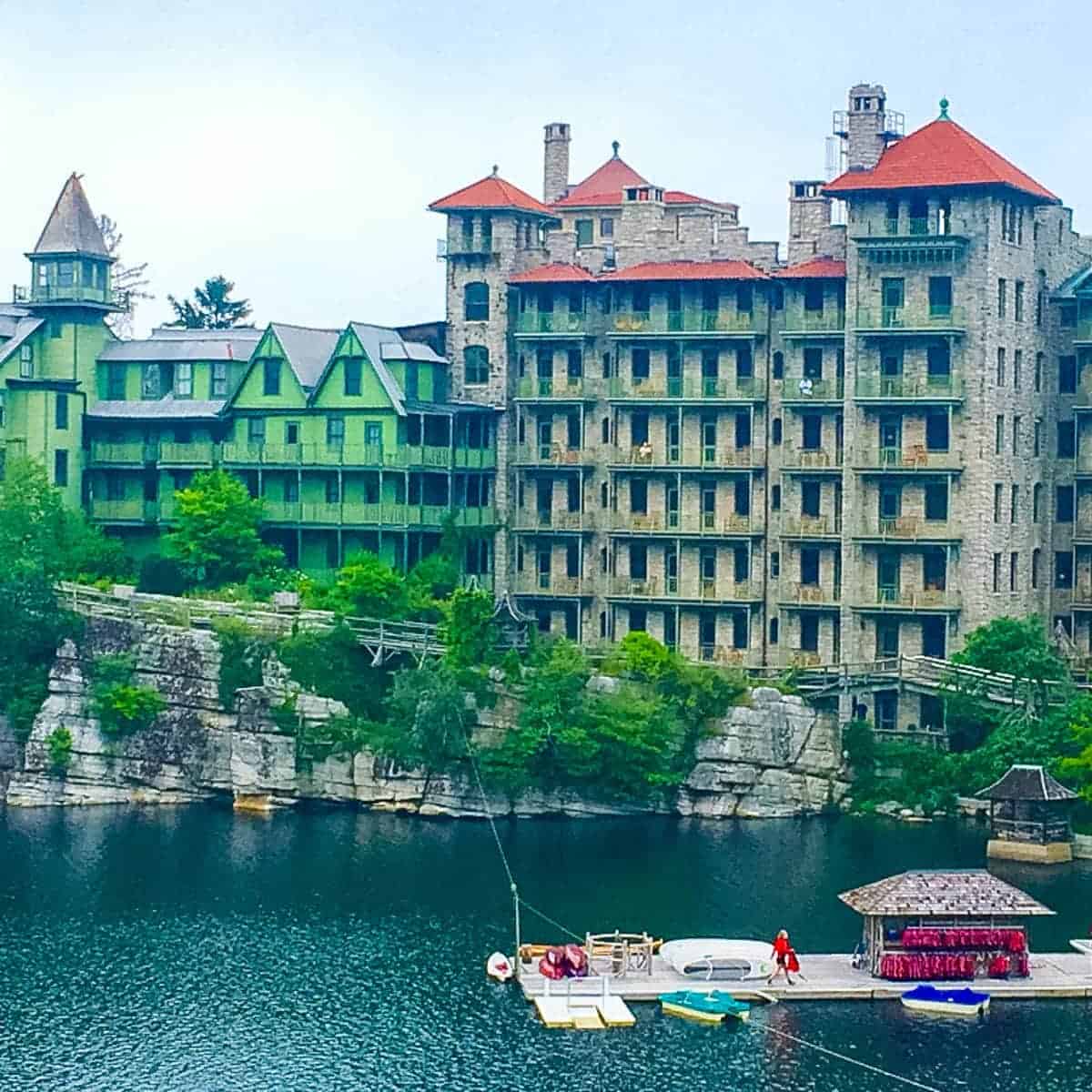 Jump to:
The perks
As summertime day guests of Mohonk Mountain House, we enjoyed a lavish breakfast buffet before hiking the mountain, paddle-boating on the lake and sipping hot tea and freshly baked cookies on the massive lake-front porch.
What do you have to do to be a day guest?
To be considered a day guest, you have to purchase a meal or premium activity (spa service, outdoor recreation package, round of golf). Doing this allows you access to several perks:
Hiking pass included
Parking at the house (versus having to park at the bottom of the mountain by the gate house and hiking up the entire mountain on your own)
Access to tour or relax in and around the house resort all day
Sitting on the front porch
Tea and cookies at 4pm in the lounge
Evening entertainment
Is it worth it?
A resounding yes. Just to hike the mountain, you have to pay $21-26 per adult for a hiking pass, depending on the day you go.
And, you better be looking for a hike, because you'll have to park at the gatehouse, then hike your way up the mountain to where the resort sits, THEN hike your way to the top. And, you have no other access to the resort.
The cheapest option for being a day guest is to make a reservation for the breakfast buffet.
It runs a pricy $42.50 per adult plus tax and tip (tip is designated and paid for when you make your reservation), but includes all of the above perks. For us, this was well worth it.
Breakfast buffet smorgasbord
Breakfast is served in the main dining room, with spectacular views. Multiple buffet lines offer a smorgasbord of morning munchies.
The waffle and omelet station were maned by chefs ready to prepare your food to order.
Two buffet lines were lined with the usual premium hot breakfast offerings.
Two more buffet tables were setup with all varieties of cereals, oatmeal, muesli, yogurt, fruit and nuts. Then, there were the pastries, such beautiful pastries.
Vegan breakfast options
I spotted several vegan offerings: pan fried potatoes with onions, toast with jam, oatmeal, cereal, fresh strawberries, blueberries, raspberries, dried cranberries, raisins and nuts.
The chefs at the omelet station would have gladly sautéed some fresh onion, mushrooms and tomato to eat with toast. For vegetarians, there were even more options.
At our table, we were attended to by meticulous waiters that offered coffee, tea, juices and water to drink.
I opted for hot tea and was served a white pot full of Mohonk Tea, a classic orange pekoe and cut black tea. In strength, it was between a Darjeeling and English Breakfast. I enjoyed it so much that I picked up a box to take home and a box for a tea-loving friend of mine.
Reservations
Try to get the earliest reservation you can handle, so you have more of the day to enjoy the mountain.
There's a lot of walking and hiking and activities, so you want to be able to take advantage of your whole day. Fill up on breakfast and pack a light lunch/snacks to hold you over until tea time.
The hiking
After stuffing yourself at breakfast, be sure to fill up your water bottle (or buy one in the gift shop) and take a restroom break before heading up on your hike. I did not see very many restroom facilities along the way.
It was a beautiful hike. Absolutely gorgeous. The views kept getting better and better the higher we climbed. The trails, bridges, benches and look-outs were all very well-kept and maintained.
We were on the easy trail going up. There are 85 miles of trails on the mountain to choose from.
Looking for a challenge? The Lemon Squeeze is not for the faint of heart. It is challenging even for experienced hikers, as we found out when two hikers were calling to us for directional assistance from in between massive boulders because they had missed a turn.
We were a group of 8, including several over 55, so we took our time as we hiked. It took about an hour to reach the top.
Some of us also climbed the few sets of stairs to the top of the tower. We took in the breathtaking views from every angle.
I just love, LOVE, being in the mountains. The air is cool and fresh. The views are incredible. And, I just can't help but feel small in the grand scheme of things when I'm in the mountains. It's good to humble yourself every now and then.
We took our time to head back down, happy to be on the downhill trek.
The waterlily pond
As we meandered down, we stumbled across a pond chock-full of water lilies, reminiscent of a Monet painting.
You would have thought we wandered into Giverny. One of the children's groups from the resort were trying to catch frogs in their nets.
The garden
The garden at Mohonk Mountain House is impeccably kept. There were flower beds, a maypole, treehouse and maze to get lost (and hopefully found) in.
Incredibly vibrant blue, white and purple delphinium caught our attention immediately. All the other flowers paled in comparison.
We found respite in the vine covered treehouse until other hikers wanted a peek inside the treehouse too.
The Lake
Paddle boats, kayaks, paddle boards and long row boats were all available to rent to explore the lake, for a small rental fee.
I think we paid $15 for a paddle boat for two people for 30 minutes on the water. Dipping my toes in the cool water was refreshing after a long day.
Rocking on the porch
Looking out from the front porch, where rocking chairs invite tired hikers, the lake view never gets old.
It was here, gliding slowly back and forth, where I clumsily dropped my iPhone out of my lap. It swiftly slid onto the porch and underneath the iron railing and into 45 feet of water in the lake.
Bloop.
May she rest in peace.
Tea and cookies
If you stay until 4pm, as a day guest, you are invited to tea and cookies in the lounge. Mohonk Tea is served piping hot. They also offer a variety of other teas, some caffeine-free.
The cookies are amazing, fresh and hot, but not vegan. The two cookies on offer the day we were there were shortbread and chocolate cherry.
They were both very good. I may or may not have drowned my sorrows for my drowned iPhone in four cookies, in quick succession, with a steaming cup of hot tea.
I took a picture of them, but, well, you know. Bloop.
The day ended with a trip to the gift shop and a short stroll to the car for a drive down the mountain back to our lodging near Wallkill.
It was a beautiful experience. I can't wait to go back! But, this time, I'll try to keep my phone in my pocket.
You may also like...
P.S. - Most of these photos were lovingly provided to me by my friends, because my photos from this day were lost at the bottom of the lake. Thankfully, iCloud had backed up the photos from earlier in our trip the night before, so I didn't lose any of those.