In all the different areas of my life, teaching seems to play a big part.  For work, I often find myself teaching my clients the best ways to use social media for their business or how they can use apps and programs to make their lives easier. Our boys are homeschooled, so my hubby and I have a large share in the bulk of their learning.  The volunteer work I take part in includes conducting Bible studies to help my students learn how to draw closer to God.
So, why not teach vegan cooking classes?  It seemed to be a good fit. In talking with friends, I've learned that many people today just don't cook. My first response is why?!? I love to cook so much that I forget sometimes that not everybody does.
Many people today don't have a lot of time to spend in the kitchen. Or a desire to be in the kitchen. Sometimes, though, they just need a little help learning how to make delicious, healthy food at home that isn't too complicated.
Hey, wait, I can help with that!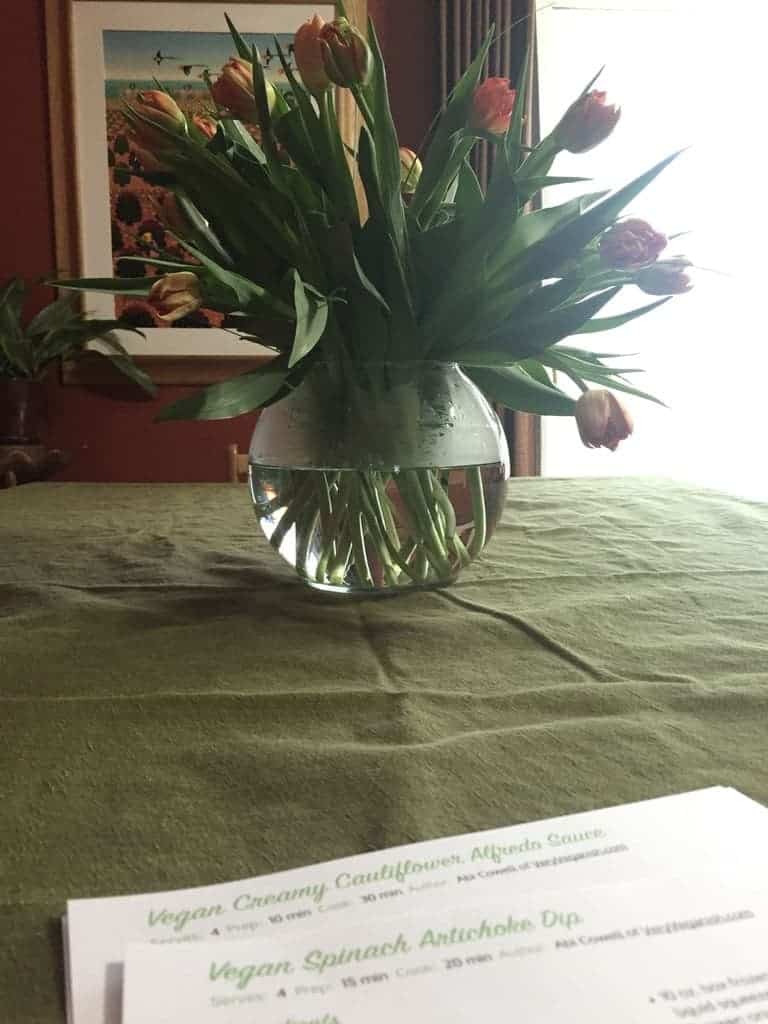 For now, I'm hosting private, invitation-only cooking classes.  We'll see how it goes and who knows where it will go from here.  But, I thought you might like to see how our first class went!
For some reason, I was really nervous for this class, even though I've made these dishes many times before and we tested our fancy new butane stoves the night before.  So, my sweet and loving husband made this certificate for me.  Haha, who knew Gordon Ramsey taught "Nutritional Vegan Home Cooking" classes?  And, that I went to one in July? And, passed with a certificate of awesomeness???  I didn't.  Haha.  It was such a sweet gesture and made me laugh before class started.  And, that's what I needed.
And, look at that beautiful flower arrangement from my friends at Jana's Flowers.  I have amazing people in my life.
On the menu was Vegan Garlic Cauliflower Fettuccini Alfredo and Vegan Spinach Artichoke Dip on Toasted French Bread.
Pasta.  Hello, my beautiful starchy friend.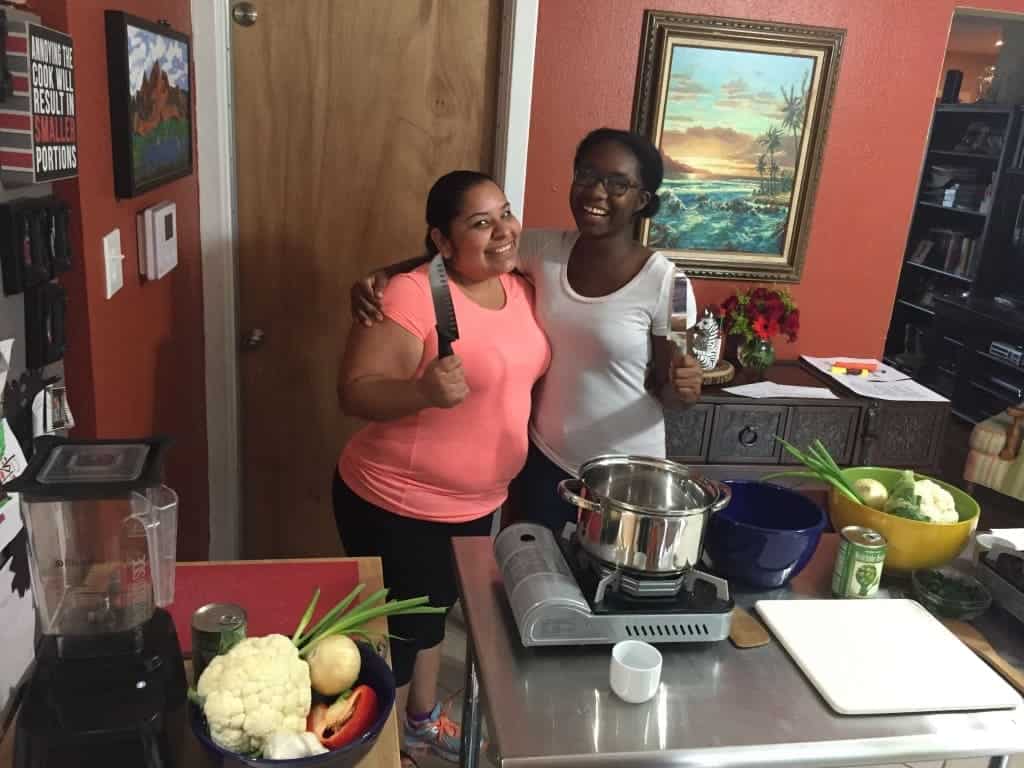 To nosh on while we were busy cooking, we served black olives and cornichons with sliced fresh french bread, iced tea and water.  For a light dessert after a very filling dinner, we enjoyed red and yellow watermelon.  Have you ever had yellow watermelon?  It's really good!  Usually, they're very sweet and kinda make you do a double-take, because you think it's going to taste like pineapple, but it's watermelon.  Great for confusing friends and small children.
When researching portable stoves, I considered using an electric or induction stovetop.  However, several things led me to choose butane instead.  Electric stoves mean wires and that could be dangerous with lots of people walking back and forth and such.  Plus, who actually likes cooking an electric stove?  Anyone? Anyone? Didn't think so.
With induction, you have to use special pans.  Not all pans will work on them.  A positive with induction is that they're safer in that only the top surface gets hot.  And, apparently you can boil water really fast.  But, again, it's basically electric and most of the pans I already own wouldn't work on it.
So, that led me to butane.  Cooking with actual gas fire always yields a better result.  Plus, these little puppies were relatively inexpensive at our local restaurant supply, they pump out over 10,000 BTU and were compact.  Perfect.
All of the students did such a good job!  We had so much fun cooking together.  None of those who attended were strictly vegan.  In fact, most are meat-eaters.  But, they want to learn how to cook different, healthy meals for themselves and their families.
This Vegan Spinach Artichoke Dip is loaded with onion, garlic, bell pepper, artichoke, spinach and made creamy using Tofutti Sour Cream.  We served it on lightly toasted slices of fresh French bread from the Parisian bakery in Chinatown.
Next, we prepared the Garlic Cauliflower Fettuccini Alfredo.  This dish is so good.  So versatile.  And, so good for you.  It has no added oil or flour.  The alfredo sauce is made using just three ingredients (if you don't count salt and pepper):
Cauliflower
Garlic
You can use an inversion blender for this, but my Blendtec makes it ultra-smooth and almost frothy.  Pour this sauce over fettuccini and I dare you not to grab a fork and eat it straight out of the pan.
This is delicious with sautéed mushrooms, peas, asparagus or broccoli.  This sauce can be used not just with pasta, but also rice, as a base for creamy soups, as a base for gravy, poured over steamed broccoli, or baked with thinly sliced potatoes into an au gratin.  I did say it was versatile, didn't I?  We make this several times a month in our house, since it's so incredibly tasty and simple.
Without further adieu, here are the recipes we made for our very first vegan cooking class.  Enjoy!
Vegan Garlic Cauliflower Fettuccini Alfredo
Creamy, luscious vegan fettuccini alfredo made with no oil, so is plant-based and McDougall compliant.
Ingredients
1 lb fettuccini
1 large head cauliflower, broken into florets/pieces (about 2 pounds or 9 cups)
1 head garlic, coarsely chopped (about 8 large cloves or 1/4 cup)
1/2 cup of almond milk, or other plant-based milk
salt and pepper
Instructions
Cook pasta according to package instructions and keep warm.
Add cauliflower to stockpot and cover with water. Boil over high heat until tender.
Meanwhile, gently sauté garlic in small pan until fragrant. Add tablespoon of water, if garlic starts to stick. Cook only until garlic is fragrant or starting to brown on the edges, do not overcook or burn.
Drain cauliflower and add to blender, along with sautéed garlic, almond milk and salt and pepper. Blend for about 60 seconds, or until completely pureed and smooth. Taste and add additional salt and/or pepper, as needed.
Serve tossed with pasta (fettuccini, linguini, macaroni, rigatoni are all good options). Top pasta with (or as a side) steamed broccoli, sweet green peas and/or sautéed mushrooms. Alternatively, this sauce is also excellent in rice, potatoes or just over steamed broccoli.
Notes
This is delicious with sautéed mushrooms, peas, asparagus or broccoli. This sauce can be used not just with pasta, but also rice, as a base for creamy soups, as a base for gravy, poured over steamed broccoli, or baked with thinly sliced potatoes into an au gratin.
Nutrition Information:
Yield:

4
Serving Size:

1
Amount Per Serving:
Calories:

269
Total Fat:

3g
Saturated Fat:

1g
Trans Fat:

0g
Unsaturated Fat:

2g
Cholesterol:

5mg
Sodium:

145mg
Carbohydrates:

50g
Fiber:

7g
Sugar:

7g
Protein:

13g
Nutritional calculations are done using online tools, such as recipe widget Create. Even though we have tried to provide accurate nutritional information, these figures should be considered estimates.