Vegan, plant-based cooking classes taught by experienced instructor and food blogger, Abi Cowell of Very Veganish. Come cook with me to learn techniques, tips and delicious tried and true recipes!
Past cooking classes taught
---
Vegan Saag with Tofu Paneer and Jeera Rice
A vegan take on the Taj Mahal Indian restaurant-style saag paneer using tofu "paneer", served with cumin seed rice and cashew cream.
Vegan, WFPB, Oil-free, Sugar-free, Gluten-free
---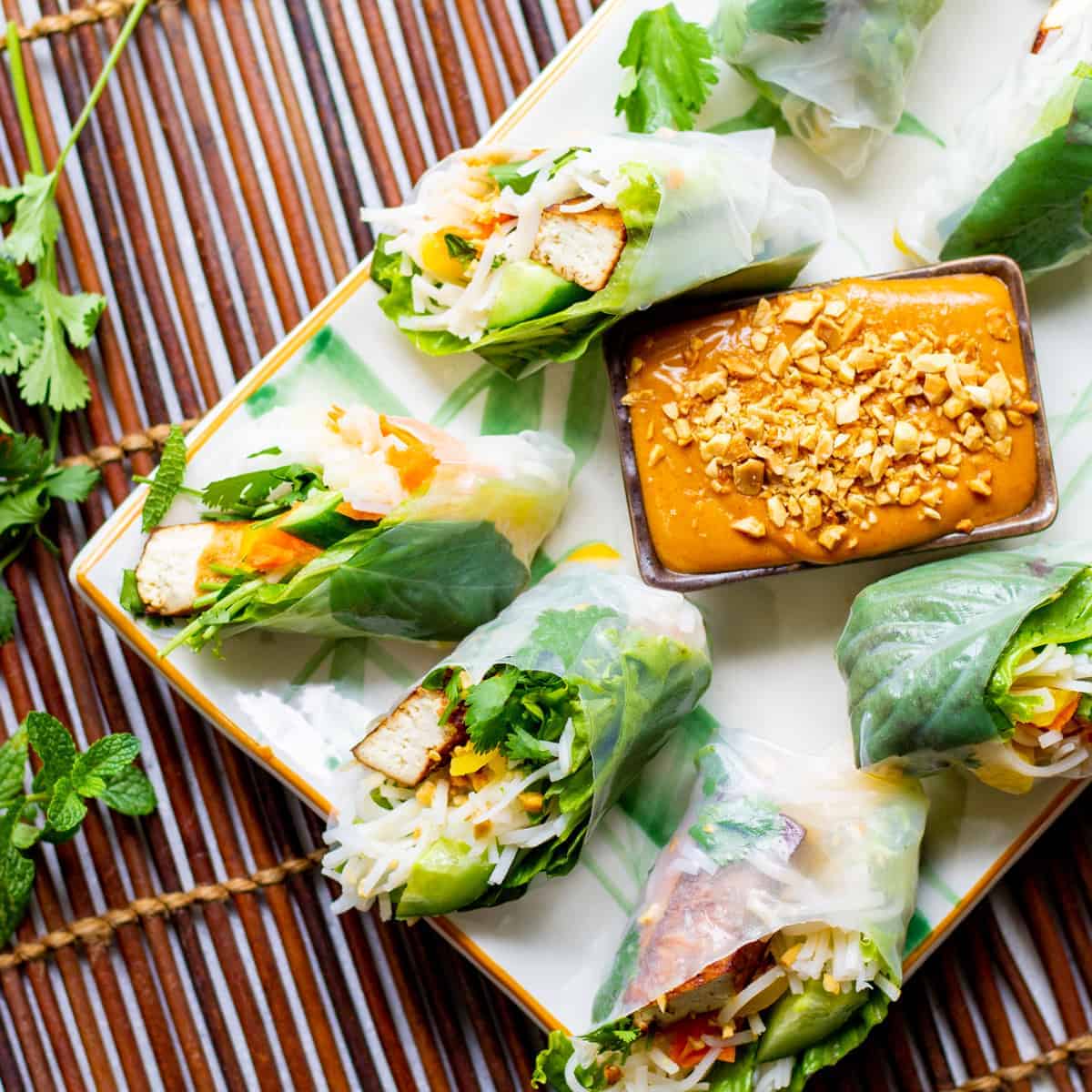 Sweet Chili Air Fryer Tofu Summer Rolls
Fresh and light rice paper rolls with rice noodles, cucumber, carrot, mint and sweet chili air fryer (or baked) tofu. Served with peanut dipping sauce.
Vegan, WFPB, Oil-free (Gluten-free substitutions available)
---
How to Make an Amazing Cup of Tea Every Time
Chris McKann, Owner of Houston's only all-organic tea shop, The Path of Tea, will teach us how to properly brew 5 types of tea: White, Green, Oolong, Black and Pu-erh. How long to steep your tea, what temperature to use, how to prevent bitter tea and more. Get all your tea questions answered live from an expert!
---
"Abi's warm and friendly approach to cooking instruction. I felt like a friend in her kitchen."

— Waverly
---
About your instructor
Hi! I'm Abi Cowell, a plant-based food blogger behind VeryVeganish.com and cooking class instructor with over 10 years experience.
We'll have loads of fun whipping up quick, simple and healthy vegan comfort food recipes together.
I love to cook plant-based meals of all kinds that even my meat-eating friends ask for again and again. I'd love to share my tips and tricks with you. Let's cook together!
What people say about my classes
The class was very well done. It was professional, easy to follow, a chill environment, and educational. I not only got to eat good food at the end but also enjoyed the process.

- Lauren H.
---
"Abi is patient and personable."

— Nickie
---
I like Abi's style of teaching. She's well-prepared and ensures her students have all the information they need prior to class. She has a wealth of food knowledge that she easily shares along the way without being overwhelming. She is relaxed! That helps all attendees to feel relaxed as well.

- T. Head
FAQ
What will we be cooking?
Each class features a different plant-based, vegan recipe or set of recipes. These simple, healthy recipes are designed to be quick and easy to prepare in under 30 minutes of active time for beginner and intermediate cooks.
Do I have to be vegan to attend?
No, absolutely not. In fact, I am not 100% vegan and most of my students are not vegan or strictly plant-based either. All are welcome, no matter how you currently choose to eat. The recipes are designed to be delicious and appealing to all.
What type of recipes are taught?
I teach how to make healthy, but delicious plant-based comfort food. You'll see classes for recipes like fettucine alfredo with cauliflower cashew bechamel sauce, vegan saag with tofu paneer, sweet chili air fryer tofu summer rolls and 30-minute sheet pan teriyaki stir fry.

Batch cooking is my secret weapon for effortless dinnertime, so you'll see batch cooking and meal prep classes pop up at times, too!

Most recipes are whole food plant based with no added oil. Many of the recipes are also refined sugar-free or gluten-free (just message me if you need substitution suggestions for a specific class). Most of the recipes are Forks Over Knives, Starch Solution, even Maximum Weight Loss recipes. So, keep your eyes peeled for the classes that appeal to you and your way of eating.
Where is class?
The classes will be on Zoom! You can watch them from the comfort of your home and cook in the familiar surroundings of your own kitchen. This actually helps you learn the techniques and recipe more effectively, since you will be using your own equipment and tools. After you sign-up for a class, the details, including Zoom info and recipe will be emailed to you.
How long are the classes?
Each class will be about 60 minutes, max 90 minutes.
Can I invite a friend?
Absolutely! You're welcome to have others with you in your kitchen cooking along. If your friend would like to join the class from their own home, just share the link to this page with them so they can get their ticket!
Is the class fee per person or per device?
It's per device!
Do I have to cook?
Nope! If you wanna just observe and cook the recipe another time (or not), feel free to join the class. There's still a lot to learn just by listening and watching.
Do I have to talk?
No! You can talk as much as you'd like or not at all.
Can I turn my camera off?
Of course - while it's usually more fun to have your camera on, you are more than welcome to keep it off.
What if something comes up and I can't make it?
The classes will be recorded! So, if you can't make it in person, you can view it afterwards. When you purchase a ticket, you'll have access to watch the recording for 30 days after class, so no pressure if something comes up last minute.
Are cooking classes on Zoom fun?
Yes! Try it out. You won't be disappointed.
Do you offer private 1:1 cooking classes?
Yes, I do offer private 1:1 cooking classes in person in Houston, Texas or via Zoom. Please contact me to inquire about private cooking sessions.
SaveSave
SaveSave