What to cook on a rainy day? Tacos! Delicious for breakfast, lunch or dinner, make easy vegan tacos with whatever you have on hand. Keep reading for over 30 taco filling ideas and top seasonings for TexMex food.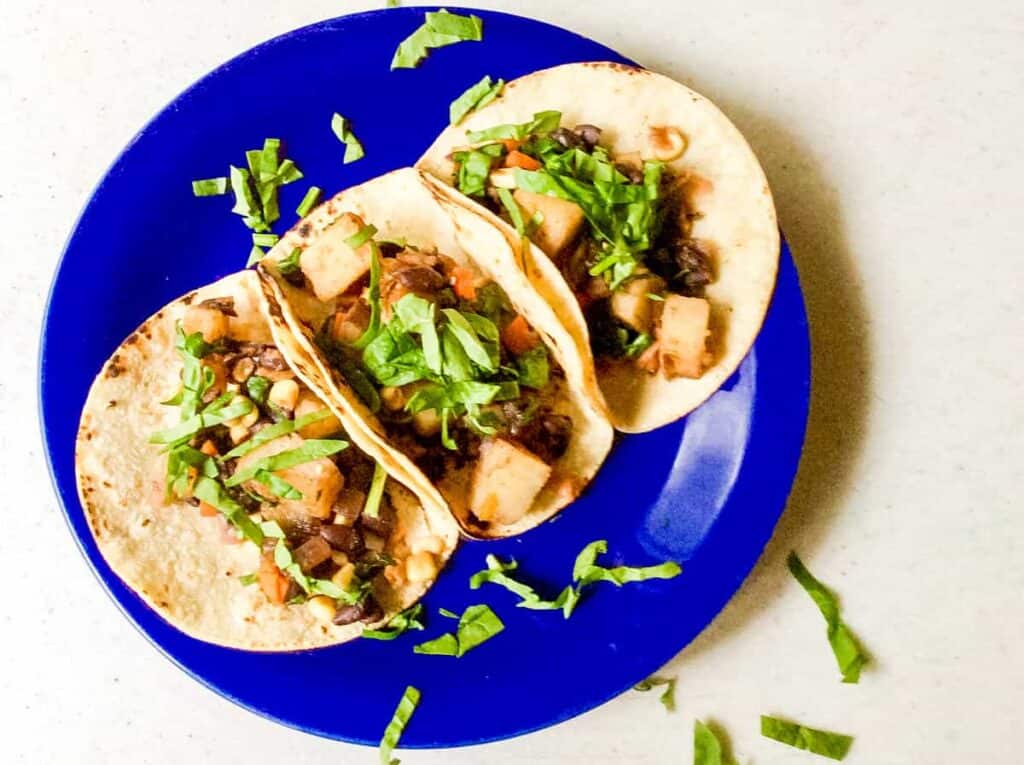 Jump to:
Filling options for tacos are almost limitless. Here are some easy ideas of different fillings you can throw in a tortilla and have delicious plant-based tacos in no time!
30+ vegan, plant-based taco filling ideas
🥔 Potatoes - Oven roasted with garlic, ground cumin, chili powder & salt
🥔 Potatoes - Papas a la Mexicana style: pre-cooked steamed potatoes sautéed with onions, jalapeño, tomato, garlic and cilantro
🍠 Sweet potatoes - roasted or mashed with spices
🧅 Onions - sautéed/charred, caramelized or raw
🫑 Bell Peppers - sautéed/charred or raw
🫑 Poblano Pepper - fire roasted, skin removed and chopped
🌶 Jalapeños - pickled, sautéed or raw
🍅 Tomatoes
🌽 Corn - steamed or roasted
Black Beans - whole, seasoned with cumin and garlic
Black Beans - mashed or refried black beans
Pinto Beans - whole, seasoned with Mexican oregano, garlic, onion
Pinto Beans - mashed or canned refried beans made better (make sure they're vegetarian)
🍄 Mushrooms - sautéed or grilled
🥕 Carrot
Zucchini or Yellow Summer Squash - sautéed or grilled
🥬 Kale - cooked or mixed in other veggies
🥬 Lettuce - shredded on top or used instead of tortilla
Purple cabbage - shredded
🥑 Avocado - sliced raw or turned into green salsa
Butternut squash - roasted or mashed
Baked tofu with TexMex seasonings
Cashew sour cream or Silken Tofu sour cream
🥑 Guacamole
🧅 Pickled Purple Onions
🥕 Pickled Carrots and Onions
🌶 Pickled Sliced Jalapeños
Baked tortilla strips - for crunch
Quinoa - cooked with taco seasoning or any of the below seasonings
🍚 Rice - plain, Spanish rice or Cilantro Lime Rice
🥦 Cauliflower - roasted or "riced" with taco seasoning
🥦 Broccoli - roasted or raw, cut into tiny pieces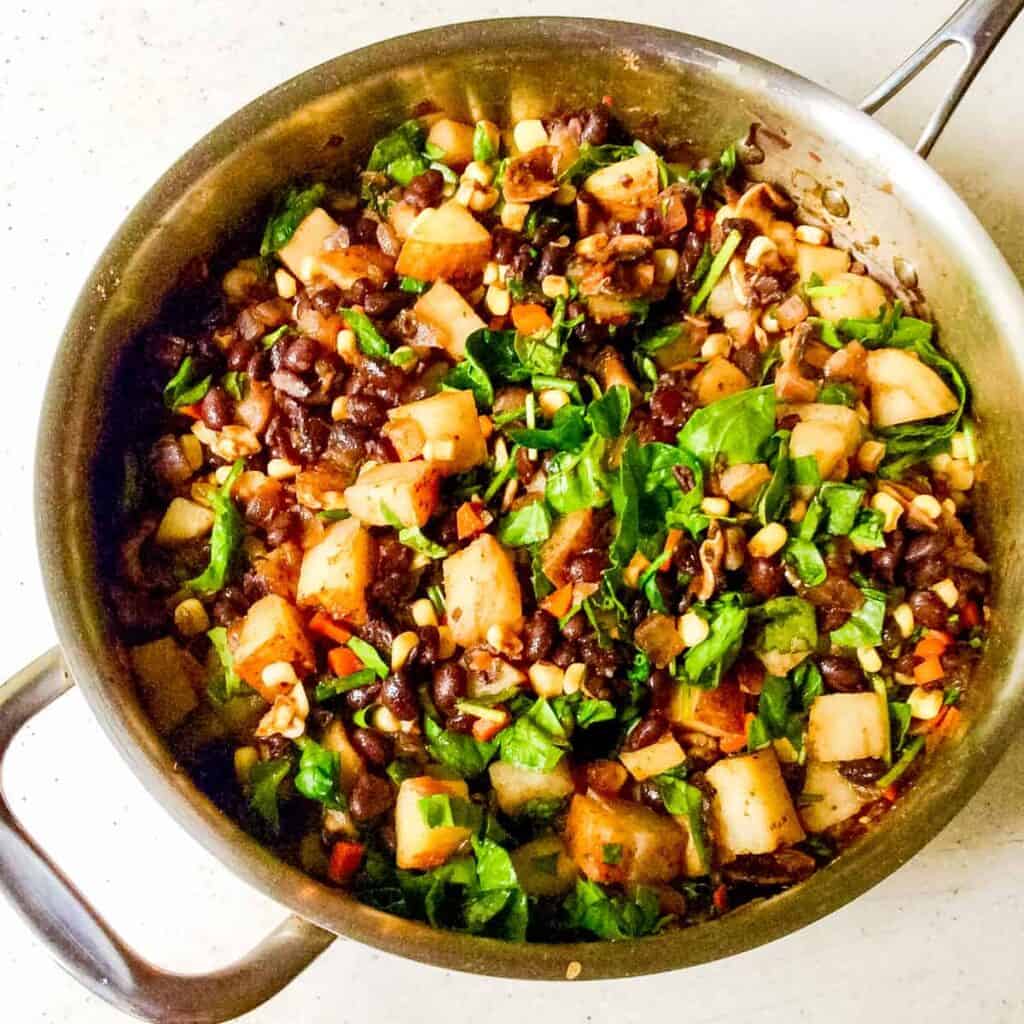 How to season tacos or TexMex food
To give your tacos a TexMex flavor, consider adding some of the below seasonings to your ingredients as they cook. Don't add them all - just pick a few.
🧄 Garlic (fresh or granulated garlic)
Ground cumin
🌱 Cilantro
🌶 Chile powder
🌶 Cayenne
🍋 Lime juice
🌱 Mexican oregano
🌱 Bay leaf (for cooking beans)
🌶 Jalapeño pepper
🌶 Serrano pepper
🌶 Habanero pepper (really hot)
🌶 Chipotle pepper powder or chipotles in adobo sauce
Red salsa or picante sauce
Green salsa
Prepared hot sauce, like Cholula or Chipotle Tabasco
Rainy day breakfast ideas
On a rainy day, you just don't feel like going anywhere. And, you want something equally comforting and uplifting.
Here's what I reach for on a rainy day to brighten my morning. These are all vegan breakfast recipes.
Hot tea! My favorites: Black tea with soy milk or oat milk, Apricot peach rooibos tea, Coconut oolong tea or peppermint tea.
Bake something (especially if it's cold & rainy)
Quick and easy breakfast, if you're running low on energy, like:
If you have time to spare, make a comforting, weekend brunch-style breakfast, to brighten your mood and delight your family
Rainy day dinner ideas
Vegan or vegetarian dinner ideas on a rainy day have to easy and effortless, so you can get to relaxing and enjoying the pitter patter of the rain.
I asked a Facebook group what they love to cook on a rainy day and the #1 answer was: Soup or Chili.
Some of my go-to quick and easy dinner ideas, that are also comforting and filling:
🗺 Cultural influences
How did this recipe come about?
We were onto day five of hunkering down during Hurricane Harvey's onslaught of rain over Houston and were so thankful to be safe and dry. Not only that, we still had food, water, power and gas for cooking.
We were, and still are, beyond grateful that our experience during the storm was mild, especially since we were taking care of my wheel-chair bound mother-in-law.
Our food options were starting to dwindle a bit and the roads were still flooded. I made all manner of meals over the previous four days to satisfy the five of us.
Each day, worried that we would lose electricity and/or water, I was in a cooking frenzy to use up the food in our fridge so it wouldn't spoil and so we'd have plenty of prepared food ready to eat by candlelight, if the need arose.
The morning of day five, I pulled out whatever fresh veggies we still had and chopped them up and threw them in a pan to make some quick and easy tacos.
Add some spices, frozen corn, black beans, a can of vegetarian refried beans and some corn tortillas and we have breakfast, folks!
These could be called "Everything but the Kitchen Sink" tacos.
Or, "Whatever you have on hand" tacos.
Or, "Clean Out the Frig" Tacos.
But, I decided to go with "Rainy Day Everything Tacos", because we pulled everything together for a nutritious and filling meal on this rainy, rainy day.
💜 More recipes you'll love
If you love tacos, check out these other plant-based TexMex recipes.
Love this recipe? Please rate it 5 stars ⭐️⭐️⭐️⭐️⭐️ below in the recipe card. And, if you make it, please tag me on Instagram or Facebook in your posted photos! I would love to see your creations. 😄
📖 Recipe