Eggplant is not my favorite vegetable. Let me just put that out there.
Baba ganoush and these meatballs are about the only thing I like it in. A couple summers ago, my uncle generously brought me some fresh produce his boss had harvested from his garden. Tomatoes, bell peppers, jalapeños and about 8 eggplant. Eight.
I had all sorts of things I could do with the other veggies. Pico de gallo, spicy charro beans, spinach with stewed tomatoes, banh mi… the list goes on. But, what in the world was I going to do with eight eggplants?
To the internets!
I needed a recipe that I could triple or quadruple and freeze. And, low and behold, eggplant meatballs. The recipe I found called for eggs and parmesan cheese. I just omitted the cheese altogether and substituted the eggs for flax eggs (I'll explain more about that later) and they turned out fabulous. So much so that the meatballs that got put in the freezer came out of the freezer in exactly one day and were devoured by my family.
Success! Yay!
Eggplants are still not on my favorite vegetable list, but they are incredibly tasty and useful in making vegan meatballs.
What is a flax egg?
So, if you mix ground flax seed with a little bit of water and let it sit for a 5-10 minutes, it will start to congeal and basically has the consistency of scrambled egg and helps to hold things together. It is useful in replacing eggs in baked goods and "meatloafs" and "meatballs" like these.
To make a flax egg, combine 1 tablespoon ground flaxseed (also called flaxseed meal) with 3 tablespoons warm water. Stir together and let sit (preferably in the refrigerator) for about 5-10 minutes.
How to make eggplant meatballs
Keep in mind that I normally make several batches of these at a time, so these pictures will show larger quantities than one recipe makes. One recipe is enough to make about 20 meatballs, which is enough for 4 people to have 5 meatballs each.
Saute eggplant in a little water on the stove until tender.
Then, pulse in food processor or blender a few times to break it down into smaller pieces.
Add to a bowl with bread crumbs, herbs, seasonings and flax egg. Mix together with a wooden spoon.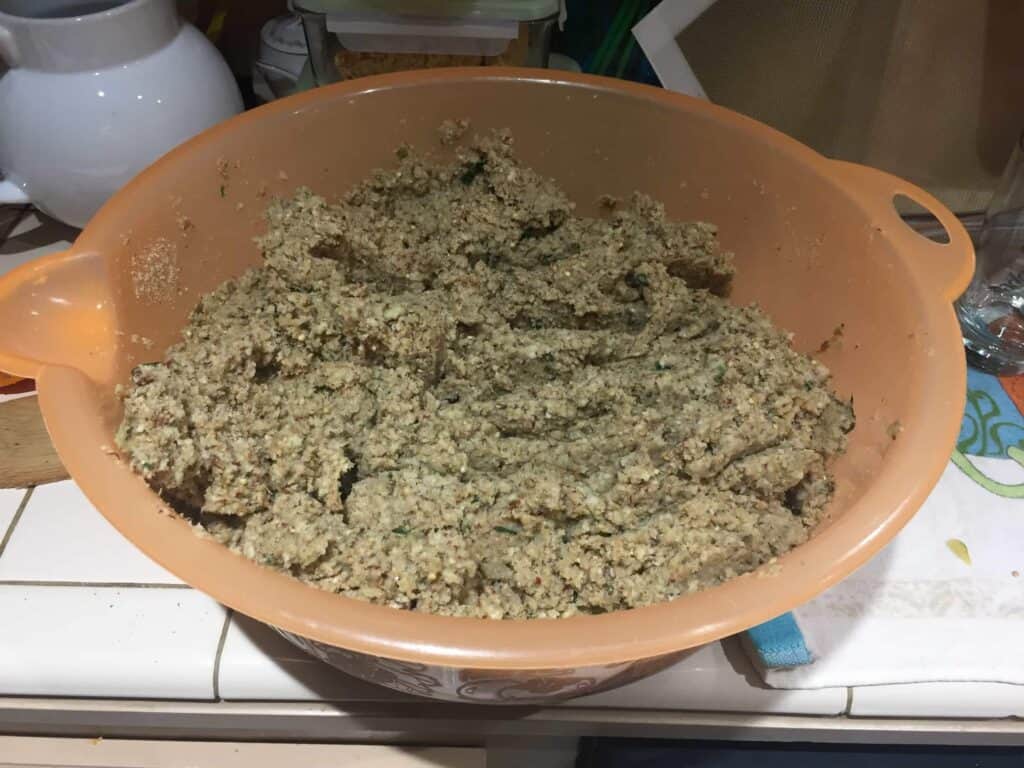 Remove your rings because your hands are about to get messy.
Form small golf-ball sized meatballs by rolling the dough in your hands and placing them on a cookie sheet lined with parchment paper or a silicone baking mat. The meatballs should stay round on the cookie sheet. If your dough is too wet, add more breadcrumbs. If it is too dry, you can add a little water.
Bake for 45 minutes, until very firm.
Serving Ideas
I typically serve these by simmering the baked meatballs in marinara sauce for 5-10 minutes, then pouring over spaghetti. My husband and kids also enjoy heating the plain meatballs in the microwave and eating them with mustard, ketchup or some kind of dressing. They would also be good served as appetizers in a BBQ sauce, like for a Super Bowl party.
I hope you enjoy them!
Recipe inspired by and adapted from Skinnytaste's eggplant meatballs.
Vegan Eggplant Meatballs
Cook Time:
1 hour
10 minutes
Total Time:
1 hour
20 minutes
Firm and flavorful vegan, plant-based "meatballs", perfect for spaghetti and meatballs or served as an appetizer with BBQ sauce, ketchup or mustard.
Ingredients
1 - 1 1/4 lbs eggplant, about one medium to large italian eggplant, peeled and cut into 1-inch cubes
2 garlic cloves, crushed
4 tbsp chopped basil, plus leaves for garnish
4 tbsp chopped Italian parsley
1 tsp dried Italian seasoning
2 cups breadcrumbs, regular or panko
1 flax "egg", 1 tbsp flaxseed meal mixed with 3 tbsp warm water
salt and pepper
1 jar marinara sauce
Instructions
Preheat oven to 375°F. Line a large rimmed baking sheet with parchment paper or a silicone mat.
Mix your flax egg in small bowl or cup and put in refrigerator.
Heat a large skillet over medium high heat. Add eggplant and 1/4 cup water. Season with salt and pepper and cook, stirring occasionally until tender, 10 to 12 minutes.
Add eggplant to food processor or blender and pulse a few times.
Transfer to a large bowl and add garlic, basil, parsley, Italian seasoning, bread crumbs and flax egg to bowl. Season with 1/2 teaspoon salt and 1/8 teaspoon of pepper and mix with wooden spoon.
Form small golf-ball sized meatballs by rolling the dough in your hands. Place on prepared baking sheet. The meatballs should stay round on the cookie sheet. If your dough is too wet, add more breadcrumbs. If it is too dry, you can add a little water.
Bake until very firm and dark brown, about 45 to 50 minutes.
Heat the sauce in a large deep skillet to warm the sauce. Add the meatballs to the sauce and simmer for 5 minutes. Serve over spaghetti and garnish with basil leaves.
Notes
Straight out of the oven, these meatballs will be a little dry on the outside. This helps them to hold up when they are added to a sauce (like marinara or bbq).