It's quick and easy to cook whole potatoes in the Instant Pot. Use the tender, steamed potatoes for mashed potatoes, potato salad, snacking, fries in the air fryer and any recipe that calls for pre-cooked potatoes.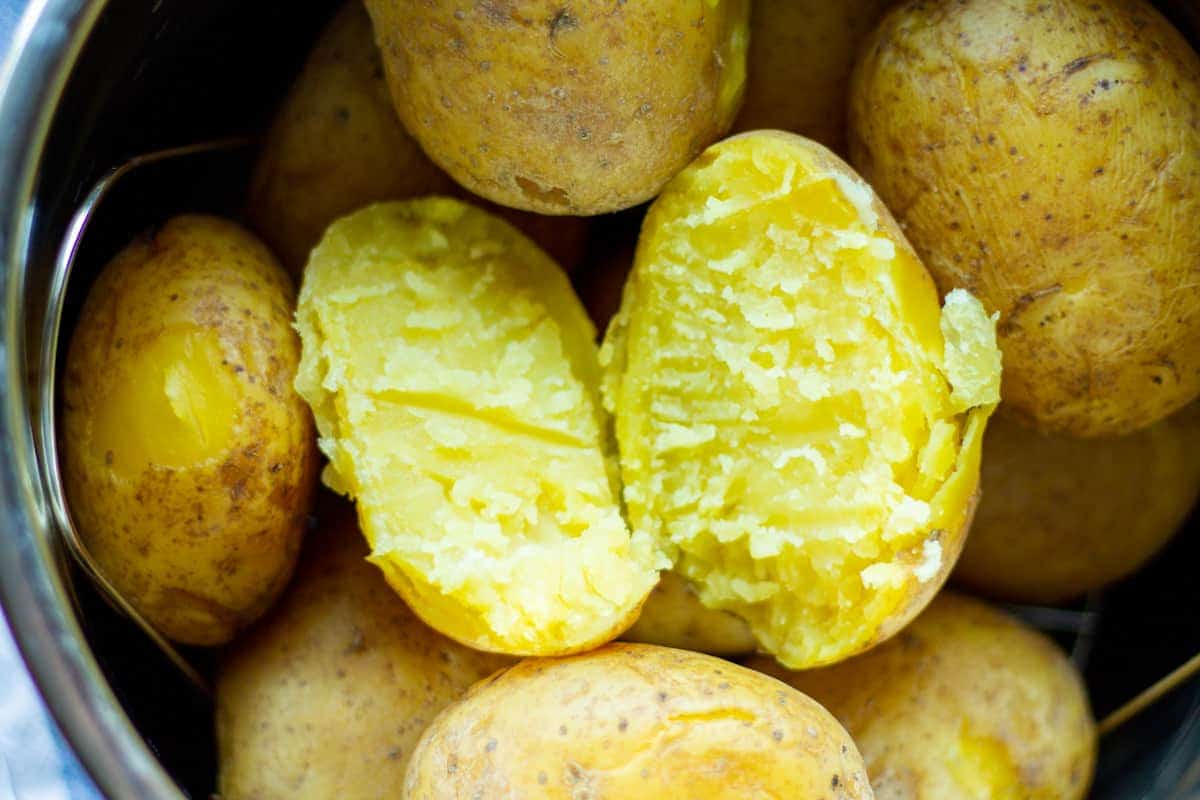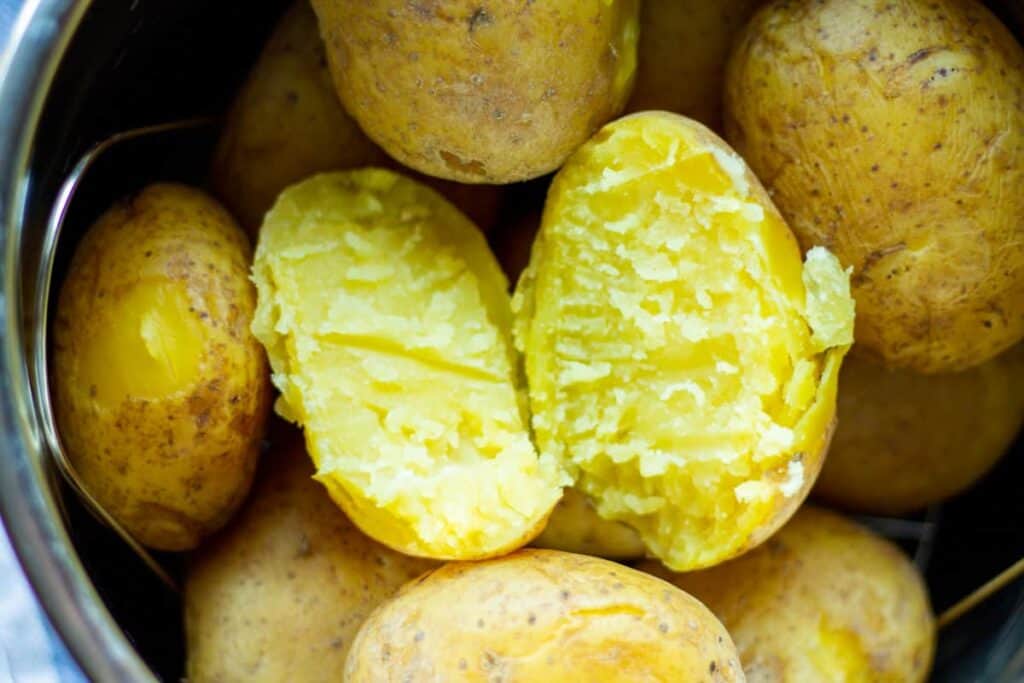 Steamed potatoes make healthy meals for plant-based weight loss, since they are low in calorie density at about 350 calories per pound. They are also highly satiating, meaning they make you feel full and satisfied.
Combine steamed potatoes with a non-starchy vegetable like broccoli to further reduce the calorie density of your meal.
Jump to:
🧄 Ingredient notes
You only need two ingredients to make these steamed or boiled potatoes in the Instant Pot.
You can make just a couple potatoes at a time. Or, you can steam up to 5 pounds of potatoes in the 6 quart size Instant Pot.
When I'm batch cooking, I make 5 pounds of steamed potatoes, so we have plenty for the week.
What type of potatoes are best steamed?
Russet potatoes - they are versatile for lots of recipes and cheap to buy!
Gold potatoes - buttery flavor
Red potatoes - firm and smooth texture when steamed. perfect for potato salad.
Baby potatoes - great for snacks!
🔪 Instructions
Making "baked" potatoes, steamed potatoes or "boiled" potatoes in the Instant Pot is super simple and easy. It's also hands-off, so you can be doing something else while the potatoes are cooking.
Wash and scrub potatoes well. Remove any sprouts or bad spots.
Place wire trivet or steamer basket in Instant Pot insert.
Add 1 cup of water to Instant Pot.
Place all potatoes on top of trivet/steamer basket, layering if necessary.
Cover with Instant Pot lid, turn vent to "Sealing". Then, press "Steam" button and decrease time based on how large your potatoes are. For medium gold potatoes (pictured), steam for 10 minutes.
Let pressure naturally release for 10 minutes. Then, open vent with a utensil (be careful of the hot steam!). Potatoes are ready! If you prepared these for later use, allow potatoes to cool, then refrigerate for up to 5 days.
How long to cook whole potatoes in the Instant Pot?
Tiny bite-sized baby potatoes: Steam for 1 minute, natural release for 10 minutes
Small potatoes: Steam for 5-7 minutes, natural release for 10 minutes
Medium potatoes: Steam for 10-12 minutes, natural release for 10 minutes
Large potatoes: Steam for 15-20 minutes, natural release for 10 minutes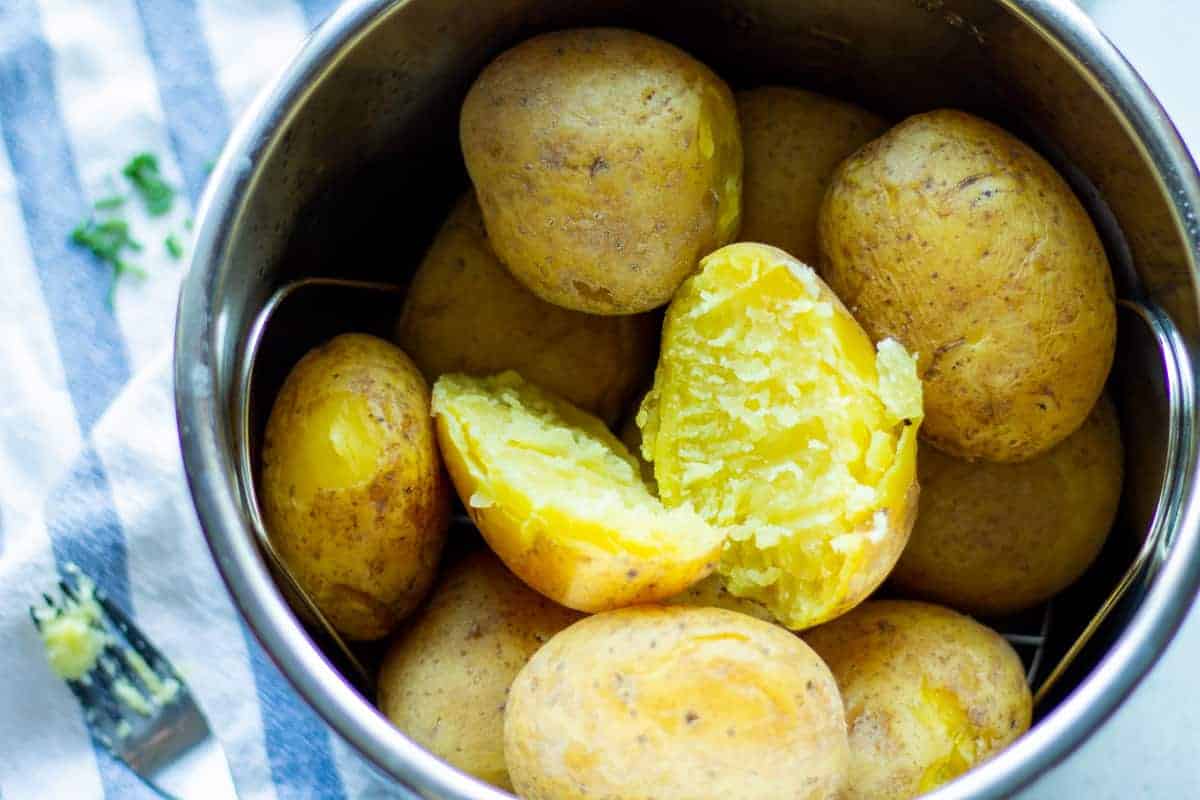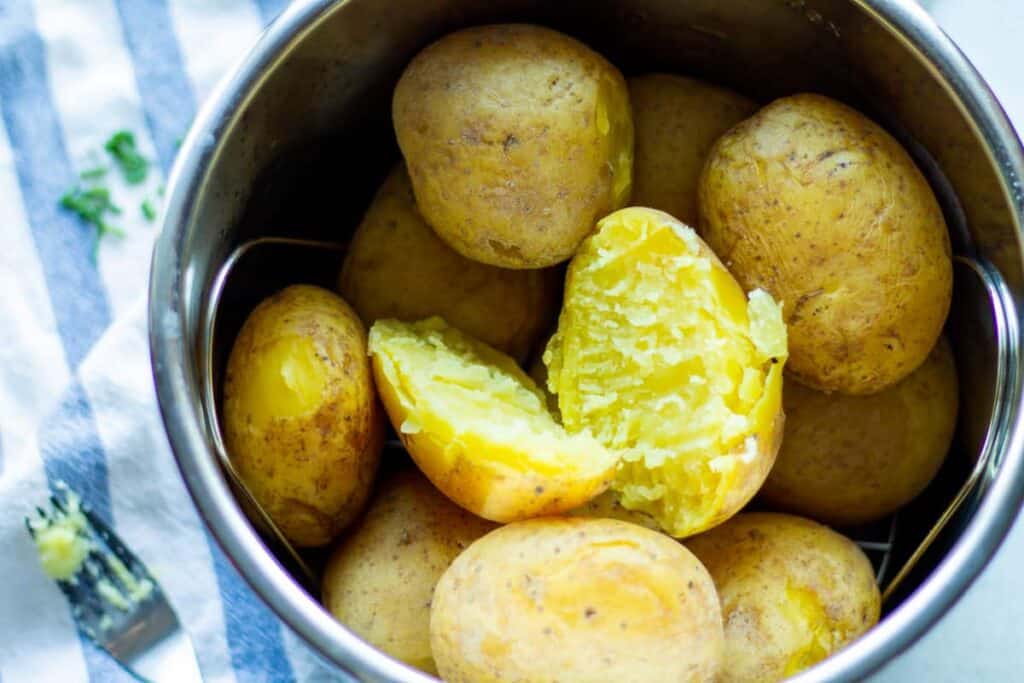 👨‍👩‍👦‍👦 Serving suggestions
What can you use steamed potatoes for?
Steamed, cooked potatoes can be used for all kinds of recipes. Raw potatoes take a long time to cook, compared to other vegetables. So, if you already have pre-cooked potatoes ready, throwing together a plant-based meal will be faster!
Here's some ways I use steamed potatoes:
mashed potatoes - mash with plant-based milk and salt
potato salad (allow to cool completely first)
snacking (just take a bite! add a bit of salt and it's the ultimate FILLING and healthy fast food)
roasted potatoes in air fryer - cut cold pre-cooked potatoes into chunks or wedges, season with garlic, dill, salt and then air fry for 15 minutes at 400 degrees F. Serve with BBQ sauce or ketchup. For a 50/50 plate: serve with a large helping of steamed broccoli.
french fries - cut cold, pre-cooked potatoes into fries. Toss with seasoning, then air fry for 15 minutes at 400 degrees F.
vegetable korma or curry - add cubed potatoes along with other quick-cooking vegetables. This saves 20-30 minutes when cooking curry by using pre-cooked potatoes.
breakfast tacos - heat cubed potatoes, along with other filling in a non-stick pan
tofu scramble - heat cubed potatoes, along with crumbled tofu, homemade eggy tofu scramble seasoning with black salt and vegetables. Serve with toast or tortillas
breakfast skillet - cook onions in non-stick skillet, adding water if they start sticking. Then add diced potatoes and cook until heated through. Stir in cilantro and serve with salsa.
burrito bowls - add diced pre-cooked potatoes to a bowl, along with cooked rice and beans. Heat in microwave, then top with lettuce, tomato, avocado, lime juice and salsa.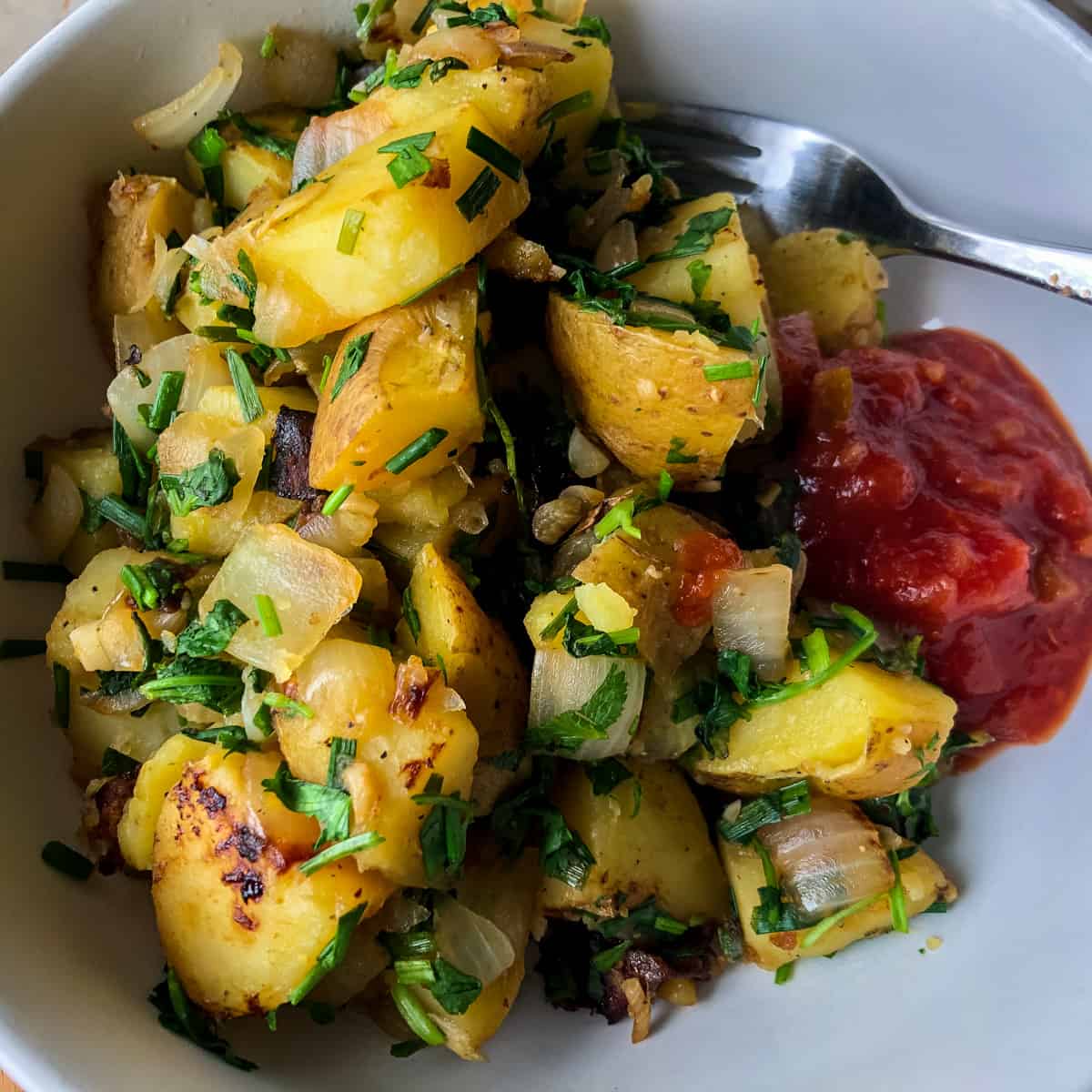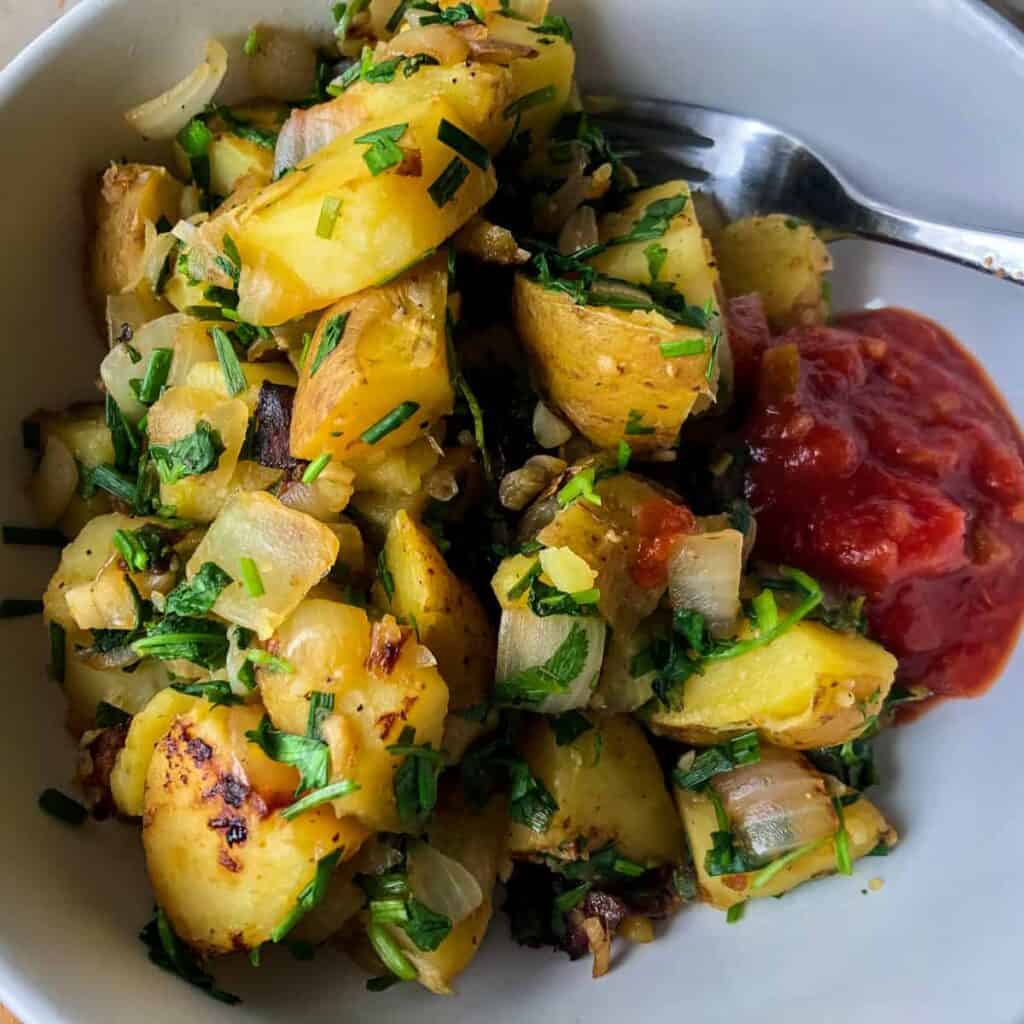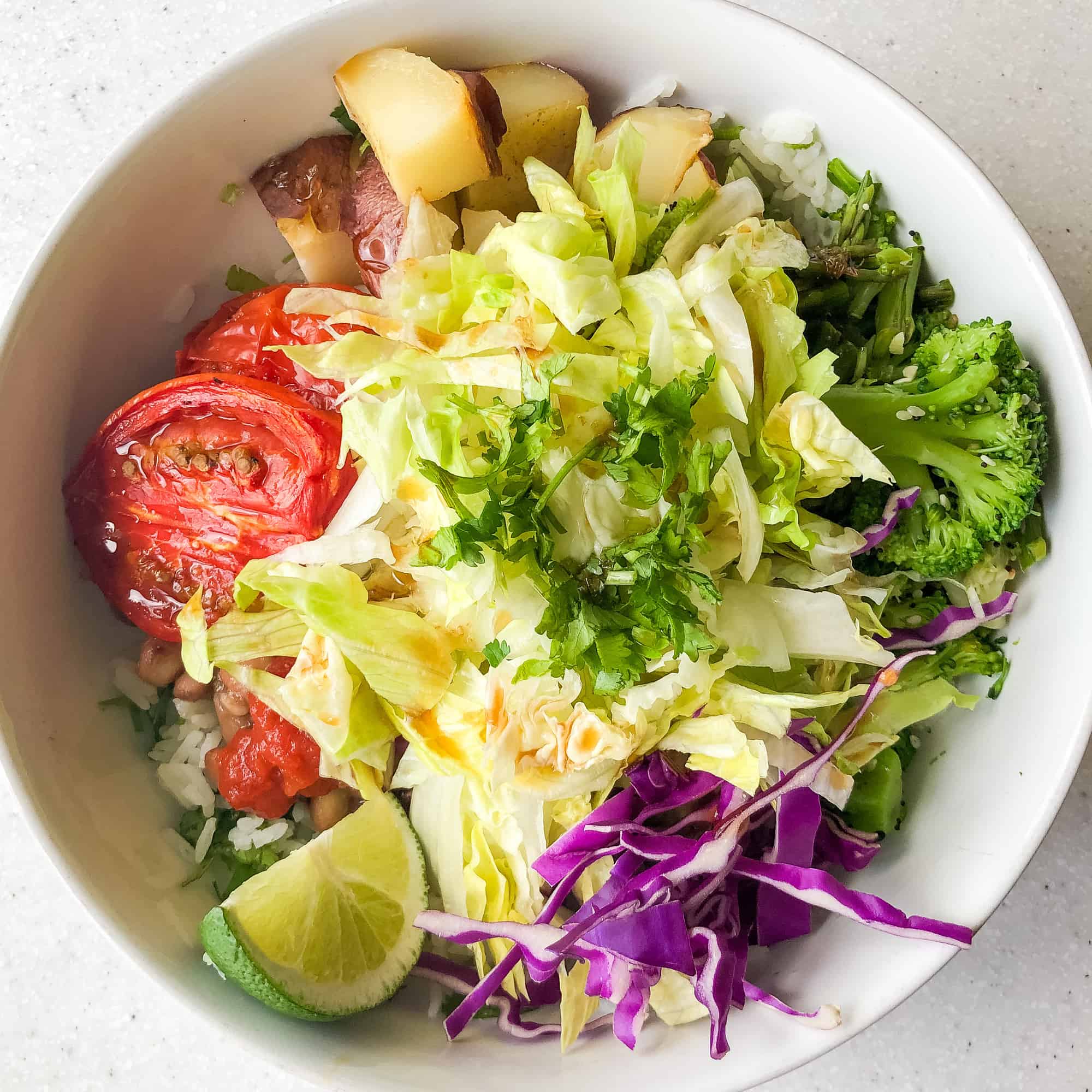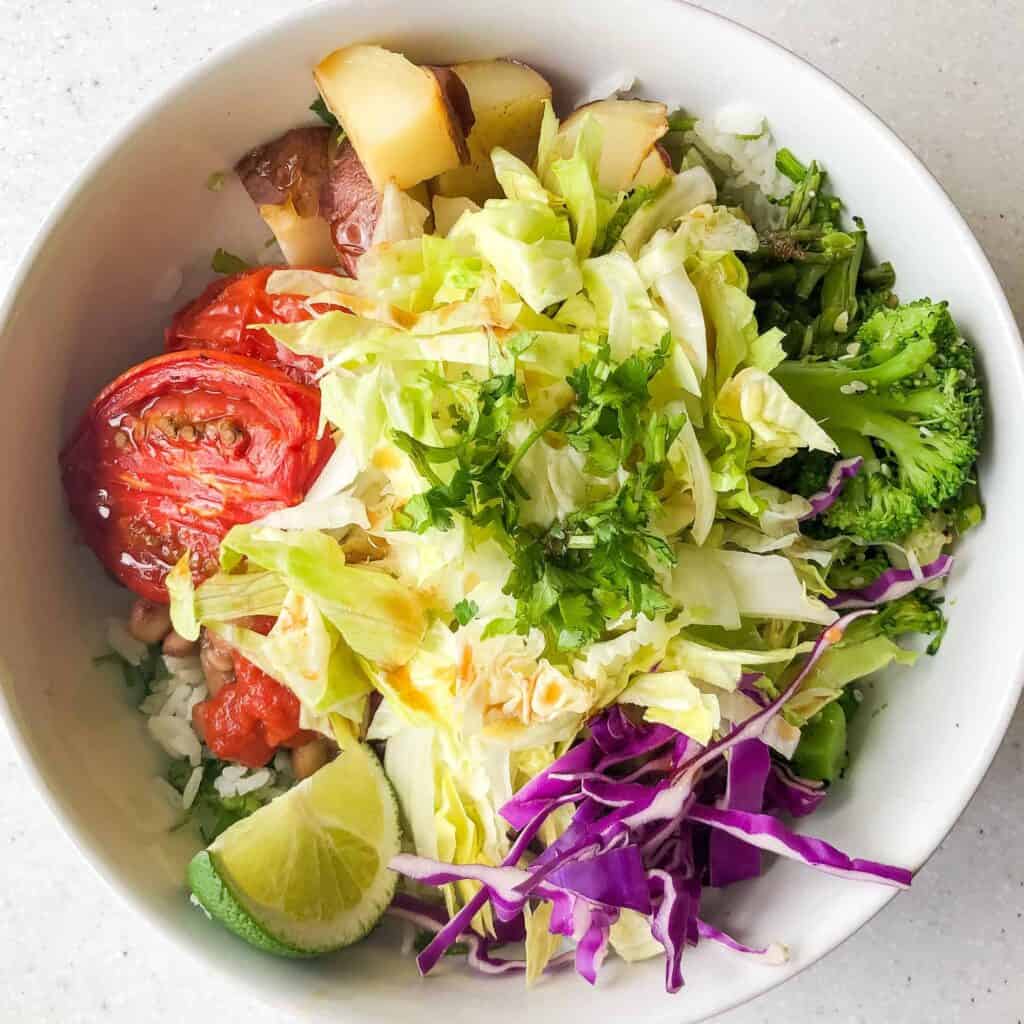 Did you know my family and I ate nothing but potatoes for 10 straight days? Read why we did it, if we would recommend it and what our results were.
🚦 Calorie density score
🟢 This recipe gets a green light on the calorie density chart. All of the ingredients are lower than 600 calories per pound, so eating meals like this regularly may help you lose body fat. Learn more about calorie density from Jeff Novick, MS, RDN.
Get your own printable calorie density chart for your refrigerator and free ebook explaining calorie density in simple terms.
🗺 Cultural influences
Potatoes are enjoyed around the world by many different cultures. My mind immediately goes to the Andes mountains of South America, where thousands of varieties of potatoes are cultivated. Potatoes are native to the Americas.
"Potatoes were introduced to Europe from the Americas in the second half of the 16th century by the Spanish. Today they are a staple food in many parts of the world and an integral part of much of the world's food supply. As of 2014, potatoes were the world's fourth-largest food crop after maize (corn), wheat, and rice." - Wikipedia, Potato
💜 More recipes you'll love
Now you know how to cook potatoes in the Instant Pot, check out these other healthy potato recipes for weight loss!
If you love this recipe, check out these other plant-based Instant Pot pressure cooker recipes!
Love this recipe? Please rate it 5 stars ⭐️⭐️⭐️⭐️⭐️ below in the recipe card. And, if you make it, please tag me on Instagram or Facebook in your posted photos! I would love to see your creations. 😄
📖 Recipe
After further testing, this recipe was changed on 7/11/2022 to reflect a shorter steaming time for all potato sizes (from tiny, bite-sized potatoes to large russets), to prevent them from being overcooked. In addition, this makes this recipe faster to make! Yay, for quick meal prep. If you have any questions, please comment below.