Hey there! It's great to have you here!
I'm Abi, the plant-based food blogger, recipe developer, photographer and cooking class instructor behind Very Veganish.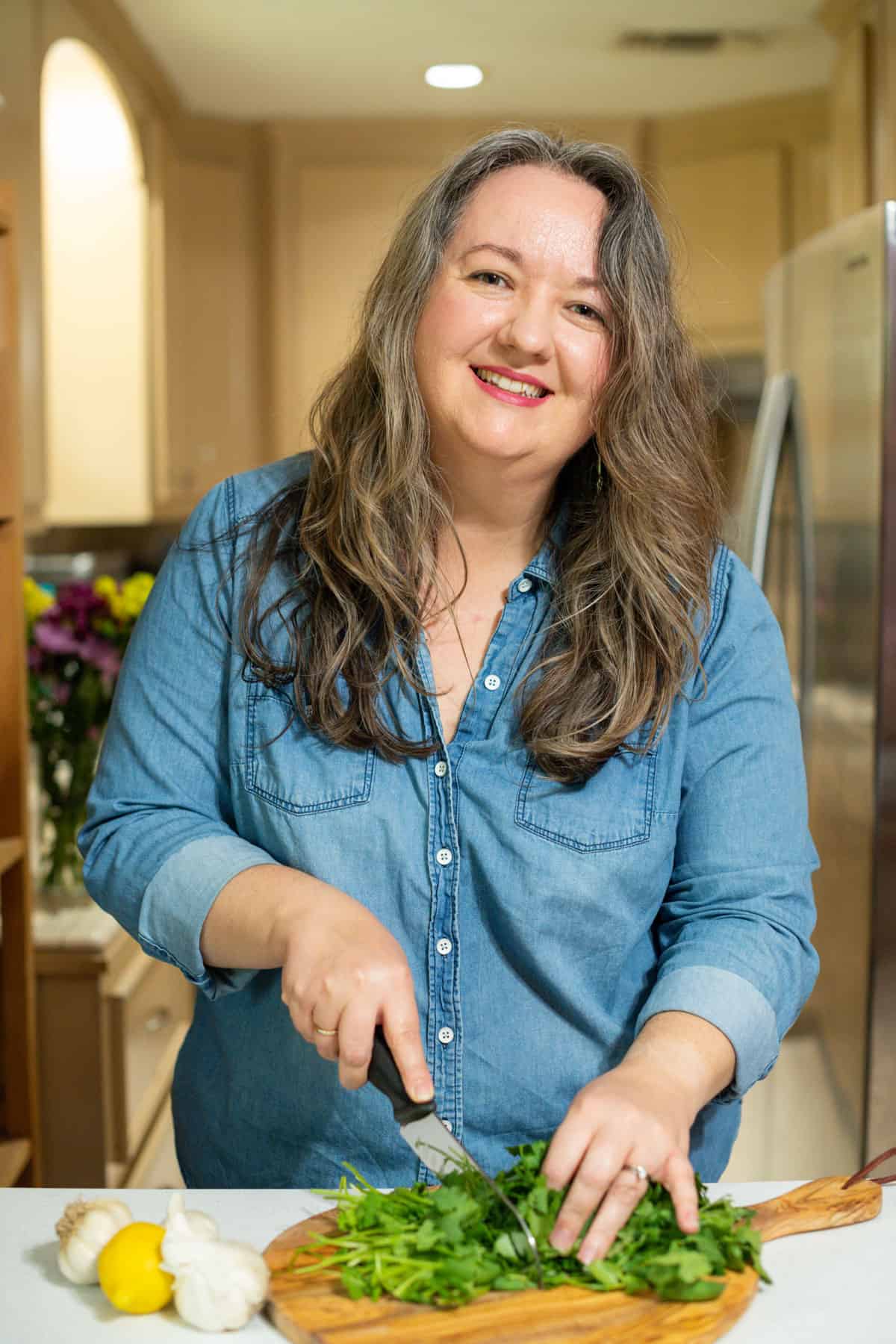 Join me as we make fast & simple plant-based recipes that will help your whole family eat healthier and feel better without you having to spend hours in the kitchen cooking and cleaning.
I believe that making even small changes in what you eat can improve your health and quality of life. Plus, it's just plain delicious.
You'll find no judgmental mess here. Just good, healthy, comfort food. No matter where you're at with your food choices, you're welcome here.
When I'm not cooking, you'll find me homeschooling my two boys, volunteering, taking care of family and trying to survive the Texas summers with copious glasses of iced tea.
Education and studies
Plant-Based Nutrition Certificate, Completed August 2023, eCornell and T. Colin Campbell Center for Nutrition Studies
In addition to becoming certified in plant-based nutrition, I am currently studying the comprehensive Anticancer Lifestyle Program course.
In addition to formal courses, I have learned much over the years from numerous books, documentaries, videos and in-person talks, as listed below.
Dr. John McDougall and Mary McDougall, RN - their website is a wealth of free information. Book: The Starch Solution
Dr. David Servan-Schreiber - Anticancer
Lorenzo Cohen and Alison Jeffries - Anticancer Lifestyle
Dr. Caldwell Esselstyn - Prevent and Reverse Heart Disease book
Ann Esselstyn and Jane Esselstyn - wife and daughter to Caldwell and a hilarious duo in the kitchen. YouTube Channel
Dr. Michael Greger - Website NutritionFacts.org and Books: How Not to Die and How Not to Diet
Dr. Will Bulsiewicz - Book: Fiber Fueled
Dr. Neal Barnard - Book: Your Body in Balance
Cyrus Khambatta, PhD and Robby Barbaro, MPH - Book: Mastering Diabetes
Dr. Kristi Funk - Book: Breasts, The Owner's Manual
Rip Esselstyn - Live talk and book Engine 2 Diet and Engine 2 Cookbook
Tea Sommelier: A Step-by-Step Guide
What to Drink with What you Eat
Alisa Vitti - In the FLO
Dr. Hazel Wallace - The Female Factor by Hazel Wallace
Doug Evans and Joel Fuhrman, MD - The Sprout Book
Samin Nosrat - Salt, Fat, Acid Heat: Mastering the Elements of Good Cooking
Ken Forkish - Flour Water Salt Yeast: The Fundamentals of Artisan Bread and Pizza
Amie Valpone - Eating Clean: The 21-Day Plan to Detox, Fight Inflammation and Reset your Body
Karen Page - The Vegetarian Flavor Bible
🗺 Cultural influences
I'm a native of Houston, Texas. My mixed ethnic background and heritage includes: Southern United States, the Cherokee Nation, Czechia, England, Ireland, and Italy.
Strong family and friends in my community and experiences have resulted in heavy cultural influences in my life from: Michigan, Mexico, Ireland, Spain, New Zealand, Italy, Cuba, Venezuela, Jamaica, India, Trinidad, Peru, Nicaragua, Lebanon, Honduras, Argentina, China, Japan, Scotland, Nigeria, St Maarten, Haiti, Korea and Vietnam.
The rich cultural diversity of my hometown, Houston, Texas, one of the most diverse cities in the United States, has greatly contributed to my exposure to various cultures, of which I am incredibly grateful.
You'll find recipes on this blog from many cultures. I do my best to give proper attribution to the origin of the recipe. If I have missed the mark in this, please let me know in the comments section of that blog post!
I do not mark a recipe as "authentic" if I do not have first hand cultural experience making the recipe. In addition, most of my recipes are vegan adaptations, so they are already different, in most cases, to the original, authentic version.
Why veganish?
Cooking is something that I've enjoyed doing since I was a kid. For a long time, our meals included lots of milk, butter, meat, cheese and the like to cater to my omnivore husband and chicken-lovin' boys.
But, that all changed the night we watched Forks Over Knives and Fat, Sick and Nearly Dead. If you haven't seen those documentaries, I highly encourage you to do so.
While I've always leaned towards vegetarian meals, I never thought I'd give up cheese (a life without grilled cheese, really?!?).
But, those two documentaries opened my eyes (and my husband's) to how much our food choices really do affect our health, short-term and long-term. In the fall of 2012, we dumped out our organic Horizon milk and went vegan overnight.
Not familiar with plant-based eating? Check out: What is a plant-based diet and why you should give it a try
While we're not 100% strictly vegan - hence the title of this site - only a small percentage of our food isn't vegan or plant-based. That's typically eaten when we're out and have limited choices. Get my tips for dining out and traveling on a plant-based diet.
You could say that we're flexitarian, plant-based or veganish. Seriously, why all the labels? Most of the time we actually eat a whole food plant-based, high carb, low fat, oil-free diet. We do it for health reasons and this approach has served us well for years.
Curious about the difference in all the labels? Read Vegan vs. Plant-based and why it's okay to be veganish.
We believe that some is better than nothing and you can reap benefits without being completely 100% strict (and restrictive) in your way of eating.
Plant-based for health
In 2001, when I married my high school sweetheart, our lives were very different than they are now.
Fast-forward a short 18 months after our wedding, a work-related injury left him with four herniated discs in his lower back. A 20-something with the back of a 60-year old and in chronic pain daily is a hard pill to swallow.
Fifteen+ years, countless doctors' appointments, treatments and remedies later, it's stunning that food is what makes the most difference in quality of life.
We follow a mostly plant-based diet to help reduce inflammation and in hopes of preventing serious health problems as we get older. Plus, it's a really fresh and delicious way to eat!
In 2020, my husband was diagnosed with testicular cancer, an aggressive and fast-moving cancer that affects mostly young men and teenagers. While there are many major diseases and even cancers that studies have shown to be prevented, affected and improved by lifestyle, unfortunately this condition is not one of them.
He continues to receive excellent care and treatment at the Texas Medical Center in Houston, Texas. And, we are hopeful about the future.
As a caregiver to many loved ones, I need quick, simple and cheap meals that are also healthy with easy clean-up. If you're here, I'm sure you can relate!
Get my Simple Plant-based Meal Ideas and Cooking Tips here.
We welcome you to follow our journey and learn some yummy recipes in the process.
Do you like my recipes? Buy me a cup of tea by leaving a tip!
Tools I use to run this blog
Website platform: Self-hosted WordPress.org
Website host: WPOpt
Website theme - Feast Design
Email marketing - ConvertKit
Organization - AirTable

SaveSave
Wanna get started with plant-based eating, but have a million questions? Subscribe below to get plant-based recipes, cooking tips and advice on plant-based living.
SaveSave
SaveSave
SaveSave
SaveSave
SaveSave
SaveSave
SaveSave
SaveSave
SaveSave