Don't throw out those spotty bananas! Make these quick and easy 3 ingredient banana oat breakfast cookies instead! This versatile recipe requires no egg, no flour, is gluten-free (if using gluten-free oats) and sugar-free.
They're so good for you, you can happily eat three (or six, for that matter) of these banana bread cookies. Carefree and guiltless cookies that double as breakfast. Yes, please!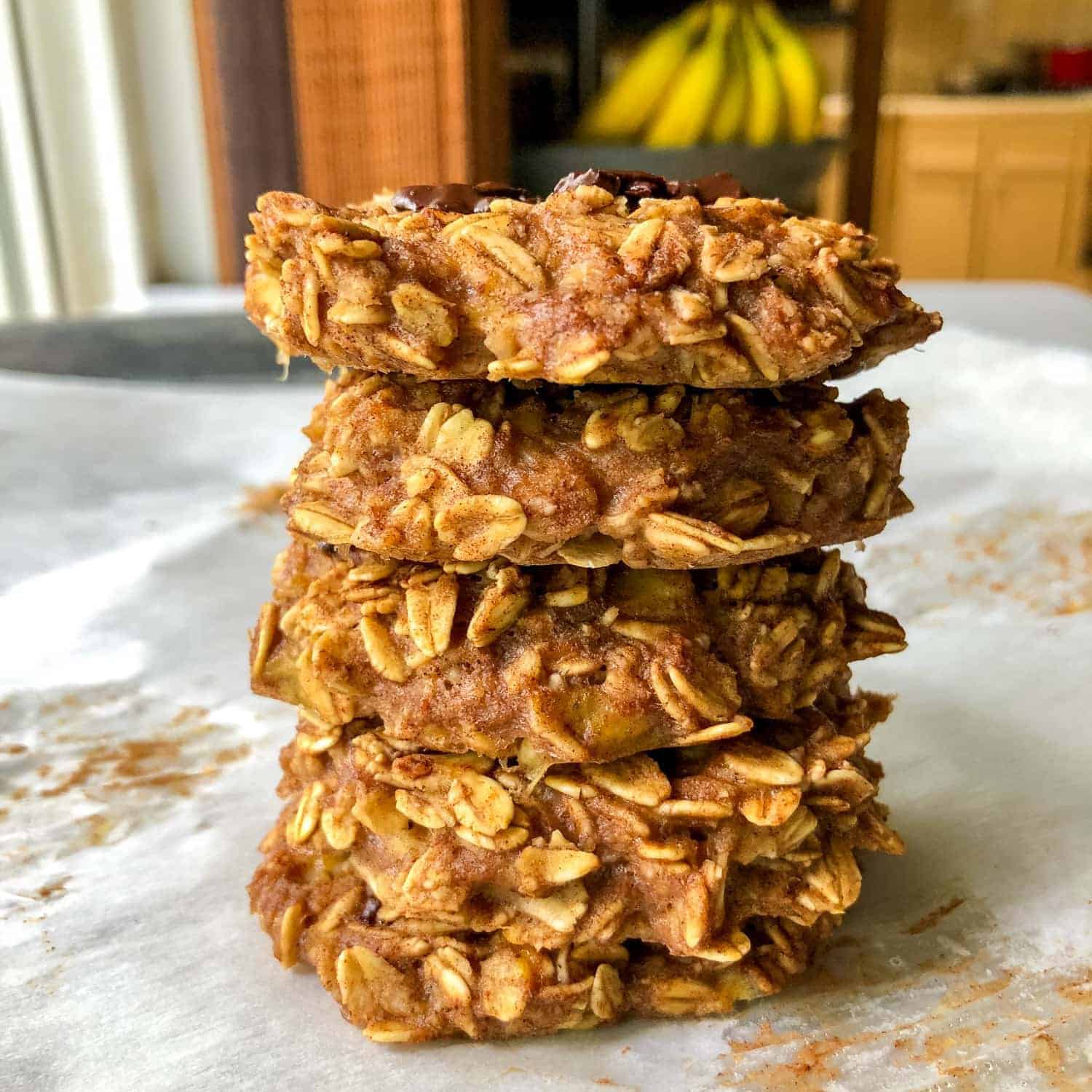 For another super easy oatmeal recipe, learn how to make the best basic vegan overnight oats and banana overnight oats.
Jump to:
🧄 Ingredient notes
What do you need to make these cookies?
ripe, spotty bananas
rolled oats (old fashioned or quick cooking oatmeal)
ground cinnamon
That's it.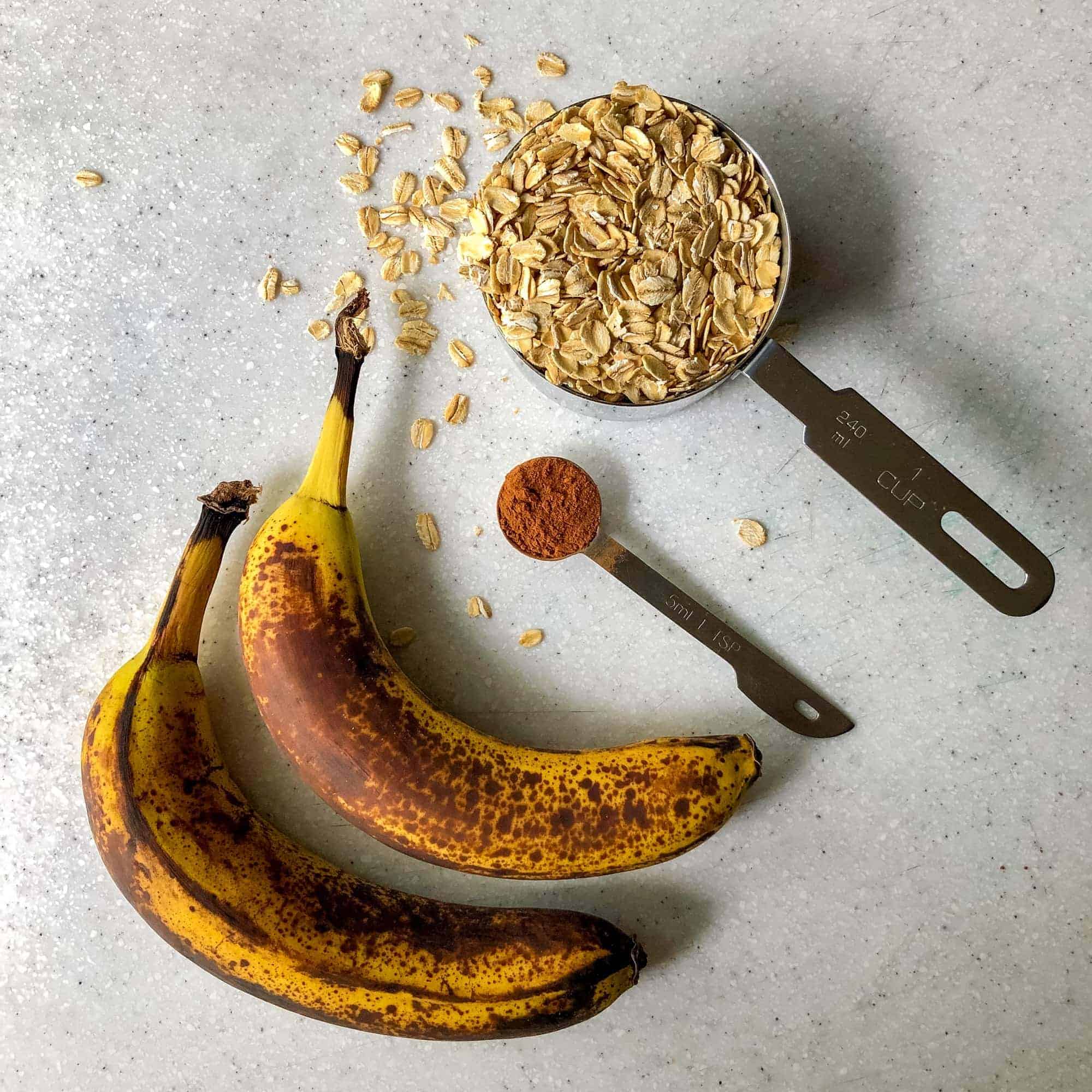 The ripe, spotty bananas offer sweetness and moisture. The oatmeal offers substance, nutrition and helps everything stick together.
And, the ground cinnamon is for flavor! You can switch up the cinnamon, if you'd like. See my recipe notes below for suggestions on alternative spices and flavoring.
No egg
No egg at all is required (or recommended) for these cookies. The bananas and oatmeal work in tandem to hold everything together.
So, that also means you can eat the batter, if you want (I won't tell).
No flour
All the stick togetherness in these breakfast cookies comes from the oatmeal and the mashed banana.
There's no need for flour and seeing as flour is higher in calories than a whole plant food like rolled oats, that's great for the waistline, too.
If you're looking for a vegan banana bread recipe with flour instead of oats, here's mine: Easy Vegan Banana Bread.
No sugar
This is a 3 ingredient no sugar cookie recipe. Yay! The sweetness comes from the ripe bananas.
Since sugar usually plays the role of making cookies sweet and crispy, you can expect this cookie to be mildly sweet, chewy and somewhat dense.
Kind of like a soft breakfast granola bar that's ready in less than 30 minutes, start to finish.
🔪 Instructions
Mash the bananas
You'll want them be mashed very well, with only very small chunks remaining.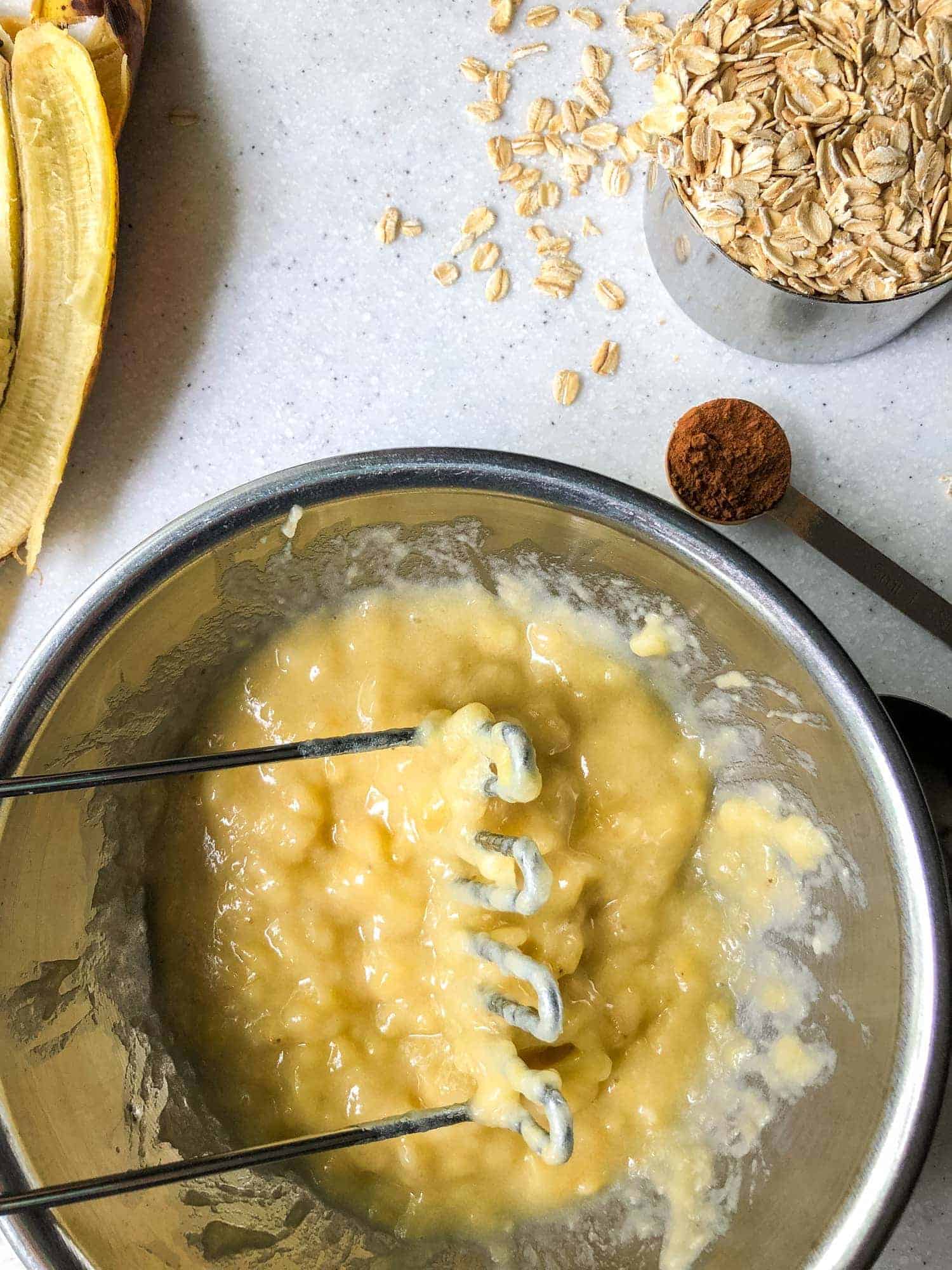 Add oats and cinnamon
Stir in your rolled oats and cinnamon (or other spice).
Spoon and shape cookies, then bake!
Drop spoonfuls of batter on a baking tray and then shape them with your hands.
These cookies will not spread out, so make them into the shape, width and height you want from the beginning.
Take my advice and use a silicone mat or parchment paper to line your baking sheet, because these will stick without it.
💭 Tips
Use parchment paper or a silicone mat to bake these, otherwise they will stick.
Shape with your fingers before baking.
Mash your banana really well.
You can make these cookies any size without adjusting the ingredients. You would only need to adjust the time in the oven.

For smaller cookies, reduce the time by 3-5 minutes.
A small 2-inch cookie size would be great for your kids to run around with snacking on.
For large cookies, increase time in oven by 2-3 minutes.
A large 4-inch cookie size (especially with added nuts, seeds or dried fruit) would make a filling breakfast on the run for you.
🔄 Variations
What if you wanna make these a little fancier?
There's all sorts of beautiful things you can stir in or top these 3 ingredient banana oatmeal cookies with, my favorites being dark chocolate or walnuts.
Try these toppings or mix-ins:
Dark chocolate chips or shavings
Walnuts (halved or chopped)
Pecans (halved or chopped)
Sunflower seed kernels
Small smear of fruit preserves, jam or jelly, like blackberry preserves
Peanut butter (or other nut butter)
Raisins
Dried cranberries
Flaxseed (a teaspoon mixed in)
Coconut
Wheat germ (a teaspoon mixed in works well)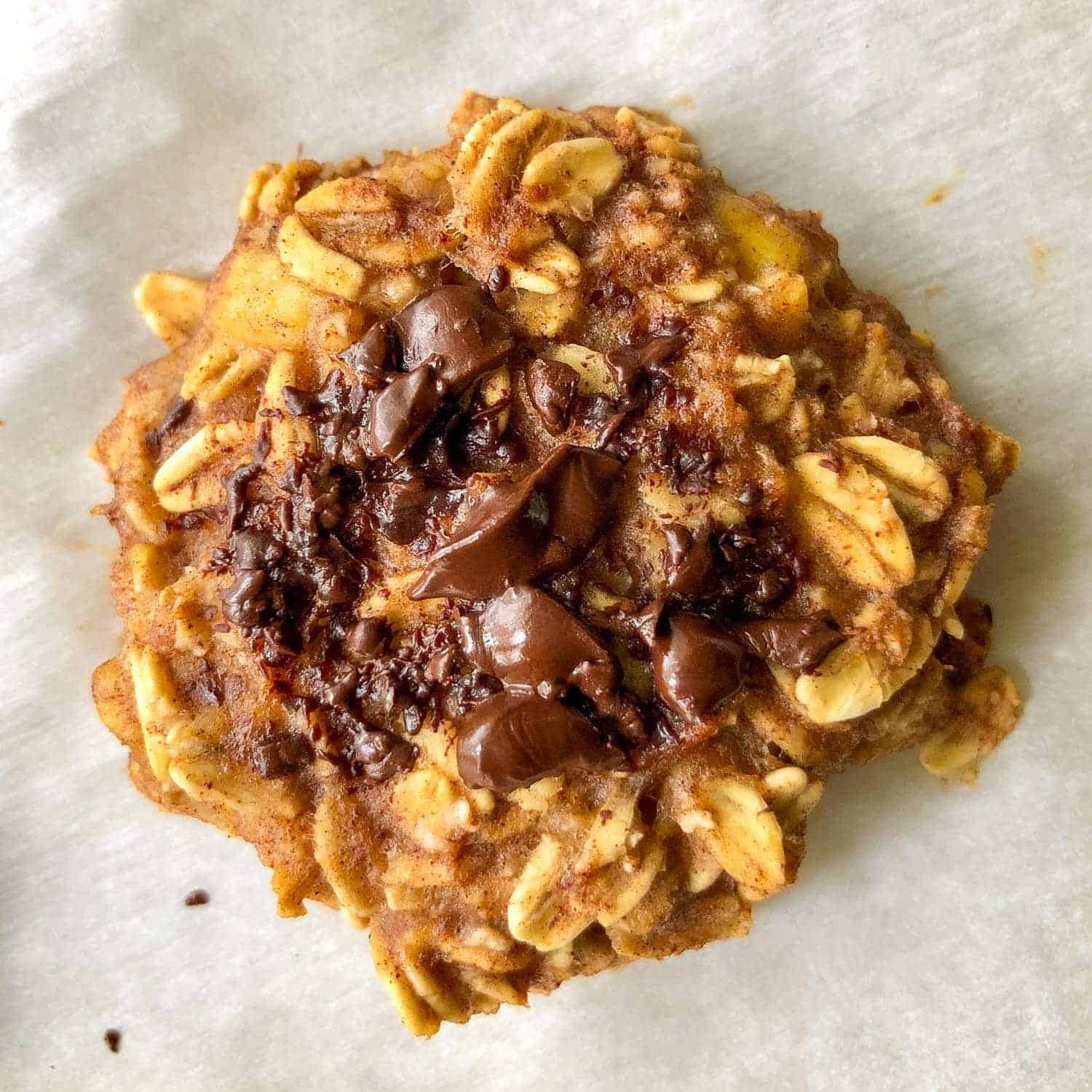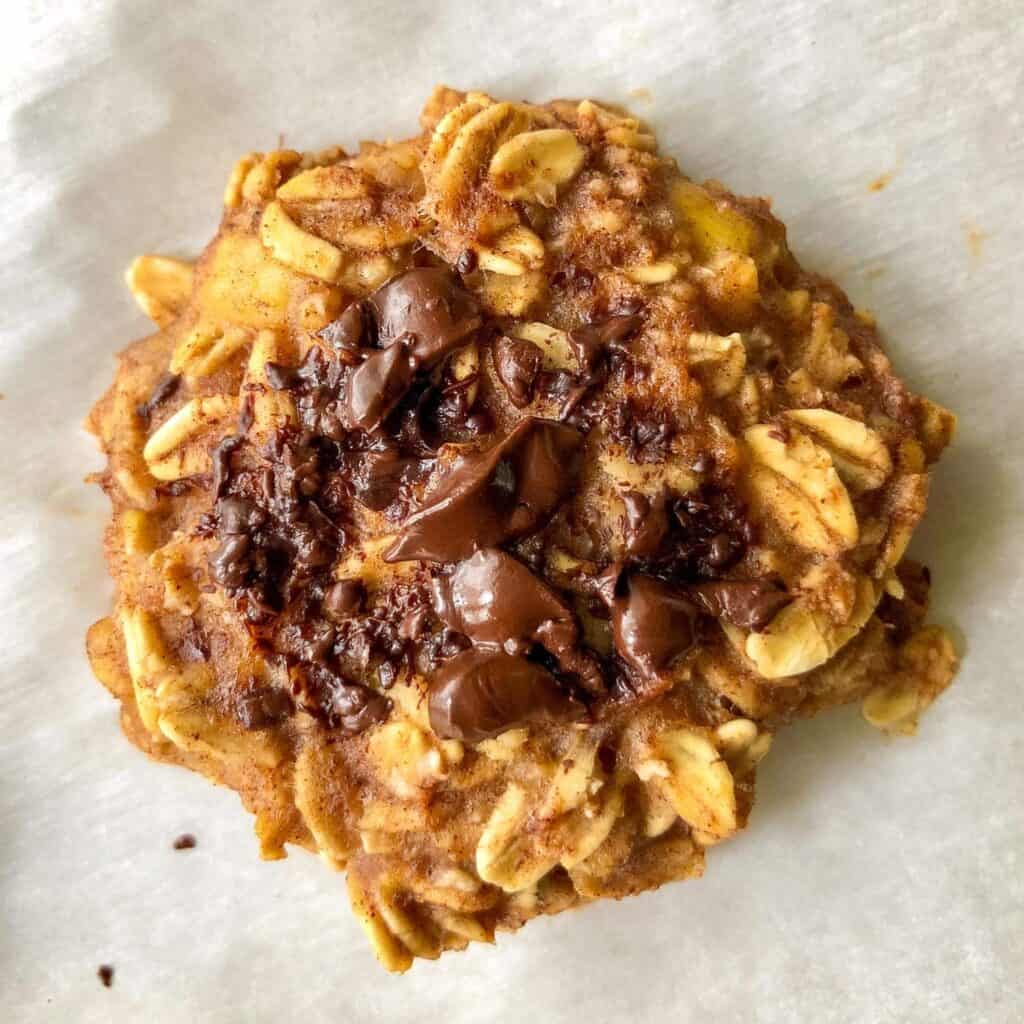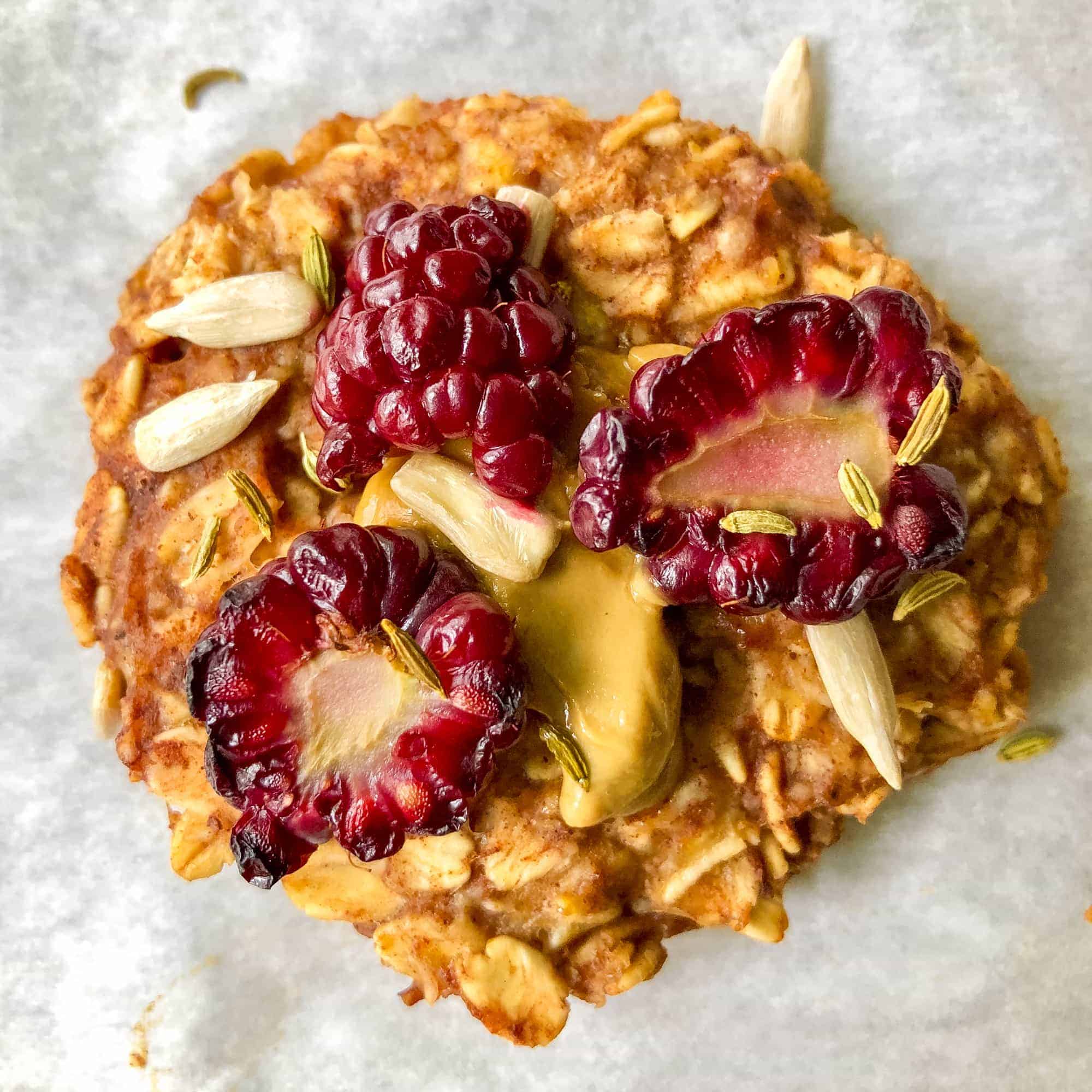 👨‍👩‍👦‍👦 Serving suggestions
Kid friendly cookies
These simple, chewy cookies are great for a kids breakfast or snack throughout the day.
They keep, stored in the refrigerator, for 3-4 days, but do not have to stay chilled, so you can throw them in your kids' lunch box for school. Or, in your purse for running errands.
Since these cookies have no sugar, you can feel good about feeding them to your kids and toddlers. For toddlers that can't chew well yet, make sure and break up the cookie into small pieces for them.
💜 More recipes you'll love
So, without further ado, don't throw out those spotty bananas, use them to make these quick and easy 3 ingredient banana oatmeal cookies.
Love this recipe? Please rate it 5 stars ⭐️⭐️⭐️⭐️⭐️ below in the recipe card. And, if you make it, please tag me on Instagram or Facebook in your posted photos! I would love to see your creations. 😄
📖 Recipe
3 Ingredient Banana Oat Cookies
3 Ingredient Cookies that are quick and easy to make. These healthy, sugar free banana oatmeal cookies are guilt-free and great for kids and toddlers! 
Instructions
Preheat oven to 350 F. Peel and mash bananas in a medium bowl with a potato masher or fork. Make sure they are well-mashed, with only small chunks remaining.

Stir in rolled oats and cinnamon. Set aside for a few minutes to allow the oats to soak up the moisture. If the batter is very wet/thin still, add 1-2 tablespoons of oats.

Line a baking tray with parchment paper or a silicone baking mat. (Cookies will stick if you skip this step). 

Drop spoonfuls of batter onto baking tray and then shape with your fingers. Cookies do not spread out while baking, so shape them into the width and height you want them to be. This recipe will make about eight medium, 3-inch wide cookies.

Add optional toppings, if using.

Bake cookies for 17 minutes. *See notes for adjustments for smaller or larger cookies.

Remove from oven and allow to cool slightly before enjoying.
Notes
If making small 2-in wide cookies, reduce cooking time by 3-5 minutes. If making large 4-in wide cookies, increase cooking time by 2-3 minutes.
Spices & Flavoring: Instead of cinnamon, try using 1 teaspoon of vanilla extract instead. Or, ¼ teaspoon of cardamom + ¼ teaspoon of cinnamon. 1 teaspoon of pumpkin spice seasoning is another good option.
Toppings: dark chocolate chips or shavings, walnut halves, chopped walnuts, pecan halves, chopped pecans, sunflower seeds, smear of fruit preserves, jam or jelly, berries, raisins, dried cranberries, flaxseed, coconut or wheat germ.
Nutrition
Serving:
2
cookies
Calories:
130
kcal
Carbohydrates:
28
g
Protein:
3
g
Fat:
2
g
Saturated Fat:
1
g
Polyunsaturated Fat:
1
g
Monounsaturated Fat:
1
g
Sodium:
2
mg
Potassium:
287
mg
Fiber:
4
g
Sugar:
7
g
Vitamin A:
39
IU
Vitamin C:
5
mg
Calcium:
18
mg
Iron:
1
mg