Perfect for a picnic or packing your lunch for work, this orzo pasta salad with artichoke, squash and spinach will come together in less than 30 minutes. It's loaded with fresh veggies and tossed in a simple homemade mason jar-shaken vinaigrette.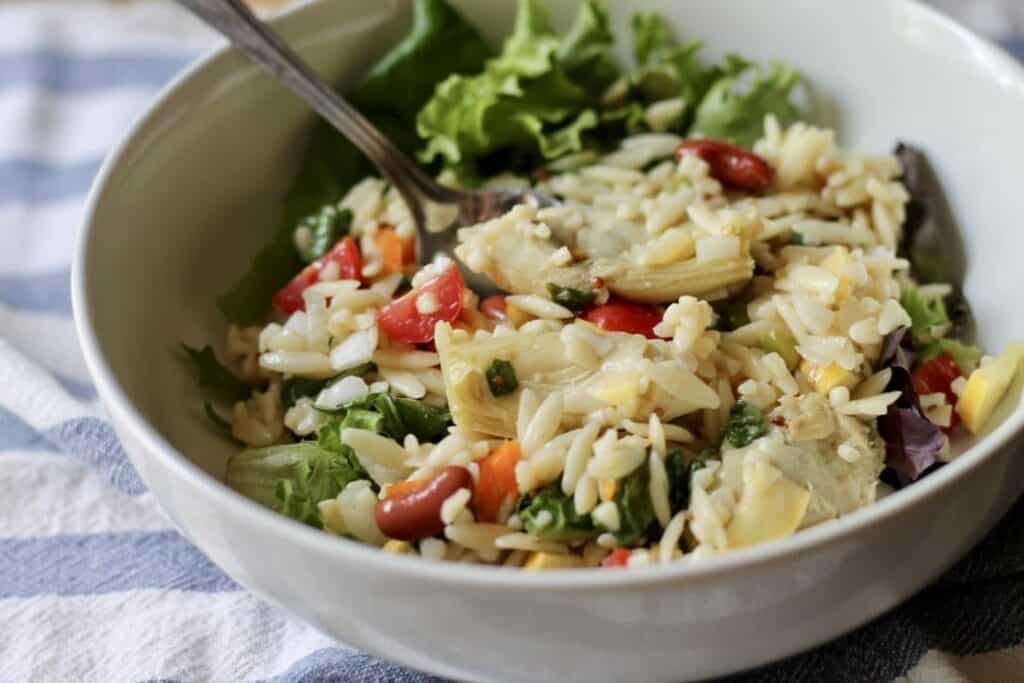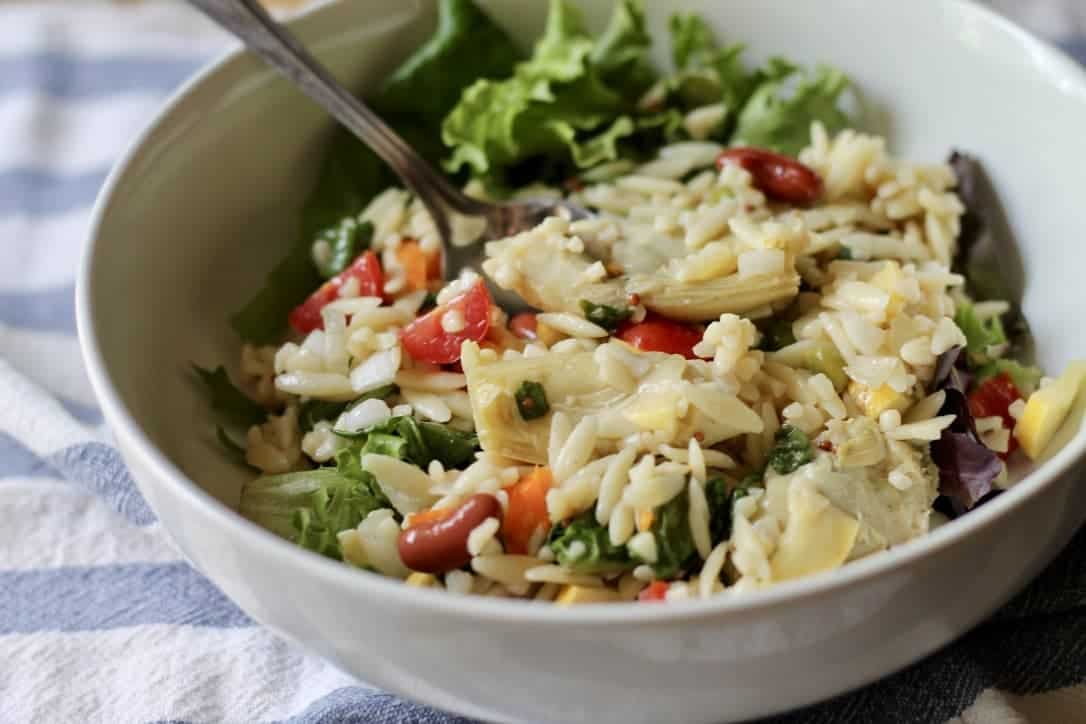 Jump to:
🧄 Ingredient notes
To make the pasta salad, you'll need:
orzo pasta
artichoke hearts
green peas
cherry tomatoes
bell pepper
onion
kidney beans
summer squash
spinach
For the dressing, you'll need:
red wine vinegar
dijon mustard
whole grain mustard
maple syrup, honey or agave
🔪 Instructions
This pasta salad comes together in just a few steps:
Cook the orzo
Chop the veggies
Shake the dressing to mix
Toss everything in a big bowl and you're done!
Pasta salads are my favorite when I have to pack my lunch to go anywhere. Why?
They taste great cold or at room temperature, so you're not searching for a way to heat them up. Plus, they are filling and versatile.
You can mix and match whatever veggies, beans or pasta you may have on hand.
The orzo
To make one pound of orzo pasta, bring a pot with at least 8 cups of water and a teaspoon of salt to a boil. Then, add in your pasta and stir well.
Reduce heat to medium high (just enough to keep it boiling lightly).
Orzo, more than other shapes of pasta, has an irritating tendency to stick to the bottom of the pan. So, stir it frequently.
Set a timer to check the pasta for doneness one minute before the time on the package instructions. For example, if the package says "cook for 12-13 minutes", set your timer for 11 minutes.
Then, taste the orzo and see if it's tender. If it's not, let it cook another 30-60 seconds and taste again. Keep a close eye on it at this point. Pasta can go from al dente to mushy in 1-2 minutes.
Once it's tender, drain it into a strainer or colander in the sink. Lightly rinse with cold water to wash off a little bit of the starch, so it won't stick together too much in your salad.
For the record, I don't normally recommend rinsing pasta, because that starchiness gives it a beautiful flavor. But, the starchiness stuck to the pasta also makes it, well, sticky!
So, in a salad like this, where we're not using oil to separate the orzo grains, a light rinse will help it separate.
No need to go overboard with the water. Just run cold water over the colander for 2-3 seconds. Seriously, just a few seconds.
Then, set your orzo aside to cool before adding it to your veggies. If you add it hot, it will cook some of your more delicate vegetables and we don't want that.
The veggies
Get a big bowl out, one that's big enough to hold everything in the recipe plus enough room to mix everything up.
Now, start chopping your veggies and throwing all of them into the bowl. The artichoke hearts are easy, just drain them and put them in the bowl.
Add the peas in frozen (no need to cook them, just throw them in).
Quarter your cherry tomatoes and toss them in. Dice up the bell pepper, onion, yellow squash and spinach and add it all.
Drain and rinse your can of kidney beans and add them, too. Lightly toss to mix the veggies.
Now, once the orzo pasta has cooled, you can add it in the bowl, as well.
The dressing
We need a dressing for this colorful pasta salad, don't we?
We're going to make a sweet and tangy vinaigrette by adding all the ingredients to a mason jar and shaking it up to emulsify everything.
Our ingredients are red wine vinegar (a mild and flavorful vinegar), dijon mustard (helps to thicken it, plus adds flavor), whole grain mustard, liquid sweetener (maple syrup, agave or honey all work), salt and pepper.
Once those are all added, put the lid on tight and shake it up! It's a great arm exercise, too, hahaha.
Once it's combined, taste it and adjust according to your preferences.
Then, add it half of the dressing to your pasta salad, toss gently, taste and add more dressing, based on how much dressing you like.
I like to reserve a little dressing in case I'm serving it to someone who likes extra dressing. It's also a great oil-free salad dressing for a salad later in the week.
🥗What makes a good pasta salad?
To make a well-rounded pasta salad, here are the things I like to include:
small pasta of your choice (my favorites: orzo, mini bowties, shells, rotini)
a bean or legume of your choice
something green (think spinach or kale)
a crunchy veggie (like celery or bell pepper)
a sharp veggie (a little fresh onion does the trick)
a flavorful, acidic dressing
fresh herbs, like basil, send it over the top. These can be incorporated into the dressing or the leaves picked and mixed into the salad.
If you like them, add in a few nuts or seeds for texture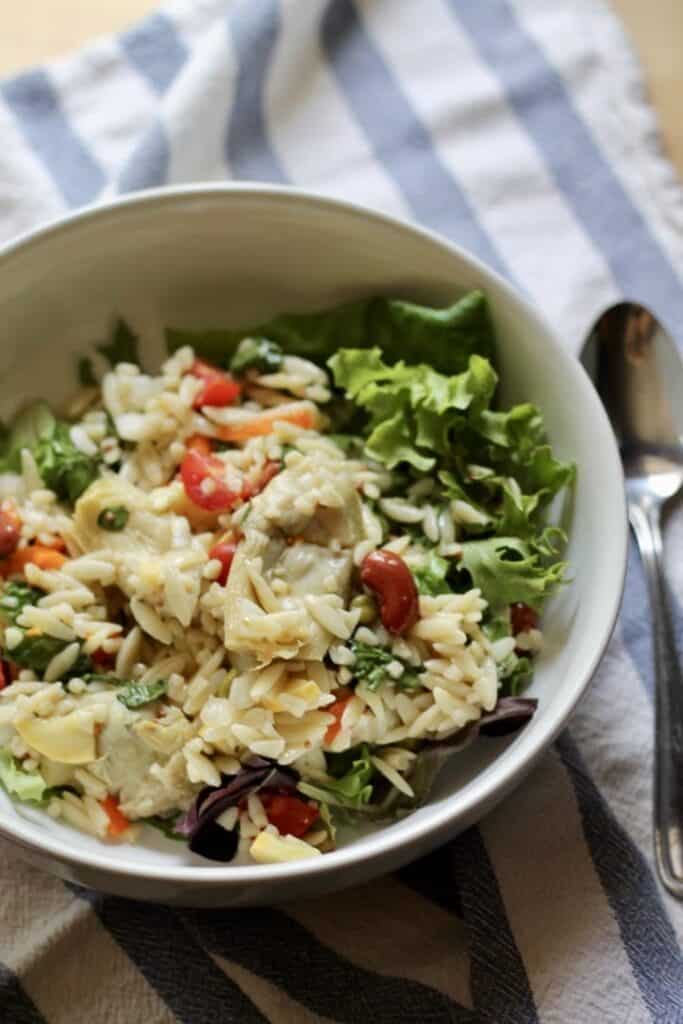 ❓ FAQ
What is orzo, anyway?
We recently took this dish to a friend's house for dinner and he liked it so much, he kept saying "gimme some more of that rice". I don't blame him for the mistaken identity. He's not the only one who mistakes orzo for rice.
Orzo, Italian for barley, is a small pasta that is shaped like a large grain of rice. Because of it's shape and size, it is well-suited for salads and for adding to soups.
Can you substitute orzo for rice?
Orzo is pasta, not rice, so use it as you would other small pasta. It is not an exact substitute for rice, as the cooking times and methods vary and pasta behaves differently than rice when it is cooked.
For example, orzo pasta can be eaten cold without losing its tender texture. Cooked long grain rice is usually dry and hard when it's cold. Some varieties of rice keep a desirable texture when cold (think short grain sushi rice, which retains more moisture and starchiness).
So, basically, it depends on what kind of recipe you're wanting to substitute orzo for rice or rice for orzo. If the grain will be served warm or hot (like in a soup, for example), you can use orzo in place of rice and vice versa. If the grain will be served cold (like in this salad), only orzo will work.
💜 More recipes you'll love
Love this recipe? Please rate it 5 stars ⭐️⭐️⭐️⭐️⭐️ below in the recipe card. And, if you make it, please tag me on Instagram or Facebook in your posted photos! I would love to see your creations. 😄
📖 Recipe
Orzo Pasta Salad with Mason Jar Vinaigrette
Perfect for a picnic or packing your lunch for work, this orzo pasta salad with artichoke, squash and spinach will come together in less than 30 minutes. It's loaded with fresh veggies and tossed in a simple homemade mason jar-shaken vinaigrette.
Ingredients
1

pound

orzo

8

ounces

artichoke hearts

packed in water, drained

1

cup

frozen green peas

10

cherry tomatoes

quartered

1

bell pepper

diced

1

medium onion

diced

15

ounces

canned kidney beans

drained and rinsed

1

yellow summer squash

quartered lengthwise and then thinly sliced

4

ounces

baby spinach

whole or roughly chopped
Mason Jar Sweet Mustard Vinaigrette
Instructions
Cook orzo in boiling, salted water on the stove, according to package directions. Be sure to stir frequently, as orzo has a tendency to stick to the bottom of the pan.

Meanwhile, in a large bowl, add the artichoke, green peas, tomatoes, bell pepper, onion, kidney beans, summer squash and spinach and gently toss to combine.

8 ounces artichoke hearts,

1 cup frozen green peas,

10 cherry tomatoes,

1 bell pepper,

1 medium onion,

15 ounces canned kidney beans,

1 yellow summer squash,

4 ounces baby spinach

Taste the orzo to check for doneness. It should be tender. Once done, drain and lightly rinse with cold water. (I don't normally recommend rinsing pasta, as the starch brings delicious flavor to your dish. But, orzo sticks like crazy, so lightly rinsing it will help it be fluffy and separated, without having to add oil.)

For the dressing, add all ingredients to a large, quart-size mason jar. Close lid tightly and shake vigorously to combine. Taste and adjust seasoning, as needed.

½ cup red wine vinegar,

¼ cup dijon mustard,

¼ cup whole grain mustard,

¼ cup agave nectar,

1 teaspoon sea salt,

1 teaspoon freshly ground black pepper

Add orzo and ½ of the dressing to the bowl and gently toss to combine. Taste and add more dressing, as needed.
Notes
Orzo pasta can be substituted for any other type of small, short pasta you prefer.
Nutrition
Calories:
439
kcal
Carbohydrates:
86
g
Protein:
18
g
Fat:
2
g
Saturated Fat:
1
g
Polyunsaturated Fat:
1
g
Monounsaturated Fat:
1
g
Trans Fat:
1
g
Sodium:
965
mg
Potassium:
777
mg
Fiber:
11
g
Sugar:
15
g
Vitamin A:
2799
IU
Vitamin C:
56
mg
Calcium:
91
mg
Iron:
4
mg