Elevate your morning oatmeal with warming spices and lots of sweet and tart apples. Apple pie spices take apple cinnamon oatmeal to the next level. Try this vegan, easy homemade apple pie oatmeal recipe for your next breakfast.
For another super easy oatmeal recipe, learn how to make the best basic vegan overnight oats.
Jump to:
🧄 Ingredient notes
To make this healthy, low-fat apple pie oatmeal, you'll need the following ingredients:
diced apples (green and/or red apples)
rolled oats
vanilla extract
apple pie spice (keep reading for the spices you can use to substitute)
Apple pie spice substitute
You may be thinking, "what is a substitute for apple pie spice?" I've got you covered.
If you don't have prepared apple pie spice, use the following spices. These spices will replace the ½ tablespoon of already mixed apple pie spice in this recipe.
1 teaspoon ground cinnamon
¼ teaspoon ground nutmeg
⅛ teaspoon ground allspice
⅛ teaspoon ground ginger
⅛ teaspoon ground cardamom
Make your own bulk apple pie spice
To make your own apple pie spice in bulk, increase the quantities above, mix them all in a bowl. Then, transfer the mixed spices to a small jar or bag.
Now they're ready to use next time you want to make apple pie or this apple pie oatmeal! I've done the math for you down below.
To make about ¼ cup of homemade apple pie spice:
8 teaspoons ground cinnamon
2 teaspoons ground nutmeg
1 teaspoon ground allspice
1 teaspoon ground ginger
1 teaspoon ground cardamom
You'll have enough apple pie spice to make 8 apple pie oatmeal recipes, if you mix the spices ahead of time.
👨‍👩‍👦‍👦 Serving suggestions
Toppings!
This apple oatmeal from scratch is so delicious by itself since it's loaded with cooked apples.
But, you could top it with anything you love, like:
vanilla or plain dairy-free yogurt
almond milk (or other plant-based milk)
walnut and/or pecan pieces (dry roasted in a pan for a few minutes brings out even more flavor)
whole or ground flaxseed
hemp hearts
sweetener of your choice (maple syrup, brown sugar, cane sugar, agave nectar, honey, brown rice syrup, blackstrap molasses)
Vegan weight loss meal
This apple pie oatmeal is a great option for vegan weight loss because all the basic ingredients are low in calorie density. It will keep you really full throughout the day, as well, because of all the fiber!
To keep it low calorie density, then choose to top your oatmeal with fruit (like sliced banana, cherries or more apples). Omit or limit higher calorie dense foods, like dried fruit, sugar, nuts, seeds and nut butters.
How to spice up your morning oatmeal
If you're looking for ways to spice up your everyday morning bowl of oatmeal, check out the below article → 10 Ways to Spice Up your Oatmeal.
Or, try one of my other homemade fruity oatmeal recipes below!
❓ FAQ
Is apple and cinnamon oatmeal good for you?
Homemade apple cinnamon oatmeal is very good for you, because you can control the ingredients and how much sugar is added. Apple cinnamon oatmeal packets have loads of sugar and use quick oats, which are more refined than old fashioned rolled oats or steel cut oats.
Is oatmeal good for weight loss?
Yes! Oatmeal, especially steel cut or old fashioned oats, is very high in fiber, low in calories and low in fat. It is excellent for weight loss. To make oatmeal a weight loss meal, cook it in water and mix in or top your oatmeal with fruit to make it sweet. Limit or omit higher calorie dense foods, like sugar, nuts, seeds, nut butters and dried fruit.
Is it okay to eat oatmeal every day?
Yes! Keep to the whole grains as much as possible (avoid the quick oat packets), and sweeten and top your oatmeal with fresh or frozen fruit, instead of high calorie ingredients like nuts, nut butters, seeds and dried fruit.
🔄 Variations
Vegan, dairy-free apple cinnamon oatmeal from scratch
To make homemade apple cinnamon oatmeal without dairy, start with lots of fresh, diced apples. You could also use applesauce or canned apples to make it.
Add your apples and a good amount of cinnamon to the oatmeal while it's cooking to infuse the oats with that flavor. Pro tip: if using canned apples, add the syrup/juice to the oatmeal for sweetener and more apple flavor.
Add a little vanilla extract and your favorite sweetener. Top it with some vanilla soy yogurt (or other dairy-free yogurt) for creaminess!
Enjoy your homemade apple cinnamon oats!
Switch up the toppings
Switch out the toppings for a delicious variation to this apple cinnamon oatmeal. Some good choices are:
diced raw apples
applesauce
raisins
dried cranberries
sliced banana
sliced nectarines
frozen berries
nuts and seeds like slivered almonds, pecans, walnuts, pepitas, whole flaxseed, ground flaxseed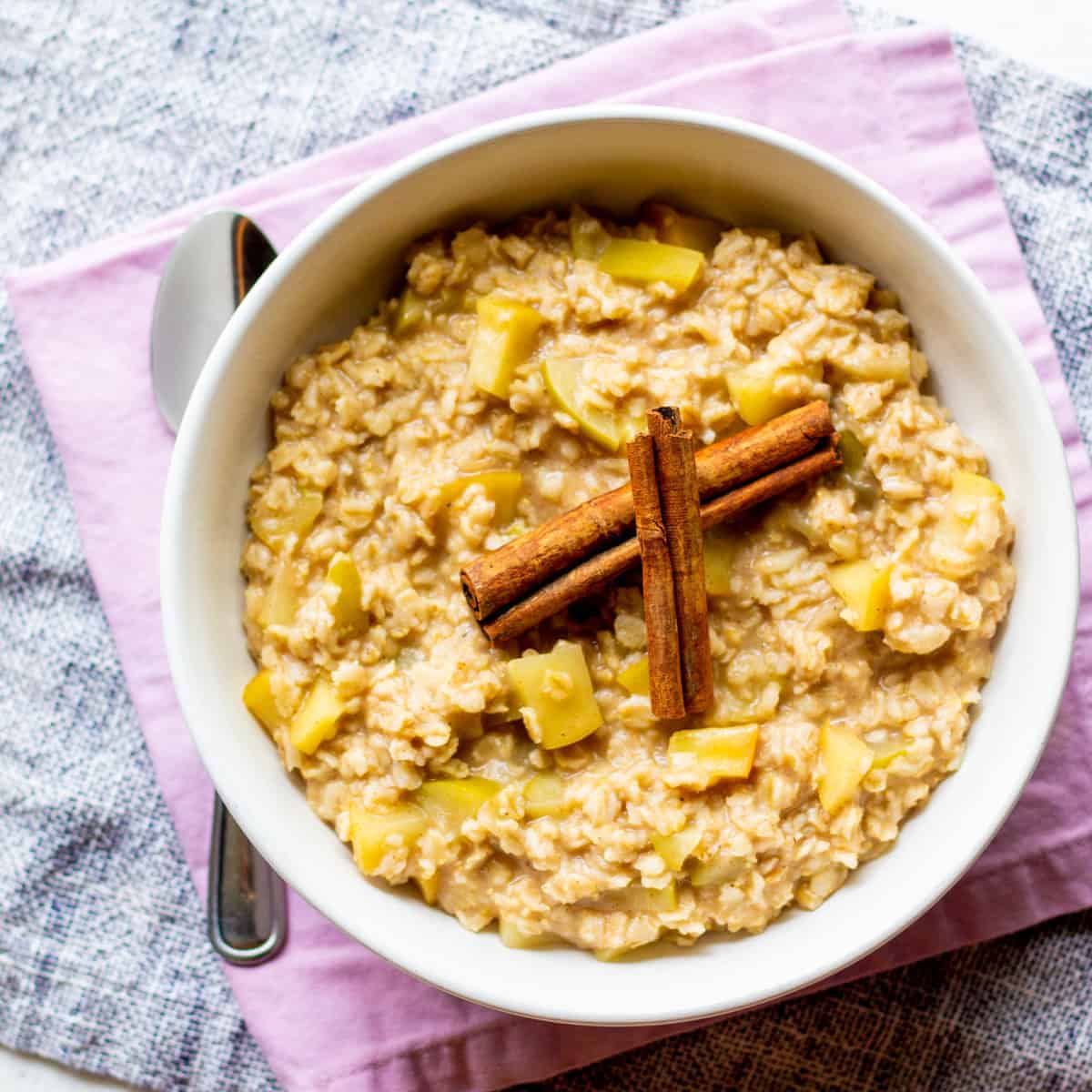 💭 Tips
Batch cook this homemade apple pie oatmeal from scratch by making a double recipe, so you'll have plenty for breakfast over the week!
This recipe is great for kids, too!
💜 More recipes you'll love
If you love this healthy apple pie spice oatmeal recipe, check out these other plant-based breakfast ideas!
Love this recipe? Please rate it 5 stars ⭐️⭐️⭐️⭐️⭐️ below in the recipe card. And, if you make it, please tag me on Instagram or Facebook in your posted photos! I would love to see your creations. 😄
📖 Recipe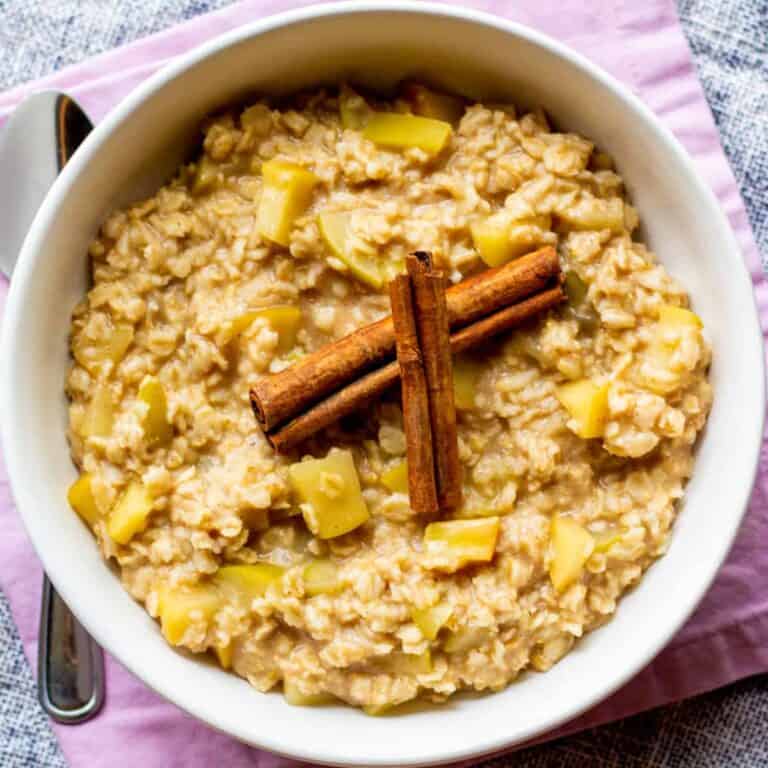 Apple Pie Oatmeal
Elevate your morning oatmeal with warming spices and lots of sweet and tart apples. Apple pie spices take apple cinnamon oatmeal to the next level. Try this vegan, easy homemade apple pie oatmeal recipe for your next breakfast.
Instructions
Add apples, water, vanilla extract, spices and salt to a medium pan and bring to a boil.

Stir in oats, bring back to a boil and then reduce heat to medium low.

Cook until thick, stirring frequently and then turn off heat. Serve with toppings, plant-based milk and sweetener of your choice!
Notes
Substitute the apple pie spice with the following spices:
1 teaspoon ground cinnamon
¼ teaspoon ground nutmeg
⅛ teaspoon ground allspice
⅛ teaspoon ground ginger
⅛ teaspoon ground cardamom
Nutrition
Serving:
2
cups
Calories:
253
kcal
Carbohydrates:
49
g
Protein:
7
g
Fat:
4
g
Saturated Fat:
1
g
Polyunsaturated Fat:
1
g
Monounsaturated Fat:
1
g
Sodium:
20
mg
Potassium:
292
mg
Fiber:
8
g
Sugar:
9
g
Vitamin A:
48
IU
Vitamin C:
4
mg
Calcium:
49
mg
Iron:
3
mg