Hate doing dishes, short on time and love pasta? Make this vegan one pot pasta puttanesca recipe. Linguini, olives, capers, cherry tomatoes, garlic and parsley cook up to a flavorful and rich plant-based meal that'll be done in less than 15 minutes.
Did I mention this entire recipe is cooked on high heat? My kind of recipe, let me tell you.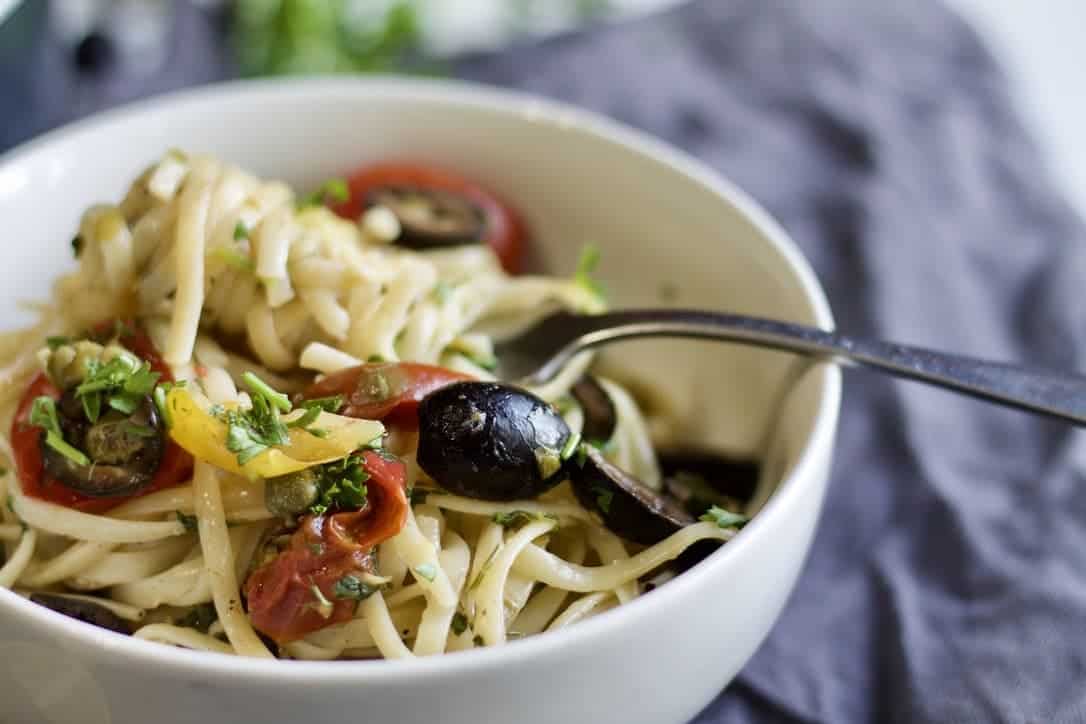 Jump to:
🥘 Ingredients
For this recipe you'll need:
a pound of linguini (one box)
cherry tomatoes
black olives
capers (I used capote capers, but any will work)
parsley
garlic
lemon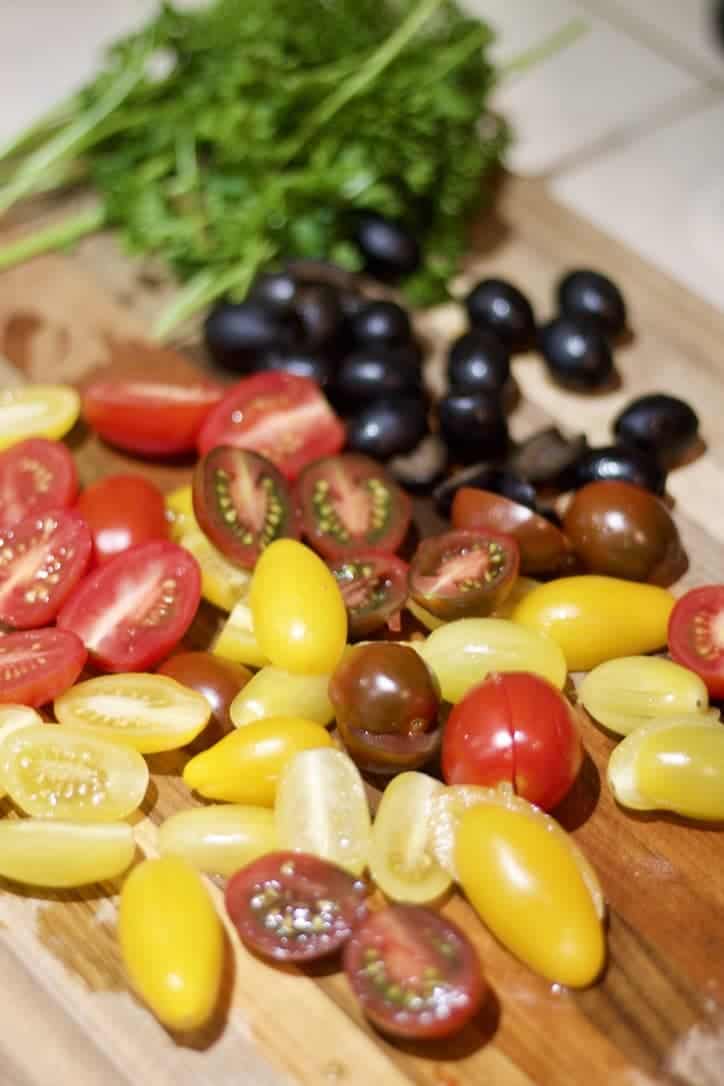 🔪 Instructions
I'm really fast with a kitchen knife, but even I need to have everything chopped and ready before turning on the stove in this recipe. It goes so insanely fast that if you chop as you go, you'll be likely to:
A) cut yourself because you're rushing,
B) make a mess trying to throw everything in quickly (been there, done that) or
C) the pasta will be done and stuck together because instead of stirring, you were chopping garlic.
So, just this once, prep everything ahead of time and then turn on the burner. Pretty please?
Okay, now that we've got that awkward conversation out of the way...
Add your water to your skillet and then turn the heat on high. Yes, high heat. Crank it up!
Add in all the other ingredients, except your lemon wedges and extra parsley for sprinkling on top. The water should start boiling within a minute or two. Stir and toss with tongs frequently while it cooks.
Keep cooking it over high heat, stirring and tossing the pasta until the pasta is done and the sauce has reduced. Most of the liquid should be gone. You should be left with a silky, flavorful sauce for your pasta, without having to drain it at all.
💭 Top Tips
Choose a large, wide, shallow pan that will hold all of the ingredients (plus the water). A tall stockpot is not the best choice here, because we want the water to evaporate quickly.
Taste the pasta every minute or so in the last few minutes of cooking.

If the pasta is cooking fast, but there's a lot of liquid left, increase the heat.
If the pasta is nowhere near done, but the liquid is almost gone, decrease the heat a bit or add ¼ cup of water and stir.

Use normal white or wheat pasta. Gluten-free pasta does not work the same in this recipe. It will get mushy (thanks, Petrice for testing it!), so I don't recommend it.
🍲 One pot pasta ideas
One pot pasta recipes are amazing. You can use the basic ratios and switch up your veggies, greens, beans, herbs and spices to create different meals.
Basic ratio for one pot pasta
To make other vegan one pot pasta dishes, use these basic ratios:
1 pound pasta that cooks al dente in 8-9 minutes (linguini, spaghetti, bucatini, etc.)
5 cups water
cook over high heat about 10 minutes
One pot pasta variations
Classic Pomodoro: Tomato + basil + garlic + onion
Springtime Lemon: Snowpeas + green onions + garlic + fresh basil + lots of lemon
Nourishing Bolognese: Cooked brown lentils + onion + garlic + carrot + tomatoes + basil
Spicy Chickpea: Cooked chickpeas + spinach + sliced onions + garlic + green onion + red chili flakes
Winter Warmth: Cooked white beans + kale + carrot + red chili flakes
🤔 What are capote capers?
Capote capers are larger (about the size of a chickpea), more mild and usually less expensive than non-pareil capers. Non-pareil capers are more delicate than the larger capote variety. Both can be used for this dish.
If using capote capers, give them a rough chop to allow their flavor to permeate the sauce.
🍝 What is in puttanesca sauce?
Puttanesca sauce is a pasta sauce that was created in Naples, Italy in the mid-20th century. It typically features anchovies, olives, capers and sometimes tomatoes, garlic or chili peppers.
For this plant-based, vegan pasta puttanesca recipe, we're omitting the anchovies and focusing on the salty, tangy capers and olives to bring on the flavor.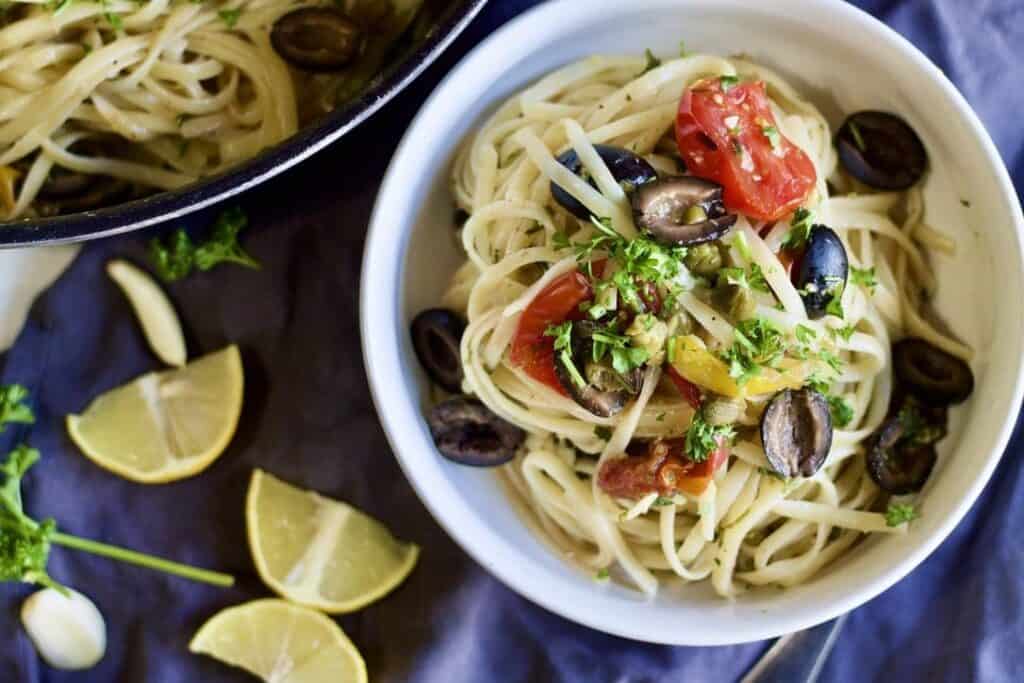 Love this recipe? Please rate it 5 stars ⭐️⭐️⭐️⭐️⭐️ below in the recipe card. And, if you make it, please tag me on Instagram or Facebook in your posted photos! I would love to see your creations. 😄
📖 Recipe
Vegan One Pot Pasta Puttanesca
Hate doing dishes and short on time? Make this vegan one pot pasta puttanesca recipe. Linguini, olives, capers, cherry tomatoes, garlic and parsley cook up to a flavorful and rich meal that'll be done in less than 15 minutes.
Ingredients
16

ounces

linguini

5

cups

water

¼

cup

capers

drained (if using large capote capers, roughly chop them)

½

cup

black olives

pitted, drained, sliced in half

2

cups

cherry tomatoes

sliced in half

3

cloves

garlic

minced

¼

cup

parsley

fresh, minced

1

teaspoon

sea salt

¼

teaspoon

freshly ground black pepper

Lemon wedges and fresh parsley

for garnish
Instructions
Prep all of your ingredients and have them ready before you turn the stove on, because this recipe goes very fast.

In a wide, shallow deep skillet, add the water and turn the burner on high heat. Add in all of the rest of your ingredients, except the lemon wedges, and bring to a boil. Stir with tongs to prevent the pasta from sticking together.

Continue to cook on high heat for 8-9 minutes, stirring and tossing with the tongs frequently.

Taste the pasta to see if it is done. Once the pasta is cooked through and most of the liquid is gone, turn off the heat. Serve immediately with a splash of fresh lemon juice and extra fresh parsley. Enjoy!
Notes
This is really best served immediately. If it sits out too long, it will stick together, because of all the starchy water.
You can substitute 1 tablespoon dried parsley for the fresh parsley.
Not sure what kind of capers to use? I spell out the differences above, in my post.
Optional additions: chickpeas, torn spinach, kale, swiss chard, diced shallots, diced onion, chili peppers, green peas
Pasta Substitutions: Feel free to use other types of long pasta that take about 9 minutes to cook, like spaghetti or bucatini.
Can I use gluten-free pasta? No. Gluten-free pasta will get mushy in this recipe. I don't recommend using it for this recipe.
Nutrition
Serving:
1
portion
Calories:
466
kcal
Carbohydrates:
90
g
Protein:
16
g
Fat:
5
g
Saturated Fat:
1
g
Polyunsaturated Fat:
1
g
Monounsaturated Fat:
2
g
Sodium:
1180
mg
Potassium:
458
mg
Fiber:
5
g
Sugar:
5
g
Vitamin A:
763
IU
Vitamin C:
23
mg
Calcium:
64
mg
Iron:
3
mg
This recipe was adapted from thekitchn.