Enjoy poke bowls at home anytime with this plant-based, vegan take on the beloved Hawaiian street fare. Perfect for meal prep and loaded with veggies, these vegan poke bowls are paired with a sweet soy ginger oil-free dressing.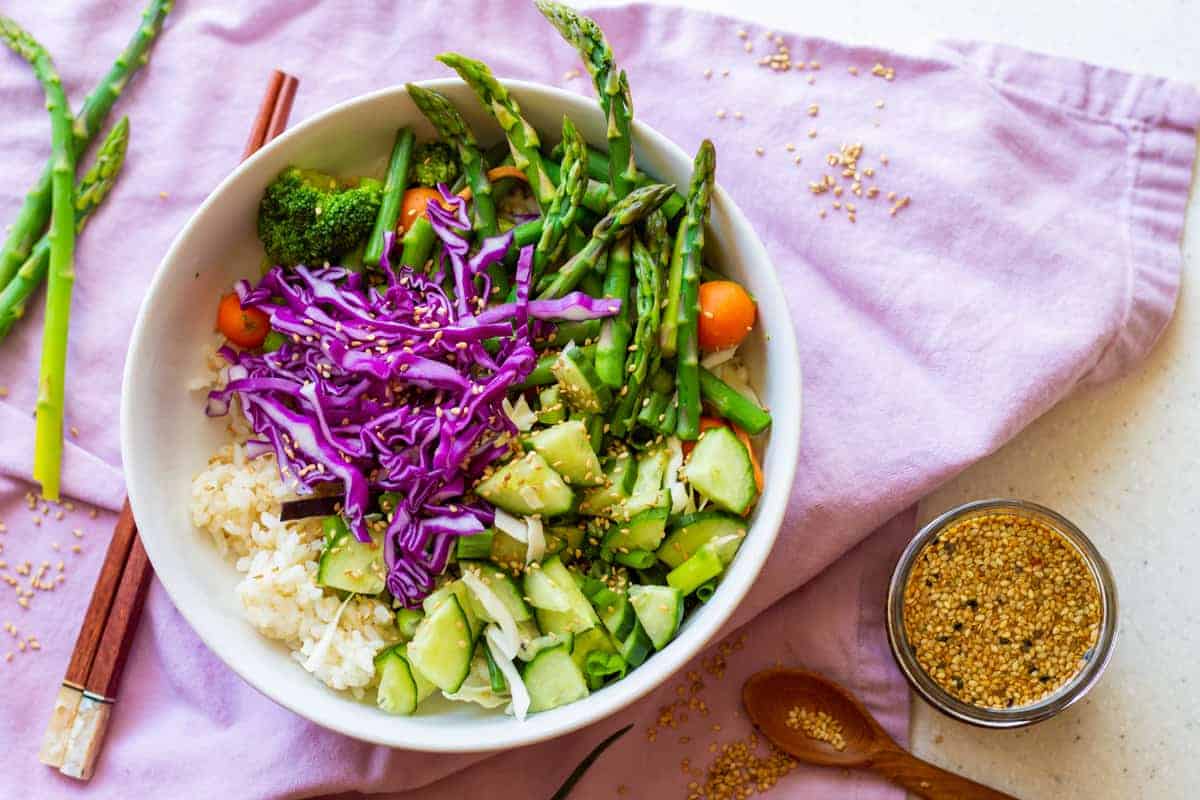 Jump to:
The delicious possibilities are endless with poke bowls! Top with as little or as much variety as you want. Keep it simple with just cucumber and avocado. Or, get creative with marinated watermelon and fancy sauces and toppings.
If you love veggie sushi, poke bowls, cucumber avocado rolls, vegetable sushi rolls, fresh salads, the taste of the sea or just plain delicious food, you'll love poke bowls.
🧄 Ingredient notes
For this vegan poke bowl, you'll need the following ingredients. Please see recipe card at the bottom of this post for amounts and detailed instructions.
sushi rice, white or brown
shredded purple cabbage
sliced cucumber
thinly sliced green onion (scallion)
steamed broccoli
steam-sauteed asparagus
grated carrot
shelled edamame
seaweed snacks (or other seaweed options)
To make the Sweet Soy Ginger Dressing, you'll need:
rice vinegar
soy sauce (or tamari, coconut aminos)
maple syrup (or sugar, honey)
toasted sesame seeds
ground ginger (or fresh, crushed ginger)
wasabi powder or wasabi paste (optional)
Simply Asia sweet garlic ginger seasoning from Costco (optional)
toasted sesame oil (optional, omit for oil-free)
🔪 Instructions
To make this vegan poke bowl, you should start by making sushi rice, according to the package instructions.
Then, you'll prepare your raw and cooked vegetables while your rice is cooking. And, make your dressing.
Once your rice is done, assemble your bowls and enjoy!
The recipe card at the bottom of this post has detailed instructions, so please scroll down to take a look at that for all the details!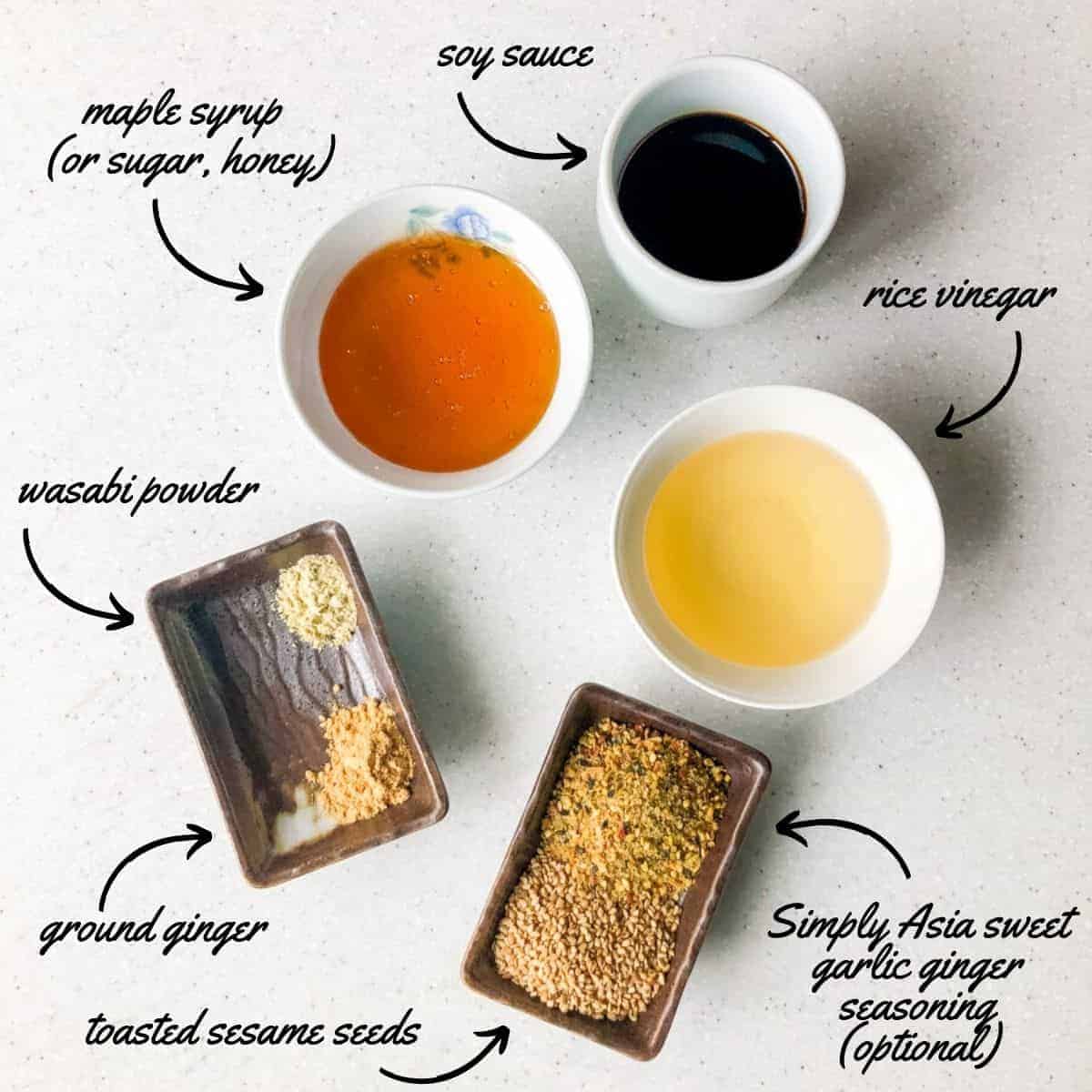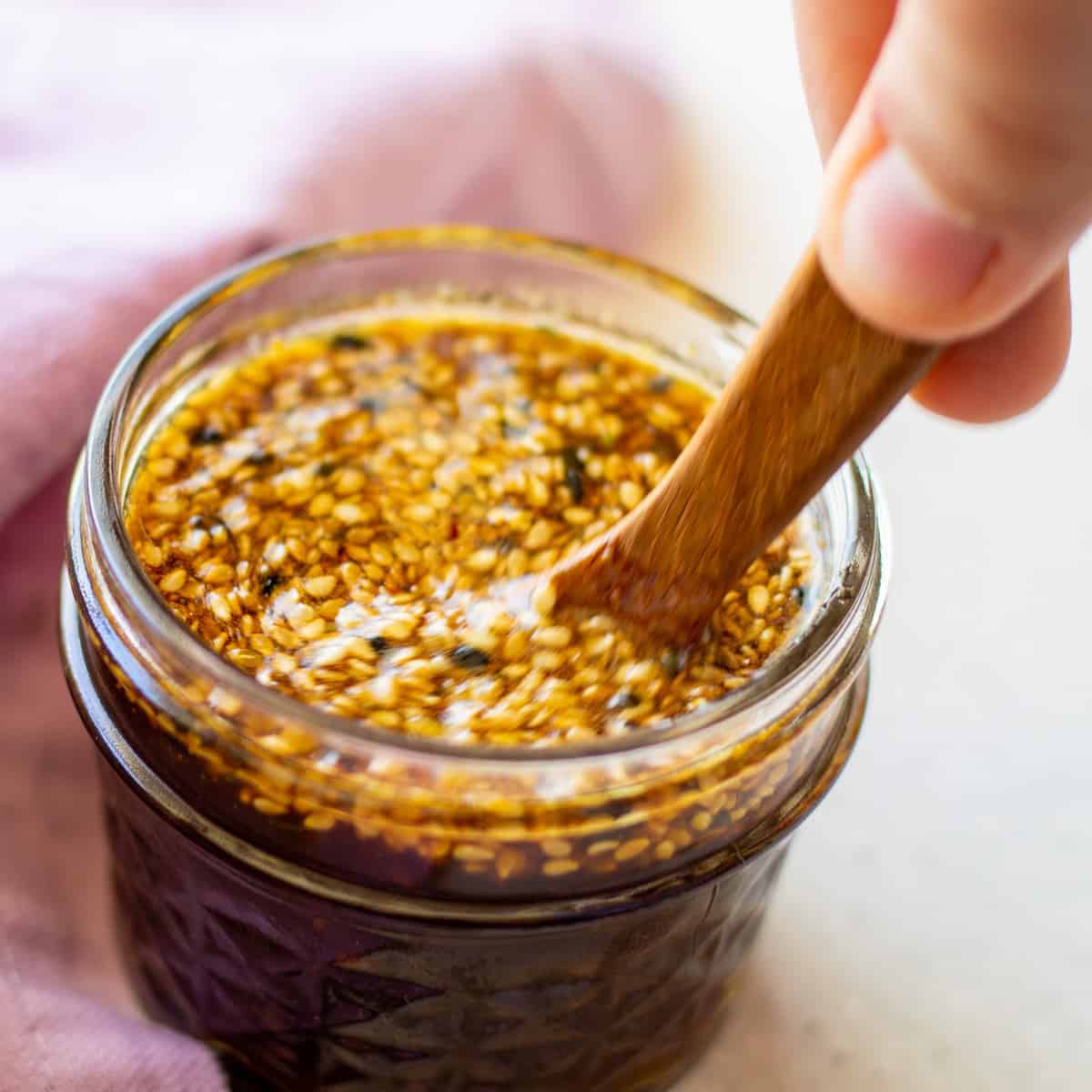 👨‍👩‍👦‍👦 Serving suggestions
This veggie poke bowls work really well for:
meal prep - this recipe will make four poke bowls, enough for four days of work or school lunches for one person.
batch cooking (just double or triple everything for a big family) - store it in the refrigerator in separate components for easy meals while working from home.
serving company or for parties - lay all the components out in a poke bowl buffet and let everyone assemble their bowls, as they like
picnics and day trips - these bowls can be eaten room temperature or cold, so they work well for picnics, day trips, road trips or taking with you to gatherings where you won't have food you can eat.
Poke bowls for vegan weight loss
Poke bowls make excellent 50/50 plates for plant-based weight loss! Our family has been eating a lot of them to help us lose weight after finishing our 10 day potato diet.
To keep them low in calorie density, fill your bowl with lots of non-starchy vegetables (like cabbage, cucumber, bell pepper, carrot, asparagus, broccoli) and rice (brown is best, but white is fine). The combination of the starch with the non-starchy vegetables will keep you full and satiated for less calories.
Omit higher calorie dense plant foods like: avocado, tofu, vegan spicy mayo and oils to keep it low calorie and help you reach your health and weight loss goals.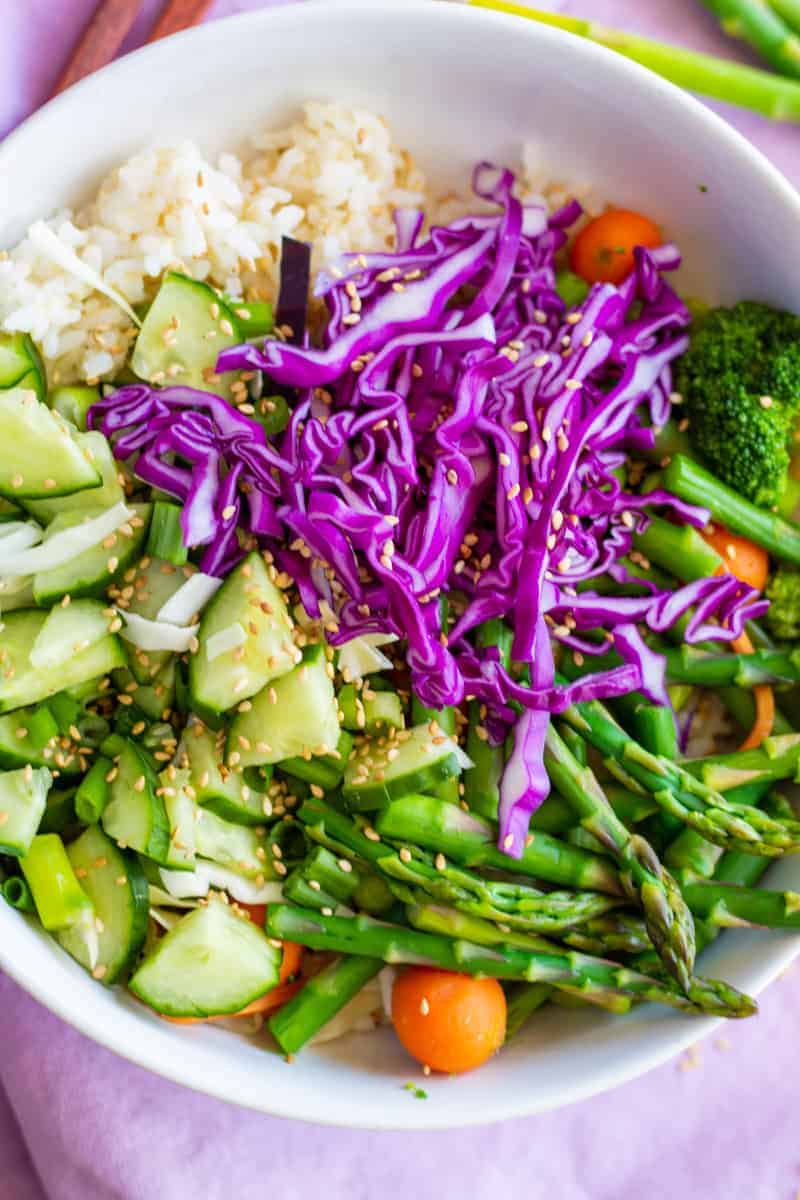 🍱 Poke bowl ideas without fish
Start with a bed of sushi rice, then top with one of the options below and serve with sweet soy ginger dressing and seaweed snacks!
Cucumber + avocado + carrot
Avocado + mango + asparagus (steamed or sauteed)
Cabbage (red or green) + steamed broccoli + edamame (shelled, steamed)
Asparagus + sweet potato (roasted cubes) + carrot
Watermelon (plain or marinated in sweet soy ginger dressing) + spring mix + cucumber
Mandarin oranges + tofu + cucumber
Spring mix + bell pepper + carrot
Wilted spinach + cucumber + carrot + pickled beets
How to make watermelon taste like vegan poke tuna
If you are adventurous and have a little time to get fancy, then try marinating watermelon to mimic spicy tuna for your vegan poke bowl.
Cut watermelon into small cubes
Marinate for at least 30 minutes in soy sauce, rice vinegar, sriracha and honey (or other sweetener).
Eat raw/cold after marinating OR...
Bake / air fry until it reaches desired texture. (When I tested this both ways, I preferred the texture of the baked watermelon after it had cooled.)
☕️ Tea pairing
This vegan poke bowl would be delicious paired with a delicate, light and floral jasmine oolong tea or jasmine green tea.
❓ FAQ
What types of sushi are vegan?
There are many vegan sushi options, including vegetable tempura roll, pickled radish roll, cucumber avocado roll, spinach roll and asparagus roll, all available at our favorite Japanese restaurant, Oishii in Houston. In addition, you can order edamame, vegetable fried rice without egg, vegetable udon soup with no bonito flakes and many more dishes at Japanese restaurants.
Are poke bowls healthy?
Yes! They certainly can be, depending on what you choose to add as your toppings and what your health goals/views are. Choose to top your rice with loads of veggies, fruit and greens and stay away from the high fat dressings like spicy mayo to keep it low calorie and heart healthy.
Is vegan sushi still sushi?
Yes. Vegetable rolls with cucumber, avocado, carrot, asparagus, pickled radish, spinach, sweet potato and more are still considered sushi.
What is vegan sushi made of?
Vegan sushi is made of rice, nori seaweed and whatever vegetables you'd like, like cucumber, avocado, carrot, asparagus, sweet potato, mango, etc.
🗺 Cultural influences
Poke is one of the main dishes of Native Hawaiian cuisine and is traditionally served with cut up fish or seafood, rice, soy sauce, sesame oil, chili pepper, furikake and other seasonings, which draws influence from Japanese and other Asian cultures.
Sometimes called "sushi bowls", this is inaccurate, because sushi is Japanese and is always served in small pieces or rolls, not deconstructed in bowls.
Poke has gained in popularity in mainland North America in recent years and is served with many non-traditional toppings in poke restaurants.
💜 More recipes you'll love
If you love this vegan poke bowl recipe, check out these other Asian-inspired plant-based recipes!
Love this recipe? Please rate it 5 stars ⭐️⭐️⭐️⭐️⭐️ below in the recipe card. And, if you make it, please tag me on Instagram or Facebook in your posted photos! I would love to see your creations. 😄
📖 Recipe
Vegan Poke Bowl with Sweet Soy Ginger Dressing
Enjoy poke bowls at home anytime with this plant-based, vegan take on the beloved Hawaiian street fare. Perfect for meal prep and loaded with veggies, these vegan poke bowls are paired with a sweet soy ginger oil-free dressing.
Ingredients
2

cups

sushi rice

short grain white or brown rice

2

cups

purple or green cabbage

shredded

2

cups

cucumber

thinly sliced

1

large avocado

peeled and cubed

3

large carrots

grated

4

green onions

thinly sliced

1

bunch

asparagus

trimmed

12

ounces

broccoli

frozen, steam-able bag is easiest

12

ounces

shelled edamame

frozen, steam-able bag is easiest

4

packages

seaweed snacks

optional, but recommended - see Notes for oil-free alternatives
Sweet Soy Ginger Dressing:
Instructions
Prep ingredients
Sushi rice: Rinse rice in a fine mesh strainer for about 30 seconds, agitating the rice with your hand. Cook rice according to package directions. While your rice is cooking, prepare your dressing and vegetables.

Cucumber: Slice into small pieces or thin slices, according to your preference. Set aside.

Cabbage: Shred by cutting very thinly with knife or box grater (on the slicing side) and set aside. (Time saver: buy pre-shredded cabbage in cole slaw bags)

Carrot: Peel carrots, then grate on the large hole of a box grater. (Time saver: buy julienned carrots and use raw. If they are too tough, steam for 4 minutes.)

Green onion: Slice thinly and set aside.

Avocado: Cut in half. Remove pit. Use a knife to carefully cube the avocado while still in the peel. Then, use a spoon to scoop out the avocado cubes into your prepared bowls.

Asparagus: Heat a non-stick skillet over medium-high heat, add cut asparagus and ¼ cup of water. Cook until crisp tender (about 4-5 minutes), then remove from heat.

Broccoli: Steam for 4-5 minutes in microwave or on stove. Set aside.

Edamame: Steam for 5-6 minutes in microwave or on stove, until tender. Set aside.

Dressing: Combine all ingredients in a mason jar or bowl and combine well. If using sugar instead of maple syrup or honey, combine it with the soy sauce and vinegar, then heat it up for 30-60 seconds in the microwave to dissolve the sugar. Then, add the remaining ingredients.
Assemble poke bowls
When rice is done, serve it into four large bowls. Then, divide the toppings equally between all four bowls. Pour dressing over bowl and serve with seaweed snacks!
Notes
Substitutions:
Sushi rice: any sushi rice will work for this. Sushi rice is a short grain rice that is sticky when cooked. You can also use brown sushi rice, brown short-grain rice or haiga short grain rice.
Vegetables and Fruit Options: Use whatever vegetables you like!!! Some alternative vegetables and fruit we eat in poke bowls are: spring mix, lettuce, sauteed greens, sauteed spinach, cubed mango, cubed watermelon, mandarin orange segments, cooked cubed sweet potato, raw sliced sweet bell peppers, pickled radish, pickled beets. The options are pretty limitless.
Seaweed Snacks: for an oil-free seaweed flavor, try using a vegan, plan furikake rice seasoning (it just has seaweed, sesame seeds and salt), dulse flakes or a sheet of seaweed nori cut up into small pieces or strips.
Soy Sauce: Use tamari for gluten-free or coconut aminos for soy-free.
Ginger: If you use dried ground ginger, the dressing will last 1-2 months in the refrigerator. (fresh ginger is stronger and fresher tasting, but only lasts a week, refrigerated.)
Optional seasonings:
Make it spicy! Use nanami togarashi, sriracha or chili garlic sauce
Pickled ginger is delicious and perfect in this bowl, as well.
Nutrition
Serving:
1
portion
Calories:
753
kcal
Carbohydrates:
130
g
Protein:
32
g
Fat:
15
g
Saturated Fat:
2
g
Polyunsaturated Fat:
4
g
Monounsaturated Fat:
7
g
Trans Fat:
1
g
Sodium:
965
mg
Potassium:
2094
mg
Fiber:
19
g
Sugar:
24
g
Vitamin A:
16264
IU
Vitamin C:
174
mg
Calcium:
323
mg
Iron:
10
mg