Fresh, light and fun to make, try these Vietnamese-inspired vegan spring rolls with cucumber, lettuce, mint, cilantro and tofu with spicy peanut dipping sauce. Such a refreshing summer meal, you'll find you keep coming back for more.
Jump to:
Vietnamese spring rolls are usually served at room temperature, sometimes cold. The outside wrapping is made of rice paper briefly soaked in warm water.
The rice paper is filled with lettuce, herbs, veggies, a protein of some sort and then wrapped up like a mini burrito.
They are sometimes served with fish sauce, but they are delicious with a spicy peanut dipping sauce or sweet chili sauce.
🧄 Ingredients
Vegan spring roll filling options I suggest are:
That being said, you can get creative and adjust the filling to your liking. There are so many options!
To make the 3-ingredient peanut sauce to dip these spring rolls in, you'll need:
Cucumbers
I like Persian (baby) cucumbers here because they are the perfect size.
They just need to be quartered lengthwise. But, you can use any type of cucumber. You'll need to just trim them to be the right length for the size rice paper you're using.
Rice paper
The rice paper I use is a standard round size. Not the mini ones, not the square ones, not the giant ones. They are about 10 inches across.
They carry them in most of the grocery stores I shop in. But, if you need to buy them online, the Three Ladies brand of rice paper is good.
Baked tofu
The garlic ginger lime marinade works well in the baked tofu for this recipe.
As an alternative, give this sweet chili air fryer tofu recipe a try. The air fryer method for this tofu would work for the garlic ginger lime tofu, as well.
You can omit the tofu for soy-free spring rolls. The quartered spears of cucumber will serve as the "backbone" of your spring roll so they don't easily bend over.
🔪 Instructions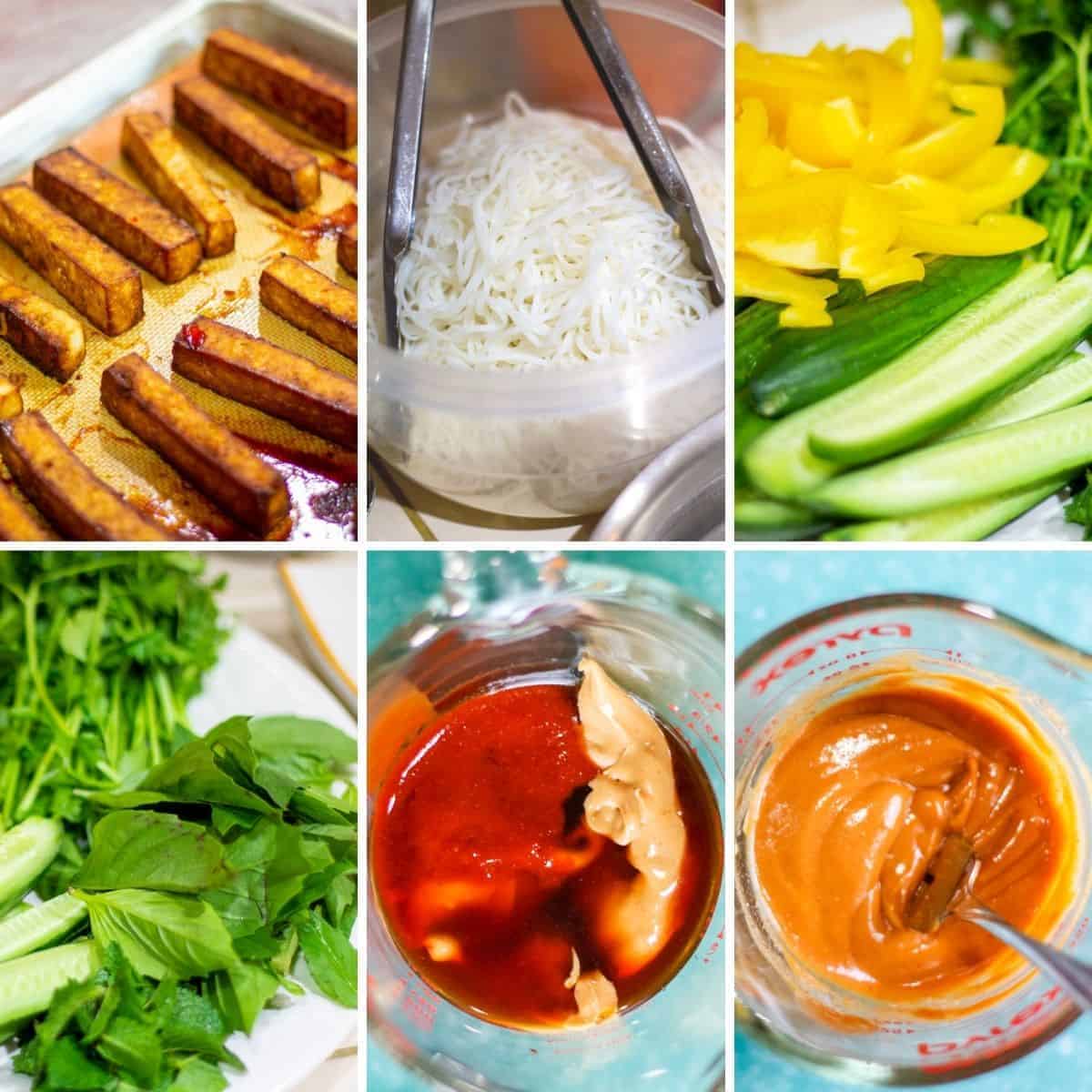 Prepare all the fillings before you assemble
Mise in what? Mise en place (French pronunciation: [mi zɑ̃ ˈplas]) is a French culinary phrase which means "putting in place" or "everything in its place."
Basically, it means to cut and prepare everything you're going to use before you start working on rolling these babies.
So, julienne your carrots, wash, dry and trim your lettuce to a good size, julienne your bell pepper and bake your tofu, if you're using it.
Set everything within arms reach while you're rolling your spring rolls. This works great for a party with friends! Put all the various ingredients on a big platter and start an assembly line.
You'll also need to have a clean, flat surface ready to lay the rice paper on when you pull it out of the water. And, you'll need a plate or serving dish to place them on as you finish rolling them.
How to roll fresh spring rolls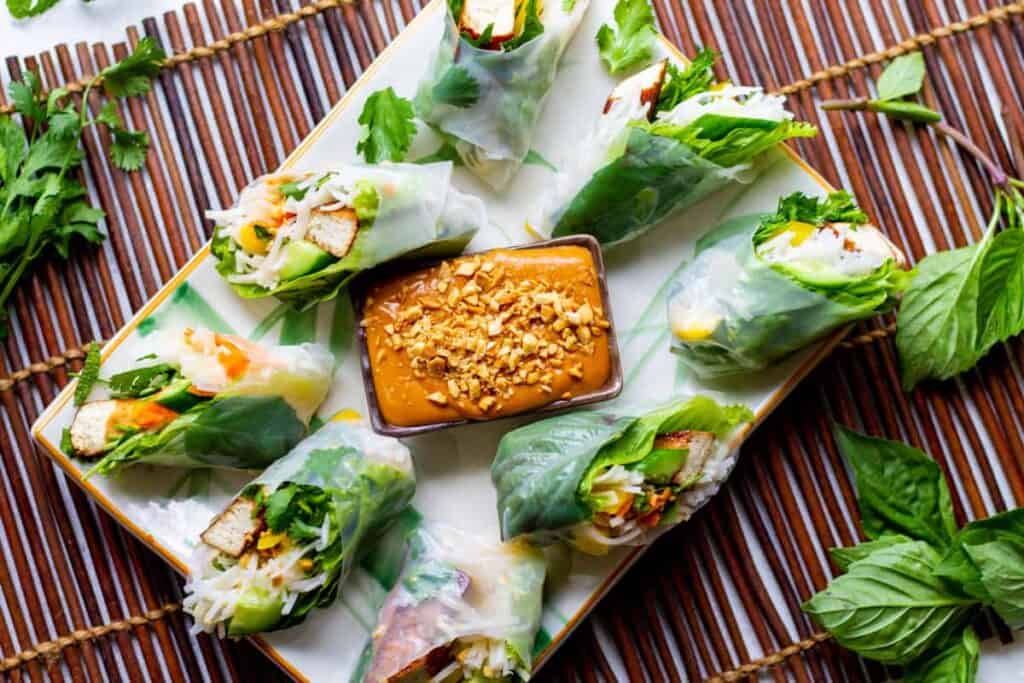 The most challenging part of this recipe is rolling your spring rolls. I've offered my top tips for rolling spring rolls down below in the post.
The water you use to soak your rice paper should not be boiling hot or cold - it should be warm, even hottish, like the temperature of water you would use to wash dishes.
I fill one of my wide 10 inch stainless steel skillets with hot water and use that to dunk the rice paper, because it is larger than the width of the paper.
This works well, because if the water starts to get too cold, I can turn the heat on for a minute and warm it back up.
You could also use a large bowl. My friend, Helen, runs the water from her faucet and holds the rice paper under the water until it softens.
They have a fancy rice paper soaker on Amazon that I have heard good things about, but I haven't tried it. Do what works best for you.
I typically soak them in the water until they are flexible, but still a little firm, about 10-20 seconds. As you fill them they will continue to soften. If you leave them in the water too long then they will get mushy.
How to make peanut sauce for Vietnamese spring rolls
The spicy sriracha peanut dipping sauce is quick to make and can be adjusted to your spiciness preference.
It requires just 3 ingredients, plus water. You'll need peanut butter (or for a low-fat version, PB2 powder), sriracha hot sauce and soy sauce (or tamari, coconut aminos).
Have a lava tongue? Dump in the sriracha. Not into spicy? Just use a little.
❓ FAQ
How long do fresh spring rolls last?
Freshly made spring rolls are best eaten freshly made. But, they will last for 1-3 days in the refrigerator, depending on the ingredients you use to make them. For produce that spoils quickly like avocado, those are better eaten fresh. But produce like carrots, bell pepper will stay fresh tasting longer.
How do you store fresh spring rolls?
If you make extra spring rolls, you'll want to wrap them individually in plastic wrap and refrigerate them to store them so they don't dry out or stick to each other and tear. You might want to refrain from using avocado if you're going to eat them the next day. The other ingredients will keep better.
How do you make peanut sauce for vietnamese spring rolls?
A simple and easy recipe is combining peanut butter, soy sauce, sriracha and water until you get the consistency you like. I have exact ingredients down below in the recipe card.
💭 Tips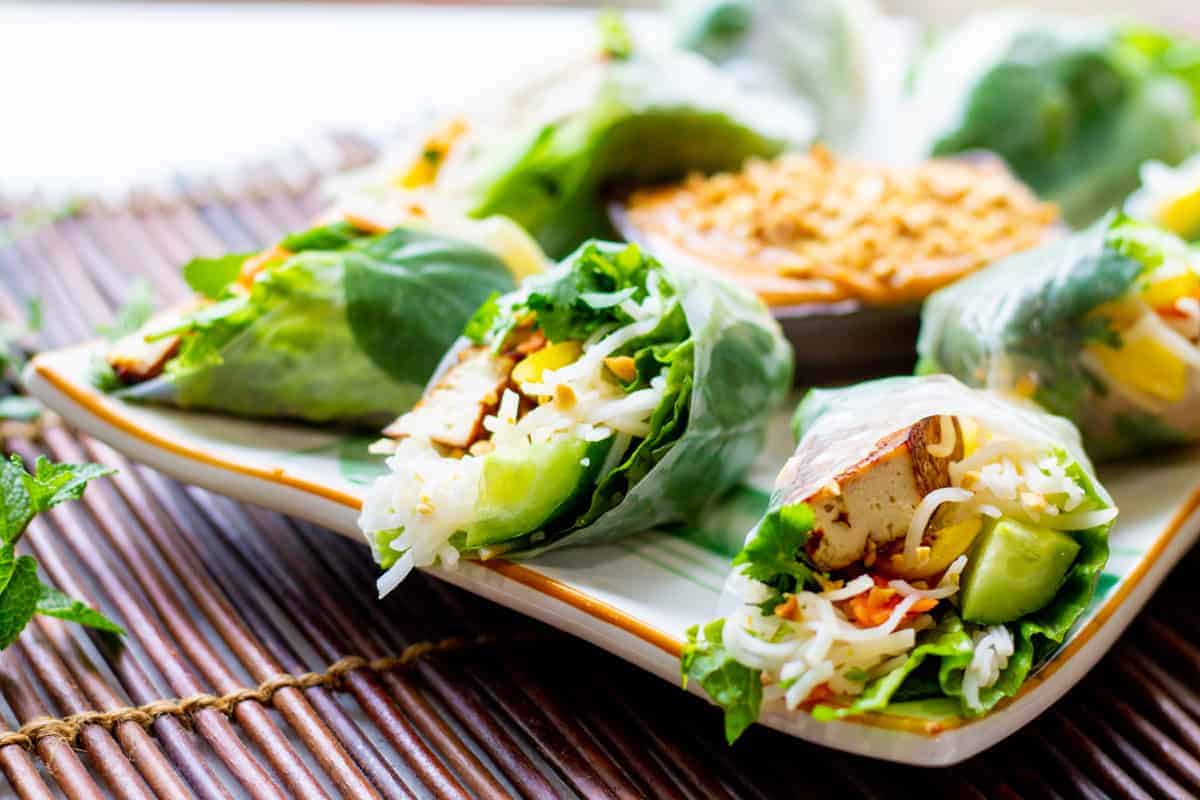 Top tips for rolling spring rolls
Have all your ingredients in place before you get started
Only soak your rice paper for 10-20 seconds or until it's just starting to become more pliable.
Use a flat smooth surface that is plastic, sealed ceramic (like a large plate) or a stone cutting board. Do NOT use a wooden cutting board, they will stick like crazy!
Lightly wet surface before rolling each spring roll.
Don't overfill your spring rolls, they will be too hard to roll and unwieldy to eat.
💜 More recipes you'll love
If you like this Vietnamese fresh spring roll recipe, then check out my other Asian-inspired vegan recipes.
Love this recipe? Subscribe here so you don't miss any new recipes!
Please rate it ⭐️⭐️⭐️⭐️⭐️ down below. ⬇️ And, if you make it, please tag me @veryveganish on Instagram in your posted photos! I would love to see your creations. 😄
📖 Recipe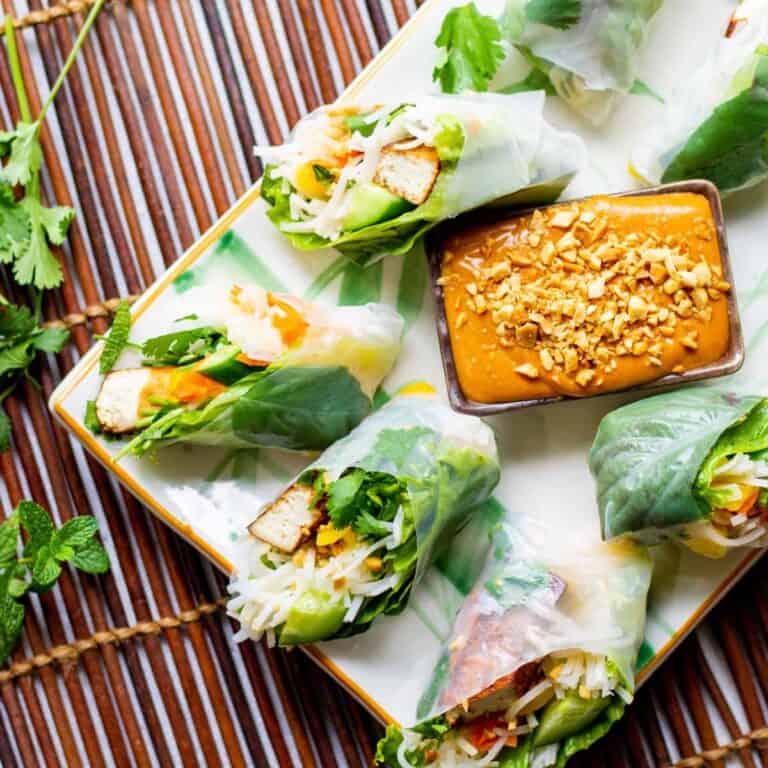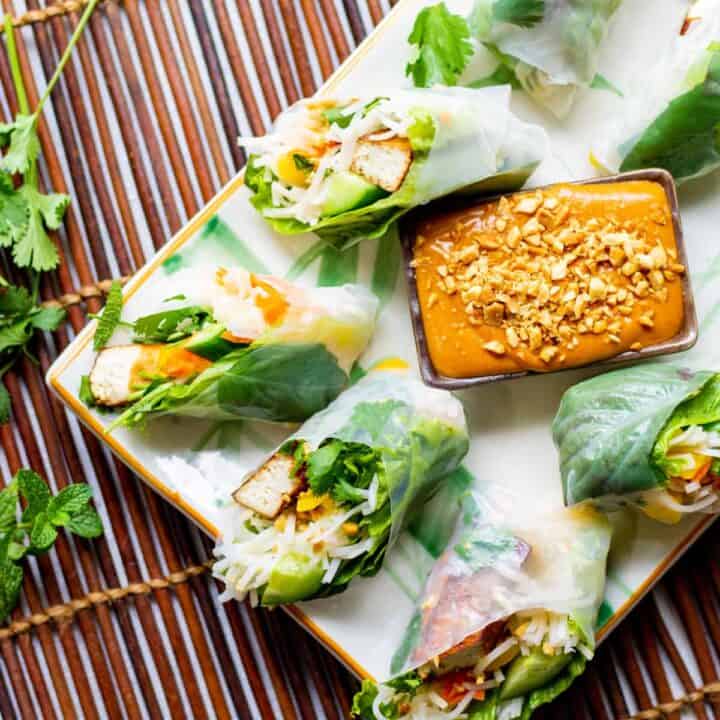 Vietnamese Fresh Spring Rolls with Spicy Peanut Dipping Sauce
Fresh, light and fun to make, try these Vietnamese-inspired vegan spring rolls with cucumber, lettuce, mint, cilantro and tofu with spicy peanut dipping sauce. Such a refreshing summer meal, you'll find you keep coming back for more.
Ingredients
Spring Rolls
½ head green leaf lettuce, trimmed to fit rice paper
4 Persian cucumbers, sliced into thick long quarter slices
2 carrots, julienned or grated
1 avocado, sliced
1 red bell pepper, thinly sliced
Fresh cilantro, mint and Thai basil
Spicy Peanut Dipping Sauce
Instructions
Prepare the sweet chili tofu first. Cut the tofu into long fingers, so they fit the shape and size of the spring rolls. Get the recipe here: https://veryveganish.com/sweet-chili-air-fryer-tofu/
Prepare the spicy peanut dipping sauce by whisking ingredients together and adding tablespoon of water at a time until the consistency you want. Reduce or increase sriracha, according to your tolerance to spice.
Cook rice noodles according to package instructions, then rinse well in cold water, drain and set aside in a bowl.
Add an inch of very warm water to a wide pan or bowl. Submerse rice paper in bowl for 10-20 seconds. Then, transfer to flat working space and fill with ingredients. Be careful to not overfill them! Then, gently roll up and fold in sides as you go, like a burrito.
Eat the spring roll whole or cut at a diagonal for a pretty presentation. Serve with spicy peanut dipping sauce.
Notes
Leftovers keep for up to 2 days in the refrigerator. Peanut dipping sauce could also be made with an alternative nut butter, although I haven't tried using something different.
For a low fat peanut sauce, substitute the peanut butter for PB2 peanut powder and add additional water to reconstitute.
Instead of rice vermicelli, you could use mung bean vermicelli. It is very thin and only requires soaking in water for 3 minutes to be ready to eat.
See my tips for rolling spring rolls and how to store them, as well as how long they last in my blog post above.
Nutrition Information:
Yield:

4
Serving Size:

1
Amount Per Serving:
Calories:

492
Total Fat:

27g
Saturated Fat:

6g
Trans Fat:

0g
Unsaturated Fat:

17g
Cholesterol:

25mg
Sodium:

939mg
Carbohydrates:

48g
Fiber:

8g
Sugar:

11g
Protein:

21g
Nutritional calculations are done using online tools, such as recipe widget Create. Even though we have tried to provide accurate nutritional information, these figures should be considered estimates.