Easy, healthy vegan breakfast tacos recipe with corn tortillas, roasted sweet potato, charro pinto beans and spinach. Meal prep the beans and sweet potato ahead of time for a quick breakfast.
Jump to:
🧄 Ingredients
You'll need the following ingredients to make these plant-based breakfast tacos:
The best store-bought tortillas
If you can find raw corn or flour tortillas, those have the best flavor and texture! They take a little bit longer to cook on the skillet, but they taste amazing. It's the next best thing to making your tortillas from scratch.
Our favorite tortilla brands:
Our favorite hot sauces for tacos
For tacos, we primarily use two different hot sauces. The Mexican hot sauce Cholula is my favorite for the heat, flavor and slight tang.
The rest of the fam loves Chipotle Tabasco, for the smokiness and flavor.
🔪 Instructions
Roast sweet potato
Cut into thin, small fries or cubes. Line a baking tray with parchment paper or a silicone mat to prevent sticking.
Then, season with ground cumin, taco seasoning and sea salt.
Roast in a 400 F oven for 25-30 minutes, until fork tender.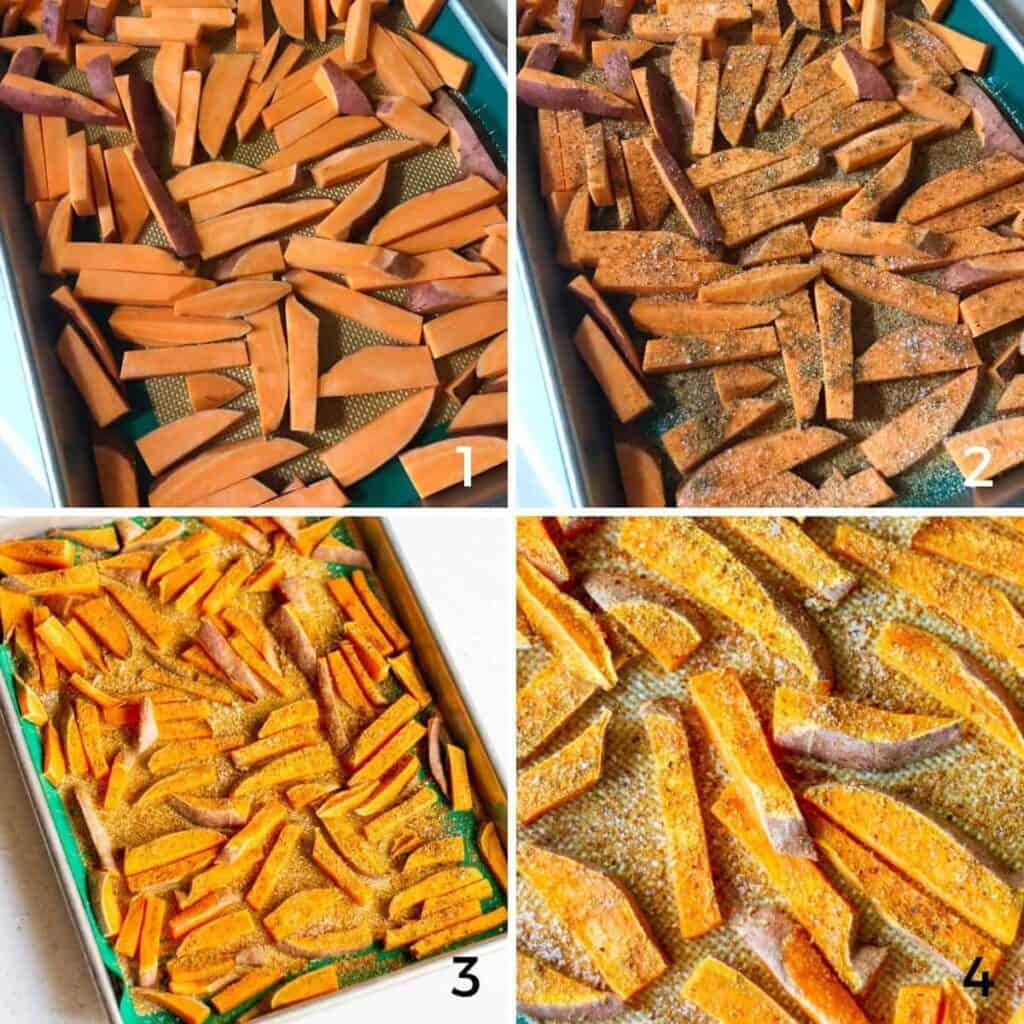 Heat your charro beans and tortillas
Heat up your charro beans on the stove or in the microwave, then drain.
Heat your tortillas in a dry, flat skillet or comal. Or, in the microwave until warm.
Assemble your tacos by adding a little bit of raw baby spinach on the tortilla, then a spoonful of beans, then a few pieces of roasted sweet potato, then minced onion and cilantro and hot sauce.
Enjoy while hot!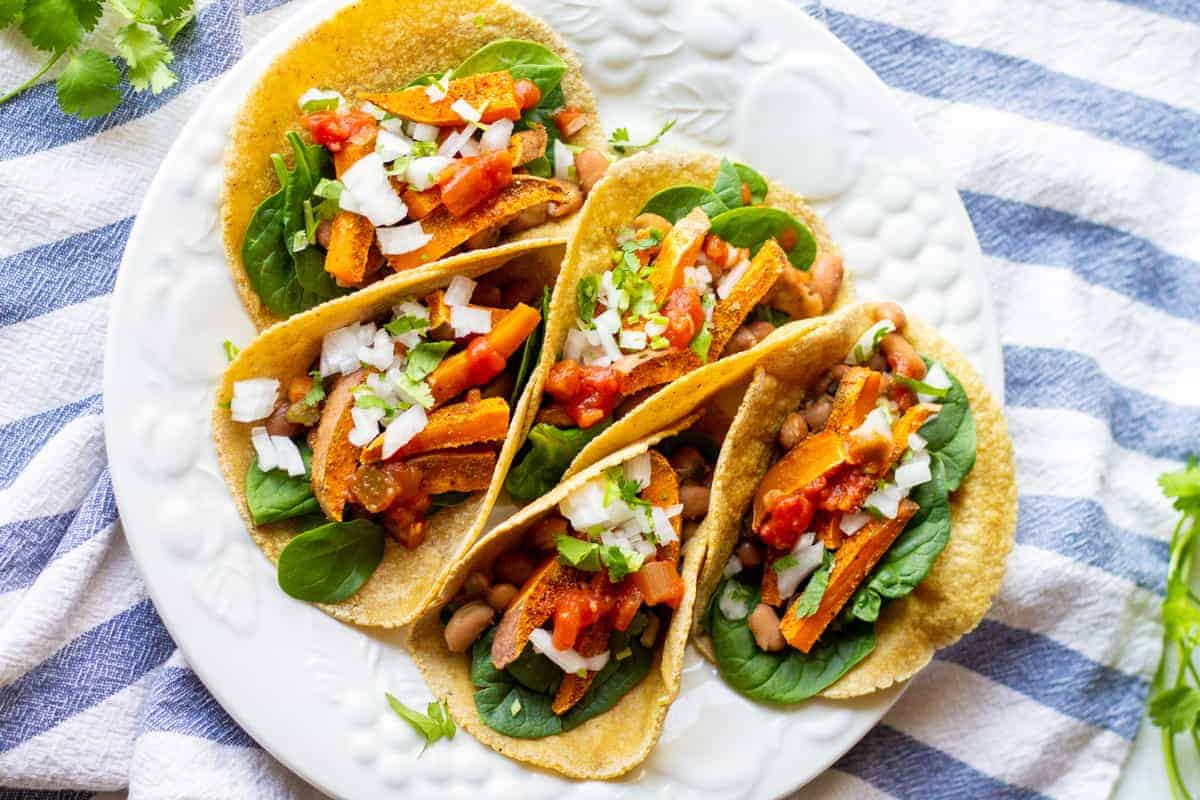 💭 Tips
The best parchment paper for baking
Have you ever struggled with the roll of parchment paper? It curls up, it's never the right size and you end up wasting it cutting to make it fit? Not to mention the time it took you to do all of that!
Did you know that they make parchment paper to fit standard size baking sheets? I didn't know that until I was volunteering in a commercial kitchen for disaster relief.
The baking sheets I own are standard half sheet pans and quarter sheet pans. So, I bought this pre-cut parchment paper (tap on that link to see it on Amazon) to fit the half sheet size. Then, if I need some for the quarter sheet pans, I just cut in cleanly in half.
Problem solved. Amazing find. I hope it helps you, too!
Use silicone mats to bake without oil
You can also use washable silicone baking mats. Be sure to measure your pans before you buy a set, to be sure they will fit and not hang over while you're baking.
Both parchment paper and silicone mats are must-haves if you're baking without oil.
🗺 Around the world
Breakfast tacos are one of my favorite things in the whole wide world. I mean, tacos, for breakfast. That's all kinds of yes.
They are quite common in Houston, Texas and other parts of Texas, especially. I remember being quite surprised, shocked even, when I found out that other people had never heard of, or eaten, tacos for breakfast.
Traditional TexMex breakfast taco options usually feature some sort of meat and/or egg. Potato and egg, chorizo and egg, huevos a la Mexicana (spicy scrambled eggs), barbacoa, you get the idea.
Occasionally, in larger establishments, they will offer vegetarian options such as papas a la Mexicana (spicy potatoes), bean and cheese or nopalitos (cactus). Very rarely do I find a truly vegan option when eating out.
The papas a la Mexicana tacos are the closest to a vegan option I've found. And, they are incredibly delicious.
At home, you can customize my tacos however you like.
For breakfast tacos, some of our favorite options are: beans, potatoes, grilled onions, bell peppers and hot sauce. The possibilities are really endless, though.
Check out my post about 30+ Vegan Taco Ideas to see the long list of filling ideas for vegetarian tacos.
💜 More recipes you'll love
If you love these vegan breakfast tacos, then check out my other plant-based TexMex recipes!
Love this recipe? Subscribe here so you don't miss any new recipes!
Please rate it ⭐️⭐️⭐️⭐️⭐️ down below. ⬇️ And, if you make it, please tag me @veryveganish on Instagram in your posted photos! I would love to see your creations. 😄
📖 Recipe
Breakfast Tacos with Spinach, Sweet Potato and Charro Beans
Easy, healthy vegan breakfast tacos recipe with corn tortillas, roasted sweet potato, charro pinto beans and spinach. Meal prep the beans and sweet potato ahead of time for a quick breakfast.
Ingredients
1 small-medium sweet potato, cut into thin rustic "fries" or cubes
1 teaspoon ground cumin
1 teaspoon taco seasoning (or combo of chili powder and garlic powder)
¼ teaspoon sea salt
12 corn tortillas
2 cups fresh baby spinach, washed
½ cup onion, minced
¼ cup fresh cilantro, minced
hot sauce or salsa (optional)
Instructions
Preheat oven to 400F. Line a baking sheet with parchment paper or silicone mat.
Spread cut sweet potato on baking sheet and sprinkle with ground cumin, taco seasoning and salt. Bake for 25 minutes or until fork tender.
Heat beans in small saucepan on stove or microwave. Then, drain.
Heat tortillas on a dry flat griddle for about 30 seconds on each side or in microwave until warm. Keep them warm inside a clean, thin dish towel.
Assemble tacos by layering spinach on tortilla first, then adding beans, sweet potatoes, minced onion and cilantro and hot sauce. Serve hot. Enjoy!
Notes
If you're not using my Spicy Charro Pinto Beans recipe for the beans in these tacos, you'll want to do one of two things: 1) Use other fully flavored beans or 2) Amp up the flavor of plain pinto beans with jalapeño, cilantro, onion, tomato and/or Mexican oregano.
Good Hot Sauce Options: Cholula, Chipotle Tabasco and Valentina
Pico de gallo would be delicious here, as well as any type of salsa you enjoy.
Nutrition Information:
Yield:

4
Serving Size:

1
Amount Per Serving:
Calories:

406
Total Fat:

7g
Saturated Fat:

1g
Trans Fat:

0g
Unsaturated Fat:

5g
Cholesterol:

0mg
Sodium:

610mg
Carbohydrates:

77g
Fiber:

14g
Sugar:

9g
Protein:

13g
Nutritional calculations are done using online tools, such as recipe widget Create. Even though we have tried to provide accurate nutritional information, these figures should be considered estimates.
SaveSave