These thick, creamy and spicy kidney beans (no soak!) are a true comfort food. This Instant Pot red beans and rice recipe calls for no oil at all, so it's a low fat, plant-based, vegan, full-flavored crowd pleaser.
Growing up in Texas with Louisiana next door, we were exposed to a variety of cajun dishes. Spicy red kidney beans and rice are easy to make vegetarian, require no soaking and are just as delicious.
Jump to: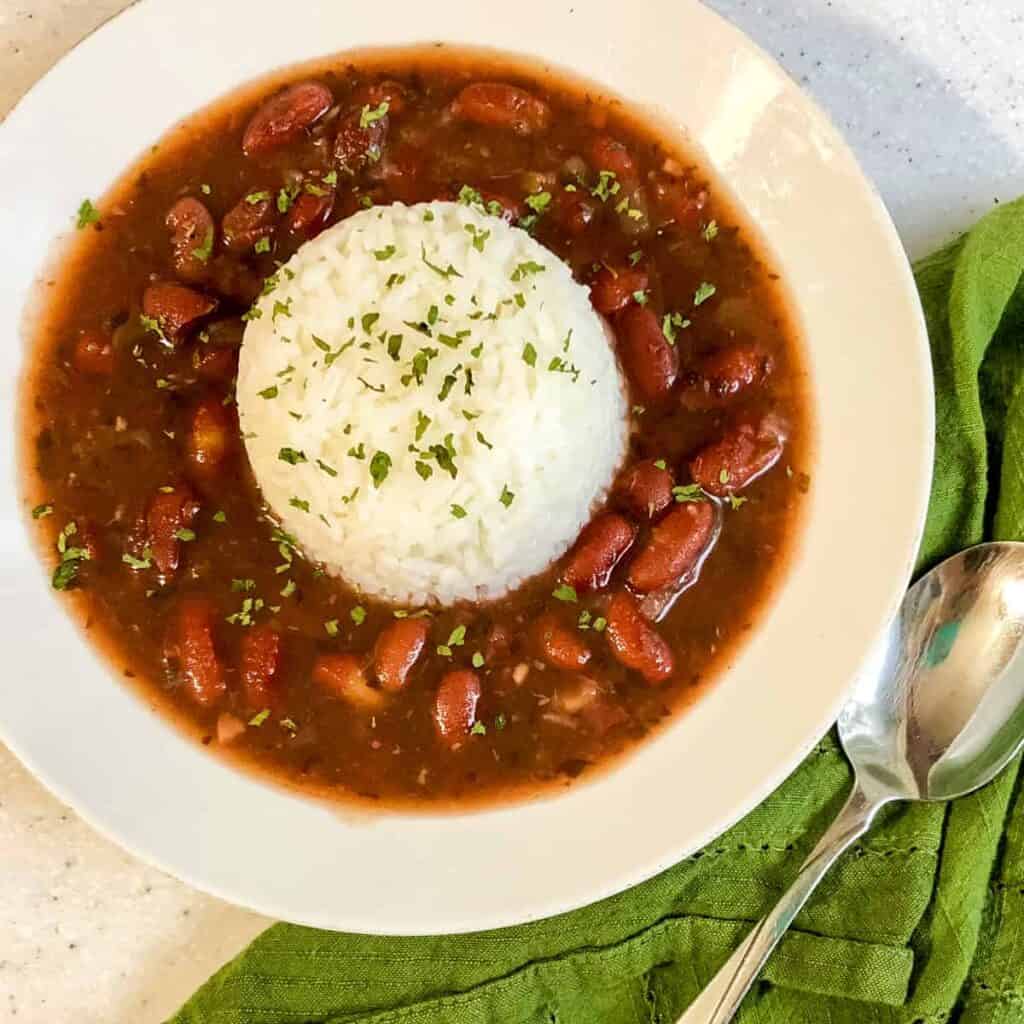 🧄 Ingredient notes
For this recipe, you'll need:
dried red kidney beans (I like the Camellia brand on Amazon)
onion
celery
parsley
garlic
spices (creole seasoning, black pepper and bay leaves)
We're going to let the aromatic vegetables, herbs and spices shine in this vegetarian red beans and rice recipe. To amp up the flavor we are going to load up on onion, celery, fresh parsley, garlic and creole spices.
You can use dried parsley in a pinch for this recipe. Instead of 1 cup of chopped fresh parsley, you could substitute 2 tablespoons dried parsley.
Also, with the garlic, you could substitute the 10 cloves for 1 tablespoon granulated garlic or garlic powder, but fresh is better.
🔪 Instructions
We're making these plant-based, vegan red kidney beans in a pressure cooker, specifically the Instant Pot.
The beans don't need to soak ahead of time, so you can go from start to finish in under 2 hours, most of that being hands-off time.
We'll start with sautéing the aromatics, then add in the beans, water and spices.
Then, cover it, turn the valve to "Sealing" and set the Instant Pot to the "Bean" (or High Pressure) setting for 60 minutes.
For this red beans and rice recipe, we'll make the rice separately on the stove, since we're making our beans from scratch.
But, you could experiment with adding the rice to the Instant Pot after the red beans are done cooking, if you'd like to prepare it together.
Once the beans are done in the Instant Pot, you can turn on the saute feature for a few minutes to thicken the sauce. Make sure to stir and scrape the bottom of the pan regularly to prevent it from burning.
Crushing some of the beans against the side of the pot helps make them extra creamy and delicious.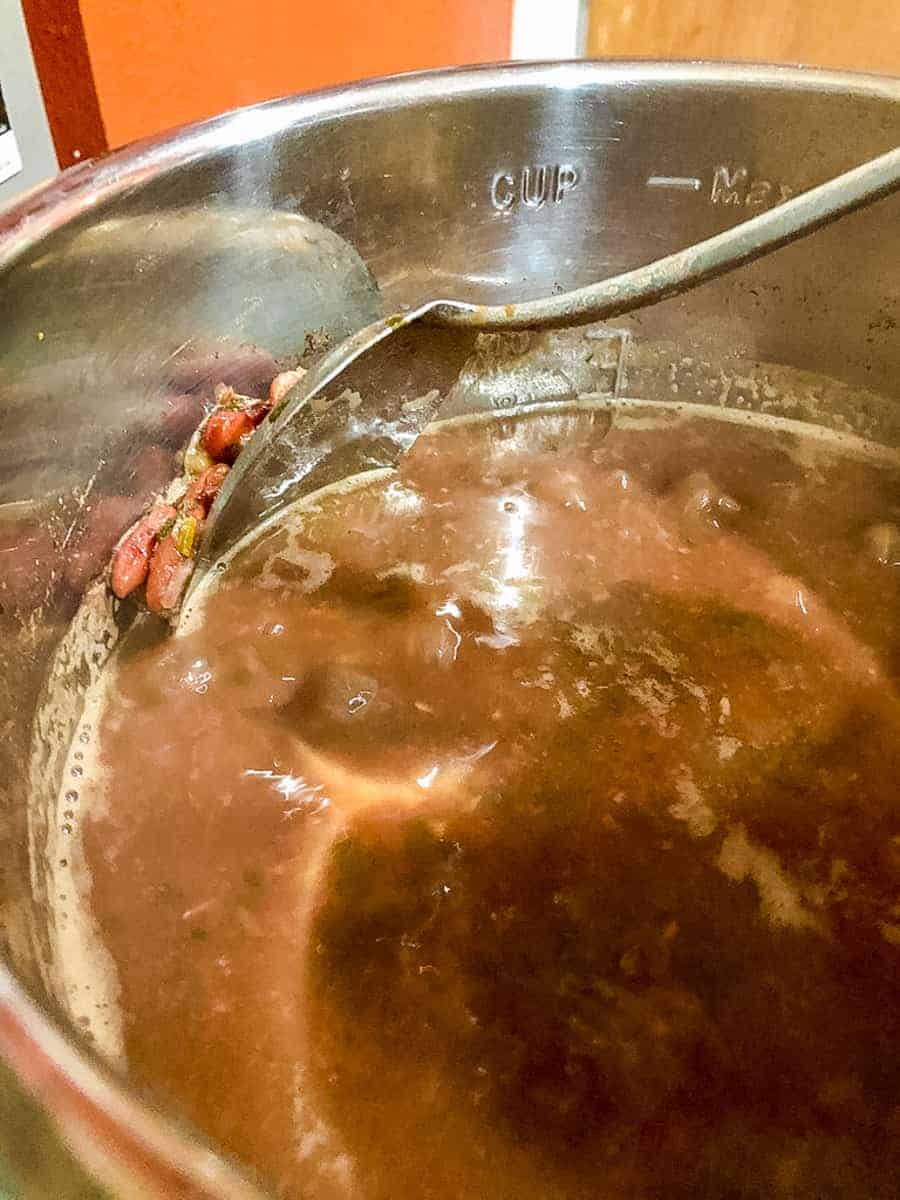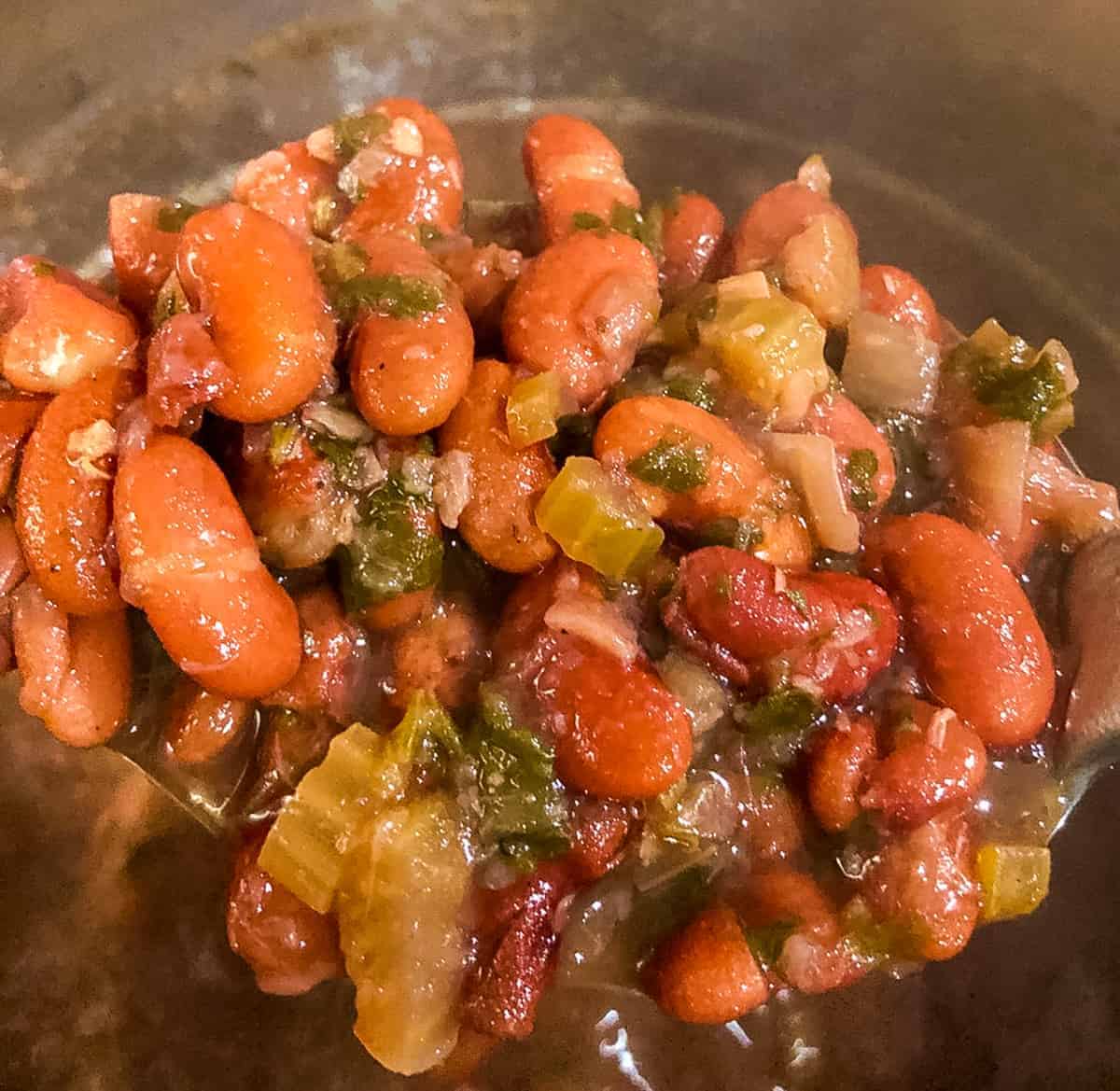 💭 Tips
How long will it last in the refrigerator or freezer?
Cooked red beans and rice can be stored in the refrigerator for up to 5 days and in the freezer for up to 3 months.
It can be stored separately (rice in one container and beans in another) or mixed together.
What kind of rice goes with red beans and rice?
Either long grain white rice or long grain brown rice would work well with this vegan red beans and rice recipe.
Since the kidney beans will take over an hour to cook in the Instant Pot, you would have the time to cook the heartier and healthier brown rice on the stove simultaneously, if you want, since that normally takes about 45 minutes.
But, a white jasmine or basmati rice would also be delicious. White rice normally takes about 20 minutes to cook on the stovetop.
If you have a rice cooker or two Instant Pots (some do!), you could always cook your rice in one of those appliances instead.
I prefer to cook my rice on the stovetop in a heavy dutch oven. It almost always comes out perfect and I can make enough so that our family of four has leftovers.
Are kidney beans safe to eat?
Yes, they are. However, they must be cooked at high heat and boil for at least 10 minutes during the cooking process.
Here's some more information about the dangers of improperly cooking kidney beans:
Did you know that eating raw kidney beans can be toxic? According to the FDA, eating as few as 4-5 uncooked kidney beans can cause severe nausea, vomiting and diarrhea in 1-3 hours after ingestion. Uncooked kidney beans have an unusually high concentration of a chemical called phytohaemagglutinin that is destroyed when the beans are properly cooked by boiling. Apparently, cooking in a slow cooker may actually make the beans more dangerous because low temperature cooking increases the toxicity. Other beans contain this chemical, but in much smaller amounts. The bottom line – be sure to cook kidney beans by boiling.

Iowa State University
Cooking kidney beans in a pressure cooker like the Instant Pot raises the temperature very high and removes this risk.
So, while you can safely cook kidney beans on the stove, as well, using your pressure cooker or Instant Pot gives peace of mind in this case, for sure.
☕️ Tea pairing
Hands down, I'd recommend preparing iced black tea, sweet or unsweet, to go with this Southern recipe for vegan red beans and rice.
Curious how to prepare perfect Southern iced tea, especially with Lipton tea bags? Here's my recipe:
💜 More recipes you'll love
Love this recipe? Please rate it 5 stars ⭐️⭐️⭐️⭐️⭐️ below in the recipe card. And, if you make it, please tag me on Instagram or Facebook in your posted photos! I would love to see your creations. 😄
📖 Recipe
Instant Pot Red Beans and Rice
A true comfort food, these thick, creamy and spicy Cajun red beans are a guilt-free dinner. This Instant Pot red beans and rice recipe calls for no oil at all, so it's a low fat, plant-based, vegetarian, full-flavored crowd pleaser.
Ingredients
Rice, for serving
8

cups

cooked rice

I recommend basmati rice or long grain white rice
Instructions
Pick through dry beans and remove any pebbles or bad beans. Rinse beans in a colander under water and set aside.

Turn Instant Pot (6 quart size or bigger) on to sauté setting and allow pan to heat up.

Add onion and celery and cook for 10 minutes, stirring occasionally but allowing the veggies to brown or char a little (this adds depth of flavor to the beans).

Add garlic and parsley, stir to combine and cook another 3 minutes.

Add the beans, water, cajun seasoning, pepper and bay leaves to the Instant Pot and stir to combine.

Put the lid on the Instant Pot and turn the valve to "Sealing".

Turn the Instant Pot off by pushing the cancel button. Now, press the "beans" (or manual pressure) button and increase the time to 60 minutes by pushing the + button. It will beep several times and start building up pressure to cook your beans.

While the beans are cooking, make your rice (white or brown) according to package directions and set aside, covered.

Once the time has elapsed and the Instant Pot has beeped several times, use a long kitchen utensil (like the big spoon you used to stir your beans) to turn the valve to "Venting". Be careful! This steam that escapes can burn you. This will allow the pressure to release quickly.

Once all the steam has released, open the lid and stir the beans. Check the beans to make sure they are tender. If they are not done, close the lid, turn the valve to "Sealing" and cook on high pressure another 5 minutes. Repeat, as necessary until beans are tender.

Once the beans are tender, turn the Instant Pot off by pushing the cancel button. Then, press the saute button. This will boil the beans and allow them to thicken up a bit. Saute/boil the beans for 5-10 minutes, stirring frequently to scrape the bottom of the insert pan. Using the spoon you've been stirring the beans with, crush some beans into the side of the pan. This will help thicken the broth and make your beans creamier.

Once the beans have reached the thickness you want, turn the Instant Pot off. Serve with rice.
Notes
To substitute Tony Chachere's creole seasoning, add to taste: salt, cayenne pepper, black pepper, chili powder and garlic powder.
Nutrition
Serving:
2
cups
Calories:
551
kcal
Carbohydrates:
110
g
Protein:
24
g
Fat:
2
g
Saturated Fat:
1
g
Polyunsaturated Fat:
1
g
Monounsaturated Fat:
1
g
Sodium:
1218
mg
Potassium:
1273
mg
Fiber:
14
g
Sugar:
3
g
Vitamin A:
965
IU
Vitamin C:
20
mg
Calcium:
132
mg
Iron:
6
mg