Ready in under 30 minutes, these addictive, spicy breakfast tacos are perfect for a weekend brunch or anytime you want to impress your guests, vegan or meat-eaters alike.
Jump to: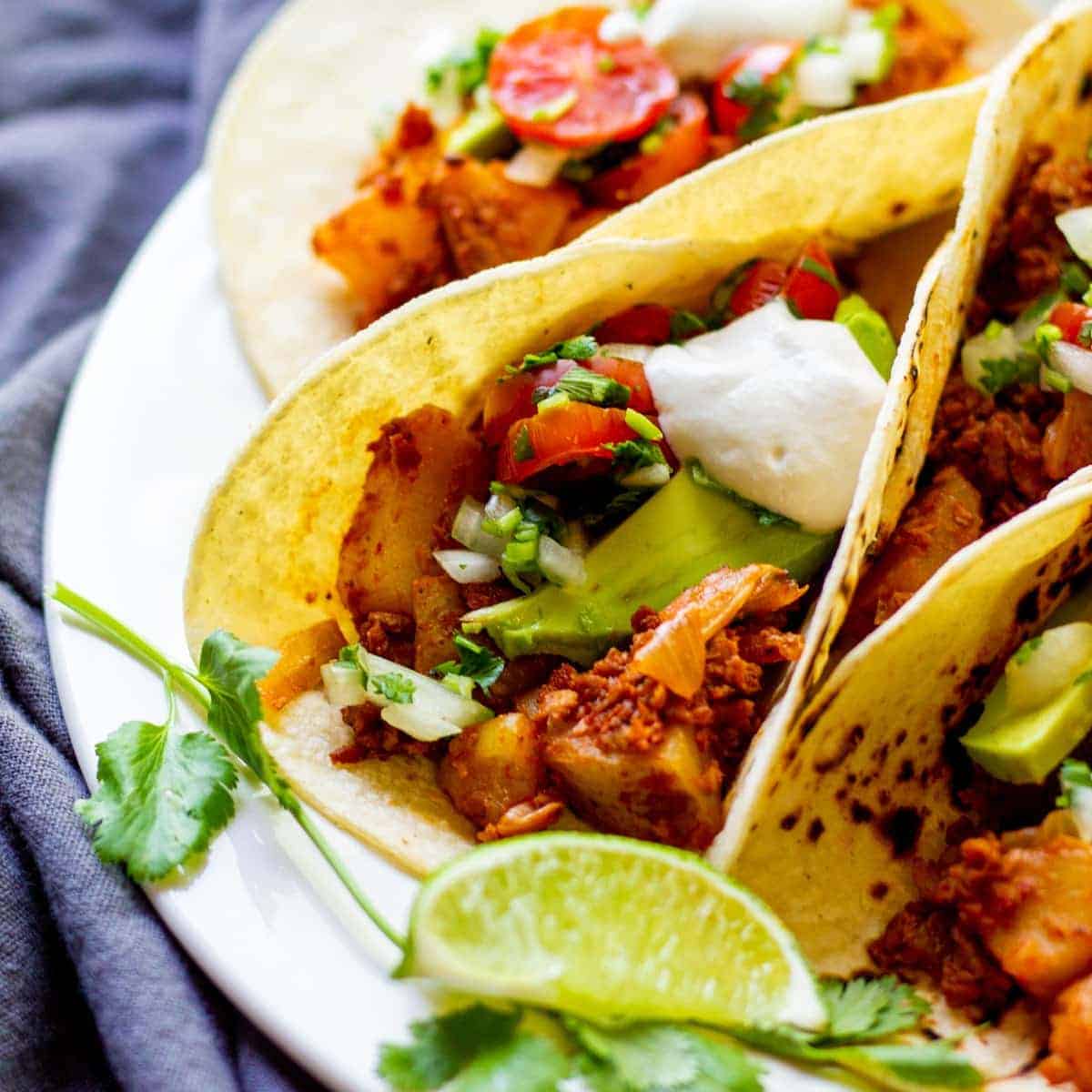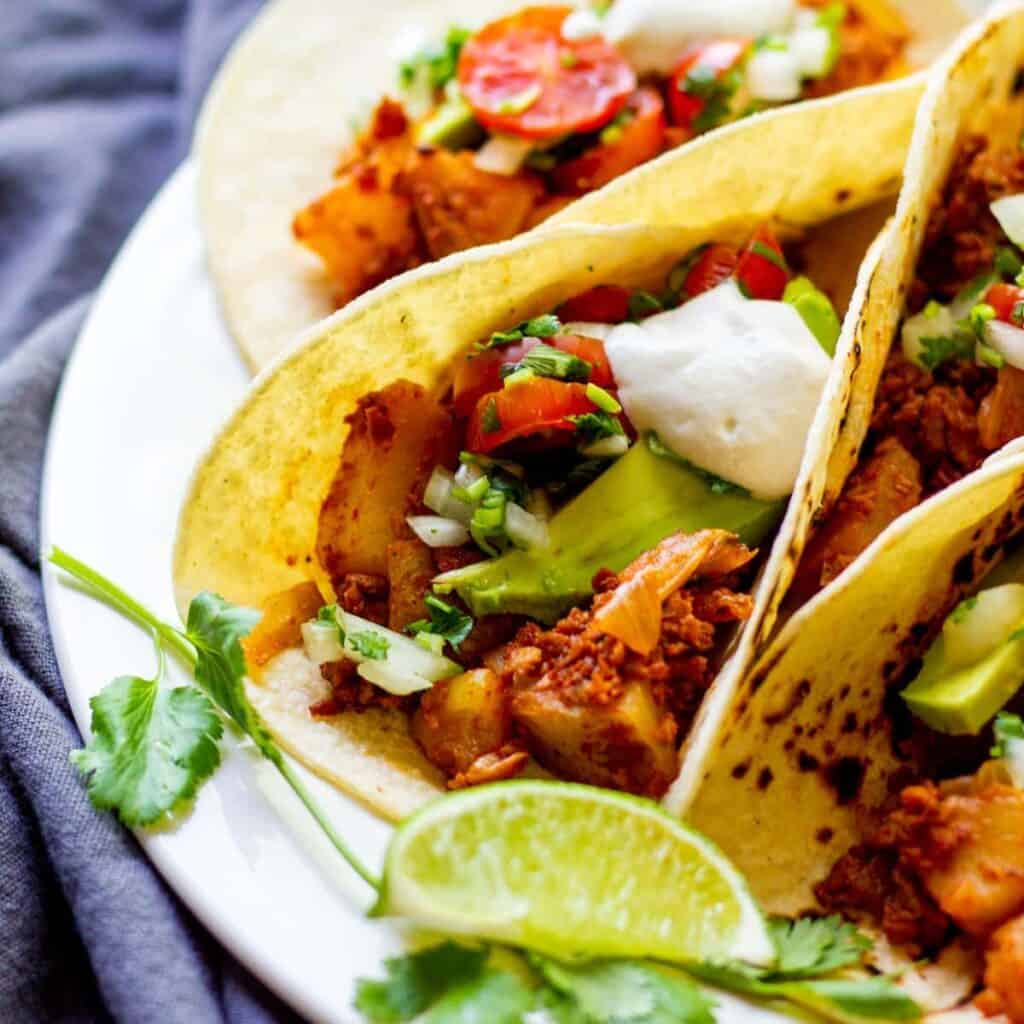 🧄 Ingredients
For these vegan chorizo potato breakfast tacos, you'll need:
Soy chorizo
I've tried a few vegan soy chorizo brands, but Trader Joe's is my favorite. It's crazy good and very hard to tell that it's vegan.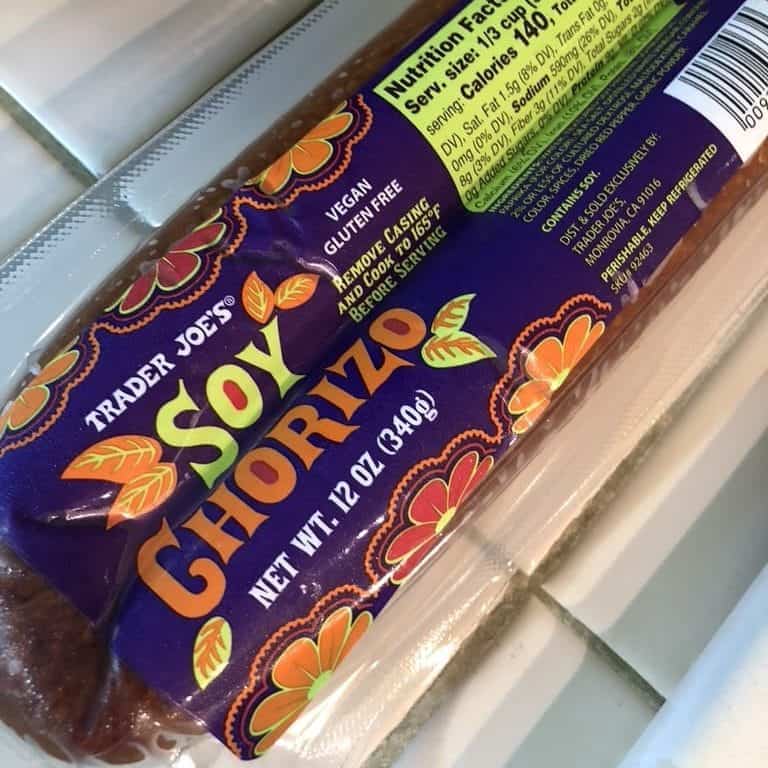 Think of it like a less greasy Mexican chorizo that still hits all those spicy, full-flavored notes of the real stuff.
Mexican chorizo is crumbly, not slice-able like Spanish chorizo.
Cooked potatoes
You'll need to have 5 medium cooked potatoes for this recipe.
If you want instructions for how to bake potatoes in the oven, microwave or Instant Pot, check out my Vegan Broccoli Cheese Baked Potato recipe instructions.
Toppings
If you wanna keep it simple, just the onion, chorizo and potato is amazing.
But, to take it over the top, add some crunchy, fresh pico de gallo, creamy vegan sour cream (cashew cream) and sliced avocado. Here are the recipes for those delicious, easy toppings.
🔪 Instructions
Since your potatoes are already cooked, this breakfast taco recipe comes together in under 30 minutes.
First, we'll cook the onions over medium high in a wide skillet. Add the chorizo to the onions, break it apart and cook until it's getting brown.
Then, add in your cooked, cubed potato and cook until everything is heated through.
My preferred method of warming corn tortillas is directly on my gas stove.
Turn a burner on low, then add a tortilla to the burner using tongs.
Warm the tortilla over the fire for 20-30 seconds, until it's getting little light brown spots. Then, flip and cook another 20 seconds on the other side.
A little char adds a yummy flavor and the tortillas seem to hold together better when warmed this way.
Alternatively, you could warm your tortillas in the microwave.
🔄 Variations
Vegan Chorizo Tofu Scramble Breakfast Tacos - substitute potatoes for crumbled firm tofu seasoned with salt, pepper, granulated garlic, a touch of black salt and nutritional yeast.
Vegan Chorizo Sweet Potato Breakfast Tacos - substitute potatoes for Roasted Cubed Sweet Potatoes.
Vegan Chorizo Potato Breakfast Burritos - roll fillings in a warmed burrito tortilla.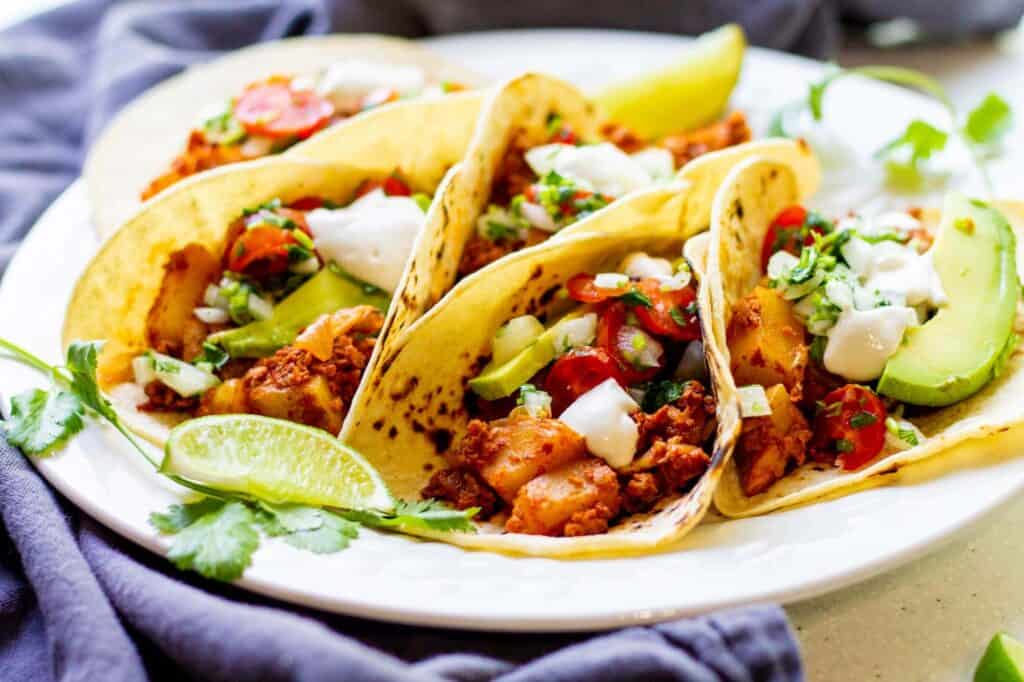 ❓ FAQ
How do I store leftovers of chorizo potato tacos?
I would recommend storing the leftovers separately (not in ready to eat tacos), because the cold ingredients (pico de gallo, sour cream and avocado) are really best kept cold.
So, store the chorizo potato mixture in a covered container in the refrigerator for 3-5 days.
Store prepared tortillas in a ziplock bag.
To re-heat, place tortilla on plate, add chorizo potato mixture and heat in microwave for 30-60 seconds. Then, add toppings and enjoy!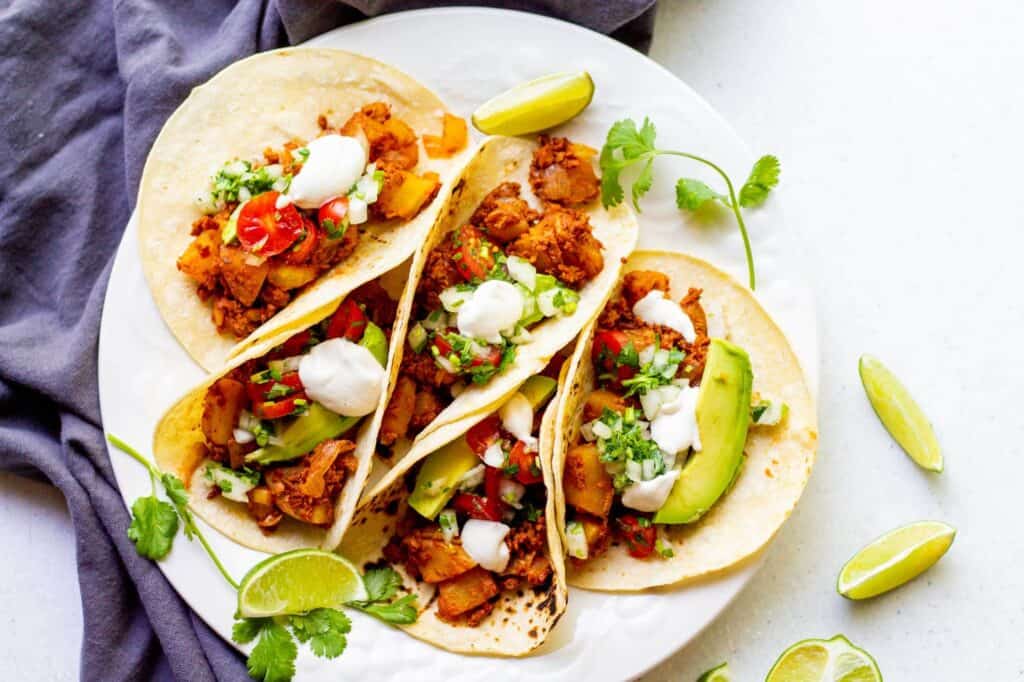 Can breakfast tacos be made ahead?
Yes! You can prepare the vegan chorizo potato mixture the night before and reheat in the morning. You can also prepare the vegan sour cream up to 3 days before.
I would recommend preparing the pico de gallo, warming/cooking the tortillas and slicing the avocado fresh, the day you plan to serve it.
💜 More recipes you'll love
Love this recipe? Subscribe here so you don't miss any new recipes!
Please rate it ⭐️⭐️⭐️⭐️⭐️ down below. ⬇️ And, if you make it, please tag me @veryveganish on Instagram in your posted photos! I would love to see your creations. 😄
📖 Recipe
Vegan Chorizo Potato Breakfast Tacos
Spicy, addictive and filling breakfast tacos. Perfect for a weekend brunch that both vegans and meat-eaters will love.
Ingredients
1 large onion, diced
1 package Trader Joe's soy chorizo
5 medium yukon gold potatoes, already cooked, cubed
18 corn tortillas
1 avocado, sliced
lime wedges
Instructions
Heat a large non-stick skillet over medium-high heat. Stir in onions and allow to cook until translucent and starting to brown. If they stick, add a tablespoon or two of water.
Remove soy chorizo from plastic casing and add to pan with the onions. Stir together and break up the chorizo into crumbles in the pan. Continue to cook over medium-high heat about 3 minutes, until the chorizo is starting to brown.
Add diced potato and mix thoroughly. Cook until potatoes are heated through. Taste and season with salt and pepper, if needed.
Warm corn tortillas either in the microwave or my preferred method if you have a gas stove: warm them directly on your stove burner. Turn burner on low. Using tongs, add tortilla to burner and cook for 20-30 seconds, then flip with tongs. Cook other side for another 20 seconds.
Keep tortillas warm inside a clean kitchen towel (place one end of kitchen towel on plate, put tortilla on top, then fold other end of towel over the tortilla).
Assemble your tacos with chorizo potatoes, avocado, pico de gallo and vegan sour cream (cashew cream).
Notes
Substitutions:
Trader Joe's Soy Chorizo: The best vegan chorizo I've had is from Trader Joe's. But, there are other brands out there you can try also. Or you can make your own, although I don't have experience doing this.
Yukon Gold Potatoes: sub with cooked russet potatoes
Corn tortillas: sub with any tortilla you like
Pico de Gallo: sub with salsa or fresh cilantro and minced onion
Vegan Sour Cream: sub with guacamole, crema or omit altogether
Nutrition Information:
Yield:

6
Serving Size:

1
Amount Per Serving:
Calories:

393
Total Fat:

10g
Saturated Fat:

2g
Trans Fat:

0g
Unsaturated Fat:

7g
Cholesterol:

0mg
Sodium:

205mg
Carbohydrates:

71g
Fiber:

11g
Sugar:

5g
Protein:

11g
Nutritional calculations are done using online tools, such as recipe widget Create. Even though we have tried to provide accurate nutritional information, these figures should be considered estimates.