Easy, healthy Indian-inspired curry recipe with chickpeas! This plant-based, oil-free version of saag chana with chickpeas, spinach, spices and cashew cream is rich and creamy. Perfect served with basmati rice and tastes like takeout.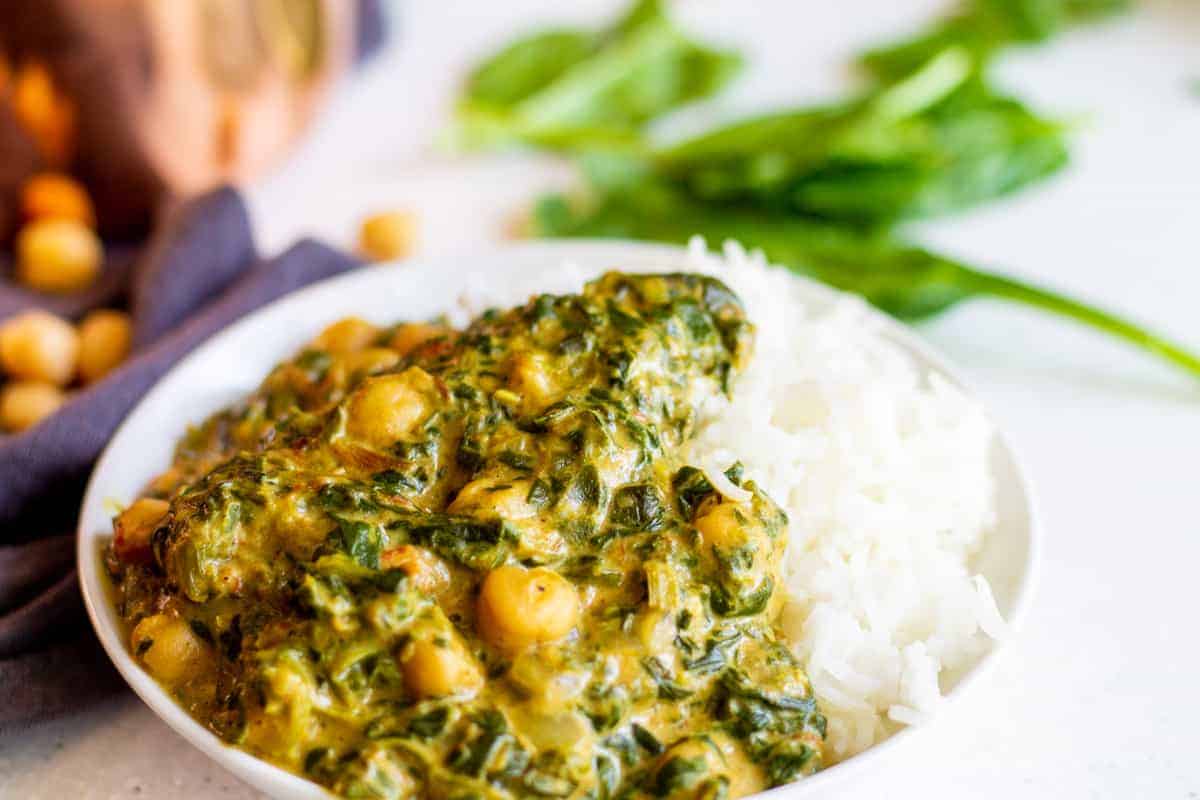 Jump to:
🧄 Ingredient notes
To make this vegan saag chana curry, you'll need the following ingredients:
frozen spinach (can be substituted for fresh spinach or frozen methi/fenugreek leaves, kale, swiss chard or other greens)
chickpeas (canned or homemade chickpeas)
onion
fresh garlic
fresh ginger
diced tomato (fresh or canned)
unsweetened almond milk (or other unsweetened plant-based milk)
prepared cashew cream (Cashew cream is the very best option for this recipe, based on my testing. To substitute, you can also use canned coconut milk, silken tofu sour cream or unsweetened, plain dairy-free yogurt.)
These are the spices you'll need to have on hand to make this chickpea spinach curry:
whole cumin seeds
garam masala
ground turmeric
cayenne pepper
sea salt
black pepper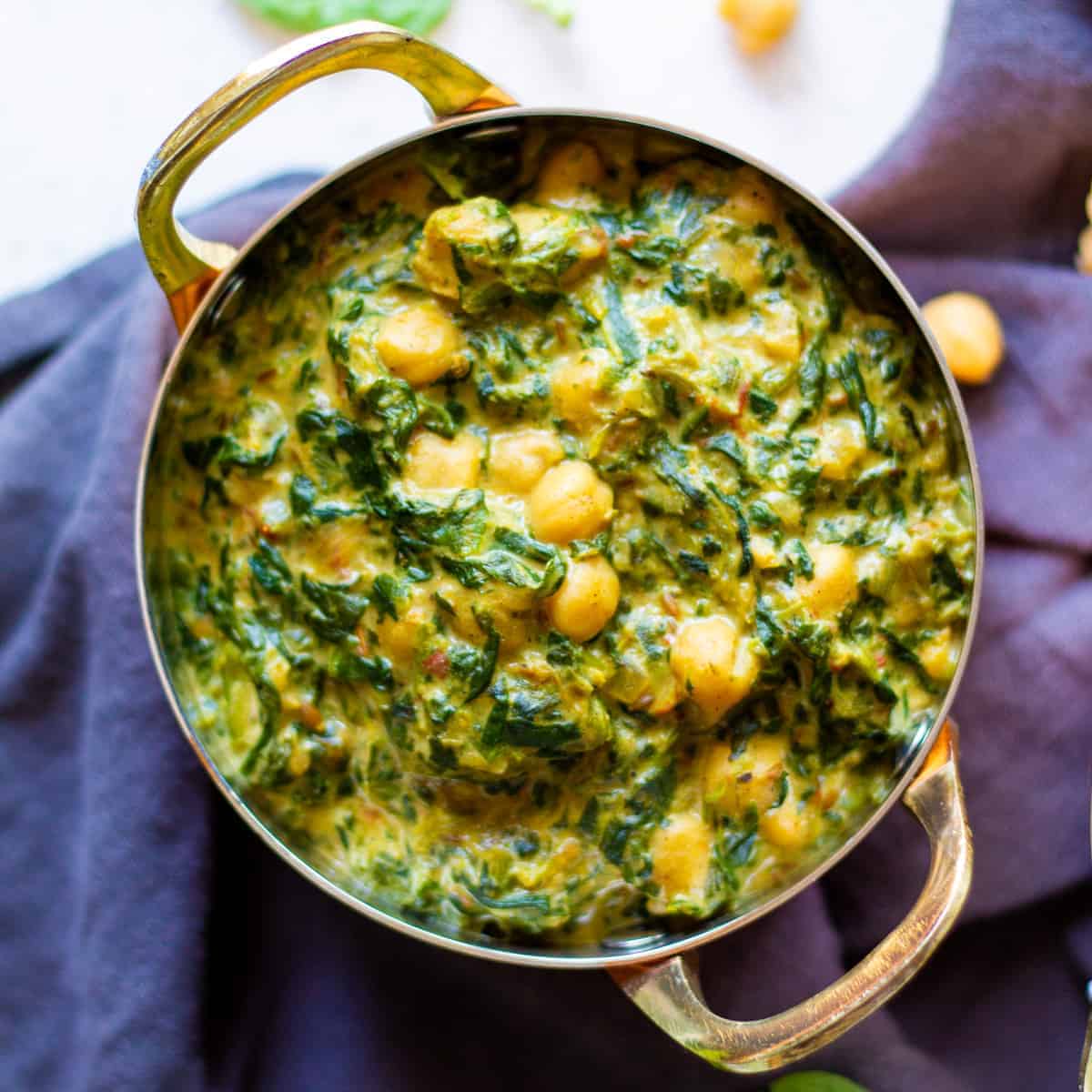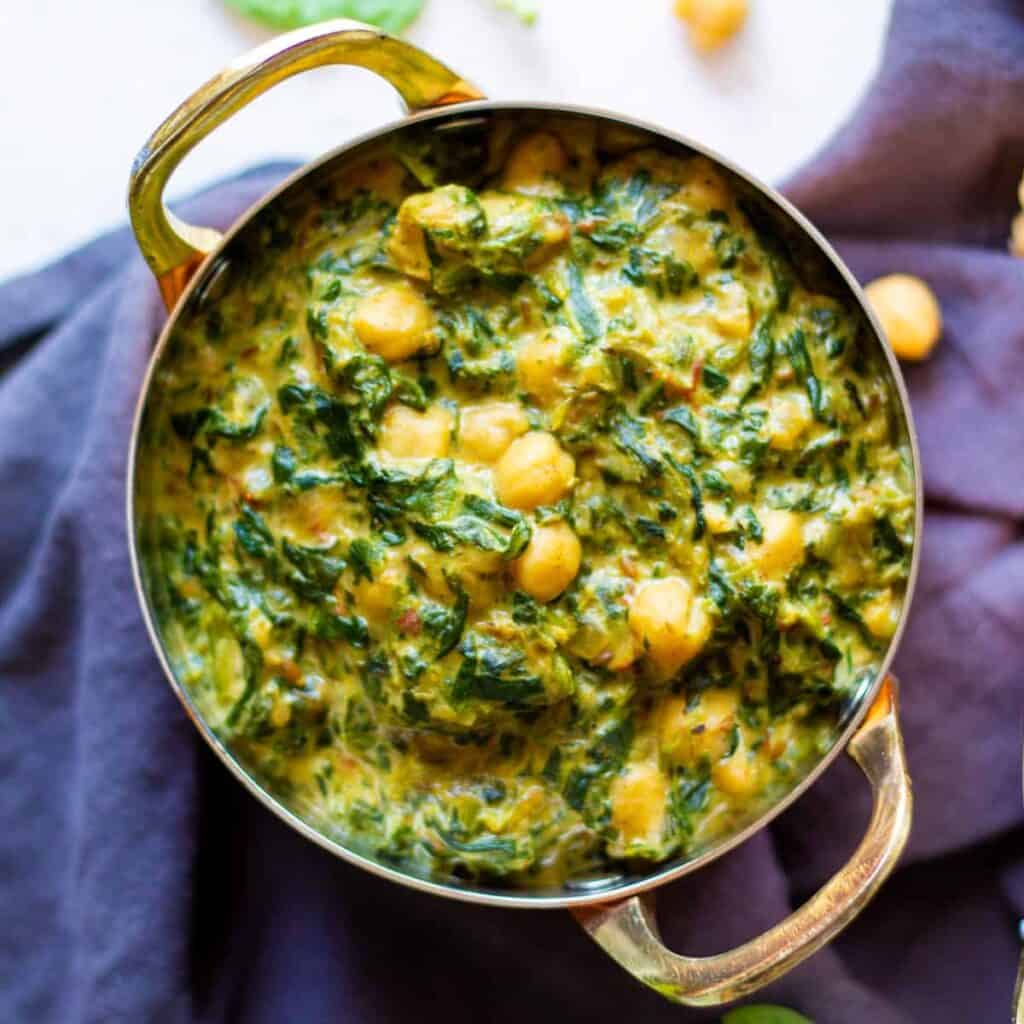 🔪 Instructions
This delicious chickpea spinach curry can be made in the Instant Pot or on the stovetop. I've included detailed instructions for both in my recipe card below.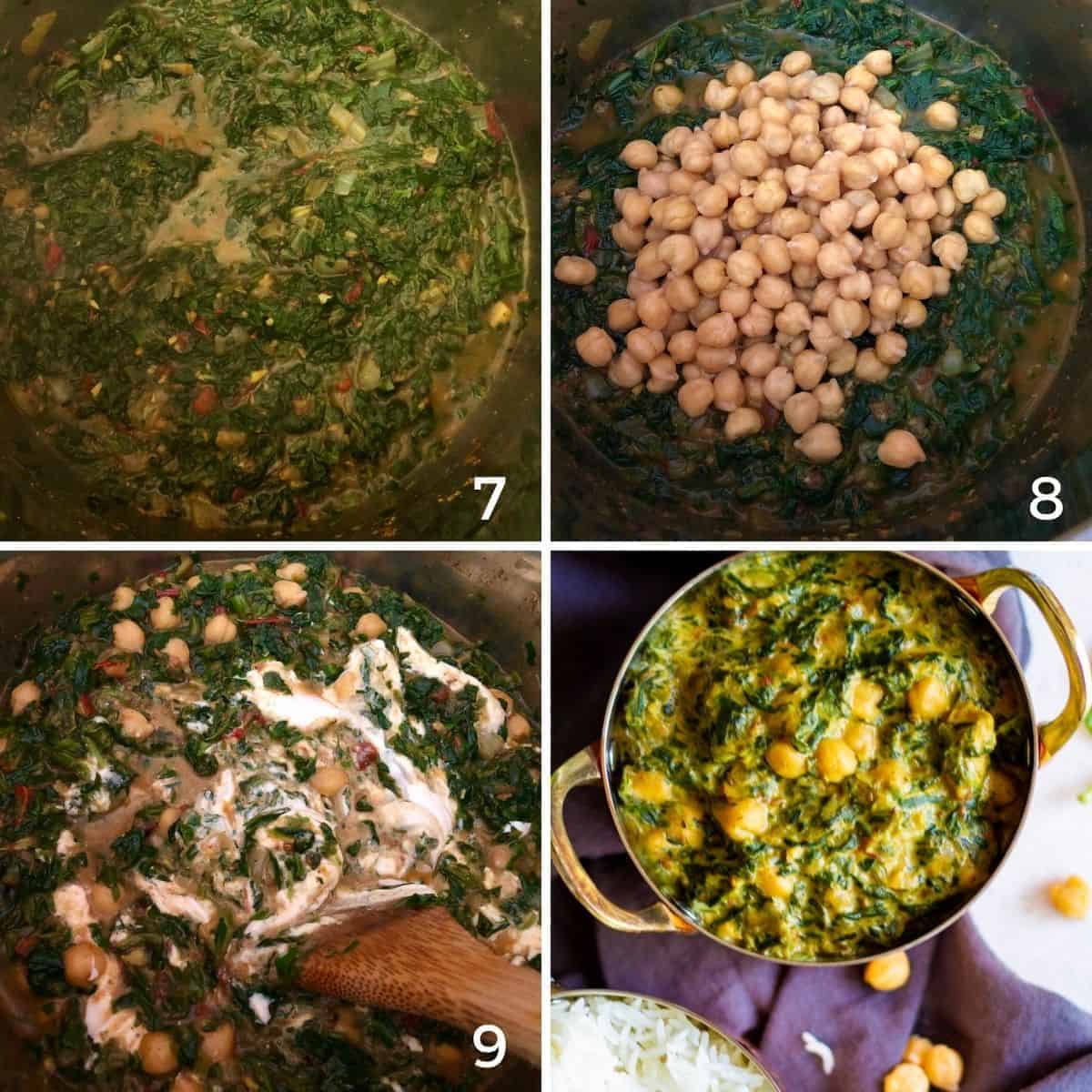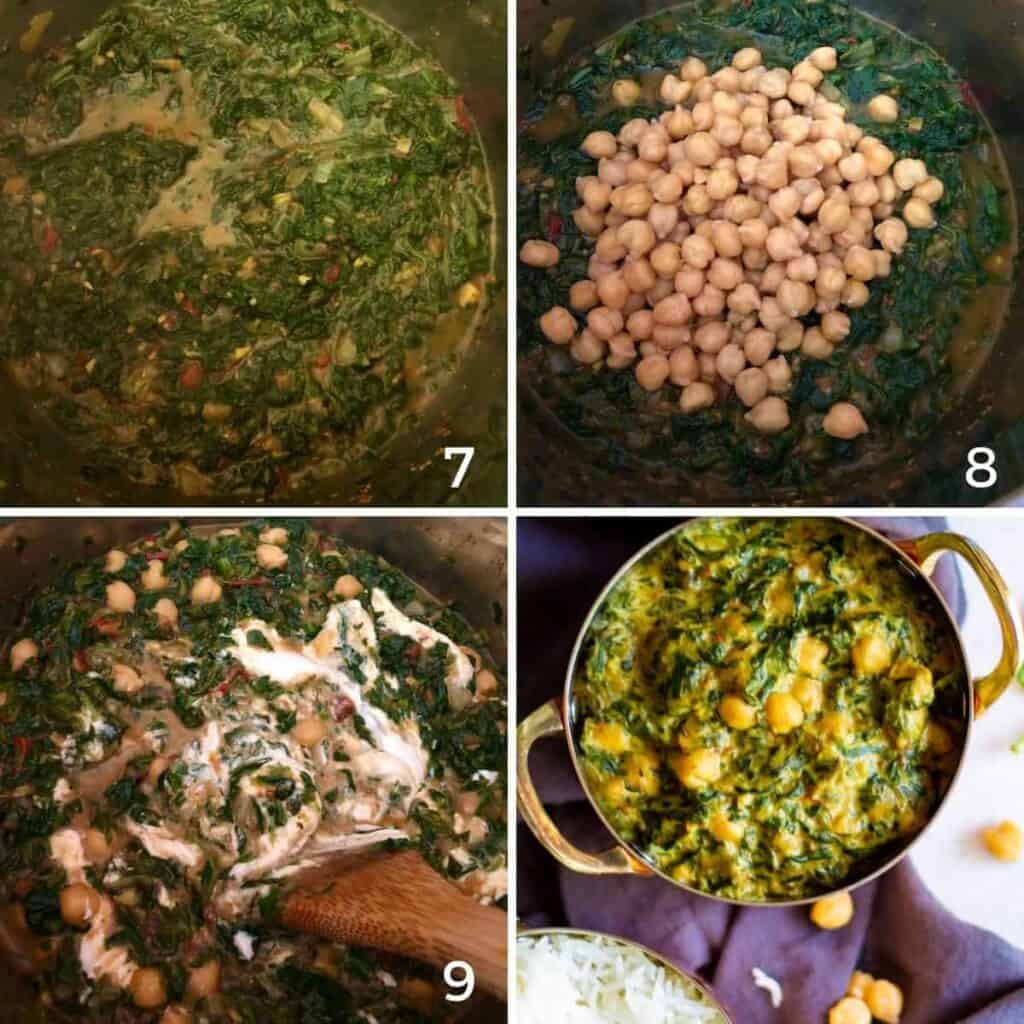 👨‍👩‍👦‍👦 Serving suggestions
Serve this vegan chickpea curry dish with basmati rice. For a super easy way to inject more flavor to your basmati rice, try making jeera rice, which is infused with cumin seeds while cooking.
This dish would also be delicious with roasted curried cauliflower, Indian flatbread, like naan or roti, cucumber tomato salad, or red lentil dal.
The options are many!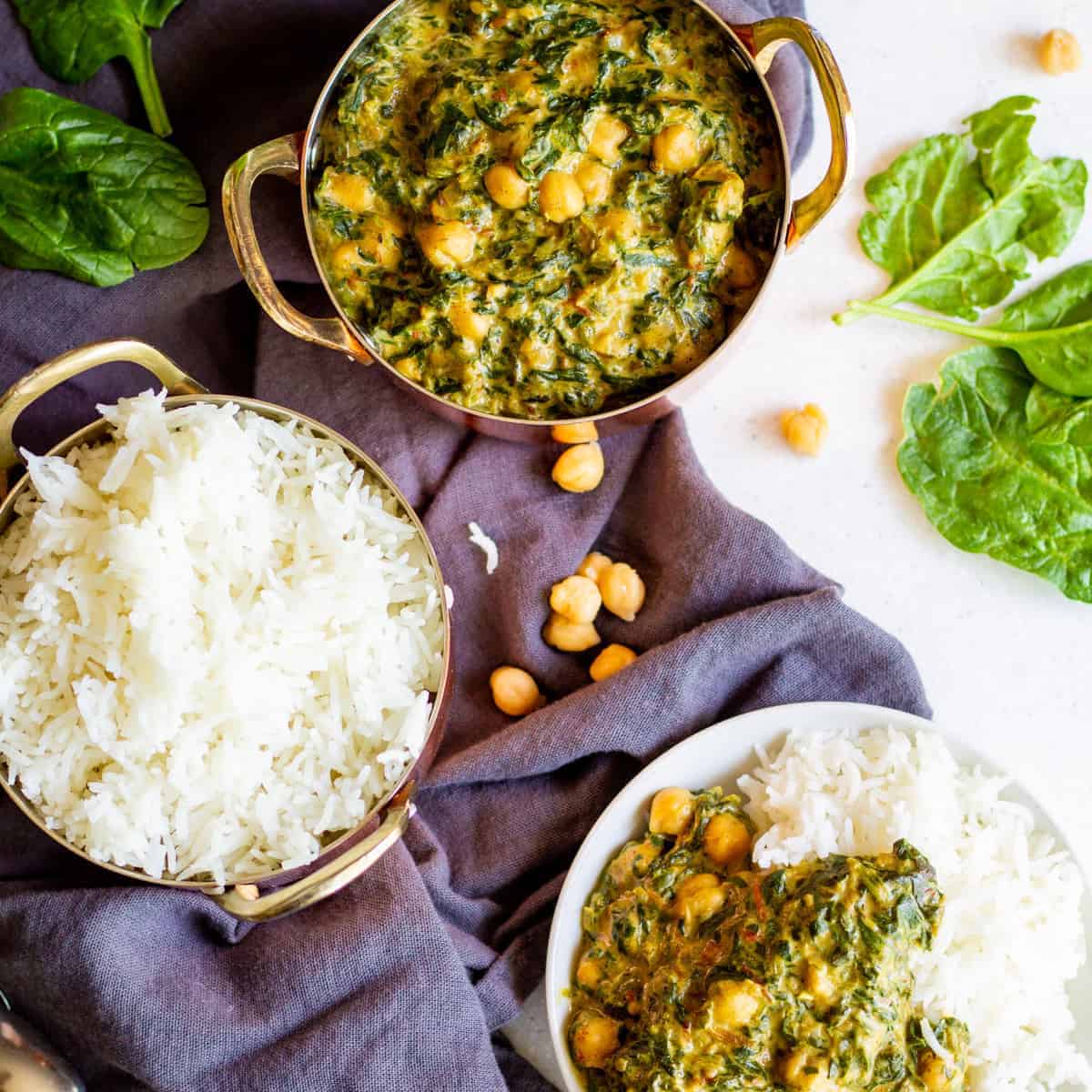 ☕️ Tea pairing
This vegan chickpea spinach curry would be delicious served with a hot or iced chai tea latte, using soy or oat milk. If you've never had chai, you may be wondering: What does chai taste like? It's spicy, warming, sweet and refreshing!
❓ FAQ
🔄 Variations
Instead of chickpeas, try adding baked cubes of tofu to this creamy spinach curry. This is a vegan, plant-based version of saag paneer and we love it!
Instead of just spinach, try combining your favorite chopped greens to make this vegan curry. Some options to try are:
methi / fenugreek leaves (you can find these at Indian grocery stores in the frozen section or produce area)
kale
swiss chard
mustard greens
collard greens
💭 Tips
Storing in Refrigerator
Store vegan saag chana in airtight containers in the refrigerator for up to 5 days.
Storing in Freezer
This dish freezes well. Freeze in an airtight container for up to 3 months. To thaw, place in refrigerator overnight. Or, heat in microwave.
🗺 Cultural influences
This recipe is inspired by North Indian cuisine.
Growing up in Houston, Texas, my family loved eating Indian food. We had a favorite restaurant we would frequent throughout my life, until it closed. It was called Taj Mahal on I-45 South near 610 in Houston.
Their saag paneer was too die for and is forever engraved on my tongue as the way saag should taste. All other saag (spinach) dishes are judged by that familiar flavor.
Another favorite from Taj Mahal was vegetable korma. Not too spicy, this dish was full of potato, cauliflower, carrot and green beans, all swimming in a rich creamy curry.
💜 More recipes you'll love
If you love this vegan saag chana recipe, check out my other Indian-inspired plant-based recipes!
Love this recipe? Please rate it 5 stars ⭐️⭐️⭐️⭐️⭐️ below in the recipe card. And, if you make it, please tag me on Instagram or Facebook in your posted photos! I would love to see your creations. 😄
📖 Recipe