Spice up your roasted cauliflower with curry powder and garam masala in this oil-free sheet pan side dish. To save time, use pre-cut cauliflower florets or even frozen cauliflower.
Jump to: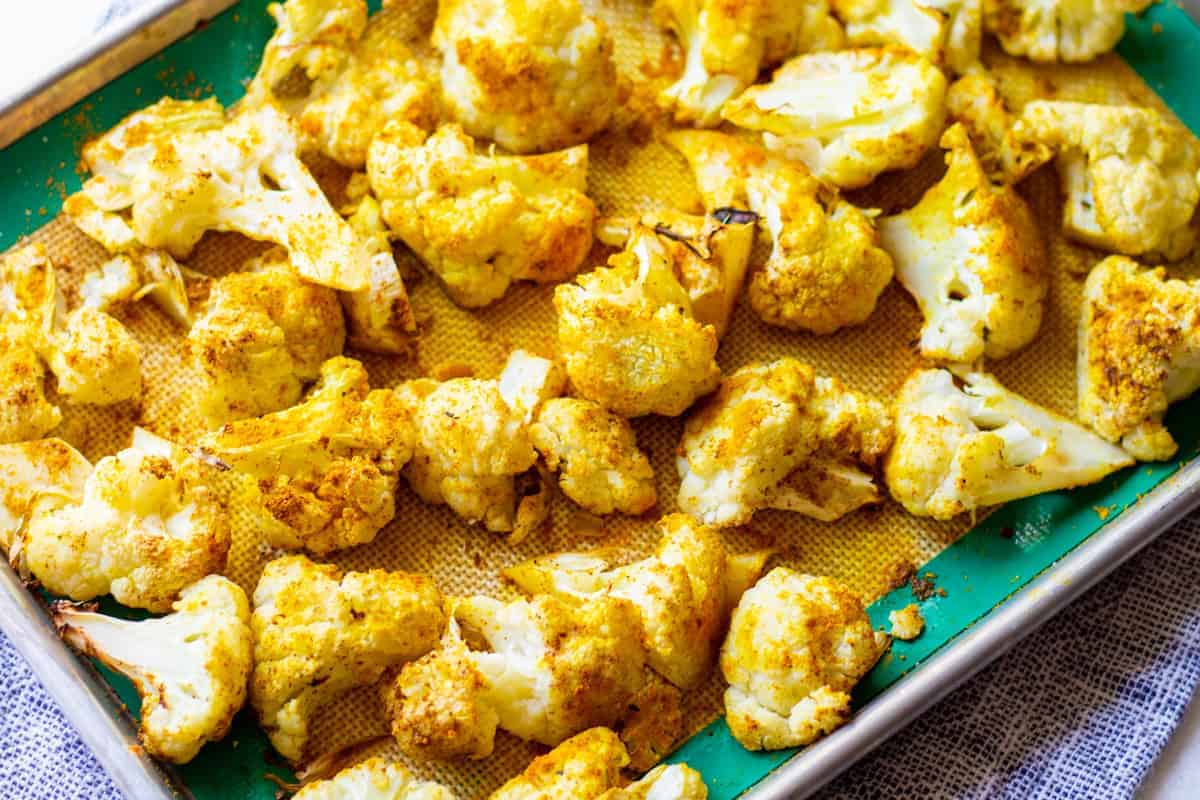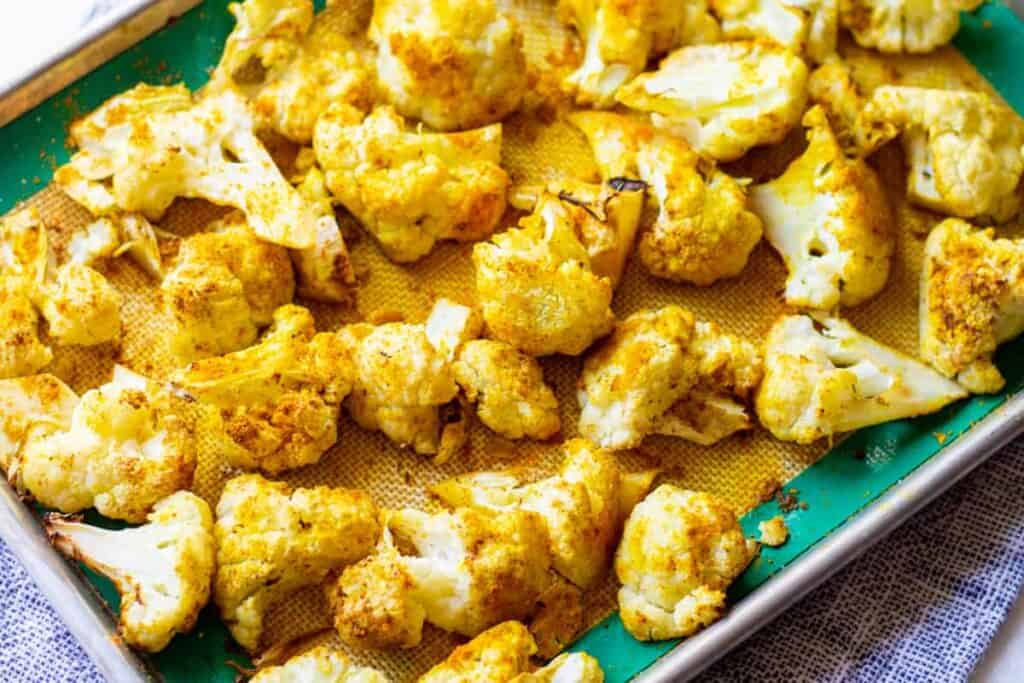 🧄 Ingredients
To make this delicious, anti-inflammatory (hello, turmeric!) roasted curried cauliflower, you'll need:
cauliflower

one whole cauliflower (about 2 pounds), broken into florets
OR big bag (about 1.5-2 pounds) of pre-cut cauliflower florets
OR 24-32 ounces of frozen cauliflower

curry powder (my favorite is Chief Curry Powder, made in Trinidad)
freshly cracked black pepper
Please scroll down to the recipe card at the bottom of this post for detailed measurements and instructions!
🔪 Instructions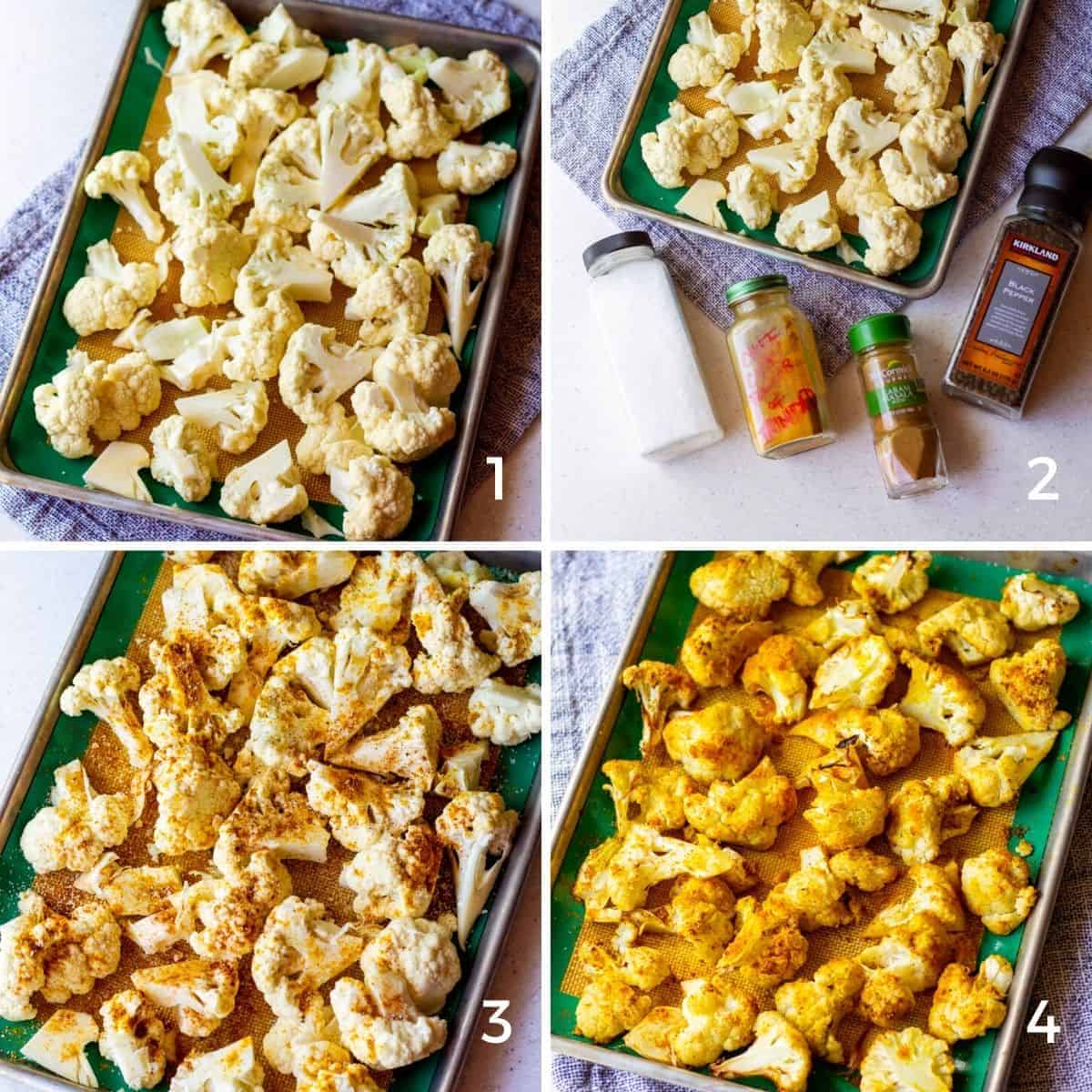 👨‍👩‍👦‍👦 Serving suggestions
These healthy roasted curry cauliflower bites pair nicely with a surprising array of meals, such as:
Saag paneer (Indian spiced creamy spinach with tofu "paneer")
Saag chana (Indian spiced creamy spinach with chickpeas)
Green rice and lentil bowls
In veggie wraps
On top of mashed potatoes
50/50 plate of non-starchy veg (this cauliflower) and starch (potatoes, rice, etc.)
❓ FAQ
Why is my roasted cauliflower mushy?
It is likely because you cooked it too long or at a heat that is too low. To roast cauliflower, I recommend a temperature of 400 F. Roast without much moisture only until crisp-tender.
🔄 Variations
Instead of using the curry powder + garam masala + pepper + sea salt for this curry roasted cauliflower recipe, try using these spice blends instead, with the same method.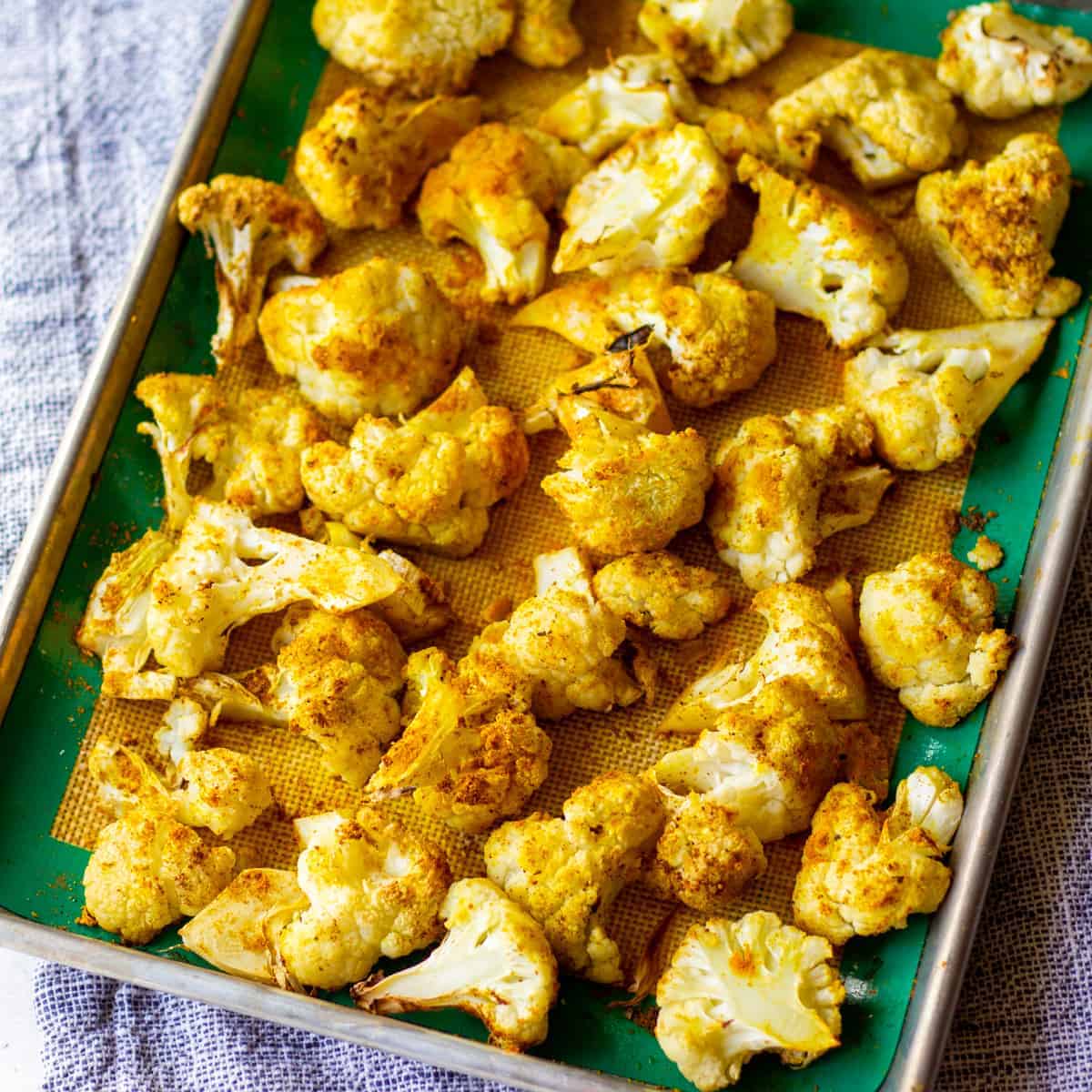 💭 Tips
🗺 Around the world
What is curry powder made of?
Let's talk curry powder for a moment.
There are no two perfectly alike curry powders. Curry powder is a combination of ground spices, including but not limited to: ground turmeric, ground cumin, ground coriander, ground ginger, ground chili powder, ground pepper and other spices.
So, depending on the brand of curry powder you buy, as well as the strength of the spices used in that blend, it will taste slightly different. You'll notice this visually by the varying colors of curry powder from bright yellow to mustard.
The one I use most frequently is Chief Curry Powder from the Caribbean island of Trinidad, which was originally recommended to me by my dear friend, Ria. I find it in the International section of well-stocked grocery stores or at the Indian grocery store.
I'm sure you'll find one you love!
Where do curries come from?
The origin of curries (stews cooked with lots of spices, as well as often tomato puree and coconut milk) is India. Through colonization and globalization, curries are now a native food in many countries, such as Malaysia, Thailand, Vietnam, Japan, Britain, Australia, New Zealand and most of the Caribbean islands.
And, for those who weren't raised at home with curries, we loved them as soon as we tasted them!
💜 More recipes you'll love
If you love this healthy roasted cauliflower recipe, check out these other oil-free Indian plant-based, vegan dishes!
Love this recipe? Subscribe here so you don't miss any new recipes!
Please rate it ⭐️⭐️⭐️⭐️⭐️ down below. ⬇️ And, if you make it, please tag me @veryveganish on Instagram in your posted photos! I would love to see your creations. 😄
📖 Recipe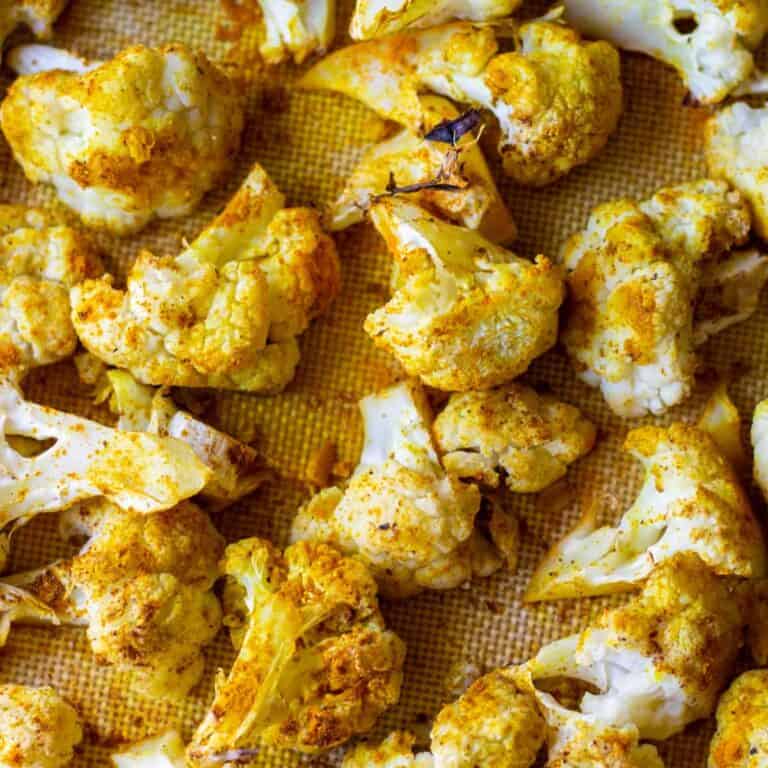 Roasted Curried Cauliflower (oil-free, vegan)
Spice up your roasted cauliflower with curry powder and garam masala in this oil-free sheet pan side dish. To save time, use pre-cut cauliflower florets or even frozen cauliflower.
Ingredients
1 head cauliflower, cut into medium pieces
1 teaspoon curry powder
½ teaspoon garam masala
½ teaspoon sea salt
¼ teaspoon freshly cracked black pepper
Instructions
Preheat oven to 400 F. Line a baking tray with parchment paper.
Rinse and drain, but do not dry the cauliflower florets. The small amount of water clinging to the cauliflower will help the spices stick.
Spread cauliflower out in a single layer on baking tray. Sprinkle all the spices over the cauliflower, then stir with a spoon or spatula to coat.
Bake for 35-40 minutes, until tender and starting to brown on the edges. *See Notes for heat and time adjustments, if using an air fryer or frozen cauliflower.
Notes
If using frozen cauliflower, increase temperature of oven to 425 F and check at 25 minutes.
If using air fryer, reduce temperature to 375 F and check at 20 minutes. It may take less or more time, depending on your machine.
Additional Optional Spices:
½ teaspoon ground turmeric
½ teaspoon granulated garlic powder
½ teaspoon ground cumin
Nutrition Information:
Yield:

4
Serving Size:

1
Amount Per Serving:
Calories:

35
Total Fat:

1g
Saturated Fat:

0g
Trans Fat:

0g
Unsaturated Fat:

0g
Cholesterol:

0mg
Sodium:

286mg
Carbohydrates:

6g
Fiber:

4g
Sugar:

3g
Protein:

3g
Nutritional calculations are done using online tools, such as recipe widget Create. Even though we have tried to provide accurate nutritional information, these figures should be considered estimates.