First of all, can I get some love on the name I came up with? AUTUMN BOMBS.
Doesn't it just sound fun? I'm normally terrible at naming stuff like this, but this one got the approval of the boys AND my husband.
*round of applause* Thank you. Thank you very much.
Okay, back to the drink.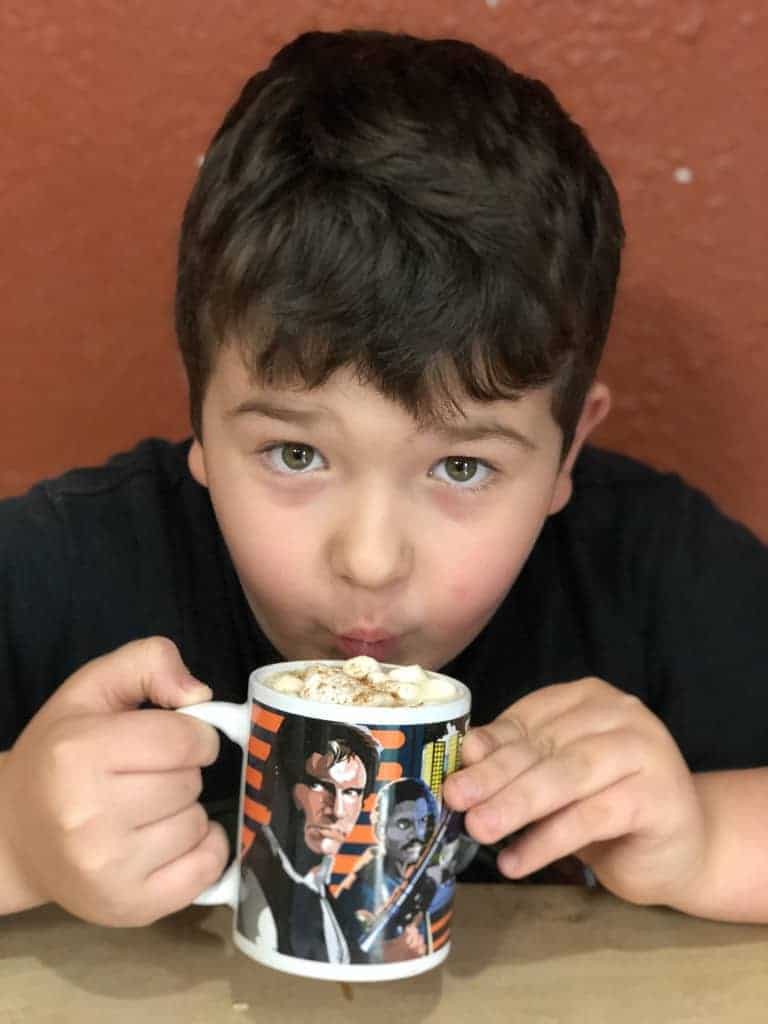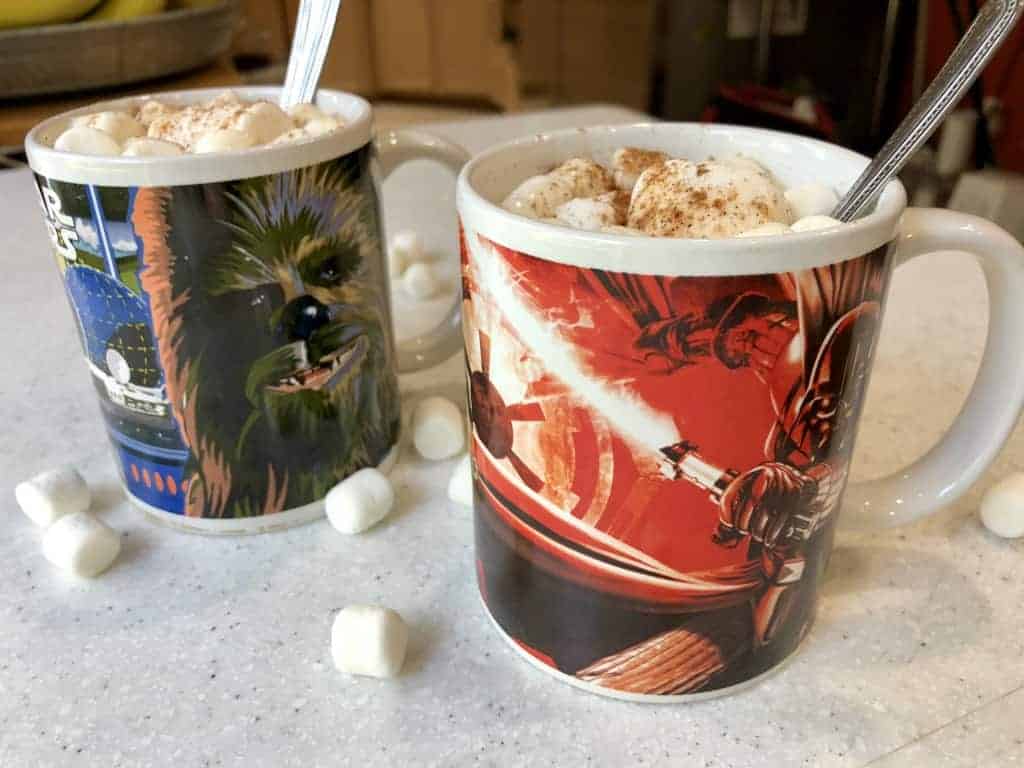 My boys have been making their own coffee-less kids pumpkin spice lattes with our homemade pumpkin spice syrup, which stores really well in the refrigerator. Don't worry, there's no caffeine here to fuel Nerf battles.
Tips for Kid-Friendly-ness
I keep the syrup in a pourable container to reduce the mess. It would also work really well in an empty, clean, squeezable ketchup jar! I told them how long to heat up the milk in the microwave, so it didn't get too hot.
These drinks are like pumpkin spice steamers or pumpkin spice steamed milk. Basically, warm, delicious autumn bombs. A great alternative to hot cocoa. Or, if you're trying to stay away from coffee or caffeine, this is the perfect way to inject fall flavor in your own caffeine-free pumpkin spice latte.
Warm milk + pumpkin spice syrup + marshmallows. Can you get any more autumn than that? An explosion of flavor and fun, in a Star Wars mug.
Little boy dream drink that's easy enough for them to prepare themselves. Plus, tell a kid it's called an autumn bomb and they'll automatically like it. Promise.
P.S. - If you're looking for vegan marshmallows, Trader Joe's has some good ones that also happen to be gluten-free. You can also order some online.
This post probably contains affiliate links. My disclosure policy is pretty boring, but you can find it here.
SaveSave
AUTUMN BOMBS: Kids Pumpkin Spice Latte Steamer
Fun and delicious kids vegan pumpkin spice latte, minus the caffeine. Great alternative to hot cocoa.
Ingredients
¾ cup unsweetened plant-based milk, we use almond milk
⅓ cup marshmallows, optional, but recommended
Instructions
Stir pumpkin spice syrup and milk together in a mug and heat in microwave for one minute.
Stir again, test temperature of milk to make sure it's not too hot or too cold.
Add marshmallows and serve!
Nutrition Information:
Yield:

1
Serving Size:

1
Amount Per Serving:
Calories:

275
Total Fat:

7g
Saturated Fat:

3g
Trans Fat:

0g
Unsaturated Fat:

4g
Cholesterol:

20mg
Sodium:

155mg
Carbohydrates:

45g
Fiber:

1g
Sugar:

31g
Protein:

10g
Pumpkin Spice Syrup - Refined Sugar Free
Yield:
About 2 cups of syrup
Versatile pumpkin spice syrup that transforms anything you put it in into fall yumminess and it's refined sugar free! Yippee! Great for pumpkin spice lattes, kids' pumpkin spice steamer autumn bombs, pancakes, waffles and oatmeal.
Ingredients
½ cup pumpkin puree
4 tsp pumpkin pie spice powder
1 ½ cup water
½ cup maple syrup
1 cup coconut sugar
Instructions
Whisk all ingredients together in a small saucepan and heat over medium heat, whisking frequently to prevent burning.
Simmer for 5-7 minutes to dissolve the sugar and slightly thicken the mixture.
Remove from heat and strain through a fine mesh strainer, especially if you're using pumpkin that is stringy. *See notes
Notes
If your pumpkin puree is super smooth, you may not need to strain it at all. So, test a small amount first to see if it will even go through the strainer. I find that I do not need to strain mine usually, but others find the need to.
Instead of coconut sugar, you can substitute more maple syrup or brown sugar (but, then it will not be refined sugar free)