Fluffy and tender couscous gets paired with sliced bananas and strawberries, a dash of cinnamon and a drizzle of honey or maple syrup in this quick and easy summer breakfast couscous bowl.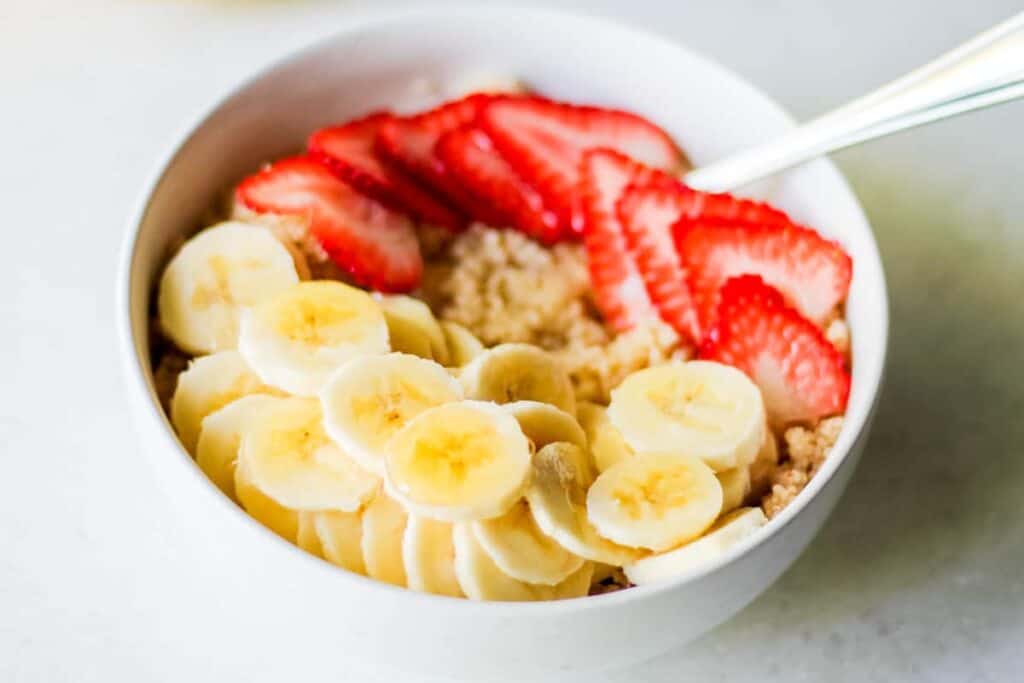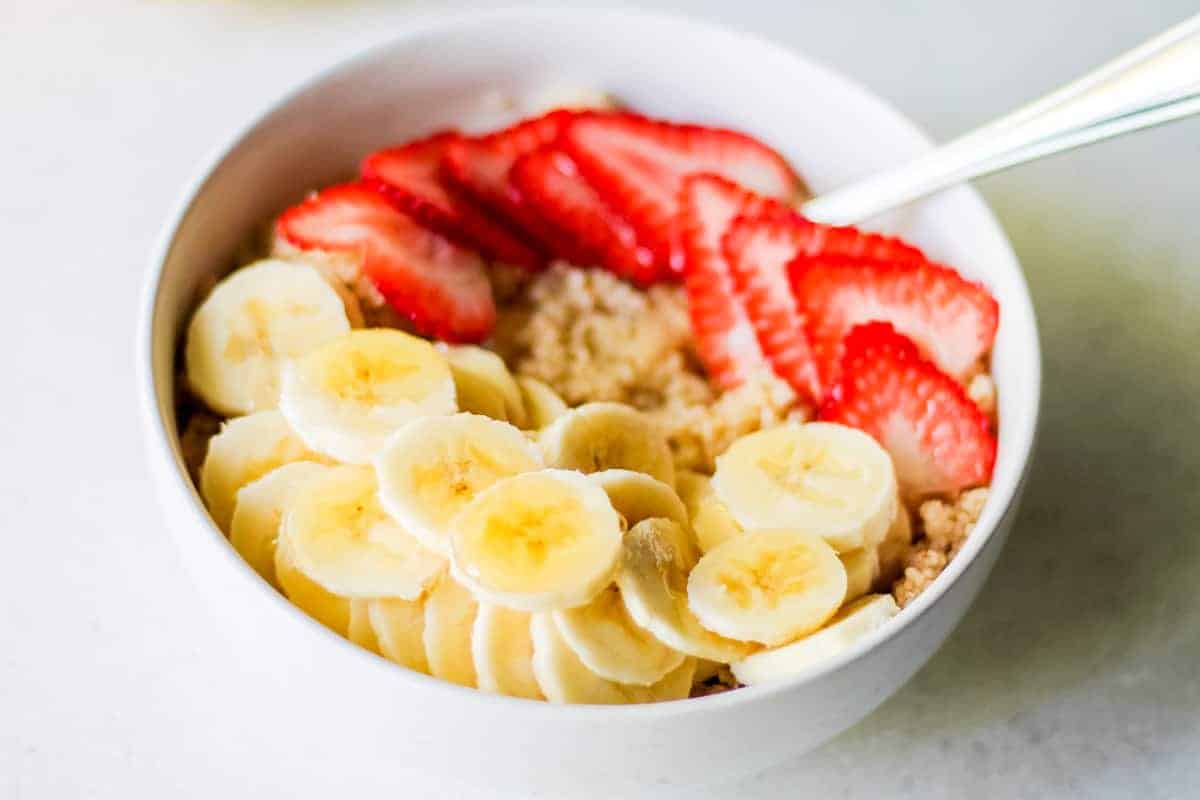 Jump to:
🧄 Ingredient notes
The couscous we'll be using for this recipe is small couscous. It's in tiny little pieces. Either standard couscous or whole wheat couscous will work.
Israeli couscous will not work for this recipe, it must be cooked much longer to be tender.
Bananas and strawberries go so well together. They're a delicious combo!
And, a little easier to prepare, since you don't have to battle with peeling the orange for the breakfast couscous bowl with oranges. Because some days that's just how it is.
I'm looking at you, Monday mornings.
This one will be added to my Monday morning repertoire because it's:
filling
fast to make (5 min!)
easy - you just need to boil some water
great for weight loss
This breakfast stays with you, because the couscous is starchy and filling. Starches, which are carbohydrates, give our bodies energy for the day, so they make an excellent breakfast.
It's also very low in fat, so you can happily eat it whether you're choosing a plant-based, vegan, starch solution or even Dr. McDougall's Maximum Weight Loss way of eating. Happy dance!
Make this couscous weight loss recipe into a 50/50 plate by filling half the bowl with fresh fruit. Or, by eating a separate bowl of non-starchy vegetables, like asparagus, broccoli, spinach or kale.
🔪 Instructions
To make this recipe, you'll need the following kitchen utensils:
a bowl and spoon
a plate to cover your bowl
a small paring knife to cut your fruit
Start with the couscous
Add your couscous and the dash of salt to a medium sized bowl. Next, you'll need to add your boiling water. See my tip below for using an electric kettle to make this and other recipes super easy.
Or, you can boil your water with the stove or microwave.
It will take about 1 minute to boil the ¾ cup of water you'll need for this recipe. Depending on the wattage of your microwave, it may take less or more time, so keep an eye on it.
For overnight couscous: Combine ½ cup small couscous in a container with ¾ cup water. Cover and place in the refrigerator for at least 2 hours, or overnight to rehydrate.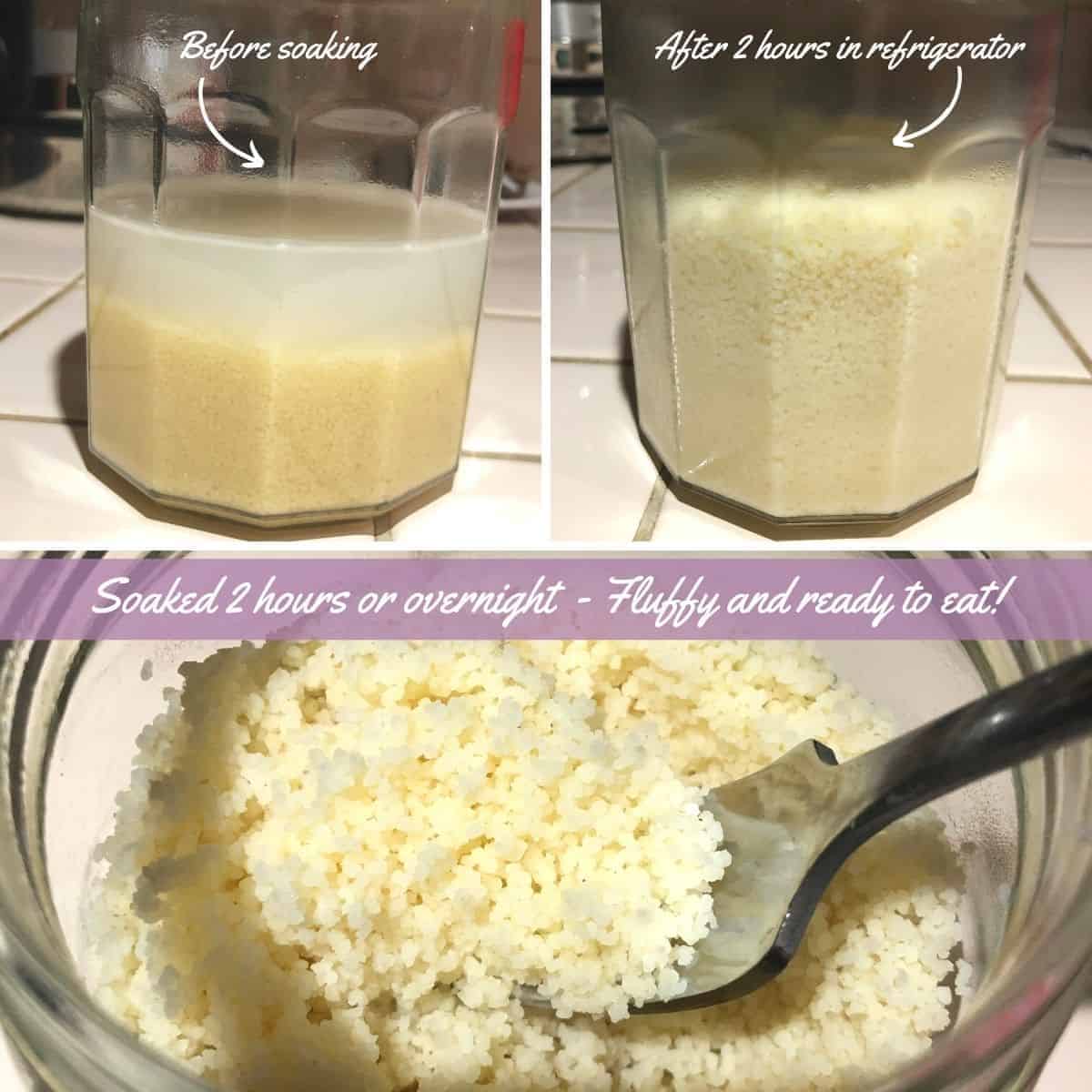 Flavor it up!
Once you've added your boiling water, stir it lightly, cover the boil with a plate and let sit for 5 minutes.
While you're waiting for the couscous to plump up, peel and slice your banana and slice two strawberries or other exotic fruit. Then, you can add in your flavor!
Sprinkle on a little bit of cinnamon. Drizzle on some honey or maple syrup. Stir that goodness together and top with sliced banana and strawberries. YUM.
My boys like to eat this with raisins, so maybe give that a try for your kids and toddlers.
Keep in mind that dried fruits have higher calorie density, so a little goes a long way and they should be limited or omitted if you're trying to lose weight.
If you like this breakfast couscous, you may also like to try my Breakfast Couscous with Oranges recipe.
❓ FAQ
How do you make overnight couscous?
Couscous is super tiny semolina pasta. You can rehydrate it overnight by combining ½ cup of small couscous (not large, Israeli couscous) with ¾ cup of water and let it soak at least 2 hours or overnight in the refrigerator. In the morning, heat it for 30-60 seconds in the microwave and add whatever toppings you'd like.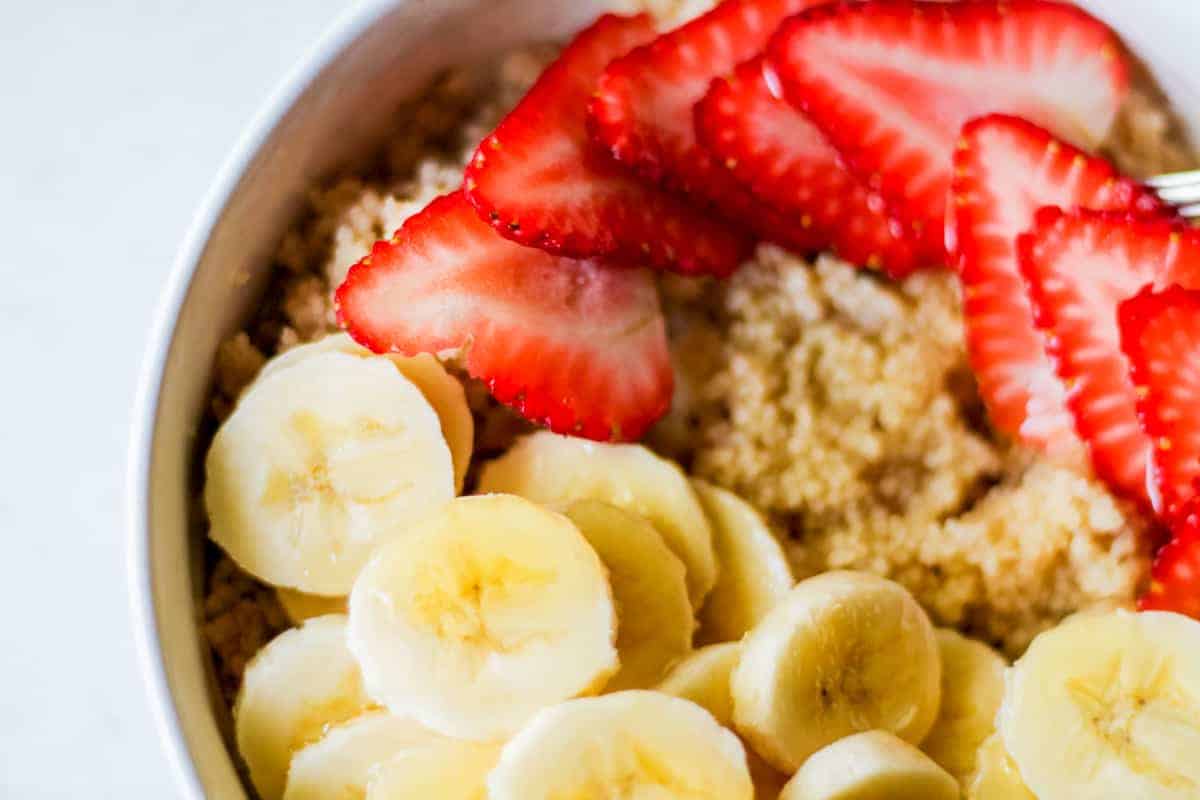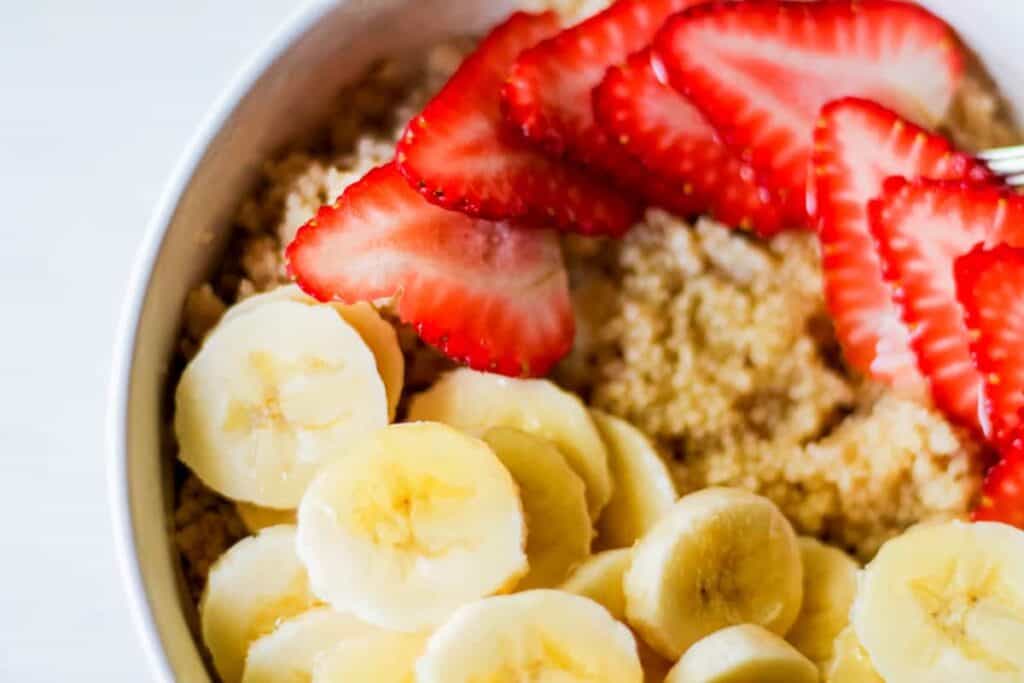 💭 Tips
Save time by using an electric kettle
You've probably boiled water a million times, but I want to share the most convenient way I've found.
I grew up in Texas and never owned an electric kettle, until.... I went to visit my sister in Ireland. In her tiny, tiny kitchen, which had a sliver of a counter, she had made room for an electric kettle. Why? Because it's the best invention ever, that's why.
We love tea in this house. We drink it every day and had been boiling our water with a kettle on the stove. But, the convenience of an electric kettle was just marvelous while we were in Ireland. All you have to do is fill it and push the button. No more running into the kitchen to turn off the stove before it boils over.
As soon as we got home, we started shopping for one for our kitchen. And, as I've decluttered <a ton> recently and cleared my kitchen counters, the kettle real estate has remained untouched. It proudly sits in it's little corner, waiting to work for us every day.
If you have an electric kettle in your house, I recommend using it to boil your water for this recipe. You won't even have to touch your stove to have breakfast. Just fill the kettle and pop it on while you're getting your ingredients together.
The electric kettle we use has different settings on it, depending on what temperature your tea needs to be steeped at. For example, for green tea, it's 176 degrees Fahrenheit. For oolong tea, it's 194 degrees.
I love it! It makes a big difference in the flavor of the tea, if you steep it in water at the right temperature for the tea you're drinking.
For this kettle breakfast couscous, I've moved the dial all the way to the setting for Herbal tea, which will boil the water at 212 degrees. It only takes a minute or two to boil, depending on how much water you've added to it.
💜 More recipes you'll love
If you like this healthy breakfast couscous, check out these plant-based breakfast recipes!
For some other plant-based breakfast ideas, maybe you'd like to check out my simple maple oatmeal with sliced banana or these breakfast tacos with spinach, sweet potato and spicy charro beans.
Love this recipe? Please rate it 5 stars ⭐️⭐️⭐️⭐️⭐️ below in the recipe card. And, if you make it, please tag me on Instagram or Facebook in your posted photos! I would love to see your creations. 😄
📖 Recipe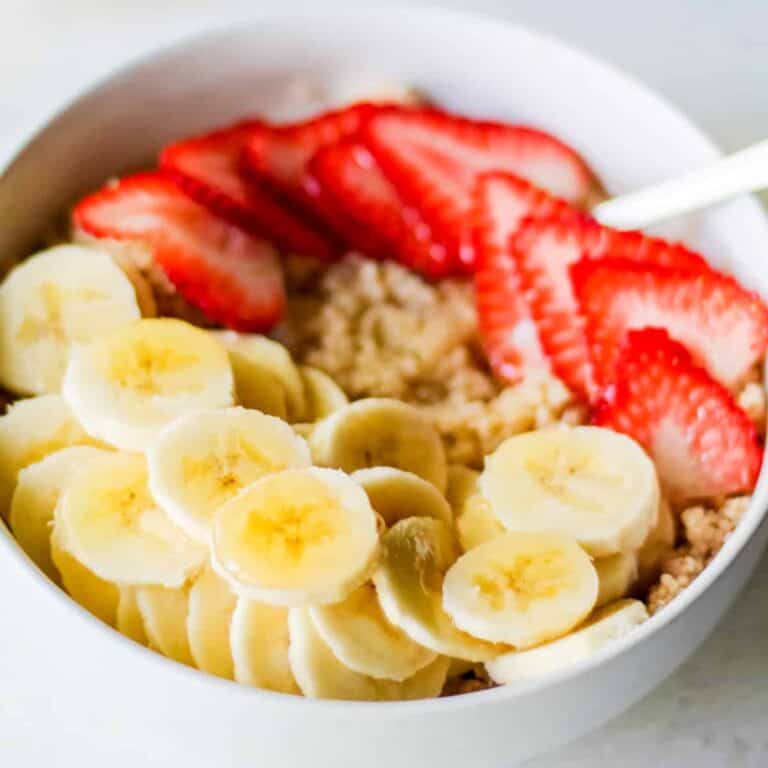 Breakfast Couscous Bowl with Banana and Strawberries
Fluffy and tender couscous gets paired with sliced banana, strawberries, a dash of cinnamon and a drizzle of honey or maple syrup in this quick and easy summer breakfast hot cereal bowl.
Instructions
Put couscous and dash of salt in bowl. Add boiling water to bowl, stir lightly and cover.

½ cup couscous,

pinch sea salt,

¾ cup boiling water

Let sit for 5 minutes.

Meanwhile, slice your banana and strawberries.

When couscous is ready, stir in honey (or maple syrup) and cinnamon. Top with fruit. Enjoy!

1 tablespoon honey or maple syrup,

pinch ground cinnamon
Notes
For overnight couscous: Combine ½ cup small couscous in a container with ¾ cup water. Cover and place in the refrigerator for at least 2 hours, or overnight to rehydrate.
In addition to or instead of banana and strawberries, you can add oranges, raisins, golden raisins or dried cranberries.
Recipe adapted from Dr. John McDougall's book Maximum Weight Loss.
Nutrition
Serving:
1
portion
Calories:
502
kcal
Carbohydrates:
113
g
Protein:
13
g
Fat:
1
g
Saturated Fat:
1
g
Polyunsaturated Fat:
1
g
Monounsaturated Fat:
1
g
Sodium:
20
mg
Potassium:
614
mg
Fiber:
8
g
Sugar:
33
g
Vitamin A:
78
IU
Vitamin C:
24
mg
Calcium:
37
mg
Iron:
1
mg