From everyday pink grapefruit to exotic pink dragon fruit, there are many beautiful and striking fruits that are pink to fill your fruit bowl. Complete your pink aesthetic, make a pink fruit salad, dip or platter or widen your range of antioxidants with this list of pink fruits!
Jump to:
Health benefits
Many red and pink fruits are loaded with powerful antioxidants, such as lycopene and anthocyanins. According to WebMD, these healthy powerhouse foods may help fight heart disease, prostate cancer, decrease the risk for stroke and macular degeneration, since antioxidants soak up damaging free radicals.
Ideas for how to use
They're also gorgeous! Pink fruits are perfect to:
flavor and color bright pink oatmeal for your kids that tastes like gummy bears (but it's good for them!)
serve at a baby shower, especially for a baby girl or for a gender reveal party
decorate your cake with beautiful fruits (whole or cut) that are pink. This vegan strawberry cake would be perfect for your next pink party!
complete your feminine aesthetic for an afternoon tea party by topping mini tarts with pink raspberries and serving strawberry iced tea.
lay out a pink fruit platter for a ladies brunch
create pink fruit dip for a little girls party or movie night with the girls
fruits that are pink are especially pretty to brighten a fruit basket as a gift
Use fresh fruit when staging an area, if you're trying to achieve a pink aesthetic for photography, videography or interior design. It brings life and interest to the scene.
Here's a list of pink fruit names and some ideas and recipes for how to incorporate them into your diet or a pink-themed party.
Exotic, rare and tropical pink fruit
Where to find tropical and rare fruit? Try shopping at your local Asian grocery store, like H-Mart or Ranch 99. They often have a huge selection of fruit. Not sure what to buy there? Check out: What to buy at your local Asian grocery store with a printable grocery list.
You can also check out online stores like Miami Fruit and Tropical Fruit, who ship fruit across the country.
Pink dragon fruit
Dragon fruit, also known as pitaya or pithaya, are a bright pink tropical fruit that are striking to look at. Usually, they are found with pink skin and white flesh on the inside with small black seeds, like kiwifruit.
They are also grown with pink skin and bright pink flesh on the inside (pictured below). You can also find them with yellow skin and white flesh on the inside.
While they are beautiful to look at, their flavor lacks the intensity you would expect. Use them to add color and interest to fruit salad or to make a copycat Starbucks pink drink!
You can also find dried hot pink dragon fruit powder and red dragon fruit chips, which are great to have on hand in your pantry for livening up a smoothie bowl, yogurt or dessert.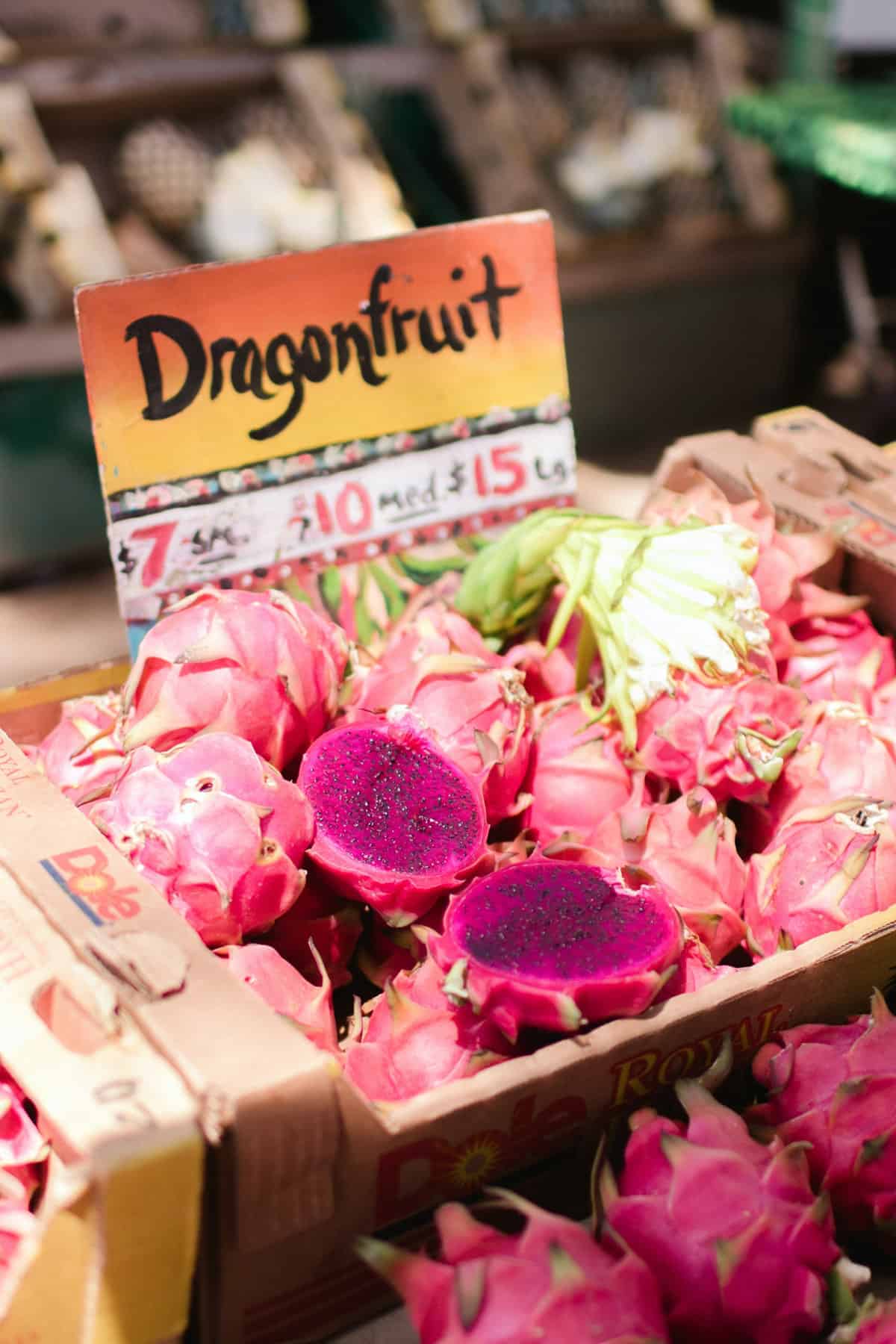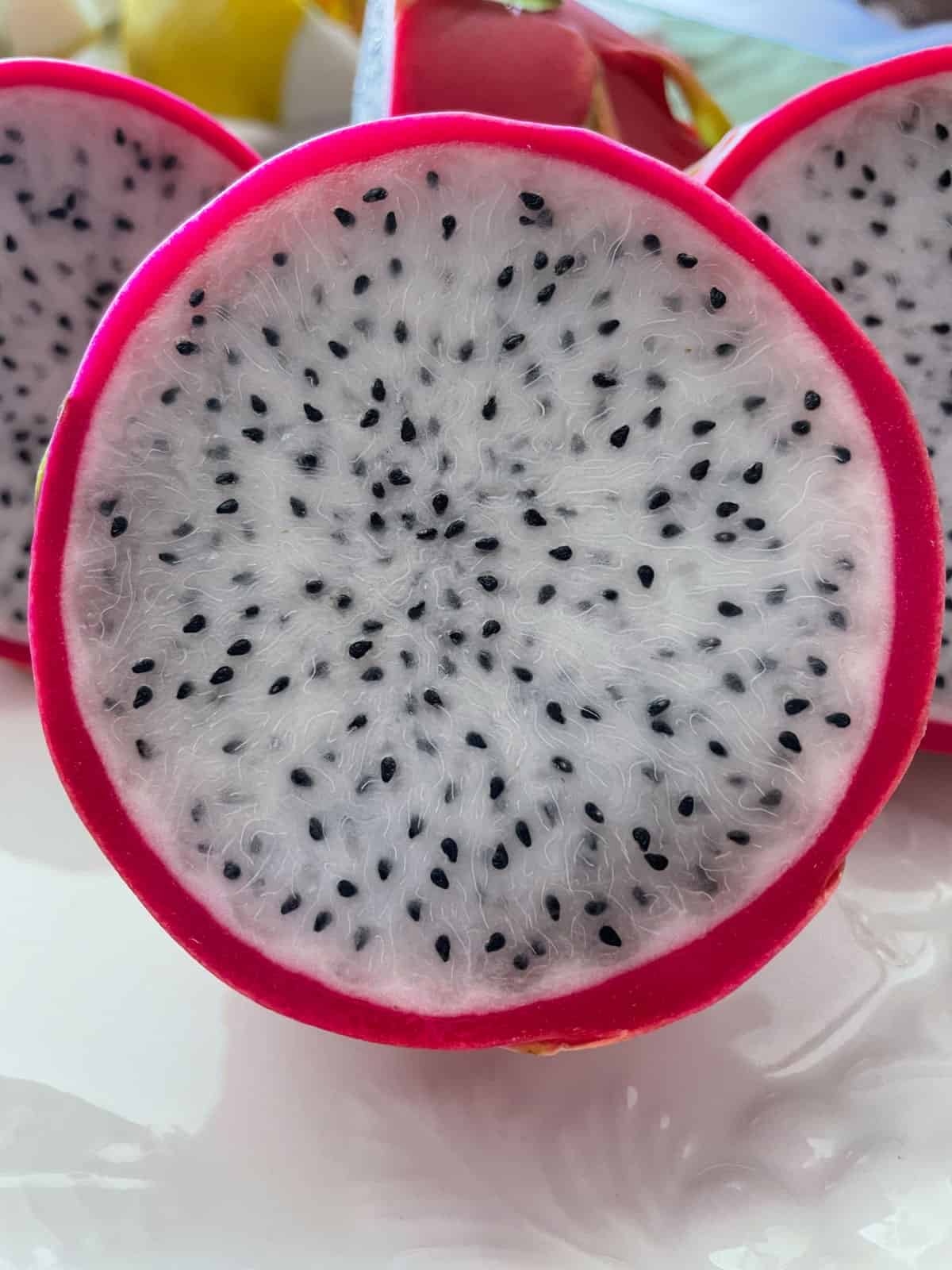 Pineberries (light pale pink strawberries)
There are many varieties of a light colored pink strawberry. Pineberry strawberries and awayuki strawberries both have a light pink hue to them, while more common strawberries are red or dark pink in color.
Pineberry strawberries are almost completely white when fully ripe, with a light pink hue. According to Tropical Fruit Box, where you can purchase them, they have a complex tropical flavor and delightful aroma.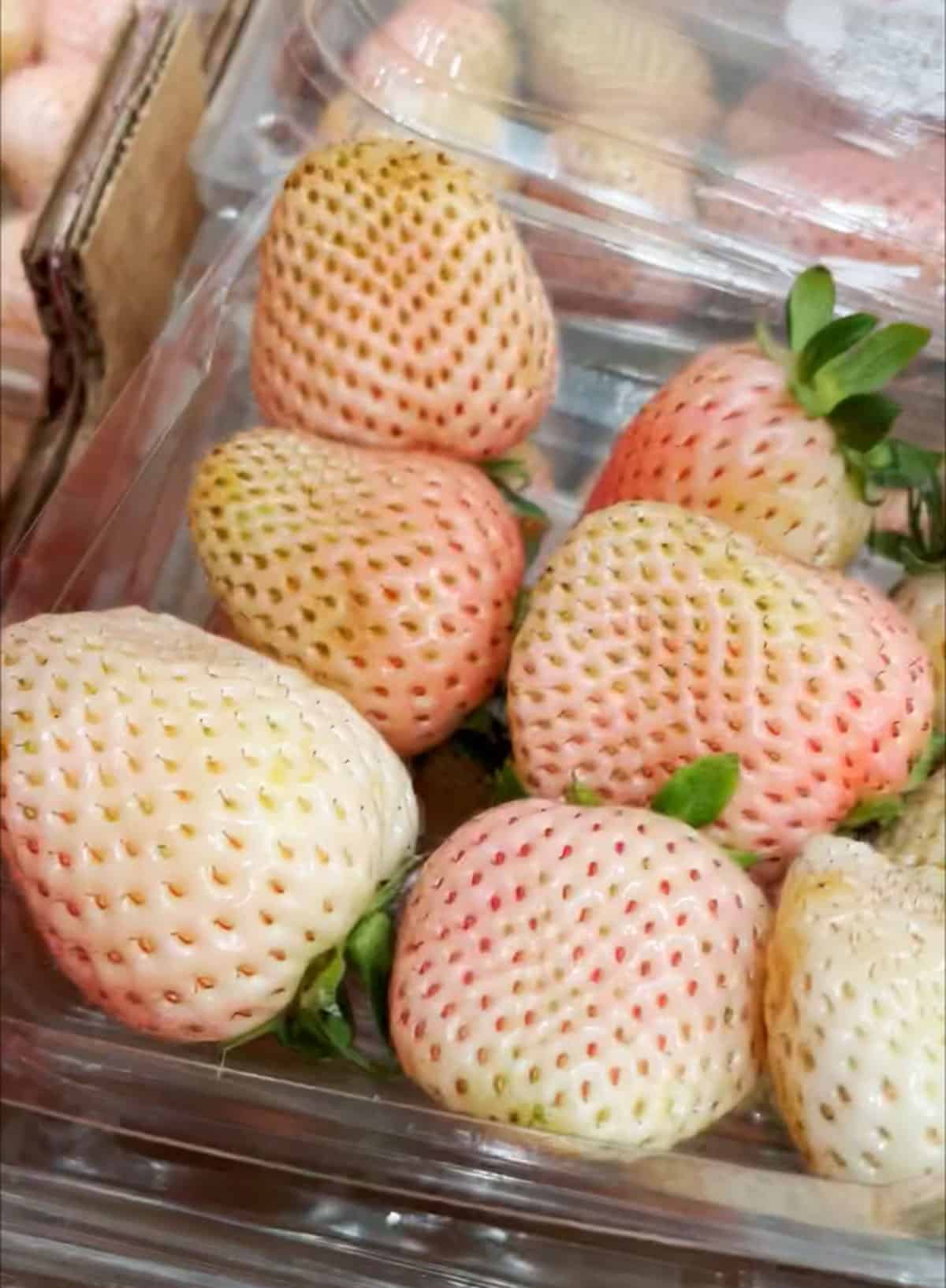 Pink dwarf banana (Musa velutina)
Are you ready for this cuteness?
According to Rare Palm Seeds, "This delightful dwarf banana, grows to only 1.2 m (4 ft.) tall, is certainly very deserving of a common name that calls attention to its "pinkness." Its somewhat waxy leaves have a pinkish midrib, the flowers are pink to orange, and the very ornamental fruits, dwarf bananas, are a bright, velvety pink, and last for months at a time."
"The bananas are edible and quite sweet, but also full of seeds. This species is originally native to the eastern Himalayas and Assam. It is very cold tolerant and will survive even frosty winters outside if heavily mulched. Alternatively, it makes an excellent indoor plant and is one of the few bananas that will actually flower and fruit in the house."
Red Dacca Bananas (musa acuminata)
Red bananas are smaller and plumper than the grocery store bananas we're used to. Despite the name red banana, their flesh inside can range in color from cream to light pink, so they make our list of pink fruit!
Pomelo
Pomelo are the largest variety in the citrus family, with a thick white pith and a light peachy pink interior similar to pink grapefruit. They have a sweet taste, without the intense bitterness and sourness of grapefruit. Look for honey pomelos, as they are mild in flavor.
Pink lemons
Striking to look at inside and out, these Eureka variegated pink lemons are so fun! When they're in season in the winter, you may even find these being sold at Trader Joe's or other specialty stores. Or, you could always plant a fruit tree of your own!
Pink lemon juice can be used to make homemade pink lemonade or to make perfect lemon iced tea!
Pink tomatoes
There are many varieties of heirloom tomatoes that have a pink color to them! Brandywine pink tomatoes, Belgium pink tomatoes, German pink tomato, Black sea man heirloom tomatoes have a striking pink center (pictured below), and more.
In the summer when heirloom tomatoes are in season, check out your local farmer's market and specialty grocery stores for them. They'll make the best tomato toast for breakfast!
Pink guava fruit
Guava fruits, grown in tropical regions, are rich in antioxidants, vitamin C, potassium, and fiber. They have green outer skins, with white or pink flesh inside. They are sweet and have edible seeds.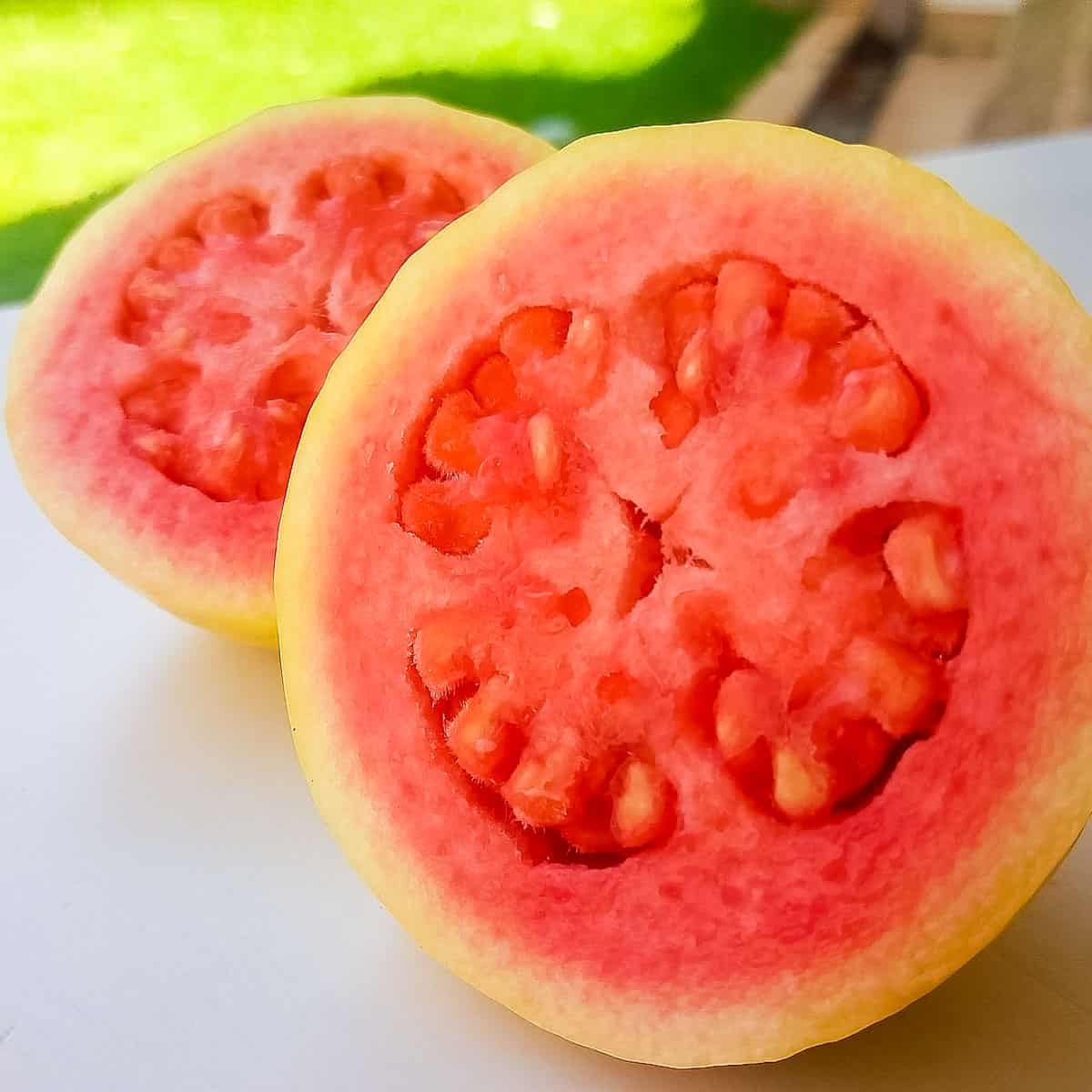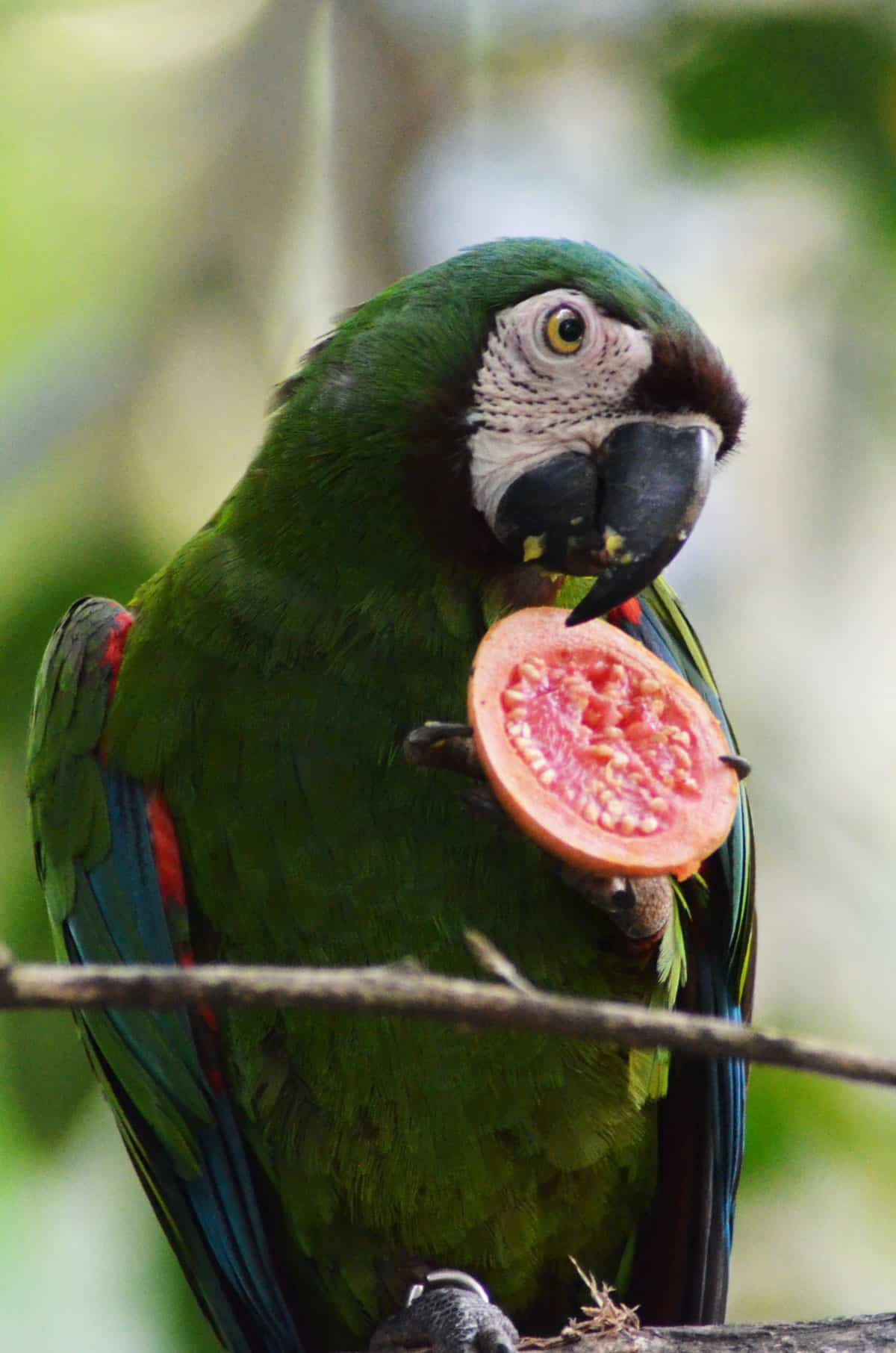 Mango
While tropically grown mangoes are orange-coral color on the inside, many have beautiful pink color on the outside, making them gorgeous for pink fruit baskets or bowls.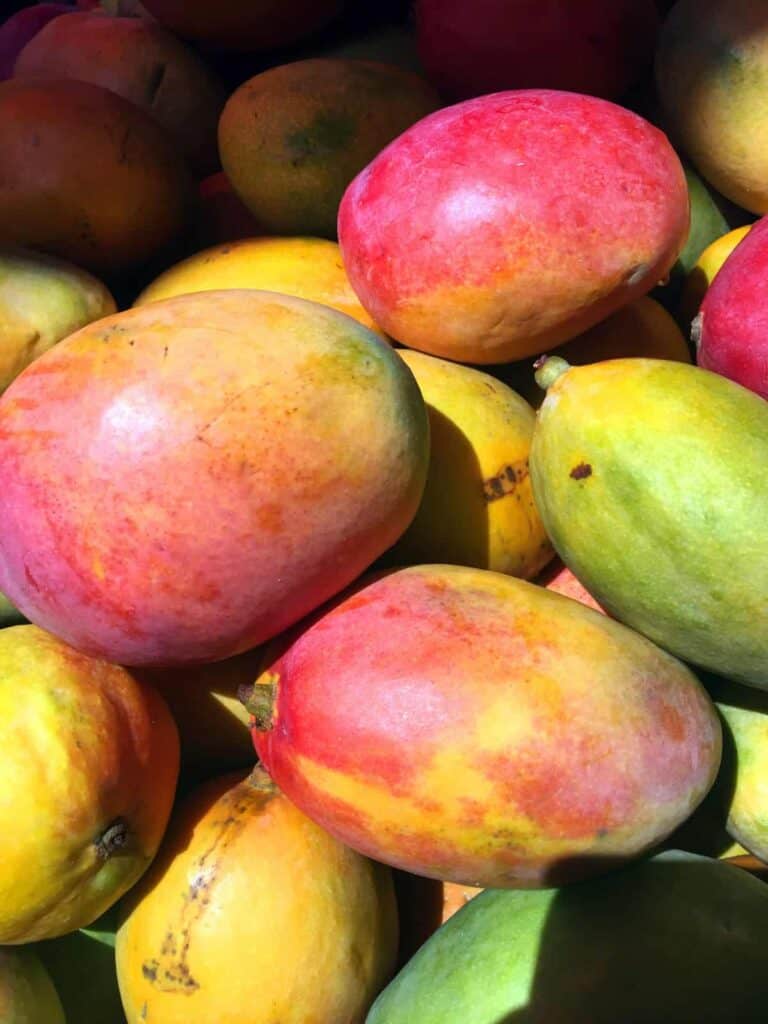 Papaya
Papaya, a tropical fruit, are typically green, yellow or peach on the outside. Inside they are a beautiful peachy-pink color, contrasted nicely with their dark black seeds.
Papaya is an acquired taste for some, including yours truly - I have not yet acquired the required taste buds, haha. However, papaya is known for aiding in digestion.
Pro tip: freeze ripe papaya cubes, then add them to smoothies along with other fruit you enjoy. You'll get the health benefits without the overwhelming flavor.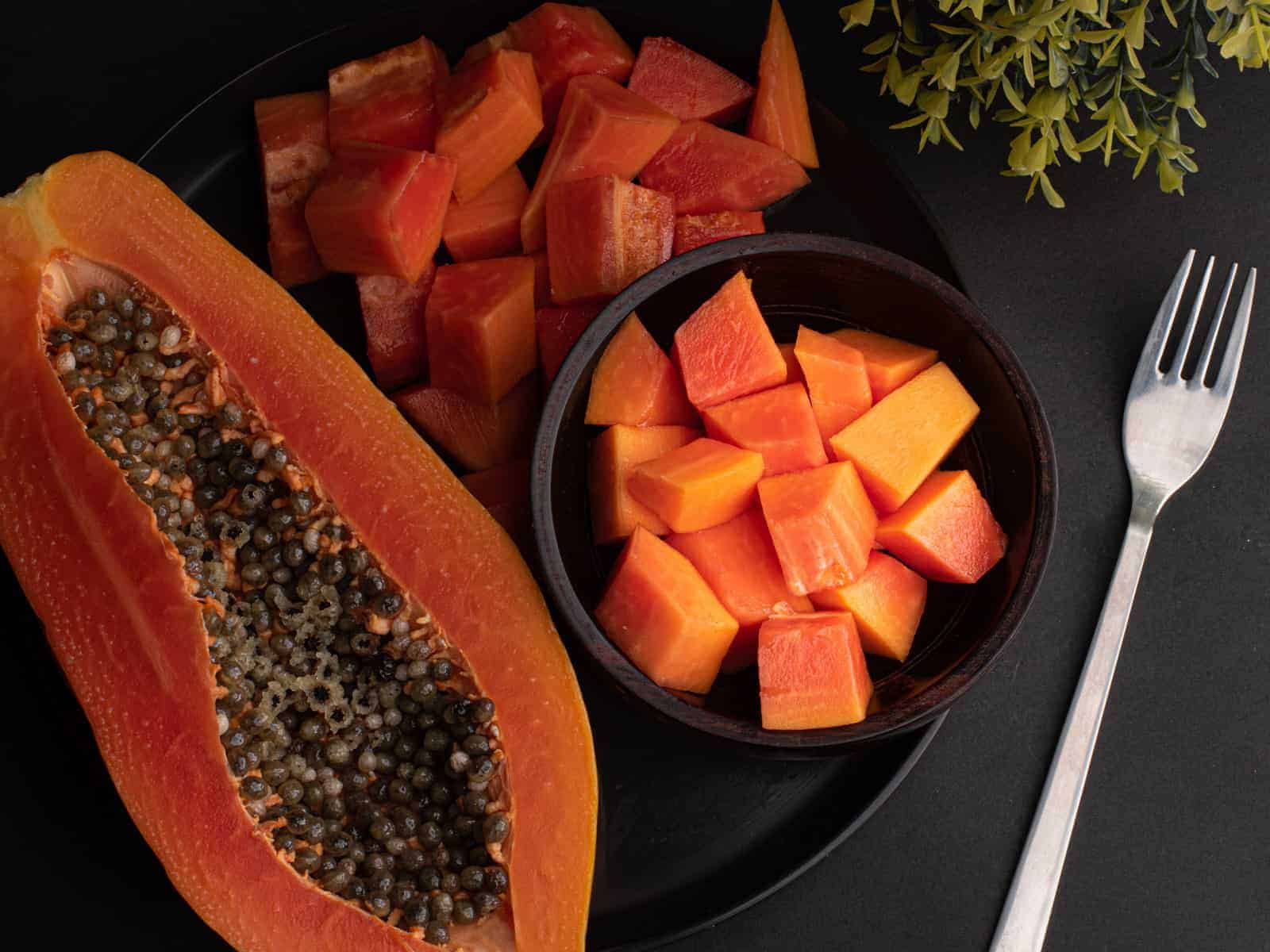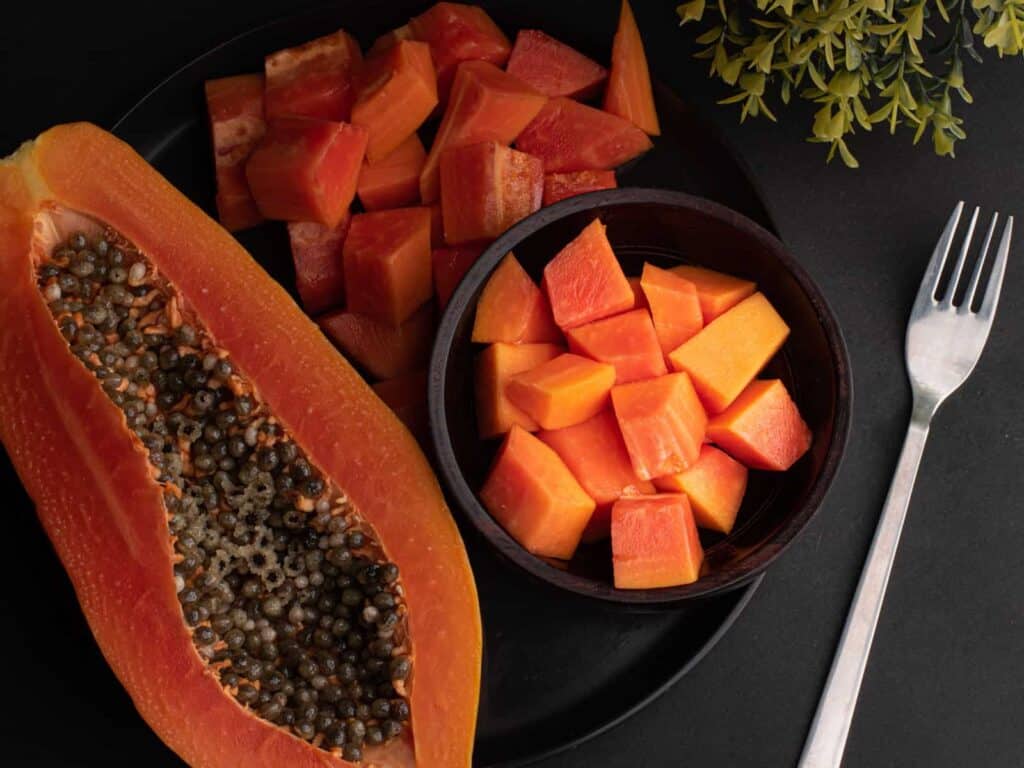 Lychee
Lychee is grown on trees and is native to Southeast Asia. The fruit is usually eaten fresh but can also be canned or dried. What does it taste like? Depends on who you ask! Some say it tastes like strawberries, watermelon, rose water or citrus.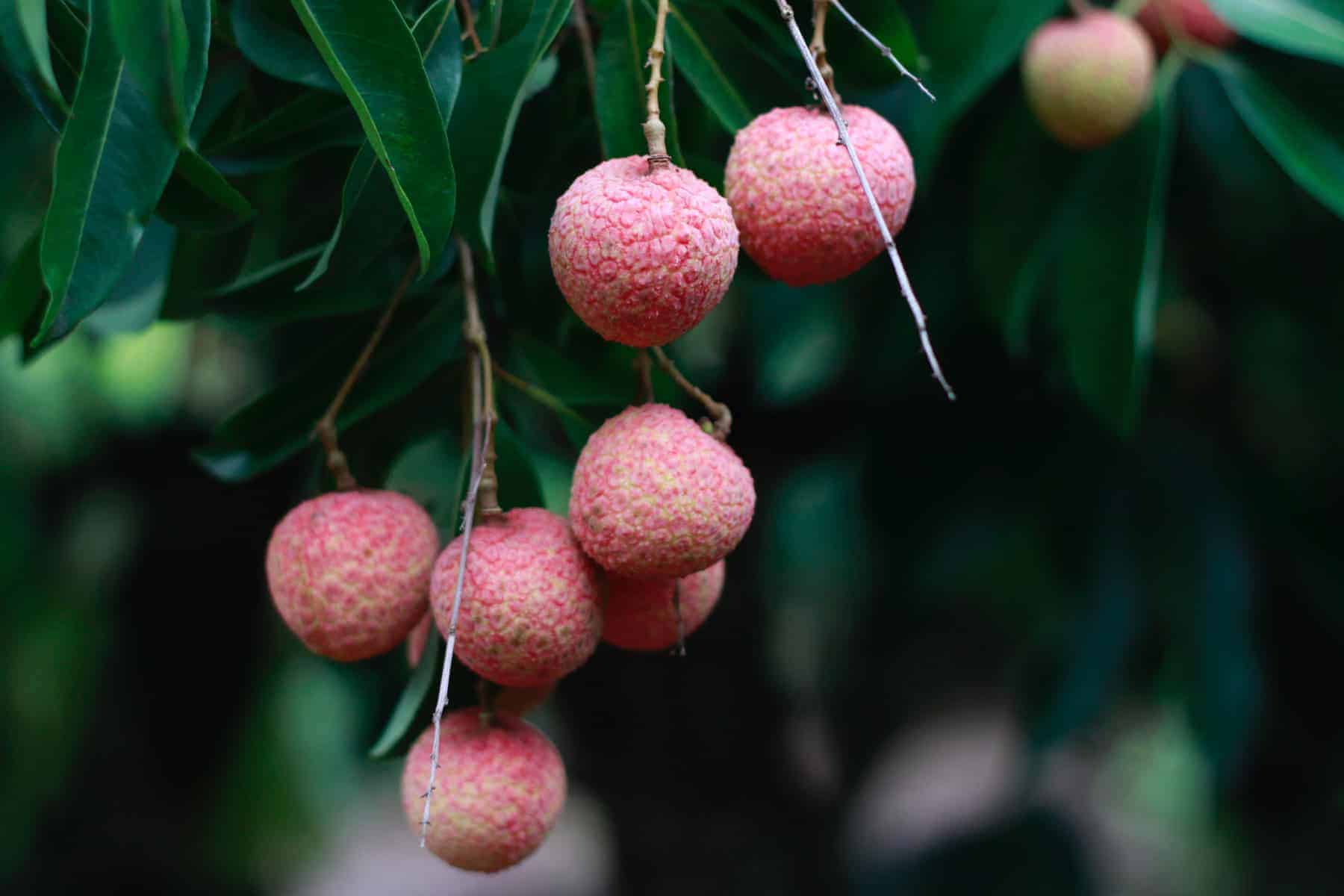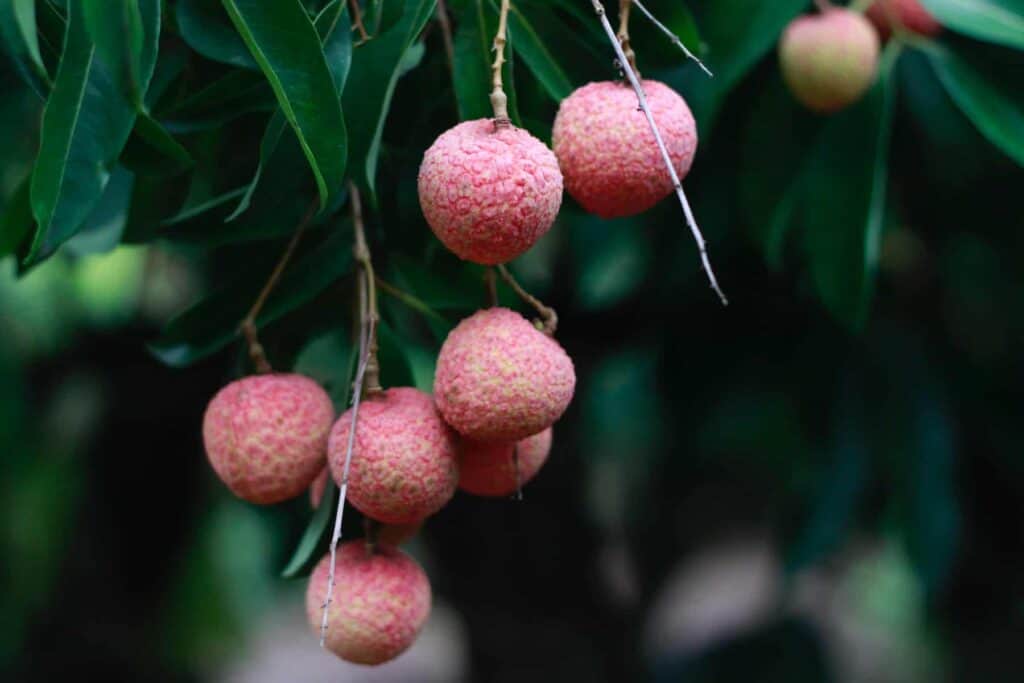 Pink pineapples
Pink pineapples are now a thing! You'll find them without their crown because it is chopped off to grow new pineapple plants. Still, they are a gorgeous soft pink inside. How do they taste? Pretty much the same as a yellow pineapple.
Rambutan
Rambutan are related to lychee and are also native to Southeast Asia. What do they taste like? Some say a cross between a grape, pear and cherry.
Where can you find rambutan? Pick them up at your local asian market, like H-Mart or Ranch 99.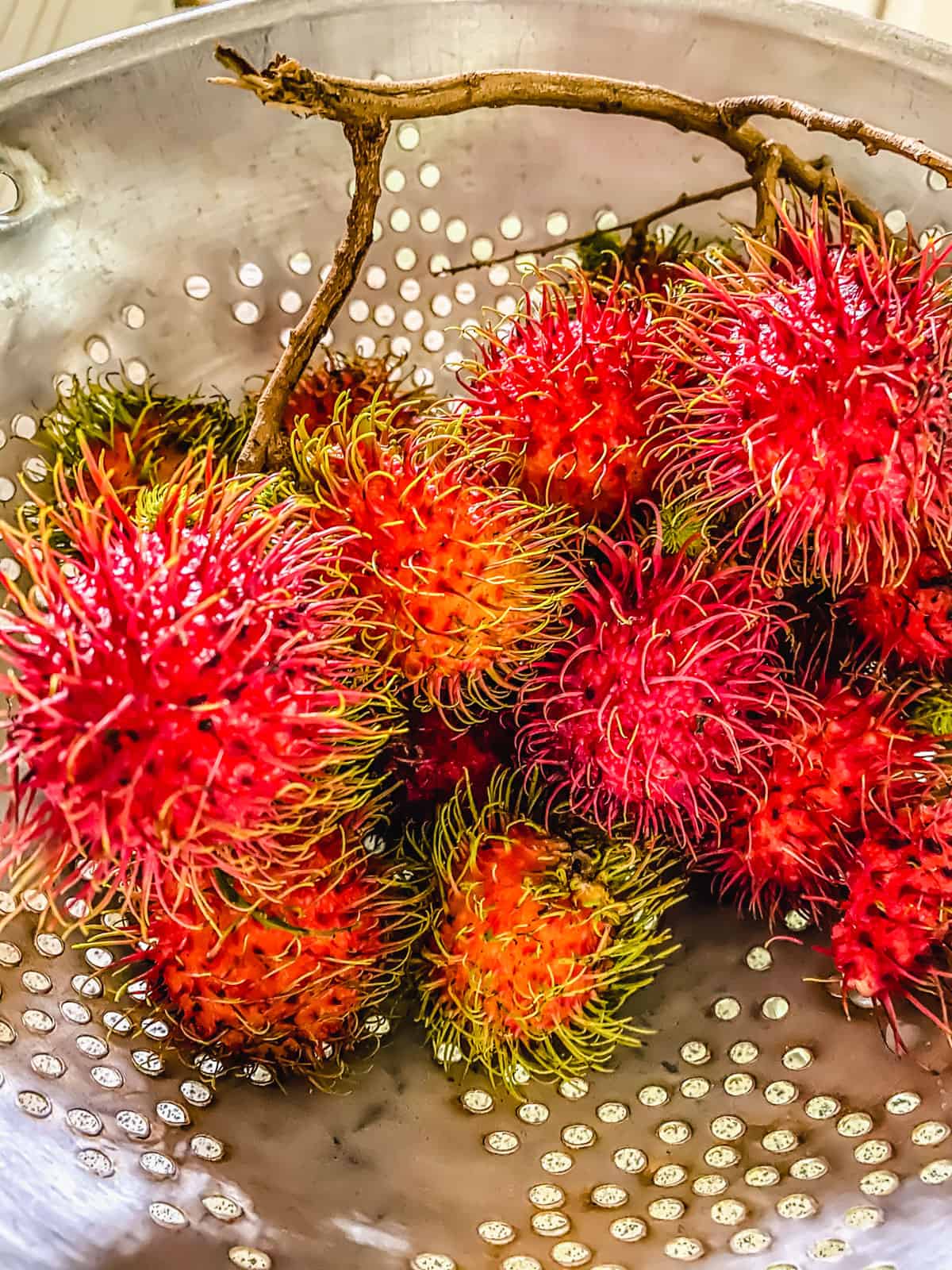 Cactus pear (or prickly pear)
Prickly pear (also known as cactus pear, tuna, sabra, nopal) are the edible flowers of the cactus plant. They are hot pink to light purple in color.
The flavor of a cactus pear is sweet, although a little bland with melon overtones.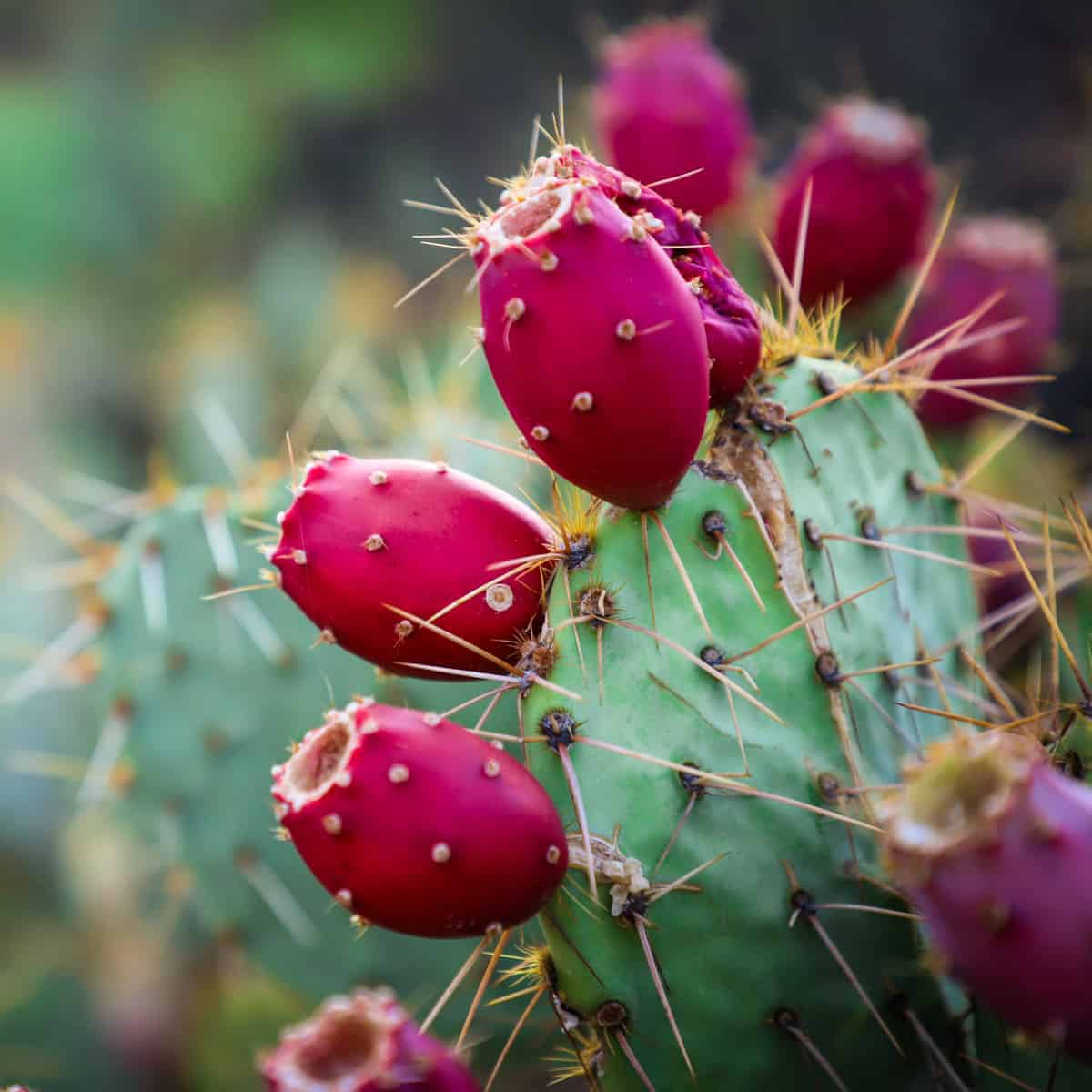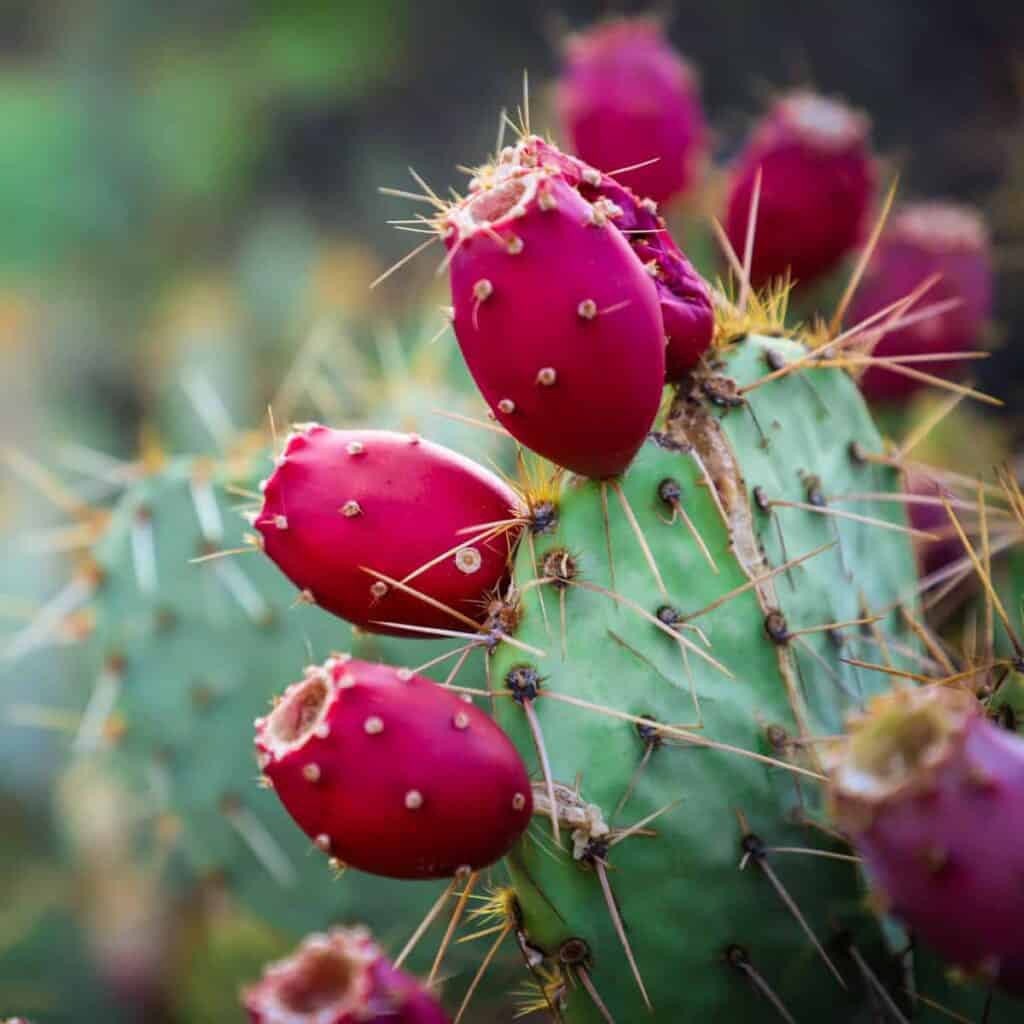 Yangmei (or yumberry)
The tart-sweet Asian fruit yangmei (aka yumberry) appears around Shanghai for a short time in early summer. While the fruit is less common to the North America, you may be able to find it in asian grocery stores or frozen or dried.
Java apple
Java apple is also known as a rose apple or wax apple. Syzygium samarangense is the scientific name and they are native to the Malay peninsula.
They are crisp and sweet like a standard apple, but have a rose flavor. They spoil quickly, so are not typically sold in supermarkets or shipped long distances.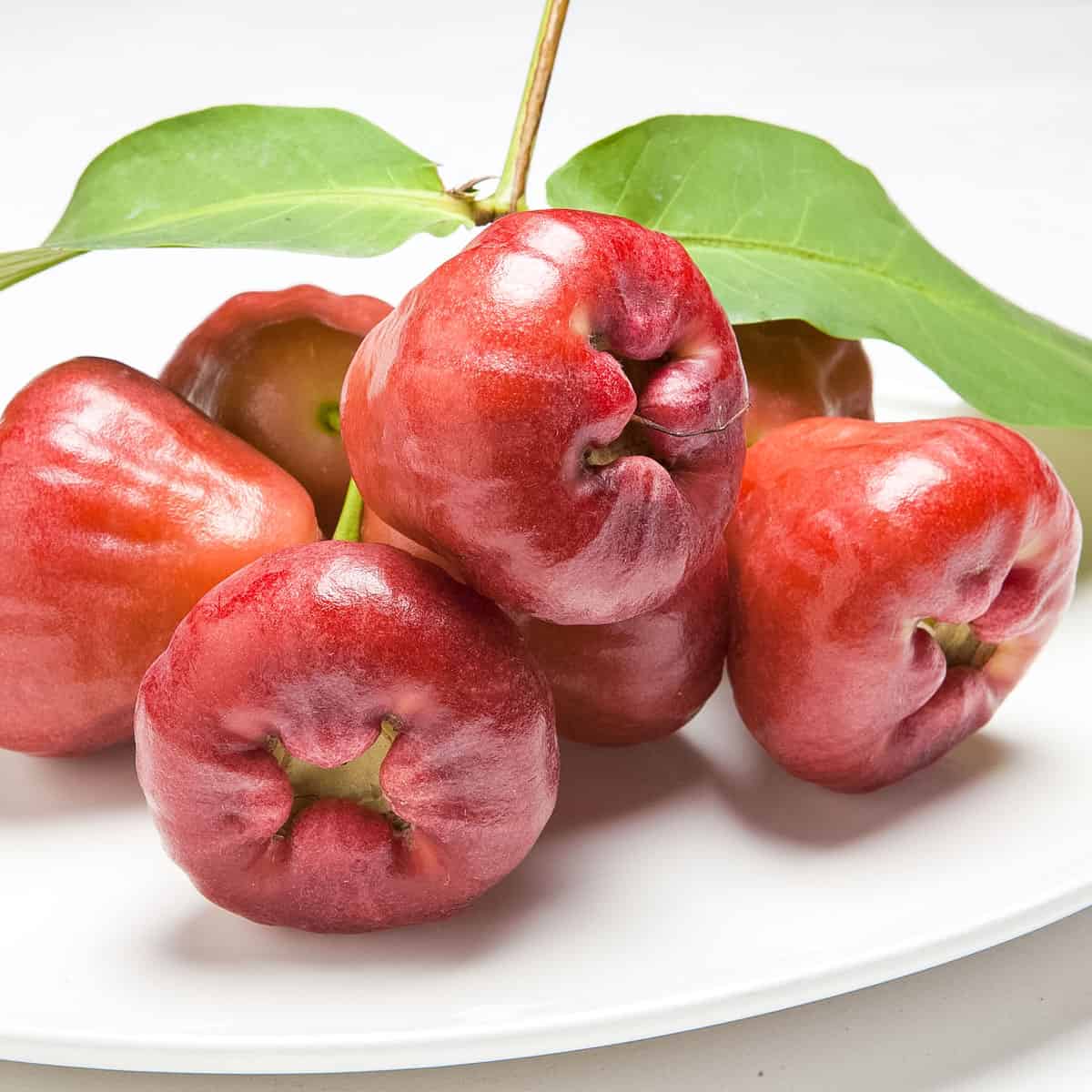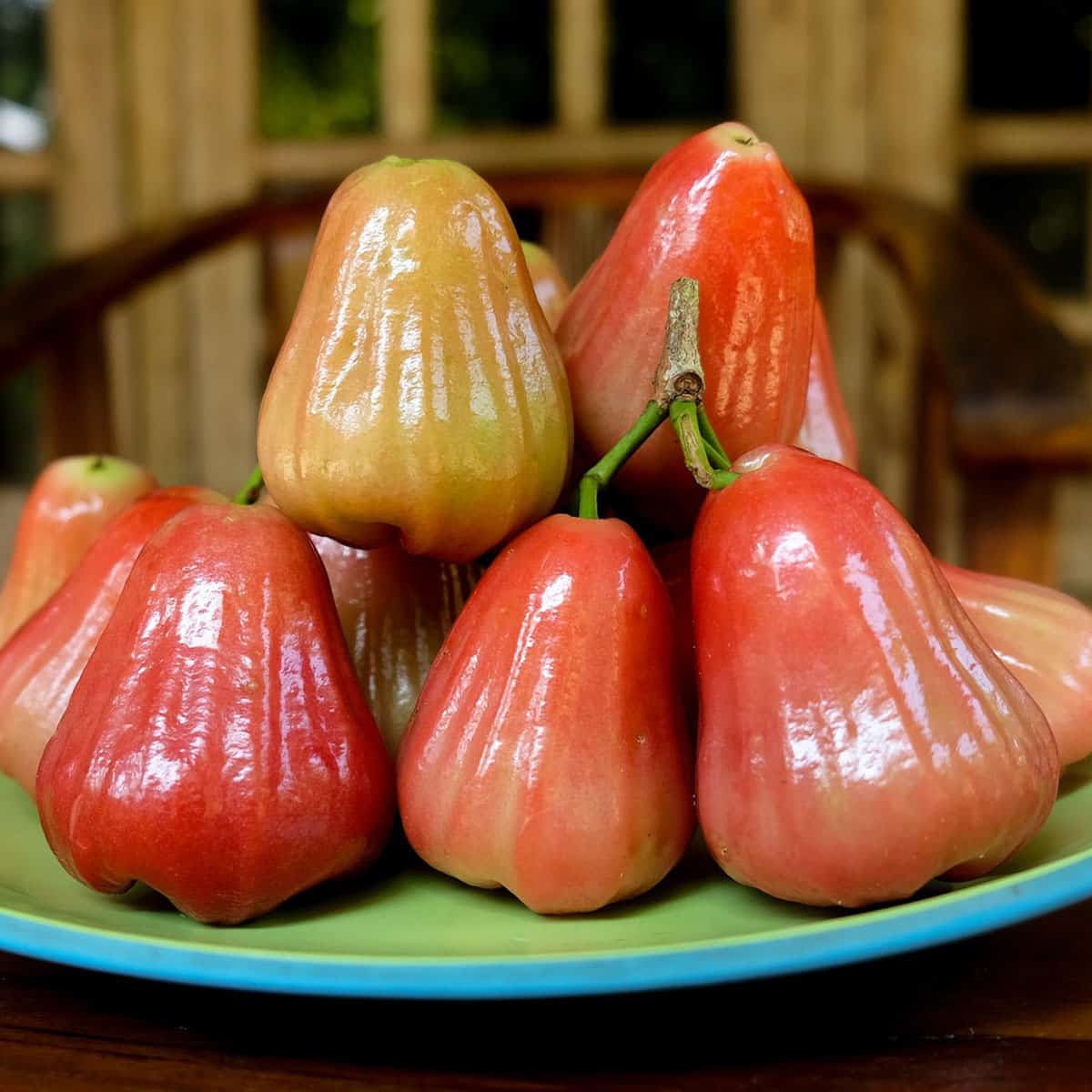 Lilly pilly berries
Lilly pilly berries, the fruit of the syzygium smithii tree native to Australia, are small pinkish purple berries.
Passionfruit
Tart and delicious, passion fruit are pink on the outside and yellow-green on the inside. The fruit is delicious in desserts and drinks. The passion flower is absolutely gorgeous, as well!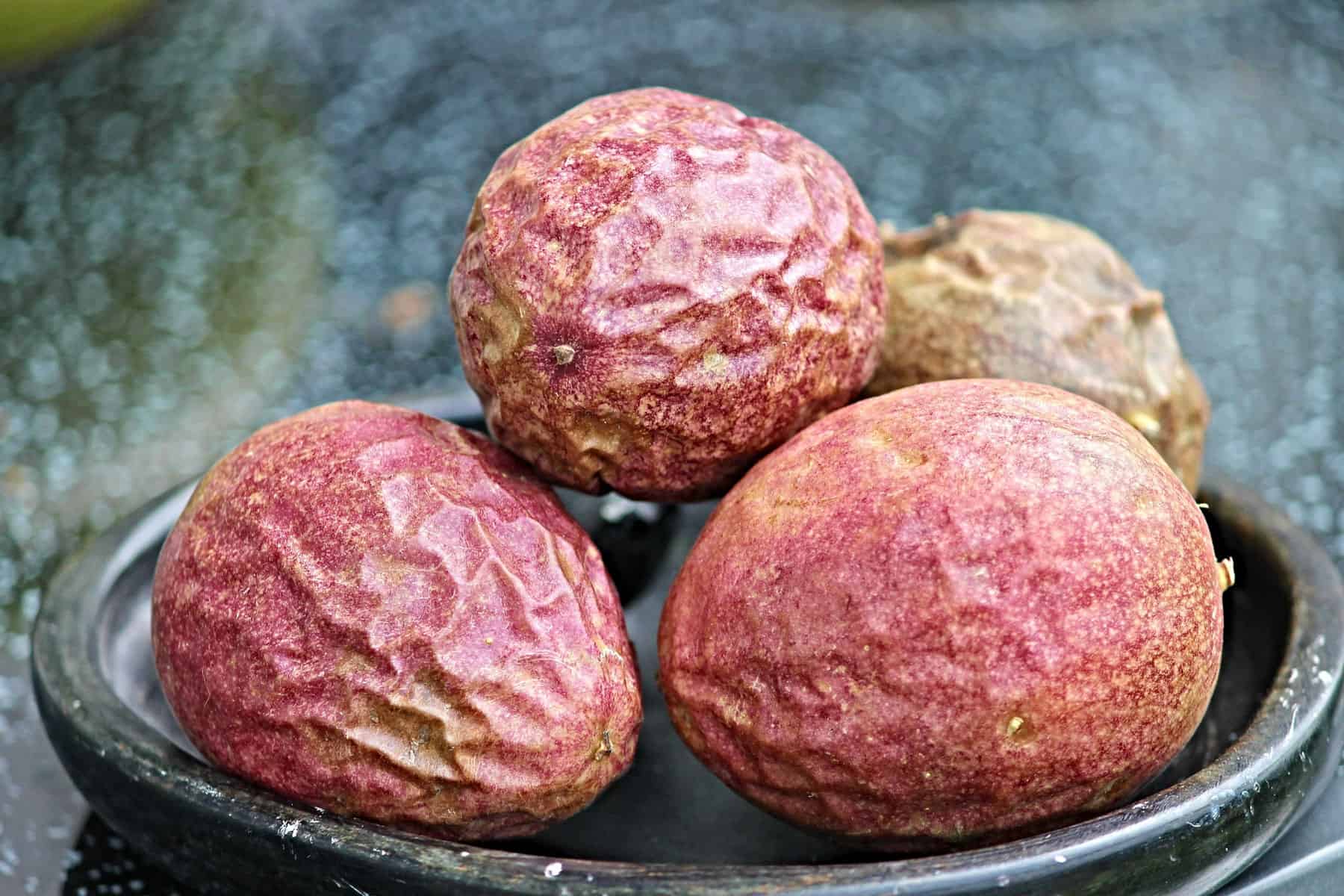 Mangosteen
Often considered a superfood, mangosteen are a dark plum/purple color outside and deep pink to white on the inside.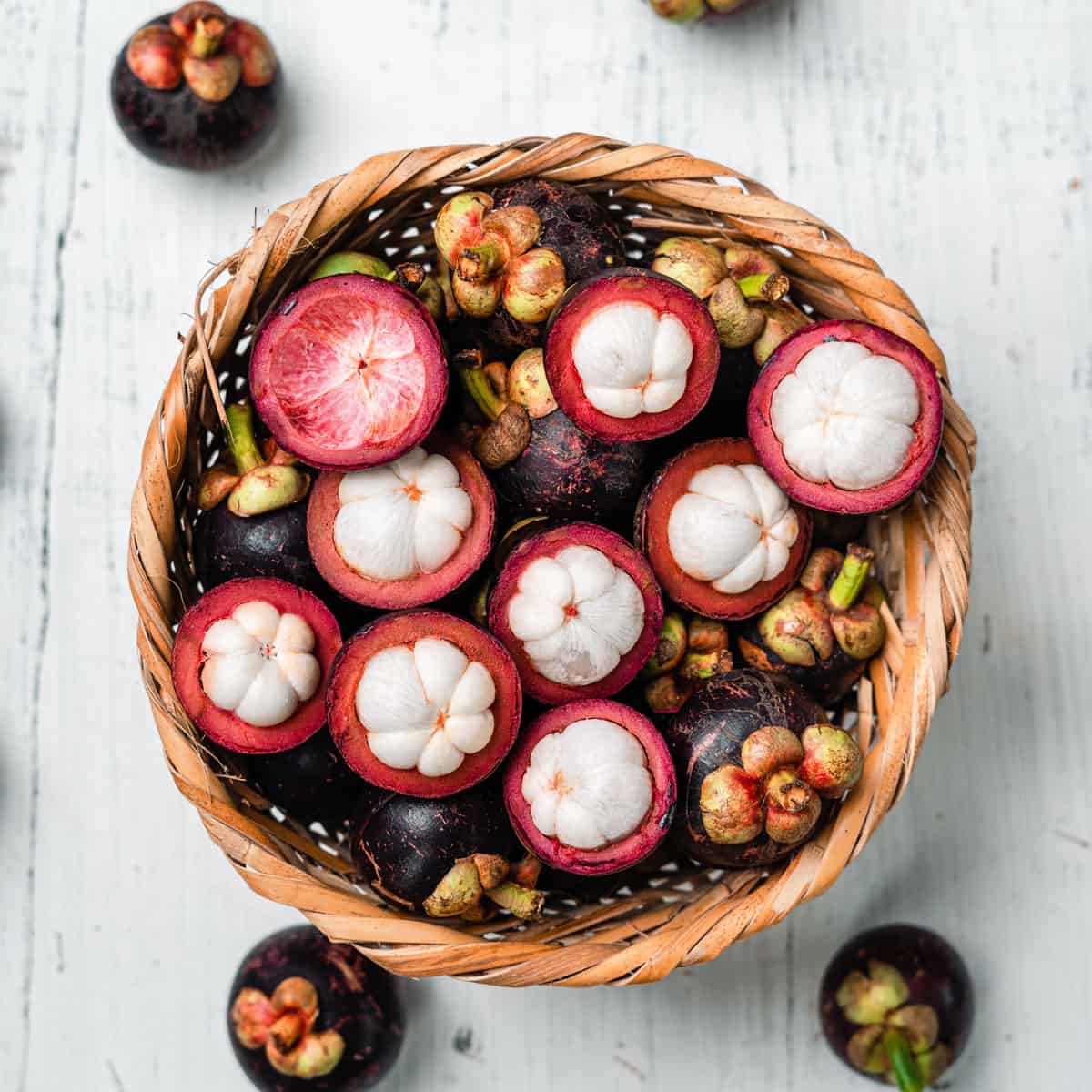 Commonly known fruits that are pink inside or out
Pink grapefruit
Pink grapefruit are a sweet but sour and bitter citrus fruit. They range in color from light peachy pink to deep coral pink color in the Ruby Red grapefruit variety.
Commonly eaten at breakfast with salt or sugar, grapefruit can interact with many different medicines. So, be sure to check for any interactions if your doctor prescribed you a new medicine and grapefruit is a favorite breakfast of yours.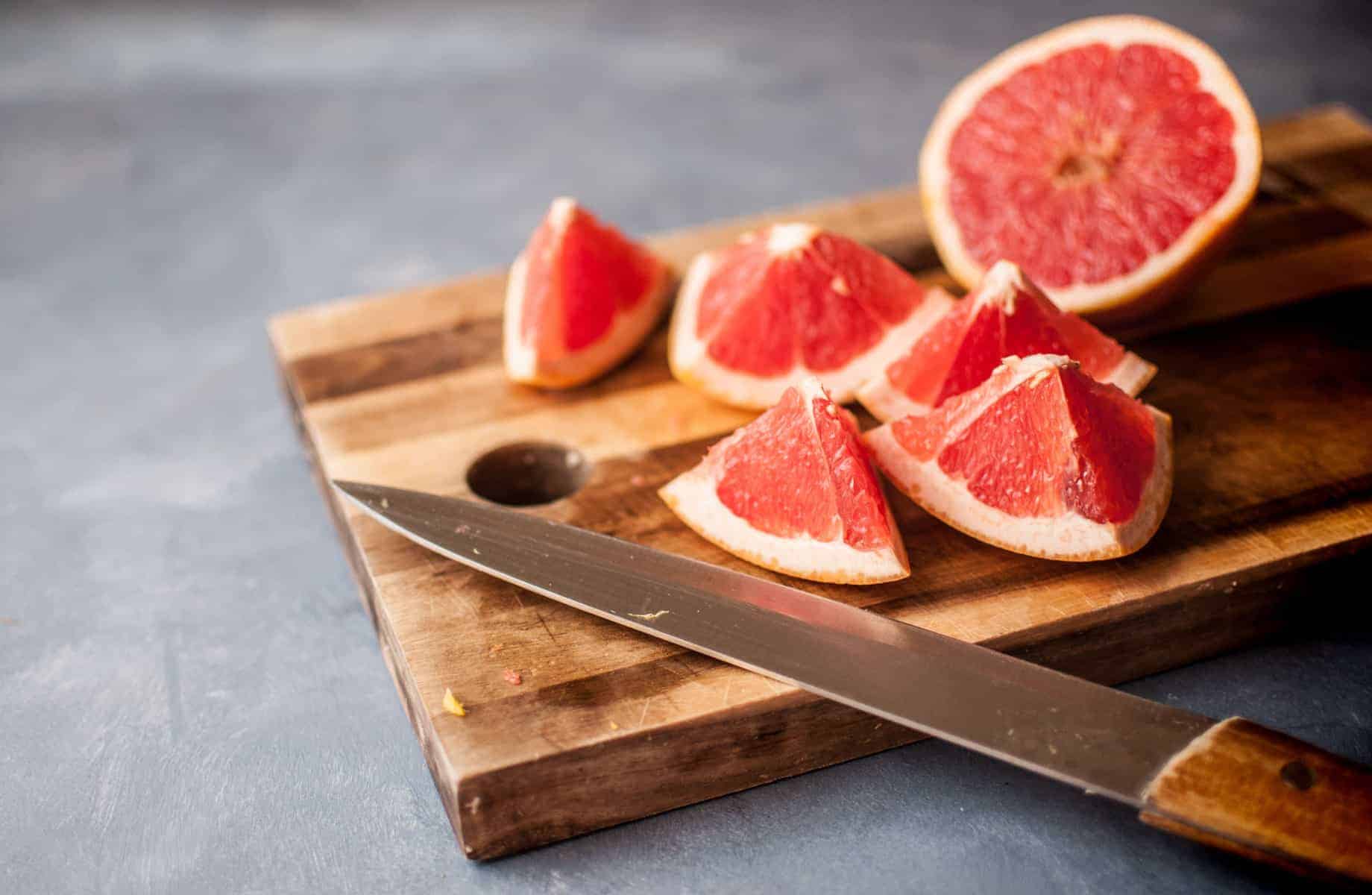 Apples that are pink inside or outside
Hidden Rose Apples are green outside but a bright pink on the inside! These striking pink flesh apples are grown in Oregon. They are also shipped by Miami Fruit, an exotic and tropical fruit online store.
Cripps Pink apple, also known as the Pink Lady Fruit, is a beautiful pink shade on the outside. It is white inside.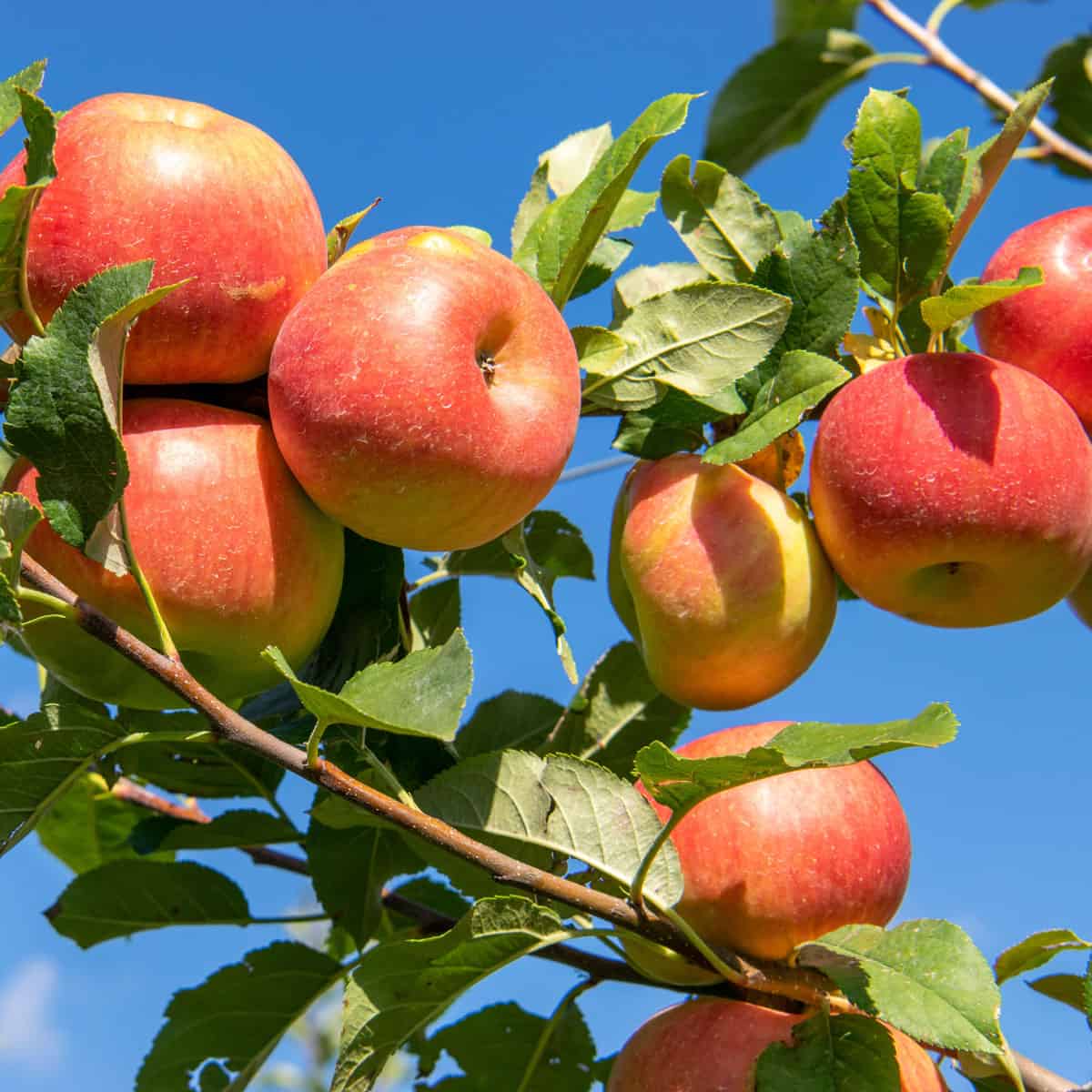 Watermelon
Although watermelon is typically thought of as red, it can range in color from deep red to light pink. There are even yellow watermelon varieties!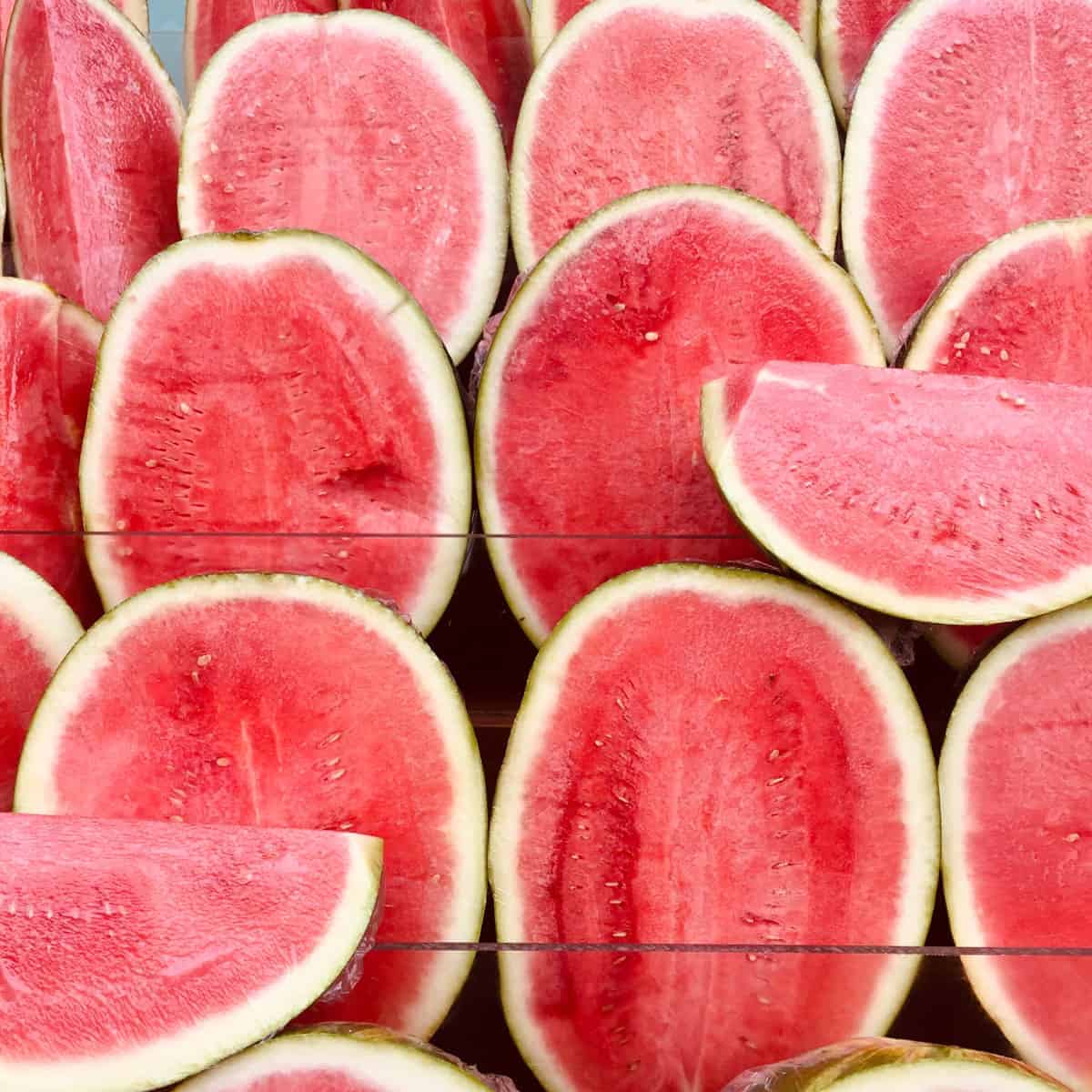 Raspberries
Remember that although raspberries are a bright, dark pink and can be considered a red fruit, when they are blended or cooked into a dish, they turn the dish pink usually.
Although fresh raspberries don't last very long, I like to keep frozen raspberries on hand to flavor and color fruity oatmeal, smoothies or yogurt.
Strawberries
Strawberries, a popular fruit that is in season during the summer, ranges in color from bright red to deep pink.
Try this fresh strawberry overnight oats recipe.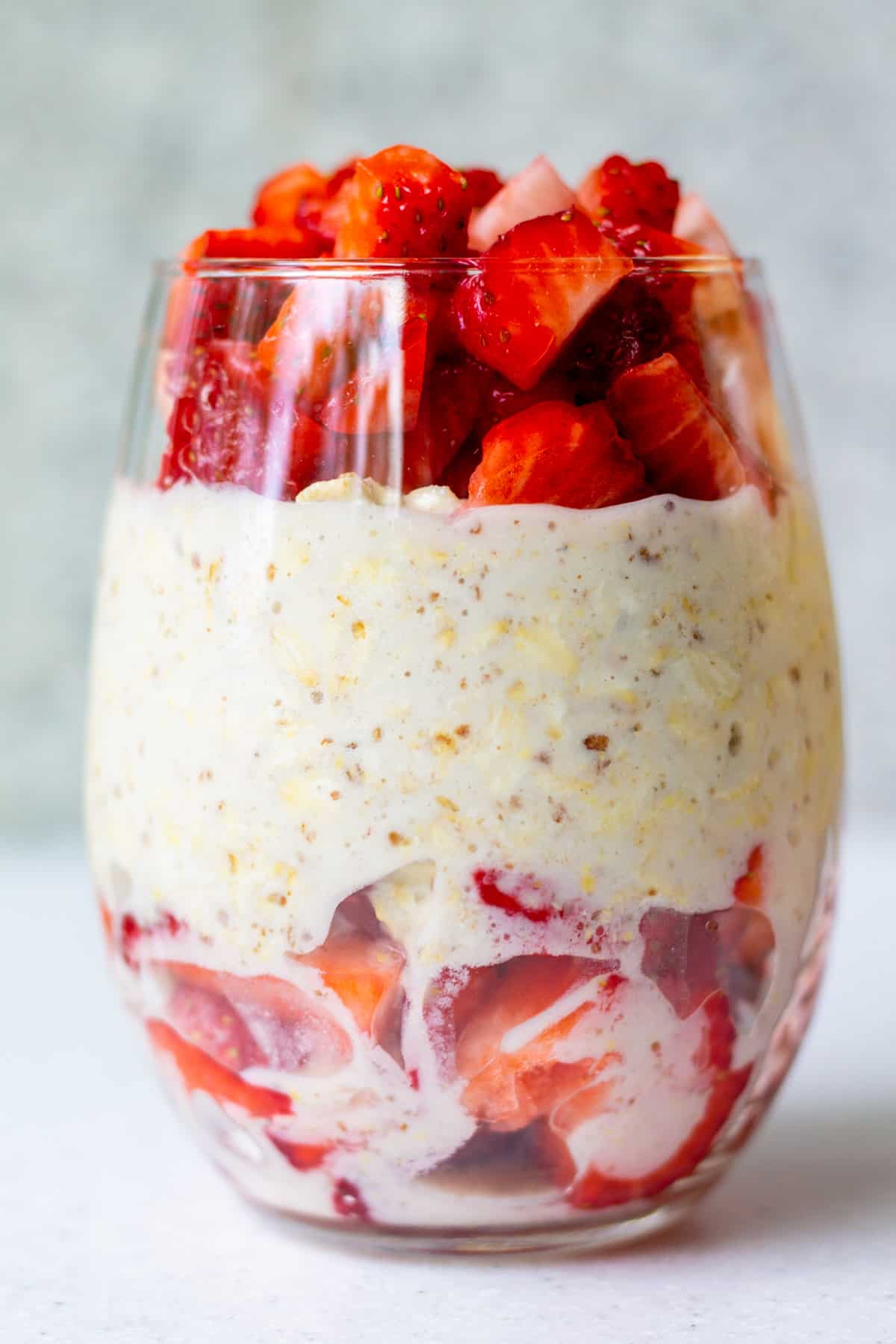 Loganberries
Loganberries are a hybrid of blackberries and raspberries. They have a deep pinkish purple color.
Rainier cherries
Rainier cherries (pictured below) are lighter in color than their standard cousin. They range in color from light yellow to medium pink color.
These premium cherries are sweet with a thin skin and thick creamy-yellow flesh.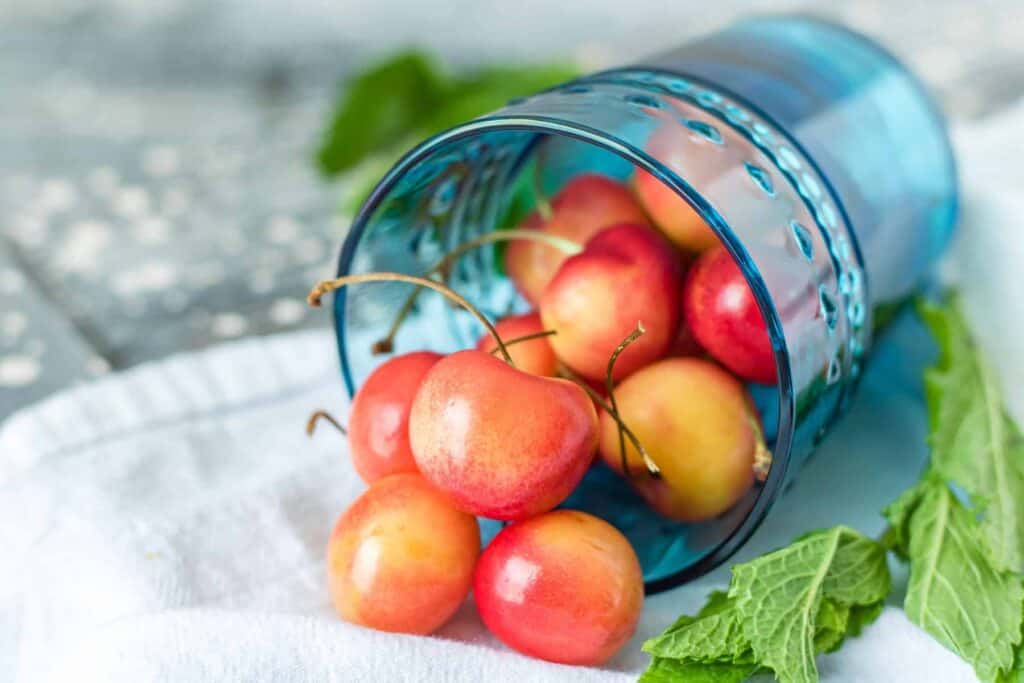 Pink muscat grapes
Some grape varieties are pinkish purple in color and are a beautiful and tasty addition to a decorated pink cake, fruit salad, fruit tarts or a fruit basket.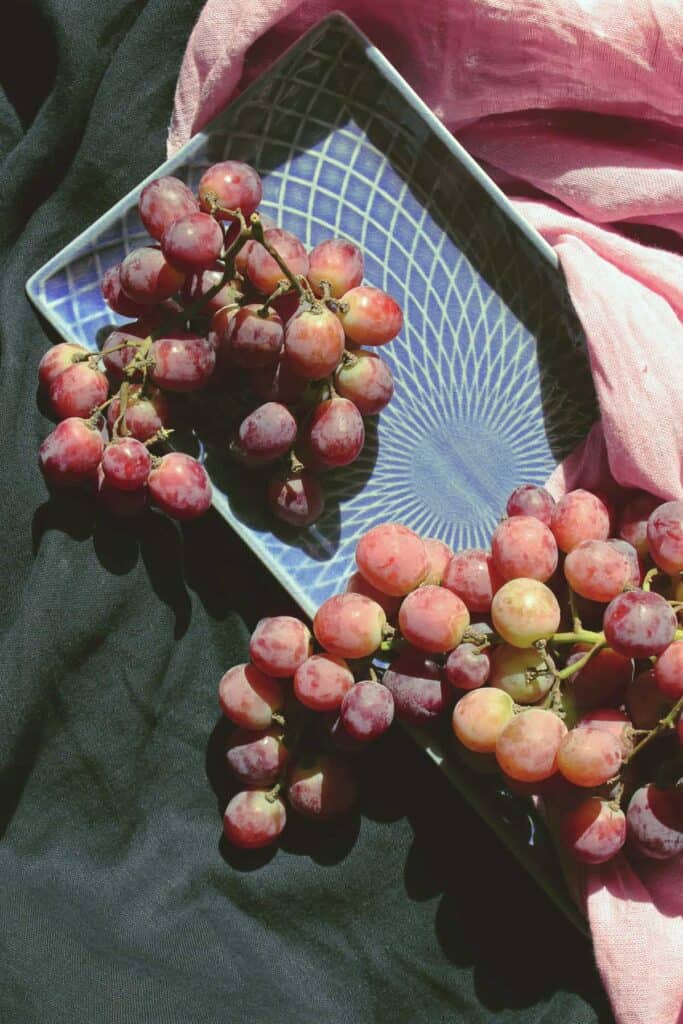 Figs
Black mission figs and Calimyrna figs both have pink centers, although one is dark eggplant purple on the outside and the other is green.
Peaches (white and donut)
White peaches and donut or saturn peaches, which are summer fruits, both have shades of pink on their skin. Inside they are white to cream.
Both are absolutely delectable and as sweet as they can be.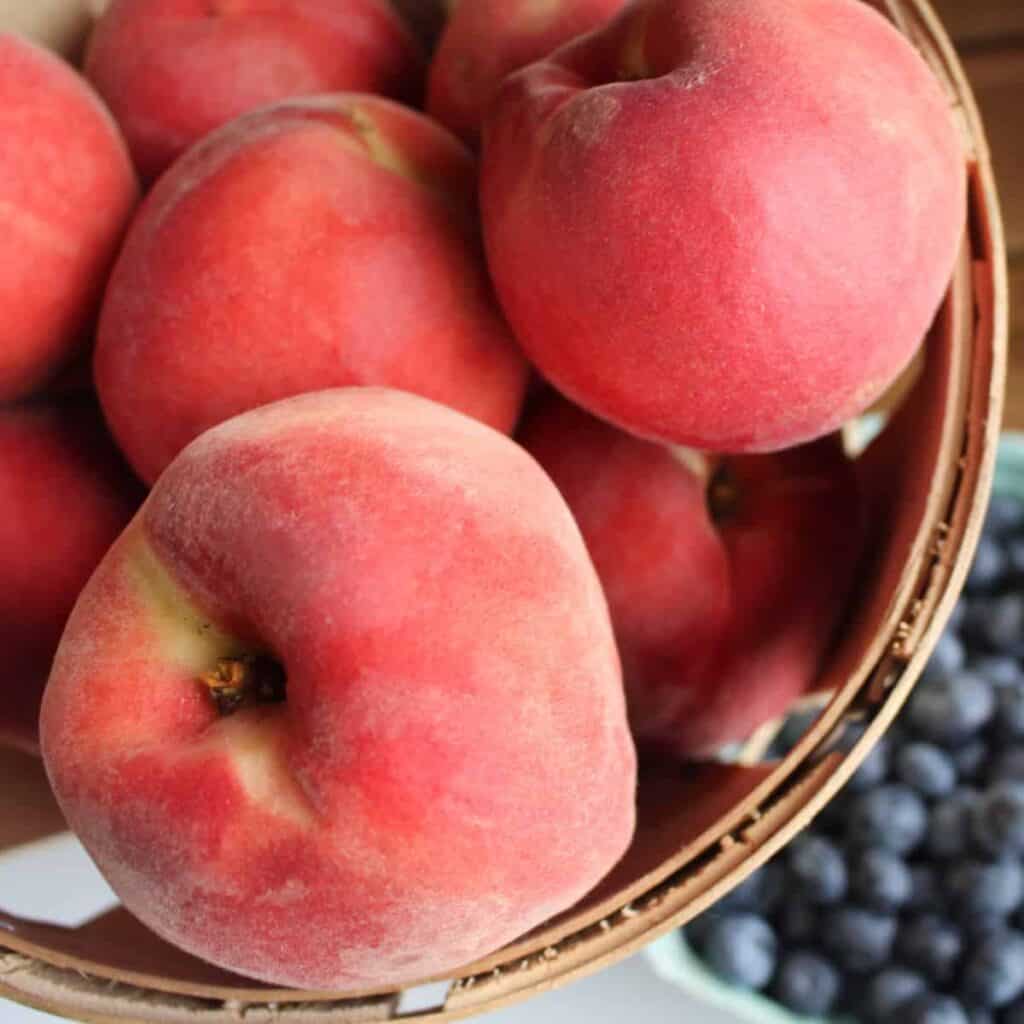 Pomegranate
Pomegranate fruit, depending on the variety of tree it came from, can range in color from maroon to pale pinkish yellow. So, while you may be accustomed to associating them with ruby red, many pomegranates produce pink and even white/clear pearls. The variety growing in my backyard is pictured below.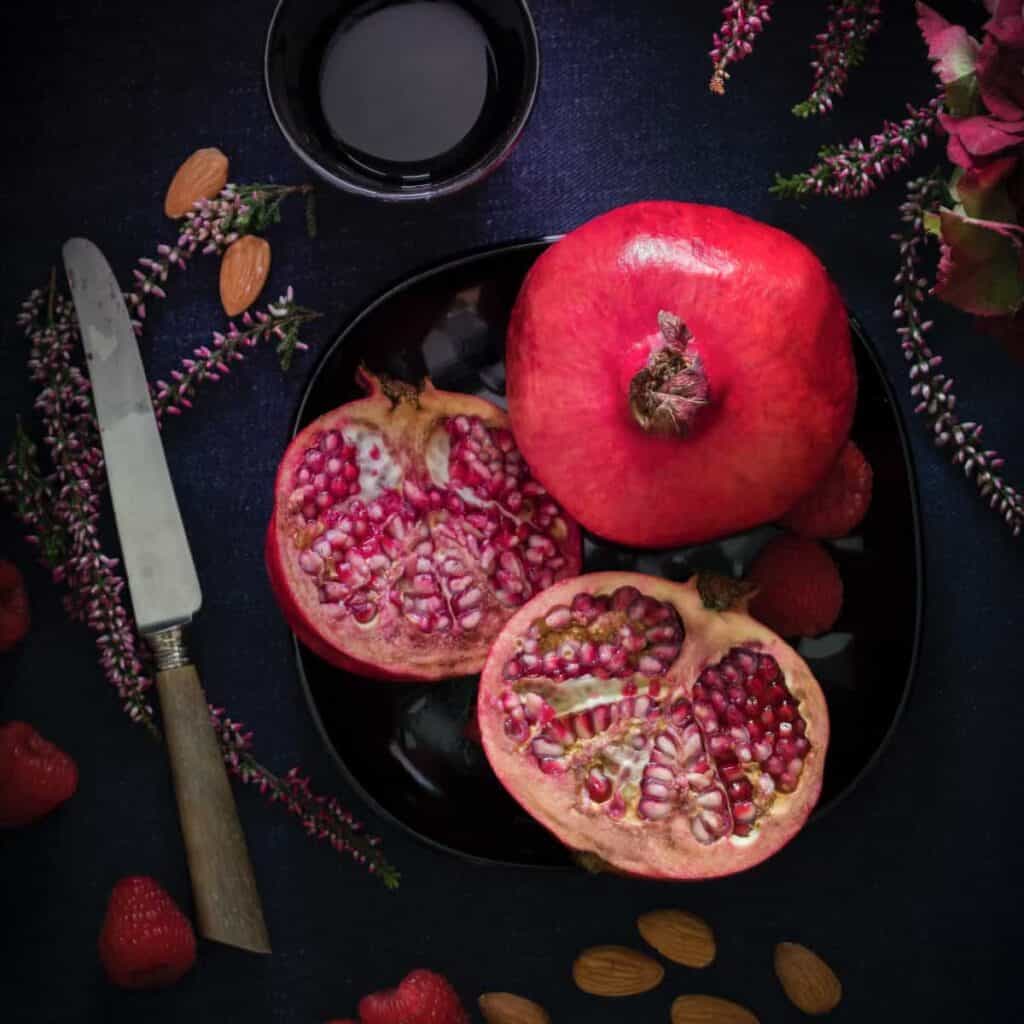 Cranberries
Tart and flavorful, cranberries are delicious dried and added to cookies, breads and salads. Fresh and frozen cranberries can be made into sauces, jams and jellies. Try this kale orzo salad with dried cranberries.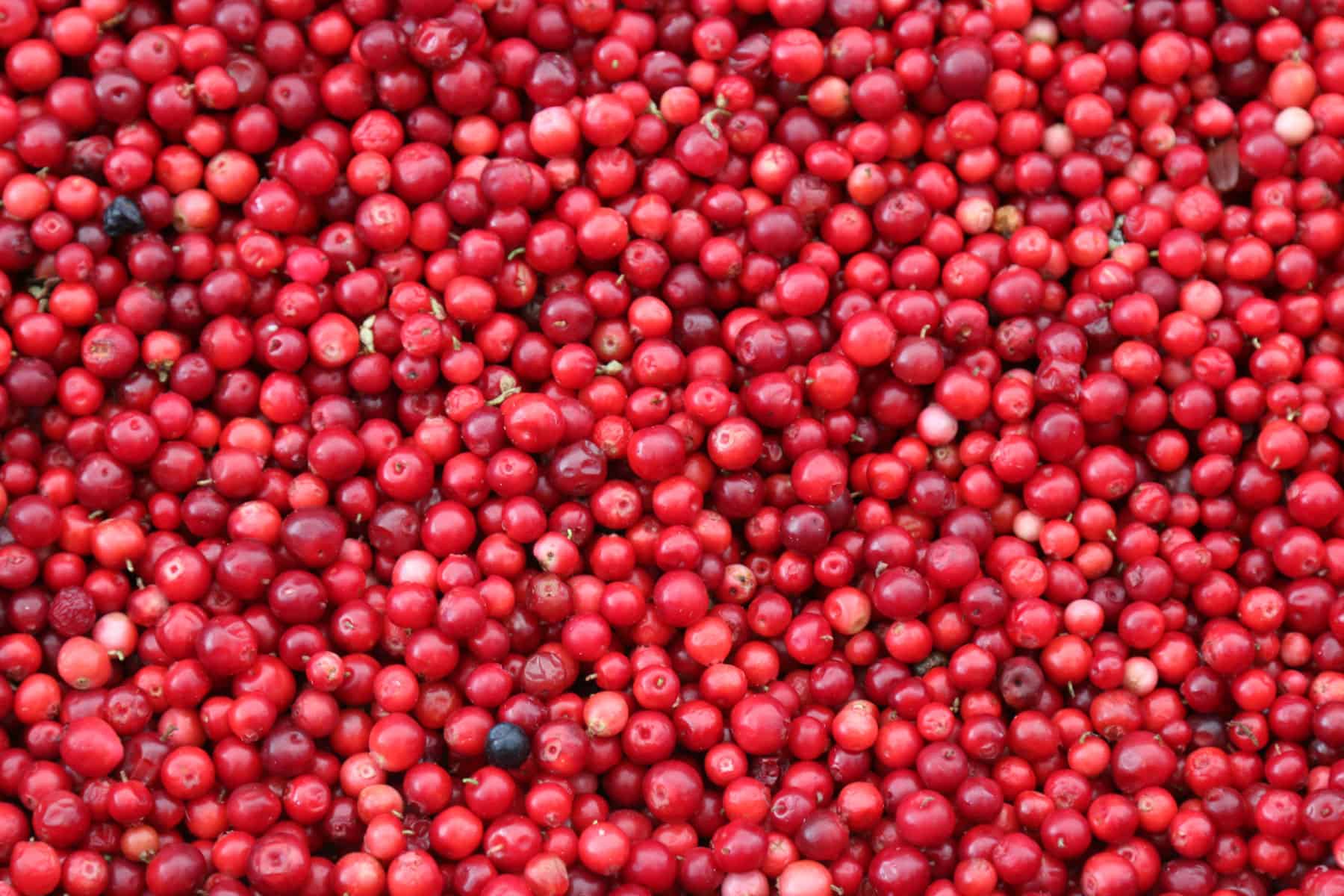 Cara cara navel oranges
Cara cara navel oranges are a variety of blood orange. They look like a typical navel orange on the outside, with an orange rind. But, inside, the segments range in color from light pink to a grapefruity peachy pink color.
The best part? They're seedless!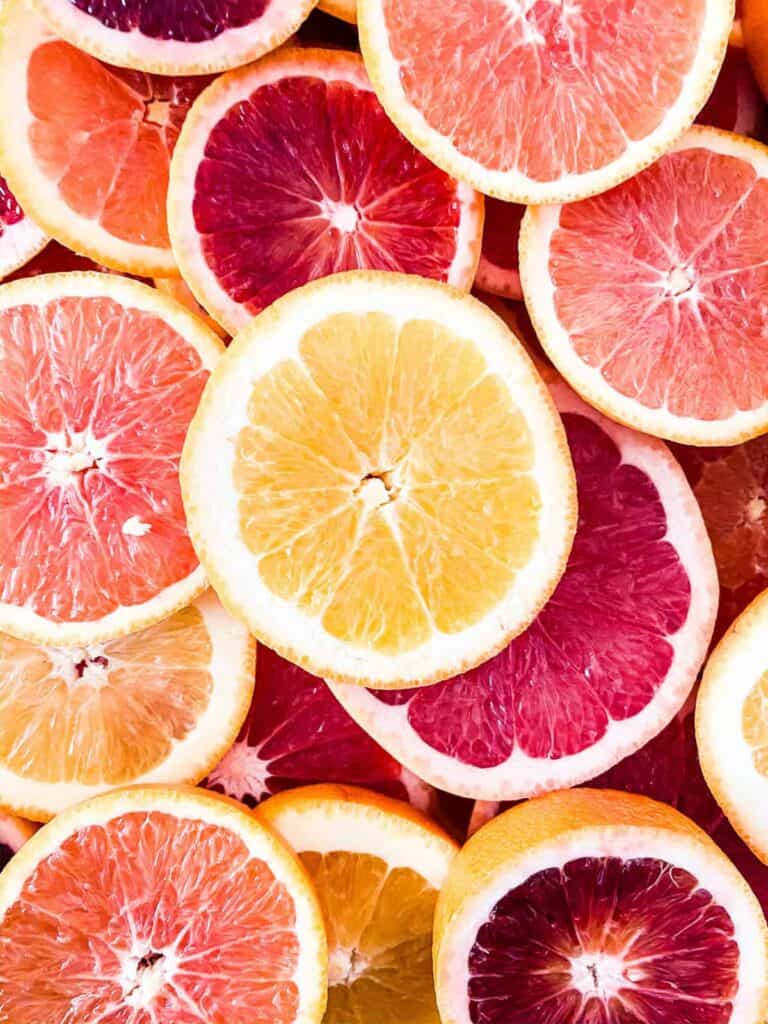 Pink kiwi fruit
Pink Lady kiwi fruit variety has a striking hot pink interior. You'll be more likely to find the green-fleshed variety or the golden kiwi, which is yellow inside and sweeter than the standard green fruit.
Pink peppercorn
Pink peppercorns are actually dried berries from the Baies rose plant and are usually imported from Madagascar. They are pungent, slightly sweet and fruity in flavor.
Pink rhubarb
Although technically a vegetable, rhubarb is used in the kitchen like fruit, often paired with strawberries in pies, crumbles and jams. Rhubarb is an edible stalk of a perennial plant. The leaves are inedible. Rhubarb has a tart, sour taste and is best paired with sweeter fruits when cooking with it.
Pink currants
Currants grow in various colors, such as black, white and red or bright pink. They are tart in flavor.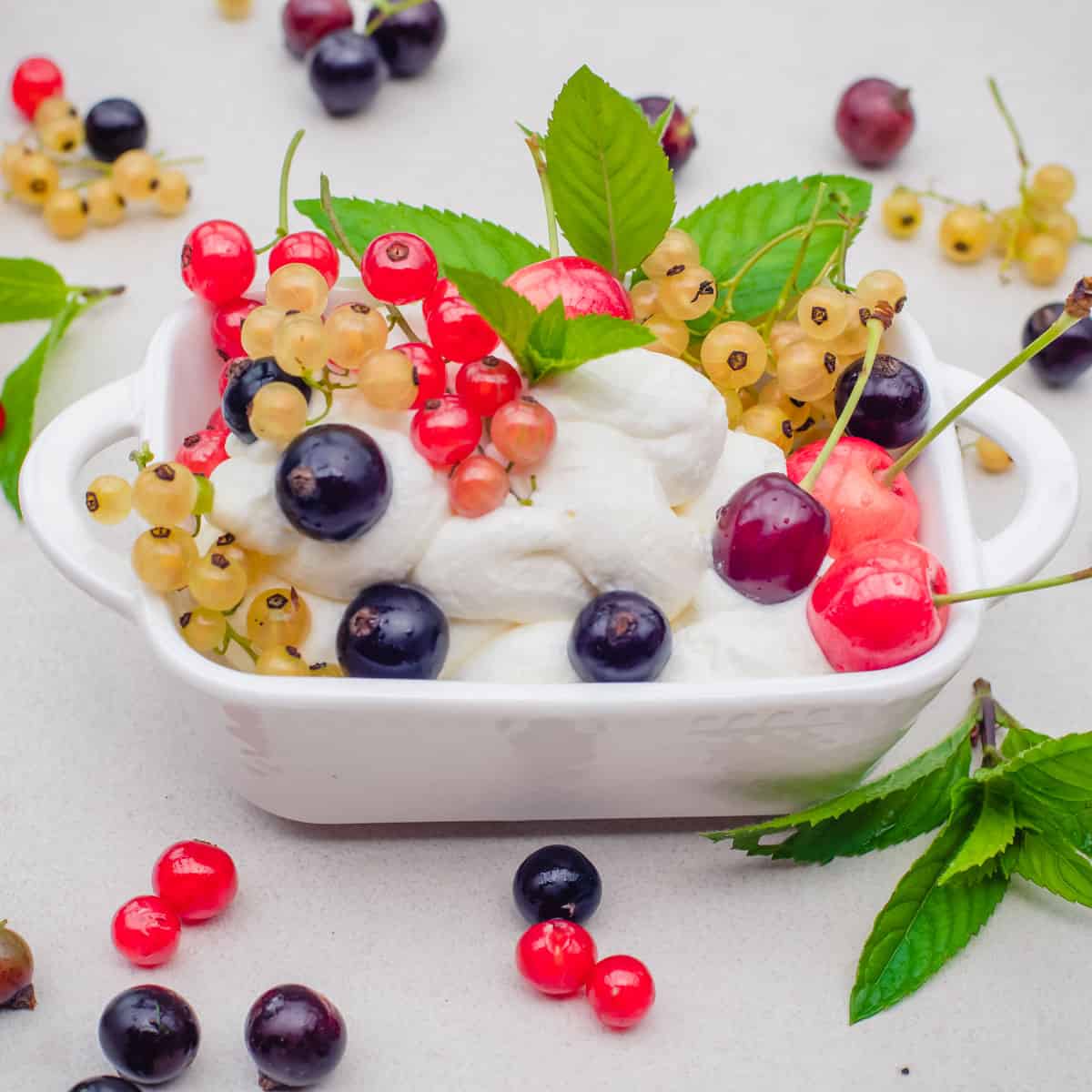 Pink fruit recipes
Having a party where pink is the theme color? Include these beautifully pink party recipes which are all vegan!
Vegan Strawberry Cake
Easy vegan strawberry cake packed with fresh strawberries and lots of flavor! This eggless cake uses just 7 key ingredients and can be prepared in 1 bowl.
Photo credit: Rainbow Nourishments
Check out the recipe!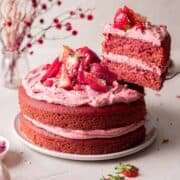 Cherry Berry Oatmeal
This cherry berry oatmeal is deliciously fruity and sweet without added sugar. Try this easy recipe with oats and cherries for your next breakfast. Great for batch cooking or weekly meal prep, too.
Check out the recipe!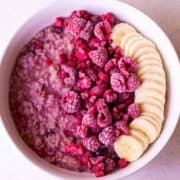 Easy Copycat Starbucks Dragon Drink Recipe
Make the famous vibrant pink Starbucks Dragon Drink in your own home with this easy Copycat Dragon Drink recipe. Naturally vegan and gluten-free.
Photo credit: Moon and Spoon and Yum
Check out the recipe!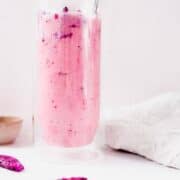 Strawberry and Mint Fruit Salad (AIP, paleo, vegan)
This simple strawberry and mint fruit salad recipe is fresh and healthy. It's super easy to make but it looks good enough to be served as a special occasion dessert.
Photo credit: Go Healthy with Bea
Check out the recipe!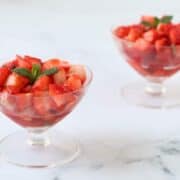 Raspberry Martini
This raspberry martini is a deliciously sweet and strong cocktail that is easy to make in a large batch for guests, or just a couple at a time. Made from homemade syrup for the most powerful raspberry flavor that will be a hit with everyone!
Photo credit: The Littlest Crumb
Check out the recipe!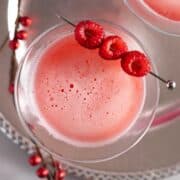 Leftover Fruit Salad Smoothie
What can you do with leftover fruit salad? Get uses for and recipes so you don't waste that extra fruit. My leftover fruit smoothie recipe is simple, versatile and will work for whatever excess fruit you have leftover.
Check out the recipe!
Breakfast Couscous Bowl with Banana and Strawberries
Fluffy and tender couscous gets paired with sliced banana, strawberries, a dash of cinnamon and a drizzle of honey or maple syrup in this quick and easy summer breakfast hot cereal bowl.
Check out the recipe!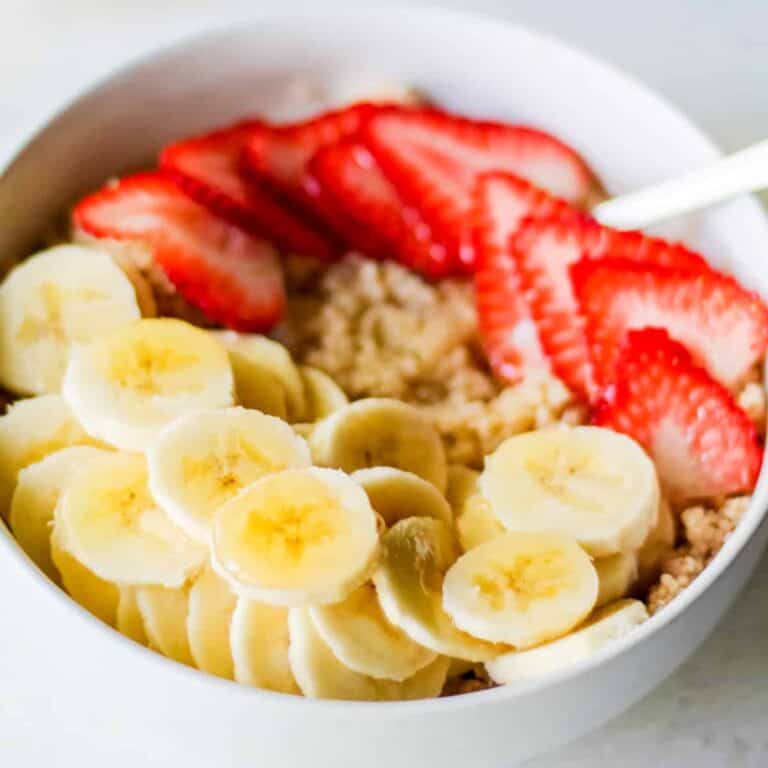 Strawberry Iced Tea (Cold Brew & Make Ahead)
This tasty Strawberry Iced Tea can be prepared with very little effort. It is naturally vegan and will cool you down on hot summer days.
Photo credit: Delightful Plate
Check out the recipe!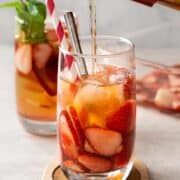 Strawberry Overnight Oats (vegan)
Strawberry overnight oats are a delicious, fast, nutritious and filling breakfast. These low calorie overnight oats are vegan, dairy-free and great for weight loss. Fresh strawberries are tart, sweet and perfect with the creamy oats.
Check out the recipe!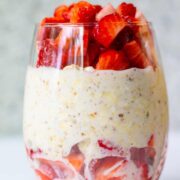 Watermelon Cucumber (Vegan) Feta Salad with Basil and Mint
Fresh and cooling, try this vegan watermelon salad with cucumber, tofu feta, basil, mint and a simple oil-free maple lime balsamic vinegar dressing. A refreshing plant-based salad option for the summer.
Check out the recipe!
Matcha Raspberry Overnight Oats (vegan)
Fruity and energizing, these matcha raspberry overnight oats are a quick, delicious and filling breakfast. Prepared matcha, tart frozen raspberries with creamy vegan, dairy-free oats. Get breakfast and a caffeine boost in one. Just add everything to a jar and it's ready in the morning!
Check out the recipe!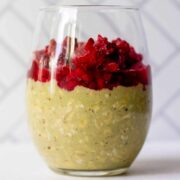 Cherry Overnight Oats with Jam
Cherry overnight oats are a delicious, fast, nutritious and filling breakfast. Fresh or frozen cherries, along with cherry jam sweeten the oats and give it tons of flavor. These low calorie overnight oats are vegan, dairy-free and low in sugar.
Check out the recipe!