You can make homemade hash browns without oil on the stove or in the air fryer! This healthy potato recipe is delicious on its own for an easy weekday breakfast or as a weekend plant-based brunch side.
Jump to: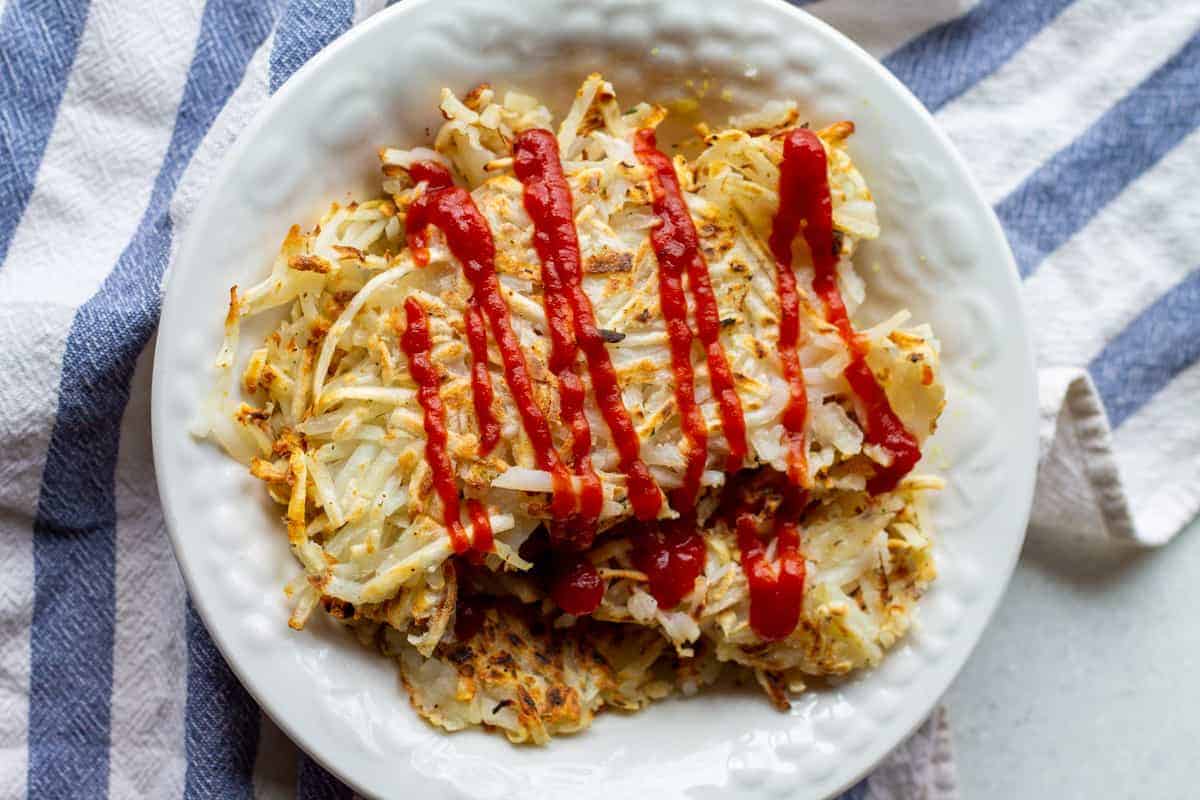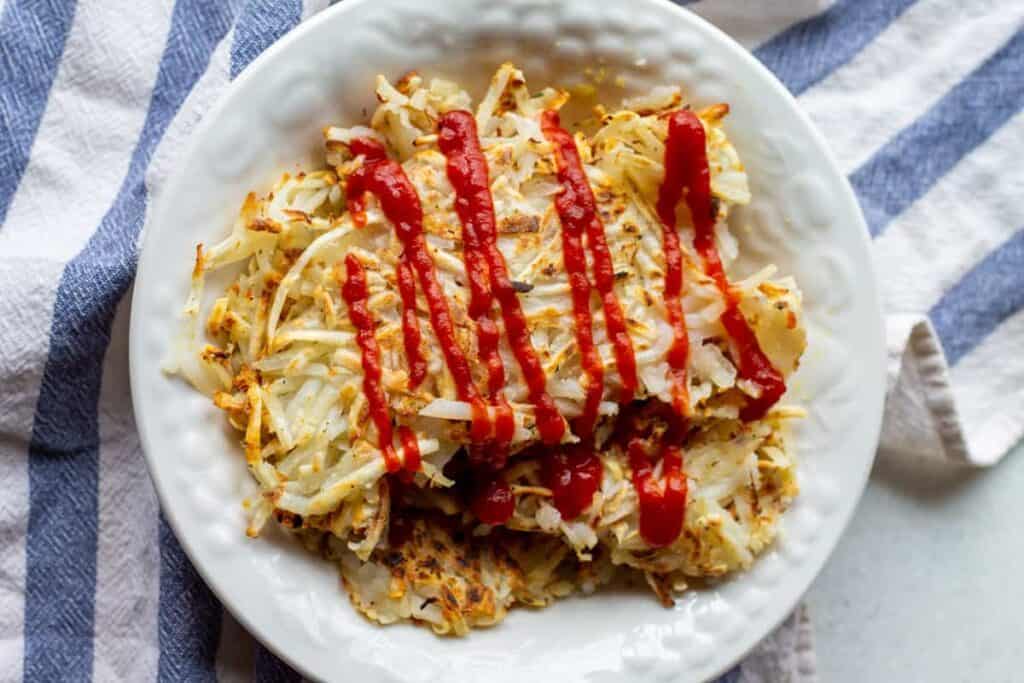 🧄 Ingredients
This healthy potato recipe has just 1-ingredient recipe!
You only need: frozen shredded potatoes.
Super simple, right?
Frozen shredded potatoes (aka hash browns) are fat free and are found in the freezer section of your grocery store. They are loose, not packed into bricks.
Be sure to check the ingredients to make sure they do not contain oil.
Also, some brands may be slightly thicker strips than others. For example, here in Texas, the frozen shredded potatoes from HEB and Restaurant Depot are thin and cook fairly quickly.
The hash brown potatoes from Aldi are thicker, almost like matchstick potato fries. They take a little longer to cook.
⏯ Video
🔪 Instructions
Stovetop process: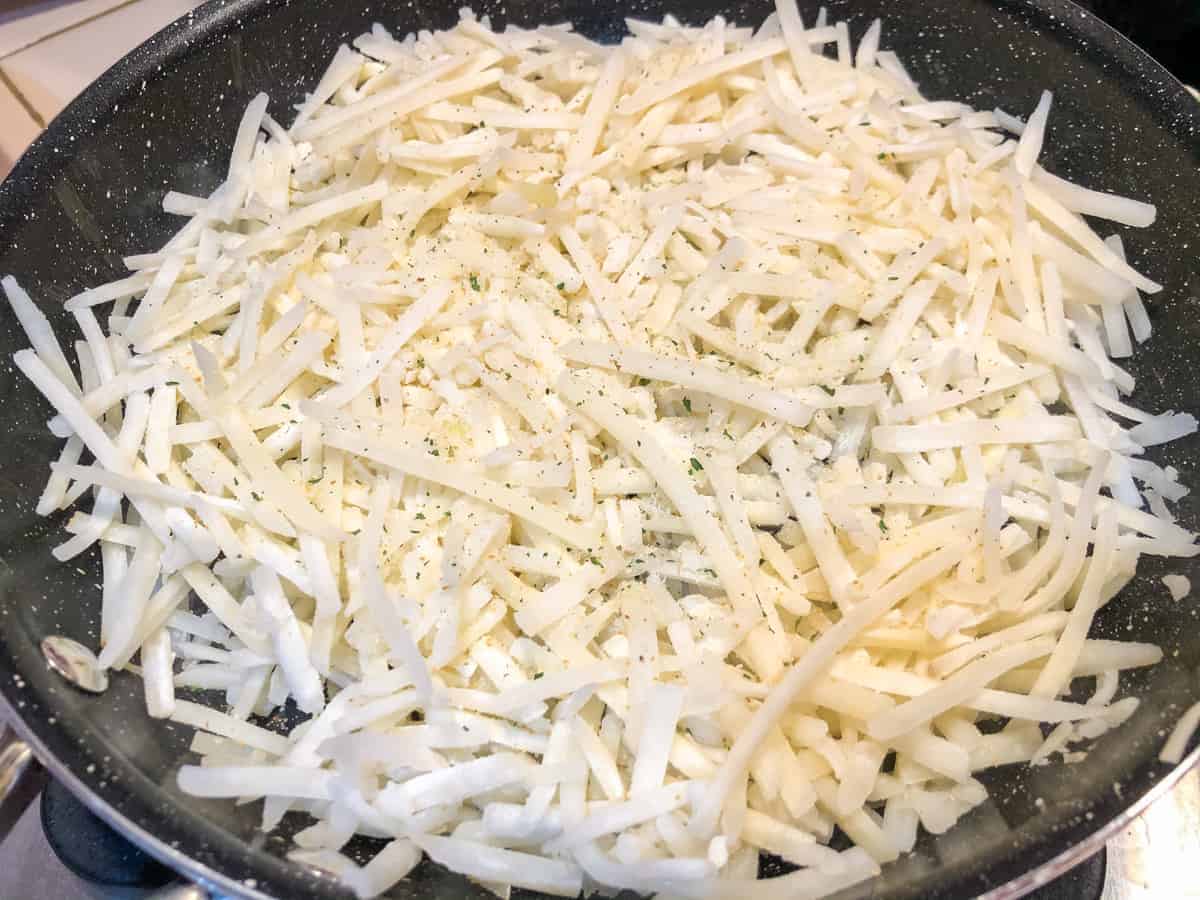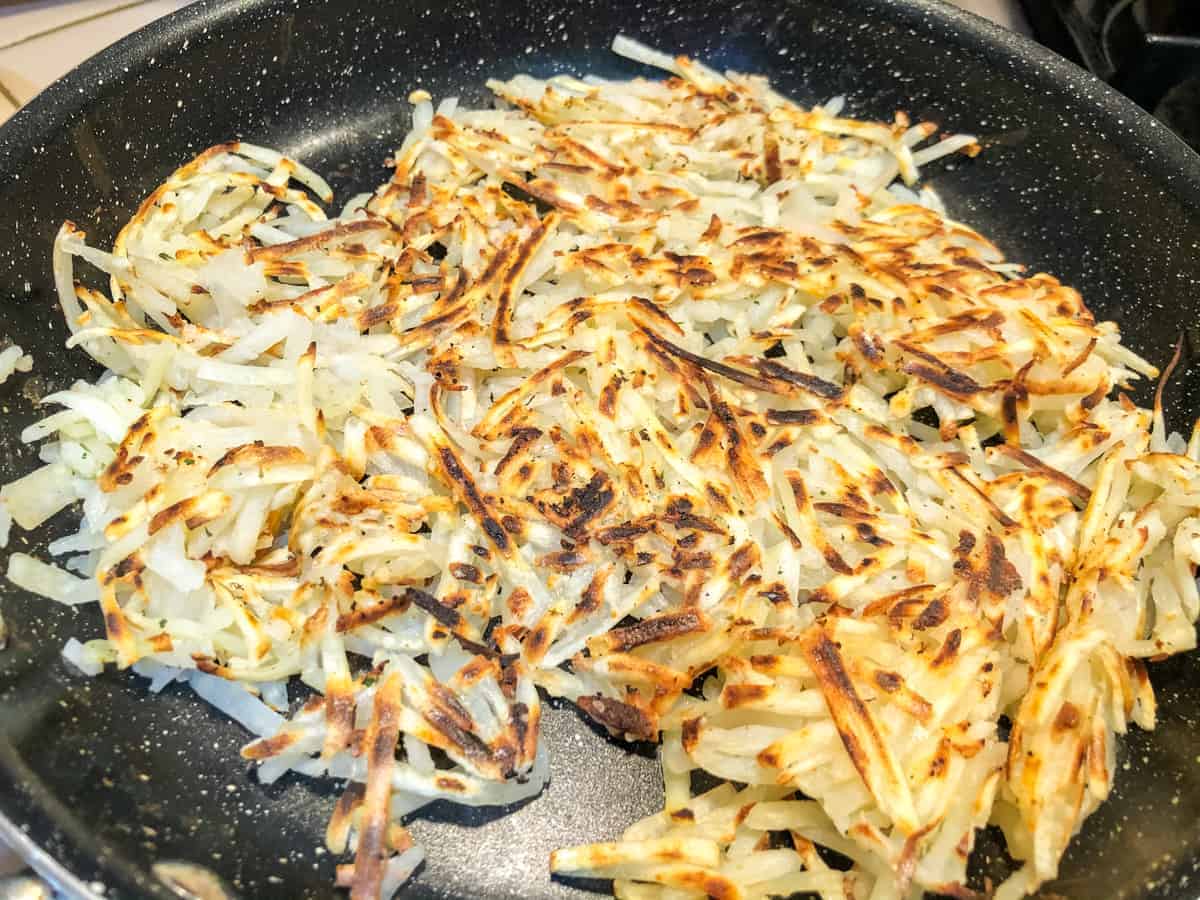 Air Fryer process: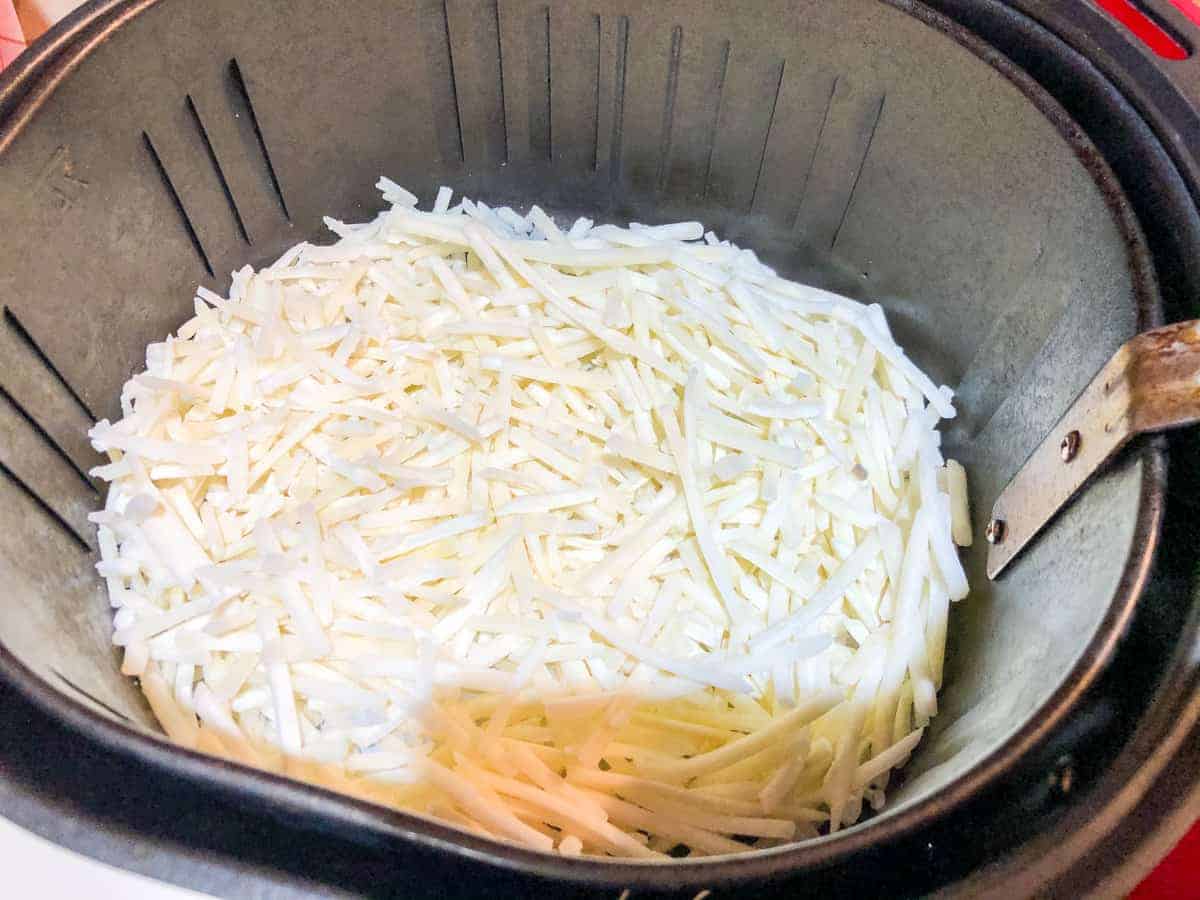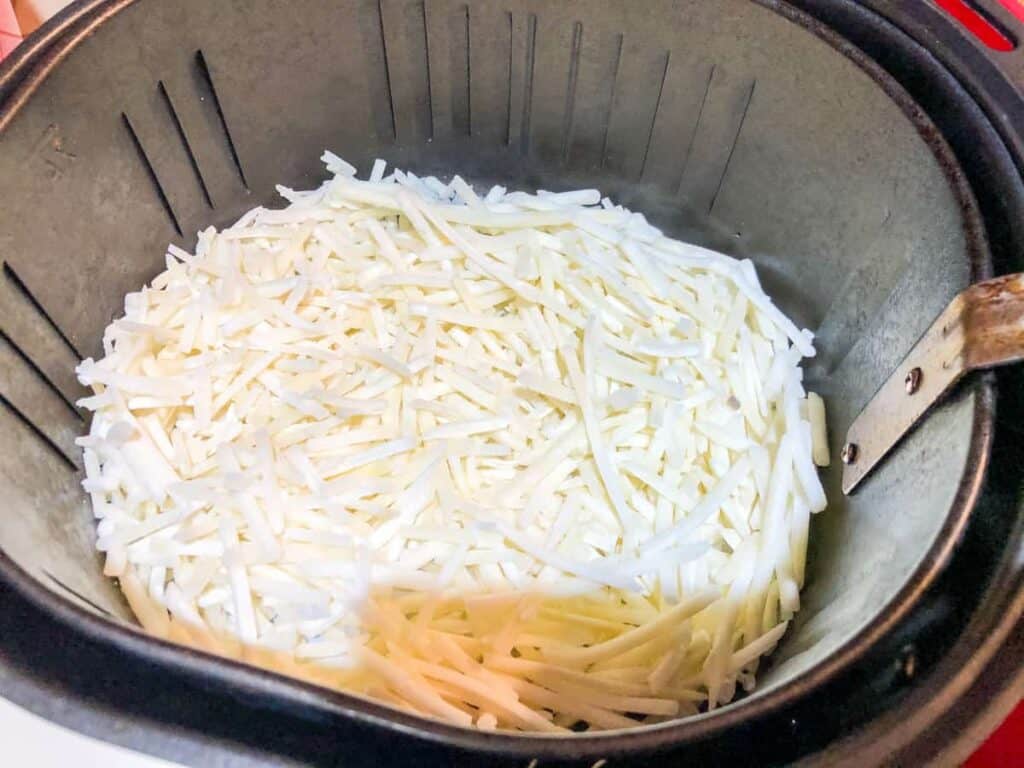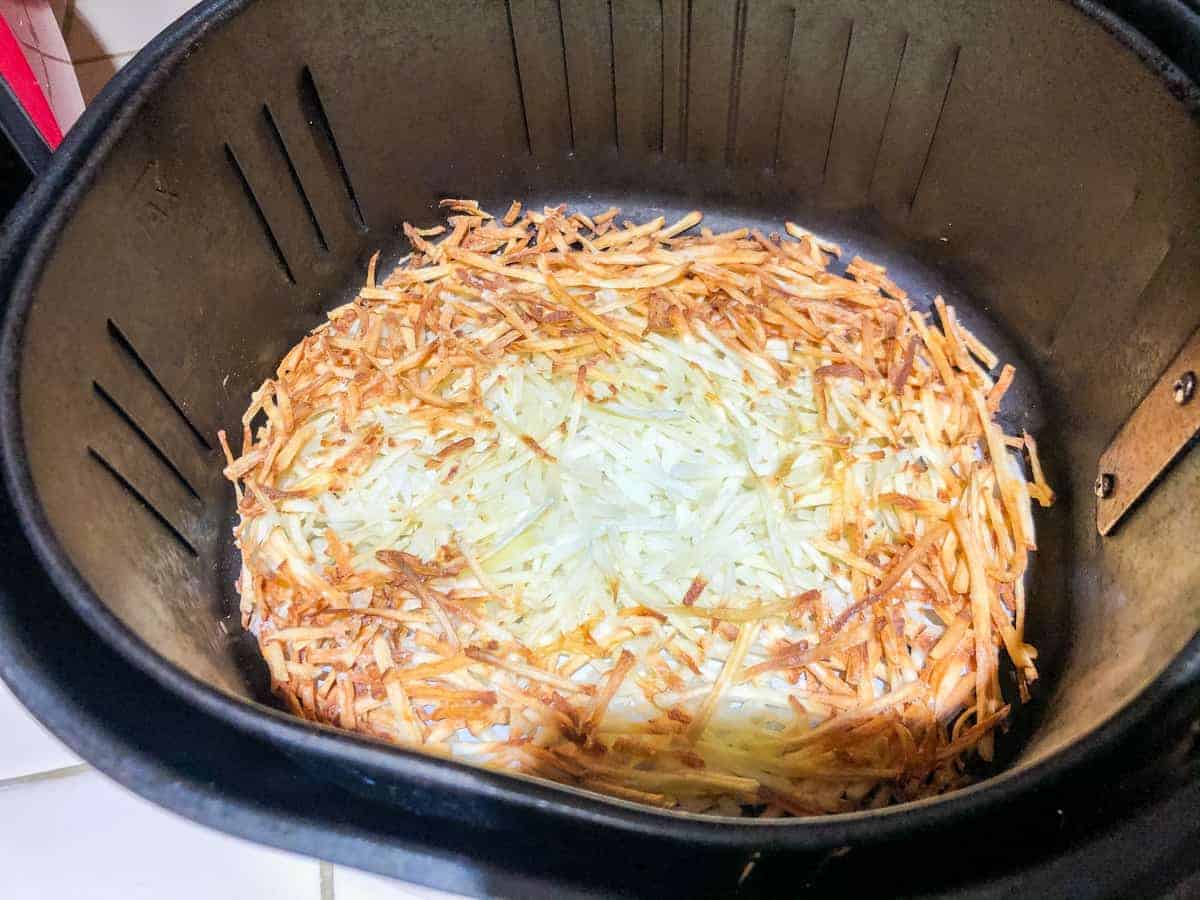 How to make healthy hash browns without oil
There are several ways to cook hash browns without oil. I'll list the ones I've tried, in order of what's worked best for me.
Air Fryer Hash browns:

this is my current preferred method of cooking oil-free hash browns. In my air fryer, I can cook half a bag of frozen shredded potatoes at a time, which yields 1-2 servings.
Time: 15 minutes
Hands-off preparation

Non-stick Skillet:

Before I had an air fryer, this was my preferred method. Your skillet has to be truly non-stick for this to work and not end up with steamed potatoes and a pan to scrub.
Time: 15 minutes
Hands-on preparation

Bake in Oven:

If we have a lot of hash browns to make, we sometimes put them in the oven, spread out on a baking sheet that has been lined with parchment paper or a silicone mat. Bake at 425 F until crispy on edges and top. Flip as needed.
Time: 30-40 minutes
Mostly hands-off preparation, except for flipping

Waffle Iron:

I did this a few times and it did give me crispy hash browns in a waffle shape, but my waffle iron is not truly non-stick and I had to use a little oil to prevent it from sticking. I have heard rave reviews about this method from folks with truly non-stick waffle irons or George Foreman grills. Another key to this method is to leave the hash browns to cook until a crust has formed, so they don't stick. It takes a good 10-15 minutes (much longer than you would cook a waffle).
Time: 15 minutes
Hands-off preparation
For this recipe, I'll give you instructions for the Air Fryer and Non-Stick Skillet methods, because those are the simplest, most efficient methods for making oil-free hash browns.
🔄 Variations
Looking for more hash brown breakfast ideas?
👨‍👩‍👦‍👦 Serving suggestions
What do hash browns go with?
Serve these healthy hash browns as a meal by themselves or alongside sautéed vegetables, like spinach, tomato, mushrooms, asparagus or corn.
One way to make this healthy potato dish even healthier is adding greens or vegetables. Make your 50/50 plate by adding 50% starch and 50% non-starchy vegetables to get your day started right.
Hash browns also make a great side to whatever delicious vegan weekend brunch you have going on. Who doesn't love crispy potatoes?
Seasonings
How should I season hash browns? Try one of these spices:
sea salt and pepper
seasoned salt
garlic salt (my current fav)
Trader Joe's vegan no-chicken seasoning
paprika
turmeric and black pepper (this will turn them yellow!)
Condiments
As far as condiments, I recommend trying:
❓ FAQ
My hash browns are sticking! What do I do?
You need to leave the hash browns to cook without moving them, for at least 7 minutes in the non-stick pan, so they form a crust. Once they've formed a crust, they will move freely. The other issue may be that your pan is not truly non-stick. Is it old? Has the non-stick coating or material worn off? It may be time for a new pan.
💜 More recipes you'll love
Love this recipe? Subscribe here so you don't miss any new recipes!
Please rate it ⭐️⭐️⭐️⭐️⭐️ down below. ⬇️ And, if you make it, please tag me @veryveganish on Instagram in your posted photos! I would love to see your creations. 😄
📖 Recipe
Healthy Hash Browns (air fryer or stovetop)
Ingredients
12 ounces (325 grams) frozen shredded potatoes
sea salt (optional)
Instructions
Stovetop Instructions
Preheat a 10-12 inch truly non-stick skillet over medium heat for 30-60 seconds.
Add frozen shredded potatoes to skillet and spread them out evenly across the bottom of the pan. Season lightly with salt or preferred seasoning, if desired.
Cook hash browns for 7 minutes, so they form a nice crust. Do not attempt to stir or flip them in the first 7 minutes.
After the 7 minutes, flip the hash browns in sections with a spatula and cook the other side for another 5-7 minutes, checking for doneness after the first 5 minutes and possibly reducing heat, if necessary.
Serve immediately with your favorite condiment (ideas in the notes!)

Air Fryer Instructions
Add frozen shredded potatoes to your non-stick air fryer basket (use parchment paper to line your air fryer basket if it's not totally non-stick or the holes are too big and the potatoes fall through).
Set your air fryer to 400 degrees F for 10 minutes.
Check your hash browns and see if they need more time or need to be flipped. If you're using parchment paper, they may need to be flipped.
Air fry for another 3-5 minutes, if necessary to get them as crispy as you like.
Serve immediately with your favorite condiment (ideas in the notes!)

Notes
Seasonings:
salt and pepper
garlic salt
seasoned salt
garlic powder
onion powder
Trader Joe's vegan no-chicken seasoning
Condiments:
ketchup
BBQ sauce
spicy ketchup
sriracha
salsa
mustard

This recipe serves 2 as a side or 1 large, filling portion.
Nutrition Information:
Yield:

2
Serving Size:

1
Amount Per Serving:
Calories:

54
Total Fat:

3g
Saturated Fat:

1g
Trans Fat:

0g
Unsaturated Fat:

3g
Cholesterol:

0mg
Sodium:

403mg
Carbohydrates:

6g
Fiber:

1g
Sugar:

0g
Protein:

1g
Nutritional calculations are done using online tools, such as recipe widget Create. Even though we have tried to provide accurate nutritional information, these figures should be considered estimates.