Cheaper than store-bought and just as delicious! This simple, fluffy homemade oil-free hummus recipe is perfect as a dip with pita chips, veggie sticks or as a spread.
Serve this hummus as appetizer when making Lebanese lentil soup, falafel, or another delicious Middle Eastern meal.
Jump to:
🧄 Ingredient notes
For this basic hummus recipe, you'll need:
chickpeas (either canned chickpeas or homemade)
tahini
lemon juice
white wine vinegar
garlic
As far as equipment, you'll need either a high speed blender or a food processor.
I use a BlendTec blender (Amazon link) with the Twister Jar, which is designed for blending thick recipes, like hummus, nut butters, banana nice cream, etc.
The food processor I use is by Cuisinart and it works well for making hummus, pesto, chimichurri, veggie burgers and chocolate energy bites.
🔪 Instructions
How do you make homemade hummus?
Add all ingredients to high speed blender or food processor.
Blend until smooth. Stop and scrape down sides, as needed, to fully blend together all the ingredients.
Transfer to serving bowl and sprinkle with your favorite herbs and spices.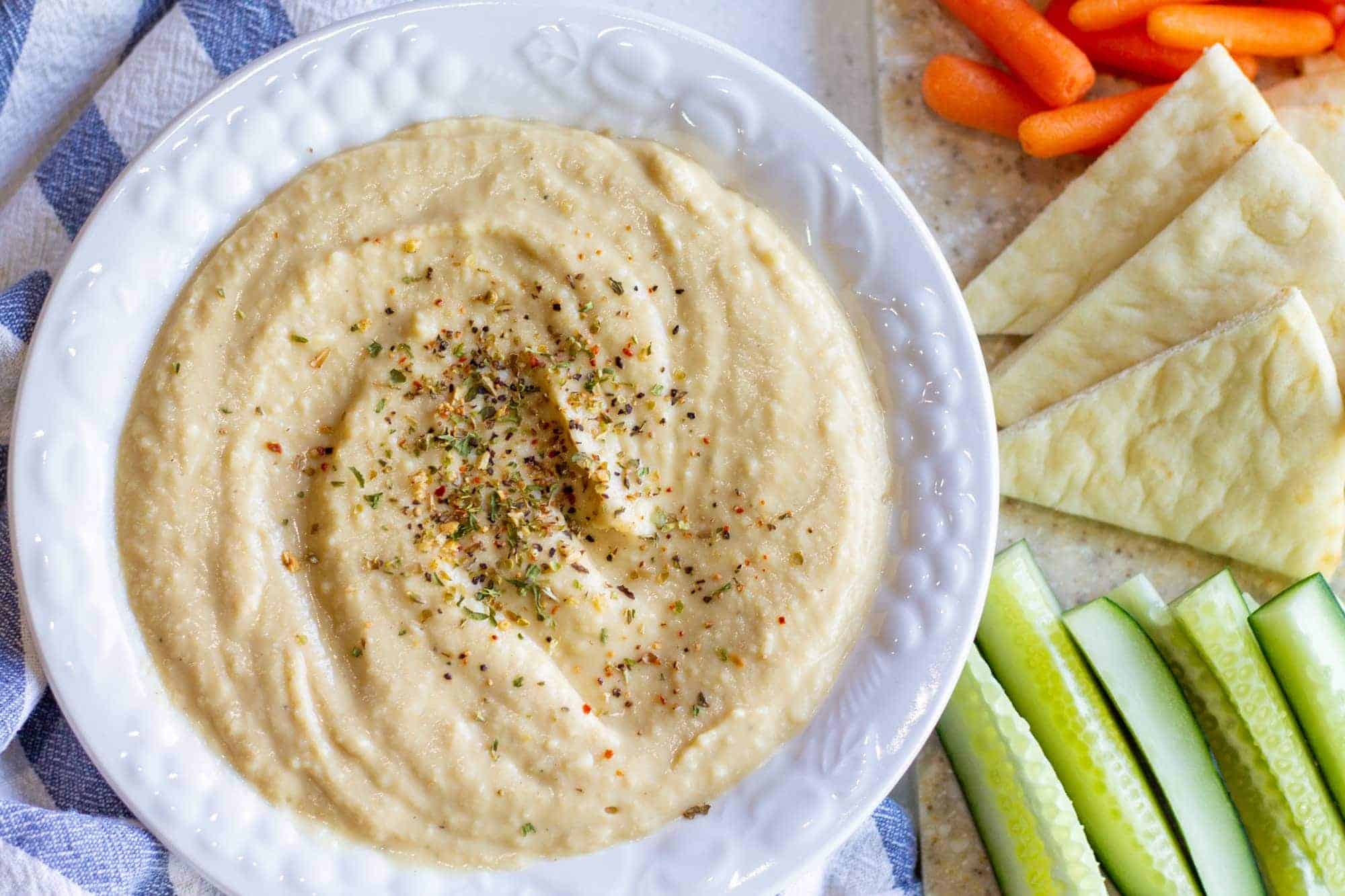 💭 Tips
Use homemade chickpeas
While you can certainly use a can of chickpeas for this recipe, I recommend using homemade chickpeas, because they will make a creamier hummus.
Canned chickpeas are not as tender as the Instant Pot Chickpeas I make for this recipe.
Use a high speed blender, if possible
Using a high speed blender will make your hummus more smooth.
You may have to start and stop it a few times to shake or stir it to release the air bubble that forms at the bottom where the blade spins. But, it's worth it!
You can also use a food processor, like is pictured in this recipe. Just process it longer to help achieve a smooth, creamy hummus.
Don't skip the tahini
Tahini is important in giving homemade hummus it's traditional flavor. If you have it on hand, don't skip it in this recipe.
If you don't have any tahini, you can still make hummus, it will just taste slightly different.
Be sure to look for tahini that doesn't have any added oil. Tahini is ground sesame seeds, so it is very high in fat by itself. You don't need a brand that adds additional oil to the tahini.
It thickens as it cools
If it seems too runny after you've finished blending it, transfer it to a container and cool it in the refrigerator for 1-2 hours. It will thicken up as it cools.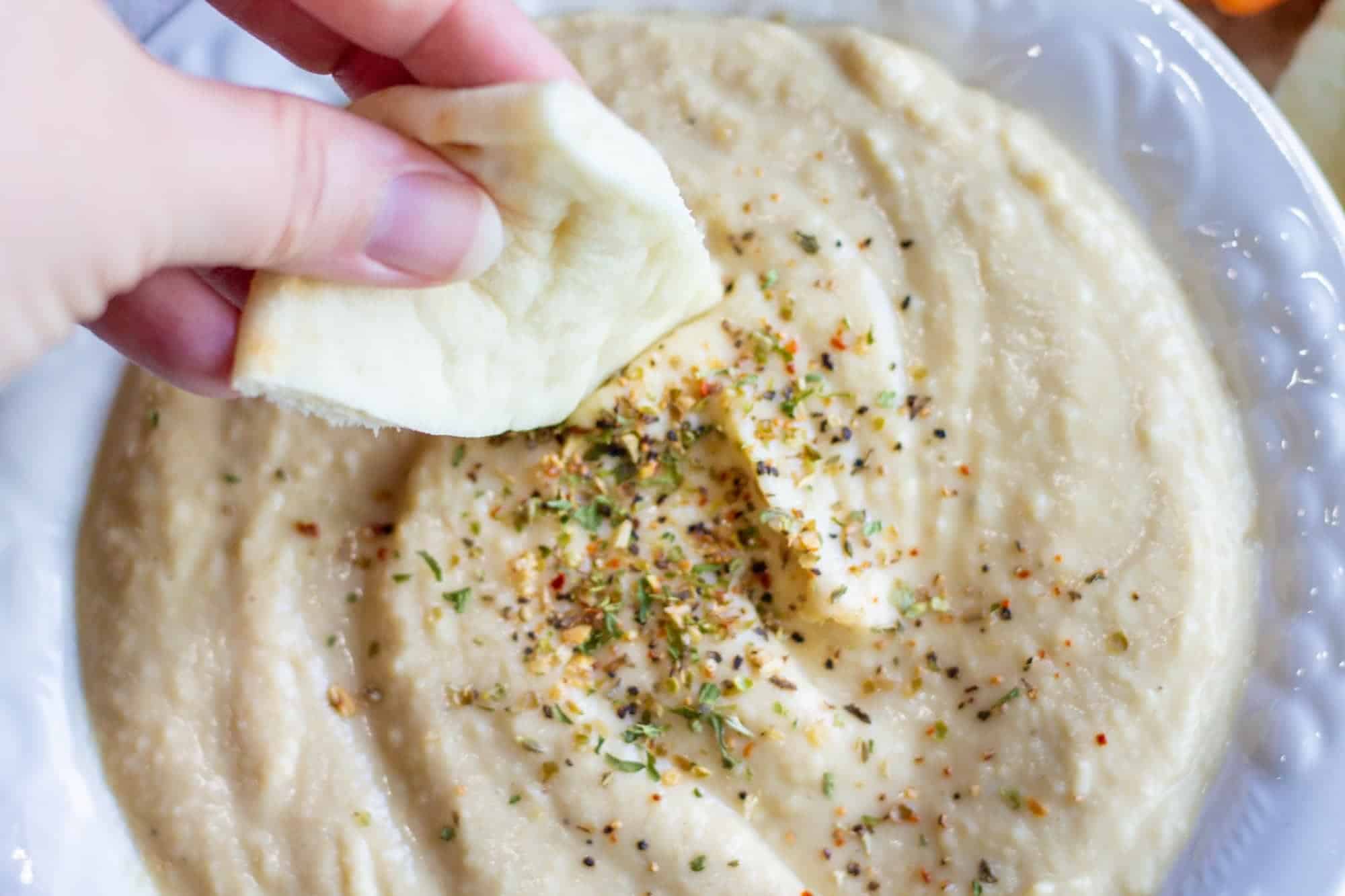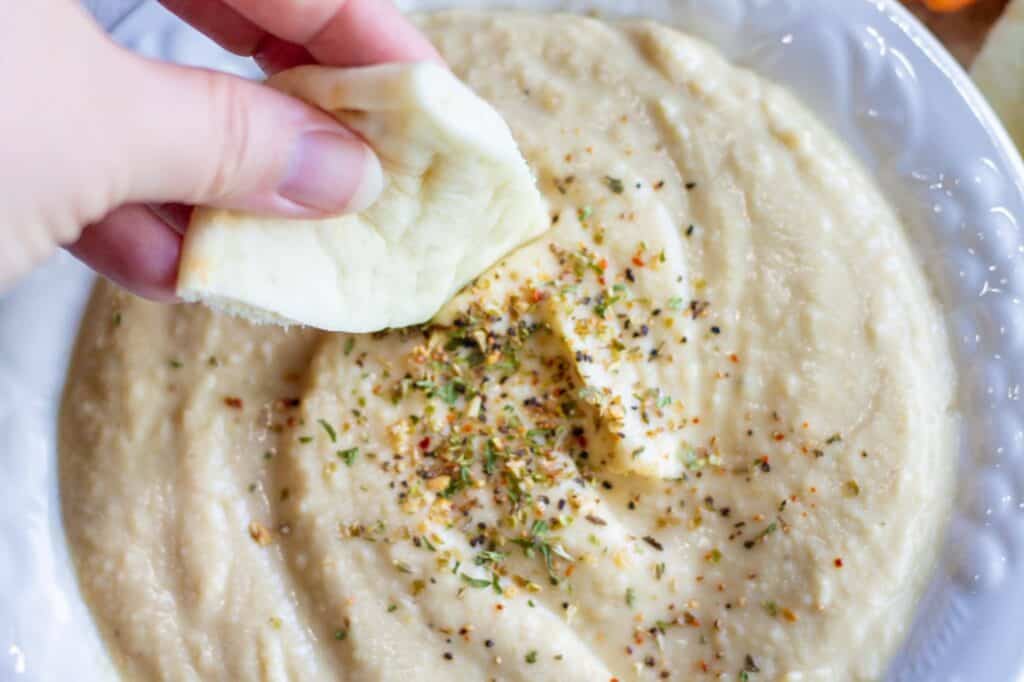 ❓ FAQ
Can you freeze homemade hummus?
Yes! Freeze in an airtight container. Leave room at the top of the container for the hummus to expand a little bit.
How long does homemade hummus last?
Homemade hummus will last for 3-5 days in the refrigerator. You can freeze homemade hummus up to 6 months.
👨‍👩‍👦‍👦 Serving suggestions
Hummus is best loved as a dip for pita bread, quick and easy homemade pita chips, raw veggies like carrots, celery, cucumber, bell pepper or radishes.
Homemade hummus is better with a sprinkling of spices and herbs on top! Try dried sumac (has a sour citrus taste), parsley, cilantro, basil, za'atar, toasted pine nuts...
The possibilities are endless.
One of our favorites is Zohrab's Greek seasoning (pictured, available at Phoenicia Specialty Foods in Houston) on top of our hummus.
But, you can also use it as a spread for sandwiches and wraps.
Hummus is perfect as a side dish for a Mediterranean, Middle Eastern or Greek-inspired bowl, like this quinoa tabouli bowl.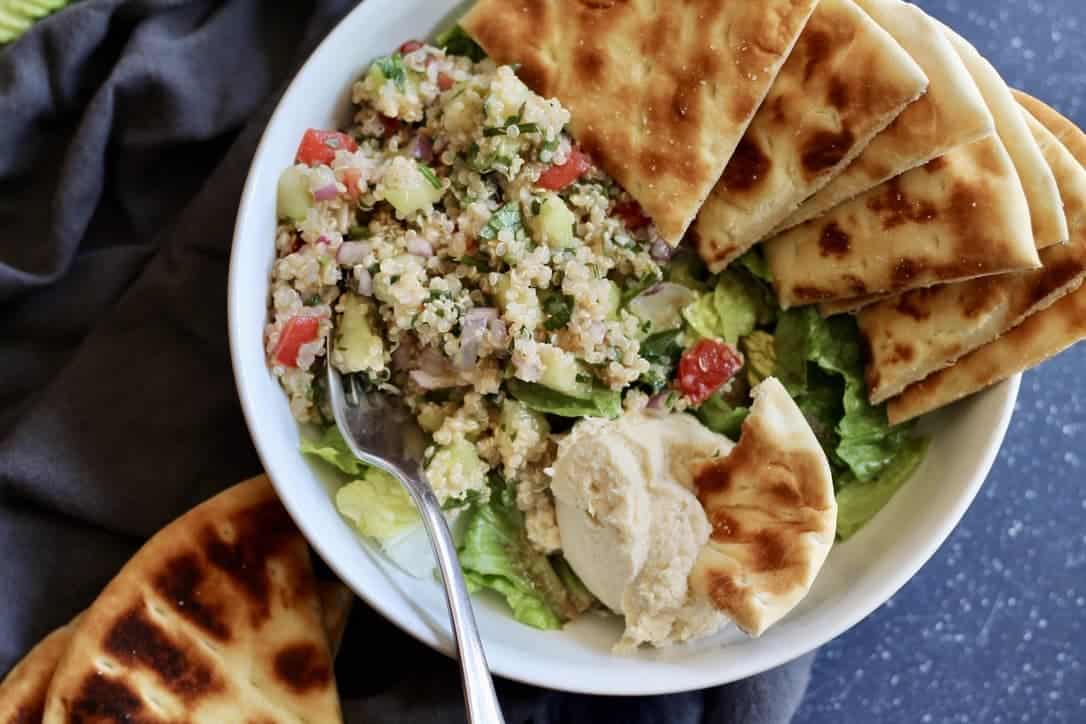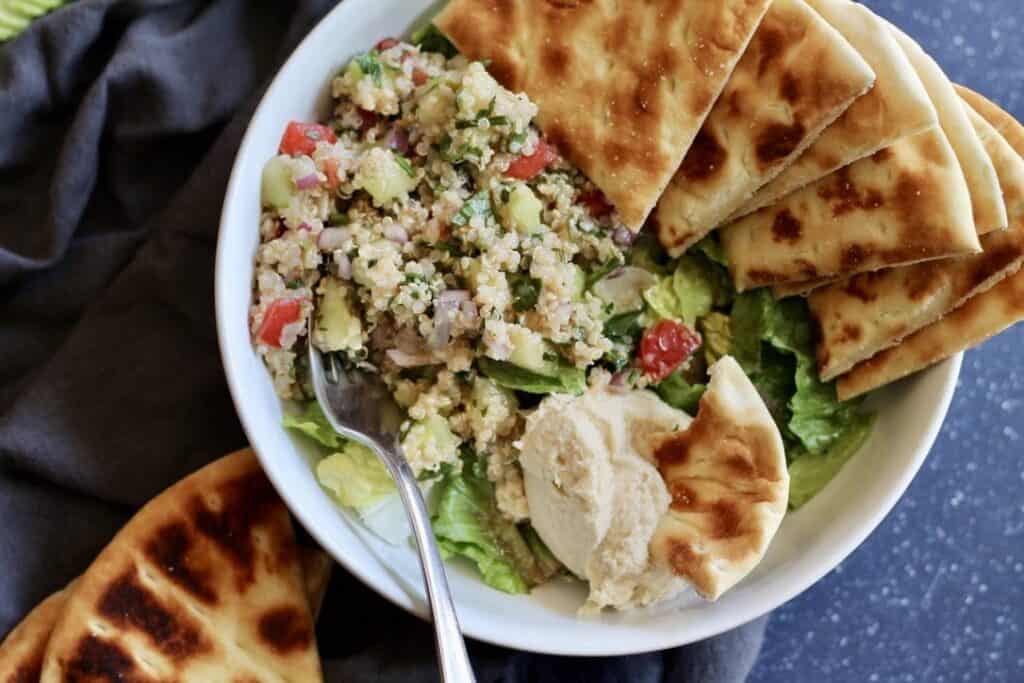 💜 More recipes you'll love
🗺 Cultural influences
Hummus is common in Middle Eastern, North African and Mediterranean cultures.
Think Egypt, Morocco, Turkey, Syria, Israel and Palestine.
An entire meal can be based around a good hummus and good flatbread.
Love this recipe? Please rate it 5 stars ⭐️⭐️⭐️⭐️⭐️ below in the recipe card. And, if you make it, please tag me on Instagram or Facebook in your posted photos! I would love to see your creations. 😄
📖 Recipe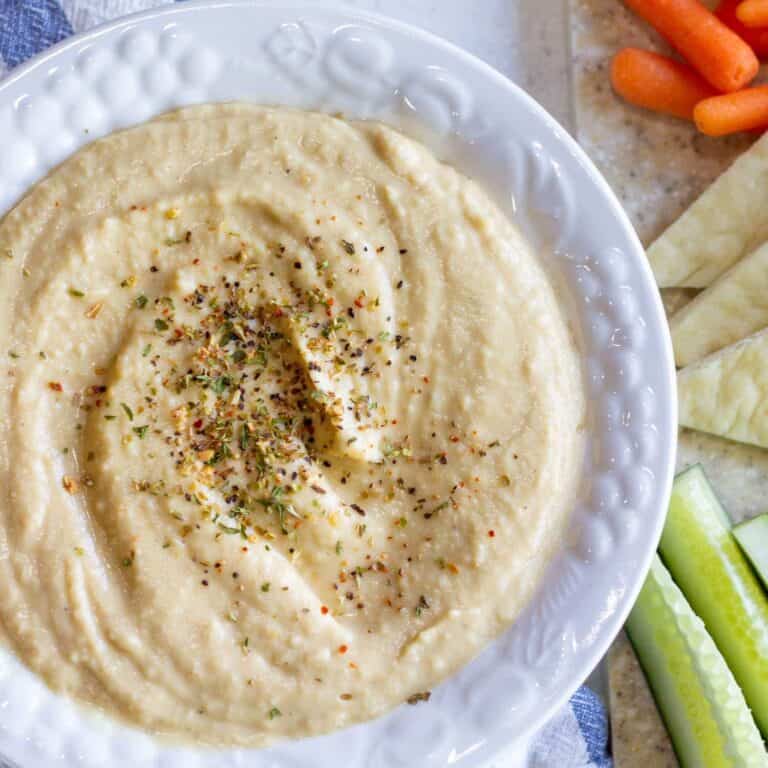 Homemade Oil-free Hummus
Cheaper than store-bought and just as delicious! This simple, fluffy homemade oil-free hummus recipe is perfect as a dip with pita chips, veggie sticks or as a spread.
Instructions
Add all ingredients to a food processor. If you have a high speed blender than can handle very thick recipes, then you can use that, too.

Process until smooth and fluffy, stopping to scrape down sides of jar, as needed.

Adjust salt and pepper, to taste.

Serve with raw veggies or pita chips.
Notes
Homemade hummus will continue to thicken as it cools in the refrigerator.
Hummus freezes well! Put in an airtight container and freeze for up to 3 months.
This recipe makes about 2 cups (16 ounces) of hummus.
Nutrition
Serving:
2
tablespoons
Calories:
35
kcal
Carbohydrates:
4
g
Protein:
2
g
Fat:
2
g
Saturated Fat:
1
g
Polyunsaturated Fat:
1
g
Monounsaturated Fat:
1
g
Sodium:
147
mg
Potassium:
50
mg
Fiber:
1
g
Sugar:
1
g
Vitamin A:
6
IU
Vitamin C:
1
mg
Calcium:
13
mg
Iron:
1
mg