This is a list of restaurants in Houston, Texas that I recommend. I have eaten at each one of these and, in some cases, wish I could pitch a tent and live there (with my family and portable AC, of course).
I will do my best to update this list, as things change. Please be sure to talk with your waiter about your specific dietary needs, verify something is vegetarian/vegan/plant-based/gluten-free/etc. Do not just take my word for it. Recipes change, chefs change, menus change.
That being said, this list should give you a good starting off point for exploring Houston's vast network of eateries. While many of Houston's gastronomic choices center around meat (we are in cowboy country here), do not make the mistake of assuming that's all she wrote.
Houston is an incredibly diverse city. And, we love to eat out. So, enjoy the rich cultural diversity of this town by trying it's many foods! Most of these places are inside the loop (that's Houston-speak for "in town" or "close to downtown"), but there are several outside the loop, notably in Chinatown and the Indo-Pak area of town, the Mahatma Ghandi District.
We eat at home quite a bit and Houston is a big city, so I'm sure there are plenty of restaurants I've missed. If you have a place you'd like me to try out, please shoot me a message and let me know.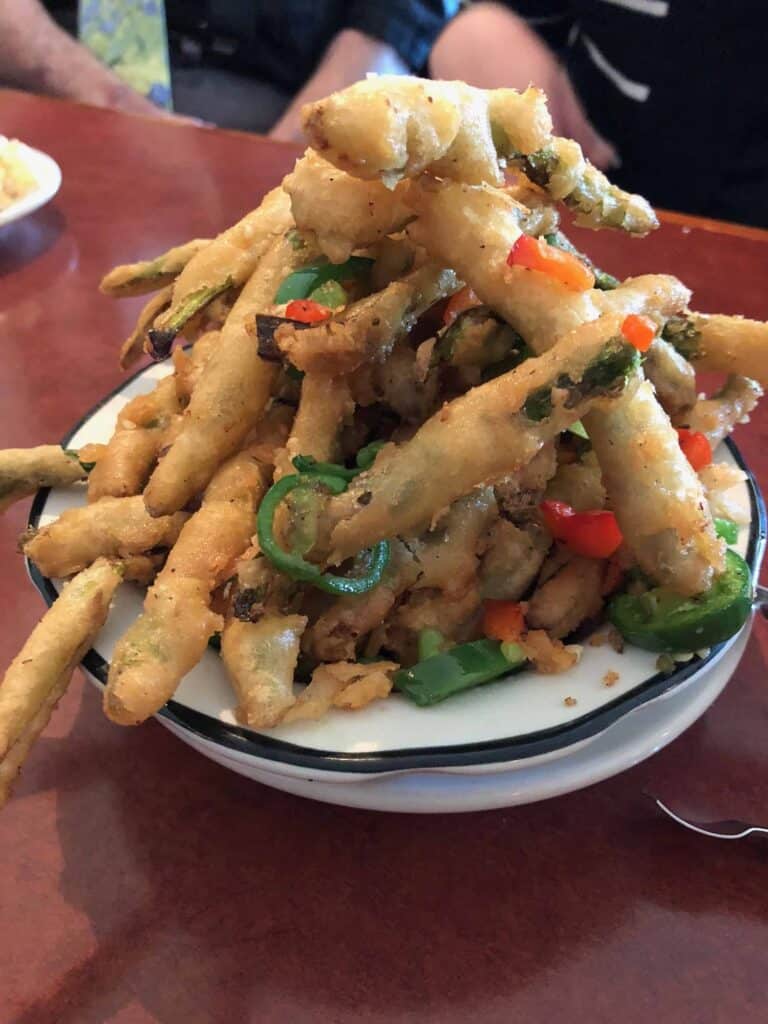 369 Chinese Bistro
1009 Westheimer Rd. Houston, TX 77006 – tel: 713-524-8686 – Good option for Chinese takeout and delivery in Montrose. The crispy, spicy asparagus is my favorite thing on the menu. If you wanna make a meal of it: Order the crispy spicy asparagus appetizer, a side of general tso's sauce with white rice. You're welcome. (369 Chinese Bistro yelp)
Bellagreen
The Heights: 748 East 11th St. Houston, TX 77008 – tel: 713-714-8460 & River Oaks: 2305 West Alabama St. Houston, TX 77098 – tel: 713-533-0777. bellagreen (formerly known as Ruggles Green) has several locations in Houston and Dallas. Above are two we've frequented. Vegan-friendly and allergen-friendly restaurant, in general. Everything is labeled and staff are generally knowledgable about allergy-prone ingredients. My go-to here are the Super Veggie Tacos, without the queso fresco and creamy sauce. They have refried black beans, portobello mushrooms, carrot, avocado and more. Definitely add that habanero sauce to your tacos. It's not that spicy, but adds flavor and heat. Also, the hummus plate, which comes with sun dried tomatoes, olives and pita. Delicious. Their rooibos iced tea is refreshing and unsweetened. Savings Tip: Sign-up for the Thanx app to get rewards for eating at bellagreen. Get $15 off your next meal if you sign-up with our link. We use it frequently and will get points if you sign-up with our link. (bellagreen website)
Bombay Sweets
5827 Hillcroft Ave. Houston, TX 77036 – tel: 713-780-4453 – Located in the Indo-Pak area of town officially known as the Mahatma Ghandi District, this Indian candy store is also home to an affordable vegetarian buffet of delicious North Indian food. You'll have to ask about which items don't contain dairy. At the corner of Hillcroft and Harwin, take some time to explore some cheap shopping while you're here. Or, head over to Sublaxhmi Grocers (see below) for some spices to take home and create your own Indian curries. (Bombay Sweets yelp)
Brown Bag Deli
2036 Westheimer Rd. Houston, TX 77098 – tel: 713-807-9191 – Four locations around Houston. Exactly as you'd expect, this is a classic deli with lots of sandwich options. Sure, they'll make a veggie sandwich for you like most delis. BUT, the reason I'm including them in this list is because they make an AMAZING falafel patty and their bread is incredible. Build your sandwich like you would a falafel plate: Whole wheat bun, falafel patty, hummus, lettuce, red onion, olives, cucumber, tomato. You have a crave-able sandwich, folks. I don't normally buy sandwiches when I'm out – I prefer hot food – but with brown bag's falafel sandwich… please take my money. (Brown Bag Deli website)
Cafe Express
Many locations around town. Order the hummus and ask them to serve it with garlic bread (like they used to) instead of pita. Then, grab some of the munchies from their condiment bar, like roasted garlic, cornichons, olives, chickpeas and sun-dried tomatoes to accompany your hummus. A beautiful and filling appetizer or lunch. Their black currant iced tea is delicious also. (Cafe Express website)
Central Market
3815 Westheimer Rd. Houston, TX 77027 – tel: 713-386-1700 – This labyrinthian high-end grocery store near the Galleria is a foodie wonderland. If you've never been, I encourage you to explore it. They have a large selection of prepared foods to choose from for a quick bite, also. My favorite is the customizable Moroccan Salad from the salad bar. From the coffee bar: Iced Chai Tea (one of the best in Houston, in my humble opinion) and Coconut Oolong. Don't skip the free fresh bread samples by the bakery. While you're there, pick up a Sinfull Bakery Vegan Cinnamon Roll and some Banyan Foods vegan egg rolls from the fresh or frozen section. If you have kiddos with you, they can pick up a piece of fruit for a quarter at the beginning of the produce section. (Central Market website)
Chipotle
Many locations around town. As chain restaurants go, Chipotle has been a favorite of ours for years. My burrito bowl of choice: white and brown rice, black beans, fajita veggies, a little pico de gallo, corn salsa, guacamole (free on a veggie burrito) and lots of lettuce. The braised tofu sofritas are also very good (if you order sofritas, you have to pay for guac). Sign-up for their new rewards program on their app. (Chipotle website)
Cloud 10 Creamery
711 Heights Blvd. Houston, TX 77007 – tel: 713-485-5106 – Off the wall ice cream flavors are on rotation here. They also have a few non-dairy options. The mango sorbet and their coconut milk ice cream is excellent. Go before 3pm and get their happy hour special. In the same parking lot as Local Foods in the Historic Heights neighborhood. (Cloud 10 Creamery website)
Ephesus Grill
510 S. Mason Rd. Katy, TX 77450 – tel: 281-391-4777 – Some of the best Mediterranean food we've had. My husband loves this place. Anytime we're anywhere near Katy, he's lobbying to make a stop here. Our favorites: Vegetable Stew, Tabbouleh, Shepherd's Salad, Falafel, Red Lentil Soup, Fried Zucchini, and Turkish hot tea. (Ephesus Grill website)
Field of Greens
2320 West Alabama, Houston, TX 77098 – tel: 713-533-0029 – This 90% vegan restaurant next door to The Path of Tea, has lots of yummy options. My favorite is the dumplings, which are filled with veggies and vermicelli noodles. Their sweet potato fries are executed so well – they are crispy, not gummy. Allergy-friendly, they will accommodate your needs, just let them know. If you want to enjoy your food while sipping your organic tea, just ask them to deliver it next door. (Field of Greens website)
Fat Cat Creamery
1901 N. Shepherd Dr. #3, Houston, TX 77008 – tel: 713-869-1080 – Small, locally prepared artisan ice cream. Usually, they have at least one non-dairy ice cream on offer. Lately, this has been a subtle Chai Coconut Milk ice cream, which I really enjoy. A nice place to bring guests, or to have dessert after eating at Tarka (see below) next door. (Fat Cat Creamery yelp)
Fix Coffeebar
415 Westheimer Rd. Houston, TX 77006 – tel: 832-807-4562 – I come here for tea, not coffee. Quite possibly one of the best iced chai teas in Houston is found here. Strong and spicy. They do not prepare it fresh, but use prepared Rishi chai and offer several non-dairy milk options, including a favorite of mine: oat milk. I wish oat milk was more available here in Houston. It is popular in Europe; someone needs to bring it across the pond. Their Ruby Oolong tea is also delicious. And, they will re-steep it for you with more water. Oolong loose leaf tea can be re-steeped in fresh water up to four times. (Fix Coffeebar website)

Gabby's BBQ
3101 N. Shepherd Dr. Houston, TX 77018 – tel: 713-864-5049 – Vegan options are admittedly slim on this menu (as they are at most BBQ joints), but when your family or guests want to go eat Texas BBQ, well, this is a good choice for them. Their baked potatoes are fresh and delicious topped with BBQ sauce and green onions/chives. I also recommend the fried okra side. (Gabby's BBQ website)
Green Seed Vegan
4320 Almeda Rd. Houston, TX 77004 – tel: 1-844-365-8346 – This 100% vegan restaurant serves up mouth-watering fare in a historic area of town. An oasis in a healthy food desert. My go-to is the CALI: chicken fried cauliflower, arugula, red onions, pickles, tomato with mayo & spicy aioli on a whole wheat bun. Yes. They also have raw menu items and a variety of fresh juices. (green seed vegan website)
The Halal Guys
3821 Farham St. Houston, TX 77098 – tel: 713-681-5465 – They have four locations in Houston and many, many more around the world. A great place to snag a quick Mediterranean sandwich or platter. Or, even just some hummus or baba ganoush. My go-to is the falafel plate with tahini sauce, add onions and green peppers. It also comes with rice, salad and pita. Watch out for the hot sauce, here, guys. It's made with ghost peppers and will set your mouth on fire. (The Halal Guys website)
Hot Bagel Shop
2015 S. Shepherd Dr. Houston, TX 77019 – tel: 713-520-0340 – As the name suggests, you can expect hot, freshly baked bagels from this neighborhood institution. Open 6am-2pm every day, we sometimes just stop in and grab a bagel by itself for a quick snack or late breakfast on the run. They do not carry dairy-free cream cheese, unfortunately. (Trader Joe's down the street does!) But, they do make bagel sandwiches, with several veggie options like avocado, lettuce, tomato, etc. They also offer a few whole wheat options, although they are definitely more dense in texture. (Hot Bagel Shop yelp)
Houston's Restaurant
4848 Kirby Dr. Houston, TX 77098 – tel: 713-529-2385 – This has been a favorite destination of ours for anniversary dinners or special occasions. They are very accommodating and will prepare a special vegan plate for you. For those not eating a vegan diet, I remember their spinach artichoke dip being the best I've ever had. Reservations recommended. (Houston's Restaurant on Kirby website)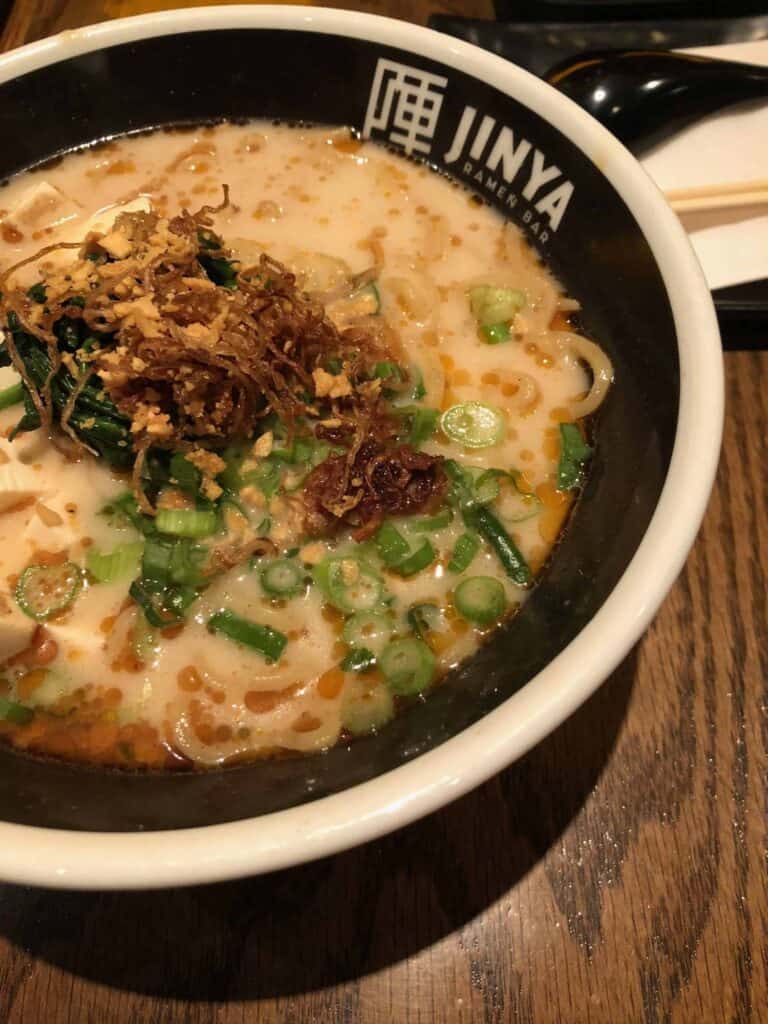 Jang Guem Tofu & BBQ
9896 Bellaire Blvd. Ste. J. Houston, TX 77036 – tel: 713-773-2229 – Korean restaurant and BBQ House in Chinatown, a few doors down from HMart. The japchae (sweet potato starch noodles) and boiling hot soups are amazing. (Jang Guem Tofu & BBQ yelp)
Jinya Ramen Bar
3201 Louisiana St. Houston, TX 77006 (plus many more locations) – tel: 832-925-8596 – A serious ramen shop in Midtown (with several other locations around Houston and other cities in the US). Their Spicy Creamy Vegan Ramen with the thick noodles is my go-to. The Caramelized Cauliflower is also delicious. Tip: They will refill your bowl with another helping of noodles for $2.50, so if you still have broth to spare, go for it and take it home with you for lunch tomorrow (or a midnight snack). (Jinya Ramen Bar website)
Lankford Grocery
88 Dennis St. Houston, TX 77006 – tel: 713-522-9555 – Street parking only – BRING CASH. They don't accept credit cards. This vintage hole in the wall used to be a small grocery/convenience store, but now serves up burgers and fries. Thankfully, they also offer a veggie burger option and some vegan sides. Visited by Guy Fieri of Diners Drive-ins and Dives, this is a good place to try if you're with non-vegans who want to try one of the best southern beef burgers in Houston. (Lankford Grocery yelp)
Little Pappasito's
2536 Richmond Ave. Houston, TX 77098 – tel: 713-520-5066 – Eating vegan at a Mexican restaurant is challenging, to say the least. I recommend the only vegan meal option they offer, which is executed very well: Vegetable Fajitas (they are not on the menu, just ask your server for them and indicate no butter) with the vegetarian rice and bean options. Order the veggie fajitas for one, it will easily feed two. Watch out for those grilled jalapeños, they are spicy. The green salsa brought to the table is excellent. (Little Pappasito's Cantina website)
Local Foods
The Heights: 714 Yale St. Houston, TX 77007 – tel: 713-360-6133 & Upper Kirby: 2555 Kirby Dr. Houston, TX 77019 – tel: 713-255-4440. Local Foods has five locations available around Houston. I've listed the two I frequent. Consistently good food. Several clearly marked vegan options on the menu. Try the Vegan Meatball Sub or Vegan Gumbo. This is an order at the counter kind of place and the food usually comes out really fast. The bread is fresh and delicious. Tip: Both of these locations are located in beautiful historical neighborhoods of Houston, drive around to tour the architecture. (Local Foods website)
Lua Viet Kitchen
1540 West Alabama St. #300, Houston, Texas 77006 – tel: 346-227-7047 – Corner of West Alabama and Mandell. Across the street from the impressive Menil Collection Museum, enjoy fast casual Vietnamese food here at Lua Viet. Don't forget to enjoy the beautiful mural. The Crispy Vegan Rolls are delicious for a light lunch. (Lua Viet yelp)
Mai's Restaurant
3403 Milam St. Houston, TX 77002 – tel: 713-520-5300 – Hands down, our favorite Vietnamese spot in Houston. Open very late, this is a great spot to come after a concert or event. My favorite dishes: #1 Goi Cuon Spring Rolls with Tofu, #3 Cha Gio Chay Vegetarian Eggrolls (pretty sure these are vegan, despite the vegetarian label), #30 Hu Tieu Xao Flat Rice Noodles with Vegetables, #40 Bun Cha Gio Chay Vermicelli Bowl with Vegetarian Egg Rolls (request the vegetarian sauce that comes with the vegetarian egg rolls, instead of the fish sauce), #73 Dau Hu Luc Lac Garlic Tofu soooo good. (Mai's Restaurant website)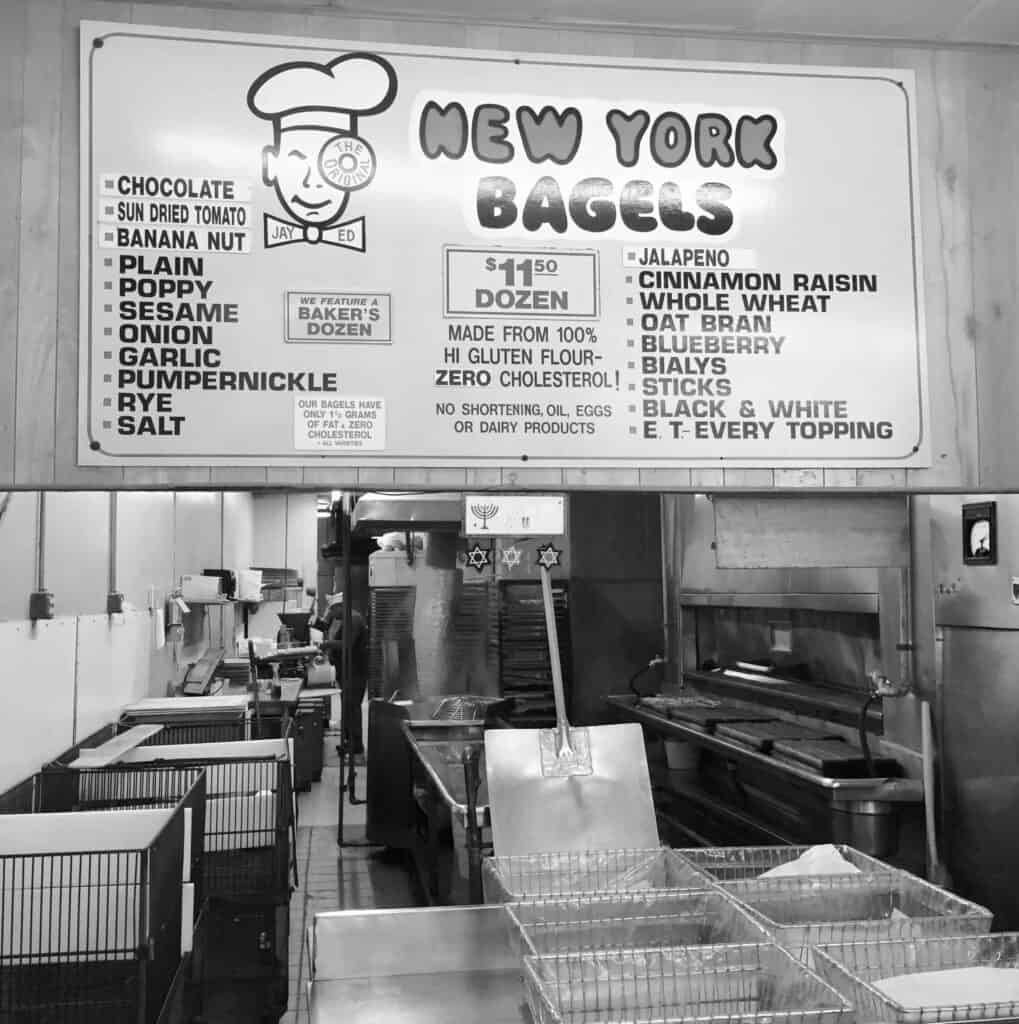 New York Bagel Shop
9720 Hillcroft Ave. Houston, TX 77096 – tel: 713-723-8650 – Located in Meyerland, this New York style bagel shop bakes up the best bagels in Houston, in my humble opinion. Again, they do not offer vegan cream cheese options, so you'll have to source that elsewhere, but don't let that stop you from picking up a few (or a dozen). (New York Bagel Shop website)
Niko Niko's Greek
2520 Montrose, Houston, TX 77006 – tel: 713-526-4976 – They now have two other locations, as well, but we frequent the original. My family has been eating here since it was a tiny walk-up shack with tables outside. A Houston institution, you're certain to get a delicious Greek meal. My favorites: Falafel plate with rice, hold the feta on the greek salad and Fasolada (a Greek white bean soup they serve on occasion). (Niko Niko's website)
Nu Ice Cafe
9889 Bellaire Blvd. Ste. 112A, Houston, TX 77036 – tel: 713-771-7771 – Taiwanese style shaved ice cream, aka snowflake ice, aka ribbon ice. A very interesting dessert! Two of their ice cream flavors are vegan: mango sorbet and mixed berry sorbet. (Nu Ice Cafe website)
Oishii Japanese Restaurant
3764 Richmond Ave, Houston, TX 77046 – tel: 713-621-8628 – Parking can be challenging. Hands down our favorite sushi and Japanese food spot in Houston. Our favorites: vegetable tempura roll, mixed vegetable roll, avocado & cucumber roll, spinach roll, picked radish roll, seaweed salad, fried pickles, and fried bananas (ask for no whipped cream for vegan). Their udon noodle soup is perfect for a cold, rainy day or when you're sick. Just make sure you tell them vegetarian and no fish flakes. Tip: Go for happy hour Monday-Friday 3-6pm or Saturday 4-6pm. It's $4 each any happy hour item, buy one, get one free. That's basically $2 per roll. The tastiest deal in Houston! (Oishii Japanese Restaurant website)
Parisian Bakery and Cafe
9938 Bellaire Blvd. Houston, TX 77036 – tel: 713-808-9778 – A Parisian bakery run by a Vietnamese family in Houston, Texas' Chinatown. I love it! And we love this bakery. Fresh French rolls/small baguettes for sale, perfect for banh mis and bruschetta alike. Their banh mis are delicious. Order the banh mi with tofu (hold the mayo) for a vegan option. If you don't mind eating eggs on occasion, try the fried egg banh mi and an almond croissant (maybe not at the same time, because that's a lotta food). The almond croissants here are one of main reasons I'm veganISH. No judging, please. (Parisian Bakery and Cafe yelp)
Pat Greer's Kitchen
412 W. Clay, Houston, TX 77019 – tel: 713-807-0101 – yayaPat Green has been a mainstay in the healthy food scene in Houston. Her raw kitchen pumps out all sorts of delicious takeaway salads, soups, snacks and local kombucha. Having taken two of her classes, I can attest that she's a sweet, sweet, soul and makes consistently incredible raw vegan food. (Pat Greer's Kitchen website)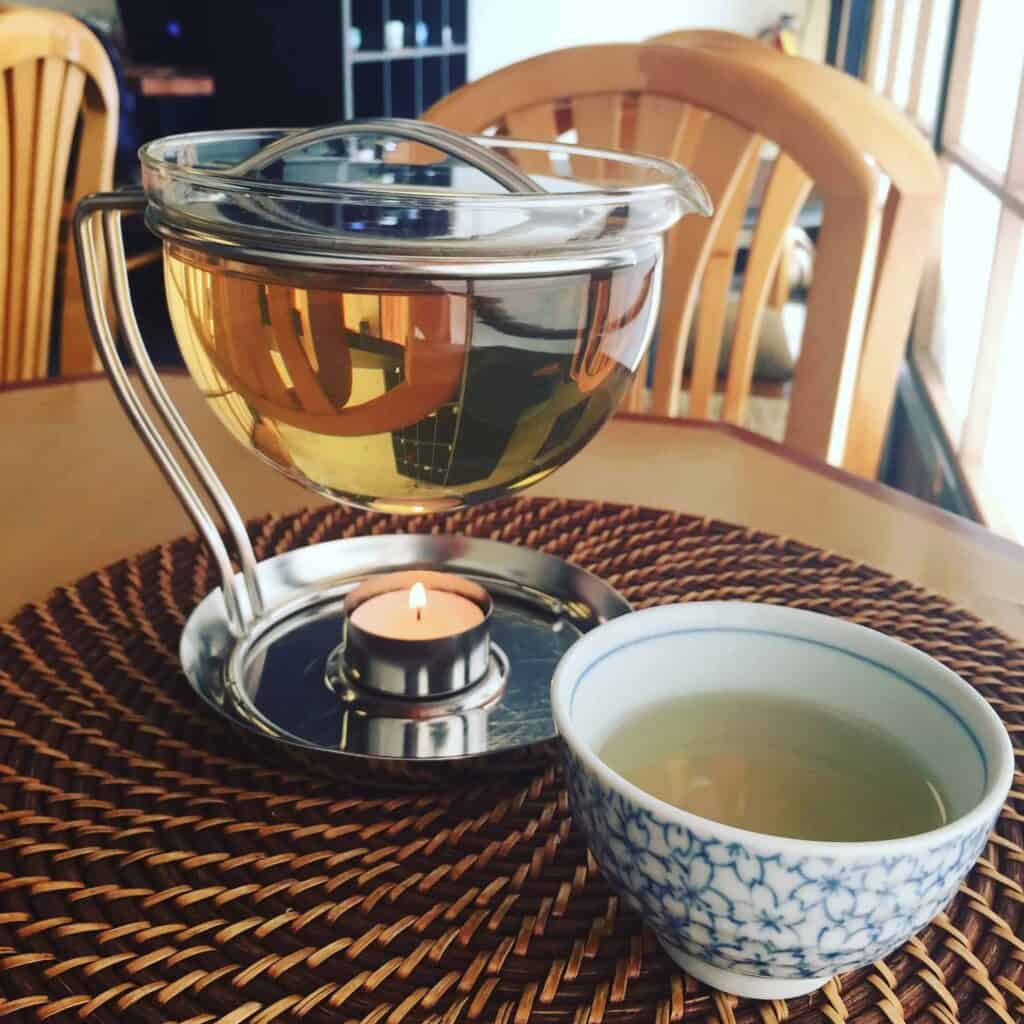 The Path of Tea
2340 West Alabama, Houston, TX 77098 – tel: 713-252-4473 – Houston's only all-organic tea house, this Japanese style tea house is a calming oasis in the middle of the city. Boasting over 120 different organic loose leaf teas, there's bound to be a tea here you'll enjoy. My favorites (and there are many): Peach Lemon BumbleTea (my winning tea blend), Coconut Oolong, Rose Oolong, Ruby Oolong, Cream Caramel Rooibos, Black Currant, Apricot Peach Black, Non Such Estate Nilgiri, Irish Breakfast, Scottish Breakfast, Monk's Sacred Blend, Tiger Pu-erh. They are known for their high-quality Japanese green teas. You can order a large or small pot of tea to enjoy in-house, to go or take some loose leaf tea home with you. They also have an online tea store. Call them to sign up for their tea tasting class to learn more about tea. I loved this place so much that I asked if I could help them with their marketing, so they are now a client of mine. (The Path of Tea website)
Pepper Tree
3821 Richmond Ave. Houston, TX 77027 – tel: 713-621-9488 – This 100% Vegan Asian restaurant is so good! Try the buffet, which is available during lunch weekdays and all day on the weekend. Everything is delicious and you're sure to find something you like. Highly recommend this spot. (Pepper Tree Vegan website)
Phoenicia Specialty Foods
12141 Westheimer Rd. Houston, TX 77077 – tel: 281-558-8225 – This Middle Eastern/Mediterranean food market, bakery and restaurant is so fun to explore. I'm just beginning to dive into the delicious (and often vegan) foods and products they carry. Try the fresh Iraqi bread topped with sesame seeds and the whole wheat Palestinian bread for different takes on pita in your next sandwich. Also, the Armenian stuffed grape leaves, various salads and hummus. I could go on and on. Go check it out. (Phoenicia Specialty Foods website)
PokeWorks
2055 Westheimer Rd. #100, Houston, TX 77098 – tel: 832-930-7740 – Many locations available around the nation for this poke bowl (aka sushi bowl) chain. Vegans actually get a price break here, yay! If you don't order a main protein, they take $3 off. My small poke bowl: extra rice, no "protein", cucumber, cilantro, edamame, blanched kale, soft tofu, orange slices, garlic soy sauce (light), avocado, green onion, seaweed salad, pickled ginger, onion crisps, garlic crisps. Signup for their rewards program and get $5 credit just for signing up. (PokeWorks website)
Pondicheri
2800 Kirby Dr. Houston, TX 77098 – tel: 713-522-2022 – There's always something new to delight your senses at Pondicheri. As serving innovative Indian food is their forté, I find this place a source of inspiration and a good meal. Do not go expecting traditional Indian food, like you would get at a good Indian buffet. Lots of vegan options available on the menu. Try something new! (Pondicheri website)
Pondicheri Bake Lab
2800 Kirby Dr. Houston, TX 77098 UPSTAIRS – tel: 713-522-2022 – Upstairs from Pondicheri Restaurant is their Bake Lab. Go here. You'll thank me later. All sorts of inventive bakery items, usually with at least a few vegan options. Drinks, juice and light menu items also on offer upstairs. (Pondicheri website)
Sinfull Bakery
100% Vegan Bakery, making the best cinnamon rolls you've ever had. Not the best vegan cinnamon rolls. The best, period. Their Everything Bars are also amazing. You can find their baked goods in lots of different spots around Houston, as well as Austin. Full list of where to find their goodies here. (Sinfull Bakery website)
Subhlaxmi Grocers
6606 Southwest Freeway, Houston, TX 77074 – tel: 713-589-5788 – Vegetarian Indian grocery store that offers takeaway samosas and other house made goodies. What do I shop here for? Spices, dried beans and lentils, chickpea flour (basan), big bags of basmati rice and fresh peeled garlic – all for very good prices. They also have an entire section with Indian dishes, thali platters/bowls, etc. (Subhlaxmi Grocers website)
Tarka Indian Kitchen
721 W. 19th St. Houston, TX 77008 – tel: 346-802-2096 – Fast, casual Tarka serves up rich and flavorful Indian cuisine at an affordable price. They have several vegan options on the menu, my favorite being the Aloo Gobi (braised cauliflower and potato) and Vegetable Samosas. (Tarka Indian Kitchen website)
Tay Do Vietnamese
2529 Hwy 6 S. Houston, TX 77082 – tel: 281-584-0097 – Across the street from West Oaks Mall. Don't let the massive menu at this family style eatery scare you away. Here's what we order: 0101 Cold Spring Rolls (with or without tofu), 0802 Rock & Roll fried tofu, Vegetable Fried Rice (sorry, don't have the number for that one), 2008 Flat Rice Noodle with sautéed vegetables only (you'll have to make sure they understand that you don't want any meat in it), and 0813 Sautéed Ong Choy. (Tay Do Vietnamese yelp)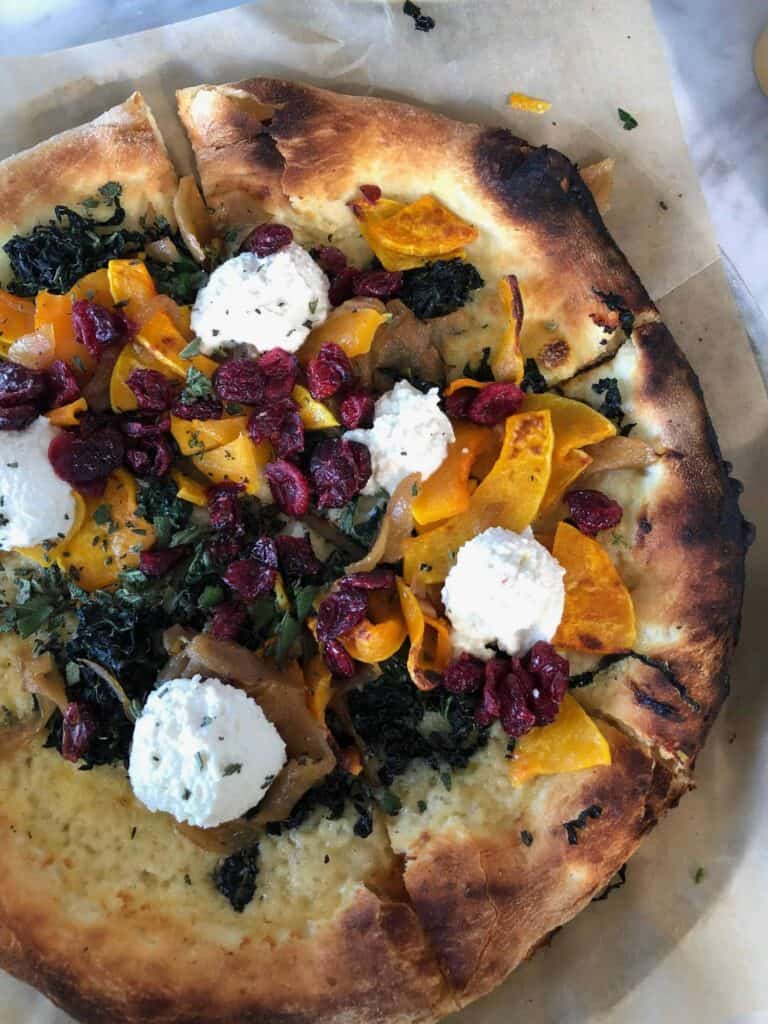 True Food Kitchen
1700 Post Oak Blvd. Houston, TX 77056 – tel: 281-605-2505 – A cool and healthy restaurant, with several vegan menu offerings. Our first time there we opted for the Butternut Squash Pizza with almond ricotta and the TLT (tempeh, lettuce, tomato) sandwich. Both delicious! They have many locations around the nation and a rewards program through Thanx app. (True Food Kitchen website)
Whole Foods Market
Many locations nationwide. Sometimes, Whole Foods Grocery is the best fast option for breakfast or lunch. While the salad and hot bars offer many options, they can get pricy once weighed. Here are my "Whole Foods on the Cheap Tips". For breakfast, choose the steel cut oatmeal. Use one of the small (under $2) or medium (under $3) soup containers and fill it to the brim to get your money's worth. I recommend layering to prevent having to stir it, which can get messy. My layers are usually (from bottom up): maple syrup, oatmeal, berries and nuts, maple syrup, oatmeal, lots of berries. For lunch, I usually go for the vegetarian sushi rolls (about $6), sliced veggie spring rolls (about $7) or vegan pizza slice (under $4). If they don't have vegan pizza out, they will usually make one for you, even if you just want to buy one slice. Enjoy! (Whole Foods Market website)