The perfect side to your favorite veggie burger, these quick and easy potato wedges are oil-free, plant-based and ready in under 30 minutes. Even quicker if you use your air fryer!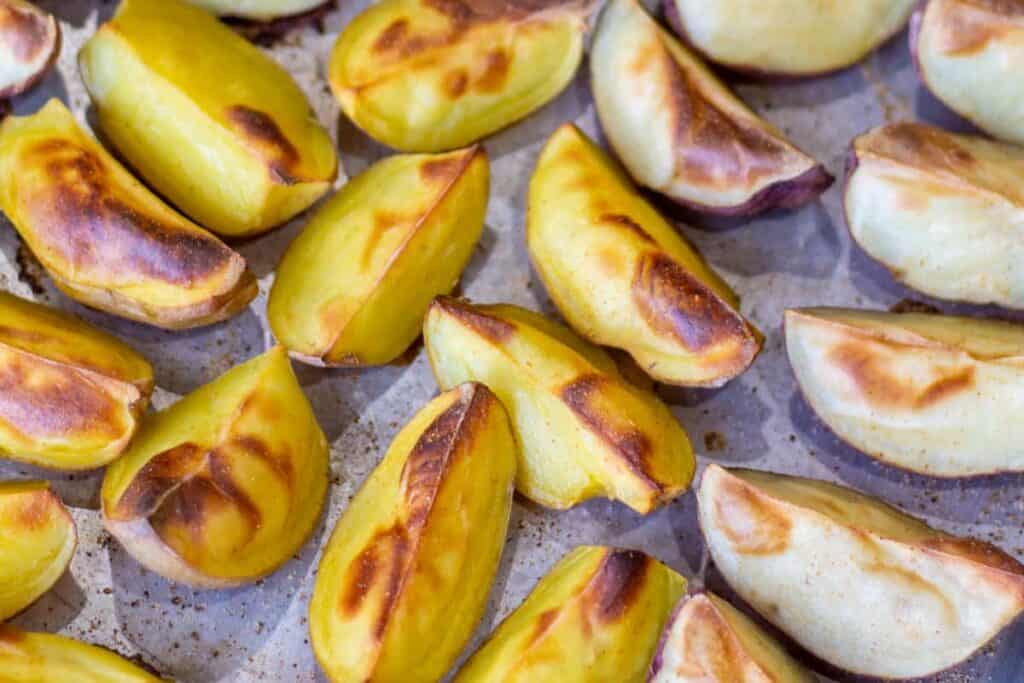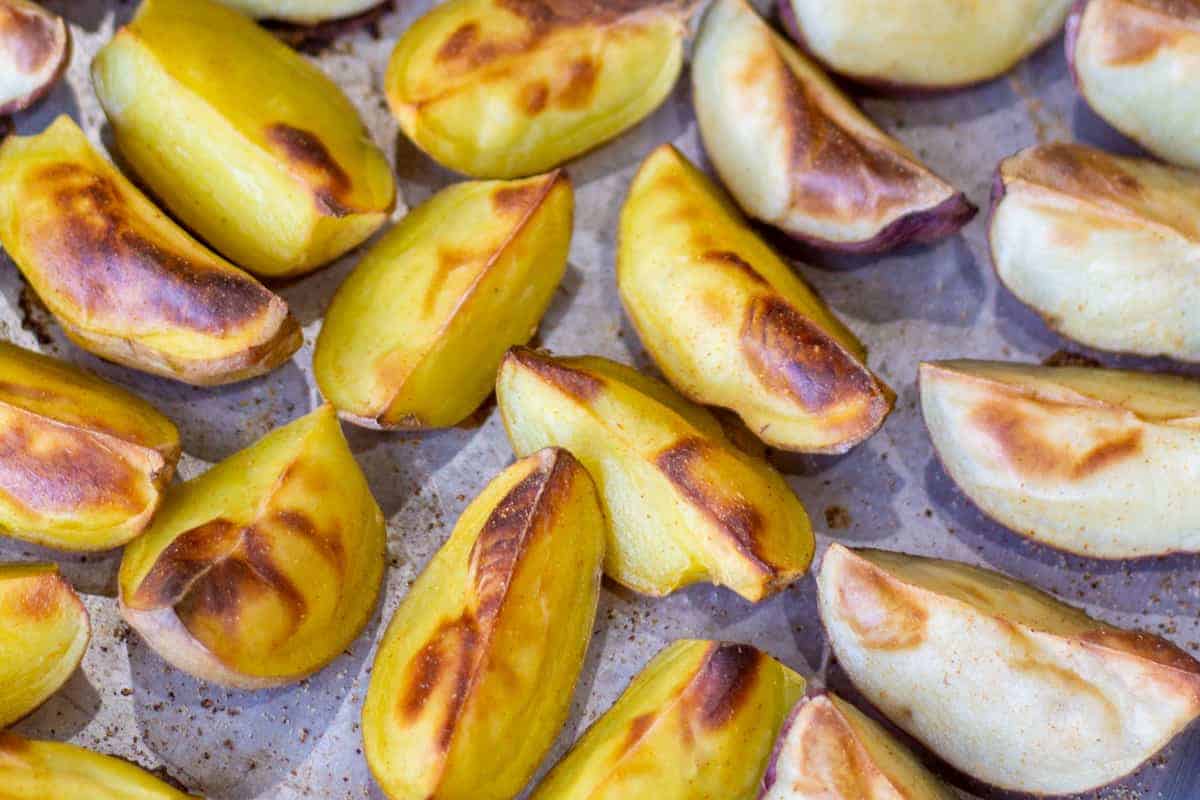 Jump to:
🔪 Instructions
How to roast potatoes without oil
Potato wedges can be roasted with no oil in the oven or in the air fryer!
Oven temperature: 425 F
If you have a convection oven with a fan, then 400 F with the fan on will be best.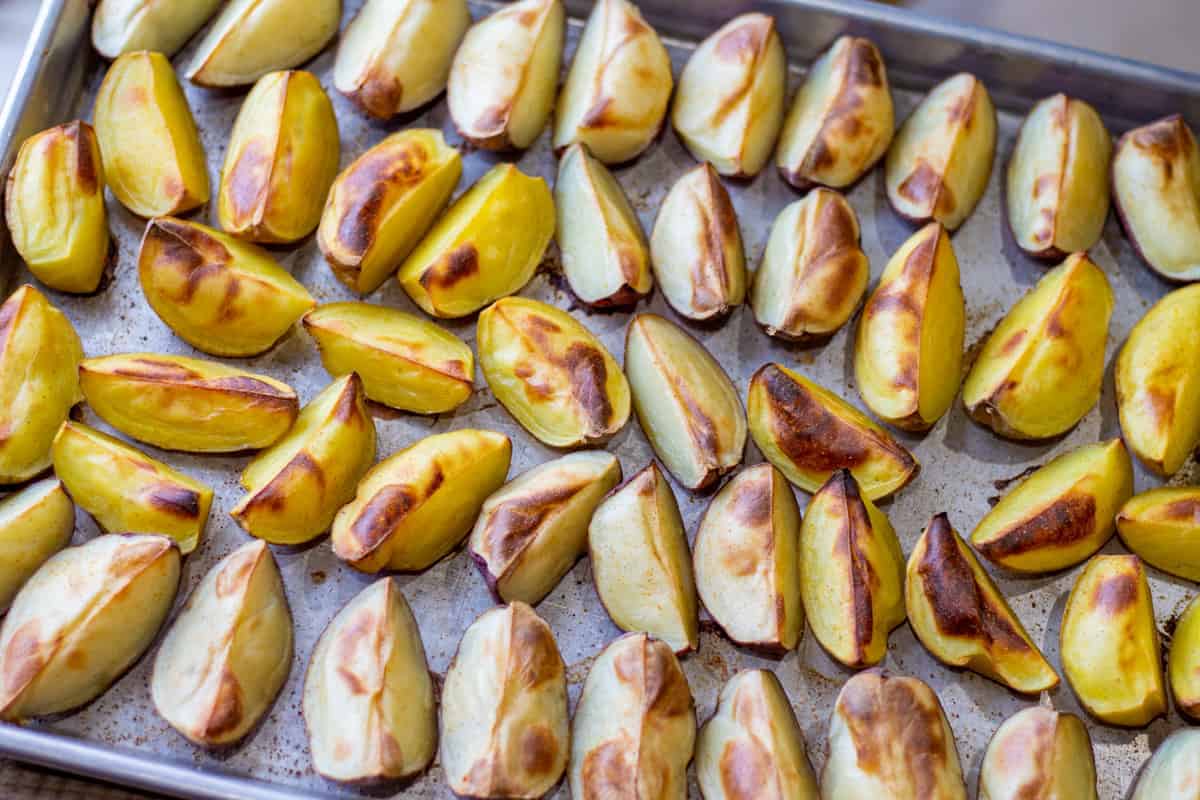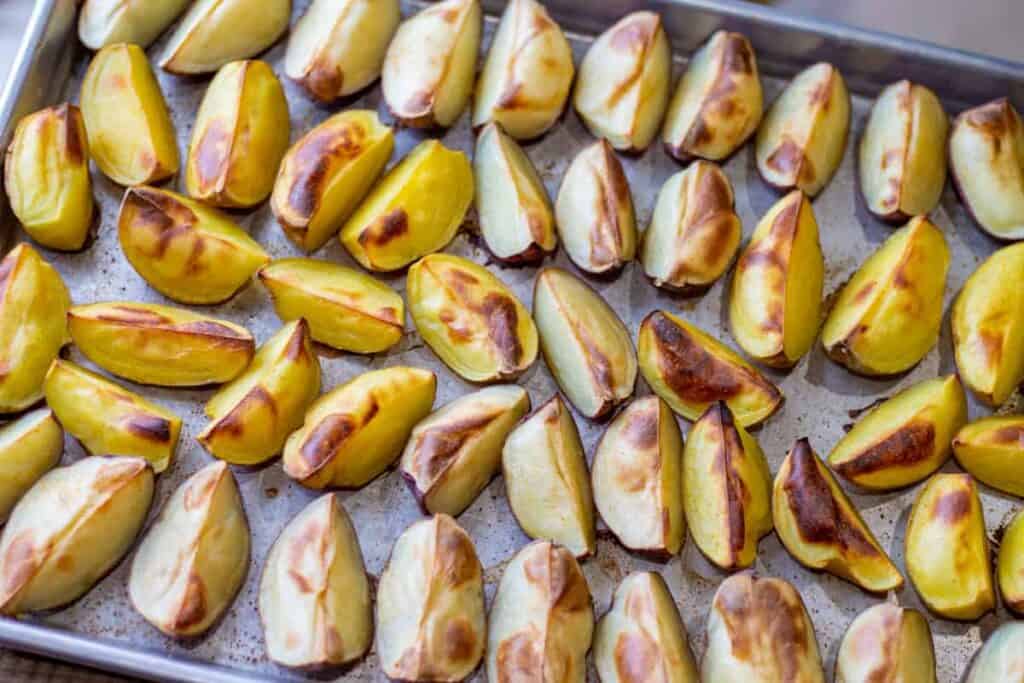 Air Fryer temperature: 400 F
Using the oven on a baking tray will take longer, but you can bake more at one time.
Using the air fryer will take less time, but you may have to do several batches, depending on how big your air fryer is.
So, if you are serving more than 2 people, I would suggest using the oven.
If you are serving 1-2 people, the air fryer is a quick option! Plus, you don't have to wait for it to preheat.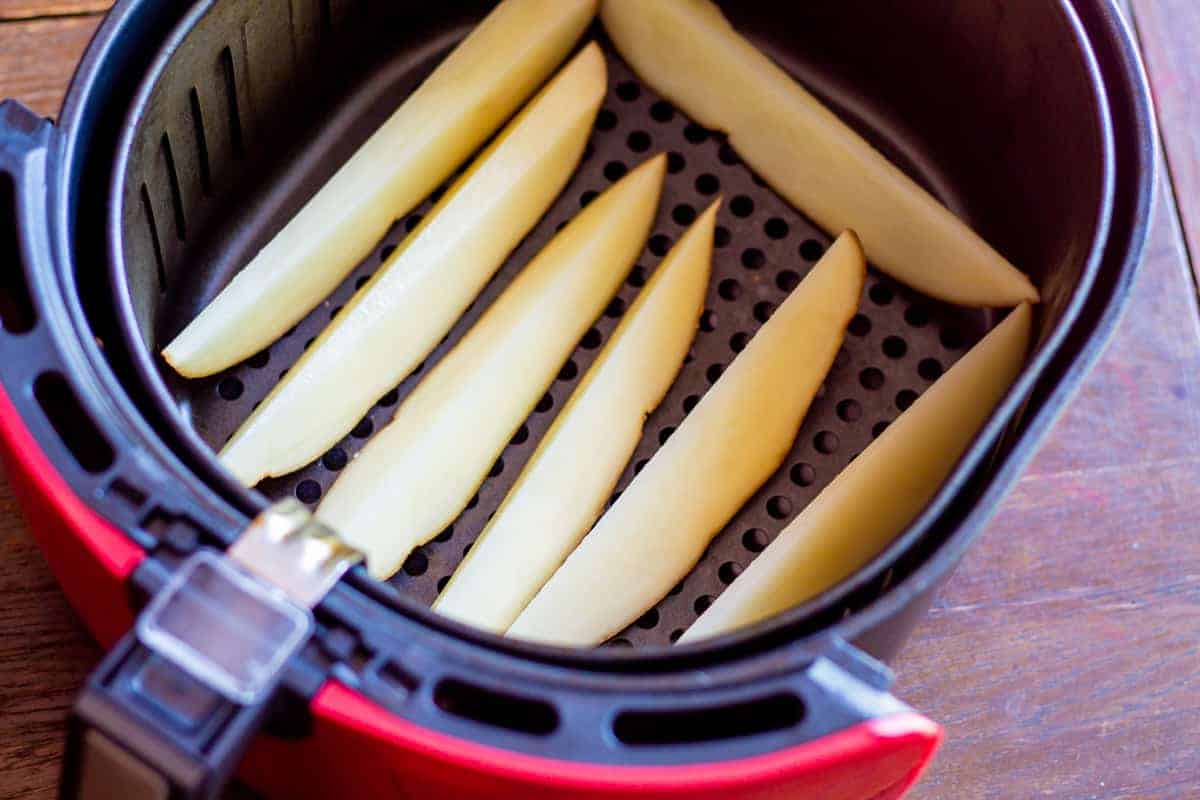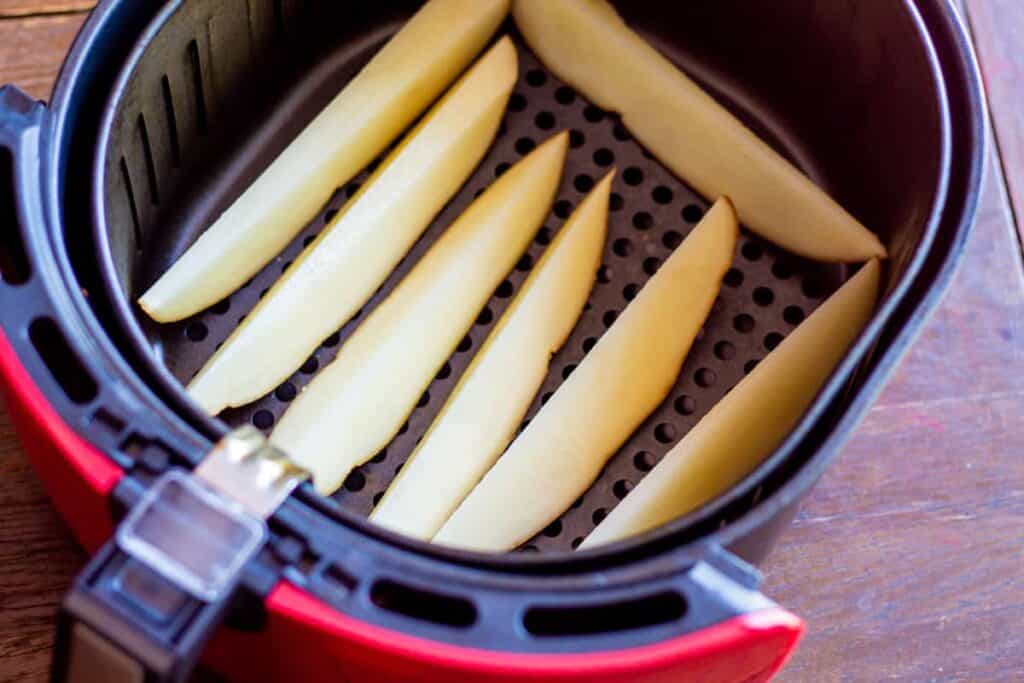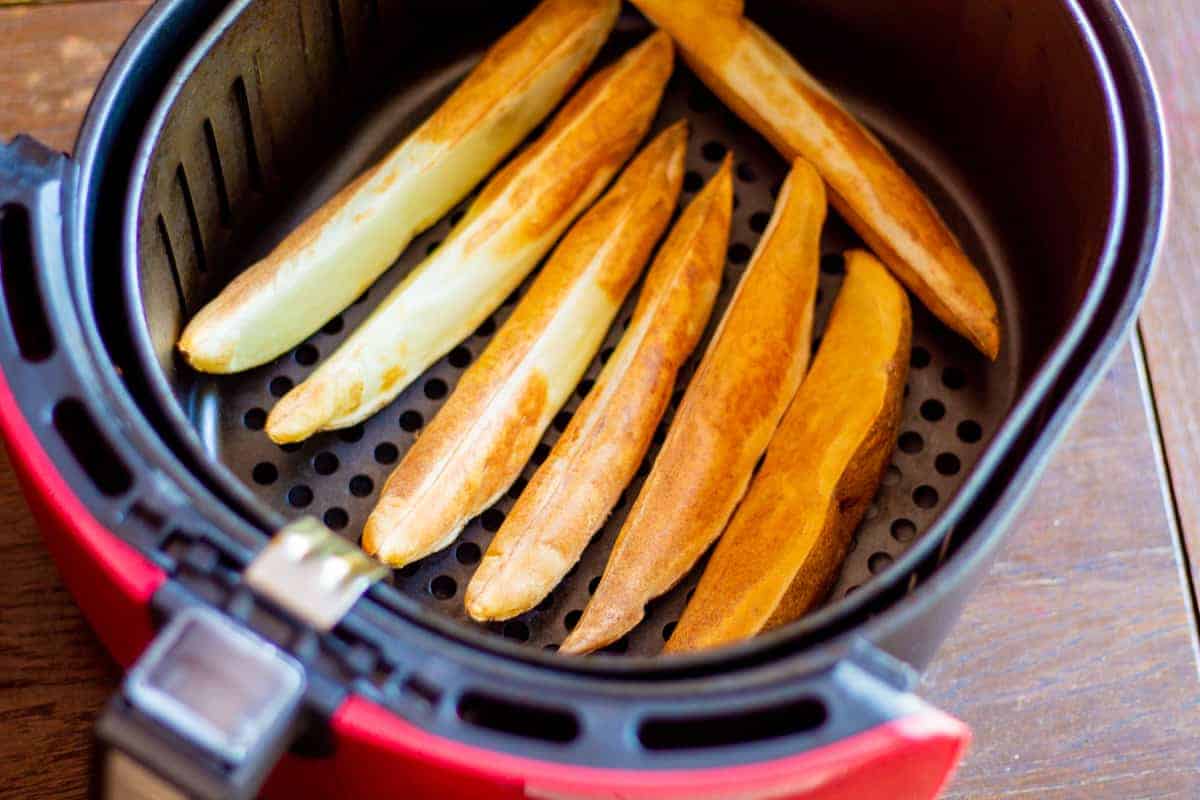 🔄 Variations
You can also roast smaller pieces of potatoes without oil the same way. You'll just need to reduce the baking or air frying time, since the pieces will be smaller.
Besides roasted potato wedges, I often cut the potatoes into cubes, about 1-2 inches wide and roast those with spices and salt. These are fantastic for adding to breakfast tacos, tofu scramble or eating as a side dish.
More vegan potato recipes without oil:
❓ FAQ
Can you roast potatoes without oil?
Yes! You don't need liquid of any kind to roast potatoes. Potatoes have quite a bit of "water" in them. The salt and seasonings will stick without oil.
The trick to prevent them from drying out is to cook at a higher temperature (400-425 F) for a shorter amount of time. If you cook at a lower temperature, the potatoes will dry out before browning. See recipe below for specific temperatures and times.
What kind of potato should I use?
You can use any kind of potato, like russet, red potatoes, gold potatoes, sweet potatoes.
We prefer Yukon Gold potatoes, because they have good consistency and a delightful buttery taste.
You can get fancy with all kinds of spices, but we also love them with just salt and pepper.
What can I season roasted potatoes with?
lowry's seasoned salt and parsley
Go greek with oregano, thyme, garlic, onion and marjoram
Or, spice them up with cayenne, garlic and onion powder
👨‍👩‍👦‍👦 Serving suggestions
These potato wedges without oil are the perfect side for our BBQ Kidney Bean Burgers!
Pair them with your favorite ketchup, BBQ sauce or even sriracha.
They're a filling and healthy breakfast, snack or side. So, make extra, as they keep in the refrigerator for up to 5 days.
💜 More recipes you'll love
Love this recipe? Please rate it 5 stars ⭐️⭐️⭐️⭐️⭐️ below in the recipe card. And, if you make it, please tag me on Instagram or Facebook in your posted photos! I would love to see your creations. 😄
📖 Recipe