Easy and simple, this maple oatmeal with banana is a plant-based breakfast to put on repeat. Oatmeal is healthy, filling, great for weight loss and inexpensive. Batch cook several portions and you'll have breakfast sorted for the whole week.
Jump to: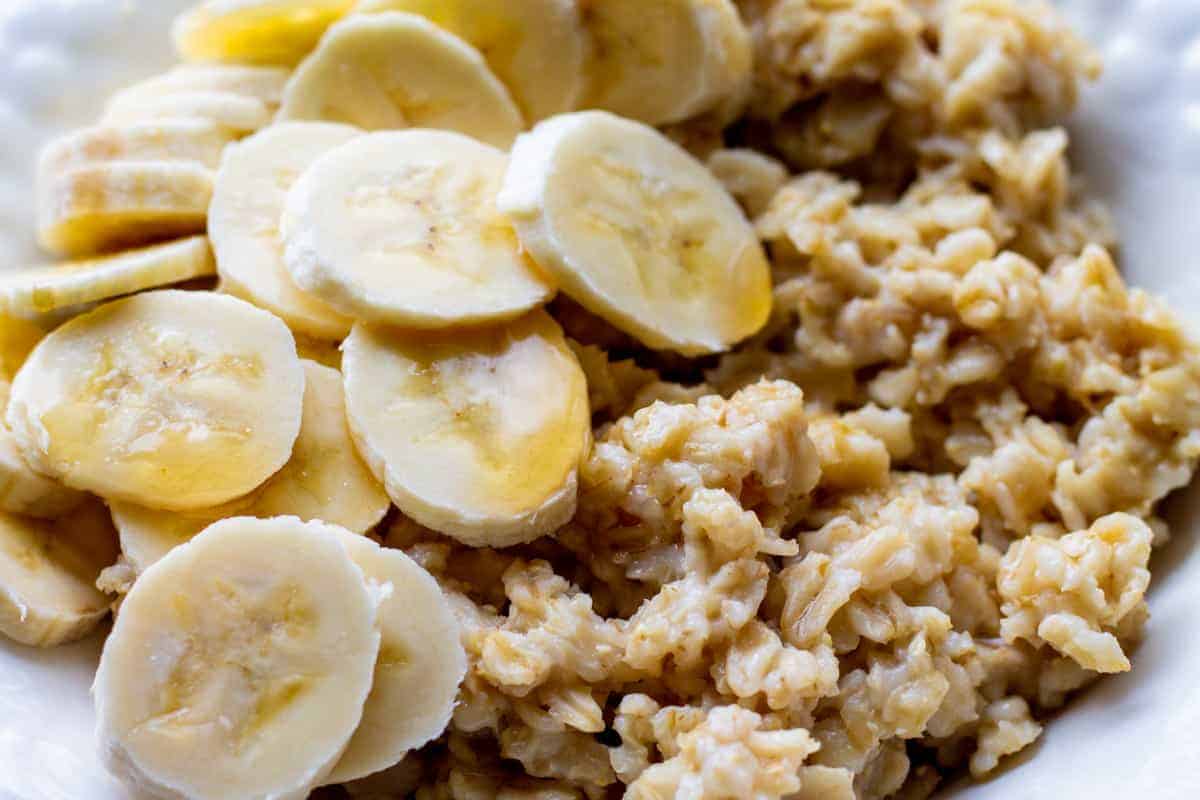 🧄 Ingredients
You'll need three main ingredients for this recipe:
If you are gluten-free, be sure to use rolled oats that are labeled gluten-free.
If you eat some refined sugar in your diet (I do!), use a little bit of both maple syrup and brown sugar for your own homemade maple brown sugar oatmeal. This way, you can control the sweetness, but still get the flavor you want.
Switch up the bananas and serve it with fresh blueberries, sliced strawberries, peaches or any fruit you like.
How to eat oatmeal for weight loss
Oatmeal cooked in water, served with fresh fruit and drizzle of maple syrup or other natural sweetener is vegan, plant-based and McDougall-compliant.
In fact, oatmeal is fantastic for weight loss, especially when paired with fresh fruit or a side of veggies.
Serving the starch, the oatmeal, like this reduces the calorie density of the meal.
As a 50/50 plate, I like to eat this oatmeal, along with a plate of lemon pepper asparagus.
❓ FAQ
What to add to maple brown sugar oatmeal?
Maple brown sugar oatmeal is delicious with sliced bananas, diced or sliced peaches, apples, blueberries or strawberries.
Is maple and brown sugar oatmeal vegan?
Yes, as long as the brown sugar is labeled vegan. Some sugar contains bone char and would not be considered vegan, so check the label. Pure maple syrup is 100% vegan.
Is oatmeal vegan?
Yes. Oatmeal is vegan, as long as you don't add animal products to it, like butter.
Is oatmeal a plant based food?
Yes, oatmeal is considered a plant-based food. Steel cut oats, rolled oats and even quick oats are whole or minimally processed grains. You'll need to check the labels of any prepared or pre-packaged oatmeal for highly processed ingredients that would not be considered whole foods plant-based.
Is oatmeal good for weight loss?
Yes! Serve the starch, the oatmeal, with fresh fruit to reduce the calorie density of the meal. As a 50/50 plate, try eating it with a plate of non-starchy vegetables to further assist in weight loss.
💜 More recipes you'll love
Try some of these other plant-based breakfast ideas, too!
Love this recipe? Subscribe here so you don't miss any new recipes!
Please rate it ⭐️⭐️⭐️⭐️⭐️ down below. ⬇️ And, if you make it, please tag me @veryveganish on Instagram in your posted photos! I would love to see your creations. 😄
📖 Recipe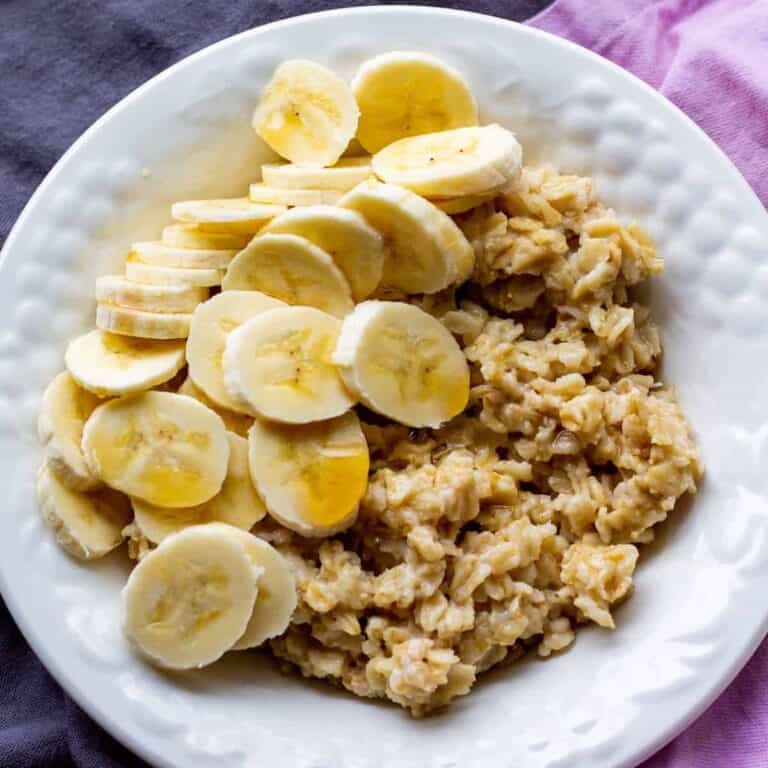 Simple Maple Oatmeal with Sliced Banana
Creamy and filling oatmeal is the perfect whole grain breakfast. Top with a little pure maple syrup and sliced bananas and it's a win!
Ingredients
4 cups water
2 cups oats, old fashioned rolled
pinch of sea salt
2 tablespoons maple syrup and/or brown sugar
¼ cup almond milk
2 sliced bananas
Instructions
Bring water to a boil in a medium saucepan.
Stir in the salt and oats. Reduce heat to low.
Simmer oats, stirring regularly, for 5-10 minutes, until thick and all the water has been absorbed. Remove from heat.
Serve each servings in bowls with a little bit of maple syrup and almond milk poured over the oatmeal. Slice half a banana on top of each bowl and you have a wonderful, filling whole grain breakfast!
Notes
Other toppings we enjoy: brown sugar, raisins, cinnamon, apples, strawberries, peaches, pecans, walnuts, nut butter
When reheating any leftovers, add a bit of almond milk to loosen it up as it will have gotten much thicker.
Nutrition Information:
Yield:

4
Serving Size:

1
Amount Per Serving:
Calories:

236
Total Fat:

3g
Saturated Fat:

1g
Trans Fat:

0g
Unsaturated Fat:

2g
Cholesterol:

0mg
Sodium:

47mg
Carbohydrates:

48g
Fiber:

6g
Sugar:

14g
Protein:

6g
Nutritional calculations are done using online tools, such as recipe widget Create. Even though we have tried to provide accurate nutritional information, these figures should be considered estimates.