Creamy and garlicky alfredo sauce made from cauliflower (no cashews! no flour!). This healthy cauliflower alfredo is a vegan, plant-based, oil-free sauce for fettuccini alfredo or creamy white shells or macaroni. It's also delicious as a base for a light puréed caulifower soup.
Jump to: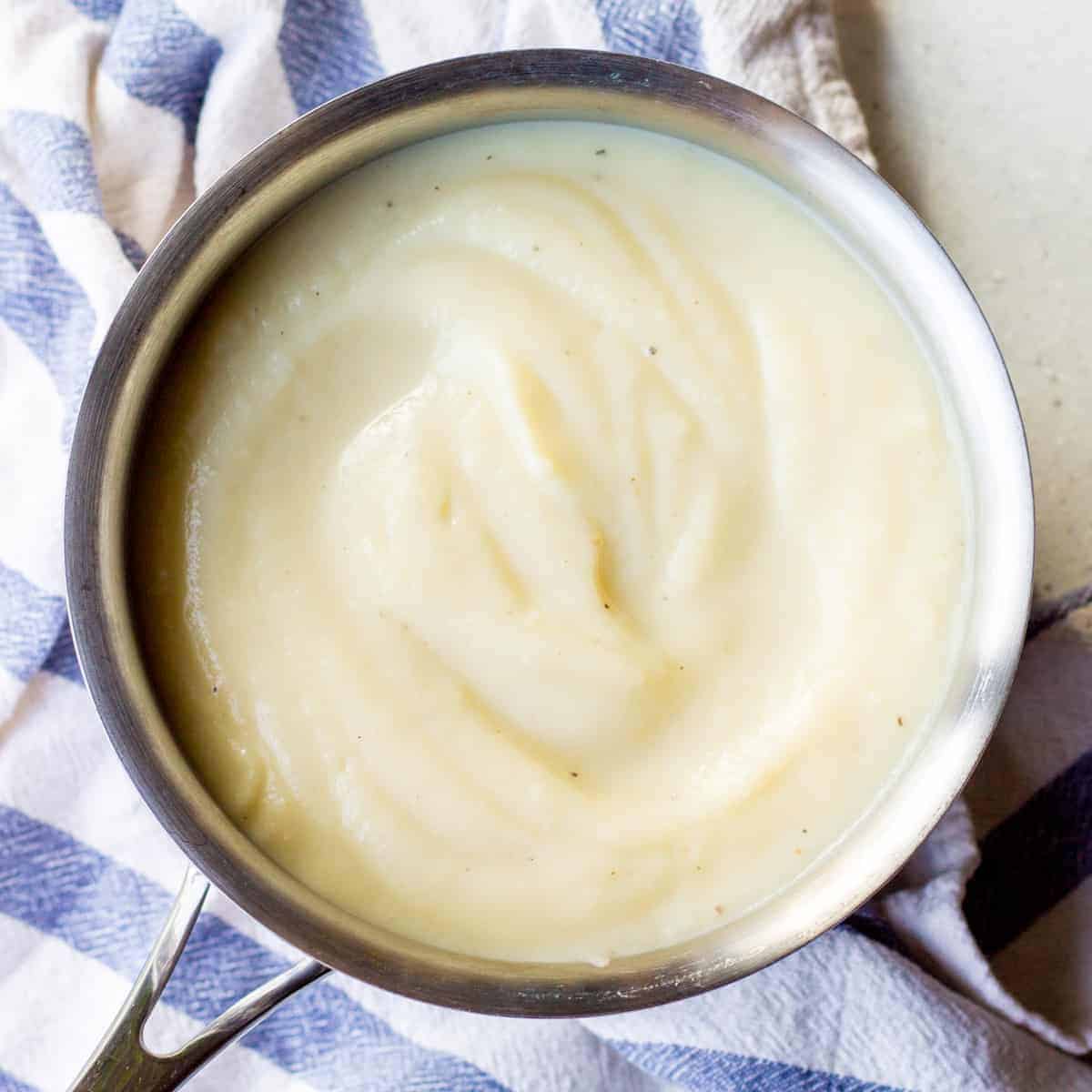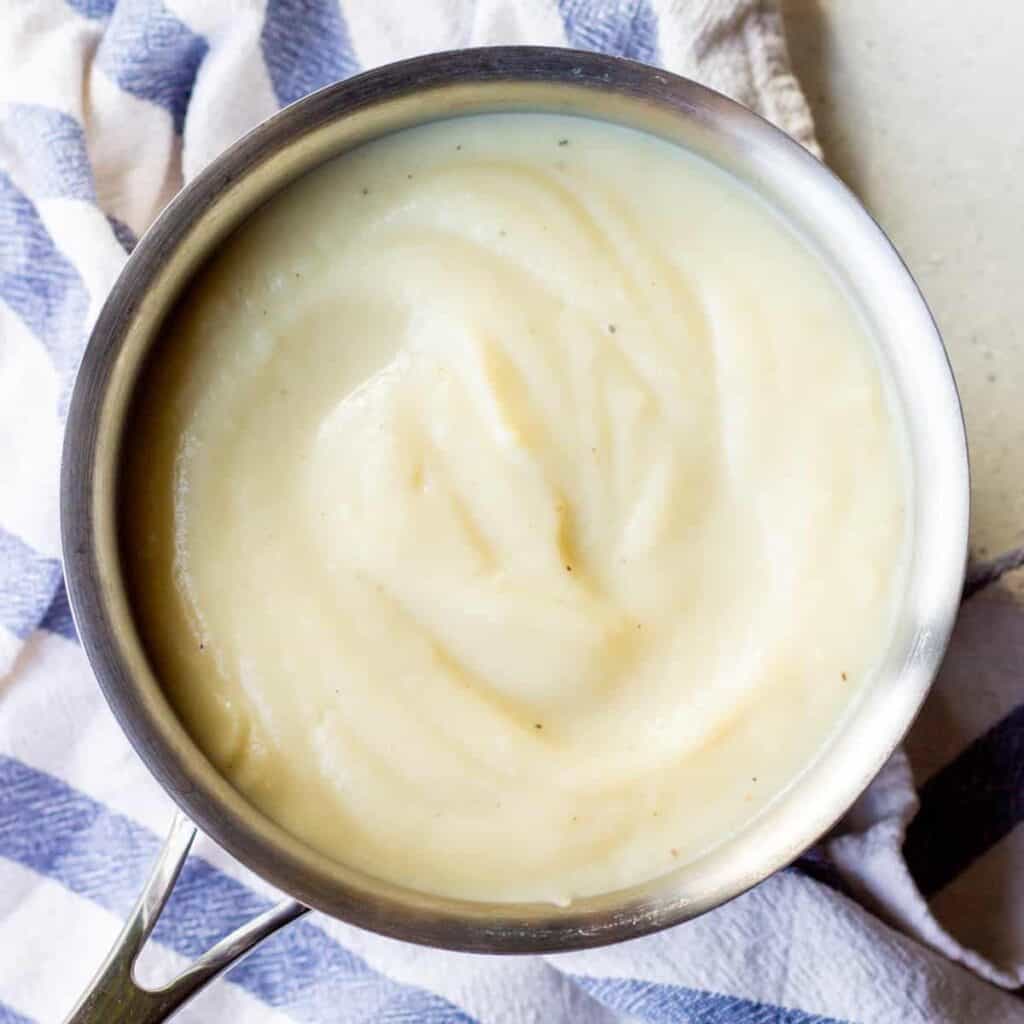 Guys, this sauce is so good. Simple, versatile, healthy and creamy plant-based alfredo sauce for pasta.
🧄 Ingredients
The sauce is made using just 3 ingredients (if you don't count salt and pepper):
cauliflower (fresh or frozen florets is fine)
garlic
unsweetened almond milk (or any unsweetened, unflavored plant-based milk of your choice)
You can use frozen cauliflower for this, as well, if you don't have fresh. There's no need to thaw it before hand.
Don't skimp on the garlic! In the recipe card, I've included instructions for what to do with the garlic if you like a strong garlic flavor or if you want a more mild garlic flavor.
For a nut-free version, be sure to use a nut-free plant-based milk, such as oat milk or soy milk. Be sure your milk is unsweetened and unflavored (not vanilla, etc.)
⏯ Video
🔪 Instructions
First, you'll boil the cauliflower until fork tender in water. Then, drain the water and add the cauliflower to a blender with the garlic, milk and salt and pepper.
You can use an inversion blender for this, but it's best to blend it in a full blender to get the sauce very smooth. My Blendtec on the soup setting makes it ultra-smooth and almost frothy.
Pour this sauce over cooked pasta of your choice (fettuccini, linguini, rigatoni, macaroni or shells) and I dare you not to grab a fork and eat it straight out of the pan.
Make it in the Instant Pot (no drain!)
Yes, you can make this in the Instant Pot! In fact, I'm finding that it's a little easier to do it there and there's less dishes to clean, since I use an immersion blender to puree the sauce.
Give it a try, if you have a pressure cooker!
👨‍👩‍👦‍👦 Serving suggestions
What kind of pasta goes best with Alfredo sauce?
While fettuccini is traditionally used with Alfredo sauce in restaurants, I actually prefer linguini, personally. We have also used rigatoni, penne, bowties, shells and macaroni with this sauce.
What vegetables go good with alfredo sauce?
sautéed mushrooms
steamed green peas
asparagus
steamed broccoli
sweet corn kernels
chopped kale
chopped spinach (fresh or frozen)
red bell peppers (for a bit of color and sweetness)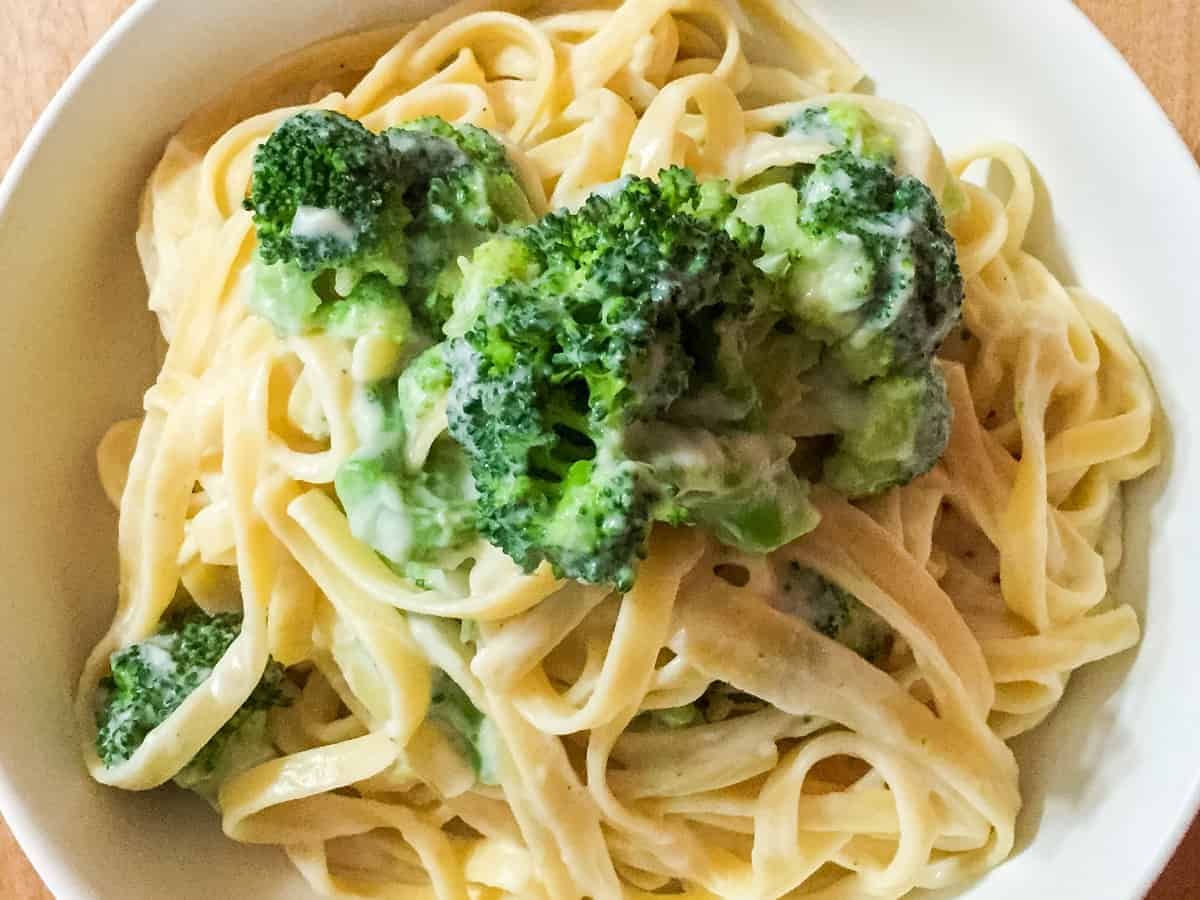 But, you're certainly not limited to pasta. This sauce can be poured over steamed broccoli for a creamy vegetable side dish. Or, pour it over rice for creamy rice.
Alone, this recipe is a simple puréed cauliflower garlic soup, light and refreshing.
My husband loves it baked with thinly sliced potatoes into an au gratin. I did say it was versatile, didn't I?
We make this several times a month in our house, since it's so incredibly tasty, healthy and simple.
💜 More recipes you'll love
Love this wfpb alfredo sauce? Try more of my oil-free pasta sauces, dips and condiment recipes.
Love pasta? Try one of my vegan pasta recipes! Most of the recipes on my site are oil-free as tested and written. A few are not, but I'm working on oil-free versions for those.
Love this recipe? Subscribe here so you don't miss any new recipes!
Please rate it ⭐️⭐️⭐️⭐️⭐️ down below. ⬇️ And, if you make it, please tag me @veryveganish on Instagram in your posted photos! I would love to see your creations. 😄
📖 Recipe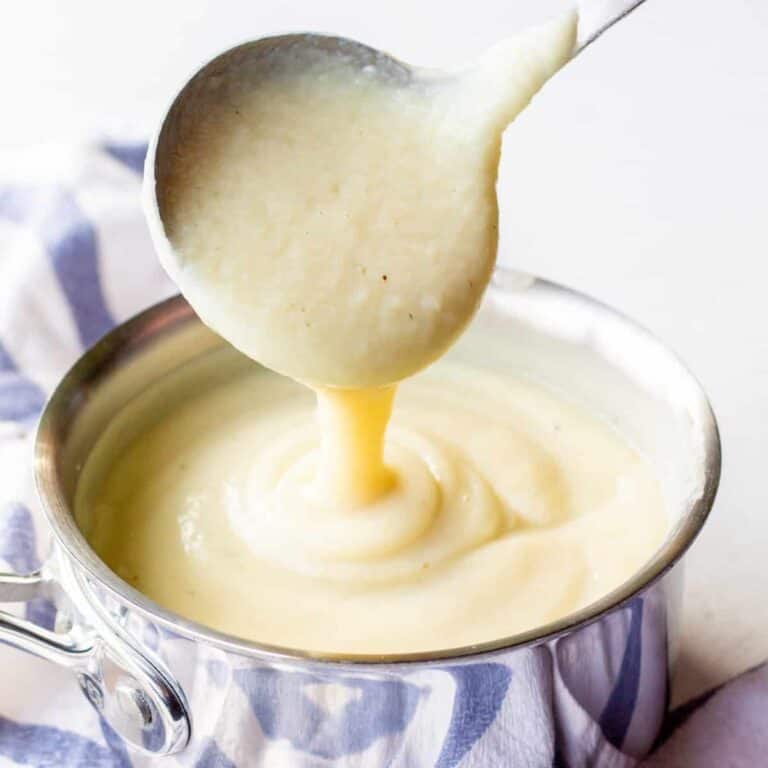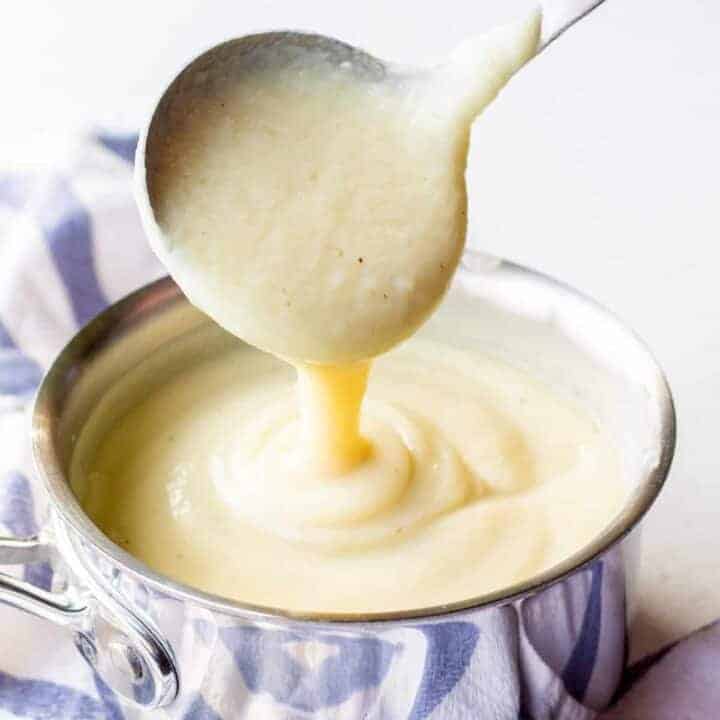 Vegan No Oil Creamy Cauliflower Alfredo Sauce
Creamy vegan cauliflower alfredo sauce made with no oil, no cashews. Drench pasta in this creamy sauce for a slurp-worthy dinner. Plant-based, WFPB and McDougall friendly.
Ingredients
1 large cauliflower, broken into florets/pieces (about 2 pounds or 9 cups fresh or frozen)
1 head garlic, coarsely chopped (8 large cloves or ¼ cup)
½ cup of almond milk, or other plant-based milk
½ teaspoon sea salt
⅛ teaspoon black pepper
pinch ground nutmeg (optional)
Instructions
Stovetop Instructions
Add cauliflower to stockpot and cover with water. Boil over high heat until tender.
For a strong garlic flavor, leave the garlic raw and add it straight to the blender. For a milder garlic flavor, gently sauté garlic in small pan until fragrant. Add tablespoon of water, if garlic starts to stick. Cook only until garlic is fragrant or starting to brown on the edges, do not overcook or burn. Or, you can add the garlic to the boiling cauliflower in the last 5 minutes before you drain it, to cook it up a bit and take the raw taste out.
Drain cauliflower and add to blender, along with sautéed garlic, almond milk and salt and pepper. Blend for about 60 seconds, or until completely pureed and smooth. Taste and add additional salt and/or pepper, as needed.
Serve tossed with pasta (fettuccini, linguini, macaroni, rigatoni are all good options). Top pasta with (or serve as a side) steamed broccoli, sweet green peas and/or sautéed mushrooms.

Instant Pot Instructions
Add cauliflower florets and ½ cup of water to Instant Pot insert. For a mild garlic flavor, add garlic now and steam it along with the cauliflower. For a strong garlic flavor, add garlic just before blending (see below). Cover and lock lid and set the vent to "sealing".
Press "Steam" function and set to 2 minutes.
When it's done steaming, allow to naturally release pressure for 5 minutes. Then, using a long spoon, turn the vent to "venting". Be careful of the steam!
Open lid and add almond milk, salt, pepper. Now add raw garlic, for that strong garlic flavor.
Blend sauce until smooth with an immersion blender. You may need to remove the insert and tilt it to one side to prevent splashes. Or, transfer all ingredients to a blender and blend until smooth.
Serve tossed with pasta (fettuccini, linguini, macaroni, shells, rigatoni). Top pasta with (or serve as a side) steamed broccoli, sweet green peas and/or sautéed mushrooms.
Notes
This sauce recipe will coat one pound of pasta.
This is delicious with sautéed mushrooms, peas, asparagus or broccoli.
This sauce can be used not just with pasta, but also rice, as a base for creamy soups, as a base for gravy, poured over steamed broccoli, or baked with thinly sliced potatoes into an au gratin.
The small pinch of ground nutmeg is optional, but traditional in European white bechamel type sauces.
Nutrition Information:
Yield:

5
Serving Size:

1 cup
Amount Per Serving:
Calories:

78
Total Fat:

2g
Saturated Fat:

1g
Trans Fat:

0g
Unsaturated Fat:

1g
Cholesterol:

4mg
Sodium:

264mg
Carbohydrates:

12g
Fiber:

4g
Sugar:

4g
Protein:

5g
Nutritional calculations are done using online tools, such as recipe widget Create. Even though we have tried to provide accurate nutritional information, these figures should be considered estimates.