Healthy, creamy and garlicky alfredo sauce. A vegan, plant-based, oil-free alternative to create the amazing comfort food that is fettuccini alfredo.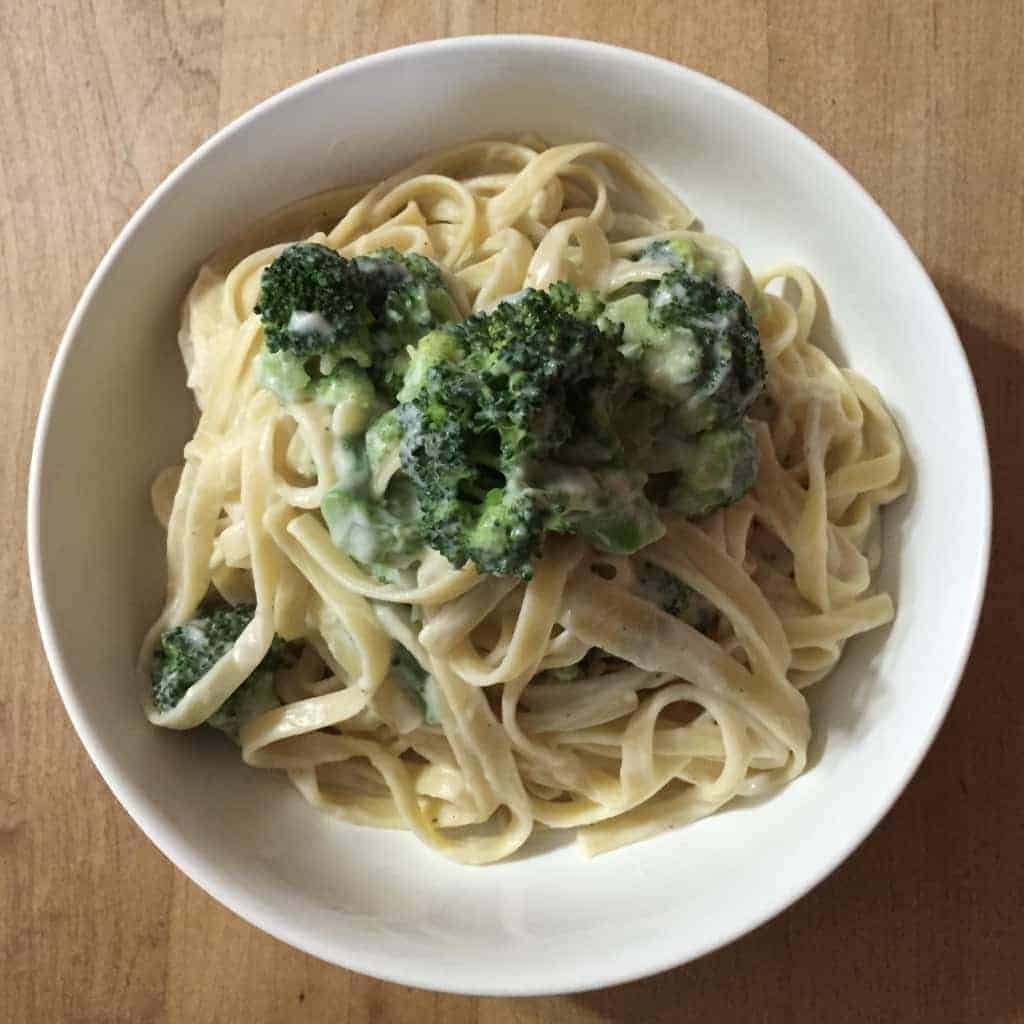 Guys, this sauce is so good. Simple, versatile, healthy and creamy.
I'm calling it Creamy Cauliflower Alfredo Sauce, because most of the time, I slather this over pasta. Because, PASTA.
There are many iterations of a cauliflower sauce online, but where I first saw it used this way was over on Pinch of Yum. While I liked her version a lot because it opened my eyes to how delicious cauliflower sauce was, it was loaded with butter and not garlicky enough for me.
At first, I was substituting olive oil for the butter, but now that we're doing our utmost to remove added oils from our diet, a new version was needed.
This sauce is so popular in my house that I buy cauliflower in bulk, just to have it on hand. You can use frozen cauliflower for this, as well, if you don't have fresh.
So, I decided to make a vegan, no added oil version and here it is!
The sauce is made using just three ingredients (if you don't count salt and pepper):
Cauliflower
Garlic

Almond Milk

(or any plant-based milk of your choice)
You can use an inversion blender for this, but my Blendtec on the soup setting makes it ultra-smooth and almost frothy.
Pour this sauce over fettuccini and I dare you not to grab a fork and eat it straight out of the pan.
While fettuccini is traditionally used with Alfredo sauce in restaurants, I actually prefer linguini, personally. We have also used rigatoni, penne, bowties and macaroni with this sauce.
As far as add-ins go with the pasta, we enjoy it topped with sautéed mushrooms, peas, asparagus or broccoli.
But, you're certainly not limited to pasta. This sauce can be poured over steamed broccoli or rice. It can be used as a base for creamy soups or a no-flour gravy. My husband loves it baked with thinly sliced potatoes into an au gratin. I did say it was versatile, didn't I? We make this several times a month in our house, since it's so incredibly tasty and simple.
Enjoy!
Vegan No Oil Creamy Cauliflower Alfredo Sauce
Creamy vegan alfredo sauce made with no oil or nuts. Drench pasta in this creamy sauce for a slurp-worthy dinner. Plant-based and McDougall friendly.
Ingredients
1 large head cauliflower, broken into florets/pieces (about 2 pounds or 9 cups)
1 head garlic, coarsely chopped (8 large cloves or ¼ cup)
½ cup of almond milk, or other plant-based milk
salt and pepper
Instructions
Add cauliflower to stockpot and cover with water. Boil over high heat until tender.
Meanwhile, gently sauté garlic in small pan until fragrant. Add tablespoon of water, if garlic starts to stick. Cook only until garlic is fragrant or starting to brown on the edges, do not overcook or burn.
Drain cauliflower and add to blender, along with sautéed garlic, almond milk and salt and pepper. Blend for about 60 seconds, or until completely pureed and smooth. Taste and add additional salt and/or pepper, as needed.
Serve tossed with pasta (fettuccini, linguini, macaroni, rigatoni are all good options). Top pasta with (or serve as a side) steamed broccoli, sweet green peas and/or sautéed mushrooms.
Notes
This is delicious with sautéed mushrooms, peas, asparagus or broccoli. This sauce can be used not just with pasta, but also rice, as a base for creamy soups, as a base for gravy, poured over steamed broccoli, or baked with thinly sliced potatoes into an au gratin.
Nutrition Information:
Yield:

5
Serving Size:

1 cup
Amount Per Serving:
Calories:

78
Total Fat:

2g
Saturated Fat:

1g
Trans Fat:

0g
Unsaturated Fat:

1g
Cholesterol:

4mg
Sodium:

112mg
Carbohydrates:

12g
Fiber:

4g
Sugar:

4g
Protein:

5g
Nutritional calculations are done using online tools, such as recipe widget Create. Even though we have tried to provide accurate nutritional information, these figures should be considered estimates.