Creamy and savory, this conchiglie pasta in cauliflower béchamel sauce with kale and corn is as yummy as it is healthy. The creamy and light béchamel sauce is dairy-free, vegan and oil-free, so feel free to drench your pasta with it.
Kale is surprisingly delicious in pasta, we frequently add it to our vegan mac and cheese, too. If you're not a fan of kale on it's own, give it a try with pasta. You might be surprised at it's tenderness and how well the slight bitterness pairs so well with the sweet corn and silky creamy pasta.
Béchamel sauce, or besciamella in Italian, is a white sauce traditionally made of butter, milk and flour. This "mother sauce" is used in many different dishes, like lasagne.
This cauliflower béchamel sauce is a vegan, low calorie alternative that does not require fat to bring the sauce together, but is inspired by traditional white sauce. We've used it to smother conchiglie (shells) pasta, kale and corn.
Jump to:
🧄 Ingredient notes
Conchiglie pasta - shell pasta works really well with the creamy béchamel sauce, since the concave shape of the pasta scoops up the sauce, along with the small pieces of corn and kale.
Cauliflower - Fresh cauliflower makes up the bulk of the sauce, so it is a light and veggie-loaded option for a pasta sauce. Use pre-cut cauliflower florets to save time prepping.
Ground nutmeg - a pinch of nutmeg is authentic and traditional to béchamel sauces, but you can omit it, if you don't have it. Also, only use a pinch! Don't go overboard.
📋 Substitutions and variations
Here are some suitable substitutions for the ingredients:
Conchiglie pasta - use medium shells (another name for Italian conchiglie) or another medium sized pasta, like casarecce, gemelli, penne, rotini, gigli or campanelle. You could also use whole wheat or gluten-free pasta instead, if you prefer.
Cauliflower - use 32 ounces (2 pounds or about 8-9 cups) frozen cauliflower florets/pieces instead of fresh
Garlic cloves - substitute with minced garlic (1-2 teaspoons) or ½ teaspoon garlic powder
Ground nutmeg - omit if you don't have it
Almond milk - substitute with another unsweetened, unflavored plant-based milk like oat milk, soy milk. You'll want to use a neutral-tasting milk here.
Kale - substitute with spinach, swiss chard or other greens, broccoli or frozen California blend, frozen green peas, cooked asparagus, cooked mushrooms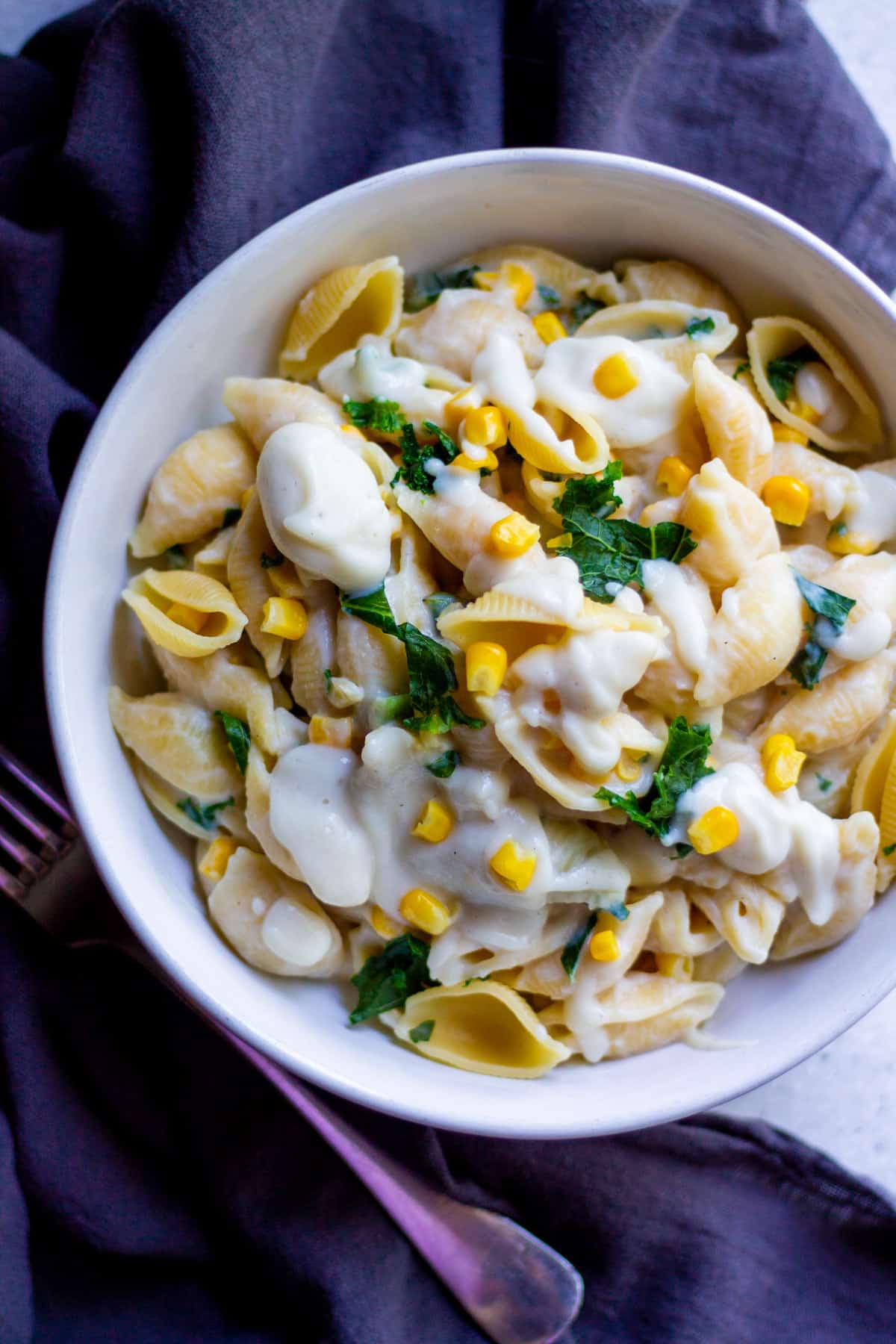 Here are some ideas for variations on this recipe:
Creamy broccoli pasta - use broccoli instead of kale and corn
Creamy asparagus and pea pasta - use sauteed asparagus and green peas instead of kale and corn
Smoky - add smoked paprika (sweet or spicy) when blending sauce
Spicy - add ground cayenne when blending sauce
TexMex creamy pasta - add taco seasoning when blending sauce, then mix in diced red bell peppers to the finished dish
Creamy pesto pasta - after combining sauce, veggies and pasta, stir in 2 tablespoons prepared vegan pesto
⭐️ Expert tips
Be sure to cook the cauliflower until it's tender, so you have a smooth, creamy sauce.
Reserve leftover cauliflower béchamel sauce to add to reheated pasta the next day, as the pasta will soak up most of the sauce as it is stored in the refrigerator.
🍳 Equipment
🥡 Make ahead and storage tips
Make this pasta ahead of time and store in the refrigerator for up to 5 days. The pasta will dry out a bit in the refrigerator, so it's best to reserve some sauce to mix in when reheating the pasta in the microwave. If you don't have any extra sauce, add a tablespoon of plant-based milk to re-hydrate.
The cauliflower sauce can be made ahead of time and stored in the refrigerator. It's good stored in the fridge in an airtight container for up to 5 days. To re-heat, pour sauce in a sauce pan and heat on low heat.
☕️ Tea pairing
This recipe would be delicious paired with iced black tea.
❓ FAQ
Is béchamel sauce vegan?
No, traditional béchamel is made with butter and dairy milk, which are animal products and not vegan.
What is cauliflower béchamel?
Cauliflower béchamel is an alternative way of making traditional white sauce (also known as béchamel or alfredo sauce). It uses cauliflower as the base, instead of the typical flour, milk and butter.
What is conchiglie pasta used for?
Conchiglie pasta is excellent for creamy sauces, macaroni and cheese, baked pasta dishes, pasta salad and adding to soups.
What shape is the pasta called conchiglie?
Seashell or conch shape, with ridges on the outside and smooth inside. Conchiglie is Italian for "shells". Conchiglie is specifically medium shells. Conchigliette is the term for small shell pasta. Conchiglioni is the term for jumbo shell pasta.
Can I use conchiglie instead of macaroni?
Yes, you can use conchiglie (medium shell) pasta instead of macaroni, although you will likely need to boil it a few minutes longer than you would macaroni, to get it al dente.
💜 More recipes you'll love
If you love this creamy vegan pasta recipe, check out these plant-based pasta recipes!
Love this recipe? Please rate it 5 stars ⭐️⭐️⭐️⭐️⭐️ below in the recipe card. And, if you make it, please tag me on Instagram or Facebook in your posted photos! I would love to see your creations. 😄
📖 Recipe
Conchiglie Pasta in Cauliflower Béchamel Sauce with Kale and Corn
Creamy and savory, this conchiglie pasta in cauliflower béchamel sauce with kale and corn is as yummy as it is healthy. The creamy and light béchamel sauce is dairy-free, vegan and oil-free, so feel free to drench your pasta with it.
Ingredients
16

ounces

conchiglie pasta

also known as medium shells

1

whole head of cauliflower

broken into florets (about 2 pounds or 9 cups)

½

teaspoon

sea salt

⅛

teaspoon

freshly cracked black pepper

2-3

cloves

garlic

coarsely chopped, optional

pinch

nutmeg

optional

½

cup

almond milk

unsweetened, unflavored, plain

4

cups

kale

chopped

12

ounces

sweet corn kernels

frozen or canned, drained
Instructions
Start making the cauliflower béchamel sauce first: Add cauliflower to medium saucepan and cover with water. Bring to a boil. Turn heat to medium and gently boil the cauliflower until it is fork tender.

1 whole head of cauliflower

Meanwhile, for the pasta, bring a large pot of well-salted water to a boil. Cook conchiglie (shell) pasta according to package instructions.

16 ounces conchiglie pasta

For the kale and corn: When pasta has 2 minutes left to cook, stir in the kale and corn to allow it cook along with the pasta.

4 cups kale,

12 ounces sweet corn kernels

Drain cauliflower. Transfer drained cauliflower to blender, along with salt, pepper, garlic, nutmeg (if using) and almond milk. Blend until completely smooth and thick.

1 whole head of cauliflower,

½ teaspoon sea salt,

⅛ teaspoon freshly cracked black pepper,

2-3 cloves garlic,

pinch nutmeg,

½ cup almond milk

Reserve 1 cup of pasta water before draining pasta. Drain pasta, kale and corn in large colander and then return to pot.

Place pot over low heat. Pour enough of the cauliflower béchamel sauce into the pasta to coat everything. You may or may not have some leftover. Add ¼ cup reserved pasta water, if needed. Stir and then taste it. Adjust salt and pepper, to taste. Turn off heat. Serve hot.
Notes
Use any remaining béchamel sauce to stir into leftovers, as the pasta will soak up the sauce and be drier the next day. If you don't have any leftover, use almond milk to moisten any leftover pasta.
Nutrition
Serving:
1
portion
Calories:
544
kcal
Carbohydrates:
108
g
Protein:
22
g
Fat:
5
g
Saturated Fat:
1
g
Polyunsaturated Fat:
2
g
Monounsaturated Fat:
1
g
Sodium:
591
mg
Potassium:
1035
mg
Fiber:
11
g
Sugar:
10
g
Vitamin A:
6732
IU
Vitamin C:
134
mg
Calcium:
269
mg
Iron:
3
mg