Easy and delicious, this casarecce pasta with Mediterranean vegetables will transport you to Europe. As yummy as it is healthy, this veggie pasta recipe is plant-based, vegan and oil-free.
Jump to: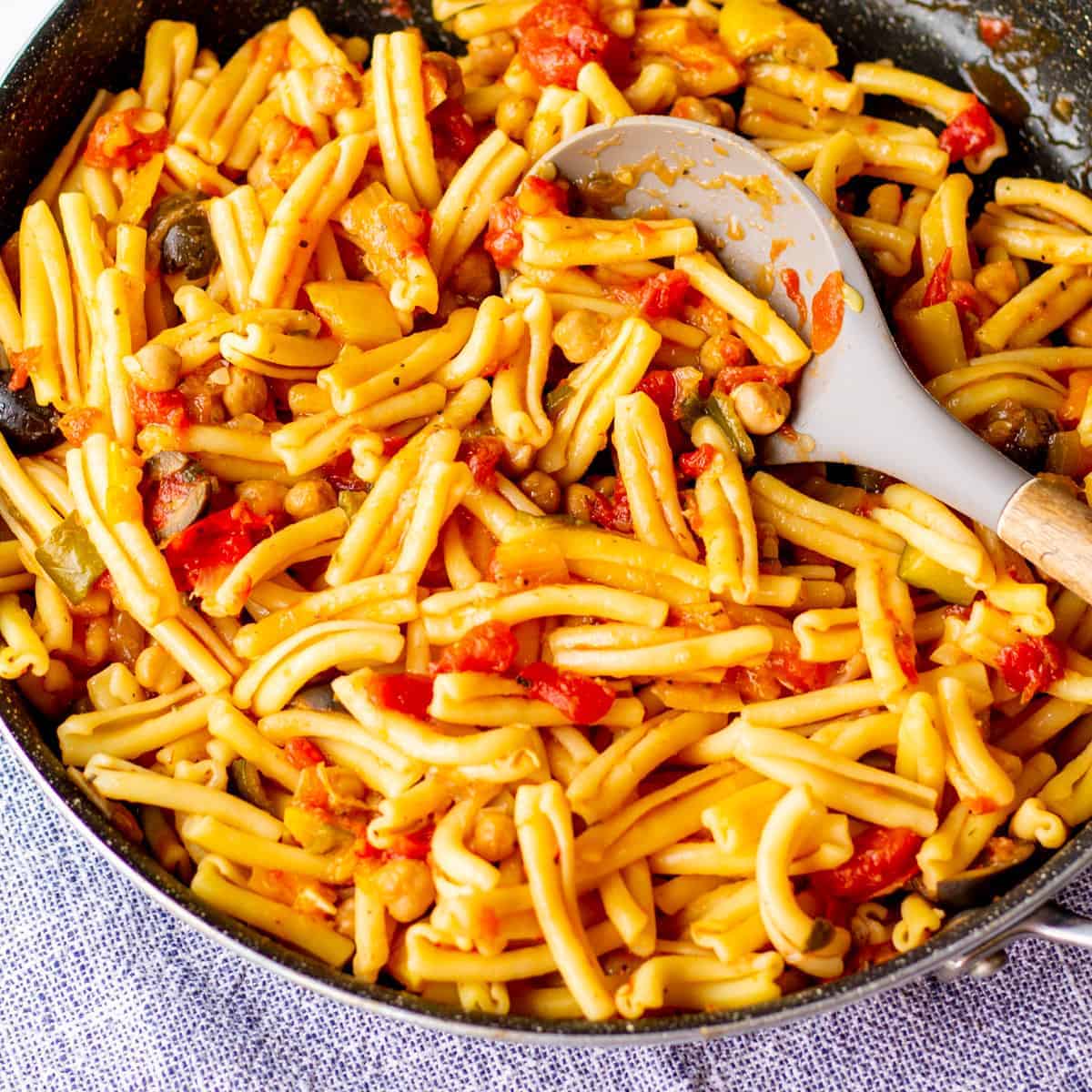 🧄 Ingredient notes
To make this vegetable pasta recipe, you'll need the following ingredients.
casarecce pasta (also known as "casareccia pasta" - substitute with other small/medium pasta like fusilli, farfalle, penne, orecchiette, ziti, rigatoni, rotini or shells)
onion
garlic
sweet bell pepper
zucchini or yellow summer squash
canned chickpeas (garbanzo beans)
canned diced tomatoes
sliced black olives
capers (optional, but recommended)
dried basil
dried oregano
brown sugar (or other sweetener, optional)
sea salt and black pepper
Looking for the measurements? Please scroll down to the recipe card at the end of this post for the ingredient quantities.
🍳 Equipment
You'll need the following equipment to make this vegan pasta recipe:
🔪 Instructions
How do you make a plant-based casarecce pasta with Mediterranean veggies?
First, sauté the onion and garlic. Then, add your bell peppers and zucchini. Then, the remaining sauce ingredients. Cook until very tender and the vegetables are breaking down. This is now your pasta sauce!
Cook a pound of casarecce pasta (or other small/medium sized pasta) according to your package instructions. Make sure to reserve some of the pasta water.
Then, drain your pasta and add it to your sauce, stirring everything together. Add some of the pasta water, as needed, to get the right consistency in your sauce. Serve right away and enjoy!
Looking for the temps and times? Please scroll down to the recipe card at the end of this post for all the step by step details on ingredients and instructions. There's also a print recipe button down there!
👨‍👩‍👦‍👦 Serving suggestions
This Mediterranean vegetable pasta dish is a complete meal, in itself. But, you could certainly serve it with:
green salad
protein of your choice
garnished with:

fresh minced parsley
freshly torn basil
squeeze of fresh lemon juice
vegan parm substitute
dairy-free shredded cheese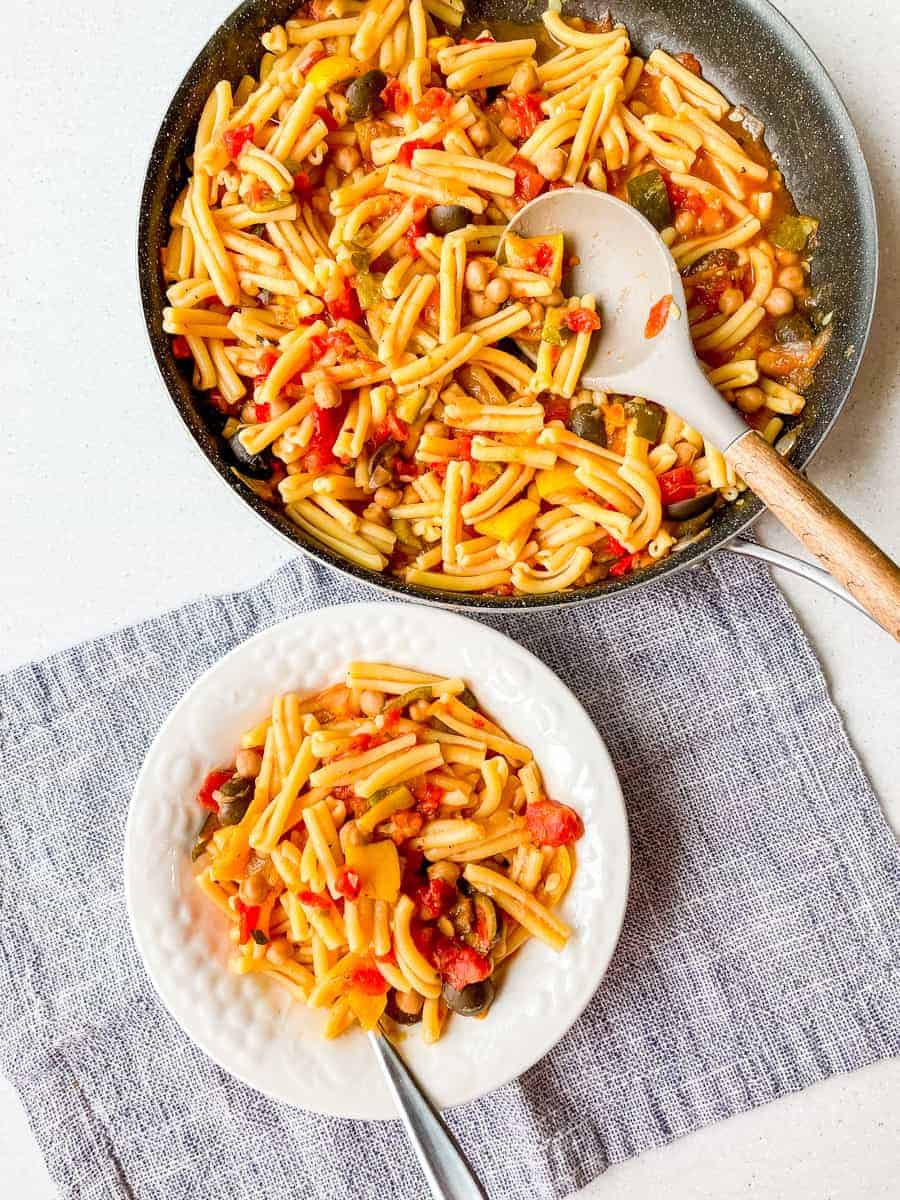 ❓ FAQ
How should I store casarecce pasta with Mediterranean vegetables?
Store leftover pasta in covered container (preferably glass) in the refrigerator for up to 5 days. Reheat in the microwave for 2 minutes per serving.
How long does meatless vegetable pasta last in the refrigerator?
Meat-free vegetable pasta will last up to 5 days stored in the refrigerator, according to food safety guidelines.
What is casarecce pasta used for?
Casarecce or casareccia pasta originated in Sicily and is very popular in Southern Italy. It is traditionally served with Mediterranean ingredients like eggplant, basil, tomatoes and seafood.
What is casarecce pasta made of?
Like other dry pastas, casarecce pasta is made of durum wheat, water or eggs. Dry pastas in the grocery store are typically made of just durum wheat and water (no eggs), so they are egg-free and vegan.
What is the meaning of casarecce?
Casarecce is from the Italian "casareccio" which means homemade.
Is casarecce the same as strozzapreti?
No. Strozzapretti are a longer form of cavatelli pasta. They somewhat resemble casarecce, but have a different shape.
What is the best sauce for casarecce pasta?
Their shape makes them excellent for holding sauce, like Sicilian pesto or tomato ragu pasta sauce. Thick, chunky sauces won't get trapped inside the casarecce grooves as well as thinner sauces.
Is pasta vegan?
Most dry pasta you'll find in the supermarket is indeed vegan, since it's only ingredients are durum wheat and water. But, always check the ingredients, as some contains egg. Fresh pasta is typically made with eggs (an animal product), so that would not be considered vegan.
Is casarecce pasta gluten free?
Traditional casarecce is made with wheat, so is not gluten-free. However, you may be able to find pasta in the "S" shape of casarecce made with gluten-free ingredients like chickpea flour, lentil flour or rice flour.
Where to buy casarecce pasta?
I buy the Priano brand of casarecce pasta from Aldi. But, I have also seen casarecce sold at HEB, Whole Foods and Central Market. Barilla brand makes a chickpea flour casarecce pasta, which would be gluten-free.
What vegetables are Mediterranean?
There are many vegetables grown and eaten in the Mediterranean region. Too many to list here! But, some popular ones are: tomatoes, olives, onions, garlic, asparagus, sweet peppers, eggplant, spicy peppers, carrots, lettuce, spinach, celery and artichokes.
Can you have pasta on the mediterranean diet?
Yes! Pasta is consumed on a regular, if not daily basis by many in the Mediterranean region. Whole grain pasta will offer more nutrients and fiber than white pasta. And, be sure to include other whole grains, along with lots of vegetables, fruit, legumes, nuts and seeds in your diet, which is key to the Mediterranean diet.
What kind of pasta can you eat on the mediterranean diet?
Any kind of pasta is acceptable on the Mediterranean diet. "Regular" pasta, made with white wheat flour, whole grain pasta, pasta made with chickpea flour, rice flour, lentil flour. Be sure to serve the pasta with lots of vegetables!
Is there a heart healthy pasta?
Heavy pastas prepared with lots of oil, cheese or meat is not advisable for heart health. The good news is that pasta itself is healthy and good for your heart. It's what you prepare it with that really matters! Try making a heart-healthy pasta without oil and instead using marinara sauce or primavera vegetables to flavor your angel hair. For a creamy pasta, make cauliflower alfredo sauce! There are many options so you can still enjoy a plate of spaghetti.
For more information, read "Is Oil Healthy?" by renowned cardiologist Dr. Caldwell Esselstyn.
🔄 Variations
You can change up this summer vegetable pasta in lots of ways! Here are some options:
Skip the pasta - serve over couscous or rice instead, like my recipe for Mediterranean Chickpea Stew with Vegetables
Spinach - stir in a few handfuls of baby spinach right before serving
Eggplant - add chopped eggplant (or substitute one of the vegetables for eggplant/aubergine). Eggplant will add to the richness of the pasta once it cooks down. Or, serve these vegetarian eggplant meatballs in the sauce!
Make it creamy - stir in 2 tablespoons of vegan sour cream (like this cashew sour cream or tofu sour cream) to the sauce when you add the pasta, for a creamy vegetable pasta dish
Herbs - stir in fresh herbs, like parsley, basil or oregano
White beans - use white canellini beans, great northern beans or giant white beans instead of the garbanzo beans/chickpeas
Make it gluten-free - use protein rich chickpea flour pasta, like Banza, instead of a wheat based pasta. Or, use another gluten-free pasta.
Make pasta puttanesca - Use linguini to make vegan one pot pasta puttanesca!
Kale or Swiss Chard - stir in some chopped kale while the vegetables are cooking
Baked casarecce pasta - Once it's all done, combine everything in a baking dish, top with dairy-free shredded cheese and breadcrumbs and bake in a 375 degree oven until hot and bubbly, about 20 minutes.
Make it spicy - add red chili flakes to make it spicy pasta
Spring vegetables - Use your spring veggies to make pasta primavera with angel hair
Make spaghetti with hearty mushroom marinara sauce instead.
🗺 Cultural influences
Casarecce pasta is one of hundreds of pasta shapes Italy is famous for. It may be less well-known in some areas, but it is beautiful and holds pasta sauce so well!
Paired with Mediterranean vegetables like tomatoes, zucchini, yellow summer squash, sweet bell peppers, olives, capers and chickpeas, it is heart-healthy, delicious and easy pasta recipe for dinner.
Make it for National Pasta Day on October 17th each year, according to List of National Food Holidays.
💜 More recipes you'll love
If you love this vegetarian casarecce pasta recipe, check out my other Mediterranean and Italian-inspired recipes, including more yummy pasta dishes!
Love this recipe? Please rate it 5 stars ⭐️⭐️⭐️⭐️⭐️ below in the recipe card. And, if you make it, please tag me on Instagram or Facebook in your posted photos! I would love to see your creations. 😄
📖 Recipe
Casarecce Pasta with Mediterranean Vegetables
Easy and delicious, this casarecce pasta with Mediterranean vegetables will transport you to Europe. As yummy as it is healthy, this veggie pasta recipe is plant-based, vegan and oil-free.
Equipment
Dutch oven

or skillet large enough to hold all the pasta and sauce
Instructions
Heat a large stockpot of well salted water over high heat (this is for your pasta to cook in). When it comes to a rolling boil, add pasta and set timer for shortest cook time on the box. We want it al dente - it will finish cooking in the sauce.

Heat a large skillet or enameled dutch oven over medium heat. Add onion and garlic and cook until translucent.

Stir in bell pepper and cook for 2-3 minutes.

Stir in zucchini, season with dried herbs, brown sugar, salt and pepper and cook for 5 minutes.

Stir in tomatoes, chickpeas, sliced olives and capers. Cook on medium-low for about 15-20 minutes, until everything is heated through, and the vegetables are tender and breaking down. The sauce should be forming and thickening.

When pasta is done, reserve ½ cup of pasta water. Drain pasta and add the pasta and ¼ cup of pasta water to vegetable mixture and stir. If you need to, add remaining pasta water (you may not need it all).

Taste and adjust salt and pepper, as needed. Enjoy!

Notes
Substitutions:
Casarecce pasta: sub with fusilli, farfalle, penne, orecchiette, ziti, rigatoni, bowtie pasta, rotini (spirals) or medium shells. For gluten-free, use a gluten-free pasta like chickpea flour pasta, lentil pasta or rice pasta.
Chickpeas: sub with white cannellini beans, great northern beans or giant white beans
Onions: sub with leeks
Black olives: sub with kalamata olives for a stronger flavor or with green olives for a more tart flavor
Capers: omit or sub with more olives
Nutrition
Serving:
1
portion
Calories:
555
kcal
Carbohydrates:
108
g
Protein:
20
g
Fat:
5
g
Saturated Fat:
1
g
Polyunsaturated Fat:
1
g
Monounsaturated Fat:
2
g
Sodium:
592
mg
Potassium:
877
mg
Fiber:
10
g
Sugar:
15
g
Vitamin A:
1335
IU
Vitamin C:
59
mg
Calcium:
105
mg
Iron:
4
mg