Literally 5 minutes from start to finish, this stovetop recipe for lemon pepper asparagus with no oil is a quick and easy side dish. Pan seared with a splash of water, they are perfectly crisp tender.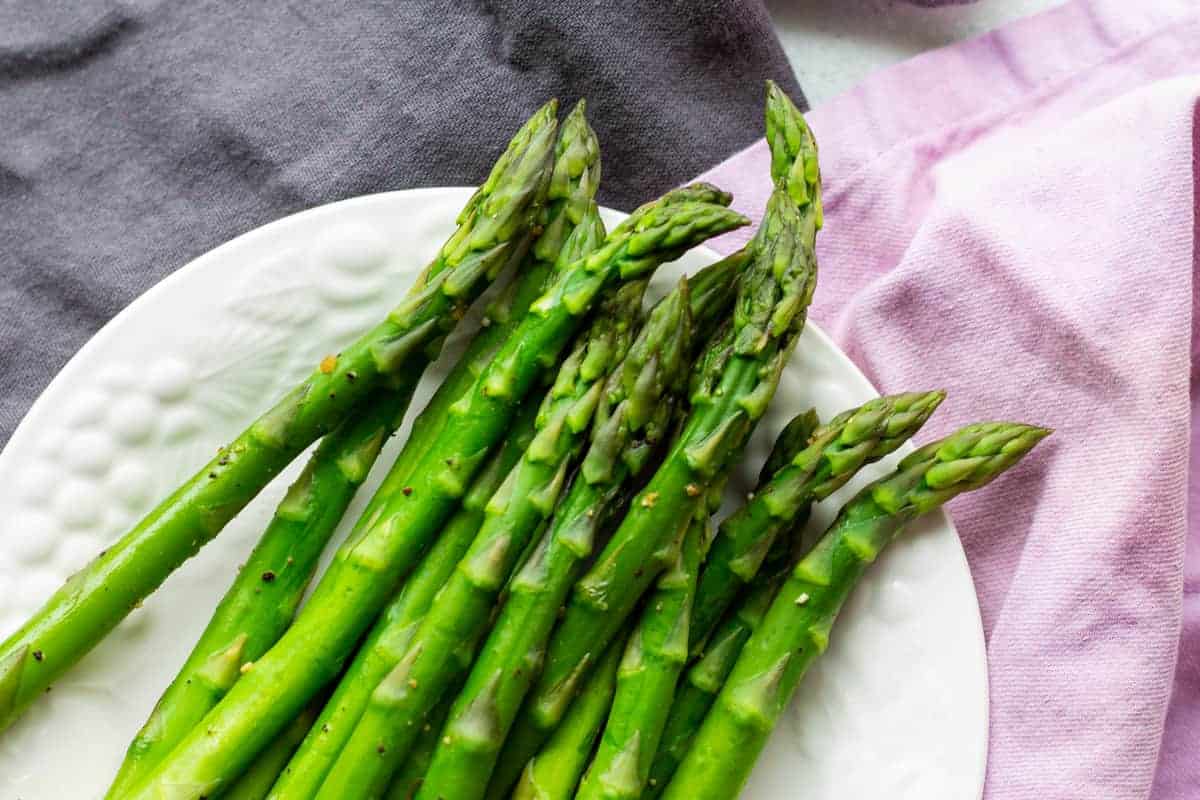 Jump to:
🧄 Ingredient notes
Fresh asparagus - Fresh, firm green asparagus is the star here. Look for asparagus that is not limp and is dry at the tips. If the tips are slimy, the asparagus is going bad. When you bring asparagus home from the grocery store, open the bag so there is some airflow. This will help prevent condensation from forming and will keep it fresh for longer. Better yet, pull it out of the bag and store the cut ends in 1 inch of water, with the asparagus standing upright, if you have the room in your fridge.
Lemon pepper seasoning - I use Trader Joe's Lemon Pepper Grinder, but you can use any lemon pepper seasoning you have.
📋 Substitutions and variations
Here are some suitable substitutions for the ingredients in this super simple lemon pepper asparagus recipe:
Fresh asparagus - Can I use frozen asparagus? Yes, you certainly can use frozen asparagus for this recipe, although I much prefer the texture of fresh. Aldi has a great deal on frozen veggies, like asparagus, broccoli and others throughout the year, so if you have an Aldi near you, check that out.
Lemon pepper seasoning - Instead of the lemon pepper seasoning, you can substitute grated lemon zest and freshly cracked black pepper. Or, lemon juice and freshly ground black pepper.
Try something different with these variation ideas:
Instead of lemon pepper seasoning, try garlic salt, granulated garlic, soy sauce or teriyaki sauce on this oil-free asparagus side dish
🔪 Instructions
How do you trim asparagus?
Trimming asparagus ends with a knife works, but often you're still left with tough and woody bites.
To get tender bites all the way through, you need to trim the asparagus at the perfect spot. How can you figure that out?
Put your knife away and instead, follow this method, which is included in the below video, as well.
Hold the cut end of the asparagus stalk with one hand.
Hold the middle of the asparagus stalk with your other hand.
Bend the asparagus.
It will snap in just the right spot!
Discard the tough and woody ends and only cook the tops that are now trimmed.
👨‍👩‍👦‍👦 Serving suggestions
Serve this pan seared lemon pepper asparagus as a side dish to any meal. It is especially good with pasta, rice, mashed potatoes and orzo pasta salad.
For vegan weight loss, this lemon pepper asparagus can be your non-starchy vegetable. Pair it with the starch of your choice.
Try making oil-free healthy hash browns, then transferring them to a plate. In the same pan you made the hash browns, add your asparagus! Serve with BBQ sauce.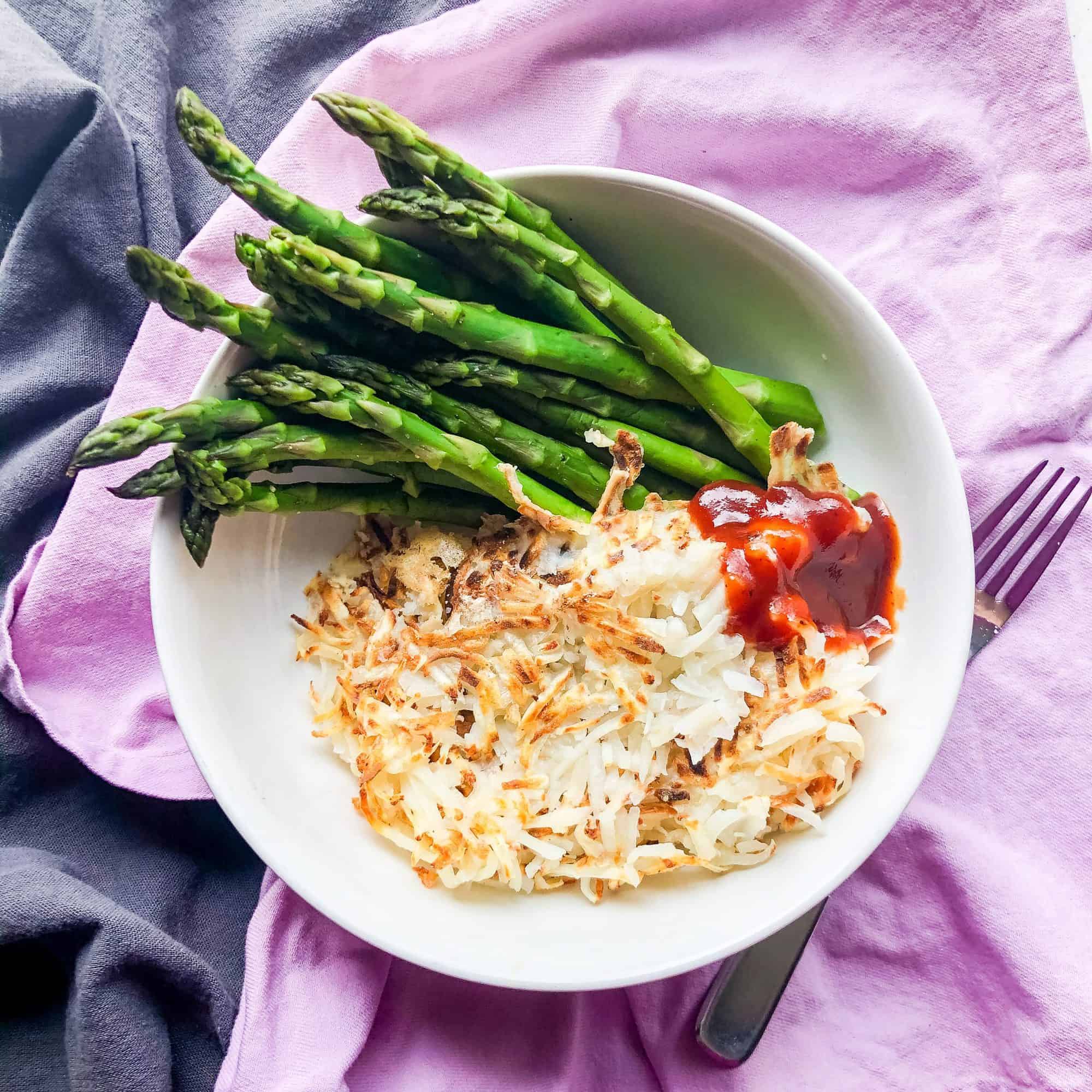 🚦 Calorie density score
🟢 This recipe gets a green light on the calorie density chart. All of the ingredients are lower than 600 calories per pound, so eating meals like this regularly may help you lose body fat. Learn more about calorie density from Jeff Novick, MS, RDN.
For a nutrient-dense, breakfast that is low in calorie density, consider pre-loading with asparagus, then eating your maple oatmeal with sliced banana or blueberries.
Get your own printable calorie density chart for your refrigerator and free ebook explaining calorie density in simple terms.
❓ FAQ
When is asparagus on sale?
In the late winter or during the spring, when it's in season.
Is my asparagus bad?
You can tell your asparagus is bad if the tips are slimy and wet instead of firm and dry. Also, if your asparagus stalk is yellowing and shriveled instead of firm and green, throw that stalk away.
💭 Tips
Asparagus is in season late winter and during the springtime. So, look for it on sale during that time. When it's less expensive, you can have this recipe on repeat and your budget will thank you.
💜 More recipes you'll love
If you love quick and easy oil-free asparagus recipe, check out these!
Love this recipe? Please rate it 5 stars ⭐️⭐️⭐️⭐️⭐️ below in the recipe card. And, if you make it, please tag me on Instagram or Facebook in your posted photos! I would love to see your creations. 😄
📖 Recipe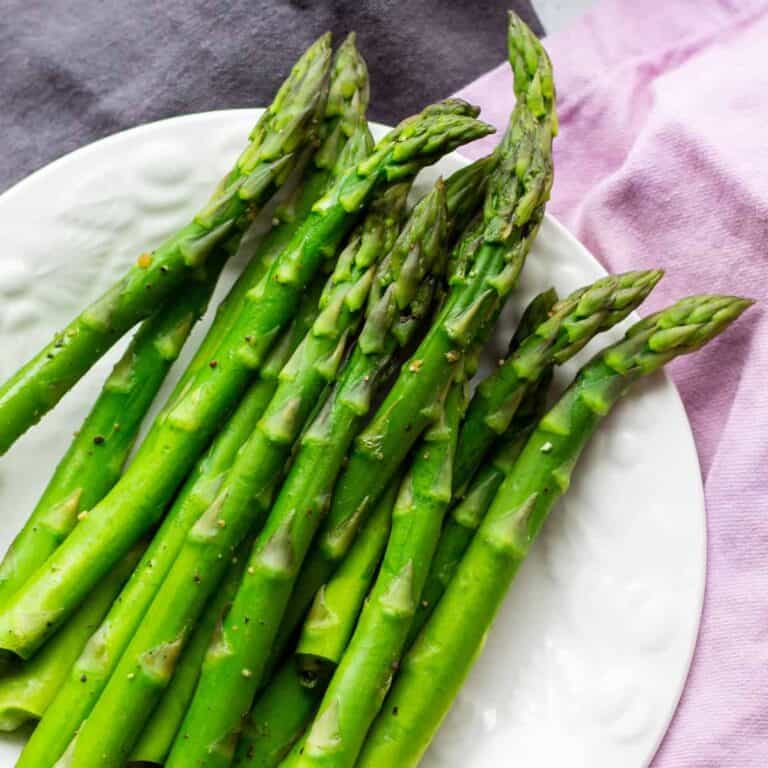 5-Minute Lemon Pepper Asparagus (oil-free)
Literally 5 minutes from start to finish, this stovetop recipe for lemon pepper asparagus with no oil is a quick and easy side dish. Pan seared with a splash of water, they are perfectly crisp tender.
Instructions
Heat a wide skillet over medium high heat. We want a wide enough pan that the asparagus can cook in one layer, so they all cook evenly. Add ¼ cup of water to the pan.

Add asparagus in one layer in the pan. Sprinkle on the salt and lemon pepper seasoning. Cook until asparagus is bright green, flipping, as necessary to cook it evenly.
Nutrition
Serving:
8
ounces
Calories:
46
kcal
Carbohydrates:
9
g
Protein:
5
g
Fat:
1
g
Saturated Fat:
1
g
Polyunsaturated Fat:
1
g
Sodium:
150
mg
Potassium:
460
mg
Fiber:
5
g
Sugar:
4
g
Vitamin A:
1715
IU
Vitamin C:
13
mg
Calcium:
55
mg
Iron:
5
mg