This easy and delicious vegan banana bread recipe uses applesauce instead of oil for a lighter, healthy loaf. It requires no eggs, no flax, is dairy-free and oil-free. Make it over the top with your favorite add-ins, like chocolate chips and walnuts.
Love to bake and looking for alternatives to banana bread? Try this vegan Sweet Potato Cake recipe!
Jump to:
🧄 Ingredient notes
For this vegan banana bread with applesauce recipe, you'll need:
white whole wheat flour (or any combination of all purpose flour and whole wheat flour. If you use 100% all purpose flour, it will be lighter. If you use 100% whole wheat flour, it will be more dense and darker.)
baking soda
ground cinnamon
ground allspice
sea salt
very ripe bananas
brown sugar (or coconut sugar, for refined sugar-free)
cane sugar (or more coconut sugar, for refined sugar-free)
unsweetened applesauce (this is a substitute for oil)
unsweetened almond milk (or other plant-based milk)
vanilla extract
optional: chopped walnuts, pecans or dark chocolate covered walnuts
Don't have all these ingredients? But, still want to use up your overripe bananas? Try making these 3-ingredient banana oatmeal cookies instead! Or, these healthy 5-ingredient banana oat bars!
Looking for the measurements? Please scroll down to the recipe card at the end of this post for the ingredient quantities.
The main substitutions to make a traditional banana bread recipe vegan is to find substitutes for the butter and eggs.
Using applesauce makes it oil-free
We have substituted the butter for applesauce in this plant-based banana bread recipe. Using applesauce makes it oil-free and low fat, too.
In case you're wondering, using applesauce doesn't make your banana bread taste like apples.
Apple sauce is a fantastic substitute for oil or butter in baked goods like quick breads, banana bread, zucchini bread, pumpkin bread, muffins or brownies.
Always opt for the unsweetened, original applesauce. It's plenty sweet by itself.
Sugar substitutions
While this recipe does include cane sugar and brown sugar, you can use coconut sugar instead. Coconut sugar is a good option if you're following a whole food plant based diet and are refined sugar free.
If you are trying to cut back on your refined sugar, coconut sugar is also a good option, since it's also granulated (not liquid like maple syrup, agave nectar or date syrup).
I've also reduced the sugar in this recipe successfully by up to half what the recipe calls for. So, you can certainly test that with your own loaf, if you'd like it to be less sweet.
Flour substitutions
Almond flour or almond meal: I've successfully substituted up to ¼ of the flour for almond meal or almond flour. Keep in mind that this will increase the fat and protein content of your banana bread.
Typically I use a white whole wheat flour from Trader Joe's to make this, but you can also use straight whole wheat flour or white all-purpose flour. Or, use any combination of all-purpose flour and whole wheat flour to make this recipe.
All whole wheat flour will make the bread more dense and darker.
How does it rise without eggs?
This vegan banana bread rises using a combo of vegan buttermilk and baking soda. The banana bread rises without eggs because of the reaction between the apple cider vinegar (an acid) plus the baking soda (a base).
Don't worry, even though apple cider vinegar smells strong, you do not taste it at all in the bread.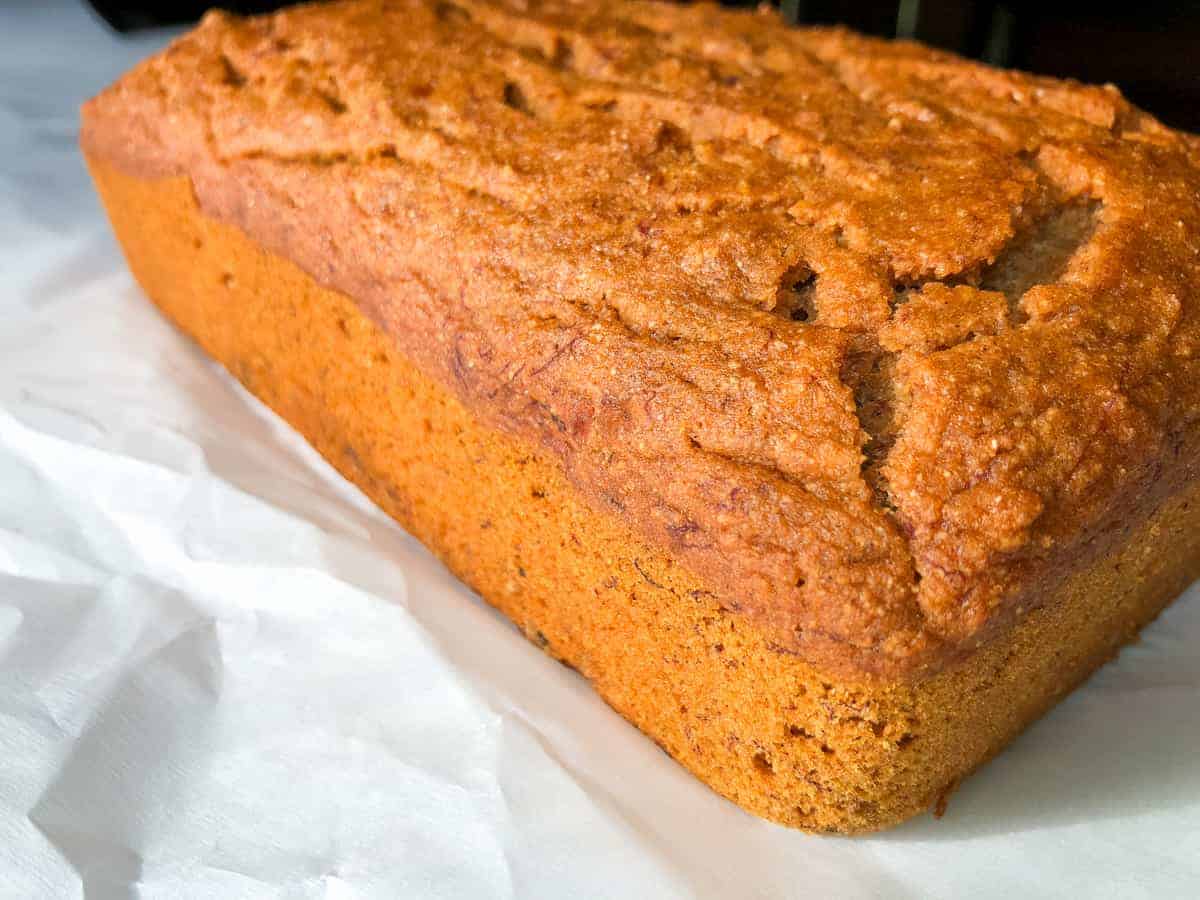 ❓ FAQ
Does banana bread freeze well?
Yes, banana bread freezes really well. To defrost, remove from freezer and warm it up in the microwave, toaster or 325 degree oven, until center is warm.
How do you make banana bread without oil?
Use unsweetened applesauce as a direct substitute for oil in oil-free banana bread. If the recipe calls for ½ cup of oil, use ½ cup of applesauce instead. Pro tip: each individually packaged applesauce cup with the foil top is ½ cup, so no need to dirty a measuring spoon.
How do you make banana bread without sugar?
Use coconut sugar as a direct substitute for cane sugar or brown sugar in a banana bread recipe.
Is banana bread vegan?
Traditional banana bread is made with eggs and butter, both of which are animal products. So, that banana bread would not be vegan. But, you can easily make a vegan version of banana bread by substituting the eggs and butter with ingredients like applesauce, oil, flax eggs, vinegar and baking soda, etc.
How long does banana bread last?
Banana bread lasts up to a week in the refrigerator. Or, it can last months if frozen.
Does vegan banana bread take longer to bake?
Yes, it does. If you've never made vegan baked goods, be aware that they take longer to bake than their traditional counterparts. So, don't be surprised when it takes well over an hour for your bread to bake and be done in the center. This is normal. Just keep an eye on it and keeping checking for doneness by inserting a clean, dry butter knife into the center of the loaf.
How can I keep banana bread from sticking?
Be sure to use a non-stick loaf pan when baking banana bread made of silicone, stoneware or metal with a non-stick coating. If your loaf tin is no longer non-stick or you just don't trust it, then line the inside of your loaf pan with parchment paper! This is a guarantee for your banana bread to turn out without sticking!
Can I use frozen bananas to make banana bread?
Yes! Just make sure they are completely thawed before using them. Also, include the liquid that forms when they thaw when mashing your bananas for the recipe. Keep in mind that sometimes frozen bananas are darker, so this may affect the color of your baked banana bread.
🔄 Variations
Vegan banana bread with chocolate chips (add ½ cup of chocolate chips to the batter before baking)
Vegan banana bread with walnuts (add ½ cup of chopped walnuts to the batter before baking)
Vegan chocolate walnut banana bread (add ½ cup each of chocolate chips and chopped walnuts to the batter before baking)
Vegan banana bread with pecans (add ½ cup chopped pecans to the batter before baking)
Vegan pumpkin banana bread (substitute 1 of the bananas and all of the applesauce for pumpkin puree in the recipe to make a banana bread with pumpkin)
3-Ingredient Banana Oatmeal Breakfast Cookies (use the ripe bananas to make this super simple and healthy cookie recipe instead!)
Feel free to throw in a handful of chopped walnuts or pecans to the batter, for a vegan, oil-free banana nut bread (I love both in mine!).
Or, for those who don't like nuts, this bread is delicious nut-free.
My favorite, indulgent way to amp it up is to chop up a handful of dark chocolate covered walnuts and throw them in.
The rich dark chocolate speckled in the bread is just scrumptious. It really does become dessert and I'm totally cool with that. Vegan banana bread with dark chocolate covered walnuts? A thousand times yes.
👨‍👩‍👦‍👦 Serving suggestions
Banana bread. Is it breakfast or dessert?
Hmm...
I'd say, YES. Eat it whenever and wherever you can.
Toast it just a touch to warm it up. Or, eat it cold. Great for snacks while you're out running errands. And, perfect with a cuppa hot tea or coffee.
In the summer months, try serving it with an ice cold glass of Southern iced tea.
I'm eating a slice cold straight out of the fridge as I type for... inspiration. Yeah, that's it. I need inspiration. Excuse me as I wipe the crumbs from my face.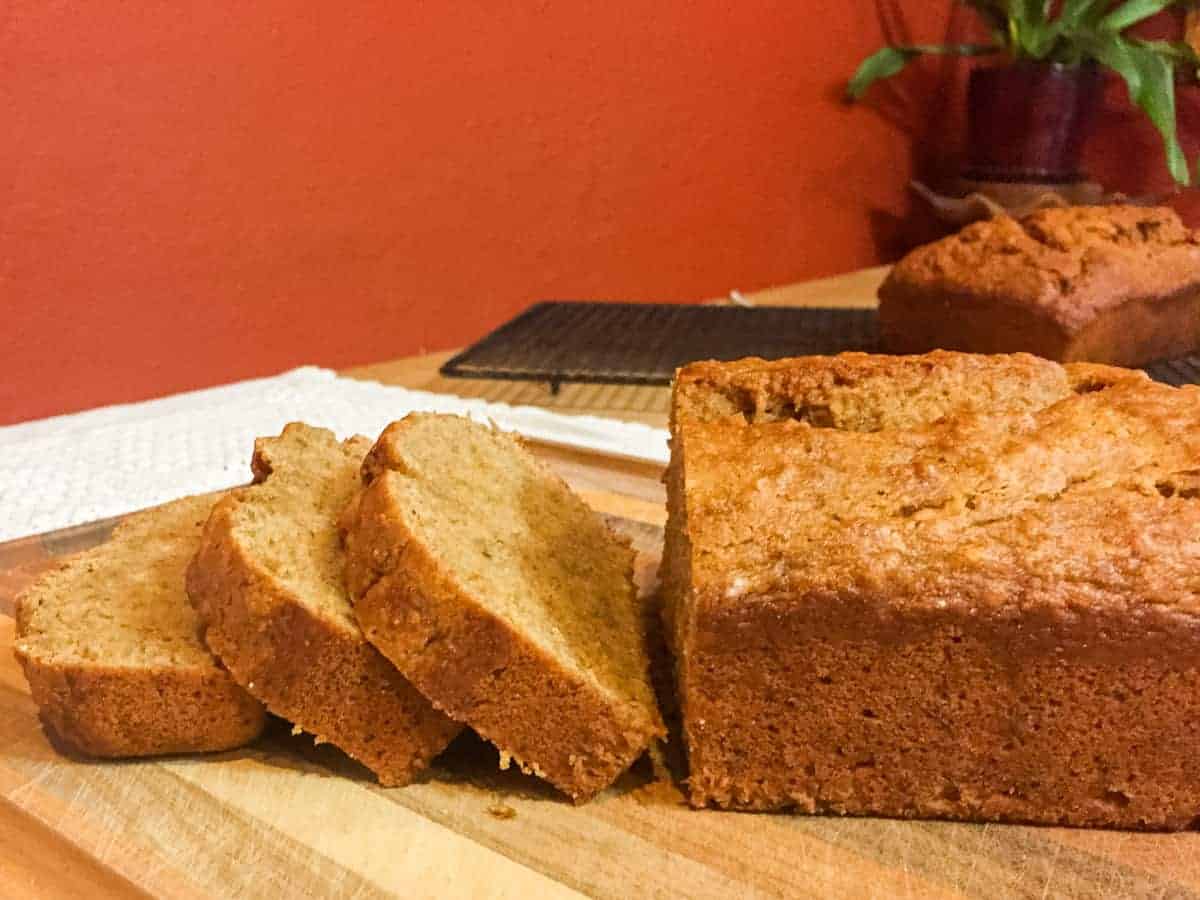 ☕️ Tea pairing
Recommended tea to pair with banana bread: Assam, Nilgiri, English Breakfast or Irish Breakfast with or without oat milk. The Art of Tea has lots of delicious teas to choose from.
Love tea all year round? Check out my recipe for how to make perfect iced tea!
💜 More recipes you'll love
Like this vegan banana bread recipe? We all know banana bread is really a cake, in loaf form. So, maybe you'll like some of these vegan dessert recipes:
Love this recipe? Please rate it 5 stars ⭐️⭐️⭐️⭐️⭐️ below in the recipe card. And, if you make it, please tag me on Instagram or Facebook in your posted photos! I would love to see your creations. 😄
📖 Recipe
Vegan Banana Bread with Applesauce
This easy vegan banana bread is moist, not too sweet, dense, hearty and packed with flavor. Enjoy it hot out of the oven, reheated or cold straight out of the fridge for midnight snacks.
Instructions
Preheat oven to 350°F. Use a non-stick 8×4 inch bread pan or line a bread pan with parchment paper. (I use the pampered chef stoneware bread pans and the bread always comes out glorious and does not stick. No need to grease the pan.)

Mash the bananas with a potato masher or fork.

Sift or whisk together flour, baking soda, salt and spices.

In a small cup, mix together the almond milk and apple cider vinegar. Let sit for 2 minutes.

In a separate bowl, cream together the apple sauce and sugars. Add mashed bananas, almond milk and vanilla.

Add the wet ingredients to the dry. Mix well. Add in nuts, if using.

Pour batter into pan. Bake for an hour to an hour 10 minutes or until a butter knife inserted in the center comes out clean.
Notes
You can substitute either or both sugars for coconut sugar, for a refined sugar free version.
You can use white flour or whole wheat flour (or any combination of these flours).
You can substitute up to ½ cup of the flour for almond meal (I like the Trader Joe's brand)
Any plant based milk can be used (almond, cashew, soy)
VARIATION: For chocolate walnut banana bread, add ½ cup dark chocolate covered walnuts that have been chopped. Or, ¼ cup each of chopped walnuts and dark chocolate chips.
Nutrition
Serving:
1
slice
Calories:
239
kcal
Carbohydrates:
48
g
Protein:
5
g
Fat:
4
g
Saturated Fat:
1
g
Polyunsaturated Fat:
3
g
Monounsaturated Fat:
1
g
Sodium:
183
mg
Potassium:
206
mg
Fiber:
4
g
Sugar:
26
g
Vitamin A:
28
IU
Vitamin C:
3
mg
Calcium:
43
mg
Iron:
1
mg