Looking for a healthy, simple recipe for those ripe or even overripe bananas? Use them up with these 5-ingredient banana oatmeal bars! No flour, no egg and no sugar needed. Perfect fuel for breakfast, snack, workout or to take on the go.
For another super easy oatmeal recipe, learn how to make the best basic vegan overnight oats and banana overnight oats.
Jump to:
🎙 What people say about this recipe
A fantastic way to use up a whole bunch of overripe bananas sitting on the counter. Turn them into these tasty snack bars! My kids love them.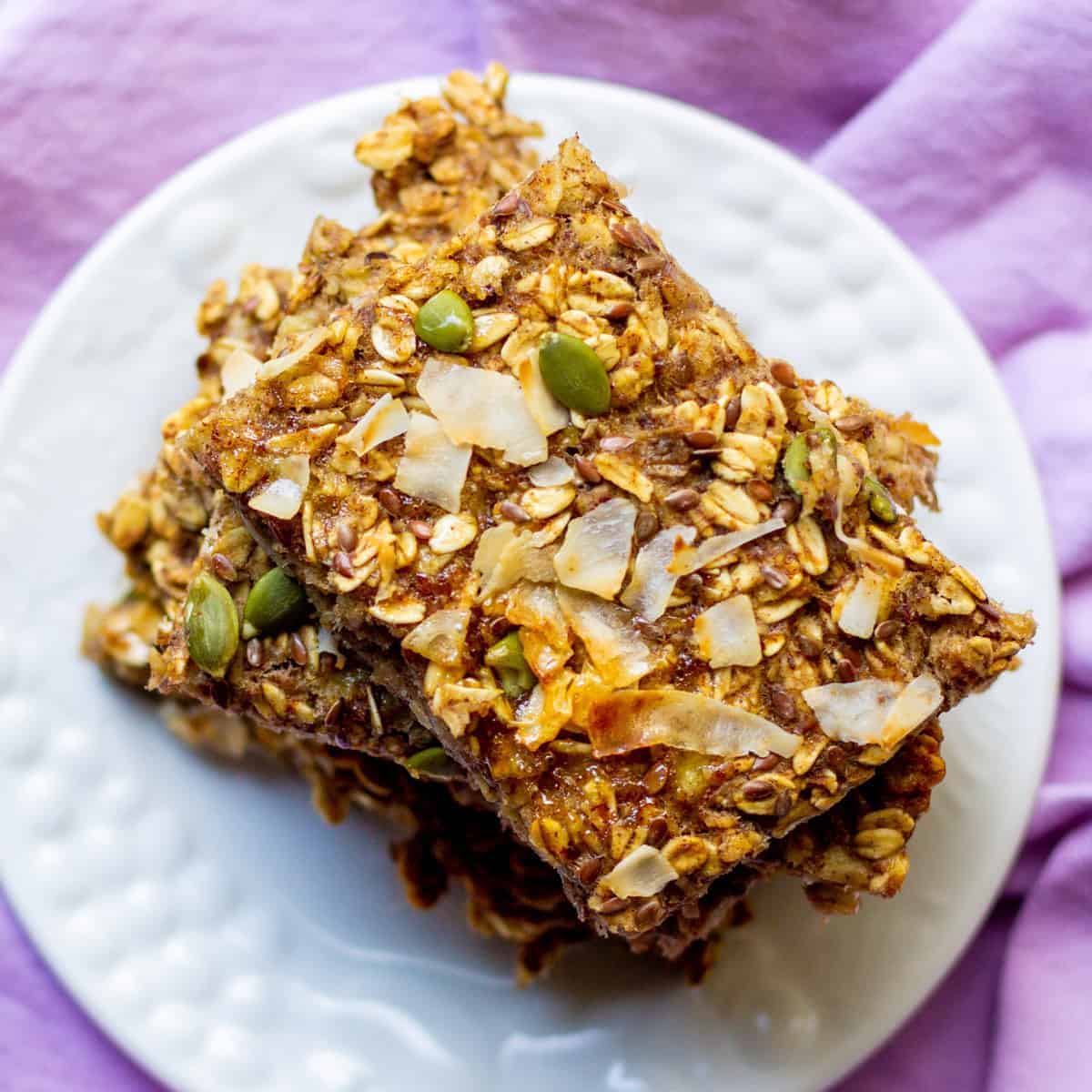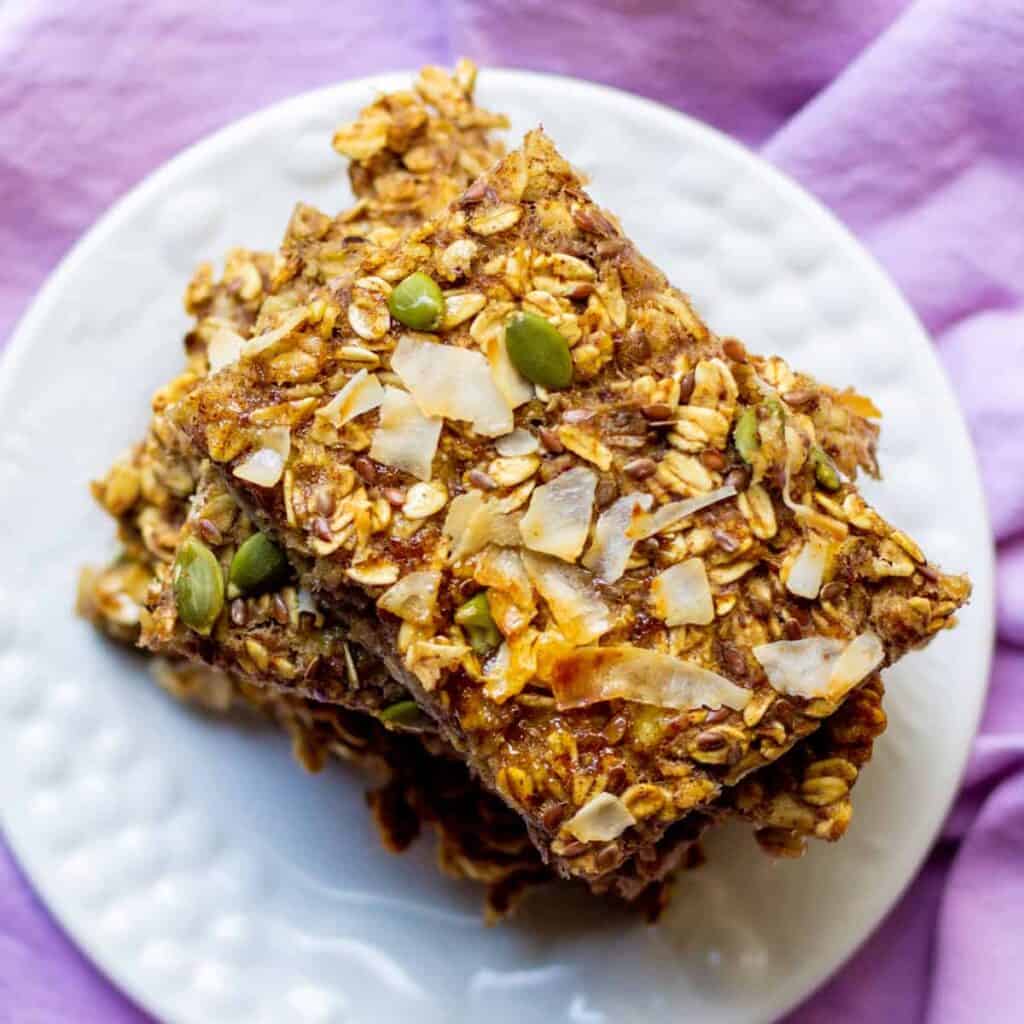 🧄 Ingredient notes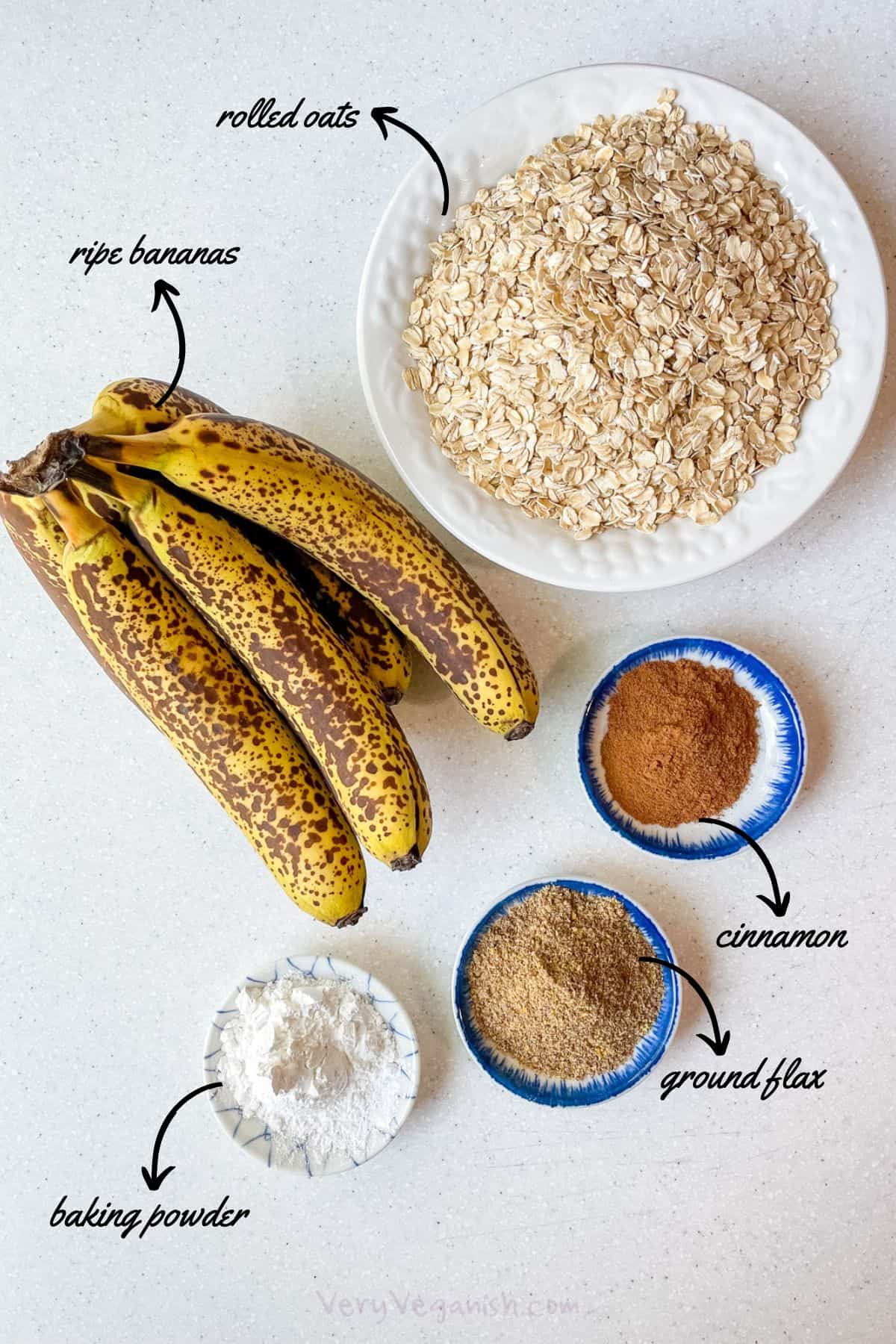 What do you need to make these banana oat bars?
ripe (or overripe), spotty bananas
rolled oats (old fashioned or quick cook oats)
ground cinnamon
ground flaxseed
baking powder
Top your banana oatmeal bars with any toppings of your choice!
For the photos, I used coconut flakes, pumpkin seeds and a drizzle of brown rice syrup. Another favorite of my family is mini dark chocolate chips and chopped pecans or walnuts. Peanut butter or prepared PB2 is also amazing on these!
Get creative with your toppings, if you'd like. Or, leave them plain, whatever you and your family prefer. I'll share some ideas for different toppings below!
Looking for the measurements? Please scroll down to the recipe card at the end of this post for the ingredient quantities.
The overripe bananas give the bars sweetness and moisture. The oatmeal gives them substance, nutrition and helps everything stick together, along with the ground flaxseed.
And, the ground cinnamon is for flavor! You can switch up the cinnamon with vanilla extract, if you'd like. See my recipe notes below for suggestions on additional alternative spices and flavoring.
No egg
No egg at all is needed for these bars. The bananas and oatmeal work together with the ground flaxseed to hold everything together.
No flour
No flour is needed for these banana oat bars. The oats (either old fashioned oats or quick oats) combined with the mashed banana and ground flaxseed keep everything together.
No sugar
The texture for these banana oatmeal bars is like a soft and chewy breakfast granola bar. The ripe bananas give them sweetness. If you'd like them to be a little sweeter, you can drizzle them with brown rice syrup, maple syrup, agave nectar or honey before baking.
You could also top them with something sweet, like chocolate chips, chocolate chunks, diced dates, raisins, chopped dried apricot, chopped dried peach, etc.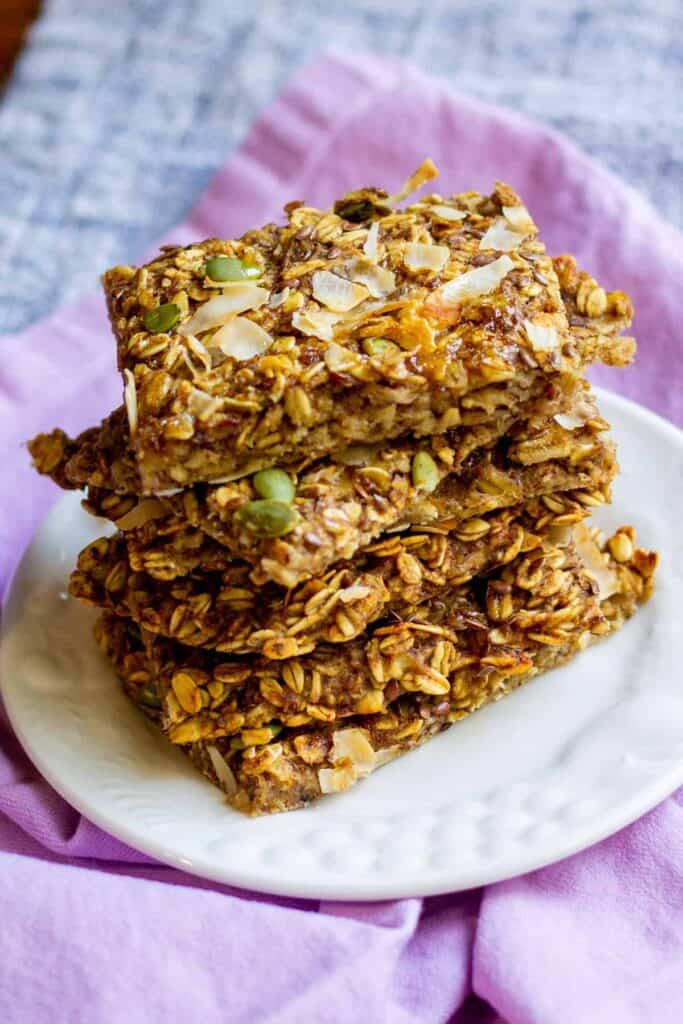 🔪 Instructions
Mash the bananas
Mash with potato masher or fork. Make sure they are mashed very well, with only very small chunks remaining (see picture #1).
Mix in ground flax, cinnamon, baking powder and then oats
Stir everything together. See picture #5 for what the completed batter should look like.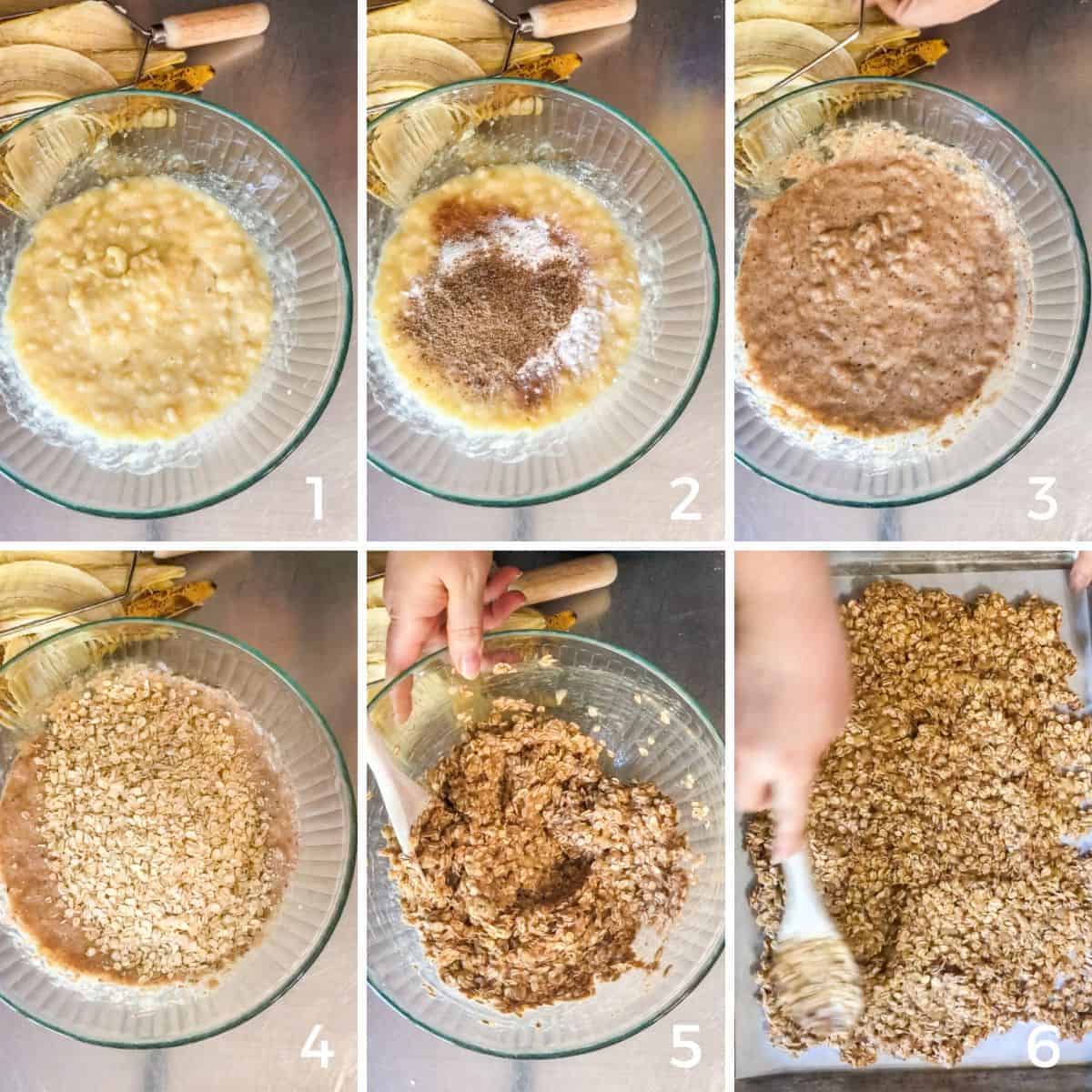 Spread, shape, top, drizzle and bake!
These bars will not spread out or rise too much, so make them into the shape, width and height you want from the beginning.
It's helpful to gently press any toppings down into the batter so they don't fall off after baking and cutting. That's what you see me doing in picture #8.
Definitely use a silicone mat or parchment paper to line your baking sheet, because these will stick without it. You could also make these in a 13x9 baking pan.
Looking for the temps and times? Please scroll down to the recipe card at the end of this post for all the step by step details on ingredients and instructions. There's also a print recipe button down there!
💭 Tips
These can be shaped into cookies, too! Check out my 3-ingredient Banana Oatmeal Breakfast Cookies recipe.
Use parchment paper or a silicone mat on your baking sheet, otherwise they will stick.
Lightly press toppings down before drizzling any liquid sweetener and before baking.
Mash your bananas very well.
The more ripe your bananas are, the sweeter these bars will be naturally, without adding any sweetener to them. So, choose those spotty bananas for this! The same kind of bananas you would use to make banana bread.
Still have overripe bananas and maybe some other fruit after making this recipe? Check out this post on what to do with leftover fruit salad!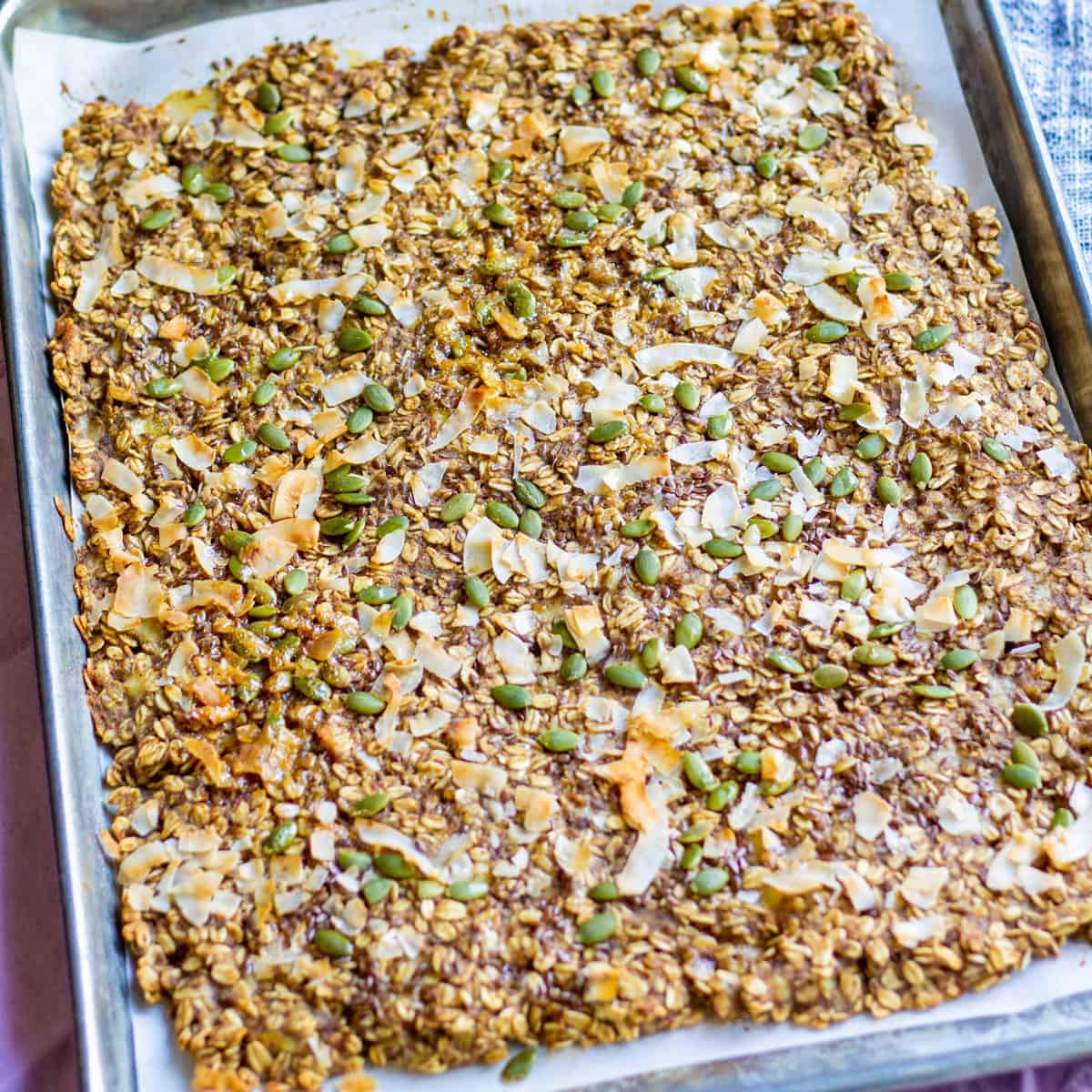 🔄 Variations
Ah! So many choices! Tell me, what do you have in your refrigerator and pantry right now? Use it up!
Here's some ideas on what to top these 5-ingredient banana oatmeal bars with to make them shine.
Try these toppings or mix-ins:
Coconut flakes or shredded coconut (the white is pretty on top! photos have coconut flakes)
Pepitas or pumpkin seeds (the green is a nice contrast, too)
Dark chocolate chips, chunks or shaved
Walnuts
Pecans
Almonds (sliced, slivered or chopped)
Sunflower seed kernels
Hemp seeds
Peanut butter (or other nut butter mixed in the batter)
Fresh thin sliced strawberries
Raisins
Chopped dates
Dried cranberries
Dried apricots (chopped)
Dried peaches (chopped)
Dried mango (chopped)
Wheat germ (a teaspoon mixed in for added nutrition and fiber)
Try this drizzled on:
brown rice syrup (the shiny looking "caramel" you see in the photos is brown rice syrup drizzled on before baking them - so yummy!)
maple syrup
date syrup
agave nectar
honey
heated peanut butter, almond butter, cashew butter, sunflower seed butter (heated so it will drizzle across the top easier)
prepared PB2 or PBFit
melted dark chocolate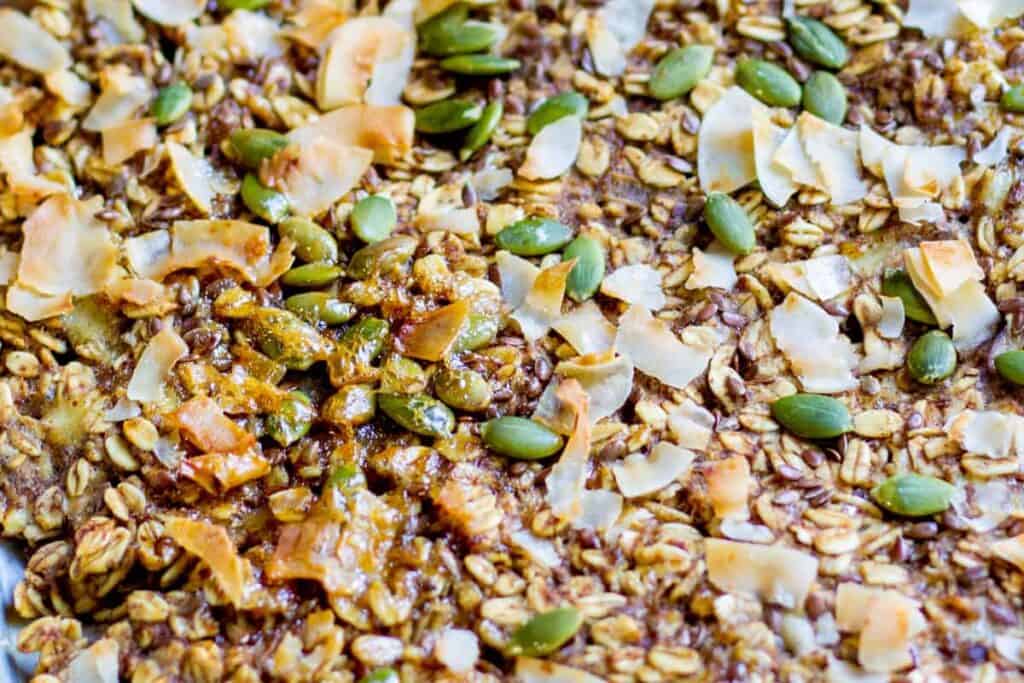 👨‍👩‍👦‍👦 Serving suggestions
What to serve with these bars
For breakfast, try serving these banana oatmeal bars with fresh fruit, dairy-free yogurt and drink, such as hot tea or soy milk.
Kid friendly sugar free breakfast bars
These simple, chewy breakfast bars are great as a kids breakfast or snack.
They keep, stored in the refrigerator, for 3-4 days, but can be room temp for several hours without spoiling.
So, put one or two in the lunch box or purse for when you're leaving the house and the munchies come on!
Since they are sugar-free, you can feel good about feeding them to your kids.
💜 More recipes you'll love
If you like these 5-ingredient banana oatmeal breakfast bars, then you'll love my other recipes that use ripe bananas! They are all vegan, plant-based recipes.
Love this recipe? Please rate it 5 stars ⭐️⭐️⭐️⭐️⭐️ below in the recipe card. And, if you make it, please tag me on Instagram or Facebook in your posted photos! I would love to see your creations. 😄
📖 Recipe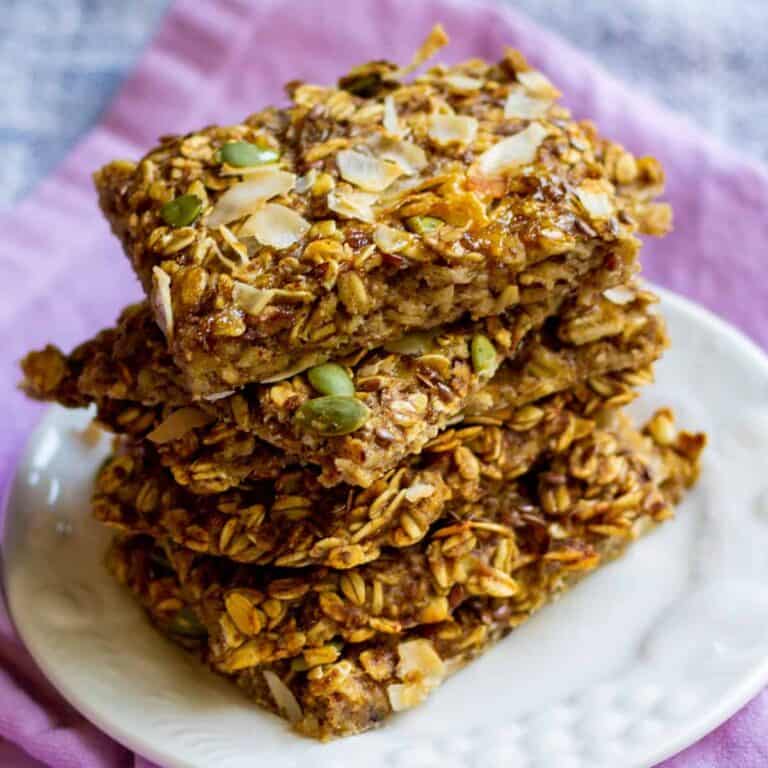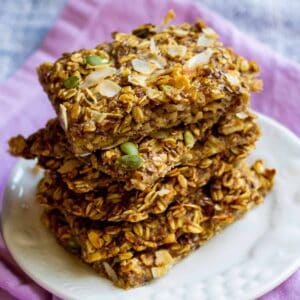 Healthy Banana Oatmeal Bars (5 ingredients, no flour, no egg, sugar free)
Looking for a healthy, simple recipe for those ripe or even overripe bananas? Use them up with these 5-ingredient banana oatmeal bars! No flour, no egg and no sugar needed. Perfect fuel for breakfast, snack, workout or to take on the go.
Ingredients
Basic Banana Oatmeal Bars
Instructions
In a large bowl, mash the banana very well with a potato masher or fork.

Add ground cinnamon, ground flaxseed and baking powder and mix together with banana.

Add rolled oats to the bowl and mix together well.

Line a baking sheet or 13x9 baking dish with parchment paper or a silicone mat. Spread batter evenly in a rectangle on lined baking sheet. Keep the batter on the parchment/silicone mat, so it doesn't stick. Shape the batter into a wide rectangle about 1-inch deep. This batter does not spread as it bakes. It will stay in place and harden into chewy bars.

Add dry toppings, if using (like coconut flakes, pepitas) across surface. Gently press the toppings into the batter with your fingers or a spoon.

Drizzle wet topping, if using (like brown rice syrup) across surface.

Bake banana oatmeal bars in oven for 25 minutes, or until firm to the touch.

Allow to cool and then slice into bars. Store cut bars in refrigerator for 3-4 days.
Notes
Popular mix-in ingredient to make these richer: Peanut Butter! This will increase the calories and fat content of these significantly, so bear that in mind.
These are gluten-free, if you use gluten-free oats.
This is a variation on my 3-ingredient banana oatmeal cookies recipe.
Nutrition
Serving:
1
3-inch bar
Calories:
114
kcal
Carbohydrates:
22
g
Protein:
3
g
Fat:
3
g
Saturated Fat:
1
g
Polyunsaturated Fat:
1
g
Monounsaturated Fat:
1
g
Trans Fat:
1
g
Sodium:
216
mg
Potassium:
216
mg
Fiber:
3
g
Sugar:
6
g
Vitamin A:
27
IU
Vitamin C:
3
mg
Calcium:
138
mg
Iron:
1
mg