Silky, rich cheese sauce mixed with Rotel becomes a super easy vegan chile con queso dip, ready for those tortilla chips. You and your family will love this plant-based, oil-free, dairy-free and nut-free (no cashews!) nacho cheese recipe.
Jump to:
🧄 Ingredient notes
This vegan nacho cheese rotel dip is made with:
a can of Rotel (substitute tomato salsa, taco seasoning or canned jalapeños)
3 cups of Fauxveeta Vegan Cheese Sauce, which contains:

potatoes
carrots
onion
garlic
plant-based milk
turmeric, nutritional yeast (optional), salt, pepper
Humble and nutritious potatoes make this sauce so thick and silky. There are many interesting and flavorful ways to spice this up, but this version is a simple, easy and quick queso.
What makes it even better? This nacho cheese is plant-based, oil-free, soy-free, gluten-free and nut-free (if you use a nut-free plant-based milk), so it's very allergy friendly.
🔪 Instructions
This rotel dip is super fast if you already have some prepared vegan cheese sauce sitting in the refrigerator.
If you don't have any potato cheese sauce ready, the first step is to whip up a batch of Fauxveeta Vegan Cheese Sauce, which is the "cheesy" base for this queso. You can find the recipe here.
Make a double batch and you'll have enough sauce for making this vegan nacho cheese and some mac and cheese later this week.
Next, we heat up the cheese sauce with a can of spicy diced tomatoes with green chiles (aka Rotel). But, you can use any brand you like. Aldi grocery store has an excellent version that is half the price of Rotel.
Once the nacho cheese dip is hot and bubbling, it's ready to serve!
👨‍👩‍👦‍👦 Serving suggestions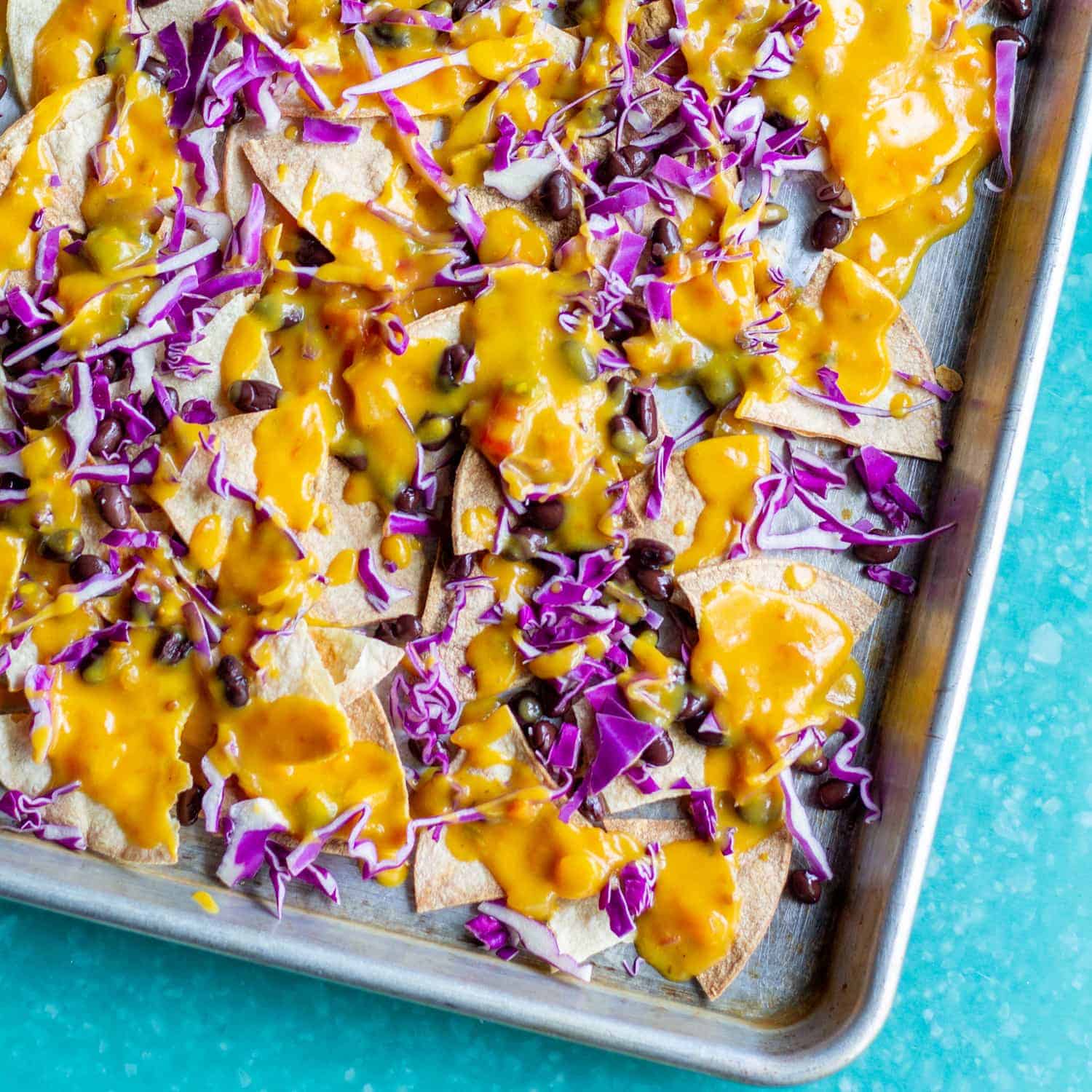 Devour this spicy vegan queso with tortilla chips. My kids love it, so if you're making it for kids that are not able to handle spicy food, I would recommend getting the mild version of Rotel.
If you're looking for an oil-free, fat-free option for tortilla chips, you can bake your own in about 20 minutes! Here's my recipe for homemade baked tortilla chips.
Or, you can buy baked oil-free tostadas or corn chips and break them up into chips. This sauce can also be used to top enchiladas, nachos or slathered over a burrito bowl.
🔄 Variations
Salsa
Mix in 10 ounces of your favorite salsa instead of the Rotel
Taco Seasoning
Mix in one packet (or 4 tablespoons) of taco seasoning to the cheese sauce instead of the Rotel.
Jalapeños
Blend in ¼ cup of canned jalapeños when blending the cheese sauce. Or, mix in ¼-½ cup of diced jalapeños instead of the Rotel
Vegan Chorizo
This variation is not oil-free, unless you have oil-free vegan chorizo.
Heat 1 cup of vegan chorizo crumbles in a skillet or small saucepan until hot, stirring regularly. Reduce heat and carefully pour cheese sauce into pan and stir. Bring to a simmer. Enjoy your vegan chorizo nacho cheese dip.
❓ FAQ
How long does it last?
All cooked foods are perishable, so please use your good judgment about how long to store something. We comfortably keep this vegan queso in our refrigerator for up to 5 days. And, we've frozen it for up to 3 months.
Can you freeze vegan nacho cheese?
Yes! You can freeze this vegan nacho cheese for up to 3 months.
To reheat, thaw overnight in the refrigerator. Or, you can defrost it in the microwave using your defrost setting. Once it's thawed, place it in a small saucepan over medium low heat and simmer, stirring frequently, until it becomes smooth again, all the ice crystals have dissolved and it's bubbly.
What can I substitute Rotel with?
Rotel is basically petite diced tomatoes with spicy green chiles and a few seasonings. So, you could easily substitute red tomato salsa for Rotel in a recipe. Or, you can add some petite diced tomatoes and a can of chopped green chiles or canned jalapeños - with the juice! - instead.
Is Rotel gluten-free?
Yes. Rotel does not contain any gluten, according to their website.
It's ingredients are: tomatoes, water, chopped green chili peppers, and less than 2% of: salt, calcium chloride, natural flavors, citric acid and cilantro.
Is nacho cheese gluten-free?
This recipe for vegan, dairy-free nacho cheese is definitely gluten-free. It's made with potatoes, carrots, onion, garlic, plant-based milk (check your milk to make sure it's gluten-free), spices and Rotel or salsa.
💜 More recipes you'll love
Love this recipe? Please rate it 5 stars ⭐️⭐️⭐️⭐️⭐️ below in the recipe card. And, if you make it, please tag me on Instagram or Facebook in your posted photos! I would love to see your creations. 😄
📖 Recipe