Silky, rich vegan cheese sauce with tomato and spicy peppers paired with tortilla chips. It's a beloved TexMex staple in restaurants and home kitchens alike. You'll love this plant-based, oil-free version.
Jump to:
Chile con queso was one of the hardest things for me to resist when we first cut out dairy from our diet. It's just so good.
But, my body has a strong aversion to queso. It seriously rebels against me. A few really bad reactions after eating dairy-laden queso and I had learned my lesson. Queso is not my friend.
I tried to make a version of vegan queso that involved butternut squash, miso, mustard and a few other weird things. It was seriously hit and miss. I kinda liked it, but it was NOT anywhere close to queso-like.
Once I mastered my Fauxveeta Vegan Cheese Sauce, though, everything changed. Heat that up with a can of Rotel and we've hit the dairy-free vegan queso jackpot!
Humble and nutritious potatoes make this sauce so thick and silky. There are many interesting and flavorful ways to spice this up, but this version is a simple, easy and quick queso.
It's super fast if you already have some of my prepared cheese sauce sitting in the frig.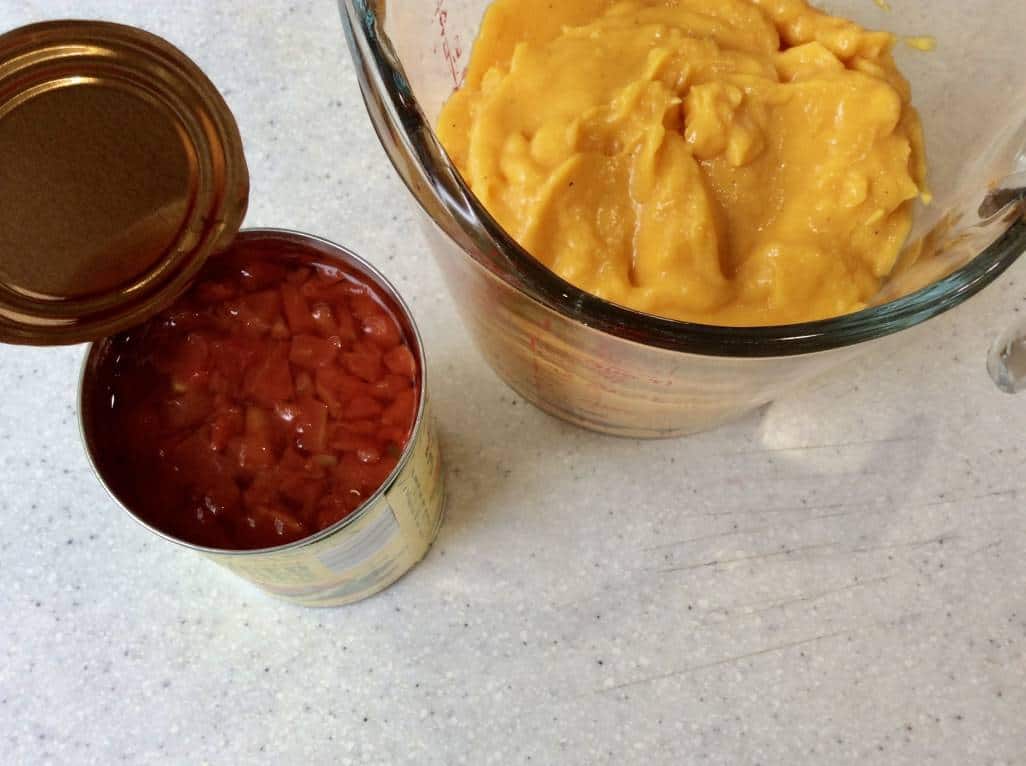 What makes it even better? This vegan chile con queso is plant-based, oil-free, soy-free, gluten-free and nut-free (if you use a nut-free plant-based milk), so it's very allergy friendly.
The first step is to whip up a batch of Fauxveeta Vegan Cheese Sauce, which is the "cheesy" base for this queso. You can find the recipe here.
I keep some of this sauce in my frig most of the time to make quick vegan macaroni and cheese, to pour over steamed veggies or make cheesy rice.
So, if you have some plain sauce leftover, you can use it for another meal!
Next, we heat up the cheese sauce with a can of spicy diced tomatoes with green chiles (aka Rotel). But, you can use any brand you like. Aldi grocery store has an excellent version that is half the price of Rotel.
Lastly, devour this spicy, creamy vegan queso with tortilla chips. My kids love it, so if you're making it for kids that are not able to handle spicy food, I would recommend getting the mild version of Rotel.
If you're looking for an oil-free, fat-free option for tortilla chips, you can bake your own in about 20 minutes! Here's my recipe for homemade baked tortilla chips.
Or, you can buy baked oil-free tostadas and break them up into chips. This sauce can also be used to top enchiladas, nachos or slathered over a burrito bowl.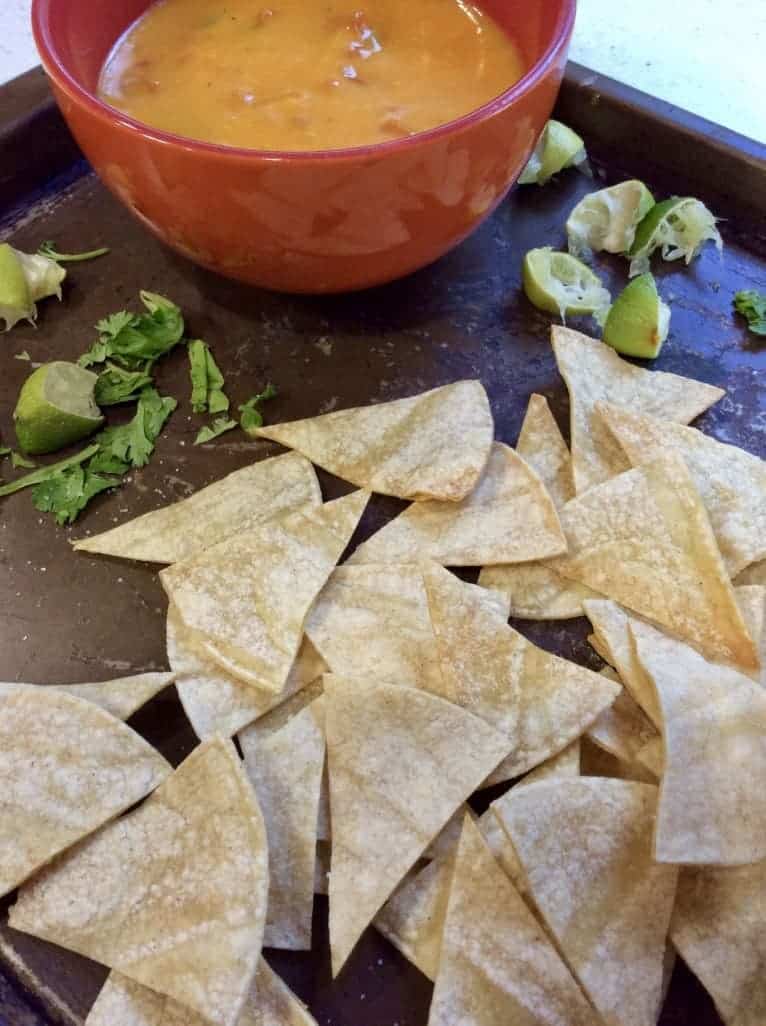 💜 More recipes you'll love
Love this recipe? Please rate it ⭐️⭐️⭐️⭐️⭐️ down below. ⬇️ And, if you make it, please tag me @veryveganish on Instagram in your posted photos! I would love to see your creations. 😄
📖 Recipe
Easy Vegan Chile Con Queso Nacho Cheese
Creamy, spicy chile con queso that's vegan, plant-based, dairy-free, soy-free, nut-free and gluten-free. Allergy-friendly queso for the win! Perfect as a dip for game day (or any day), for nachos, enchiladas or 7-layer dip.
Ingredients
1 10- ounce can spicy diced tomatoes with green chiles, Rotel brand or similar - with liquid, do not drain
Instructions
Combine cheese sauce and can of spicy tomatoes with chiles in small saucepan.
Heat over medium to medium low heat for 5-10 minutes until hot and bubbly, stirring frequently to prevent burning the bottom.
Serve hot with tortilla chips.
Notes
To keep hot during a party, transfer to a small crockpot on low or keep warm setting. Refrigerate any leftovers for up to 3 days.