It's quick and easy to make your own baked tortilla chips at home. They are much healthier than the bagged version which are loaded with oil from the frying process. Most standard, fried tortilla chips get about half of their total calories from the oil alone. That oil can contribute to clogged arteries and unwanted pounds. So, if you skip the oil (which has very little, if any nutrition), you're cutting the calories in half. You can have your chips and eat them too!
Baking your own homemade tortilla chips means you can also control the salt content and seasonings. I'm a fan of tortilla chips with lime, so that's what I normally make.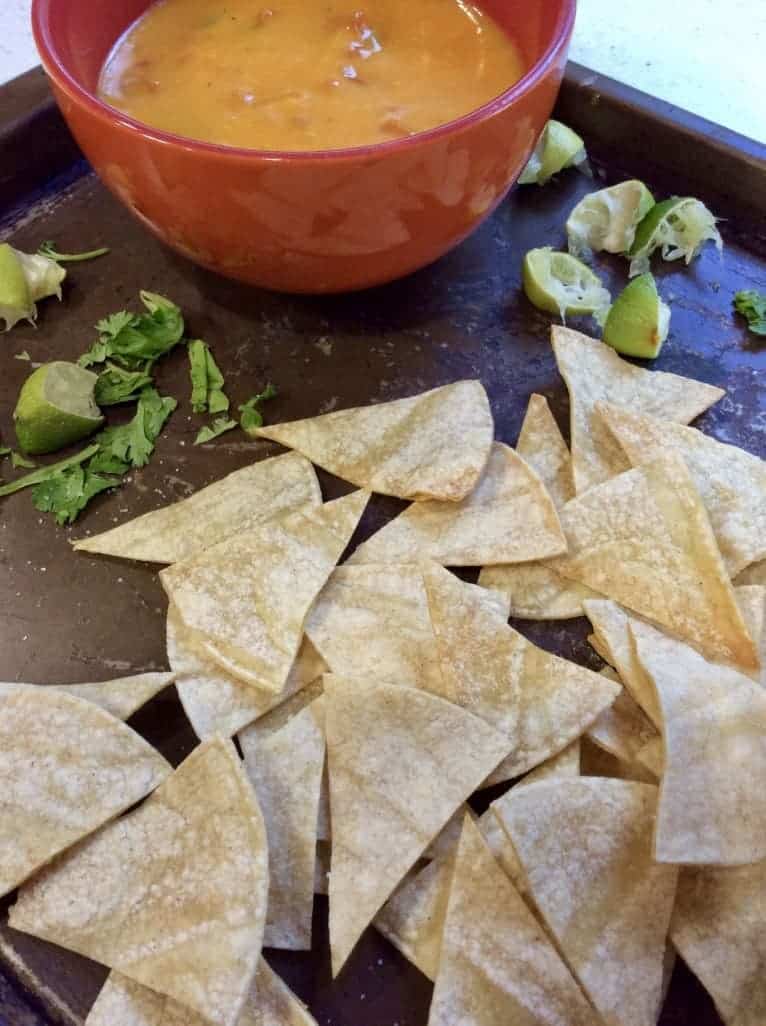 While I normally advise using a silicone baking mat to keep things from sticking, that is not necessary here. In fact, if you use one, it will slow down the baking process and make it take much longer to get these crispy oil free baked tortilla chips done and ready for some dip!
Also, don't overcrowd them on the pan. The cut tortillas should not overlap each other. They can be close to each other as they will shrink and curl up a bit while they bake, but shouldn't overlap. Six corn tortillas that have been cut into six triangles each just fit a large baking tray. That will give you 36 chips.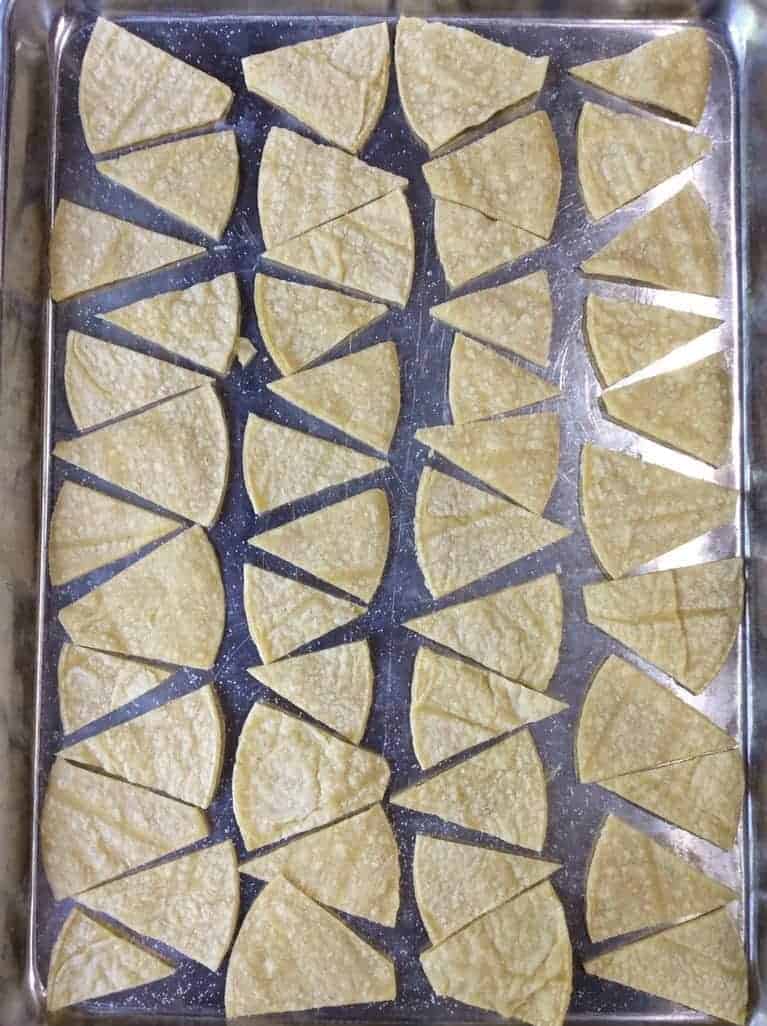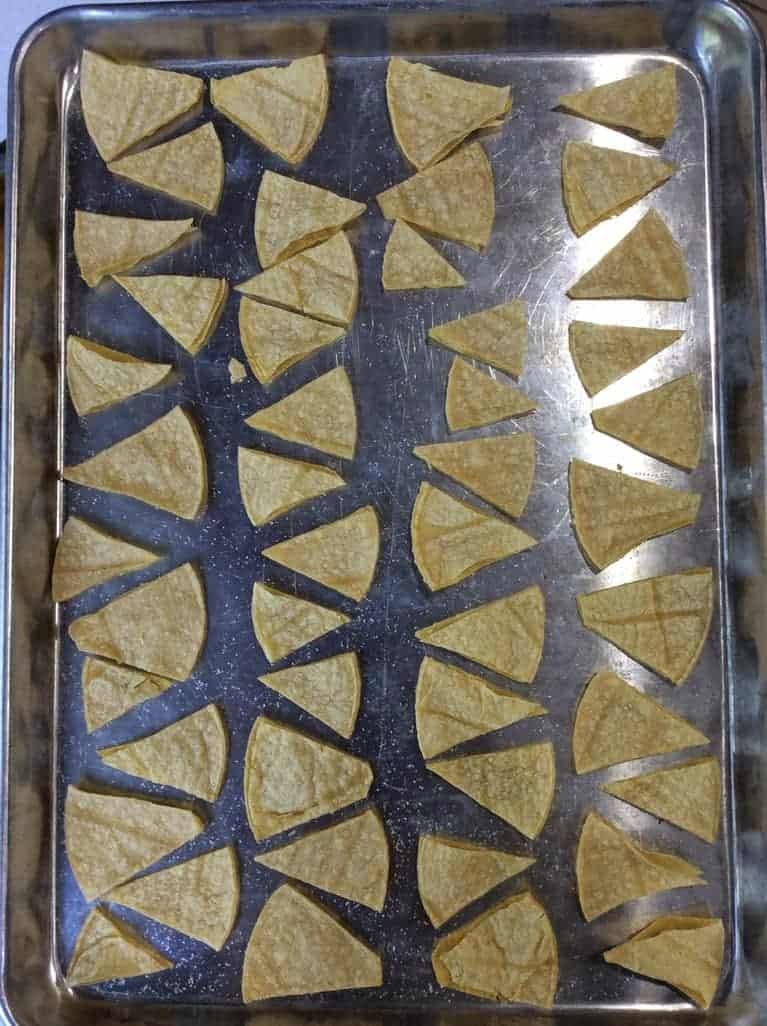 I don't know about you, but my favorite chips are the ones that curl up or fold over on themselves because they're so crispy and munchable. Well, these chips kinda separate and create layers sometimes. That makes them extra crispy and munchable!
These healthy chips are delicious to scoop up pico de gallo, vegan chile con queso, hummus, salsa or bean dip. They are also a great plant-based, vegan snack to pack in a school lunch box or take with you when you're running errands.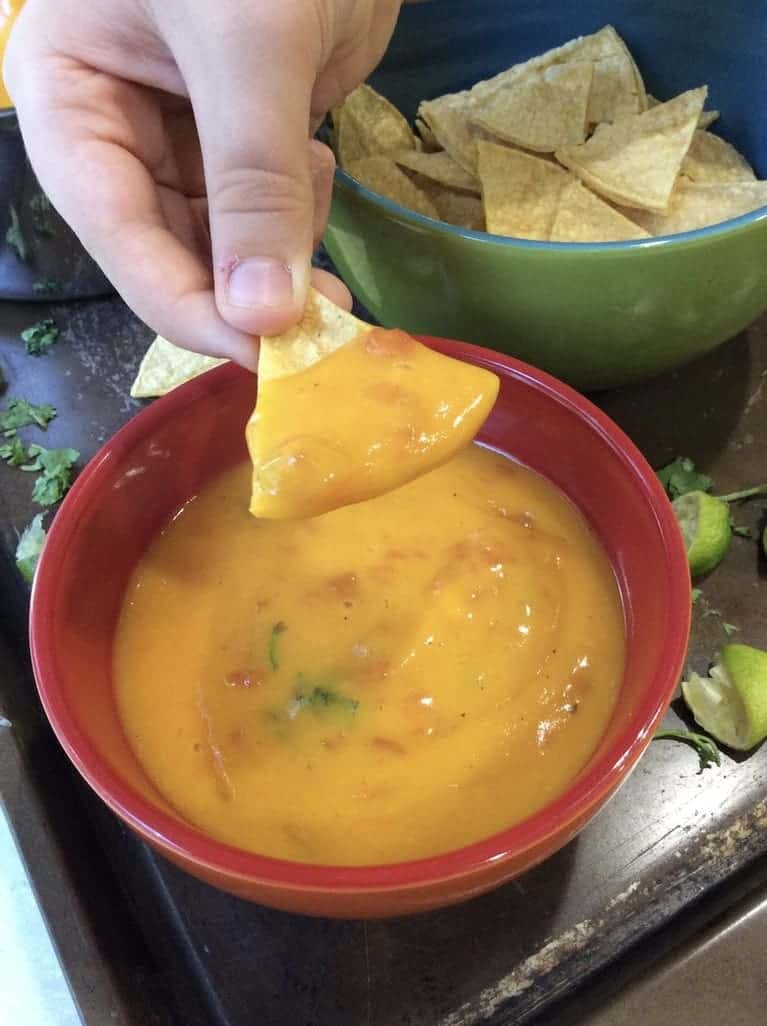 Homemade Fat Free Baked Tortilla Chips
Crispy, healthy fat free baked tortilla chips for dip, salsa, hummus, plant-based chile con queso or for snacking! Oil-free tortilla chips make a delicious and crunchy alternative.
Ingredients
6 corn tortillas
Half a lime, sliced (optional)
sea salt, optional
Instructions
Preheat oven to 400 F.
Stack the tortillas and cut them into sixths to make little triangles like pizza slices.
Place some of the tortilla slices in a medium bowl and squeeze some lime juice on them. Gently toss. Add more tortillas slices, sprinkle with more lime juice and toss. Continue until all tortilla slices have been sprinkled with lime juice.
Then, spread slices on a large baking sheet in one layer. Do not overlap the slices. Sprinkle with sea salt.
Bake for 15 minutes and check. If still bendable or soft in the middle, bake another 5 minutes. They will continue to crisp up a little after they're done baking, but they should be firm straight out of the oven.
Nutrition Information:
Yield:

3
Serving Size:

1
Amount Per Serving:
Calories:

108
Total Fat:

1g
Saturated Fat:

0g
Trans Fat:

0g
Unsaturated Fat:

1g
Cholesterol:

0mg
Sodium:

216mg
Carbohydrates:

23g
Fiber:

3g
Sugar:

1g
Protein:

3g
Nutritional calculations are done using online tools, such as recipe widget Create. Even though we have tried to provide accurate nutritional information, these figures should be considered estimates.
Pin for later!