I feel bad for tofu. It gets a bad rap. Soggy, watery, bland. Basically the attitude of "why would you want to eat tofu?".
While it's not my favorite thing in the world to eat, I do enjoy it in certain dishes. My children, on the other hand, love it. Love it. Don't ask me why or how, but they do.
The trick for me to enjoy tofu is to cut it into smaller pieces and bake it in the oven. This eliminates the sogginess and wateriness. Typically, I also brush it (or marinate) with a sauce to inject it with flavor. Sometimes, though, I will bake it plain if I'm going to be tossing it with some kind of sauce in my wok.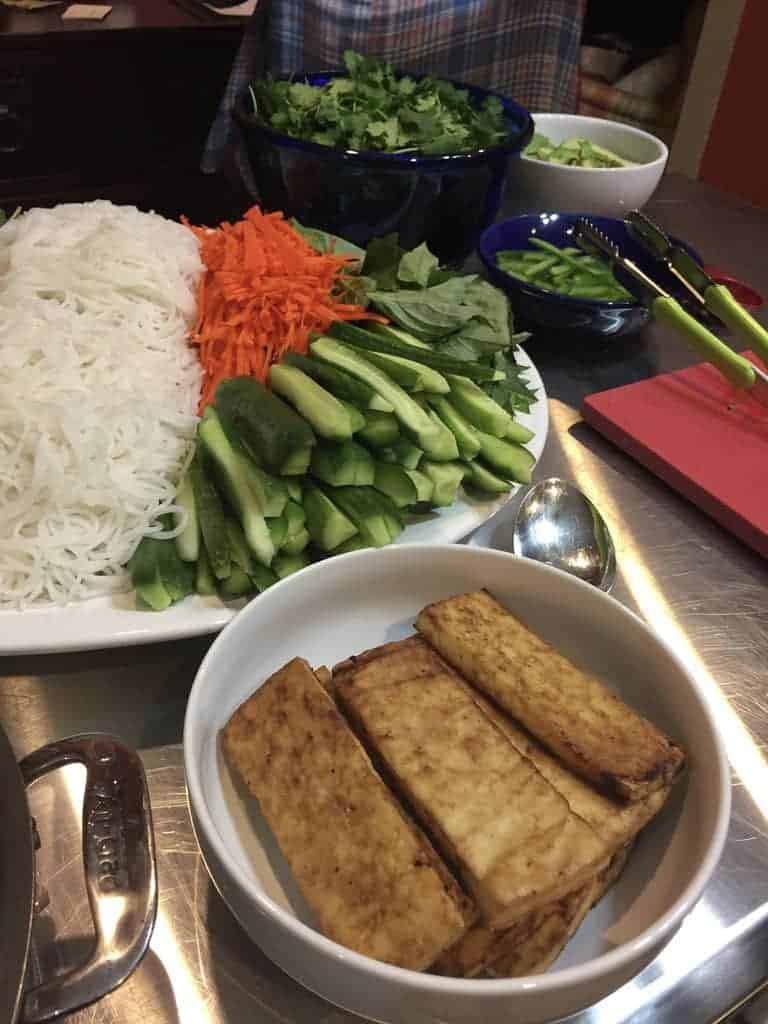 This ginger garlic lime tofu is delicious wrapped inside fresh Vietnamese spring rolls or in a rice bowl. It also works very well in sandwiches, especially my version of Vietnamese banh mi. My children will eat it straight off the baking sheet, though, if I don't shoo them away. I told you they love tofu.
Ginger Garlic Lime Baked Tofu
Firm and tender strips of marinated, baked tofu perfect for filling sandwiches, spring rolls or rice bowls. Oil free and vegan.
Ingredients
1 package extra firm tofu, sliced into 8 rectangle pieces
2 tsp crushed garlic
2 tsp crushed ginger
½ tsp sugar
2 tbsp soy sauce, or tamari
juice of half a lime
Instructions
Preheat the oven to 400 F.
Prepare the tofu by pressing it gently in a clean dish cloth.
Then, arrange pieces of tofu on a baking sheet lined with a silpat mat or parchment paper.
Mix marinade ingredients in bowl, then brush half of marinade over pieces of tofu.
Bake for 15 minutes, then flip the tofu and brush the rest of the marinade on the other side.
Bake for another 15 minutes.