A plant-based take on a Vietnamese classic: banh mi! Sweet chili air fryer tofu gets paired with pickled carrot, cucumber, jalapeño and fresh herbs, all stuffed inside a soft French roll.
Jump to: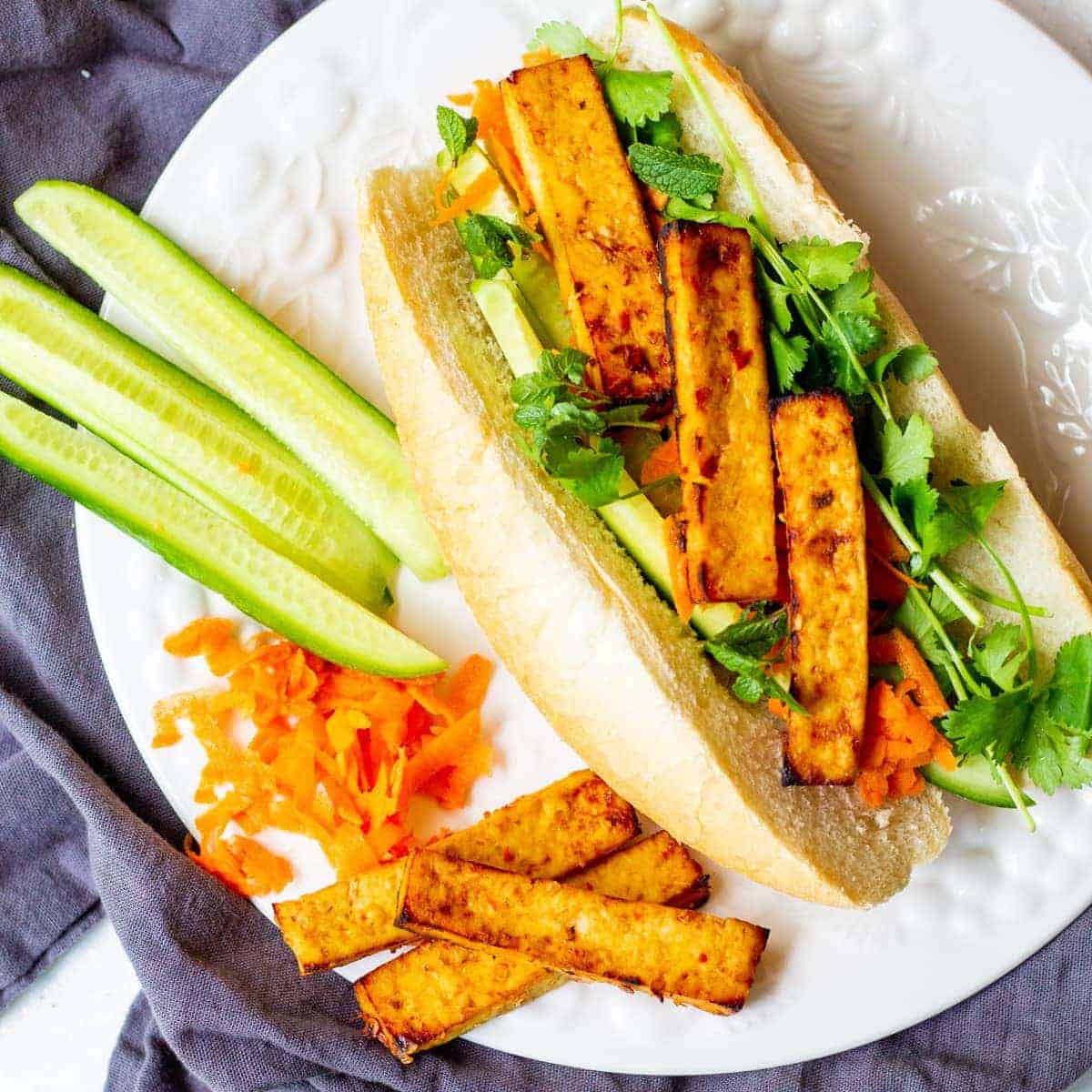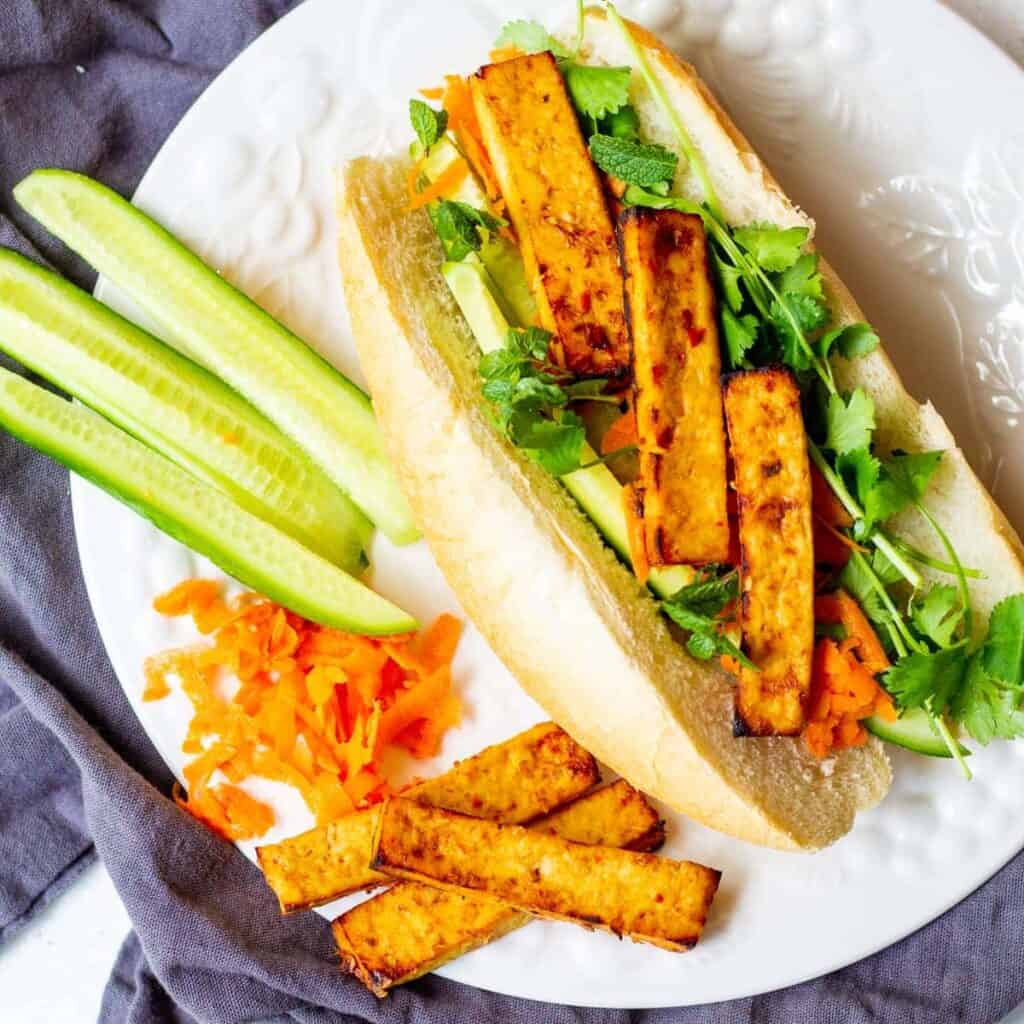 🧄 Ingredients
For this vegan banh mi sandwich, you'll need:
For the tofu:
For the pickled carrot:
grated carrots (grated on the large holes of a box grater)
sugar
salt
For assembling the sandwiches:
French rolls
vegan mayo
cucumber
fresh herbs (cilantro, mint, thai basil)
jalapeño
🔪 Instructions
How to quick pickle carrots
The first step is to quick pickle your grated carrots. I've grated my carrots with a box grater, using the large holes.
Add the carrots to a quart-sized glass jar. Then, mix the vinegar, hot water, sugar and salt together until the sugar and salt have dissolved.
Then, pour that over your carrots, pop a lid on and put it in the refrigerator.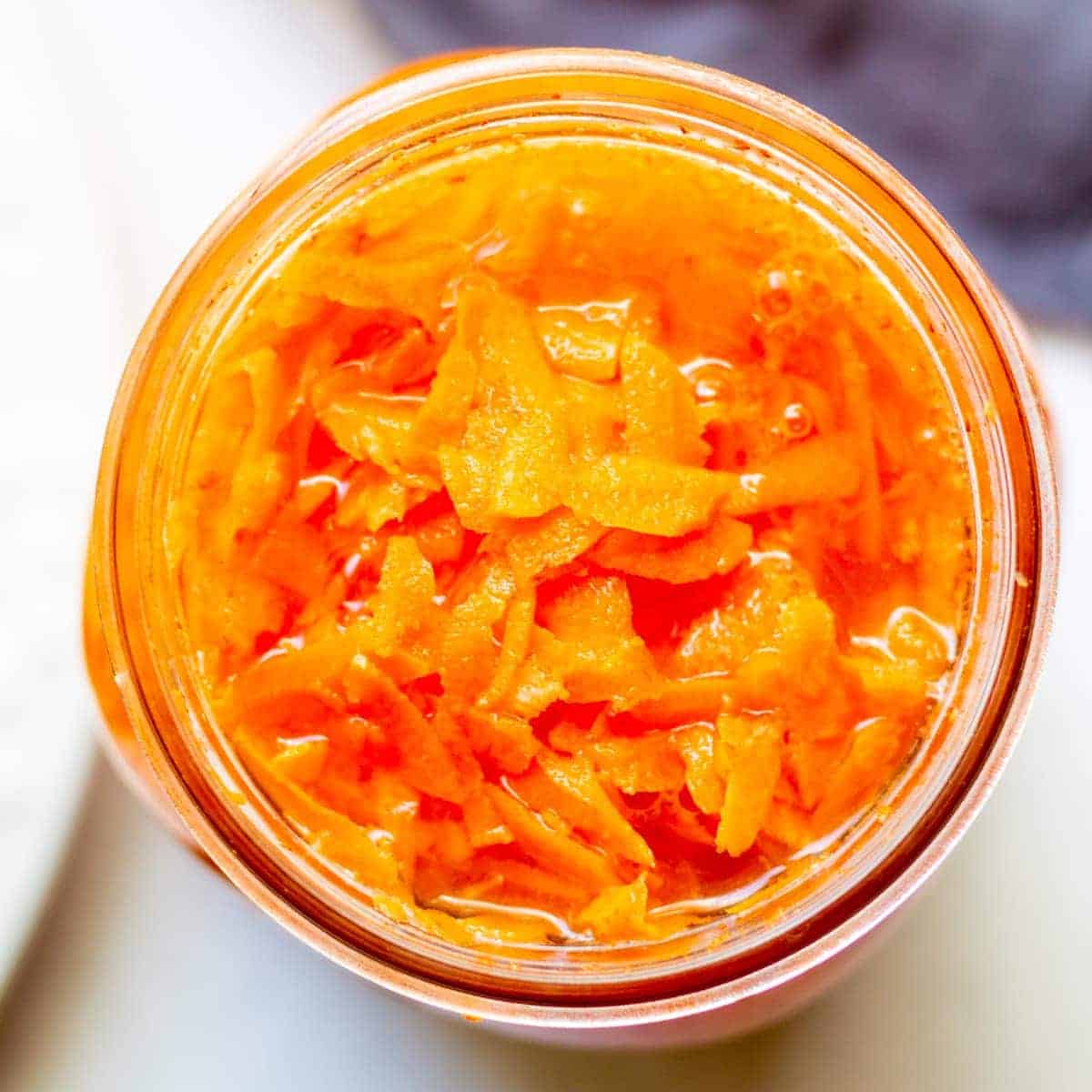 How to press tofu
Next step is to press and marinate your tofu.
Meal Prep Tip: Double the tofu recipe, so you have extra tofu later this week for sandwiches, bowls or spring rolls.
If you're using extra firm tofu, wrap it in paper towels or a clean dish towel and gently squeeze it.
If you're using firm tofu that has more water in it, then it would be better to gradually press the moisture out of the tofu.

You can do this by placing it on top of paper towels on a plate, then putting another plate on top, with a weight on top of it, like a large can. Leave it for about 30 minutes.

Then, cut your tofu into 12 long rectangle pieces, like tofu fingers.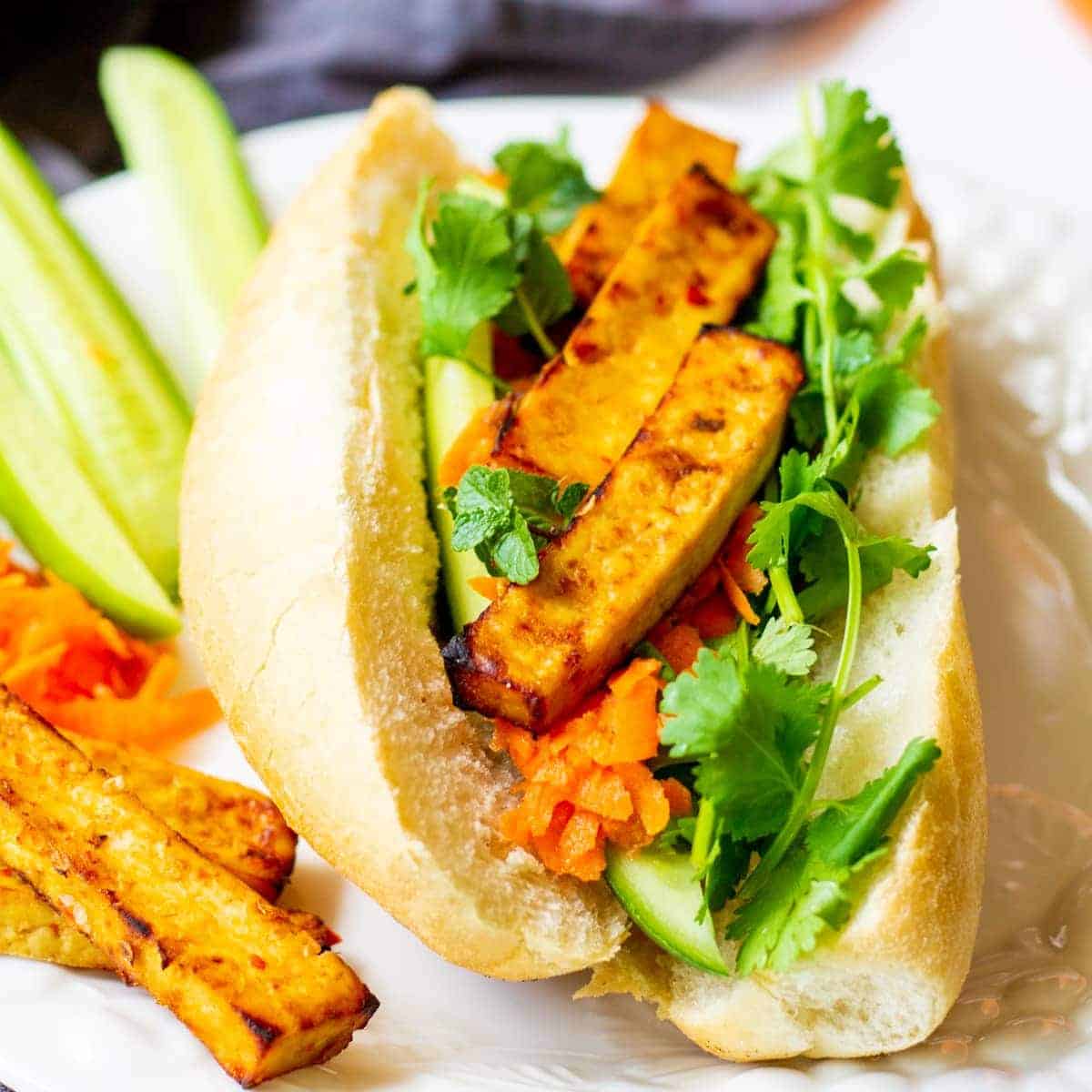 Once your tofu has been pressed, prepare your marinade and spread a thin layer on the bottom of a baking dish.
Add cut tofu on top in a single layer, then brush the rest of the marinade on top.
Let sit for as long as possible to allow flavors to soak in. (You can marinate in the refrigerator up to overnight, if you want).
How to air fry tofu
Line your air fryer with parchment paper or spray with baking spray.
Add your tofu pieces to the air fryer basket. Bake at 400 F for 12 minutes, flipping halfway through, if necessary, depending on your model.
My air fryer has holes on the bottom, but is not a wire basket, so flipping makes them turn out better.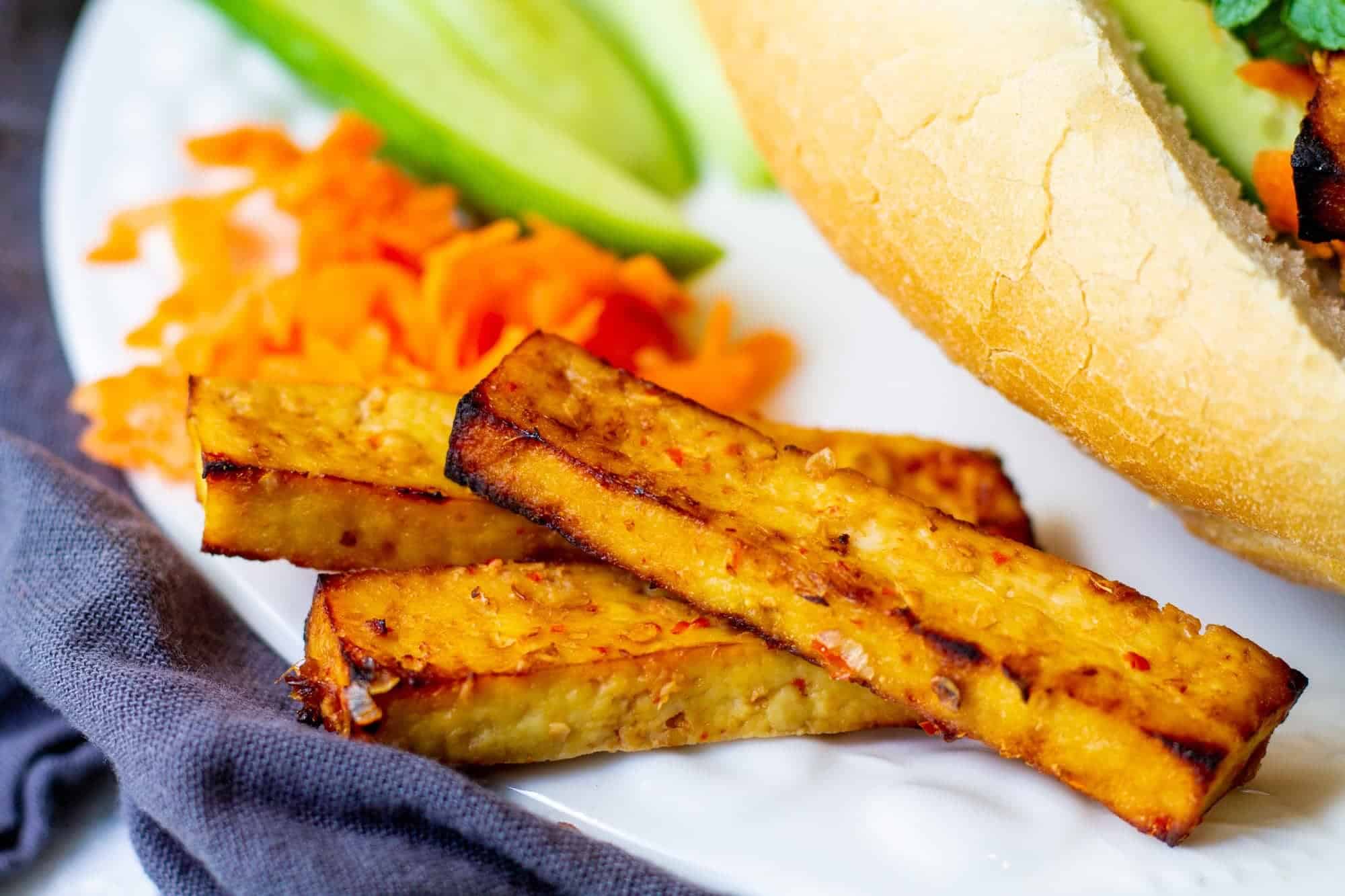 Assembling your banh mi
Warm your bread in the oven or air fryer for 60 seconds, then cut it lengthwise (but not all the way through).
Remove some of the filling from the bread, then spread on your vegan mayo and layer with cucumber, pickled carrots, fresh herbs, jalapeño and baked tofu.
Enjoy immediately!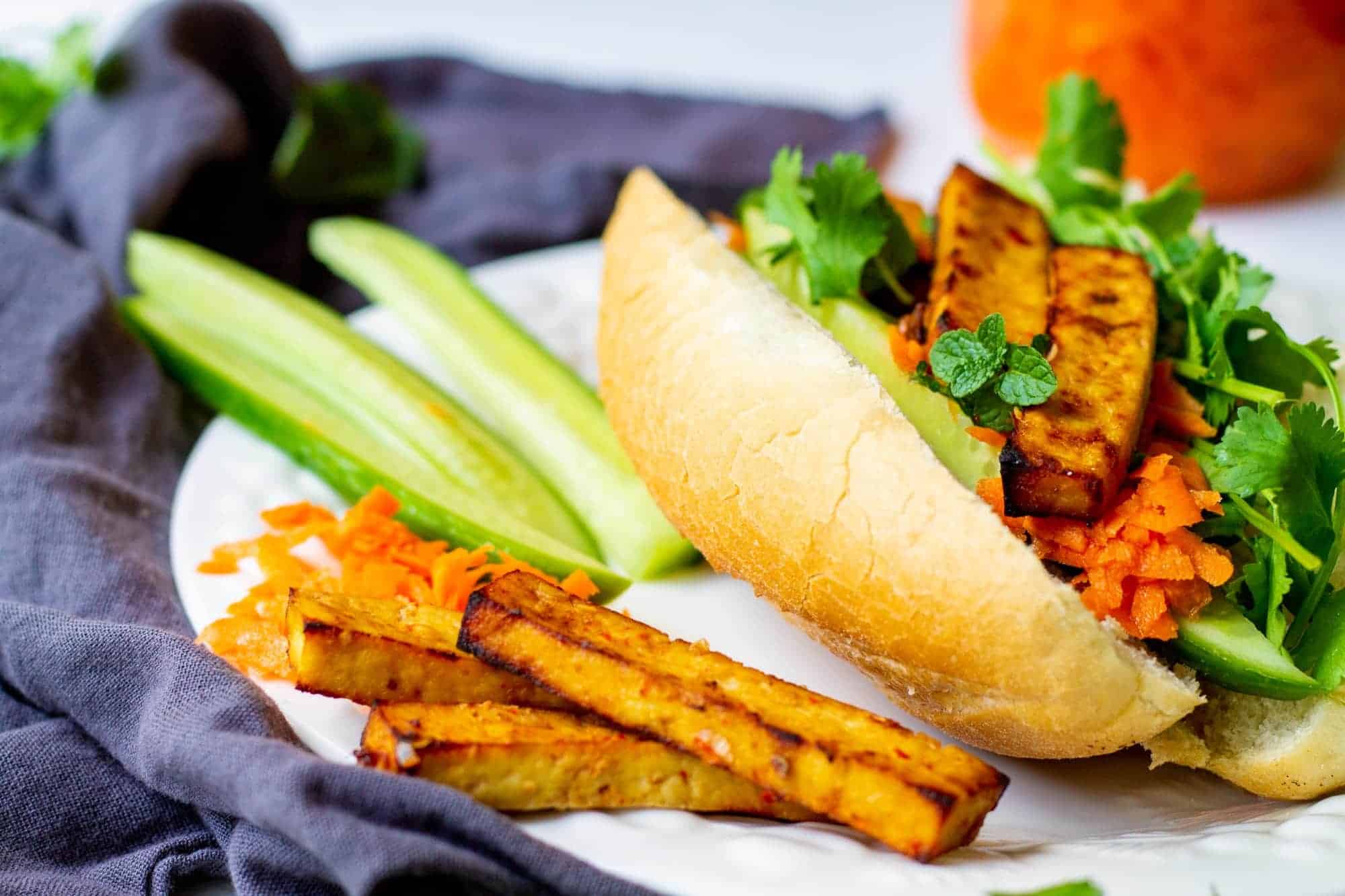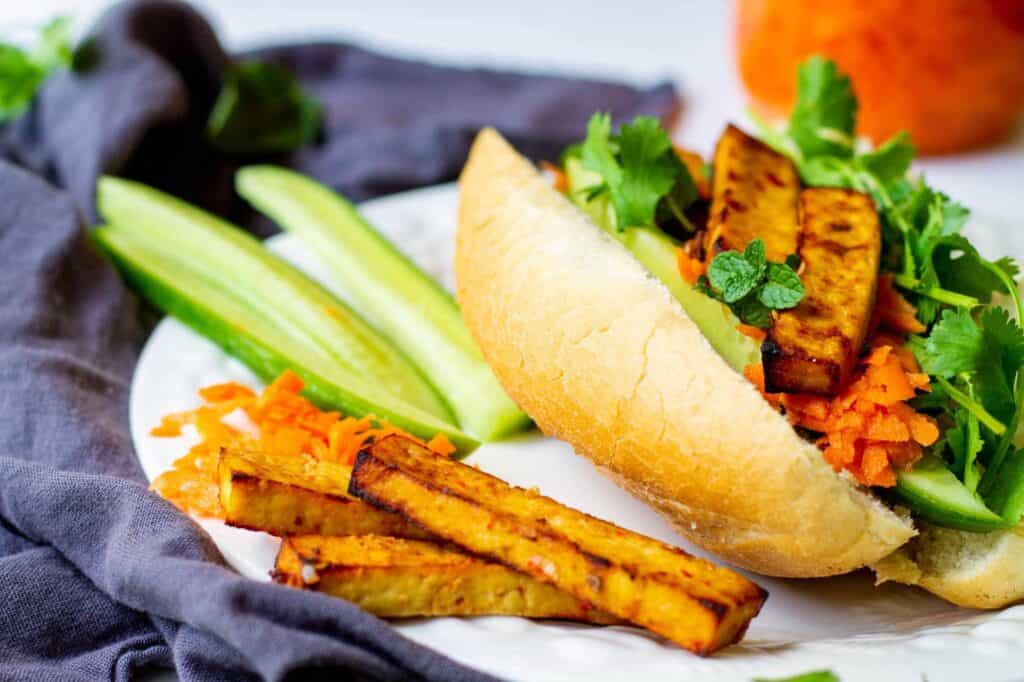 👨‍👩‍👦‍👦 Serving suggestions
This recipe will serve four people easily.
If you're serving your vegan banh mi sandwiches alongside other dishes, you could probably stretch it to 6-8 people, if you cut the sandwiches in half or use small French rolls.
For a party, cut your long French rolls into fourths or make your banh mi's on slider buns!
As for drinks, this would be delicious with Vietnamese coffee or perfect southern iced tea, even boba tea. A tropical fruit punch would be a fun drink to pair with this meal, also.
💭 Tips
What to do with leftovers
Extra pickled carrots can be added to tacos, grain bowls, banh mi bowls or sandwiches throughout the week. They will keep for 2-3 weeks in the refrigerator.
In fact, any leftovers can be repurposed into a noodle or rice banh mi bowl during the week. Or, better yet, spring rolls!
How to store banh mi sandwiches
You could certainly prepare these sandwiches for a work lunch, picnic or road trip.
But, they are best fresh, considering all the fresh herbs and cucumber.
💜 More recipes you'll love
Love this recipe? Subscribe here so you don't miss any new recipes!
Please rate it ⭐️⭐️⭐️⭐️⭐️ down below. ⬇️ And, if you make it, please tag me @veryveganish on Instagram in your posted photos! I would love to see your creations. 😄
📖 Recipe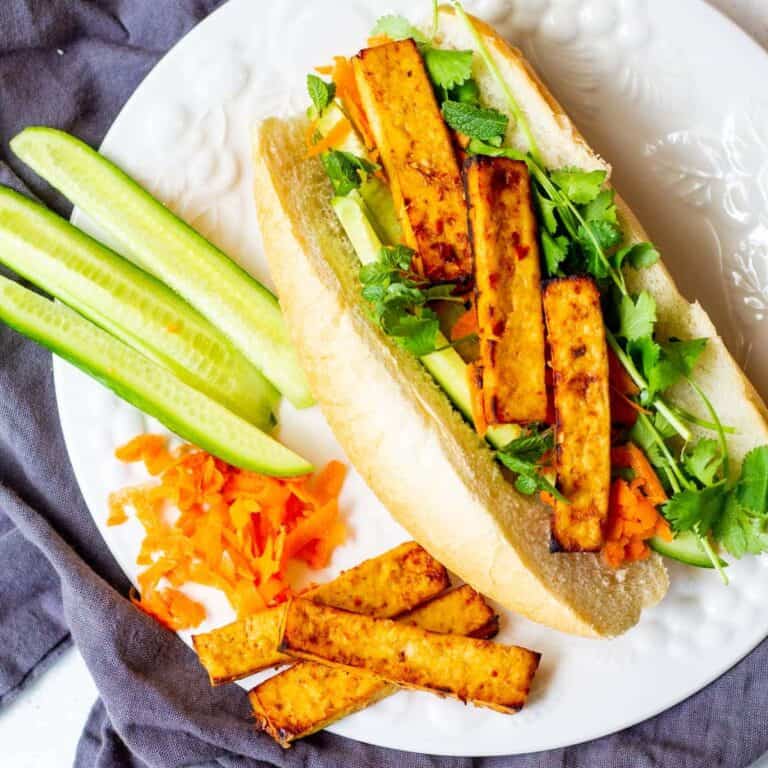 Vegan Banh Mi Sandwiches with Sweet Chili Air Fryer Tofu
A plant-based take on a Vietnamese classic: banh mi! Sweet chili air fryer tofu gets paired with pickled carrot, cucumber, jalapeño and fresh herbs, all stuffed inside a soft French roll.
Ingredients
Tofu
16 ounces extra firm tofu, sliced into 12-14 long rectangles
¼ cup soy sauce
½ cup sweet chili sauce
Pickled Carrots
2 cups carrots, grated
1 cup unseasoned rice vinegar
1 cup hot water
2 tablespoon sugar
½ teaspoon salt
Sandwiches
4 French rolls or bolillos
4 Persian cucumbers, sliced into thick long quarter slices
1 jalapeño, de-seeded and thinly sliced
Fresh cilantro, mint, Thai basil leaves
Vegan mayo
Instructions
Prepare the pickled carrots by adding the grated carrots to a quart sized glass jar. Mix the vinegar, hot water, sugar and salt together in a measuring cup or bowl. Stir to dissolve sugar and salt. Pour over carrots and refrigerate for at least 20 minutes before serving.
Prepare the tofu by pressing it gently in a clean dish cloth or paper towels, then cutting into 12 long rectangles, like tofu fingers. Mix soy sauce and sweet chili sauce in bowl.
Spread a thin layer of sweet chili marinade on the bottom of your baking dish, then place your tofu pieces on top. Then, brush the rest of marinade on top. Marinate for at least 10 minutes, up to overnight.
Line air fryer with parchment paper or spray with baking spray. Air fry at 400 F for 12 minutes, or until browned on the edges. Alternatively, you can bake these in the oven at 400 for 25 minutes, turning halfway through.
Slice French rolls lengthwise, not cutting all the way through.Remove some of inside of the bread to make room for the filling. Then, warm in oven or air fryer for 60 seconds.
Spread mayo on bread, then add cucumber, jalapeño, herbs, pickled veggies and 4 pieces of tofu. Serve right away.
Notes
Substitution Options:
Extra firm or firm tofu can be used. With extra firm tofu, you don't have to press it quite as long, since it has less liquid.
Soy sauce - sub with coconut aminos or tamari for gluten-free
Carrots - sub with grated or julienned daikon radish
Rice vinegar - sub with apple cider or white vinegar
Sugar - sub with other sweetener of your choice
French rolls - sub with Mexican bolillos, soft baguette or any soft, long bread roll.
Persian cucumbers - sub with english cucumber or peeled standard cucumber.
Jalapeño - sub with any spicy chili or sweet bell pepper to omit the spiciness
Tip: use leftover tofu marinade to make a sauce for stir fry veggies. Just add to a small pan of cooking veggies, then stir in a whisked slurry of 1 teaspoon cornstarch with 2 tablespoon water.
To make oil-free: use oil-free plant-based mayo or cashew cream.
Nutrition Information:
Yield:

4
Serving Size:

1
Amount Per Serving:
Calories:

329
Total Fat:

7g
Saturated Fat:

1g
Trans Fat:

0g
Unsaturated Fat:

5g
Cholesterol:

0mg
Sodium:

1508mg
Carbohydrates:

58g
Fiber:

5g
Sugar:

23g
Protein:

11g
Nutritional calculations are done using online tools, such as recipe widget Create. Even though we have tried to provide accurate nutritional information, these figures should be considered estimates.