One of the most challenging things when avoiding oil in your diet is finding a good salad dressing without oil. In this post, you'll find the most popular vegan, oil-free dressing brands, homemade salad dressing recipes without oil and also ideas for how to flavor a salad without a dressing!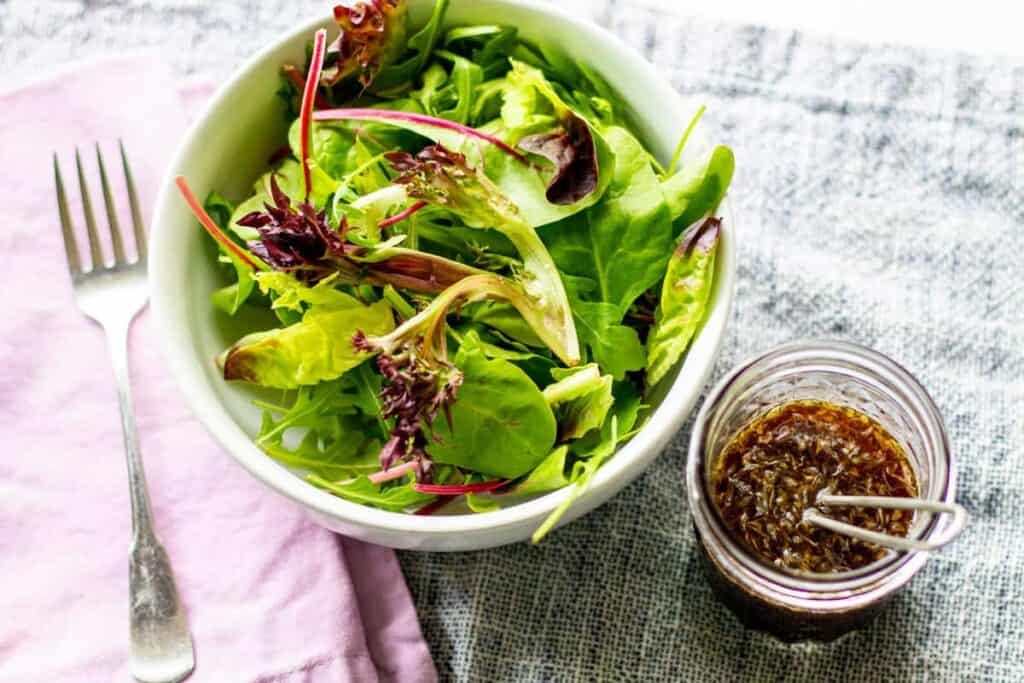 Jump to:
Why avoid oil?
Avoiding oil in your salad dressings will immediately reduce the calories of your salad dramatically, since oil is the most calorie-dense food on the planet!
One tablespoon of oil contains 120 calories. You could easily pour 2-3 tablespoons of olive oil or oily dressing on your salad, which would add 240-360 calories to your meal.
Avoiding oil is the first thing to do if you're trying to lose body fat on a plant-based vegan diet. In addition, oil is a highly processed food that has been stripped of its nutrients.
By avoiding oil, I'm not suggesting it's wise to avoid all fat. Healthy plant-based fats are important for optimal health. But, did you know that almost all plants have some fat in them? Even fruits and vegetables. So, you could easily get your fat needs cared for by eating a whole foods plant based diet, without the need for added oil.
I'm not a doctor or medical professional, so I'm not qualified to give you health advice. So, if you have more questions about this, please talk to your doctor or research this topic on Dr. John McDougall's website, on nutritionfacts.org to hear from Dr. Michael Greger or learn about it from Dr. Caldwell Esselstyn's book, How to Prevent and Reverse Heart Disease.
Popular store-bought oil-free salad dressing brands
After surveying super active Facebook groups full of those who following a whole food, plant-based, oil-free lifestyle to find out their favorite brands of oil-free salad dressing, here's the list. Check it out!
Oil-free, fat-free, no added sugars
Wildly popular in the plant-based community thanks to Chef AJ, but their products are pricey.
Flavors: Sweet Mustard, Sweet Heat, Italian, Balsamic, Desert Catalina
No added oil, no added salt, sweetened with whole fruit, gluten-free, nut-free, vegan
Trader Joe's Fat Free Balsamic Vinaigrette
This dressing has great consistency and flavor. Excellent for making pasta salad without olive oil!
Find this dressing at your local Trader Joe's
Maple Farms
Fat Free Vegan Flavors:
Find these dressings at Walmart and Whole Foods, as well as Amazon
One of my favorites!
Caution: some highly processed ingredients
Sprouts Organic Roasted Garlic Fat Free Dressing
Find this dressing at your local Sprouts grocery store. Not available online.
Made with Bragg's Organic Apple Cider Vinegar.
Find this dressing at Whole Foods or Amazon.
oil-free (cashew based), sugar-free, vegan, whole food
Simple Truth Plant-based Cauliflower Dip
Flavors: Spinach, Tzatziki, Buffalo, Cilantro Jalapeno
All whole foods, plant-based, oil-free (cashew/almond base)
Find these at Kroger, Ralph's, Fred Meyer. Not available online.
Homemade oil-free dressing recipes
Ideas for how to flavor your salad without oil
You don't always need a "dressing" for salad. Check out these simple ways to flavor your salad without using oil or store-bought salad dressings. These are all oil-free ideas!
Lemon juice
Squeeze fresh or bottled lemon juice (with or without salt and pepper) onto your salad
Oil-free hummus, thinned out with water or vinegar
Flavored Vinegars
Your grocery store may carry many different types of vinegars, some flavored. Try that first.
California Balsamic is wildly popular in the plant-based community thanks to Chef AJ, but their products are pricey.
Fruit
Add fruit to your salad and the juice from the fruit will help moisten and flavor your salad.
Watermelon (my fav!), strawberries, blueberries, orange segments, mango, apples, peaches, plums are all good options
Lime juice
Squeeze fresh or bottled lime juice (with or without salt and pepper) onto your salad
Orange juice
Salsa
Pickle juice + hot sauce
This was an interesting one! I haven't tried but could see how it might be yummy, if you like dill!
What are you favorite ways to dress a salad without using oil? Tell us in the comments below! Your idea may help someone else.
💜 More recipes you'll love
Try these plant-based, vegan salad and healthy salad dressing recipes!