Just 4 ingredients and you'll have a delicious and flavorful one pot dinner ready to go with this pesto gemelli pasta studded with spinach and cherry tomatoes. Bursting with fresh basil flavor, this easy vegan veggie pesto pasta can be served warm or cold as a pesto pasta salad.
Pesto pasta is ideal in summertime, when tomatoes and basil is in season. But, it can be enjoyed all year round in most parts of the world. Basil pesto freezes well, so keep a jar stored in the freezer and pull it out when you want that burst of summertime flavor.
Jump to:
🧄 Ingredient notes
This simple and quick veggie pesto pasta requires just a few ingredients.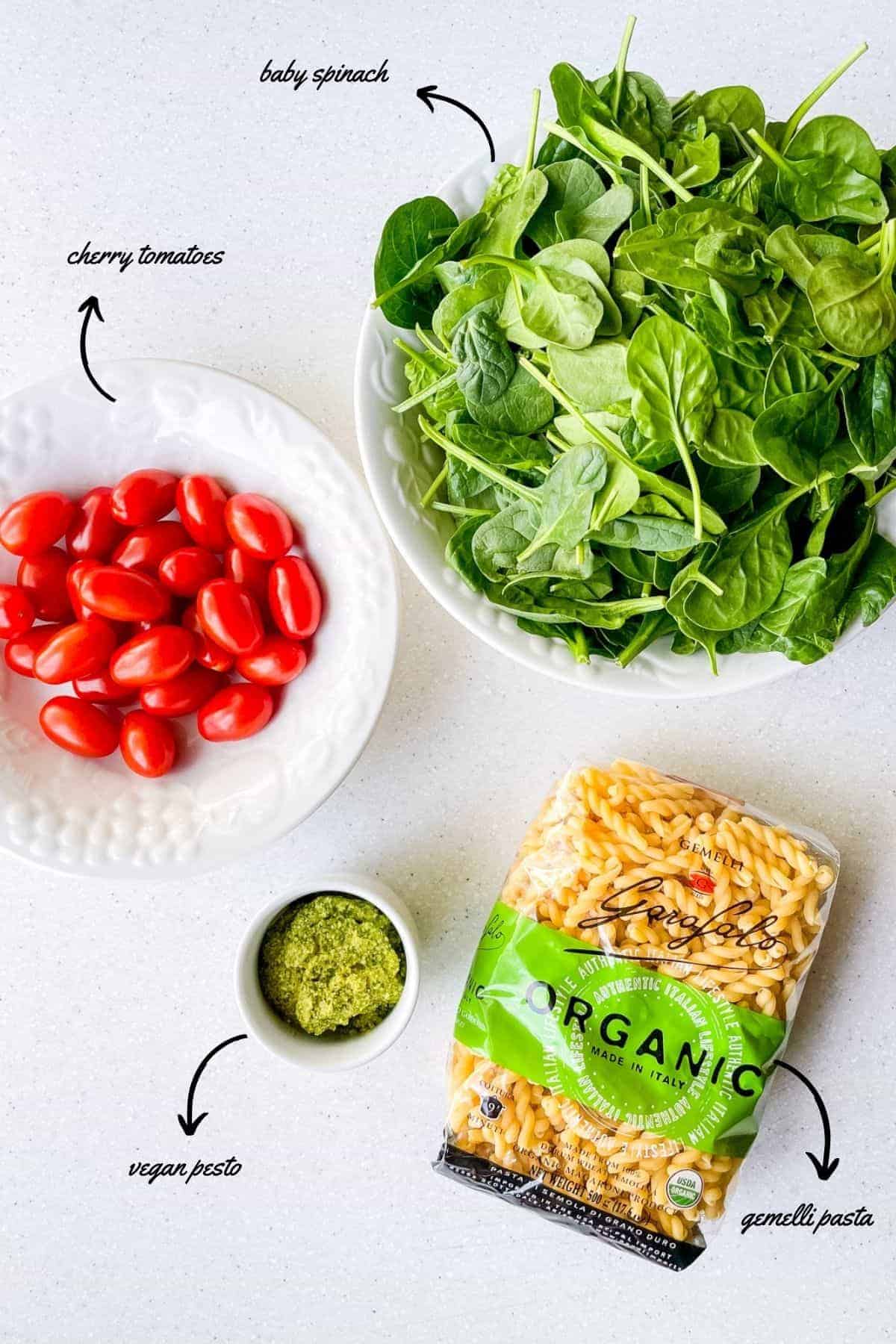 Gemelli pasta - the pesto clings to the spiral shape of gemelli pasta, making this a great choice for this recipe
Vegan green basil pesto - use either homemade or store-bought pesto. I used a homemade oil-free pesto, but use what you have. Pesto is so good and full of fresh basil flavor, it makes you want to put it on everything!
Cherry tomatoes - the little cherry tomatoes pack a lot of sweet summertime flavor in a small bite. I find the best deal on quality cherry tomatoes at Costco, but if you grow any in your summer backyard garden, absolutely use those in this!
Spinach - fresh baby spinach is very mild in flavor, it adds nutrients to the dish without taking away from the intense basil pesto flavor
Lemon juice - brightens the whole dish!
📋 Substitutions and variations
Here are some suitable substitutions you can use when making this pesto pasta:
Gemelli pasta - can be substituted with other medium pasta, like fusilli, spirals, shells, macaroni, casarecce, rotini, gigli, penne or penne rigate.
Fresh baby spinach - can be substituted with chopped mature spinach, kale or swiss chard.
Cherry tomatoes - can be subsituted with diced fresh roma tomatoes.
Nut-free - make this nut-free by choosing a nut-free pesto, perhaps one made with seeds instead.
Gluten-free - make this gluten-free by using your favorite gluten free pasta
WFPBNO - make this whole food plant based no oil by using whole wheat pasta and oil-free vegan pesto
SOS-free - make this SOS-free by omitting the salt and making a homemade salt-free pesto
Looking to switch things up? Try these pasta variations:
Spicy - add chili pepper flakes to the finished dish to infuse a little heat to this pesto pasta.
Cheesy - add some vegan parmesan (homemade or store-bought)
Broccoli - substitute broccoli for the spinach
Creamy pesto pasta salad (pictured below) - Add a few tablespoons of vegan sour cream to this pesto pasta with veggies to make it creamy and rich. I recommend using my cashew cream recipe to accomplish this (pictured below), it tastes amazing!
🔪 Instructions
Perfect for a weeknight dinner, you can pull this meal together in less than 30 minutes and just one pot. It's a matter of boiling your gemelli pasta, cutting your tomatoes, then mixing in the vegan pesto and veggies. Season with salt and pepper and devour!
Boil the gemelli pasta in well-salted water.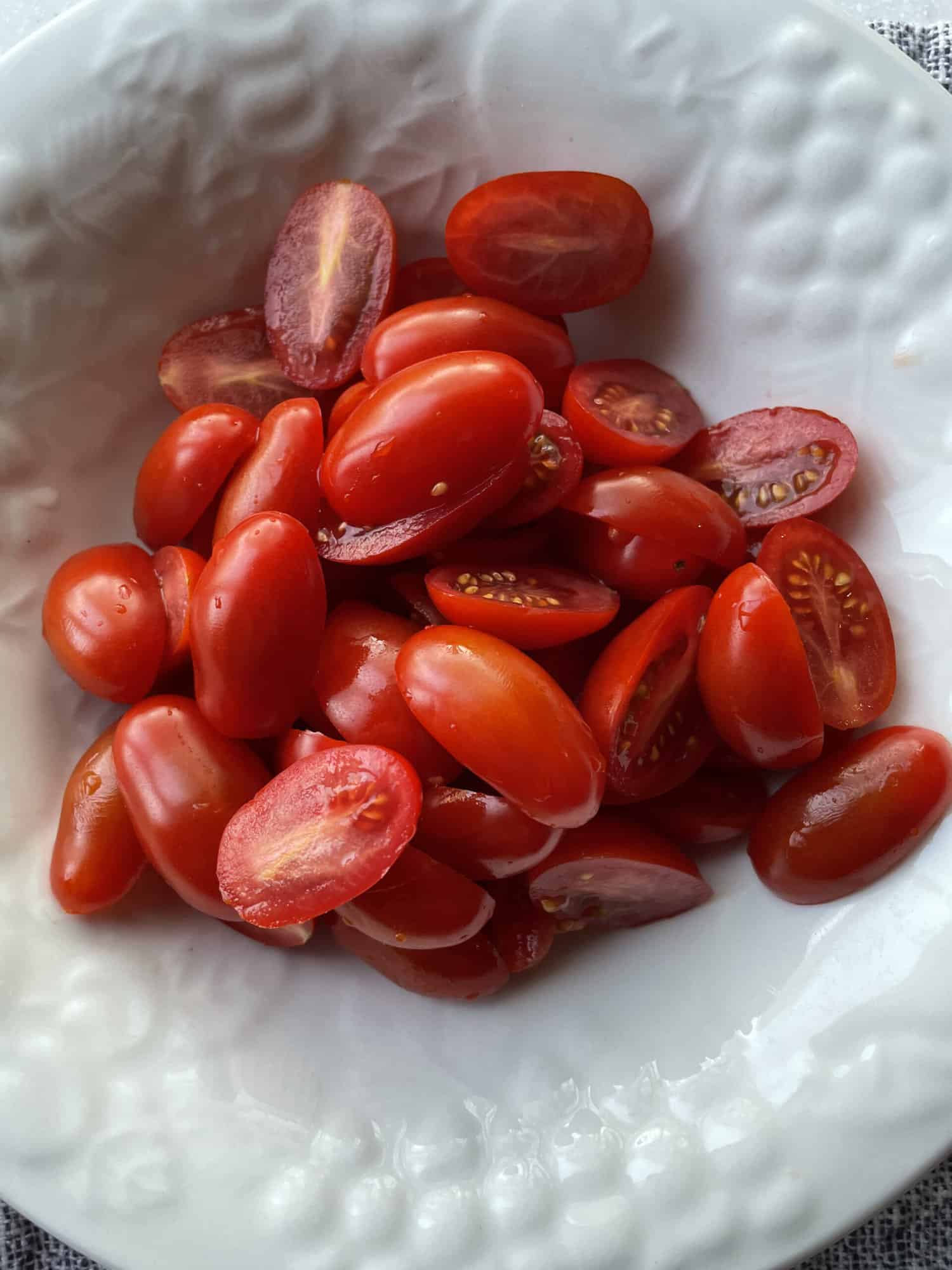 Cut your cherry tomatoes in half, lengthwise.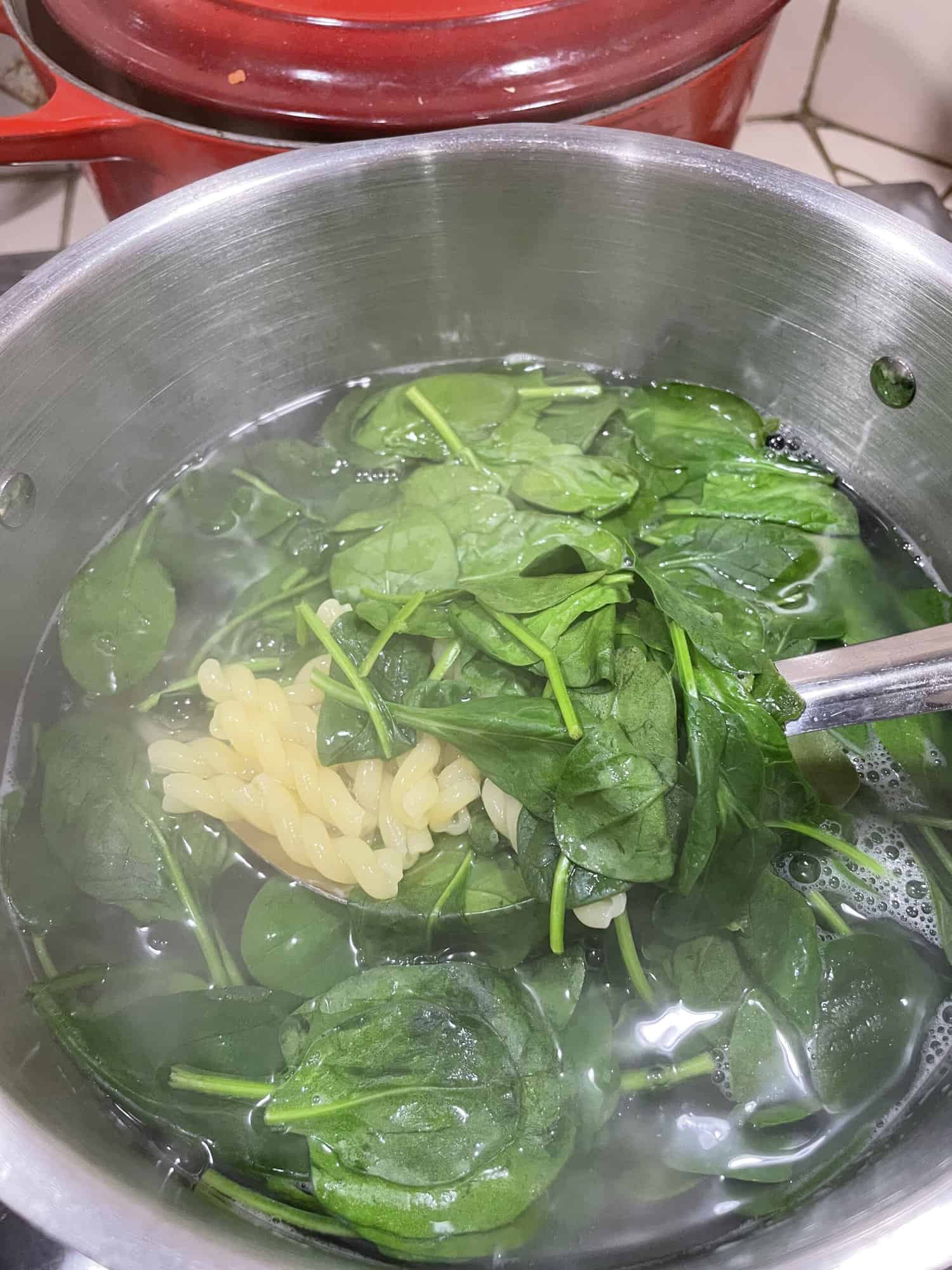 When pasta is done, turn off heat and immediately stir in all of the spinach in the pasta water. The spinach will wilt within seconds.
Drain all the water out of the pot and return the pasta and spinach to the pot. Stir in pesto.
Carefully stir in tomatoes.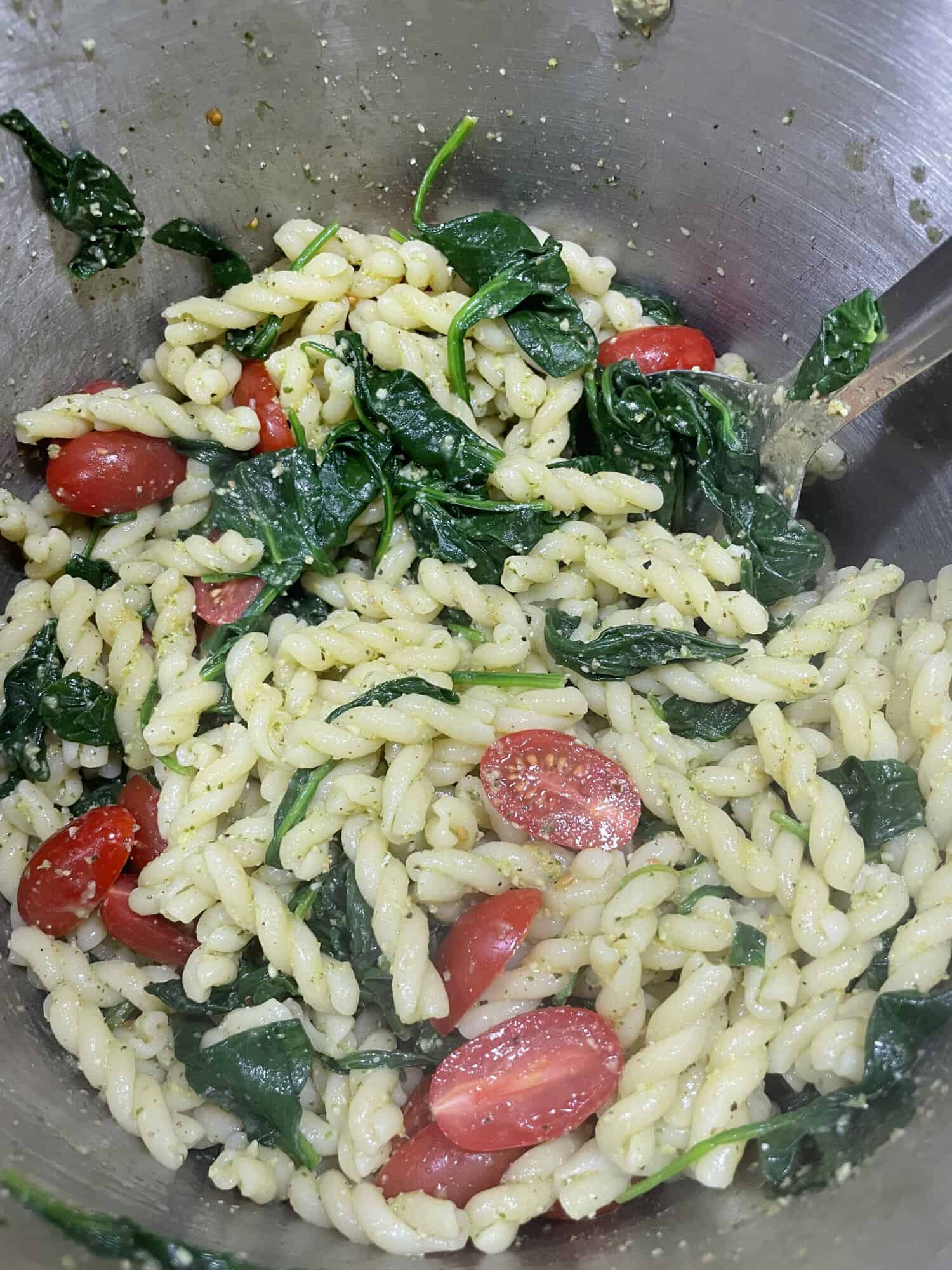 Taste and season with salt and pepper, as needed. Serve with fresh lemon wedges and basil leaves.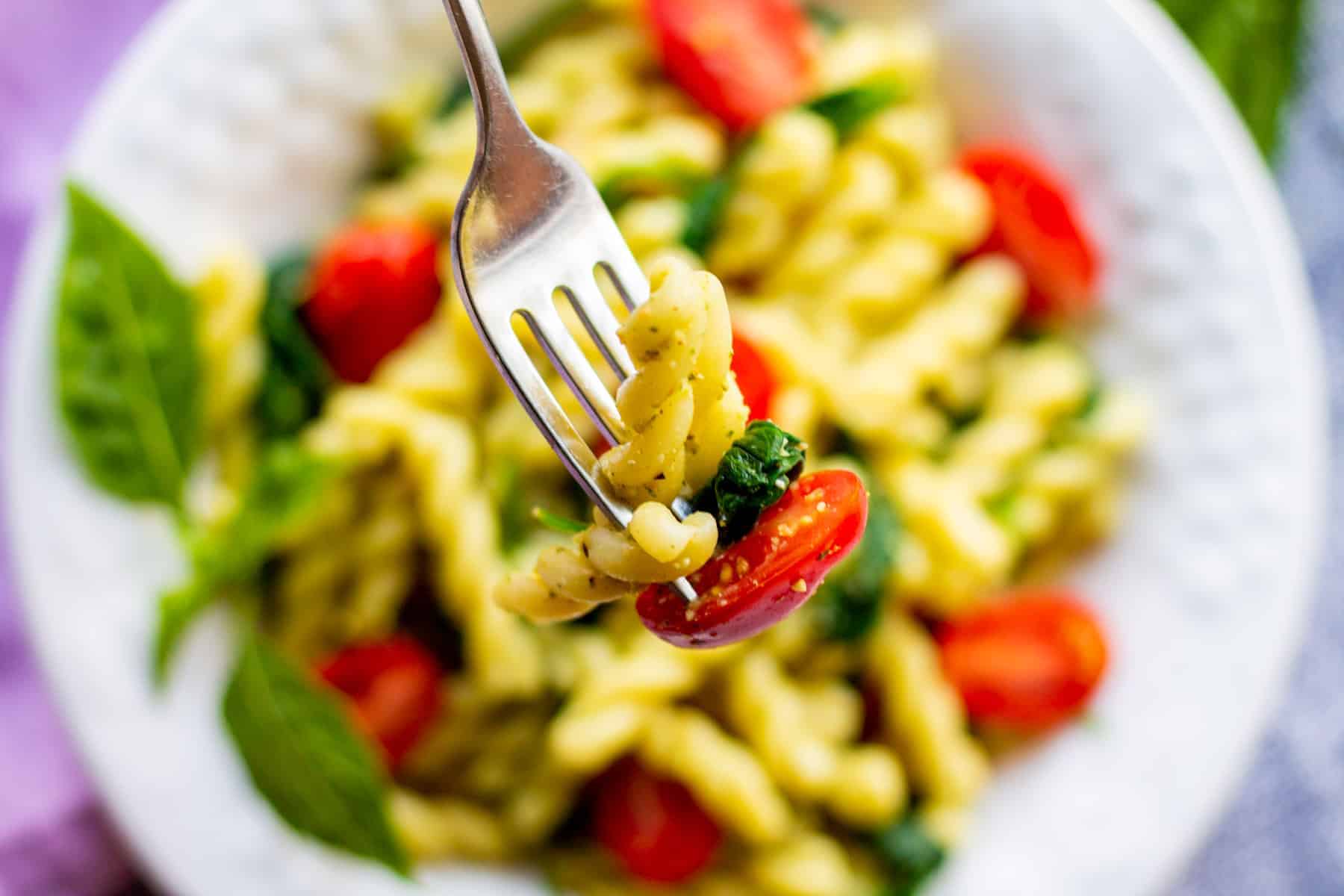 Hint: Serve hot or cold, depending on your preference. An extra squeeze of lemon juice and sprinkle of kosher salt over leftover pesto pasta brings more life to it.
🧯 Food safety
Wash hands with soap and water before cooking
Don't leave food sitting out at room temperature for extended periods
If storing it, don't add hot pasta to refrigerator. Divide it into separate airtight containers, allow to cool on the counter open with no lids. Then, when they are cool, put lids on and refrigerate.
Never leave cooking food unattended
Always have good ventilation when using a gas stove
See more guidelines at USDA.gov.
⭐️ Expert tips
If you want the spinach in smaller pieces, roughly chop it before adding it to the water.
Don't skip the lemon juice - it brightens the whole dish
Tomatoes come unseasoned from the garden - so you may need to add some salt and pepper, just taste it first to be sure. Your pesto may add enough flavor and seasoning already.
🍳 Equipment
Serrated tomato knife - makes cutting all those cherry tomatoes super easy and quick
🥡 Make ahead and storage tips
Store the prepared pesto pasta in the refrigerator for up to 5 days, but fresh basil loses its freshness and flavor more each day. So, best to eat it within 3 days for optimal flavor.
These ingredients don't stand up well to freezing.
☕️ Tea pairing
This vegetarian pesto pasta recipe would be delicious paired with mint tea, since basil is part of the mint family. When served cold as a vegan pesto pasta salad, pair with classic southern iced tea.
❓ FAQ
How do I store gemelli pasta?
Store this gemelli pasta dish in an airtight container in the refrigerator. It can be stored in the fridge for up to 5 days.
What can I do with leftovers of gemelli pasta?
Leftover gemelli pasta that is plain can be used to make pasta salad or baked pasta. Leftover gemelli pesto pasta with cherry tomatoes and spinach can be served cold as a pasta salad or heated in the microwave or oven.
Is gemelli pasta vegan?
Yes, dried gemelli pasta is vegan, as it does not include egg as one of the ingredients. Fresh gemelli pasta that is prepared with eggs would not be considered vegan.
What is gemelli pasta?
Gemelli is an s-shaped pasta that is formed in to a tight spiral shape. It is medium size pasta that is excellent for pasta salads and baked pasta.
Where to buy gemelli pasta?
Organic gemelli pasta can be purchased at Costco in the United States. It can also be purchased in grocery stores that carry a wide variety of pasta or you can buy gemelli pasta online at Amazon.
What to make with gemelli pasta?
Gemelli pasta, with it's spiral shape, holds sauce well. It is excellent for pesto pasta, pasta salads and pasta with veggie sauce.
Is gemelli pasta gluten free?
Traditional gemelli pasta is not gluten free, as it is made with wheat flour. Some gemelli pasta, that is made with gluten-free flour like rice, chickpea, lentils, for example, are gluten-free.
🗺 Cultural influences
Gemelli is a type of pasta from Italy. The name "gemelli" comes from the Italian word that means "twins", since the pasta shape looks like it's two tube-shaped pieces of pasta swirled together.
In fact, it is one piece that is twisted into an S-shaped spiral. It is from the fusilli family of pastas.
Gemelli pasta is traditionally used in pasta salads and casseroles (baked dishes), but also works well in light tomato sauces (with or without vegetables) and creamy sauces.
💜 More recipes you'll love
If you love this veggie pesto pasta recipe, check out these other veggie pasta dishes, all vegan, vegetarian and plant-based!
Love this recipe? Please rate it 5 stars ⭐️⭐️⭐️⭐️⭐️ below in the recipe card. And, if you make it, please tag me on Instagram or Facebook in your posted photos! I would love to see your creations. 😄
📖 Recipe
Gemelli Pasta with Pesto, Tomatoes and Spinach
Just 4 ingredients and you'll have a delicious and flavorful dinner ready to go with this pesto gemelli pasta studded with spinach and cherry tomatoes. Bursting with fresh basil flavor, this easy vegan veggie pesto pasta can be served warm or cold as a pesto pasta salad.
Ingredients
16

ounces

gemelli pasta

1 package

⅓

cup

vegan pesto

green basil pesto, either homemade or store-bought

8

ounces

cherry tomatoes

halved

8

ounces

fresh baby spinach

Salt and black pepper

to taste

Lemon wedges and fresh basil leaves

for garnish
Instructions
Bring a large pot of well-salted water to boil. Once it is boiling, add gemelli pasta to water and stir. Cook according to package directions, until tender.

When pasta is done, turn off heat and immediately stir in all of the spinach in the pasta water. The spinach will wilt within seconds.

8 ounces fresh baby spinach

Drain all the water out of the pot and return the pasta and spinach to the pot. Stir in pesto.

Then, carefully stir in tomatoes. Taste and season salt and pepper, as needed. Serve hot right away with lemon wedges and fresh basil leaves, if available. Or, chill and serve as a cold pesto pasta salad.

8 ounces cherry tomatoes,

Salt and black pepper,

Lemon wedges and fresh basil leaves
Nutrition
Serving:
1
portion
Calories:
524
kcal
Carbohydrates:
91
g
Protein:
18
g
Fat:
10
g
Saturated Fat:
2
g
Polyunsaturated Fat:
1
g
Monounsaturated Fat:
1
g
Cholesterol:
2
mg
Sodium:
251
mg
Potassium:
693
mg
Fiber:
6
g
Sugar:
5
g
Vitamin A:
6011
IU
Vitamin C:
29
mg
Calcium:
119
mg
Iron:
4
mg