Oatmeal is such a good-for-you breakfast. Filling, comforting and heart-healthy. Spice up your favorite breakfast with one of these delicious ideas!
Heart healthy and keeps you full for hours on whole food carbs that will give you the energy you need to start your day.
But, how can you make your oatmeal taste good, like really good? Never fear, keep reading and your morning oats will get the flavor they need.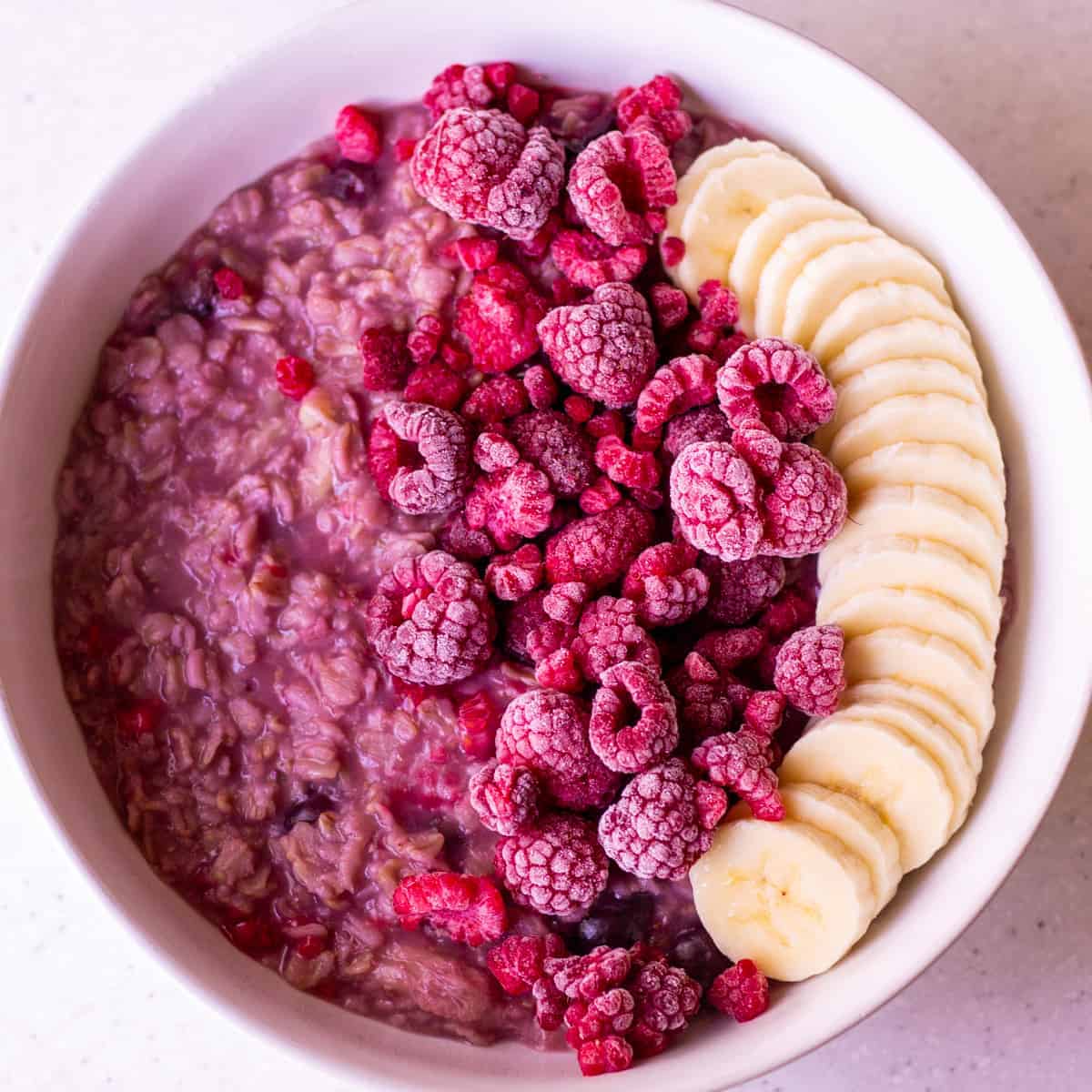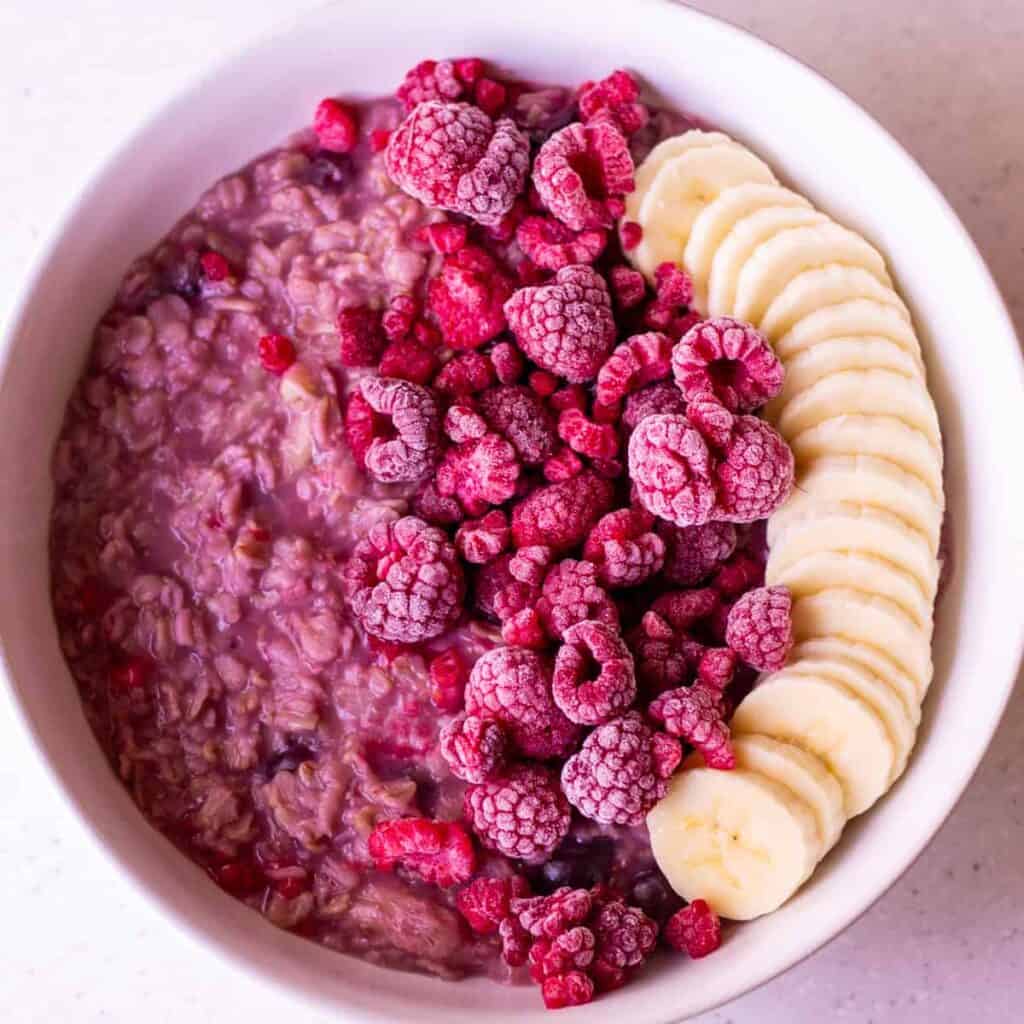 For another super easy oatmeal recipe, learn how to make the best basic vegan overnight oats.
Jump to:
Healthy ways to flavor oatmeal
Oatmeal by itself is pretty blah and tasteless, but thankfully, there are many ways to jazz up the flavor in healthy ways.
First of all, add a pinch of salt to your water when you're cooking your oatmeal. It makes a difference in the taste.
Sweetener options
If you want, you can sweeten it with the sugar of your choice, be it refined or unrefined. Some options:
Brown sugar
Blackstrap Molasses
Maple syrup
Agave nectar
Brown rice syrup
Coconut sugar
Raw cane sugar
Mashed ripe banana (fresh or frozen) - it will melt into the oatmeal and sweeten it. It may be sweet enough for you with just banana and fruit, or the banana may allow you to reduce how much sugar you would normally add.
Dr. John McDougall, plant-based pioneer, suggests that if you're going to use sugar, add it to the top of your food so you taste it right away. You end up using less this way because the sweetness doesn't get hidden by being mixed into the food.
While Dr. McDougall doesn't encourage eating loads of sugar, he reasons that one teaspoon of sugar is 16 calories. If that 16 added calories makes you eat your oatmeal, which is so good for you, then it's totally fine.
Add flavorful fruits
As far as ways to flavor oatmeal, you can play around with combinations of fruit + nuts + spice that you like. Typically, I recommend adding the fruit and spice to the oatmeal while it's cooking. For dried fruits, it helps them plump up and warm up.
For hard, fresh fruits, like apples, it's best to cook them down a bit with the oatmeal, so they are tender.
Frozen fruit is a convenient and cheaper option for adding fruit to your oatmeal. Cook frozen fruit with the oatmeal to soften and warm the fruit. We often use the cherry berry mix from Aldi in our oatmeal. It's delicious!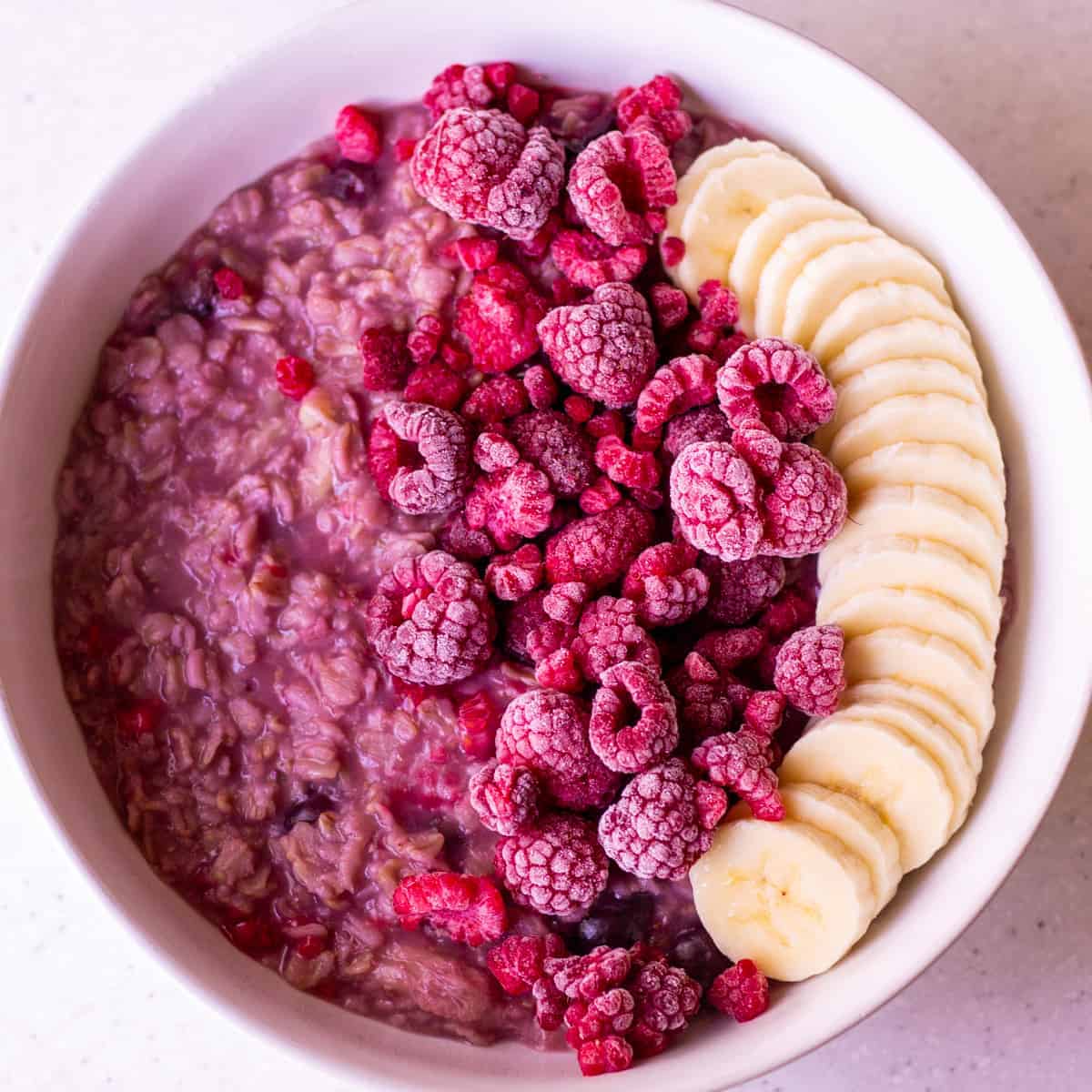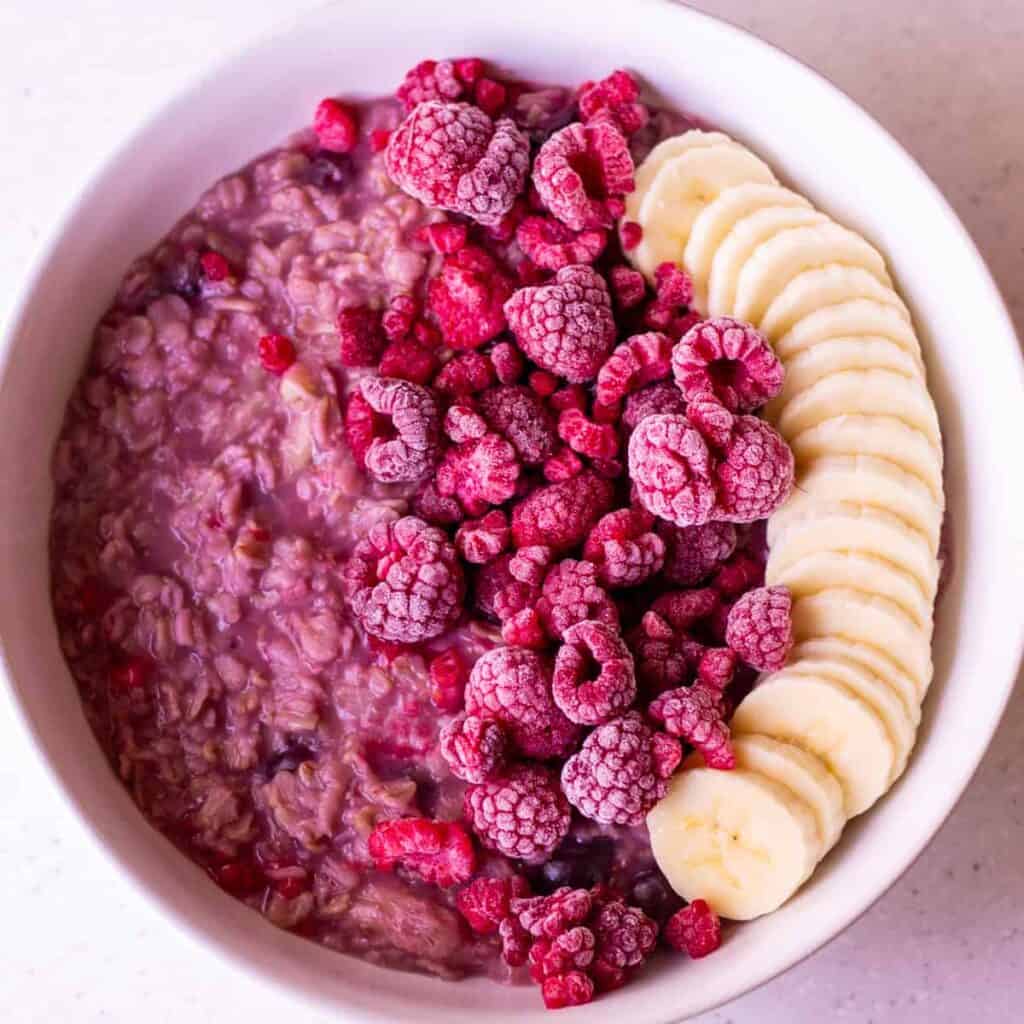 Try adding these fresh, frozen or dried fruits, all of which are delicious in oatmeal:
Apples
Raisins
Bananas (frozen or fresh) - bananas cooked into the oatmeal melt down and sweeten your oatmeal without sugar. It can help you reduce the amount of sugar you add, or just add a banana flavor to your morning porridge.
Strawberries (frozen or fresh)
Blueberries (frozen or fresh)
Pineapple (canned, frozen or fresh)
Dried cranberries
Dried cherries
Pears
Peaches (frozen or fresh)
Mango (frozen or fresh)
Oranges
Tangerines
Nectarines
Plums
Blackberries (frozen or fresh)
Raspberries (frozen or fresh)
Cherries (frozen or fresh, pitted)
How to caramelize banana slices without butter
For a special treat, try caramelizing thick banana slices in a non-stick pan, to add to your oatmeal or other breakfast/brunch dishes.
These are great as toppings for pancakes or waffles! So fancy...
To do this, heat a non-stick pan on the stove over medium-low heat. Add banana slices in one layer, leaving room between them.
Allow them to cook for about 5-7 minutes. Do not move them.
The natural sugars in the banana will caramelize and turn that side of the banana into a lovely rich brown color. When they've reached a caramel brown color, remove them from the pan and enjoy!
Dry roast nuts and seeds
For the nuts and seeds, I highly recommend toasting them in the dry pan on the stove for added flavor.
Dry roasting or toasting them ahead of time wakes them up and makes their flavor really pop.
How do you dry roast nuts or seeds?
Heat a skillet over medium low heat (does not have to be non-stick). Add shelled nuts or seeds to the skillet and allow them to toast for 3-7 minutes, stirring them every minute or so.
If you have very small delicate seeds or chopped nuts, you'll only need to toast them a few minutes. If you have larger pieces, like walnut halves or whole almonds, then they will need to toast longer.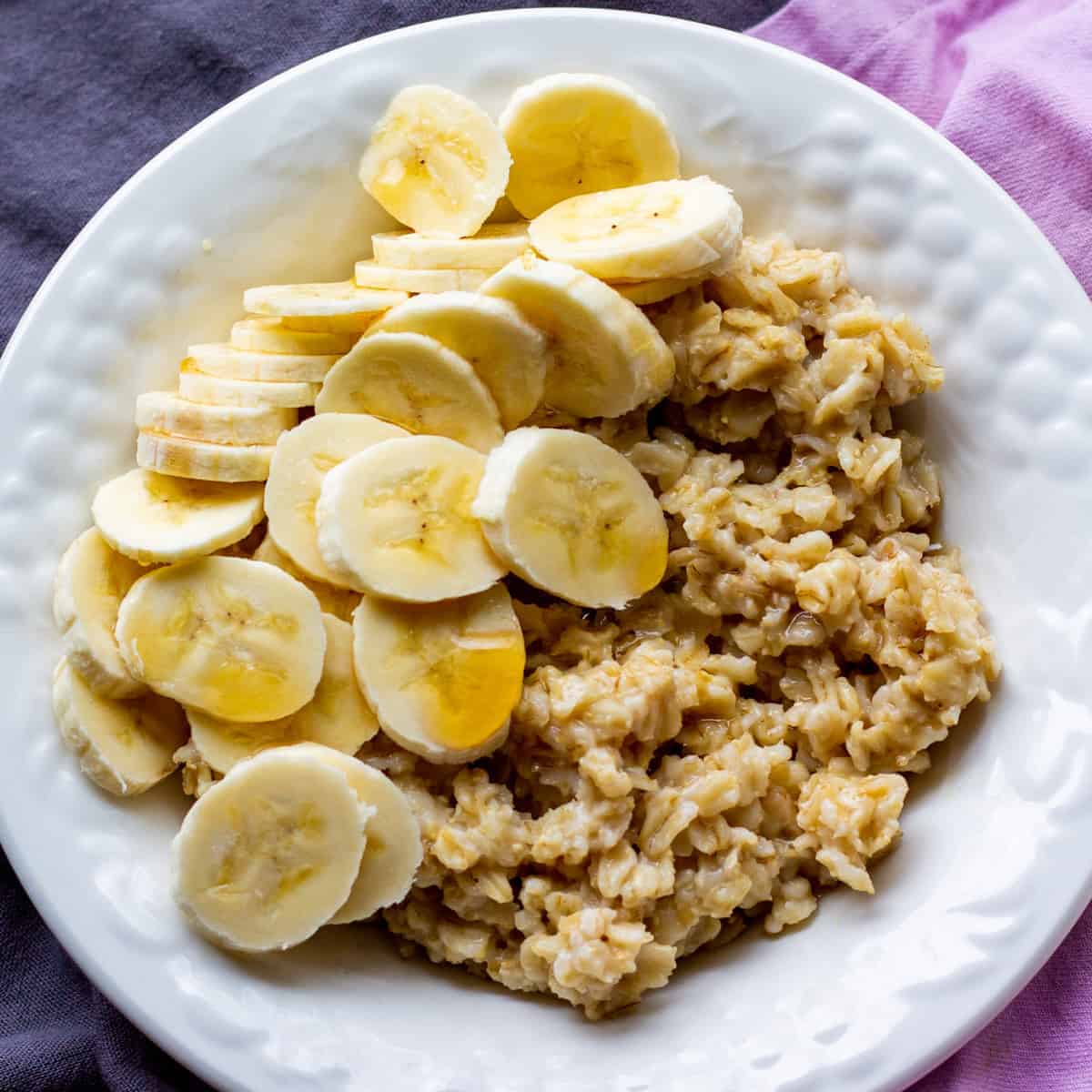 Spices to try
Getting bored with your normal oatmeal routine? Give these unique spices a try:
Ground cinnamon
Ground nutmeg
Vanilla extract
Almond extract
Orange extract
Ground cardamom
Ground allspice
Pumpkin pie spice
Ground ginger
Apple pie spice
Saffron
Chai tea spices, like: star anise, whole or ground cardamom, black pepper, fresh or ground ginger, cinnamon sticks
TEA (not really a spice, but...) - If you have a favorite tea, especially those with spices, then steep a couple tea bags in the hot water before making your oatmeal. Remove the bags, then add your oatmeal and cook it in the "tea", to infuse the oatmeal with your favorite tea flavor.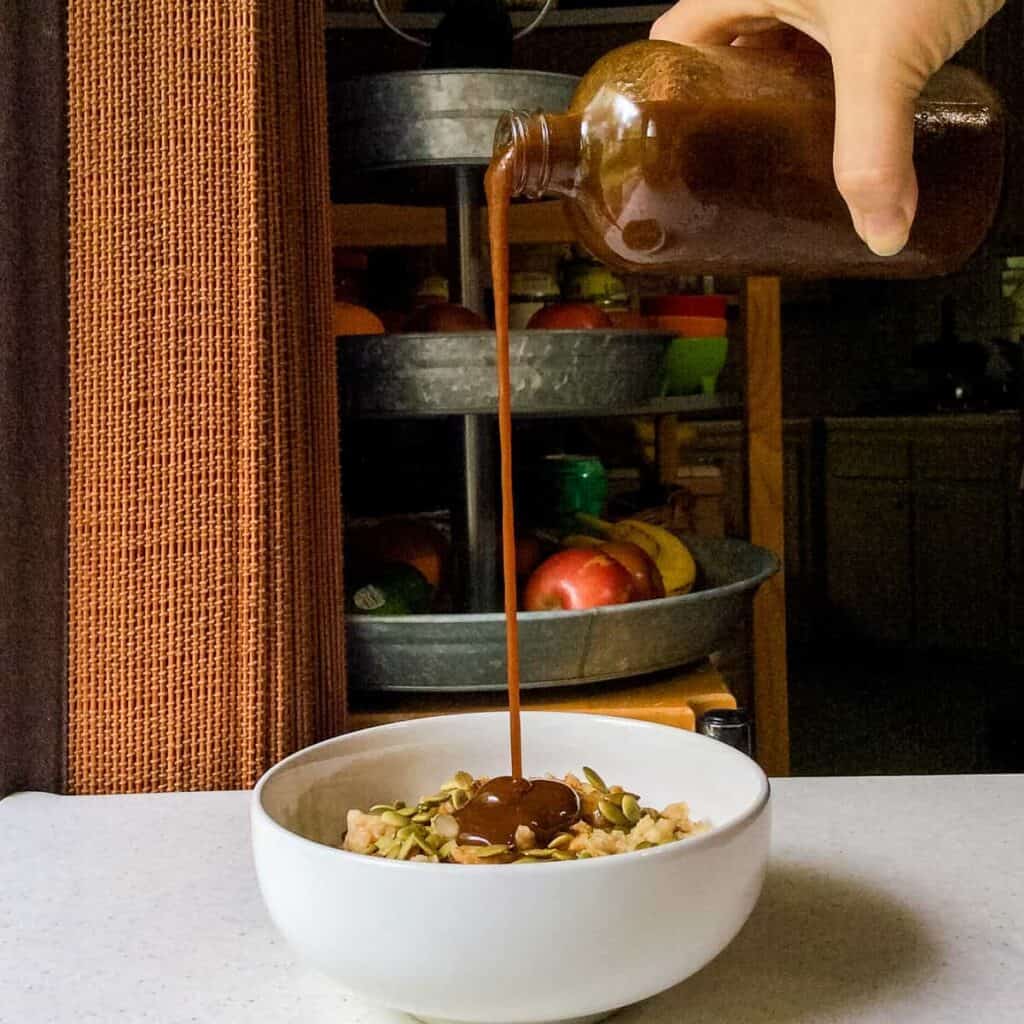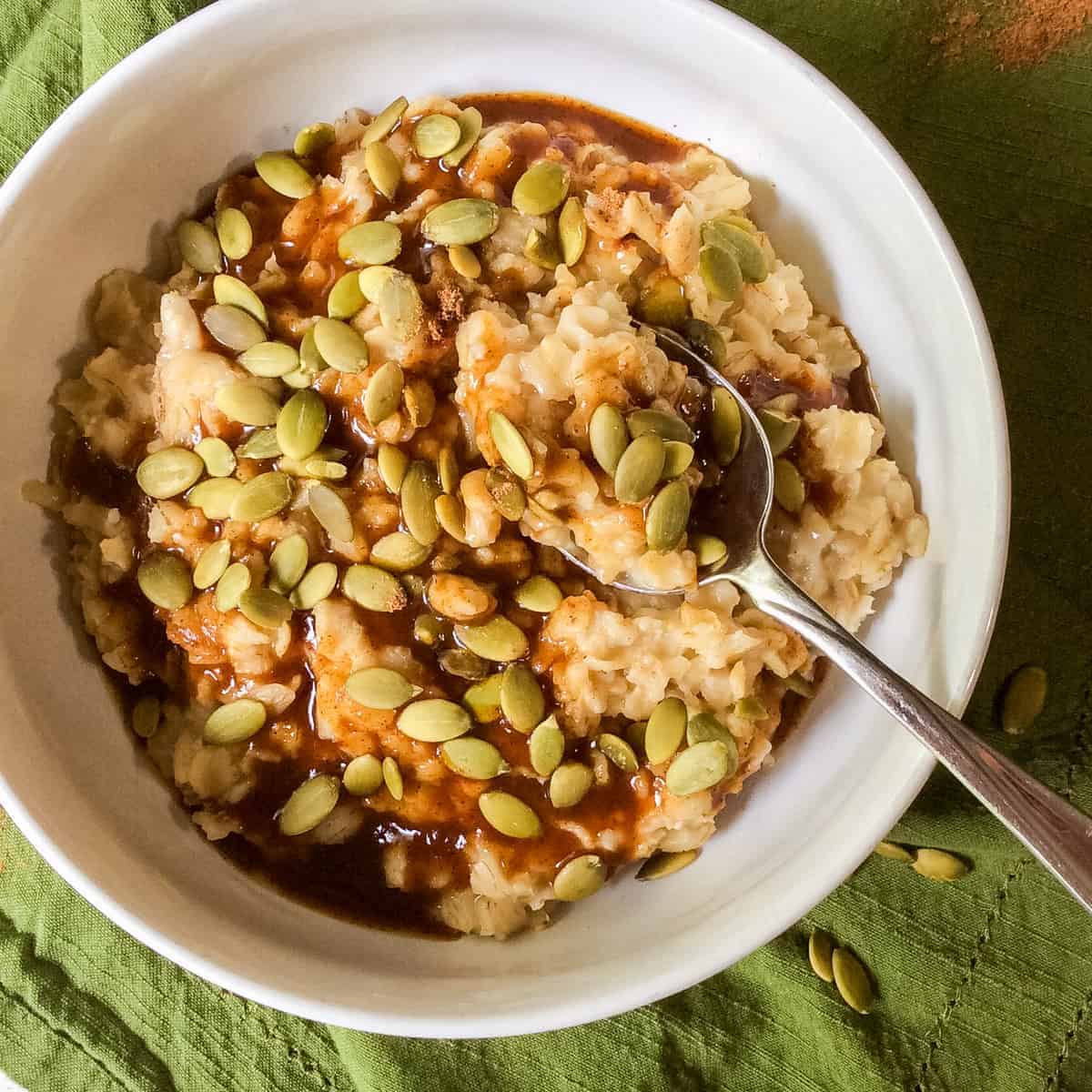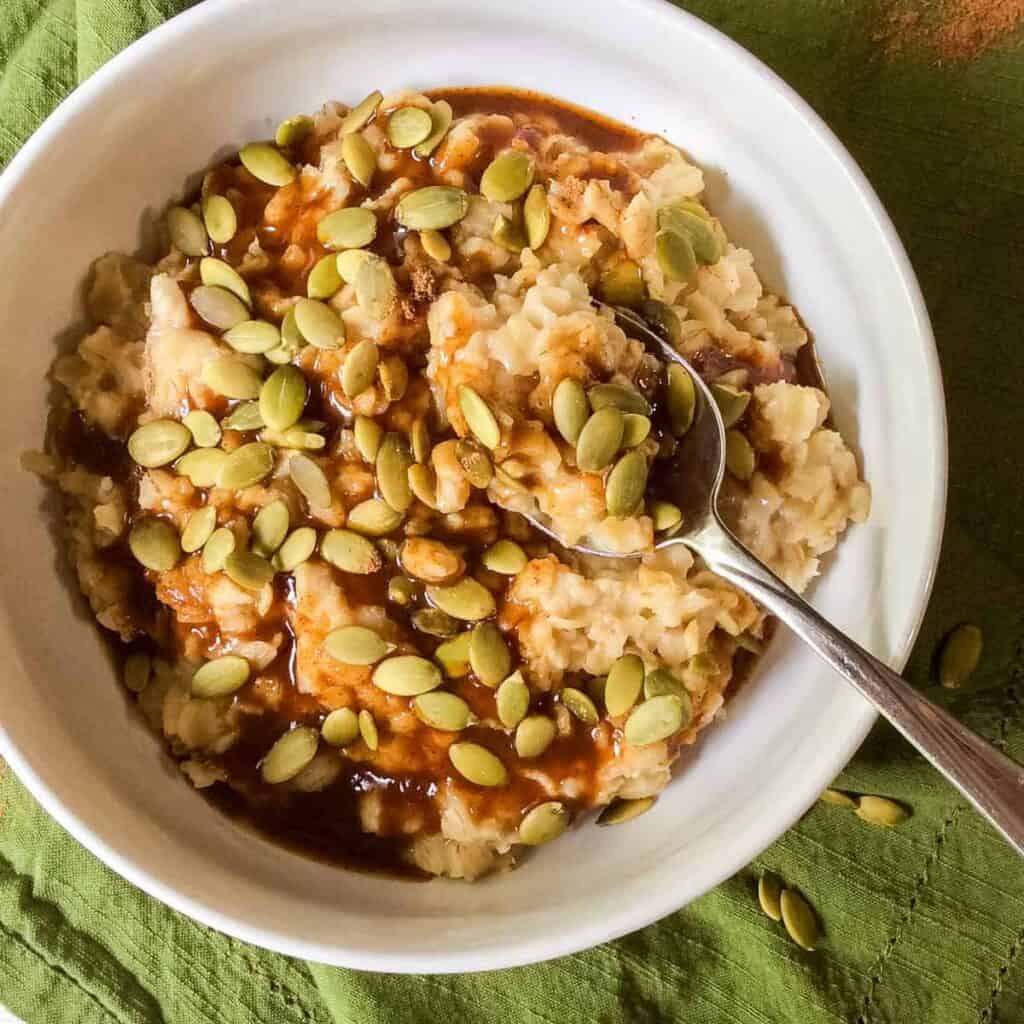 Prepare oatmeal using different methods
Did you know you can prepare oatmeal in different ways, other than just porridge on the stove? Switching up your method of cooking it may give you a texture and flavor you prefer. Try one of these recipes to switch up your morning oat routine:
10+ tasty oatmeal ideas
Sliced bananas + maple syrup = Simple Maple Oatmeal with Sliced Bananas
Diced apples + cinnamon + walnuts
Dried raisins + cinnamon + ground nutmeg + walnuts
Dried cranberries, orange segments + roasted pumpkin seeds/pepitas or pecans
Strawberries and Cream: Strawberries + plant-based milk + hemp hearts + vanilla extract
Cherry Berry Oatmeal (pictured above!): frozen cherries, blueberries, strawberries and raspberries cooked with oatmeal + vanilla extract + sliced bananas
Peaches + pecans + ground cardamom
Pumpkin Spice Oatmeal: Pepitas + homemade pumpkin spice syrup (refined sugar free!)
Peaches and Cream: Diced peaches + plant-based milk + vanilla extract
Your favorite fruit preserves + your favorite nuts
Carrot Cake Oatmeal (pictured below!): grated carrots, cooked with oatmeal + ground cinnamon, ground nutmeg, ground allspice. Serve with crushed pineapple, raisins, walnuts, cherries and/or flaxseed.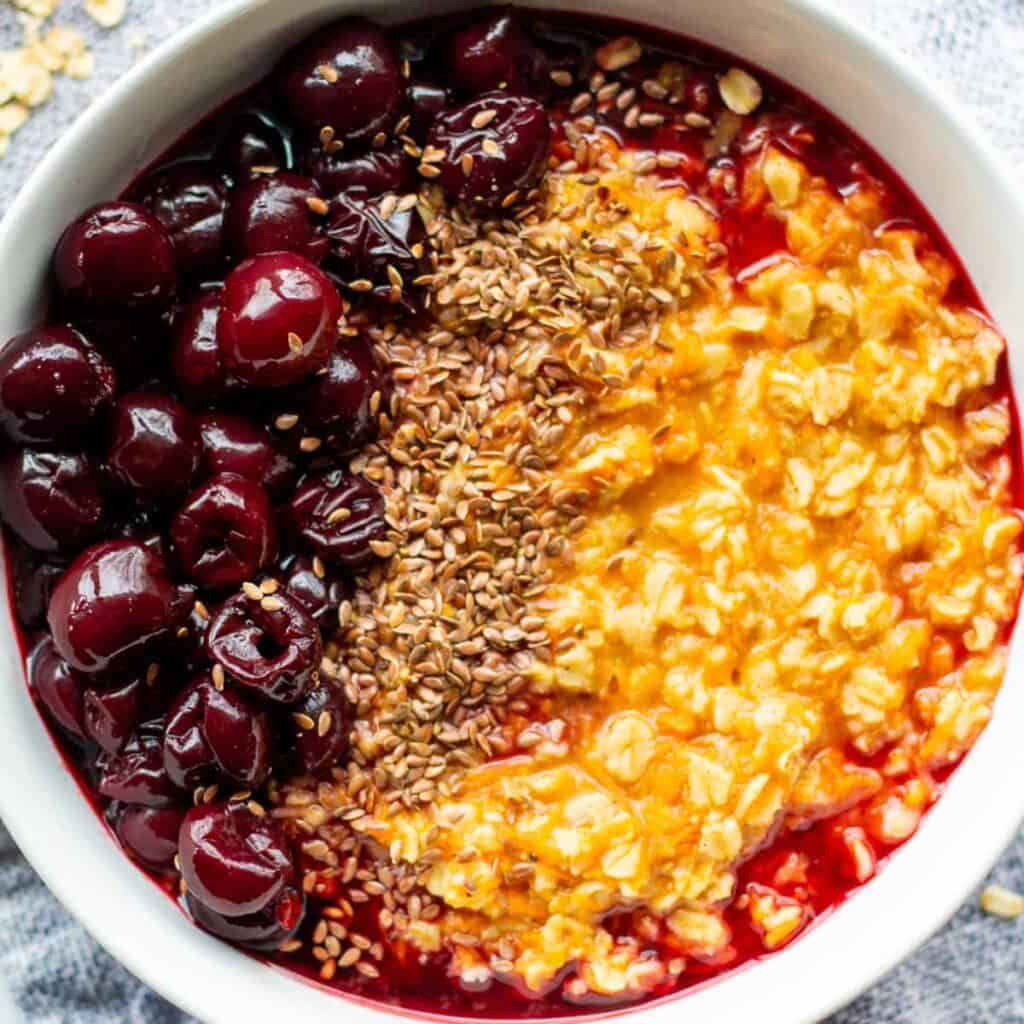 Tasty vegan breakfast ideas
If you like these healthy oatmeal ideas for your mornings, check out these other plant-based breakfast recipes!
What are your favorite ways to add flavor to your oatmeal? Share in the comments below!