Just 7 ingredients, this scrumptious mostly-homemade pumpkin pie is as easy as throwing all the filling ingredients in a blender and baking in a store-bought crust. This healthy vegan pumpkin pie recipe with silken tofu has no egg and is dairy-free.
Make two and you'll have a delicious excuse to have pumpkin pie for breakfast.
Jump to:
Once upon a time, as I was wandering through the grocery store, the clearance aisle came into view. I swung a hard left and, to my delight, found organic pumpkin puree on clearance for 50 cents a pop.
I did what anyone would do.
I bought 20 of them.
I proceeded to dream up a million and one ways to use my abundance of pumpkin. Pumpkin bread, check. Pumpkin spice syrup, check. Pumpkin spice lattes aka autumn bombs, check.
We'll fast forward to this delicious pumpkin pie recipe and skip the failed attempt at a pumpkin sage lasagna. Yeah, that ended up in the trash.
The pumpkin pie did not.
🧄 Ingredients
This easy dairy-free pumpkin pie recipe requires just 7 ingredients:
store-bought pie crust
canned pumpkin puree
What is silken tofu?
Silken tofu is prepared differently than a tofu you would stir fry. It has a smoother, silky texture and is excellent for desserts, like this pie.
Silken tofu can be found in Asian markets or the vegan/Asian section of a well-stocked grocery store.
I recommend the Mori-nu brand of silken tofu that is packaged in ascetic containers, so they are shelf-stable.
Firm or extra firm silken tofu will both work for this pie. Soft silken tofu will have too much liquid in it and could prevent the pie from setting.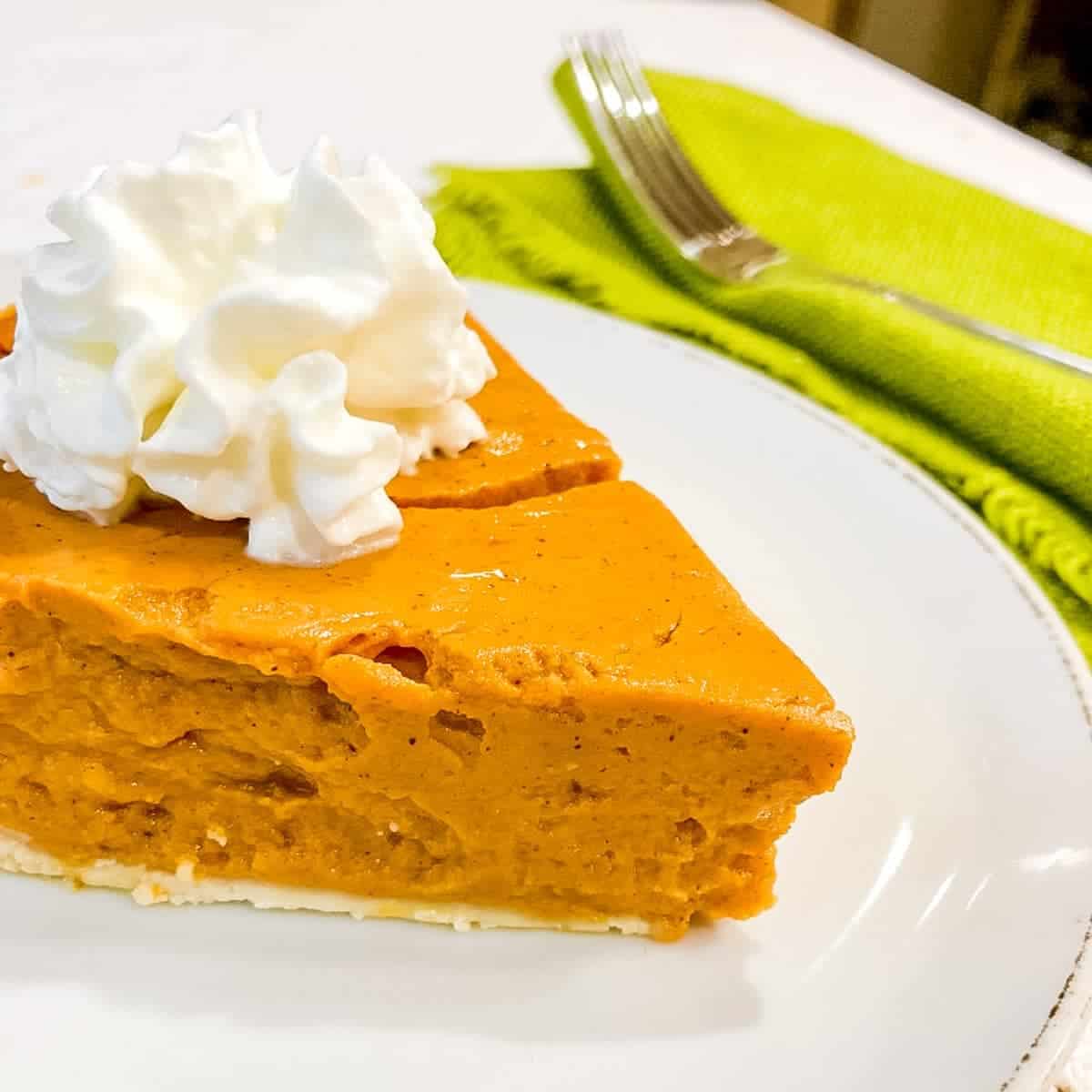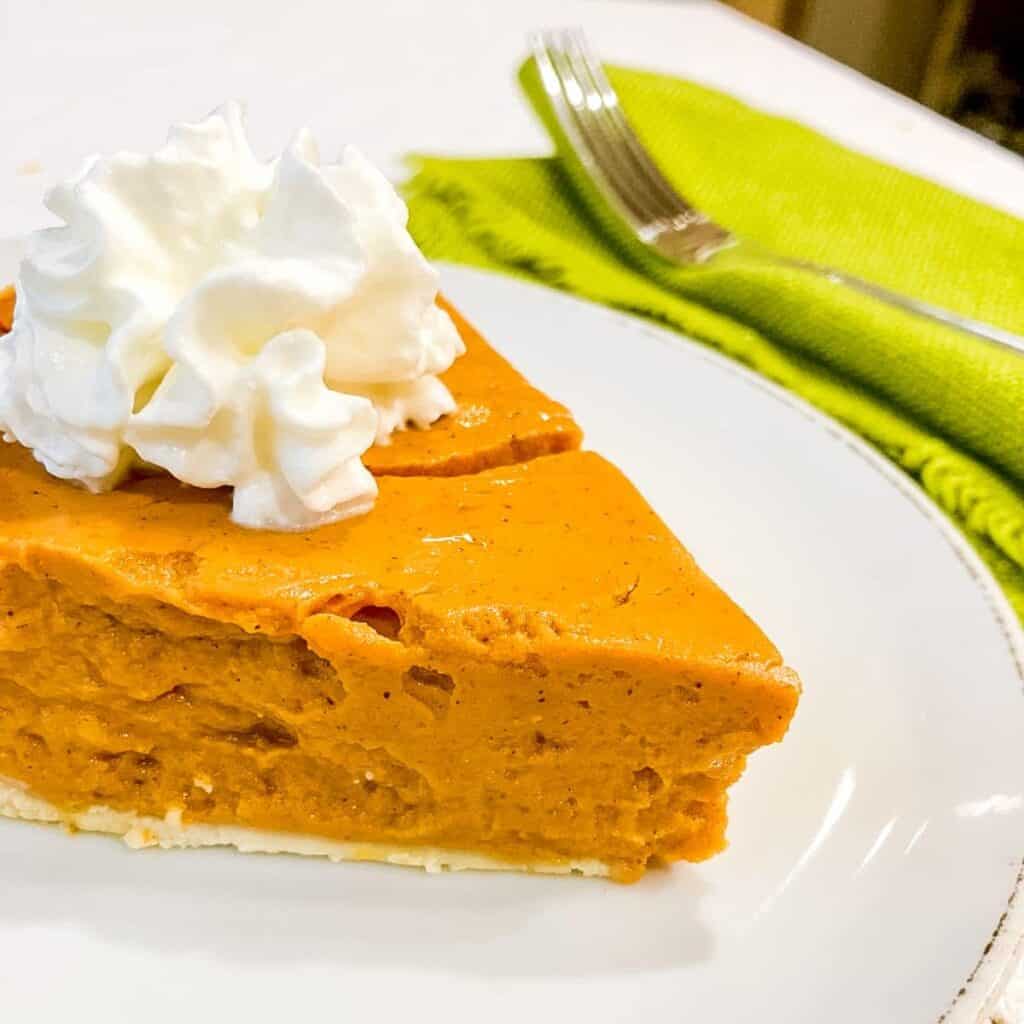 How do you make pumpkin pie vegan?
Traditional pumpkin pie filling is made using pumpkin puree, sweetened condensed milk and eggs. One serving of traditional pumpkin pie is about 290 calories (based on a recipe from McCormick).
To make a vegan pumpkin pie, we need to replace the condensed milk and eggs. To do this, we need to understand what they are adding to the recipe.
The sweetened condensed milk is adding creaminess and sweetness. The eggs are binding it all together so it will thicken and set.
For our vegan version, we are using silken tofu to add creaminess, cornstarch to help thicken and set the filling and we're adding sugar, since our tofu is not sweet.
One serving of this vegan pumpkin pie recipe is about 175 calories.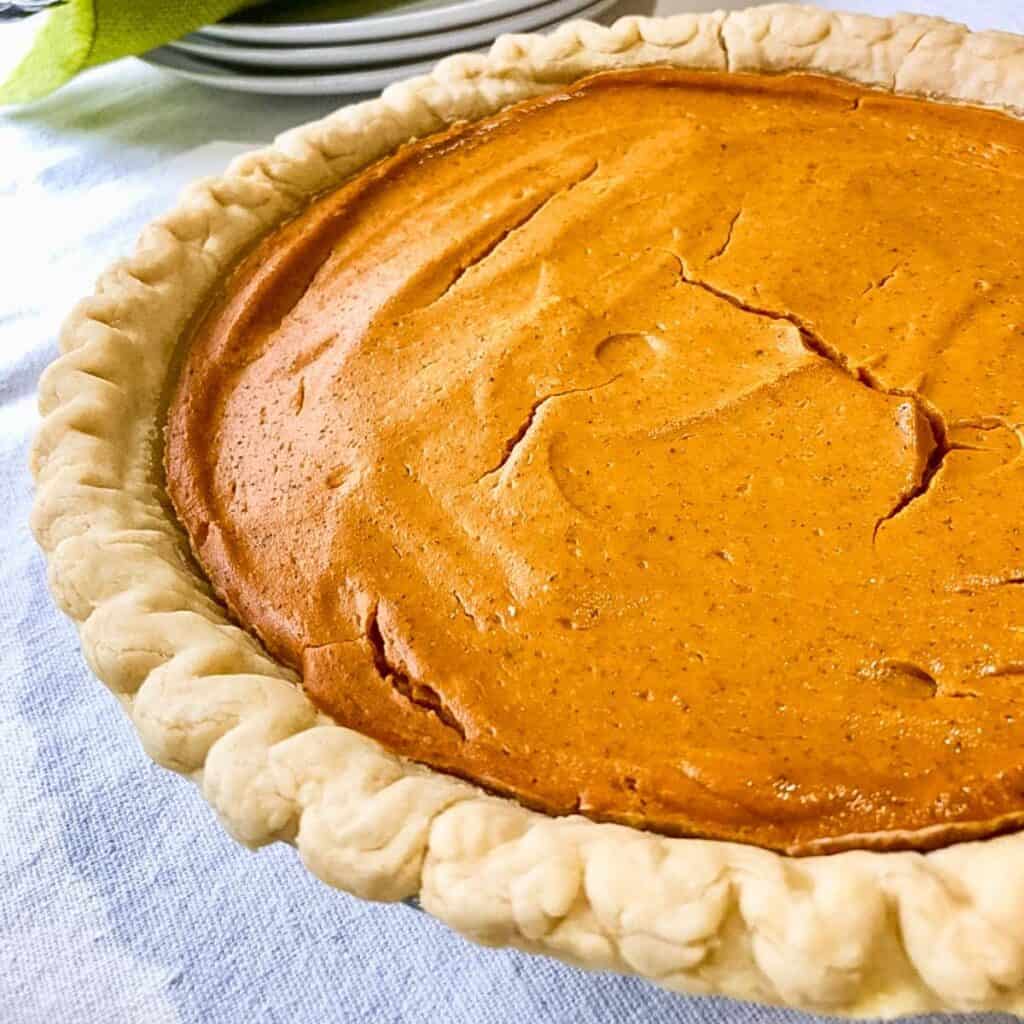 🔪 Instructions
First, I'm using a store-bought pie crust. You can usually find them in the freezer section of your grocery store.
Most of them will already be vegan, as they use dairy-free butter or vegetable oil instead of regular butter.
Second, you throw everything else in a blender, turn it on and you have your filling. Bake it and voila! Easy vegan pumpkin pie.
So, this is the pie you can whip up when you're in the mood for pumpkin pie or have company coming over for dinner.
Buy some dairy-free whipped topping and you've got dessert sorted.
☕️ Tea Pairing
The Gingerbread Rooibos tea you see in the pictures pairs nicely with pumpkin pie.
Rooibos tea is naturally caffeine-free and is not grown from the same plant most other teas come from. Rooibos or red bush tea comes from a bush that grows in South Africa.
Darjeeling black tea would also be lovely paired with pumpkin pie. It's a light, aromatic and delicate black tea that grows in India.
Darjeeling is naturally caffeinated (about half the caffeine of coffee) so if you're sensitive to caffeine or trying to stay away from it, choose a rooibos or herbal tea.
💜 More recipes you'll love
If you love this vegan pumpkin pie recipe, check out my other dessert recipes.
Love this recipe? Subscribe here so you don't miss any new recipes!
Please rate it ⭐️⭐️⭐️⭐️⭐️ down below. ⬇️ And, if you make it, please tag me @veryveganish on Instagram in your posted photos! I would love to see your creations. 😄
📖 Recipe
Easy Vegan Pumpkin Pie
Just 7 ingredients, this scrumptious mostly-homemade vegan pumpkin pie is as easy as throwing all the filling ingredients in a blender and baking in a store-bought crust. Make two and you'll have a delicious excuse to have pumpkin pie for breakfast.
Ingredients
One deep dish frozen pie crust
Filling
One 15-ounce can pure pumpkin puree
8 ounces silken tofu, firm
⅓ cup vegan granulated sugar
2 tablespoons cornstarch
1 ½ teaspoons ground pumpkin pie spice
½ teaspoon pure vanilla extract
¼ teaspoon fine sea salt
Garnish
Dairy-free whipping cream (optional)
Instructions
Position an oven rack in the center of the oven, and preheat to 350 degrees F. Thaw pie crust slightly while oven is preheating. Then, poke holes with a fork in pie crust to all the air to escape so it doesn't puff up and bake for 5 minutes. Transfer to a rack, and let cool completely.
To make the filling: Process the pumpkin puree, silken tofu, sugar, cornstarch, pumpkin pie spice, vanilla and salt in a blender or food processor until completely smooth, scraping down the sides of the bowl as needed.
Pour the filling into the parbaked pie shell and bake until firm and set, 40 to 45 minutes. Let cool completely on a rack. Chill for at least 2 hours up to overnight. Slice and serve with dairy-free whipped topping, if desired.
Notes
Substitution Options:
Pie crust - sub with homemade pie crust or omit for crustless pie
Silken tofu - use firm or extra firm silken tofu
Sugar - sub with maple syrup or coconut sugar for a refined sugar free version
Cornstarch - sub with arrowroot powder
Nutrition Information:
Yield:

8
Serving Size:

1
Amount Per Serving:
Calories:

175
Total Fat:

7g
Saturated Fat:

2g
Trans Fat:

0g
Unsaturated Fat:

4g
Cholesterol:

0mg
Sodium:

168mg
Carbohydrates:

26g
Fiber:

2g
Sugar:

11g
Protein:

4g
Nutritional calculations are done using online tools, such as recipe widget Create. Even though we have tried to provide accurate nutritional information, these figures should be considered estimates.