Smooth and crave-worthy, you won't believe these chocolate walnut fudge truffles are refined sugar-free and vegan. Keep a container in the freezer for anytime you want an indulgent but healthy sweet treat.
Jump to: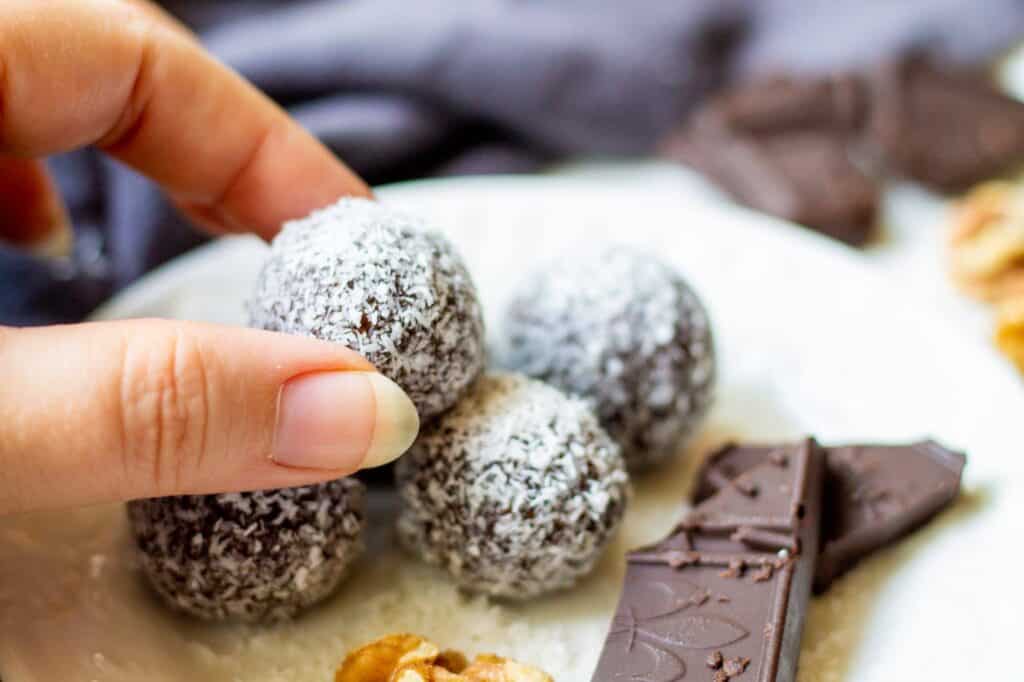 What should we call these? Truffles, energy bites, energy balls? They all mean the same thing, but truffles sound so much more indulgent, don't they? Okay, let's go with that.
🧄 Ingredient notes
These chocolate walnut fudge truffles have only a few natural ingredients:
dates
walnuts
shredded coconut
cocoa
almond extract (this reminds me so much of fudge!)
peanut butter
Shredded coconut
For the shredded coconut, try to find some finely shredded coconut, like for baking macaroons. This will make the the truffles smoother.
If you use shredded coconut with larger pieces, that's fine, it will just have more texture.
I do not recommend using coconut "chips" - those pieces are too large for this recipe.
You can also substitute ground flaxseed meal in place of the coconut.
🔪 Instructions
Your food processor shines for this recipe. It will do all the work for you.
We're first going to process the walnuts until they are finely chopped, about the size of panko breadcrumbs.
Then, add the pitted dates (make sure you remove the pits and any hard stem pieces first!) and process again until the dates are finely chopped.
Then, add all the other ingredients (if you'd like to roll your truffles in coconut for decoration, reserve some of that). Process the rest of the ingredients until everything is well combined and it forms a thick "dough".
Then, remove the blade and get ready to roll up some truffles!
Place some coconut or finely chopped walnuts in a bowl. Then, take about a tablespoon of the mixture and roll it in your hands into a little ball.
Roll in coconut/nuts and then place in a mini muffin tin, plate or tray that will fit in your freezer or refrigerator.
Repeat until you've used up all the dough.
Then, place the tray in the freezer or refrigerator to chill and set for at least 30 minutes.
🔄 Variations
Almond Fudge Energy Bites (substitute walnuts for almonds, substitute peanut butter for almond butter)
Pistachio Fudge Energy Bites (substitute almond extract for pistachio extract)
💭 Tips
Storing truffles/energy bites
These plant-based truffles store best in the refrigerator or freezer, where they will stay firm and keep their shape. Heat will make them soften.
So, once they have set, you can transfer them to an airtight container and place them in the refrigerator or freezer for storage.
They will stay good in the refrigerator for about a week. You can enjoy them immediately out of the refrigerator.
They will stay good in the freezer for 4-6 weeks. They take a minute or two to thaw straight from the freezer.
I've found these same principles to hold true for most energy bite recipes I've made.
Storing dates and nuts
I keep my dates and walnuts in the refrigerator to keep them fresh longer.
So, my ingredients are cool when I make these. If your dates are room temp (or hot), you may see a different consistency (more of a paste, instead of it chopping the dates) when processing your mixture, but the results should be the same. You may have to scrape down the sides of your processor to keep everything together.
💜 More recipes you'll love
Love this recipe? Please rate it 5 stars ⭐️⭐️⭐️⭐️⭐️ below in the recipe card. And, if you make it, please tag me on Instagram or Facebook in your posted photos! I would love to see your creations. 😄
📖 Recipe
Chocolate Walnut Fudge Truffles
Smooth and crave-worthy, you won't believe these chocolate walnut fudge truffles are refined sugar-free and vegan. Keep a container in the freezer for anytime you want a healthy sweet treat.
Instructions
In a food processor, add walnuts and process into crumbs. Be careful not to over-process into nut butter.

How to pit dates: Be sure to remove the pits from your dates. They are very hard and inedible. To remove them, slice the date in half lengthwise with a paring knife (or tear it into two pieces with your fingers). Open the date and throw away the pit that's inside. Also throw away the hard stem at the top of the date, if it's there.

Add pitted dates and process until dates are finely chopped and combined with walnut crumbs.

Add cocoa powder, coconut/flaxseed meal, peanut butter, almond extract, dark chocolate, sea salt and 1 tablespoon of the water. Process until combined, smooth and forming a dough. If it's too dry, add another tablespoon of water and process again.

Remove from food processor and place in bowl. If decorating with coconut or finely chopped walnuts, put them in a separate small bowl.

Using a spoon, put a small piece (about a tablespoon-full) of dough in your hand and roll it into a ball. Then, roll in shredded coconut/walnuts. If rolling in cocoa powder, do this just before serving (otherwise the cocoa will melt away).

Place on a tray or plate and refrigerate or freeze for 30 minutes to firm up. Store in an airtight container in refrigerator for 1 week or in the freezer for 4-6 weeks.
Notes
See some variation ideas to this recipe above in my post.
For the coconut, use the smallest shredded coconut you can find, preferably fine coconut used for making macaroons.
Substitution Options:
Medjool Dates can be substituted with deglet noor dates, as well.
Finely shredded coconut can be substituted with ground flaxseed meal.
Peanut butter can be substituted with other nut butter like almond butter, cashew butter, tahini or sunbutter.
Almond extract can be substituted for vanilla extract, pistachio extract or other flavored extract you like.
Dark chocolate can be substituted for mini chocolate chips or omitted altogether.
For rolling: finely chopped pistachios or sprinkles (fun for the kids!).
Nutrition
Serving:
2
truffles
Calories:
129
kcal
Carbohydrates:
13
g
Protein:
3
g
Fat:
9
g
Saturated Fat:
2
g
Polyunsaturated Fat:
5
g
Monounsaturated Fat:
2
g
Trans Fat:
1
g
Cholesterol:
1
mg
Sodium:
7
mg
Potassium:
177
mg
Fiber:
2
g
Sugar:
9
g
Vitamin A:
21
IU
Vitamin C:
1
mg
Calcium:
22
mg
Iron:
1
mg
Inspired by Oh She Glows Triple Almond Energy Bites