Don't throw out those spotty bananas! Make these quick and healthy blackberry breakfast cookies instead! Chewy and filling, they can also be made into baked oatmeal breakfast bars.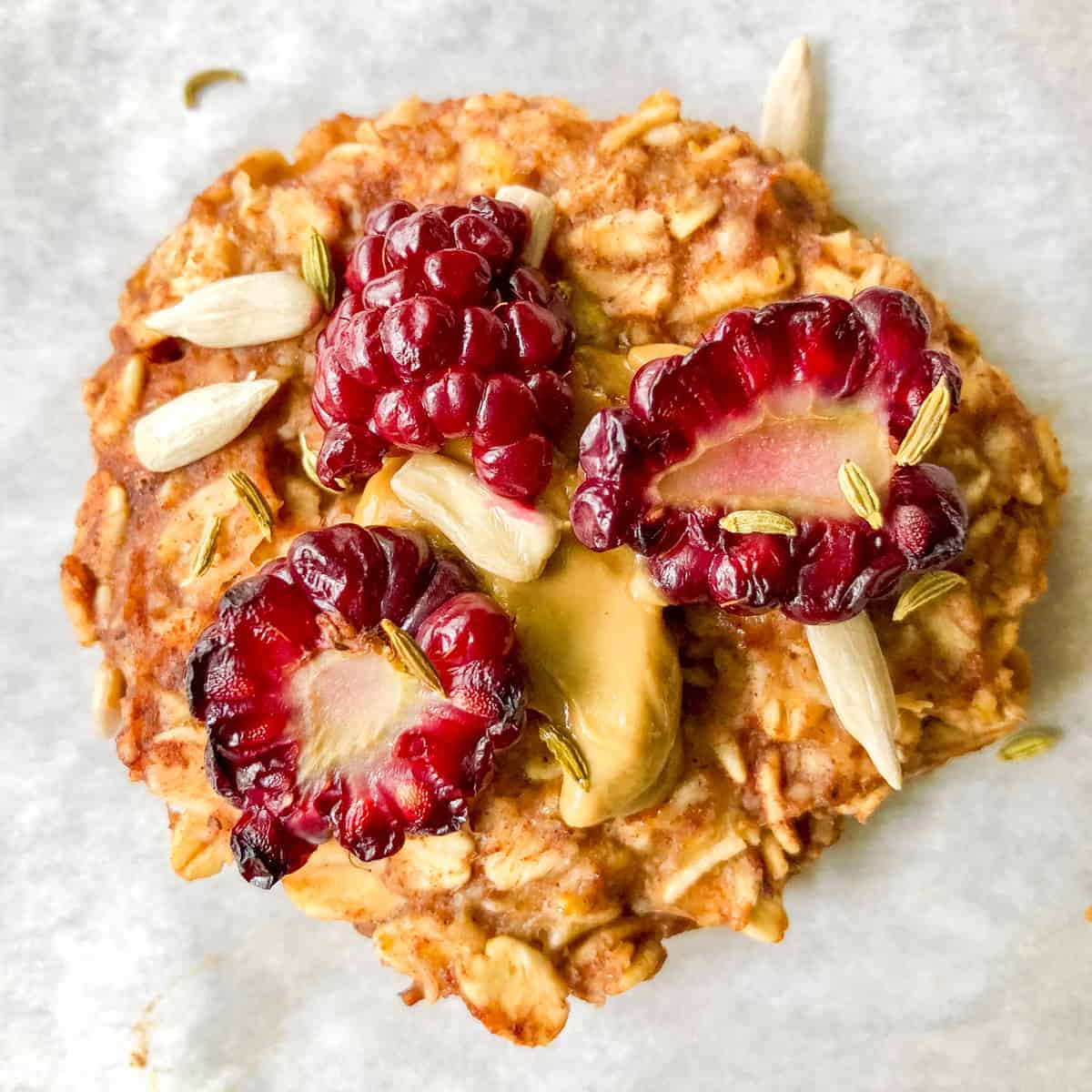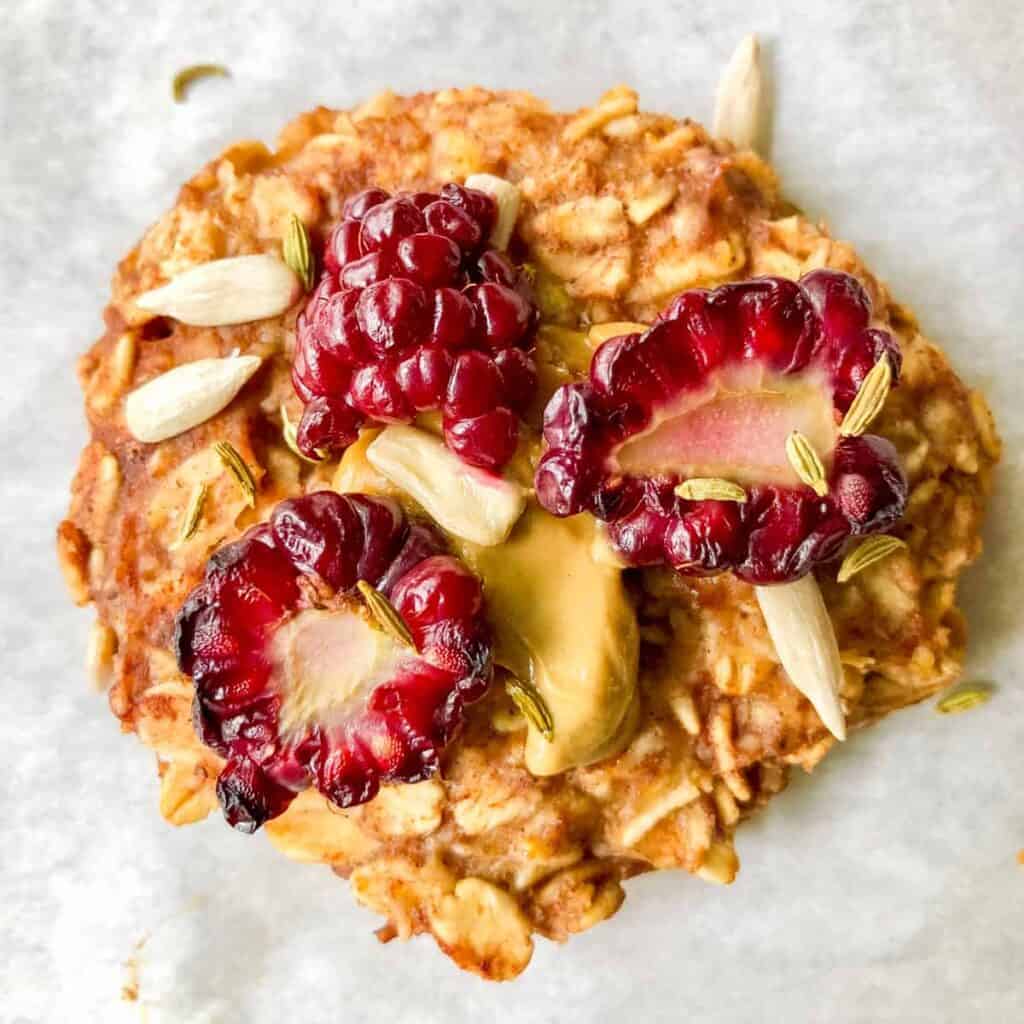 For another super easy oatmeal recipe, learn how to make the best basic vegan overnight oats. If you love blackberries, try the blackberry pie overnight oats or blackberry overnight oats with jam version.
Jump to:
You may recognize the base of these cookies as my recipe for 3 Ingredient Banana Oatmeal Breakfast Cookies. Instead of normal toppings like raisins or dark chocolate, I went with a fancy (and prettier, if I do say so myself) version with gorgeous fresh blackberries, raw sunflower kernels, a smear of sunflower seed butter and a tiny sprinkling of fennel seeds.
What makes these cookies healthy?
I know, I know, "healthy" means different things to different people. So, let me spell out why I consider these healthy by my standards.
Low fat
The 1 gram of fat in this recipe comes from what the bananas, oats and sparse sprinkling of sunflower seeds naturally have in them. If you choose to smear nut butter under the berries, that would increase the fat.
Fiber
2 g of dietary fiber per cookie (and who doesn't need fiber?)
No refined sugar
No refined sugar, unless you'd like to spread them with some blackberry preserves instead of the sunflower seed butter. The sweetness comes from the ripe bananas and berries.
Since sugar usually plays the role of making cookies sweet and crispy, you can expect this cookie to be mildly sweet, soft, chewy and somewhat dense. Kind of like a soft breakfast granola bar that's ready in less than 30 minutes, start to finish.
No egg
Eggs are used in most cookie recipes, but not this one! That also means you can eat the batter raw.
No flour
There's no flour of any kind in these cookies. All the stick togetherness in these breakfast cookies comes from the oatmeal and the mashed banana.
There's no need for flour and seeing as flour is higher in calories than a whole plant food like rolled oats, that's great for the waistline, too.
Gluten-free
If you use gluten-free rolled oats to make these healthy oatmeal cookies, they are gluten-free. Yay, for all my GF buddies out there! (you know who you are, hi guys!)
Vegan, Plant-based & McDougall Friendly
Kind of goes without saying, but these healthy breakfast cookies are 100% vegan, plant-based and are compliant with McDougall.
For McDougall's Maximum Weight Loss peeps, skip the nut butter and sunflower seeds, as they will not aid you in your weight loss goals, they are too high in fat.
Instead, drop a small dollop of blackberry preserves/jam on the cookies once you've formed them, top with fresh halved blackberries and a few fennel seeds, then bake.
Delicious as an every once in a while diversion from morning oatmeal and hashbrowns!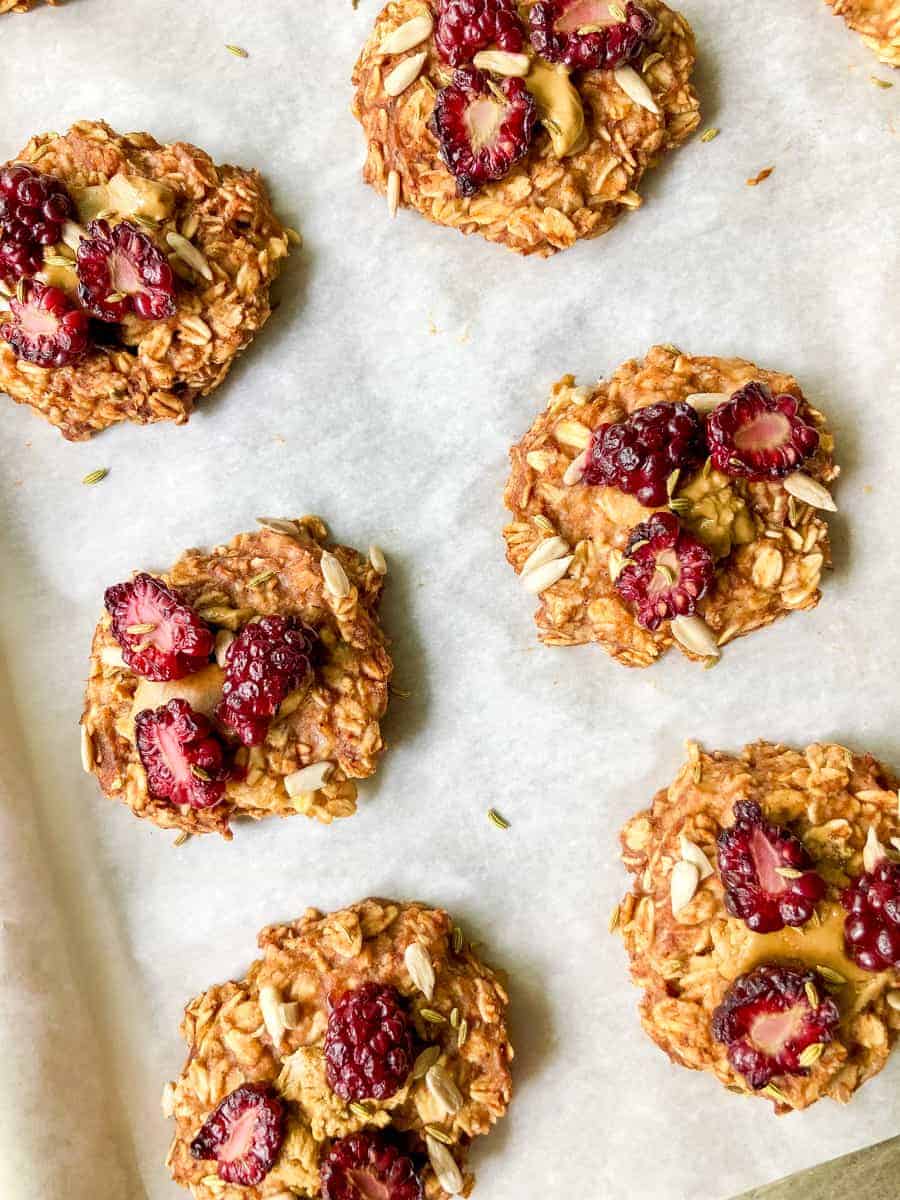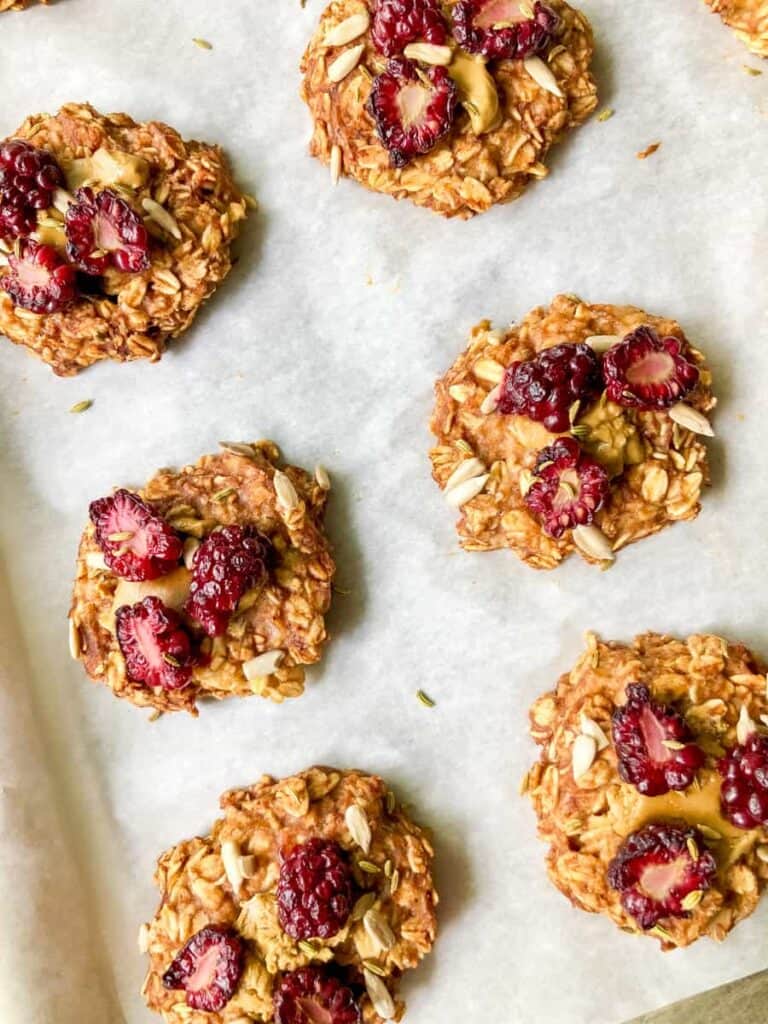 🧄 Ingredient notes
These blackberry fennel seed cookies have the following ingredients:
ripe bananas
rolled oats (old fashioned or quick cooking oatmeal)
ground cinnamon
fresh blackberries
fennel seeds
sunflower seed kernels
sunflower seed butter (or any nut butter) - optional
blackberry preserves, jam or jelly - optional
That's it.
The ripe, spotty bananas offer sweetness and moisture. The oatmeal offers substance, nutrition and helps everything stick together.
The ground cinnamon is for flavor! You can substitute the cinnamon for vanilla extract, if you'd like.
🔪 Instructions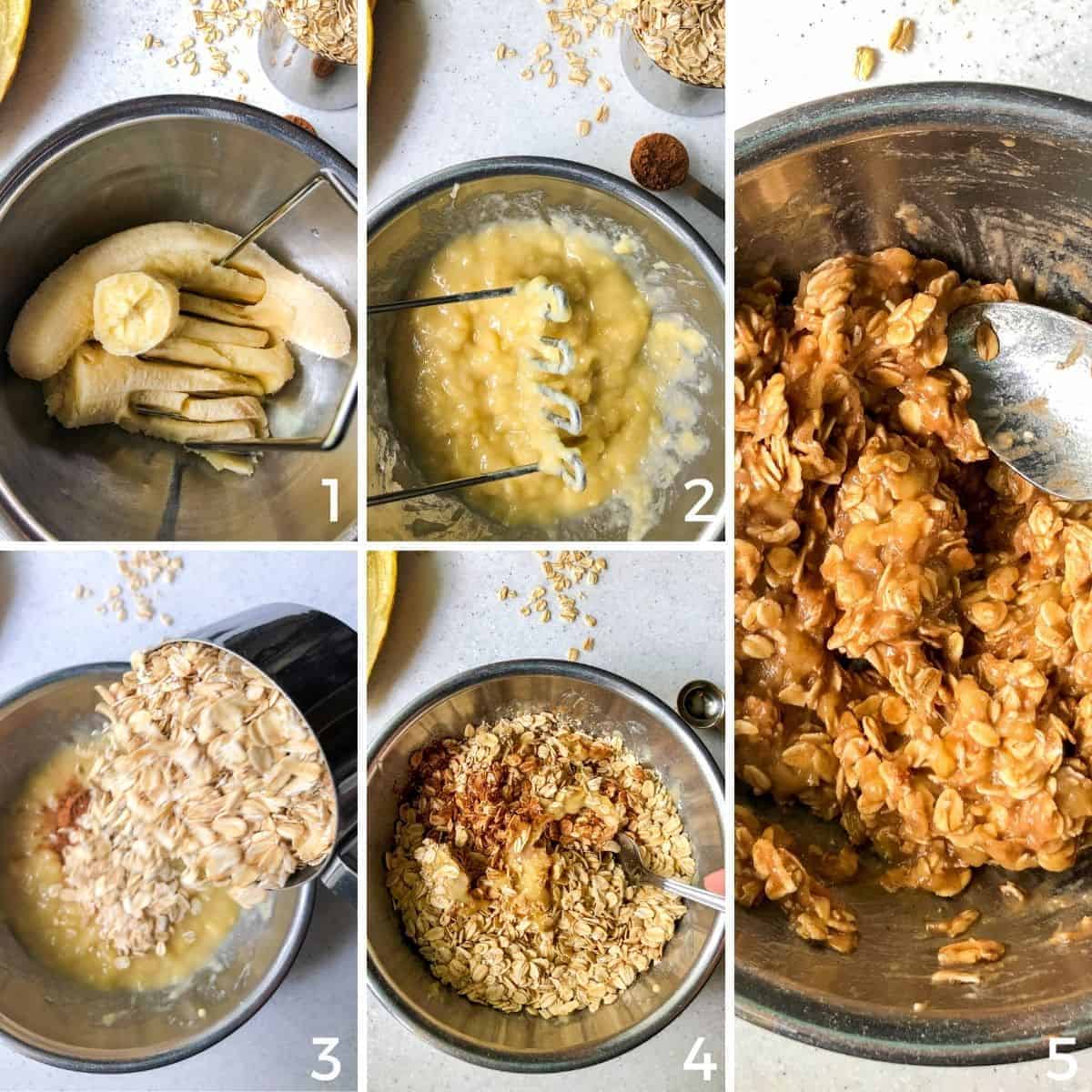 Mash the bananas
You'll want them be mashed very well, with only very small chunks remaining.
Add oats and cinnamon
Stir your rolled oats and cinnamon in well with a spoon.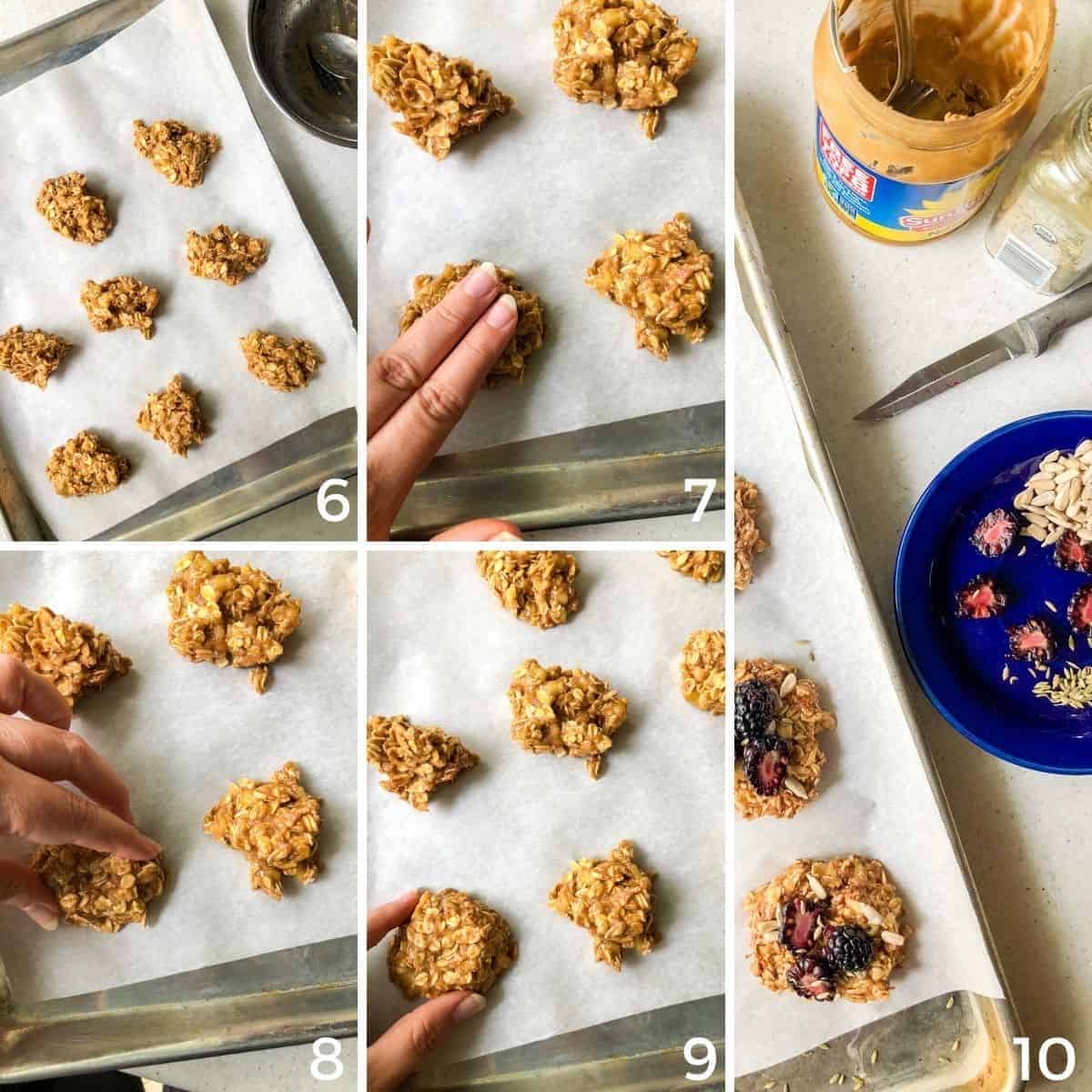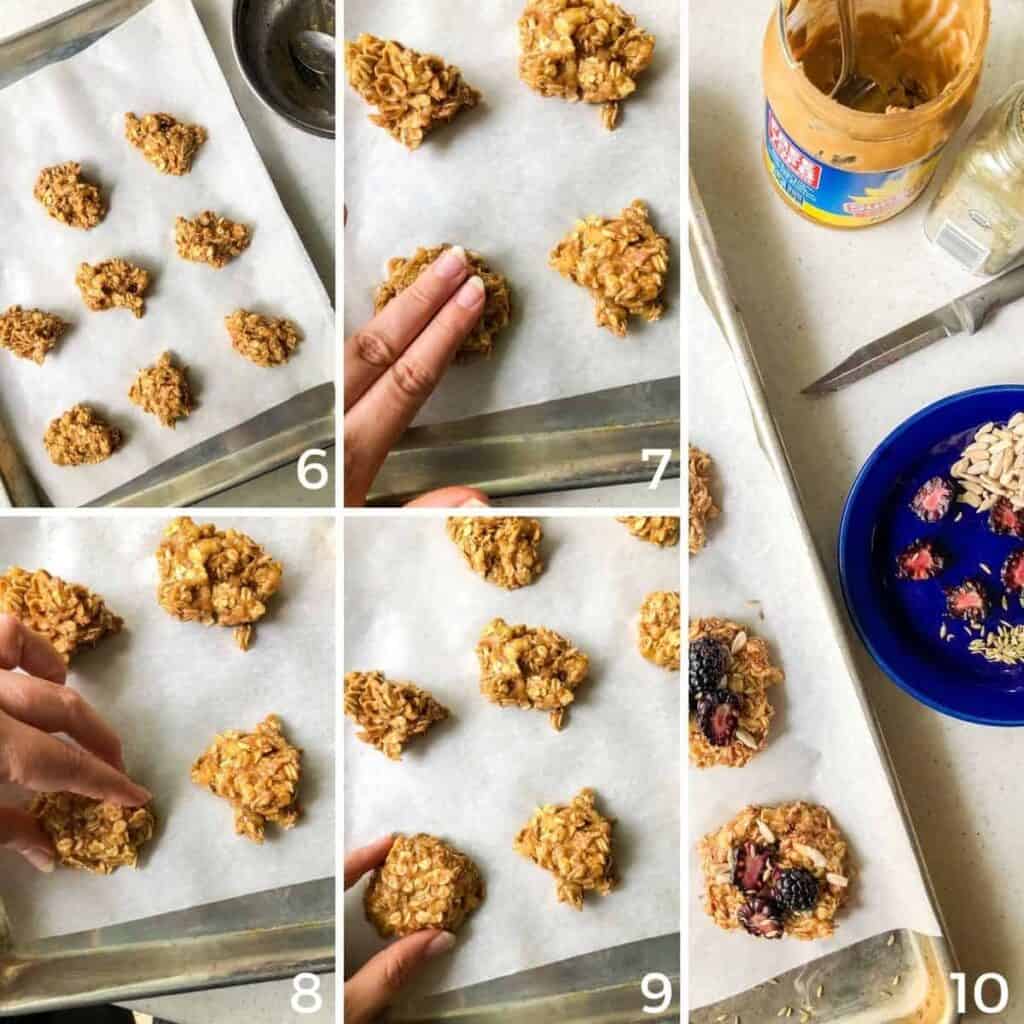 Spoon and shape cookies
Drop spoonfuls of batter on a baking tray and then shape them with your hands. These cookies will not spread out, so make them into the shape, width and height you want from the beginning.
Take my advice and use a silicone mat or parchment paper to line your baking sheet, because these will stick without it.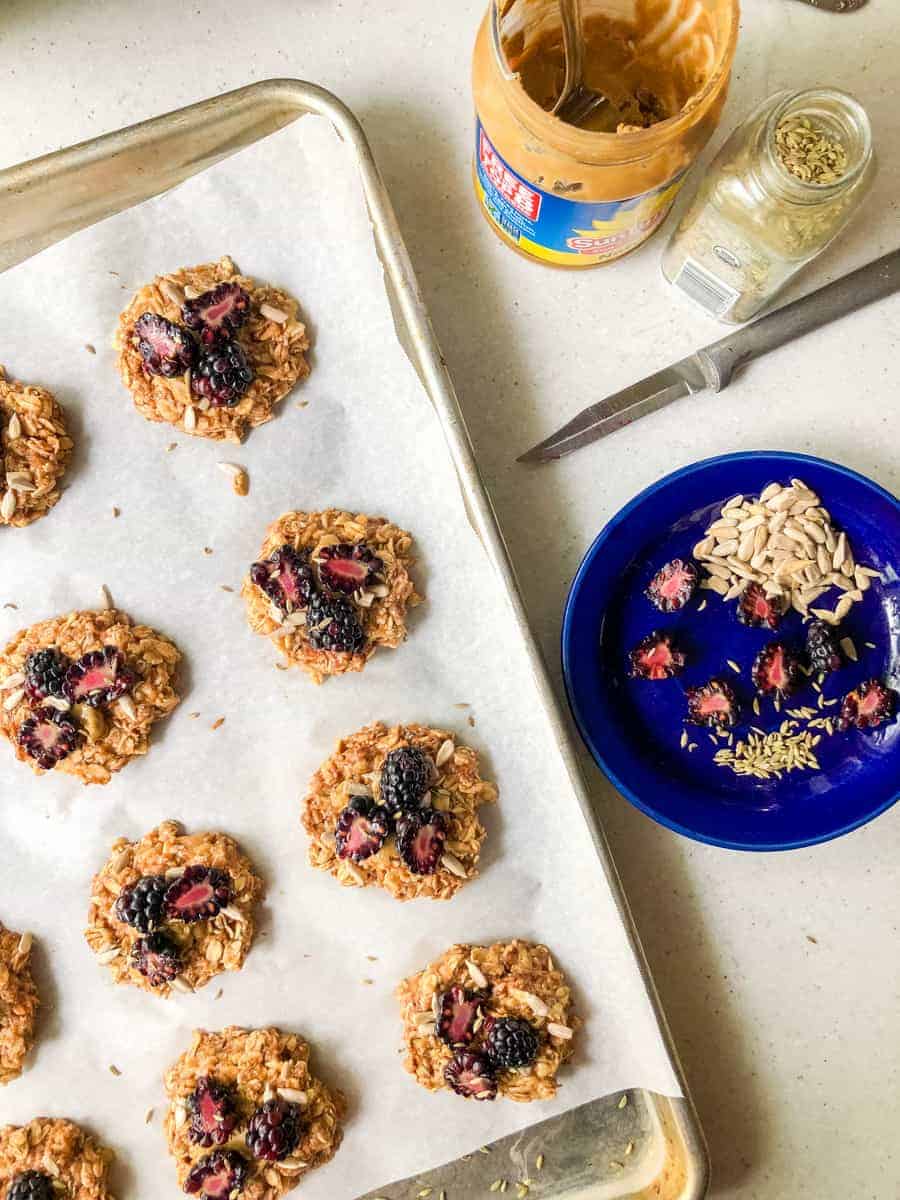 Time for toppings!
Now's the time to get all fancy. Do you have your Nancy Silverton face on? Yes? Okay, let's go.
Dollop and gently spread a teaspoon sunflower seed butter (or blackberry preserves) on top of the cookie. The nut butter or preserves will spread out a little bit in the oven, so don't feel the need to manually spread it over the entire surface. This helps to stick the berries and seeds to the cookie.
Delicately place your halved blackberries on top. Three halves per cookie is so pretty, especially if you do two cut side up and one cut side down.
Drop a few sunflower seed kernels on top of each cookie
Lastly, sprinkle the fennel seeds on and throw these puppies in the oven!
You can make these cookies any size without adjusting the ingredients. You would only need to adjust the time in the oven. For smaller cookies, reduce the time by 3-5 minutes. For large cookies, increase by 2-3 minutes.
🔄 Variations
If you're not feeling the blackberry/sunflower seed/fennel combo, head over to my basic 3 Ingredient Banana Oatmeal Breakfast Cookies recipe for a whole list of topping ideas! I'm sure one will strike your fancy.
So, without further ado, don't throw out those spotty bananas, use them to make these unique and healthy breakfast cookies with blackberries and fennel.
💭 Tips
How long do these breakfast bar / cookies last?
These simple, chewy cookies are great for breakfast or a guilt-free snack throughout the day. They keep, stored in the refrigerator, for 3-4 days, but do not have to stay chilled, so you can throw them in your lunch box. Or, in your purse for running errands.
Kid-friendly!
Since these cookies have no sugar, you can feel good about feeding them to your kids.
💜 More recipes you'll love
Like these healthy breakfast cookies (or biscuits, depending on which side of pond you're on)? Check out these vegan breakfast recipes:
Love this recipe? Please rate it 5 stars ⭐️⭐️⭐️⭐️⭐️ below in the recipe card. And, if you make it, please tag me on Instagram or Facebook in your posted photos! I would love to see your creations. 😄
📖 Recipe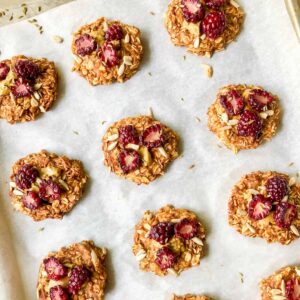 Healthy Breakfast Cookies with Blackberries, Sunflower Seeds and Fennel Seeds
These healthy breakfast cookies are low-calorie, low fat and quick and easy to make. Fresh blackberries, sunflower seeds and fennel seeds take them over the top. Always say yes to breakfast cookies.
Instructions
Preheat oven to 350°F. Peel and mash bananas in a medium bowl with a potato masher or fork. Make sure they are well-mashed, with only small chunks remaining.

Stir in rolled oats and cinnamon. Set aside for a few minutes to allow the oats to soak up the moisture. If the batter is very wet/thin still, add 1-2 tablespoons of oats.

1 cup rolled oats,

1 teaspoon ground cinnamon

Line a baking tray with parchment paper or a silicone baking mat. (Cookies will stick if you skip this step.)

Drop spoonfuls of batter onto baking tray and then shape with your fingers. Cookies do not spread out while baking, so shape them into the width and height you want them to be. This recipe will make about eight medium, 3-inch wide cookies.

Drop a small dollop of sunflower seed butter or blackberry preserves (or both!) on top of each cookie. Then, sprinkle blackberry halves, sunflower seeds and fennel seeds on each cookie.

½ cup fresh blackberries,

1 tablespoon sunflower seeds,

1 teaspoon fennel seeds,

¼ cup sunflower seed butter,

¼ cup blackberry preserves

Bake cookies for 17 minutes. *See notes for adjustments for smaller or larger cookies.

Remove from oven and allow to cool slightly before enjoying.
Notes
This recipe makes about 8 cookies.
If making small 2-in wide cookies, reduce cooking time by 3-5 minutes. If making large 4-in wide cookies, increase cooking time by 2-3 minutes.
If you prefer, you can use vanilla extract instead of the ground cinnamon.
Nutrition
Serving:
2
cookies
Calories:
308
kcal
Carbohydrates:
49
g
Protein:
7
g
Fat:
11
g
Saturated Fat:
1
g
Polyunsaturated Fat:
1
g
Monounsaturated Fat:
1
g
Sodium:
10
mg
Potassium:
368
mg
Fiber:
5
g
Sugar:
19
g
Vitamin A:
88
IU
Vitamin C:
11
mg
Calcium:
56
mg
Iron:
2
mg