Black tea is a popular tea to drink around the world as hot tea or iced tea. How does black tea taste? Let's talk black tea aromas and flavors, as well as what vegan foods pair well with black tea.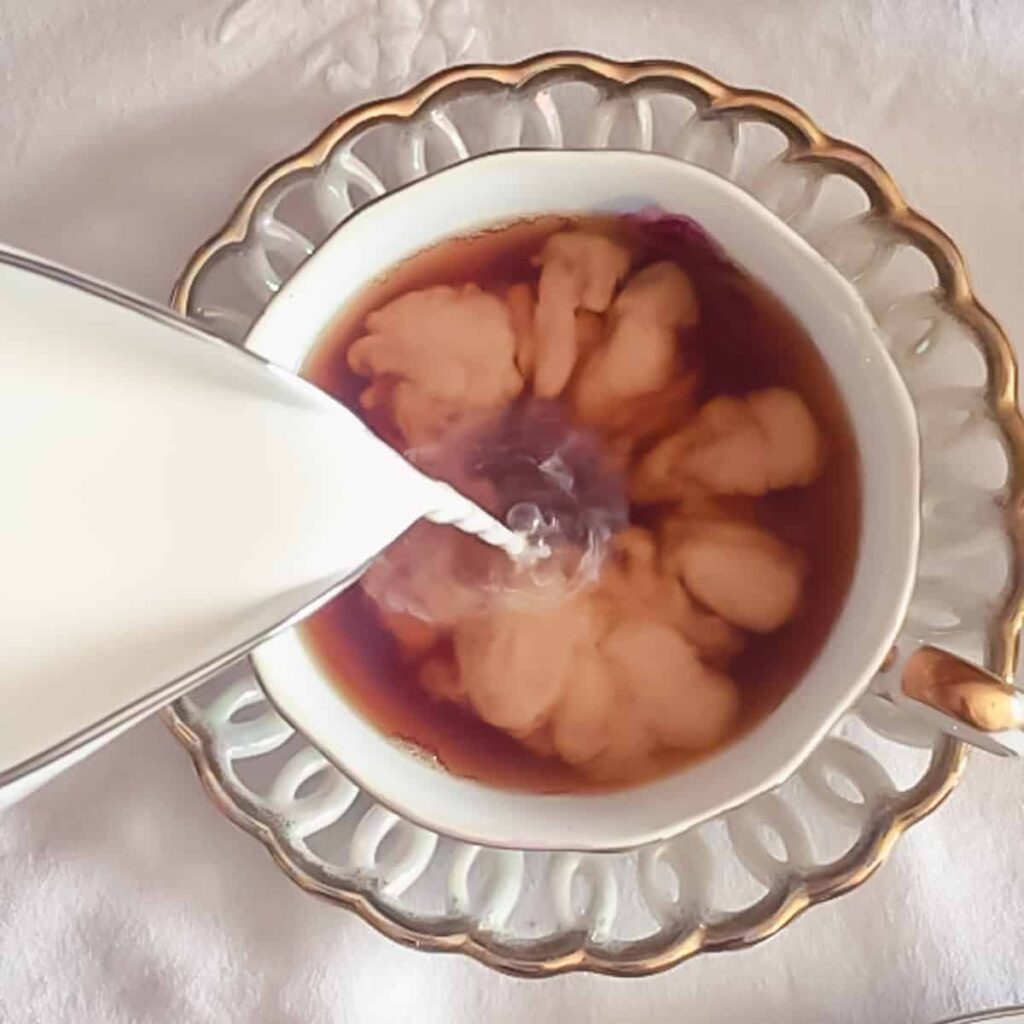 Okay, now if you're here, you may not have had black tea before. Let me help familiarize you with this delicious drink!
Hot black tea is served straight (nothing added), with milk and/or with sugar or other sweetener. For non-dairy options, here are the best vegan milks for tea.
Iced black tea is a staple throughout the southern United States. You'll find iced tea made in most home and served up as a drink option in all restaurants here in Houston.
Jump to:
🫖 What does black tea taste like?
Black tea carries a range of aromas and flavors, depending on the area it was grown in, how it was processed and if any flavorings are added to the tea. These are the words used to describe how black tea smells and tastes:
bold
strong - especially breakfast teas, such as English Breakfast, Irish Breakfast, Scottish Breakfast, Assam and Nilgiri teas
malty - almost like a light beer with caffeine instead of alcohol
dark
tannic
savory
caramel
earthy
brisk
nutty
leather
full-bodied
honey
fruity - especially if flavored or blended with herbal tea that has berry, orange or other fruits
smoky - especially so in a type of smoked black tea called lapsang souchong
astringent
refreshing - especially iced black tea
invigorating
spicy - especially if flavored with warm spices, as in chai tea
☕️ Names and types of black tea
There are many varieties of black tea available, with different strengths, qualities, flavor profiles and origins. Here is a list of the popular names and types of black tea (with no added flavor) you may see in tea shops, on menus and in the grocery store:
| Variety | Origin of Tea Production | Tasting Notes and Uses |
| --- | --- | --- |
| Assam | Assam region of India | Strong, often included in breakfast blends. Tannic, astringent, chocolate, malty. Holds up well to added milk. Delicious as a strong breakfast hot tea or as an iced tea. |
| Nilgiri | Nilgiris district of Tamil Nadu, India | Brisk, full-bodied and fragrant tea. Holds up well to milk. Delicious as a strong breakfast hot tea or as an iced tea. |
| Darjeeling | Darjeeling region of India | Light, fragrant, refined, bright liquor, notes of muscat grape - considered the champagne of tea. Delicious as hot tea by itself, or with milk and sugar. Weaker than Assam. Refreshing as an iced tea. |
| Ceylon | Sri Lanka | Full-bodied citrusy flavors with chocolate notes. Breakfast tea, often as part of a blend. |
| Chai Kee Mun | Anhui province of China | Range of flavours, including fruity, malty, smoky, floral and piney. |
| Irish, Scottish or English Breakfast Black | Blend of black teas | Strong, full-bodied, bold breakfast tea blend, often comprising of Assam, Ceylon and/or Kenyan black teas. Commonly served with milk. Scottish breakfast and Irish breakfast teas are typically much stronger than English blends. Prepare hot and serve with milk and sugar. Good as a bold iced tea. |
| Lapsang Souchong | Wuyi mountains of Fujian province | Luscious, pine smokiness, hearty aroma of an oak fire, rugged with notes of whiskey. Best enjoyed plain. |
| Kenyan Black Tea | Kenya | Robust, full-bodied with notes of citrus, anise, cardamom and chocolate. Sometimes prepared in Kenya by heating milk, then adding the tea to a strainer and gently lowering the strainer into the milk to infuse it with the strong tea leaves. |
| Dian Hong Cha (Yunnan Red) | Yunnan province, China | Rich, well-balanced flavor, with no astringent aftertaste. Deep red infusion with notes of molasses and malt. |
🍓 Popular flavored black teas
Flavored black teas are black teas that are infused or blended with fruit, spices, botanicals and herbals to achieve a unique flavor and aroma. The combinations and flavors are endless! Here are names of some popular and absolutely delicious examples of flavored black teas:
Earl Grey - black tea with bergamot - tastes smoky and of citrus.
Blackcurrant - black tea with blackcurrant - tastes of currant with berry notes - excellent as an iced tea
London Fog - black tea with bergamot, vanilla and lavender - tastes citrusy, smoky and sweet - excellent with milk as a hot tea latte
Cinnamon Spice - black tea with cinnamon - tastes warm and spicy
Apricot - black tea with apricot - tastes fruity and light
Peach - black tea with peach - tastes fruity and light - excellent as an iced tea
Masala Chai - black tea with various warming spices - tastes spicy, warm and invigorating
Mango - black tea with mango - tastes tropical and fruity
☕️ How to make black tea
Black tea is easy to make with loose leaf teas or tea bags.
To make one cup of hot black tea:
Heat water in an electric kettle.
Place one tea bag in your mug. If you're using loose leaf tea, add it to the strainer and insert that into your cup. Add 1 teaspoon black tea to strainer.
When water is boiling, allow the water to calm down. Then, carefully pour into your cup/mug.
Steep the tea for 5 minutes. Then, remove the tea bag or strainer with tea leaves.
Add sugar and/or soy milk or oat milk, if desired. Enjoy!
Want to make iced black tea instead? Follow these instructions for making perfect Southern iced tea.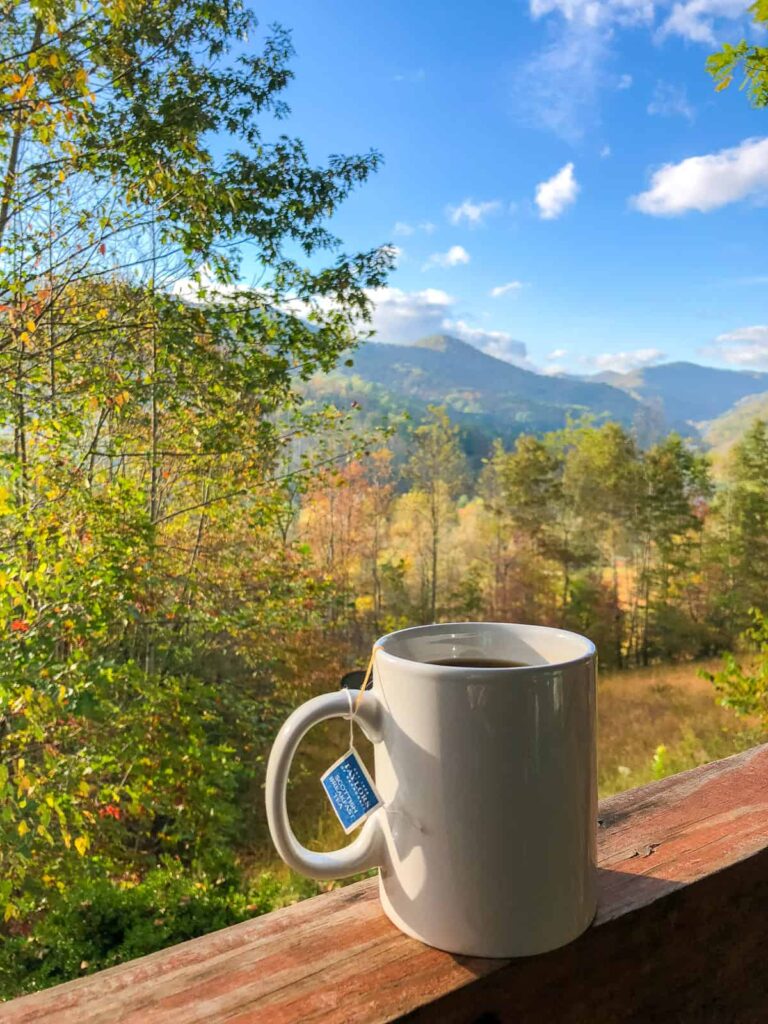 💦 Ideal water temperature for black tea
There is confusion about what temperature the water should be when you're steeping black tea. Some say it should be 212°F (boiling), others say it should be between 180°F-200°F (very hot, but not boiling).
So, what is the ideal black tea brewing water temperature? Between 180°F-212°F, depending on your preference and the type of tea.
The best way to figure this out is to try steeping your black tea with different water temps to find what tastes best to you.
You're drinking the tea. You might like the strength, astringency and slight bitterness that comes from steeping black tea with boiling water, the way the British typically do it.
Or, you might prefer a lighter, less astringent and tannic black tea preparation, which you'll get with less hot water.
Also, read the tea package to see if the tea brand has a suggested steeping temperature for your tea.
How can you get your water to such a precise temperature for steeping tea? Use an electric kettle with temperature control, like the Zwilling Enfinigy Glass Kettle with Temperature Control. This is the kettle I use every day.
For more info: Why is water temperature so important when brewing tea?
❓ FAQ
Is black tea vegan?
Yes, black tea is vegan as long as you do not add dairy milk or honey to it. English/British hot black tea is normally served with milk, so make it creamy by adding oat milk or soy milk and sweeten with sugar or agave.
Is black tea bitter?
Black tea is not bitter, if prepared properly. If it is over-steeped, it can get very strong, astringent and can have a slight bitterness. But, it does not have the bitterness that green tea can easily develop.
Does black tea taste like green?
No. Black tea tastes very different to green tea. Even though they are from the same plant, the camellia sinensis plant, the leaves are processed different and produce two very different flavors of tea.
Can you drink black tea straight?
Yes! Black tea is delicious without milk or sugar. However, be sure not to over-steep the tea, as this can make it very strong. It may be unpleasant to some who are not used to drinking black tea straight. A good black tea to drink straight or plain is darjeeling black, as it is mild, not too strong and has a lovely flavor profile. Assam black tea is delicious, malty and strong, so if you prefer a bold flavor, try that.
How much caffeine does black tea have?
An 8-ounce cup of black tea can have between 45-90mg of caffeine. Breakfast blends, such as Irish Breakfast, Scottish Breakfast or English Breakfast, which are made of Assam, Nilgiri, Ceylon and Kenyan black tea varieties will have the most caffeine. Weaker black teas, such as darjeeling, will have less caffeine.
What does black tea boba taste like?
Bubble tea with black tea and boba (tapioca pearls) tastes sweet, creamy, malty, refreshing and slightly astringent.
What are the health benefits of black tea?
I am not a doctor, nutritionist or dietician, so I'll defer to the professionals on this one. Check out this medically reviewed article for 10 Evidence-based Health Benefits of Black Tea.
What does iced black tea taste like?
Iced black tea tastes refreshing, slightly astringent or bitter (if not sweetened), sweet (if sugar is added), of caramel and tannic.
🍊 Vegan food that pairs well with black tea
Black tea pairs well with a wide variety of dishes! Serve hot black tea at breakfast or brunch time with recipes like Vegan Chorizo and Potato Breakfast Tacos or Oatmeal.
Serve iced black tea with lunch and dinner meals, like BBQ Bean Burgers. Iced tea is refreshing and light. It helps to cut through heavier meals. It also pairs nicely with light meals, such as salad, soup or Vegan Ceviche Tostadas.
Black tea served hot with soy milk or oat milk goes especially well with desserts! Serve it instead of coffee along with vegan pumpkin pie, fruit salad, vegan banana bread with applesauce or vegan nice cream!