Creamy, smooth and low in fat, silken tofu blends up into a thick sour cream, ready to use on your favorite plant-based, vegan meals. Dollop this vegan tofu sour cream (without cashews) on nachos, tacos, chili or potatoes.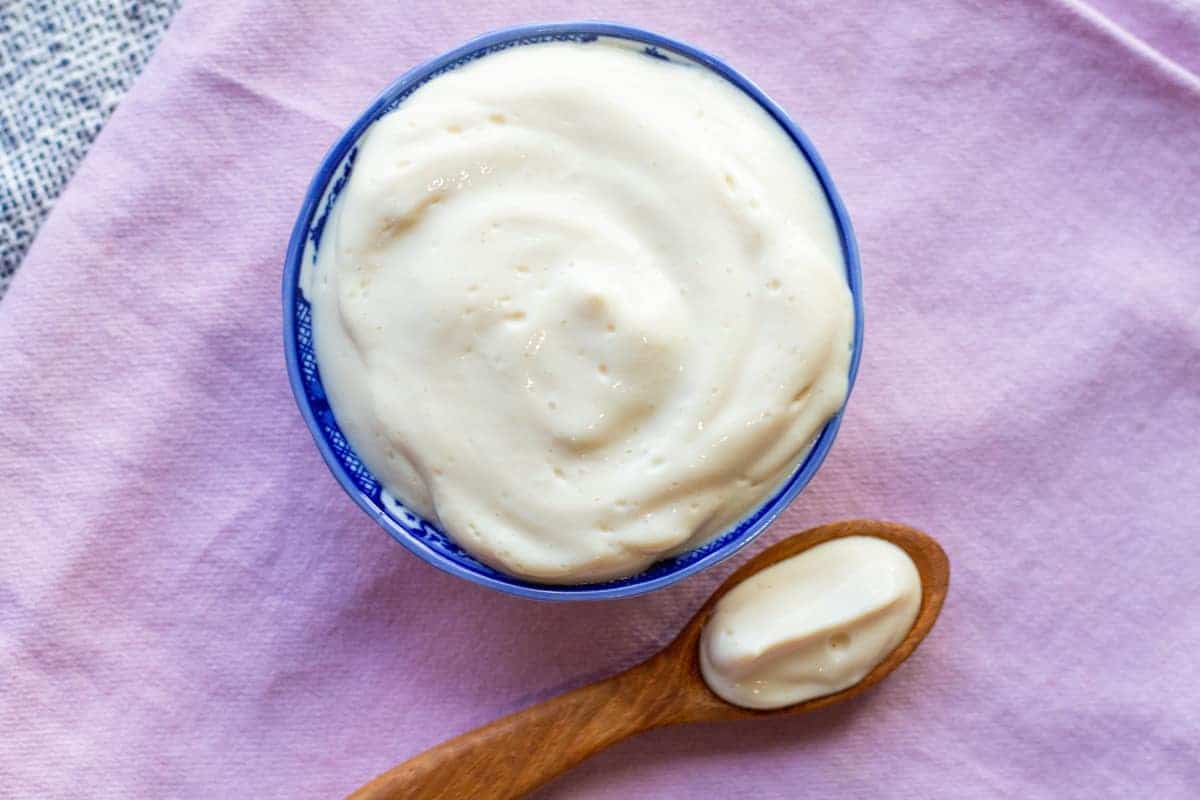 This quick homemade sour cream made with silken tofu (no cashews!) is plant-based, vegan, nut-free, gluten-free, dairy-free and wfpb. It can be made SOS-free by omitting the salt.
If you're looking for a richer sour cream, try making this vegan cashew sour cream. Or, for a nut-free, soy-free option, try this sunflower seed sour cream.
What can you use it for? Anything you would use sour cream for! Drizzle over tacos, nachos, enchiladas, 7-layer dip, baked potatoes and chili.
Jump to:
🧄 Ingredient notes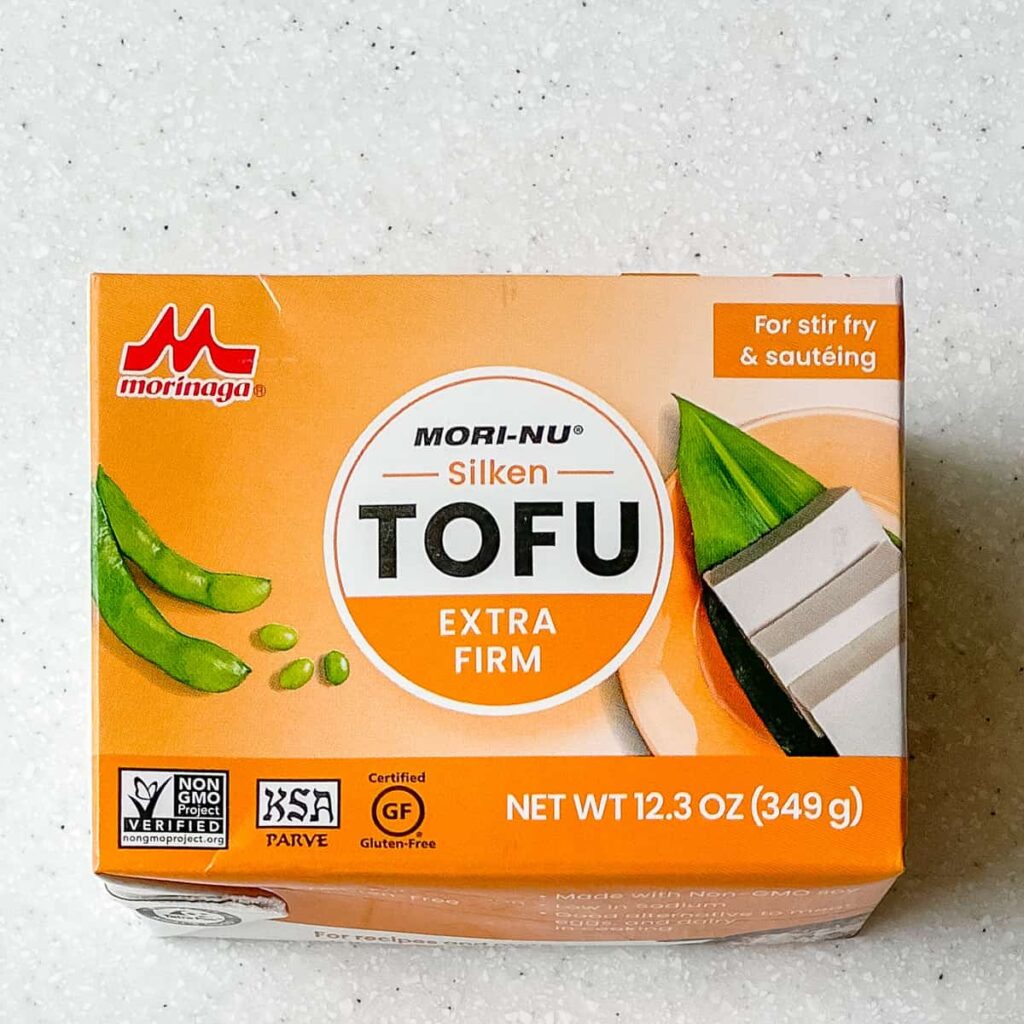 This vegan silken tofu sour cream (without cashews!) recipe has the following plant-based ingredients:
Silken tofu - use firm or extra firm silken tofu by brand Morinu (pictured above) for the best results. See below for more info about silken tofu, where to buy it, how to use it and other recipes using silken tofu.
Fresh lemon juice - fresh lemon juice is preferred for a fresh acidity and brightness to cut through the richness of creamy tofu.
Apple cider vinegar - a touch of vinegar amps up the acid and sour flavor that is necessary in a sour cream
Silken tofu 101
Where can you buy silken tofu?
The best brand of silken tofu for this recipe is Morinu silken tofu, extra firm. You may find it at your Asian grocery store, in the Asian foods aisle of your supermarket or at international food stores. Or, you can buy it online at Amazon.
Often, silken tofu is packed in aseptic, shelf-stable containers and does not need to be refrigerated. So, you will find it on the shelf with other packaged dry goods.
I usually buy it in bulk on Amazon when the price is good and keep it in the pantry. Saves room in my refrigerator and has a long shelf life, as it's usually good up to a year unopened.
Other brands of silken tofu come packed in water and can be found in a refrigerated section, usually with the other tofu and vegan products.
How do you open the box? Set it on one of the short sides. Pull up the little triangle-shaped corners. Cut them off with kitchen scissors. Then, cut down the middle of the end flap, where you see the dotted line.
Open the flaps, hold one finger on the block of tofu, turn it upside down to drain any excess water. Then, turn it over onto your plate or scoop it out with a spoon.
How to use silken tofu
Silken tofu is processed differently and has a different texture than the more common water-packed tofu that is typically pressed and then pan-fried, air-fried or baked.
Silken tofu is much smoother and more delicate, with a silky texture. Silken tofu does not need to be pressed. In fact, if you try to press it, it will fall apart. Just drain any excess water in the container, then it's ready to use.
If you're blending it, use a spoon to scoop it out into the blender or food processor.
Silken tofu is edible raw or cooked.
Silken tofu uses and recipes
Blend up into sauces, like this sour cream
Blend into creamy desserts, like my vegan pumpkin pie
Make tofu soft scrambled "eggs", although I prefer the chewier texture of (not silken) firm tofu packed in water for that.
Cut into small cubes and add to vegan ramen noodle soup or miso soup
📋 Substitutions and variations
Here are some suitable substitutions for the ingredients called for in this recipe:
Silken tofu - I would not recommend using a different kind of tofu for this recipe, as I have not tested using a standard tofu (even soft varieties) that are not silken, so I cannot comment on their effectiveness. If you are looking for a different sour cream main ingredient, try one of these soy-free options:
Fresh lemon juice - use bottled lemon juice instead. Or, use lime juice.
Apple cider vinegar - use white wine vinegar, distilled vinegar or extra lemon juice instead of ACV.
Sea salt - use twice the amount of kosher salt (I recommend Diamond Crystal Kosher Salt) instead of sea salt, as kosher salt is about half as salty as sea salt. If you are SOS-free, omit the salt.
Cane sugar - instead use another sweetener, like maple syrup or agave nectar
Want to switch up the flavors? Here are some variations to try with this tofu sour cream recipe:
Vegan Miracle Whip Substitute: use silken tofu to make vegan mayonnaise.
Spicy - add sriracha, chipotle pepper powder, cayenne powder, taco seasoning or cajun salt to infuse a little heat to this sour cream.
Garlic Aioli: add 1 tablespoon of olive oil and 2 extra garlic cloves when blending. Great with paella or as a mayo substitute!
Chipotle Sour Cream: add 2 chipotles in adobo sauce when blending. Delicious on tacos, nachos, tostadas, burritos or anything TexMex.
Taco Dip: mix in 1 package of taco seasoning to prepared vegan sour cream.
SOS-free - make this SOS-free by omitting the salt
🔪 Instructions
Add everything to a high speed blender, food processor or mini food processor and process until completely smooth. You'll have to stop a few times to scrape down the sides. It will look separated at first, but keep processing and it will all combine together to form a smooth sour cream.
At this point, it's ready to be eaten atop chili, nachos, tacos, baked potatoes or whatever else you'd like a dollop of sour cream on!
It will thicken up more once cooled in the refrigerator.
Keep it stored in the refrigerator for up to a week. It does not freeze well.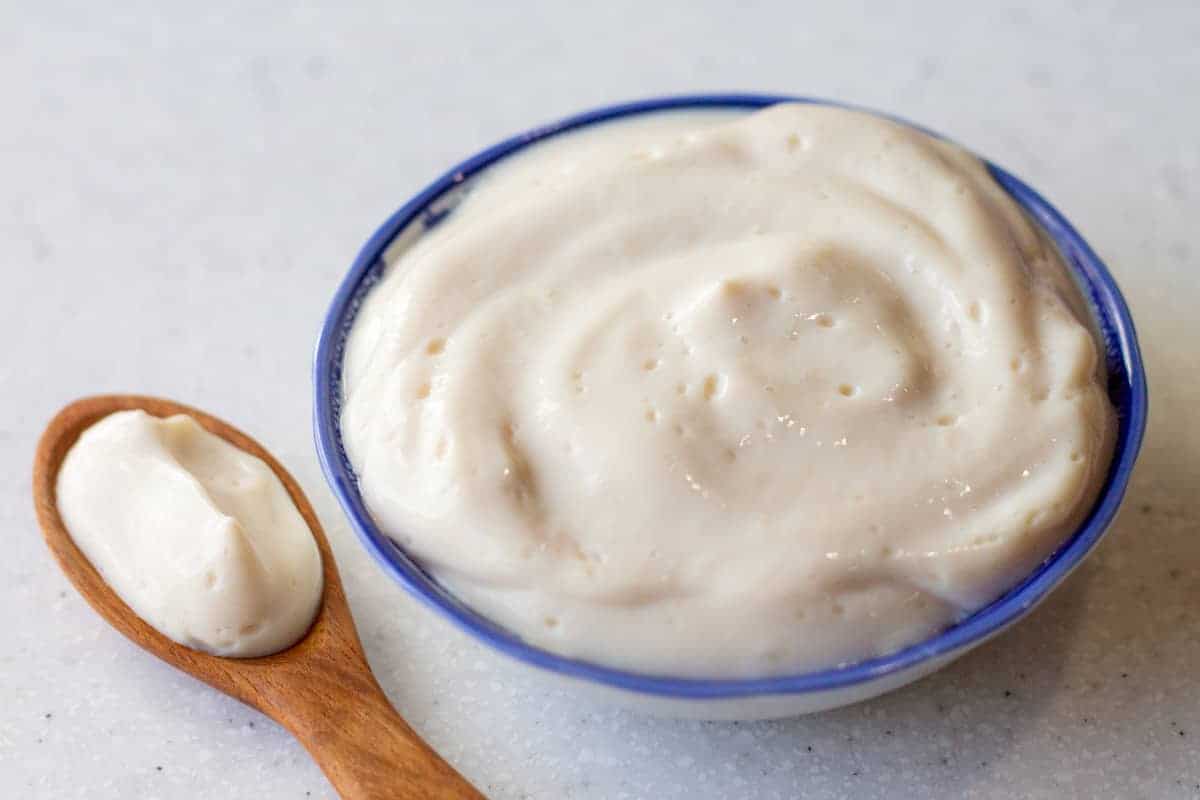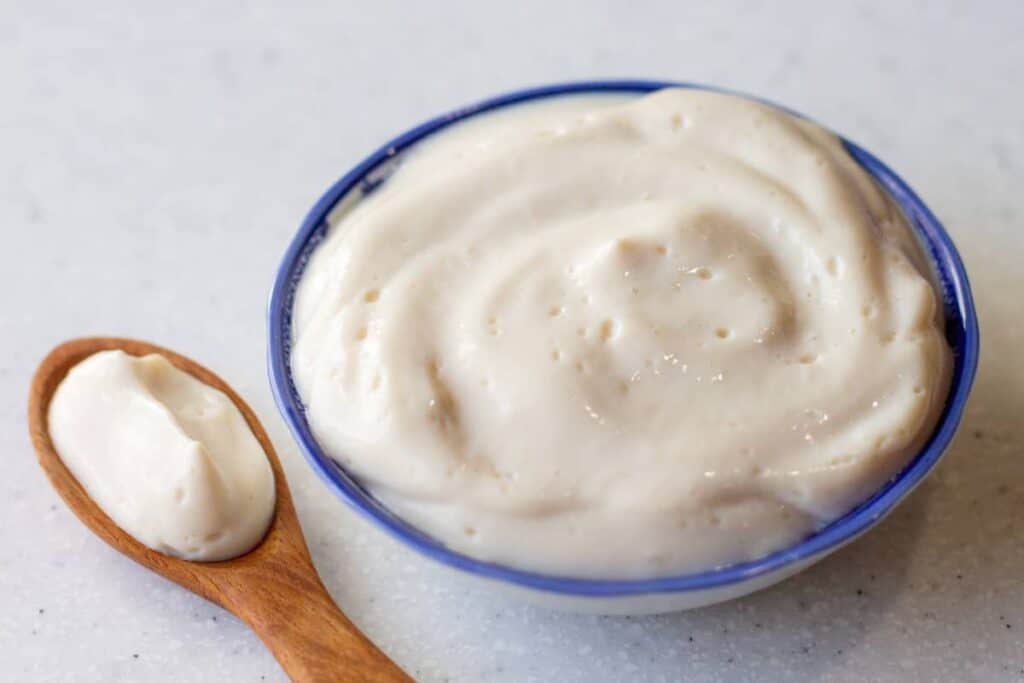 ❓ FAQ
How long does tofu sour cream last?
Homemade tofu sour cream lasts up to a week in the refrigerator.
How do I store tofu sour cream?
Keep prepared tofu sour cream in the refrigerator.
What is a vegan substitute for sour cream?
There are many vegan sour cream substitutes. You can find store-bought vegan sour creams in health food stores but it's quite easy to make your own out of cashews, sunflower seeds or silken tofu.
Is there such a thing as vegan sour cream?
Yes! Using nuts, seeds or tofu, along with lemon juice, vinegar and salt, you can make your own sour cream.
What is vegan sour cream made of?
Usually, vegan sour cream is made of either tofu, nuts (cashews or almonds) or seeds (like sunflower seeds). It's blended with something sour, like vinegar or lemon juice, along with salt and maybe sugar or other flavors.
We like all three but our favorite is cashew cream.
But, I know cashews can be expensive and some are allergic. If you're looking for a vegan sour cream without cashews, then try either tofu sour cream or sunflower seed sour cream.
The lowest fat and easiest option to make is this recipe made of silken tofu. Sunflower seed sour cream is best for those with nut or soy allergies, in addition to those avoiding dairy.
👨‍👩‍👦‍👦 Serving suggestions
What can you serve this vegan tofu sour cream with? Try dolloping it on or mixing it into one of these plant-based recipes!
💜 More recipes you'll love
If you like this tofu cream recipe, then check out my recipes for other plant-based sauces and condiments!
Love this recipe? Please rate it 5 stars ⭐️⭐️⭐️⭐️⭐️ below in the recipe card. And, if you make it, please tag me on Instagram or Facebook in your posted photos! I would love to see your creations. 😄
📖 Recipe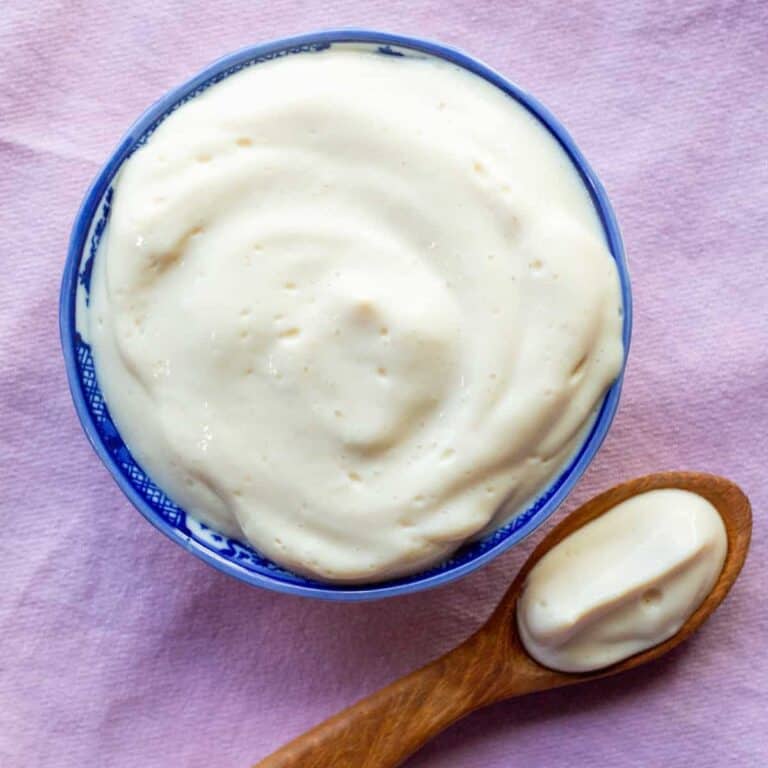 Vegan Silken Tofu Sour Cream
Creamy, smooth and low in fat, silken tofu blends up into a thick sour cream. Dollop this vegan tofu sour cream (without cashews) on nachos, tacos, chili or potatoes.
Instructions
Add all ingredients to a mini food processor. Blend until completely smooth, stopping to scrape down the sides, as necessary. At first it will look clumpy, but as you continue to process it will get silky smooth.

Once it is smooth, it is ready to be eaten. Transfer the sour cream to an airtight container and refrigerate, to store. Do not freeze.
Nutrition
Serving:
2
tablespoons
Calories:
14
kcal
Carbohydrates:
1
g
Protein:
1
g
Fat:
1
g
Saturated Fat:
1
g
Polyunsaturated Fat:
1
g
Monounsaturated Fat:
1
g
Sodium:
37
mg
Potassium:
41
mg
Fiber:
1
g
Sugar:
1
g
Vitamin A:
1
IU
Vitamin C:
1
mg
Calcium:
7
mg
Iron:
1
mg