Cheaper than cashews, sunflower seeds blend up to make a thick, rich sour cream. Perfect nut-free option for topping nachos, tacos, chili or potatoes.
Jump to:
🧄 Ingredient notes
A few notes on the main ingredients for this allergy-friendly, nut-free vegan sour cream recipe. If you're familiar with my cashew cream recipe, you'll notice this recipe has a few more ingredients, due to the stronger flavor of the sunflower seeds.
Raw sunflower seed kernels - use raw, not roasted sunflower seed kernels. Sunflower seed kernels have a stronger flavor than cashews. So, they need a little more "help" to mask that raw sunflower seed flavor. The added spices and extra acid in the apple cider vinegar and lemon juice all help with this.
Lemon juice and apple cider vinegar - adds acidity and brightness
Cane sugar - unlike cashews, which have a natural sweetness to them, sunflower seed kernels are bitter, so they need some sweetener to balance that out
Cayenne powder - you're not using enough to make this cream spicy, it's being used as a flavor enhancer
Ground turmeric - used to counteract any grey color in the final product
📋 Substitutions and variations
Here are some suitable substitutes for the ingredients:
Lemon juice - you can use lime juice or sour orange instead, but it will change the flavor profile of the sauce
Apple cider vinegar - substitute with distilled vinegar or white wine vinegar. Alternatively, use more lemon juice instead.
Cane sugar - maple syrup, coconut sugar, raw sugar or agave nectar
Sea salt - if you choose to substitute with kosher salt, you may need to increase it, as kosher salt is about half as salty as sea salt.
Want to switch up the flavors? Try one of these tasty variations:
Garlic Aioli: add 1 tablespoon of olive oil and 2 extra garlic cloves when blending. Great with paella or as a mayo substitute!
Chipotle Sour Cream: add 2 chipotles in adobo sauce when blending. Delicious on tacos, nachos, tostadas, burritos or anything TexMex.
Taco Dip: mix in 1 package of taco seasoning to prepared vegan sour cream.
🔪 Instructions
The longest part of this recipe is soaking the sunflower seek kernels in hot water. After they've soaked for 15-20 minutes, drain and rinse them.
Then, add everything to a high speed blender and process until completely smooth. At this point, it's ready to be eaten atop chili, nachos, tacos, baked potatoes or whatever else you'd like a dollop of sour cream on!
Keep it stored in the refrigerator for up to a week. Or, freeze for later!
How to soak sunflower seeds
Soaking sunflower seeds softens them, so they blend easier and faster.
The fastest way to soak sunflower seed kernels is to pour boiling water over them and leave them to soak for 15-20 minutes. Drain and rinse with fresh water. At this point, they're ready to be used for this recipe.
If using cool water, soak for 2 hours on the counter or overnight in the refrigerator. Then, drain and rinse and continue with the recipe.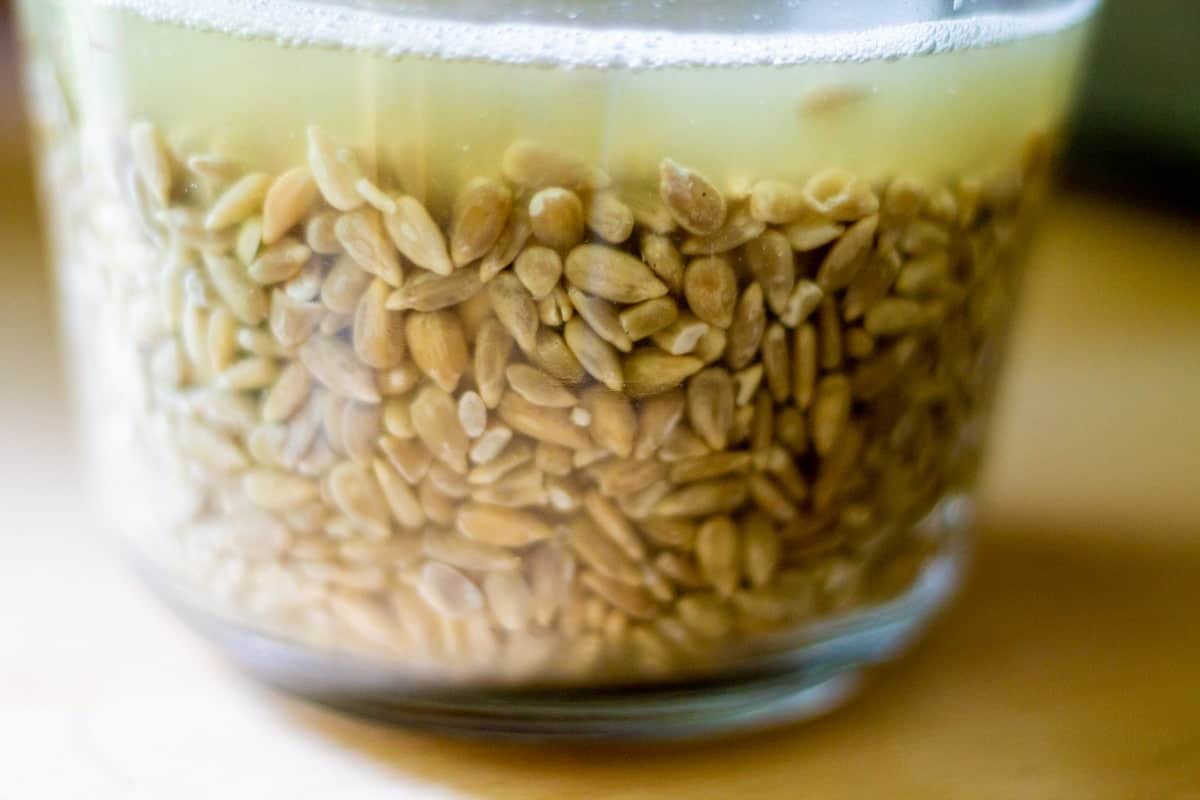 🥡 Make ahead and storage tips
How long does it last? How to store it?
You can store sunflower seed sour cream in the refrigerator for up to one week.
You can also freeze it for up to 3 months. It will be a little thinner and smell stronger of the onion powder after defrosting it. If that is off-putting, then perhaps omit the onion powder or add it after defrosting.
Best homemade vegan sour cream substitute?
Which is better? Cashew cream? Sunflower seed cream? Tofu sour cream?
I make vegan sour cream out of cashews, silken tofu and sunflower seed kernels, depending on what I have in the pantry. All are dairy-free, vegan, oil-free, plant-based recipes.
We like all three but our favorite is cashew cream. The lowest fat option is the one made of silken tofu. Sunflower seed sour cream is best for those with nut or soy allergies, in addition to those avoiding dairy.
So, they all have their pros and cons, depending on your needs, what products you have available and your taste preferences.
❓ FAQ
Is there a vegan substitute for sour cream?
Yes! Many, actually. You can find store-bought vegan sour creams in health food stores but it's quite easy to make your own out of cashews, sunflower seeds or silken tofu. The recipe on this page is a sunflower seed sour cream, which is a vegan, nut-free, soy-free, dairy-free recipe.
What is vegan sour cream made of?
Vegan sour cream, depending on the recipe or brand, can be made of soy (tofu), coconut, cashews or sunflower seeds. Some are a combination of several of those ingredients. Store-bought vegan sour cream often includes preservatives or processed ingredients in order to bind everything together or alter the flavor. If you have a high speed blender, it's easy to make sour cream at home out of plant-based ingredients. It keeps in the refrigerator for the week and some recipes will even freeze well.
Is there dairy free sour cream?
Yes! You can mimic the flavor and texture of dairy sour cream with a host of plant-based ingredients. See above for some of those options!
Are sunflower seeds vegan?
Yes, they are. Sunflower seeds come from sunflowers, which are a plant, so they are vegan. Sunflower seed kernels are also vegan.
💜 More recipes you'll love
If you like this vegan nut-free sour cream recipe with sunflower seeds, try one of my other vegan sauces or condiments recipes.
Love this recipe? Please rate it 5 stars ⭐️⭐️⭐️⭐️⭐️ below in the recipe card. And, if you make it, please tag me on Instagram or Facebook in your posted photos! I would love to see your creations. 😄
📖 Recipe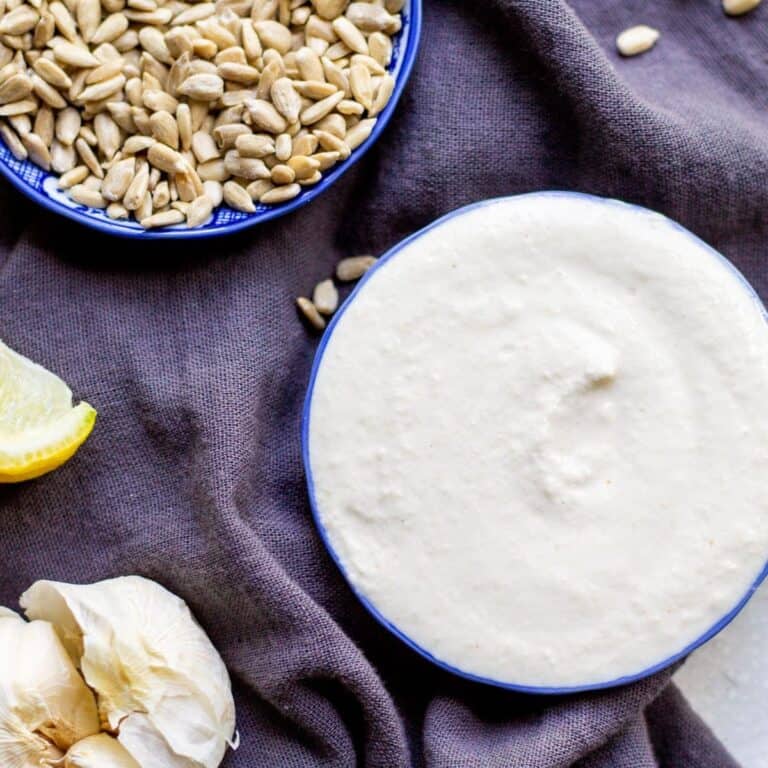 Vegan Sunflower Seed Sour Cream
Cheaper than cashews, sunflower seeds blend up to make a thick, rich sour cream. Perfect for topping nachos, tacos, chili or potatoes.
Instructions
Soak sunflower seed kernels in 1 cup of boiling hot water on the counter for 20 minutes. (If you have a high speed blender, you can skip this step, you just may need to blend a little longer to get it smooth.)

¾ cup sunflower seed kernels,

1 cup boiling water

Drain and rinse sunflower seed kernels. Discard hot water they soaked in.

Add the sunflower seed kernels to blender along with cool water, garlic, lemon juice, apple cider vinegar, sugar, salt, onion powder, cayenne pepper and turmeric.

¾ cup cool water,

1 clove garlic,

3 tablespoons lemon juice,

1 tablespoon apple cider vinegar,

1 teaspoon cane sugar,

½ teaspoon sea salt,

¼ teaspoon onion powder,

pinch cayenne pepper,

pinch ground turmeric

Blend until completely smooth. This may take 1-3 minutes. You may need to stop to scrape down the sides of your blender jar. If it's too thick to process, add more water a tablespoon at a time, stir, scrape down sides, then blend again.

Store in refrigerator for 5-7 days.
Notes
If you have cashews, give my vegan cashew cream a try.
If your sunflower seed cream looks very gray after blending, use the pinch of ground turmeric to help achieve a "creamy white" color. Only use a tiny amount and it will not affect the flavor, just help the color.
Nutrition
Serving:
2
tablespoons
Calories:
78
kcal
Carbohydrates:
4
g
Protein:
3
g
Fat:
6
g
Saturated Fat:
1
g
Polyunsaturated Fat:
3
g
Monounsaturated Fat:
2
g
Sodium:
148
mg
Potassium:
90
mg
Fiber:
1
g
Sugar:
1
g
Vitamin A:
7
IU
Vitamin C:
2
mg
Calcium:
12
mg
Iron:
1
mg