What should I buy at an Asian supermarket? Stop feeling overwhelmed by the endless choices and follow this vegan, plant-based guide. Here are my top vegan products that I always stock up on when I go to H Mart, 99 Ranch Market or other Asian markets. Get ready for our vegan, plant-based grocery haul!
Hopefully, you have an Asian grocery store, like H Mart or 99 Ranch Market, that you can shop at nearby. If you don't or can't find these products at your shop, I will link to similar products on Amazon. I've also created a shoppable list on Instacart of items that H-Mart offers online!
I've made an effort here to list products that may be difficult to find at a standard grocery store, but are usually stocked at an Asian Market. Of course, your market may be different than the one I shop at.
There's no possible way for me to list all the amazing products gracing the shelves at my local H Mart. These are the highlights and the products I typically stock up on when I shop there that suit a vegan, plant-based way of eating.
I hope you find countless delights at your Asian market! Explore, have fun and broaden your taste buds! And, sign-up below to snag my free printable shopping list to take with you!
Jump to:
🥬 Vegetables, Fruit, and Herbs
Gai Lan - Chinese Broccoli
Chinese broccoli (gai lan) tastes similar to American broccoli, with a slightly more bitter flavor. Rather than florets, this vegetable is harvested in stalks with large leaves. If they have young gai lan, it is more tender, get it!
How to use it
This is a simple but oh-so-delicious 2-ingredient vegetable side!
Wash well, then trim ¼ inch of the ends off.
Cut gai lan into 2-inch pieces, separating the stems from the tender leaves and tops.
Bring a large pot of salted water to a boil. Boil Chinese broccoli stems first for about 4 minutes.
Add tender tops to the water. Boil another 2-3 minutes, until crisp tender (pull a stem out and taste it).
Drain, then mix with vegetarian mushroom-based oyster sauce.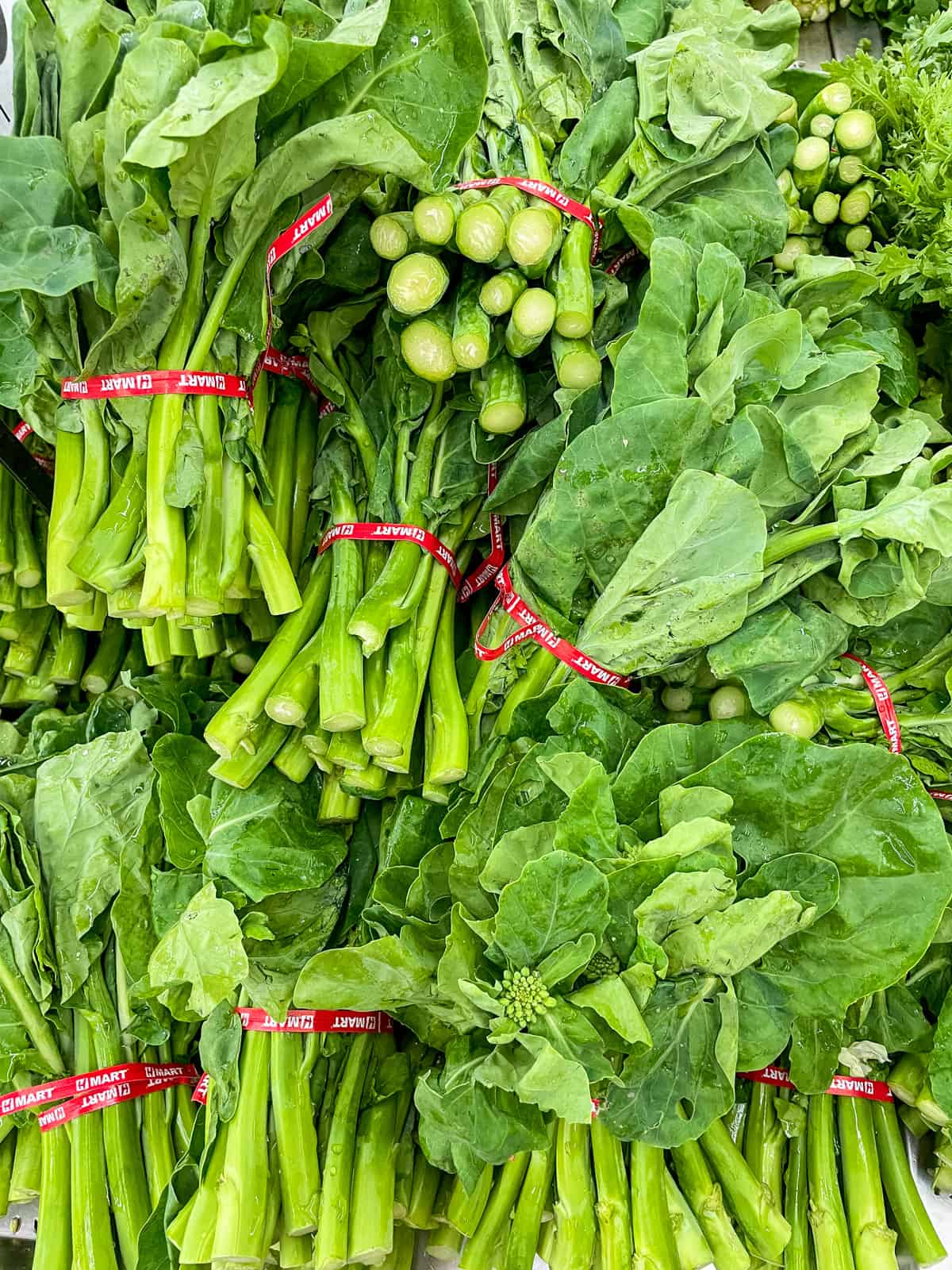 Bok Choy & Greens
There are so many different varieties of dark leafy greens to choose from. Try a new one each time you go!
How to use it
Stir-fry, saute, steam-saute, boil or add to soups. Use similarly to greens you are more familiar with, such as spinach, kale, swiss chard or collard greens.
Napa Cabbage
Napa cabbage is delicious and sweet, with curly tips. Shred or slice very thinly and add to salad, cold noodles, or soup.
Japanese sweet potatoes (aka Korean yams)
If you're not a fan of yams/orange sweet potatoes, try Korean yams aka Japanese sweet potatoes, which have purple skin and white flesh. They have a different flavor and maybe you'll like them!
They are delicious baked until squishy, fluffy and tender. Here's how to perfectly bake murasaki sweet potatoes (other names for them include: Japanese sweet potatoes, Korean yams, satsumaimo and red kūmara).
You can also steam Japanese sweet potatoes in the Instant Pot pressure cooker or even grill the yams outside!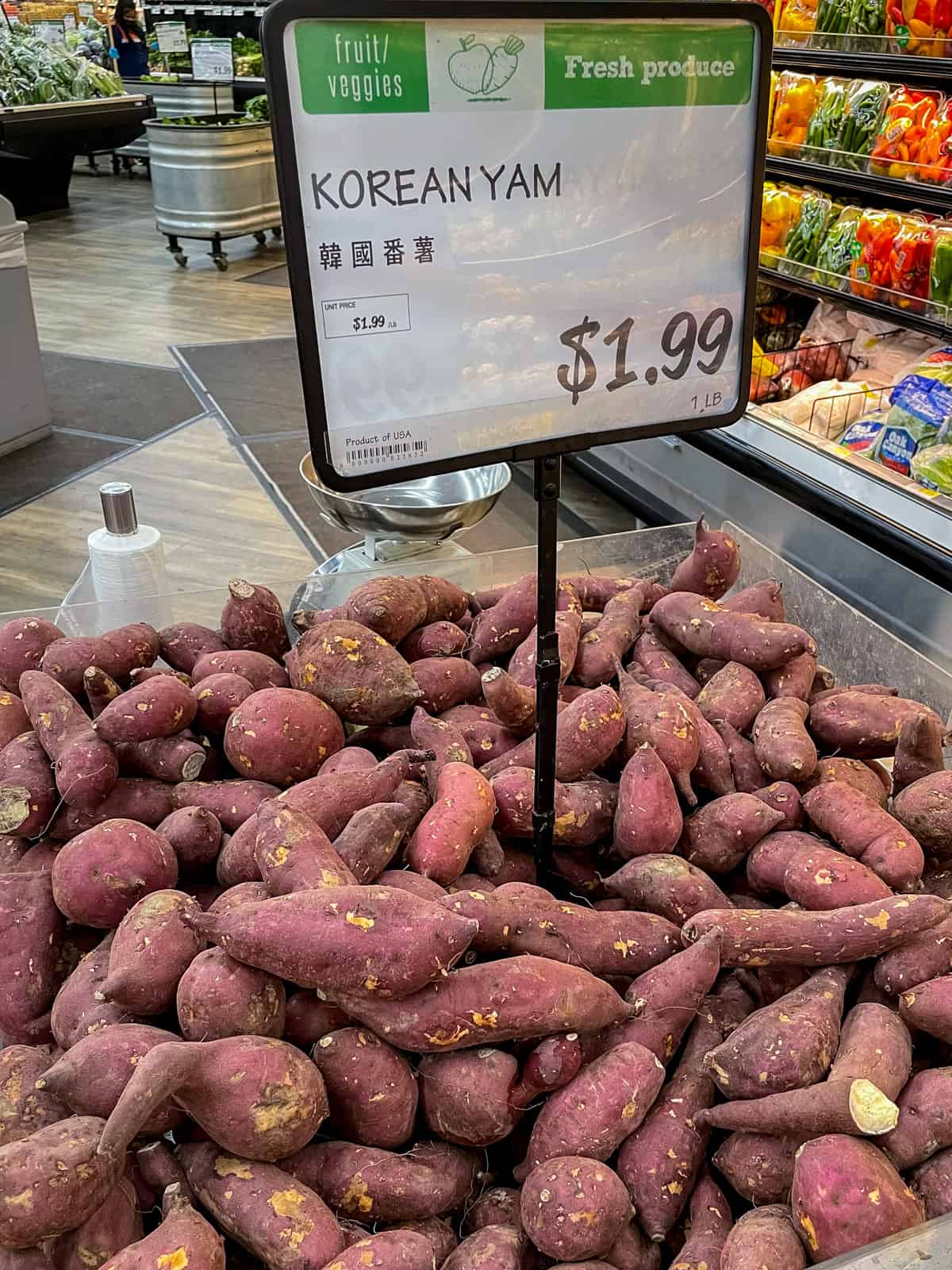 Mung bean sprouts
Select sprouts that look fresh, with light green tips and avoid any that look overly wet or have browning tips. Add mung beans to pad thai and other dishes. Keep in mind that some people with weakened immune systems should not eat sprouts.
Fresh mushrooms
So many kinds and often at great prices!!
Oyster mushrooms, king oyster mushrooms, enoki mushrooms, shiitake mushrooms, maitake mushrooms, baby portobello mushrooms, portobello mushrooms, and beech mushrooms.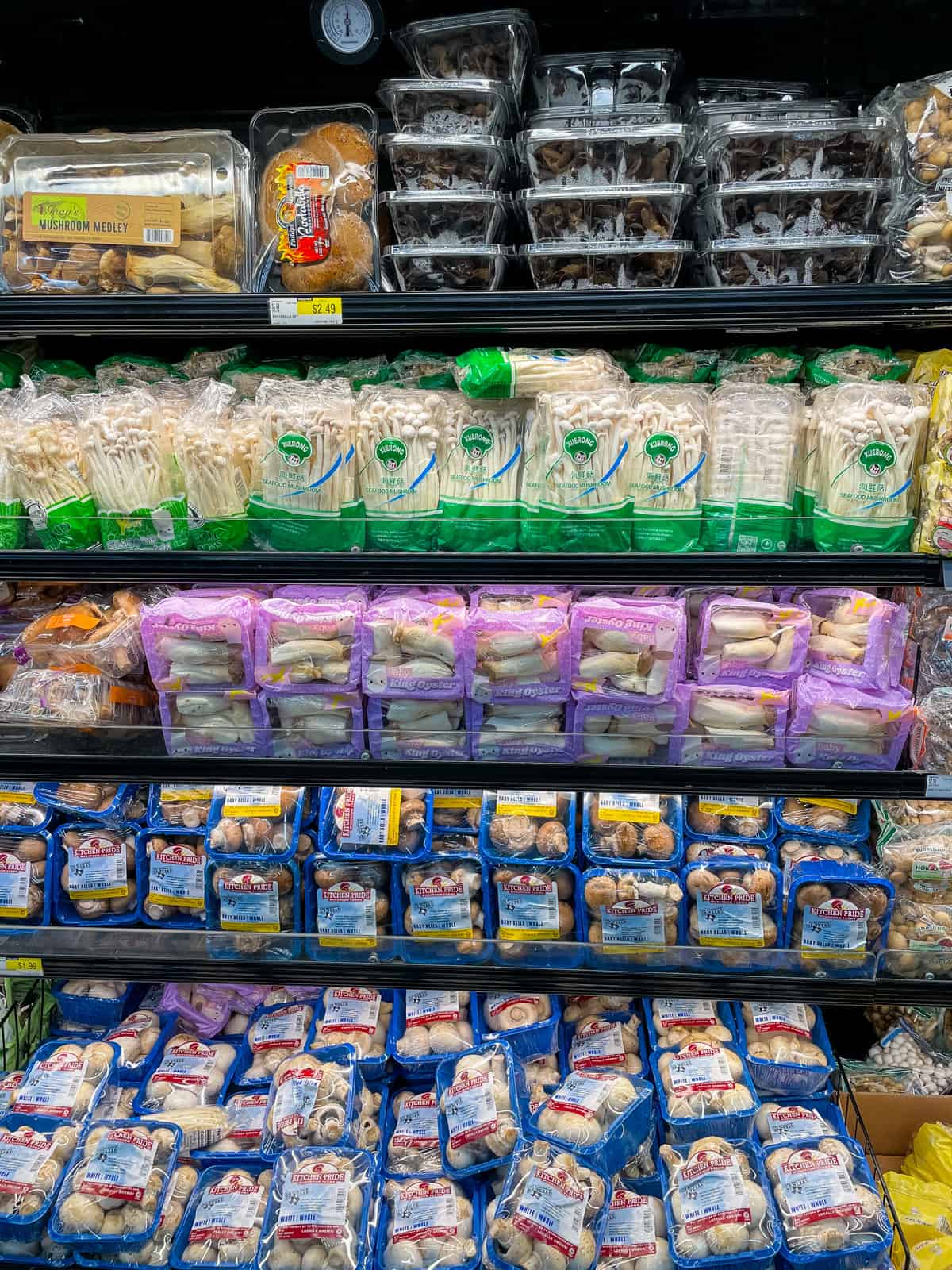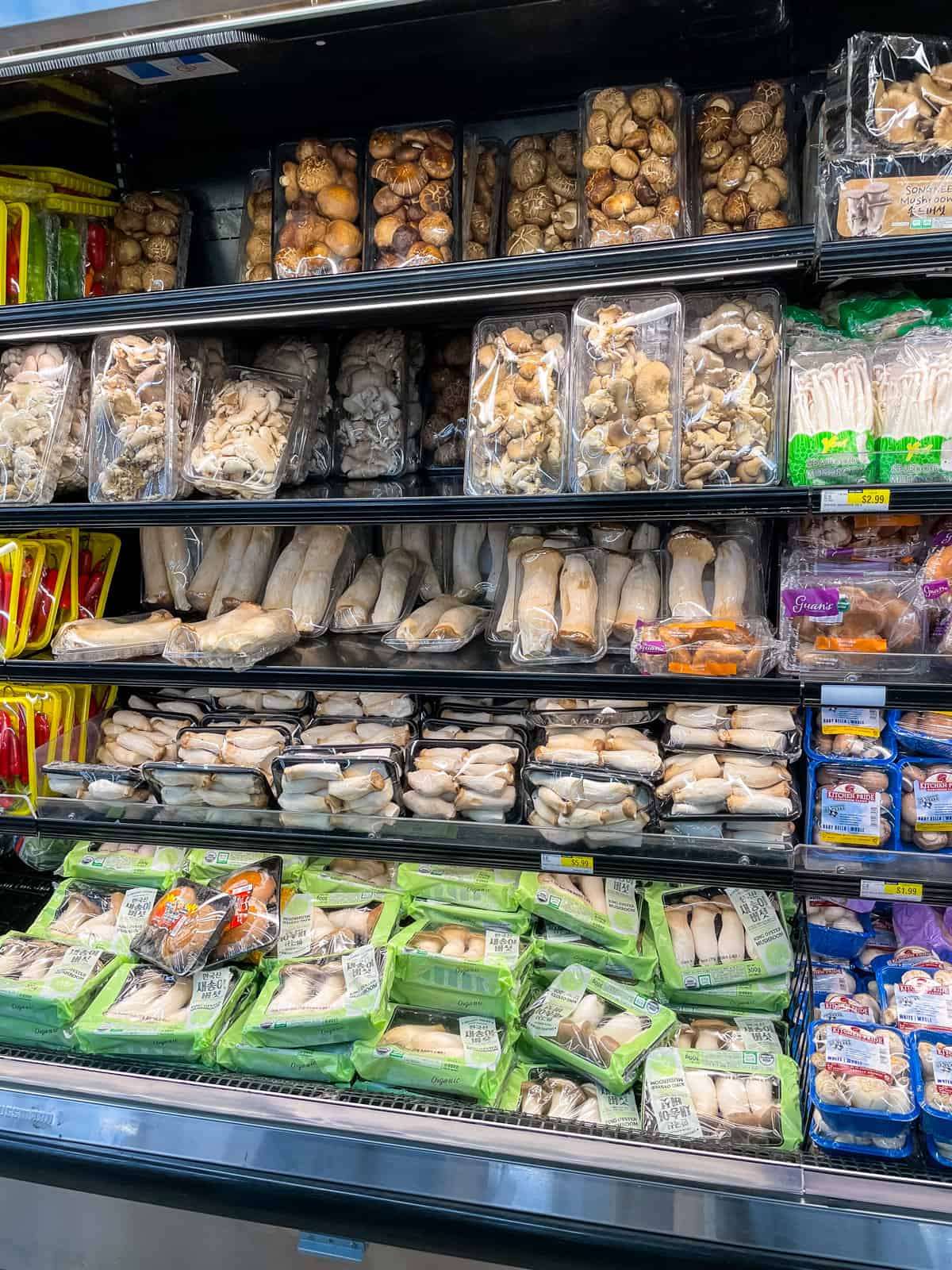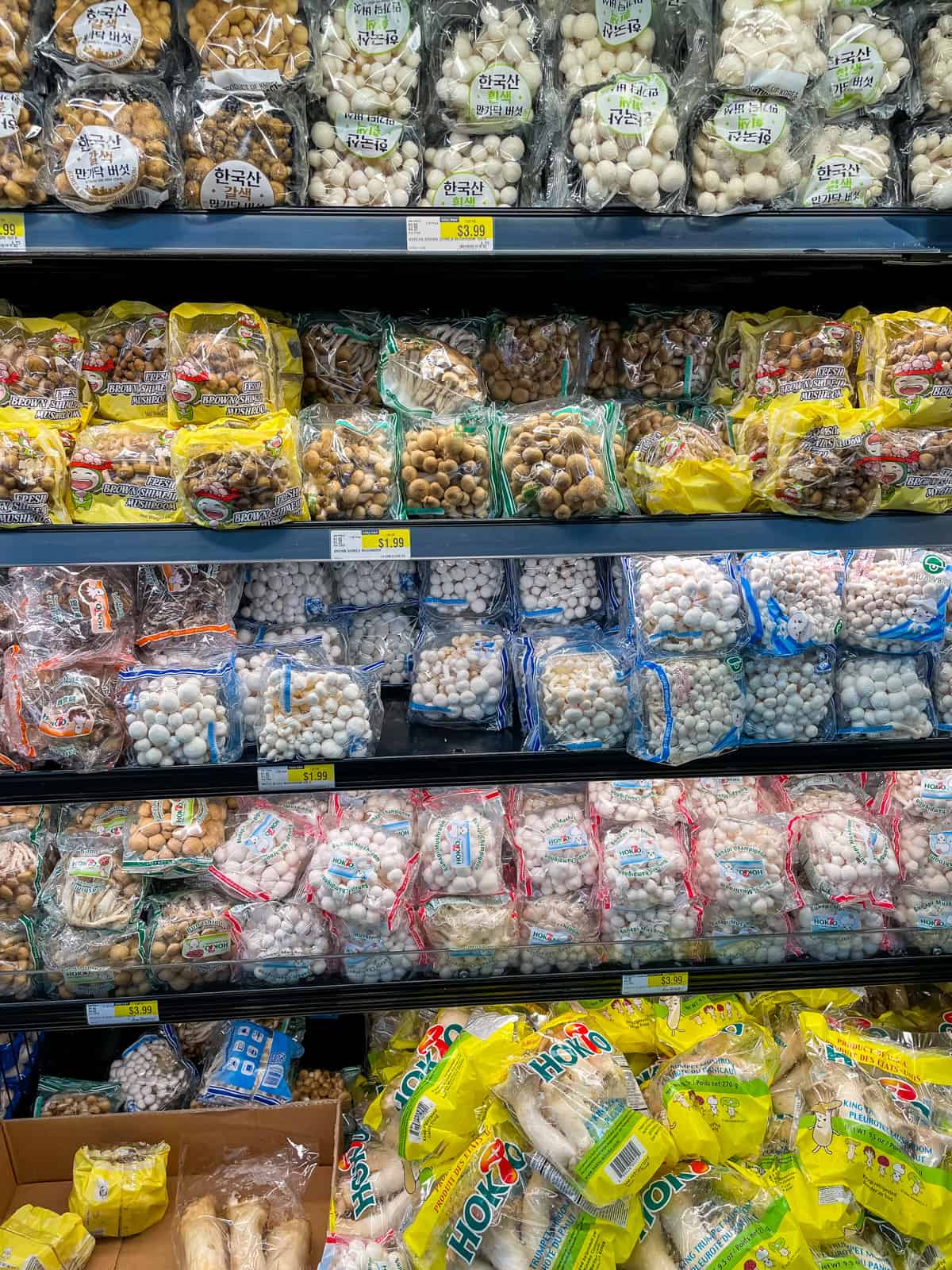 Peppers - sweet or hot
Thai chili peppers, Korean shishito peppers, bell peppers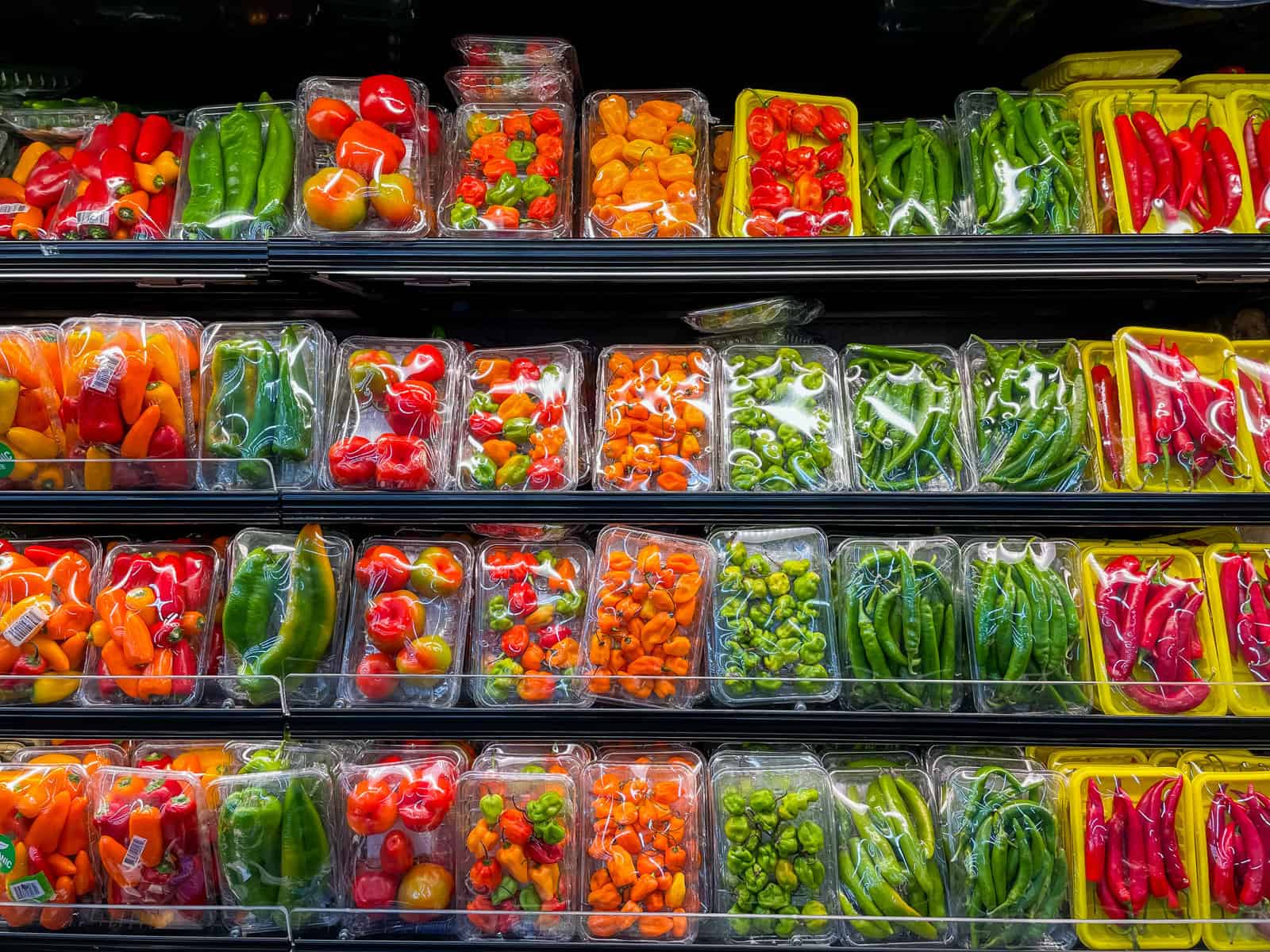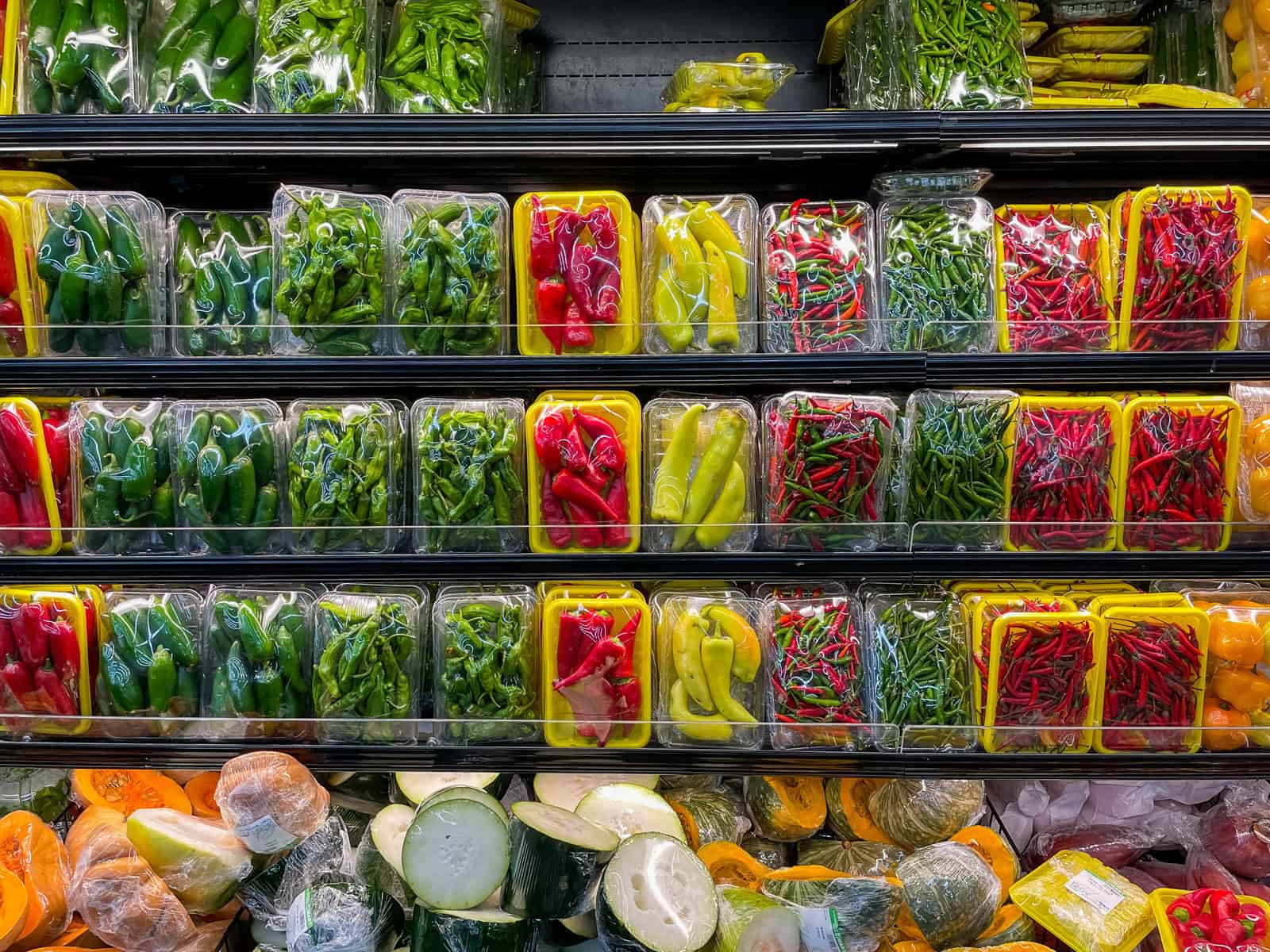 Delicious in season fruit
Donut peaches, Korean pears, persimmons, lychees, rambutan, oh my!
Dragon fruit, mango, fresh jackfruit, durian (not that I've tried it, but it's there!)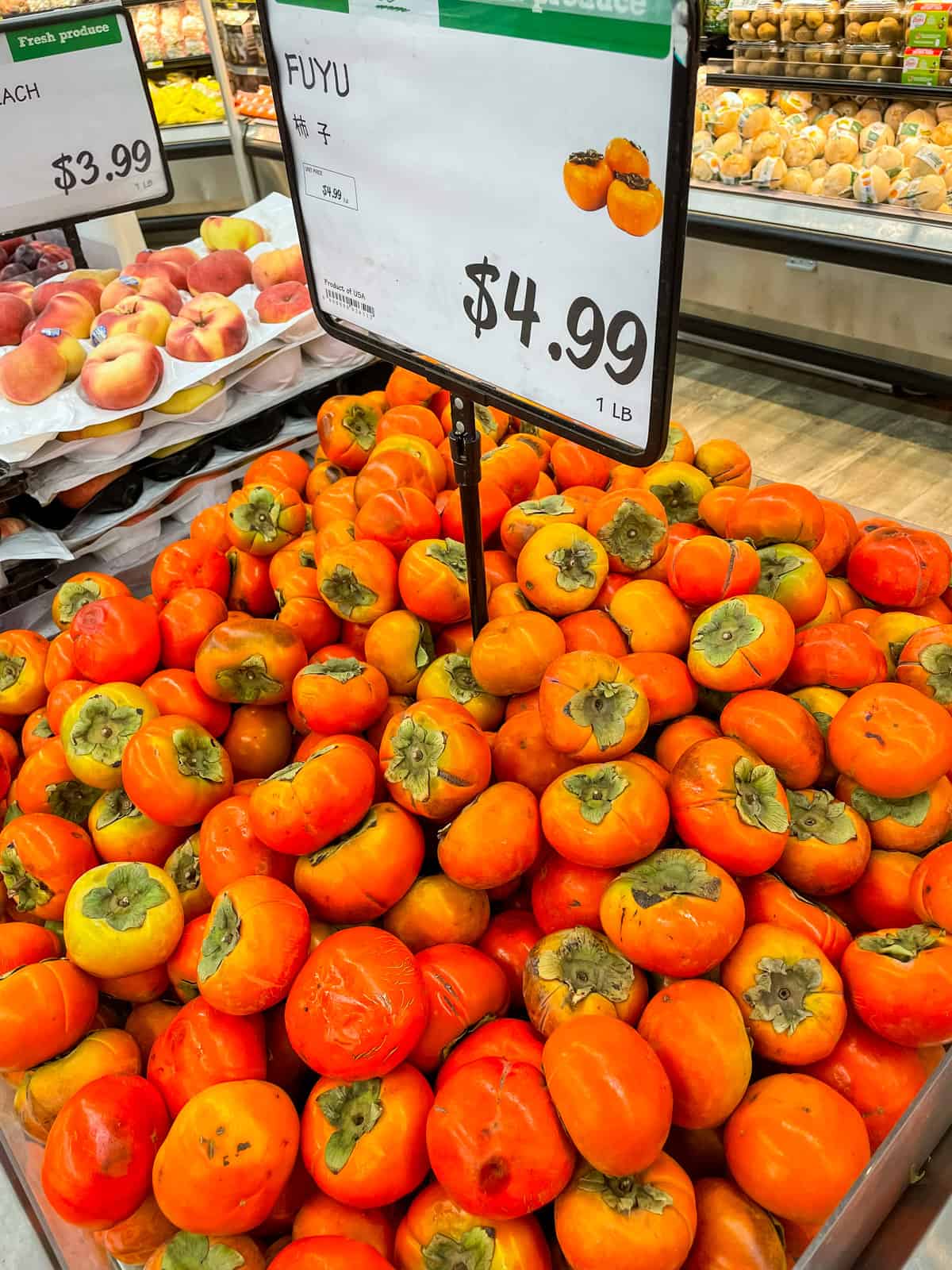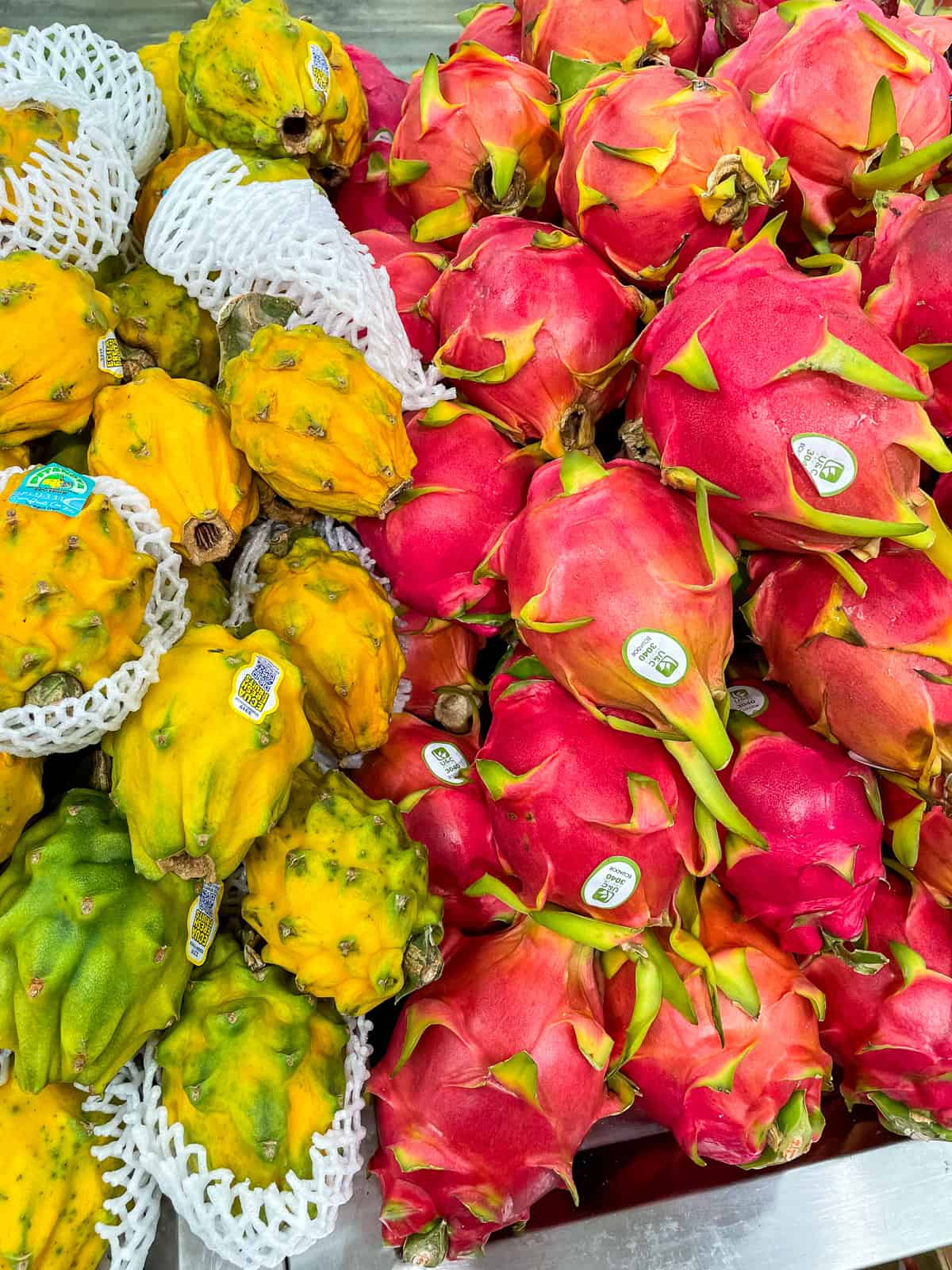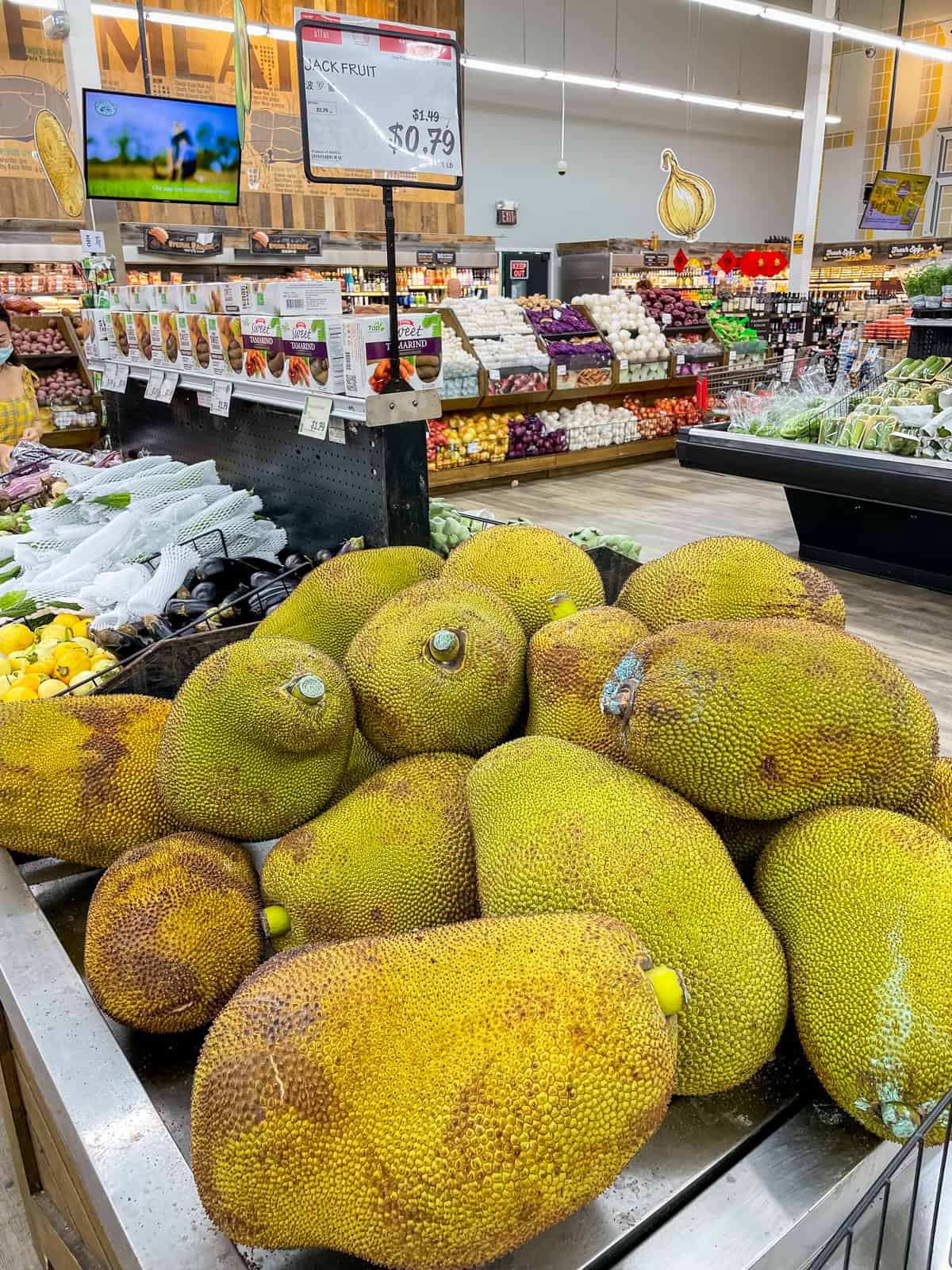 Peeled garlic
Fresh, already peeled garlic makes my life soooooo much easier in the kitchen. I find the Asian market has really good quality peeled garlic that stays fresher longer in the refrigerator than the peeled garlic I see at my standard grocery store.
Fresh ginger
Fresh Thai/Taiwan Basil
For spring rolls, vermicelli bowls and Thai basil stir-fry
Also, other herbs that may be challenging to find normally, but you need for a dish.
Green onions/scallions
Lemongrass
Curry leaves
Kefir lime leaves
Canned young green jackfruit packed in water/brine
If you want to use the jackfruit to make vegan pulled pork, vegan chicken salad, or vegan shredded chicken, then make sure to get the young green jackfruit packed in water, such as this Chaokoh brand.
Don't get the ripe jackfruit in juice/syrup. Two totally different flavors and the latter will not work for what you want to use it for.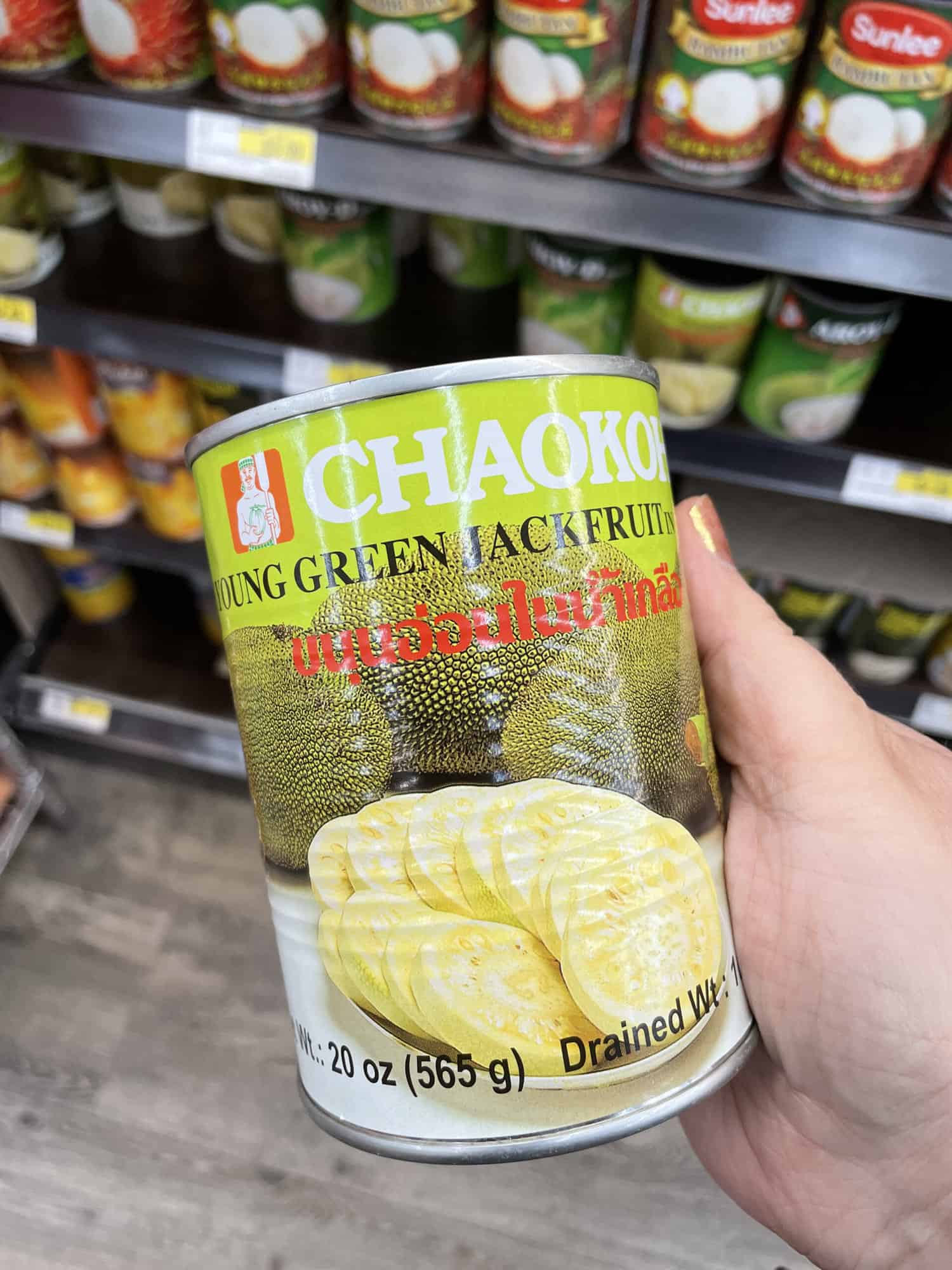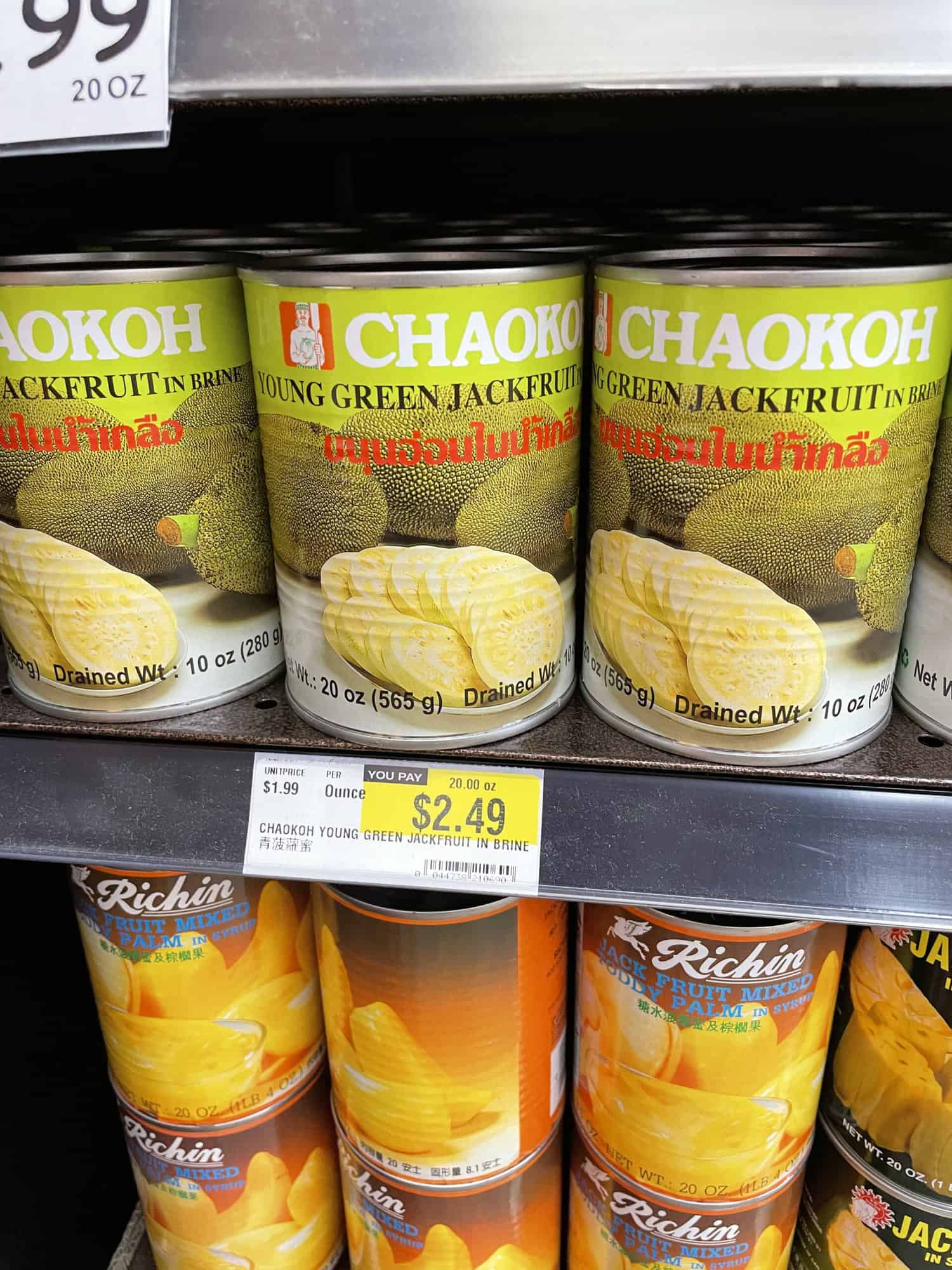 Canned bamboo shoots
Bamboo shoots are delicious for adding to stir-fry and soup. Be sure to rinse them well before using them.
If you find the flavor or scent of bamboo shoots unpleasant, then you can simmer them in boiling water for 5 minutes, then drain and rinse them to remove the strong flavor.
Canned sliced water chestnuts
Water chestnuts have a lovely crunchy, mild flavor and are great for adding to lettuce wrap filling with tofu and mushrooms. Or, add them to stir-fry.
Dried shiitake mushrooms (whole & powdered)
I usually buy a bag of Dynasty dried shiitake mushrooms for adding to soup broths.
Blend or grind the dried shiitakes to make homemade mushroom powder, which is AMAZING as an instant umami boost to soups, stir-fry, fried rice, gravies and more. Highly recommend it.
Nori
Sushi nori is great to have on hand to make your own sushi rolls at home. It can also be minced up and added to vegan "tuna" salad made with chickpeas or vegan ceviche for a mellow taste of the ocean.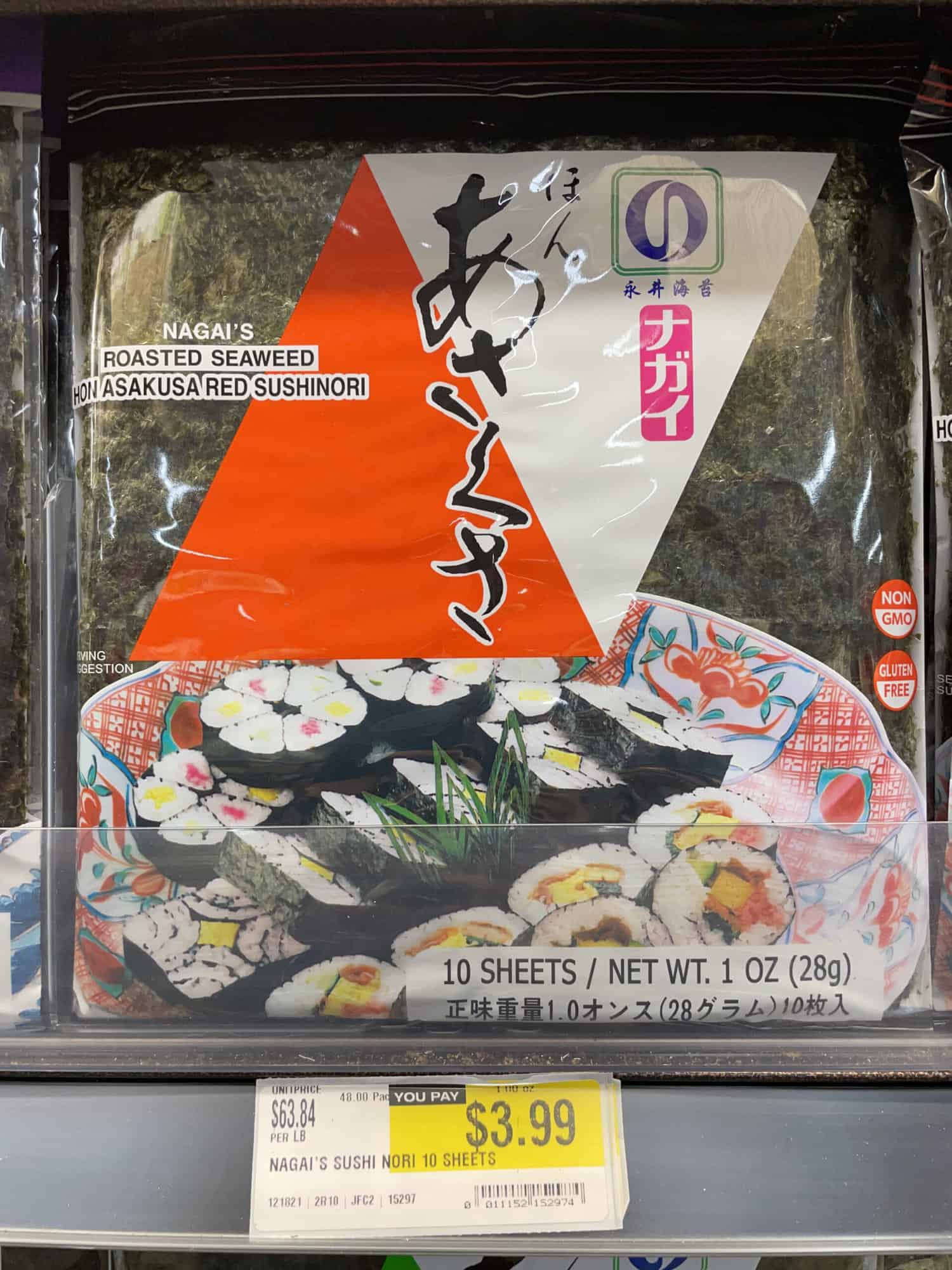 Wakame seaweed
Wakame seaweed is the small pieces of seaweed in miso soup. So, if you'd like to make your own miso soup at home, you'll need some! A little goes a long way, because when it rehydrates it grows really big. So, a small bag will do.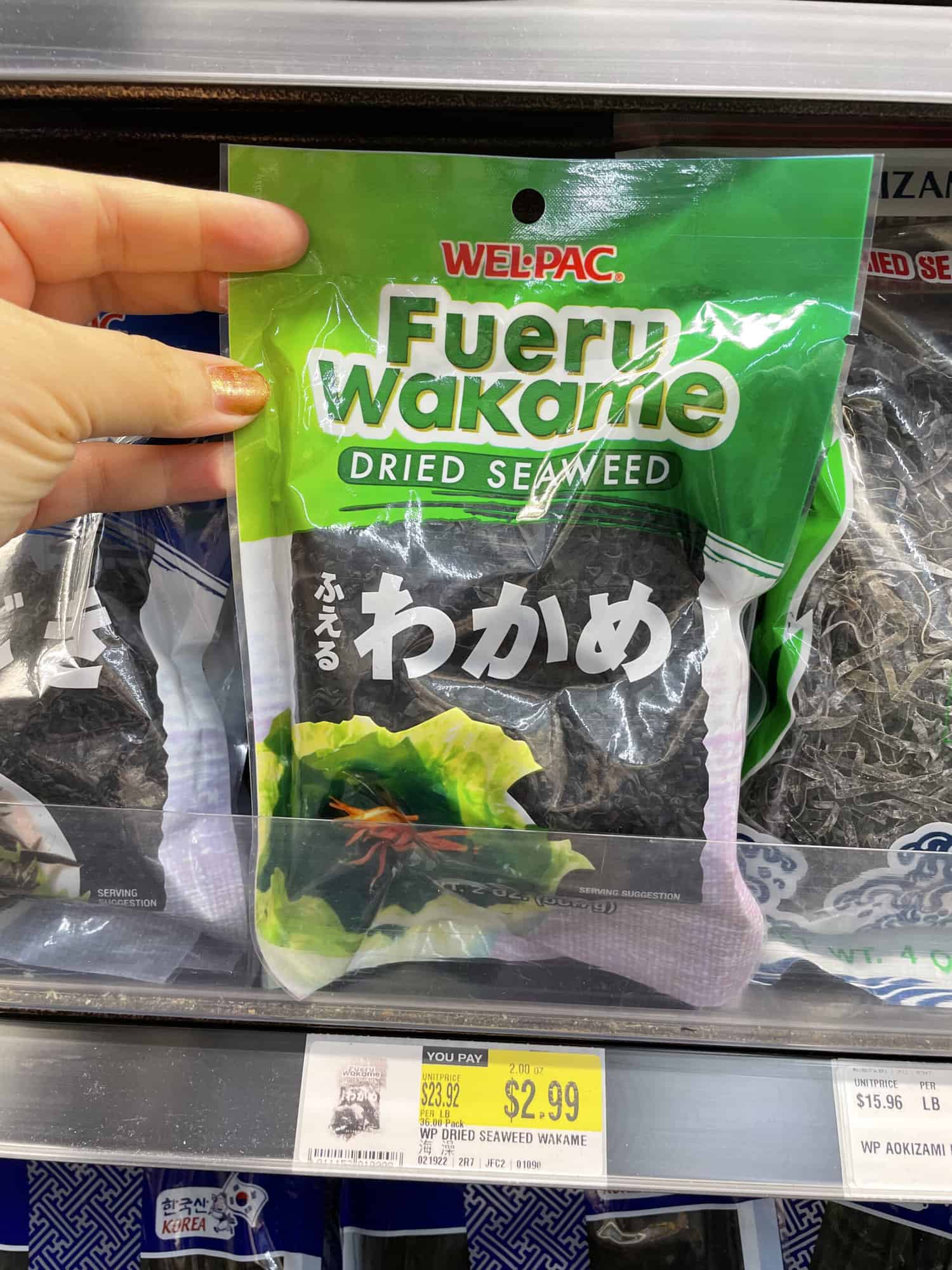 Seaweed snacks
Toasted seaweed snacks (in small containers) are perfect for eating with plant-based poke bowls. They have a small amount of oil in them, so if you are completely oil-free, then choose an alternative seaweed option, such as nori or dulse flakes.
Always check the ingredient lists to ensure it doesn't have animal products.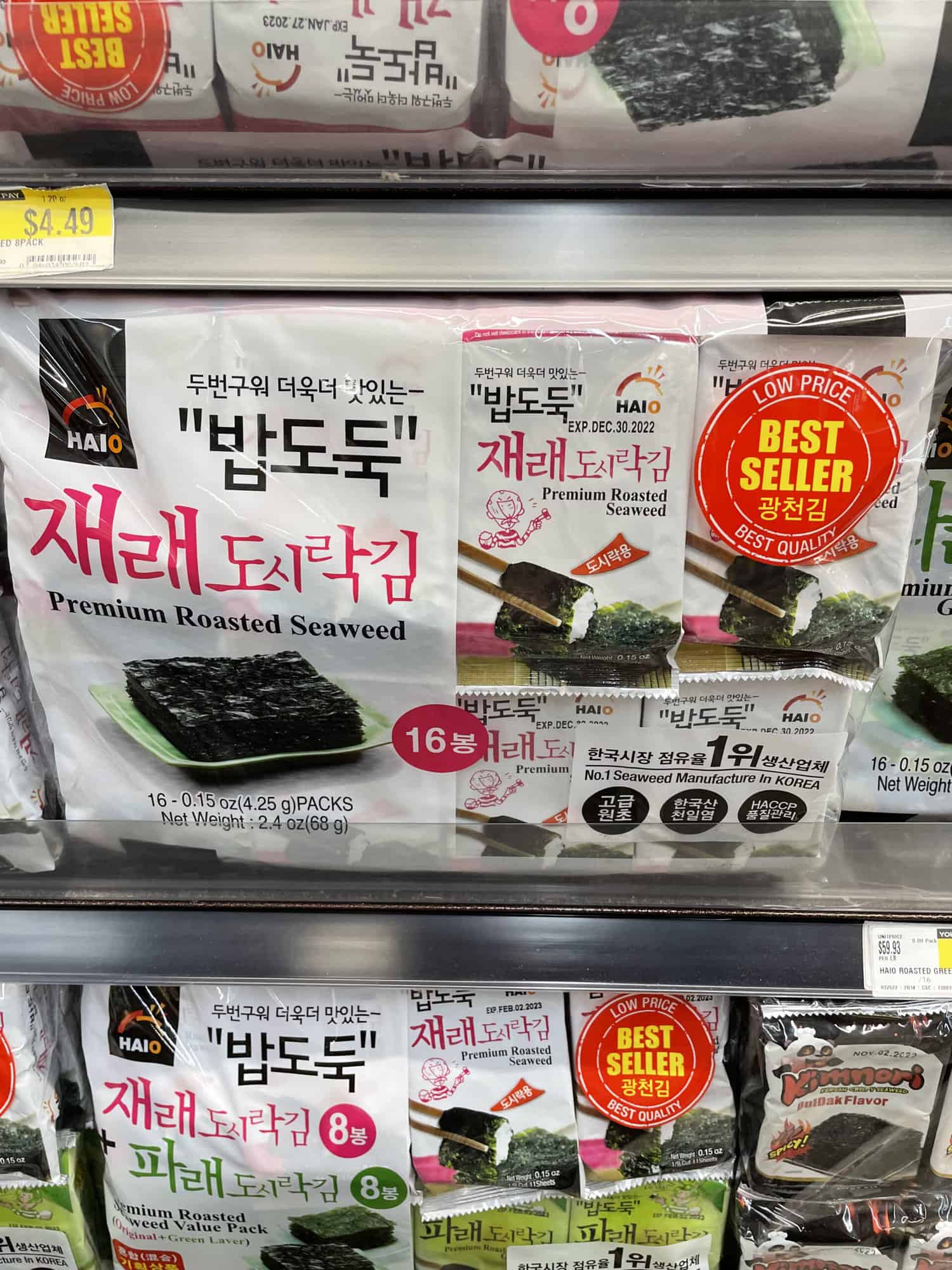 Dulse flakes
Dulse is a type of seaweed and you can find it in small flakes sometimes at the Asian market. It will impart a hint of ocean or seafood taste to your dish without overpowering it. It is also a good source of iodine.
Dulse flakes are useful in making vegan ceviche, vegan paella, vegan gumbo and other recipes that would traditionally have seafood in them.
Kombu seaweed
Kombu seaweed comes in big sheets. You can add a 4x4 inch section of it to a big pot of beans to make them easier to digest. (Remove and discard the seaweed after the beans have cooked.)
Kombu seaweed is also key in making miso soup broth, in addition to the wakame seaweed.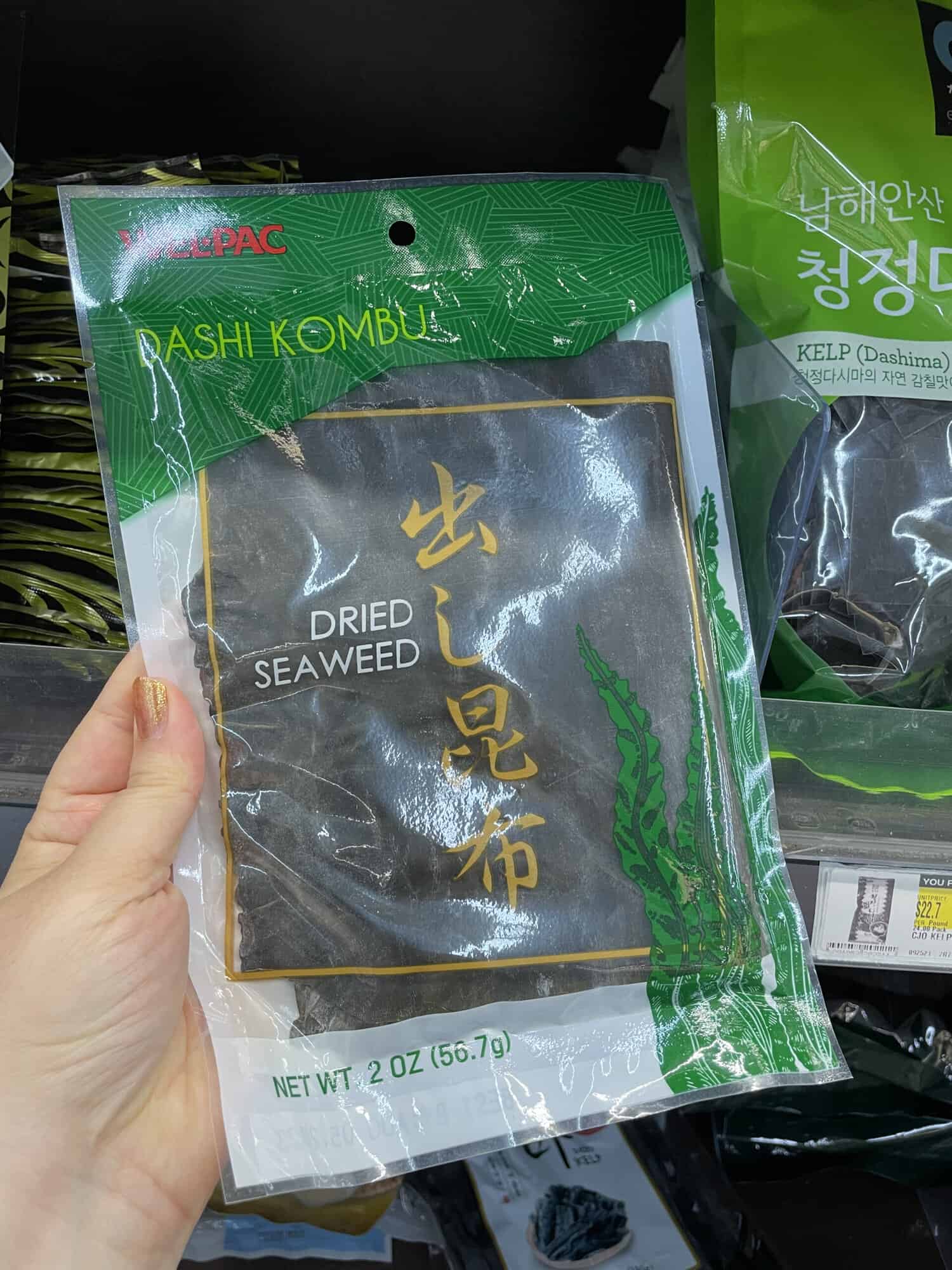 🍲 Tofu
We buy pretty much two kinds of tofu, after using several kinds over the years. Extra firm or firm tofu and silken tofu. You can find both in most Asian grocery stores.
We prefer buying organic soy products, so we look for organic tofu, since it's made from organic and non-gmo soybeans.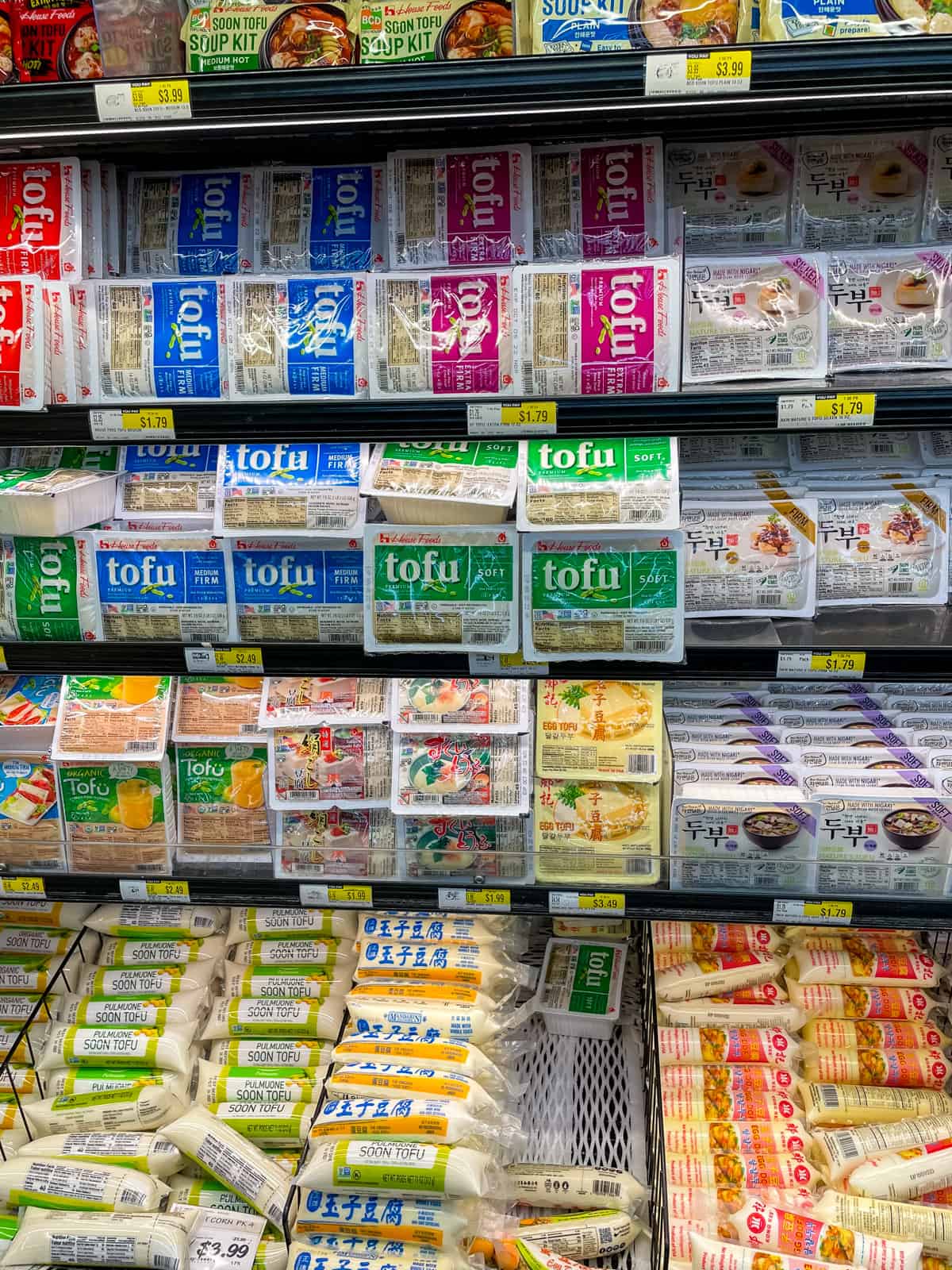 Organic Extra Firm Tofu
Extra firm tofu doesn't require as much pressing and retains it's shape well when baked, air fried or pan-seared. Great for sandwiches, stir-fry, rice bowls, spring rolls, noodle bowls and snacking.
You can also use firm tofu for this, but the texture will be slightly softer.
Organic Silken Tofu
Firm silken tofu is soft and delicate. It is smooth and creamy and perfect for sauces (like homemade tofu sour cream or vegan mayo) and desserts (like pumpkin pie). The silken tofu sour cream can be used to make creamy dips like vegan spinach artichoke dip.
I prefer to buy the brand Morinu silken tofu in bulk, as it's in shelf-stable containers. Silken tofu can also be found in the refrigerated section.
🍜 Noodles
Rice noodles
Rice noodles come in a wide variety of widths and sizes. It can be overwhelming, in fact! Here's the ones I reach for at the Asian market.
Wide rice noodles, for making stir-fry noodle dishes, such as chow fun or pad see ew
Flat pad thai rice noodles (similar to Italian linguini in width)
Thick rice vermicelli that has a spaghetti-style thickness - these can be used for filling spring rolls, stir-fry noodle dishes, soups
Thin rice vermicelli that has an angel hair-style thickness - these are great for filling spring rolls, soups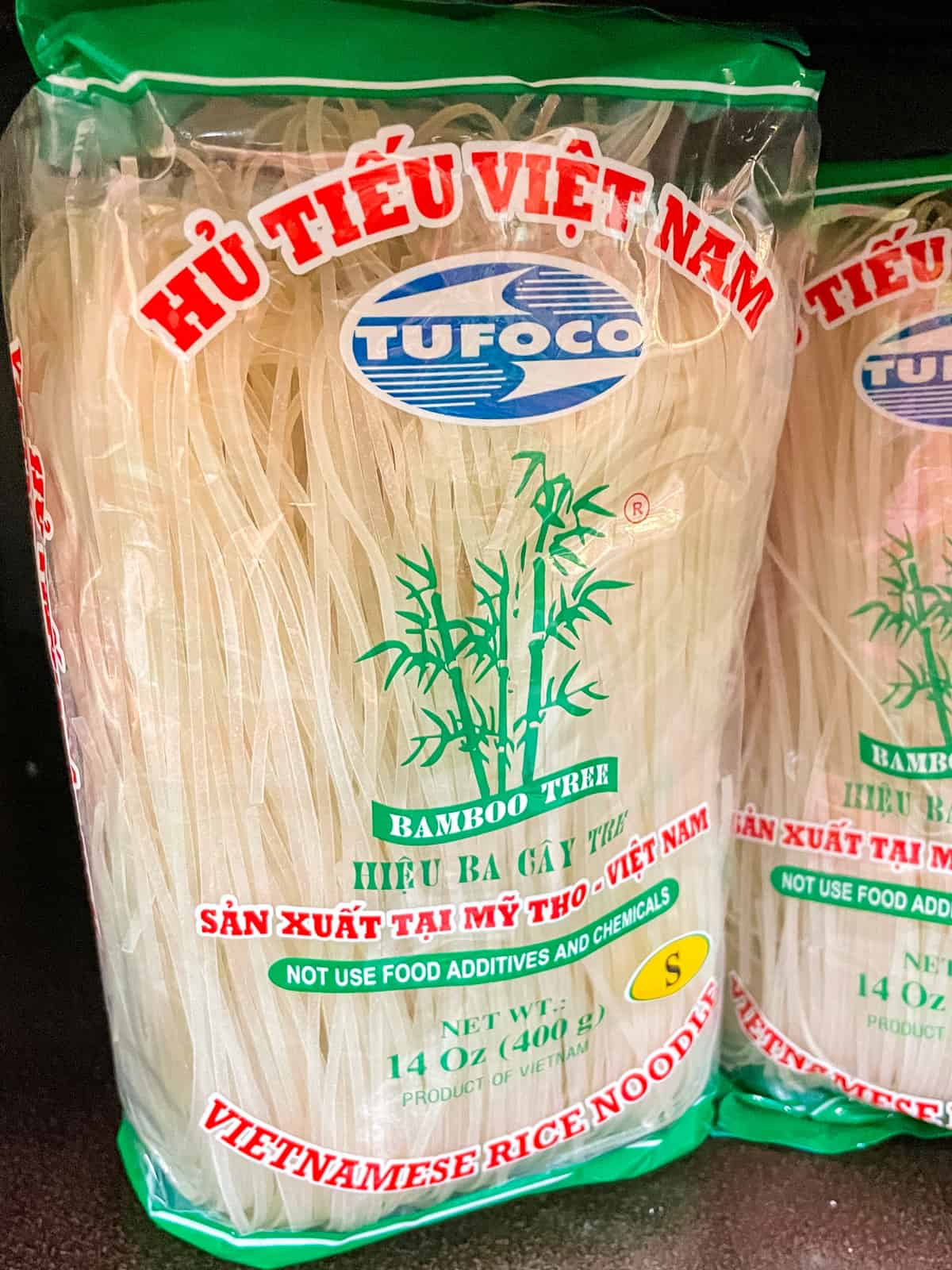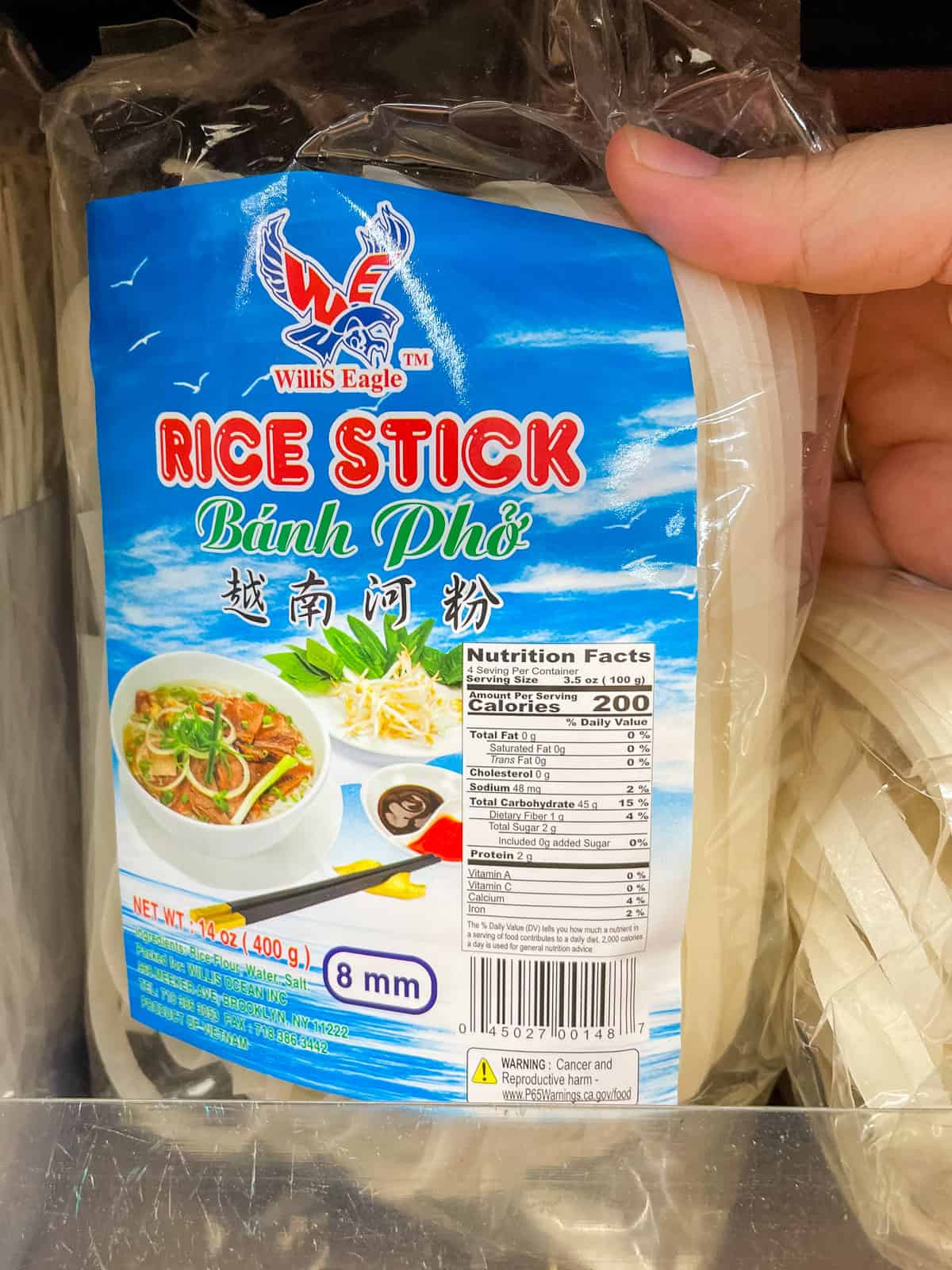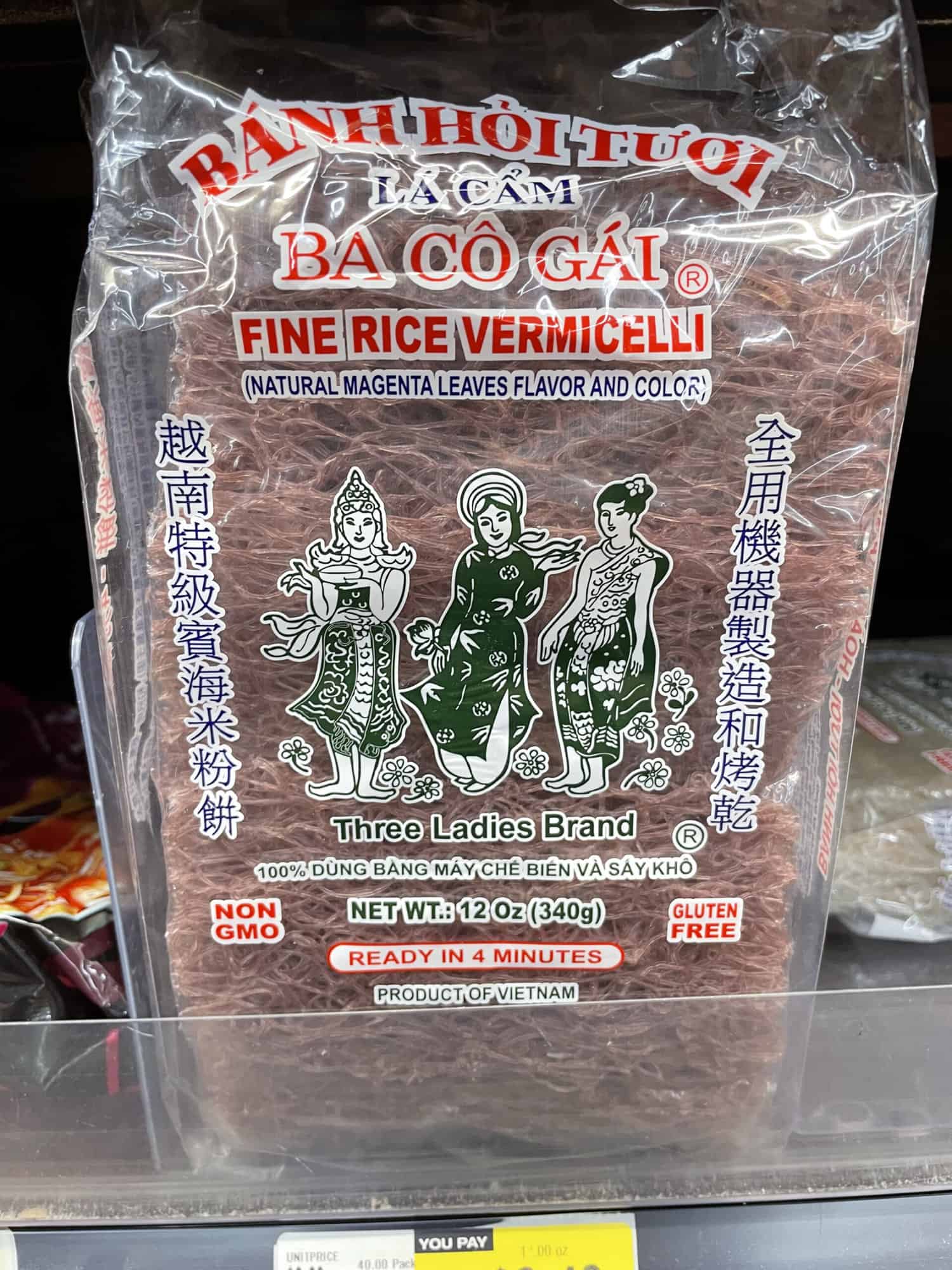 Rice paper wrappers
Pick up a package of rice paper wrappers for making spring rolls! You may find that you like the square ones, or mini ones that may be available. So, explore all of them to see which size will work best for you.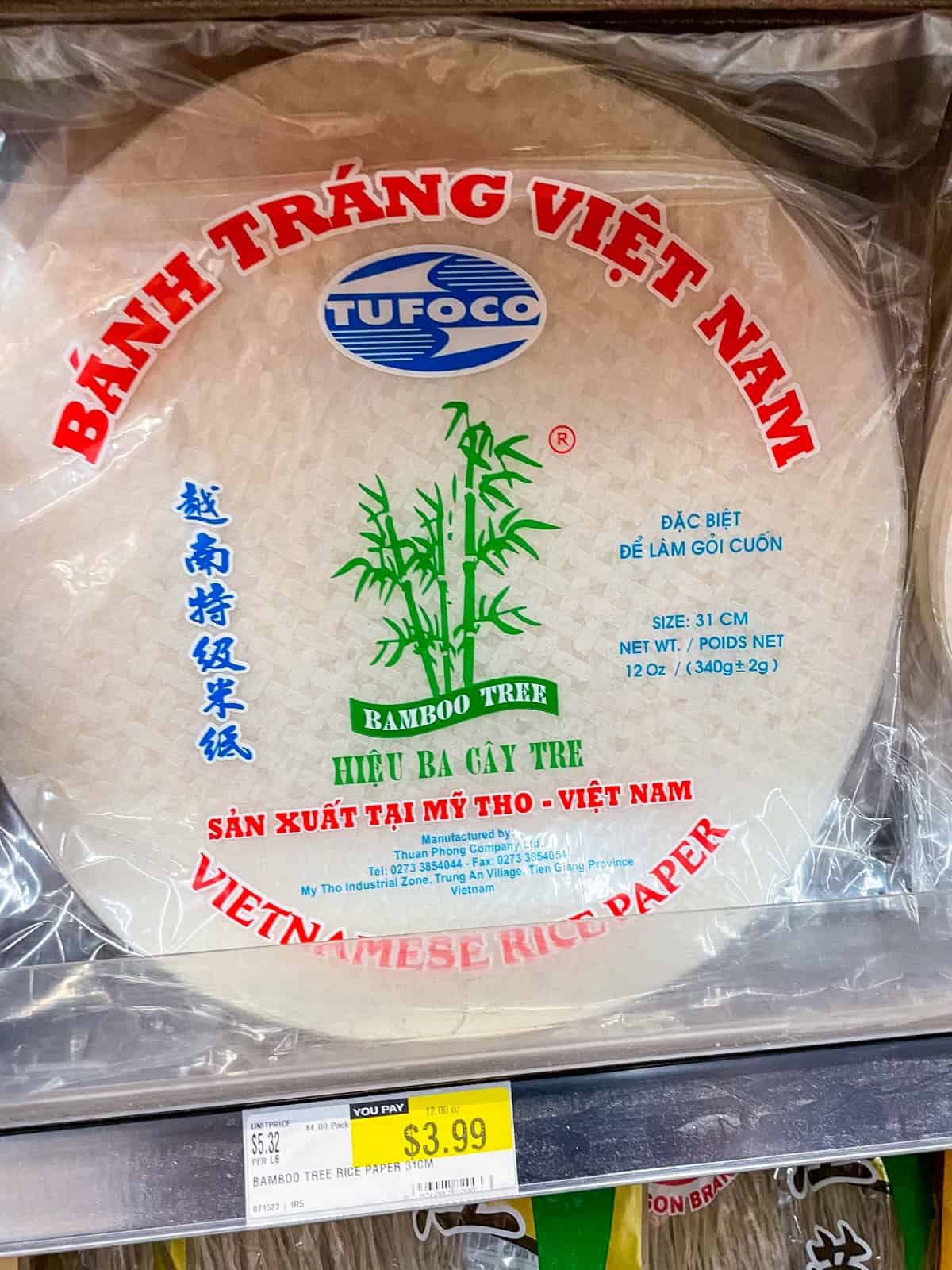 Mung bean vermicelli noodles
Mung bean vermicelli noodles are very thin, long noodles and only require soaking in hot water for 3 minutes to be edible. They are also called glass noodles, since they become transparent when cooked.
They are lightning fast to make and are perfect for filling fresh spring rolls or for making deconstructed spring roll bowls with peanut sauce.
To use mung bean vermicelli noodles for stir-fry, soak in hot water for 1.5-2 minutes, then stir fry to finish cooking.
Korean sweet potato starch noodles
Sweet potato starch noodles are also called "glass noodles" and are using to make the Korean dish japchae.
Sweet potato starch noodles are suitable for those who are gluten-free and also for those who are allergic to grains and beans, since they are made with sweet potato starch only.
This noodle has that lovely chewy noodle texture, while also being grain-free, legume-free, egg-free, wheat-free and gluten-free.
Fresh noodles
In addition to the plethora of dried noodles, the H Mart here in Houston has a huge selection of fresh noodles of all types.
Check the ingredients list of the fresh noodles to ensure they are vegan.
Frozen udon noodles
You can certainly find dry or cooked shelf-stable udon noodles, as well. But, I've found the best texture from the frozen udon noodles I find at H Mart. Look for "Japanese style udon noodles".
Use frozen udon noodles by defrosting them in some hot water for a few minutes. Then, stir fry with vegetables or add to udon noodle soup.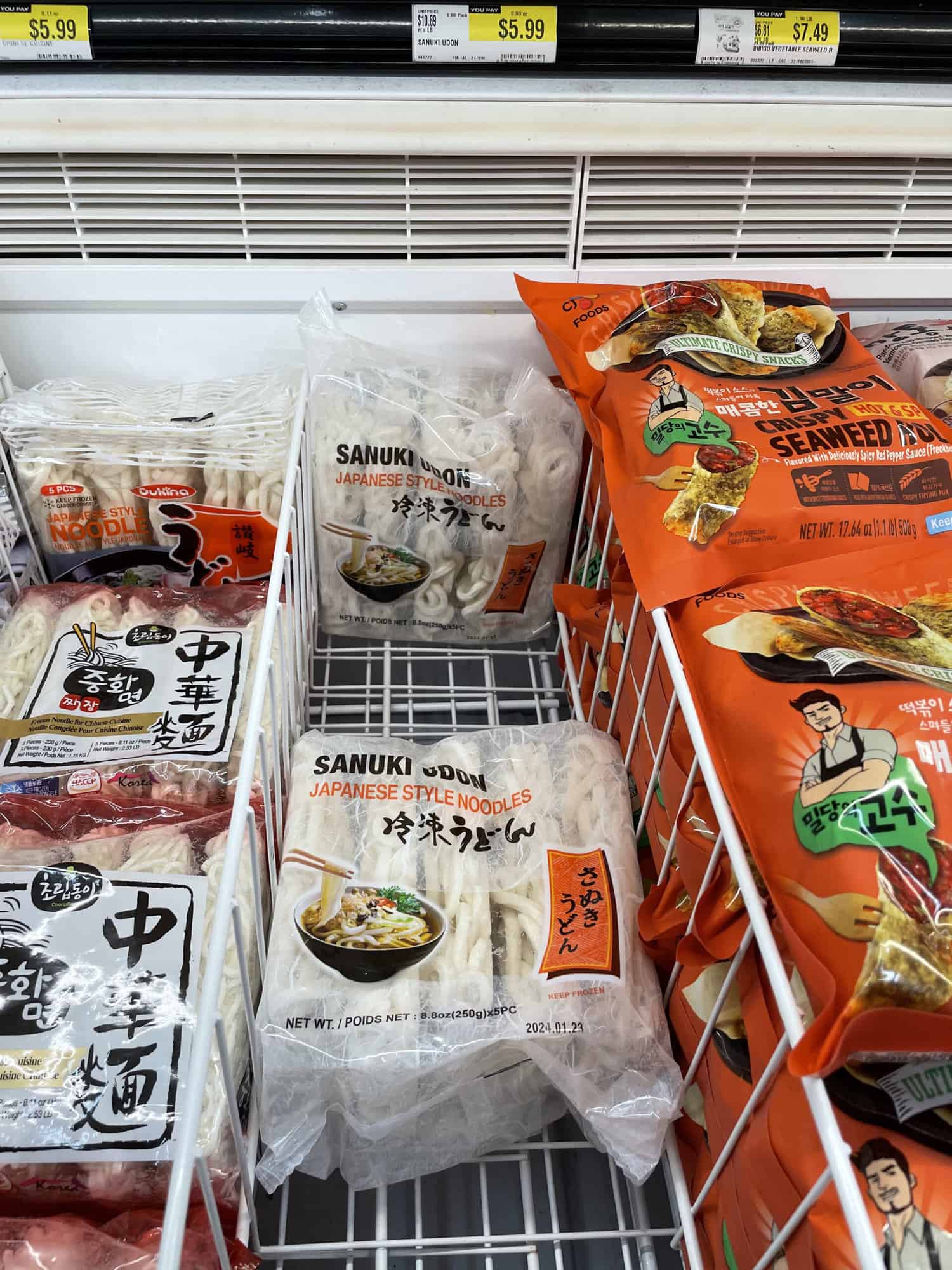 Frozen vegetable dumplings
You will be dizzy with options of vegetable dumplings in the freezer section.
Have fun exploring and then pick one to try for those nights when you need a quick and easy meal. Steaming or boiling your dumplings are the healthiest choices for preparation.
Frozen dumpling wrappers
Homemade dumpling wrappers are best. But, store-bought dumpling wrappers work well when you don't have hours or lots of people willing to help to prepare homemade.
There are lots of varieties of dumpling wrappers available at H-Mart. I typically buy the "Northern Style" dumpling wrappers by Twin Marquis.
To use frozen dumpling wrappers to make homemade dumplings, allow them to defrost in the refrigerator and keep them covered while wrapping your dumplings so they don't dry out.
Frozen egg roll wrappers
You'll also find frozen egg roll wrappers at your Asian market, most likely. If you're vegan, look for Nasoya brand egg roll wrappers, which don't have any egg in them. Other brands may also be vegan, egg-free, so be sure to check the ingredient list.
🍚 Rice and Grains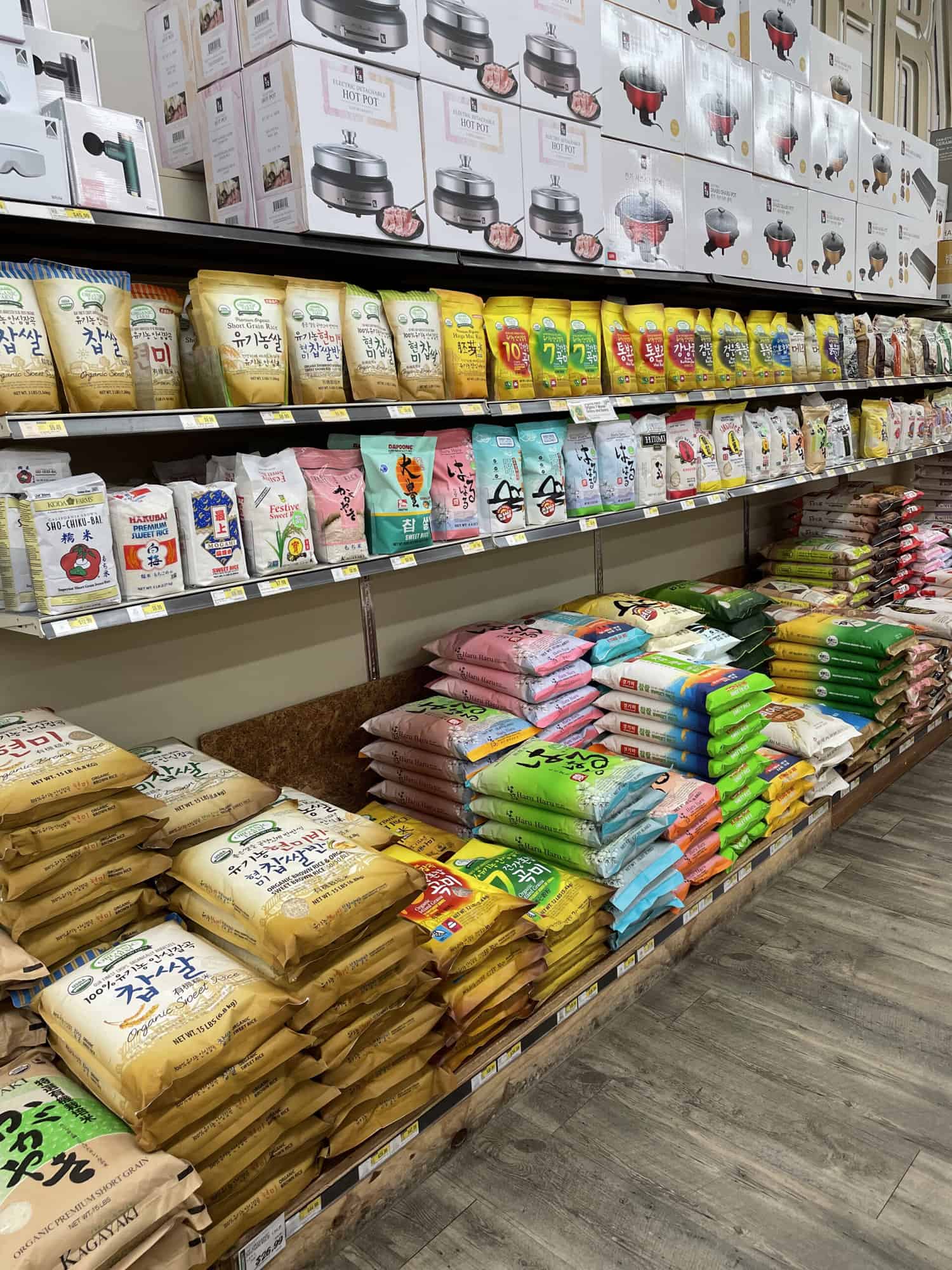 Jasmine Rice
White or brown jasmine rice is usually available from several different brands. I look for the ones that say "New Crop" and usually buy the 25 pound or even 50 pound bag! They have it in smaller bags, also, so don't fret if you don't buy in bulk like me, haha.
Jasmine rice is my #1 favorite rice for it's lovely aroma and taste. It's what I'll make to serve with stir-fry, teriyaki bowls or rice bowls.
Sushi rice
White or brown sushi rice in lots of varieties and brands is available! I like the Kokuho brand, in a white and pink bag.
Whole grain millet
Millet is a delicious whole grain that is naturally gluten-free. It may be difficult to find at standard grocery stores, but you can usually find it at an Asian market.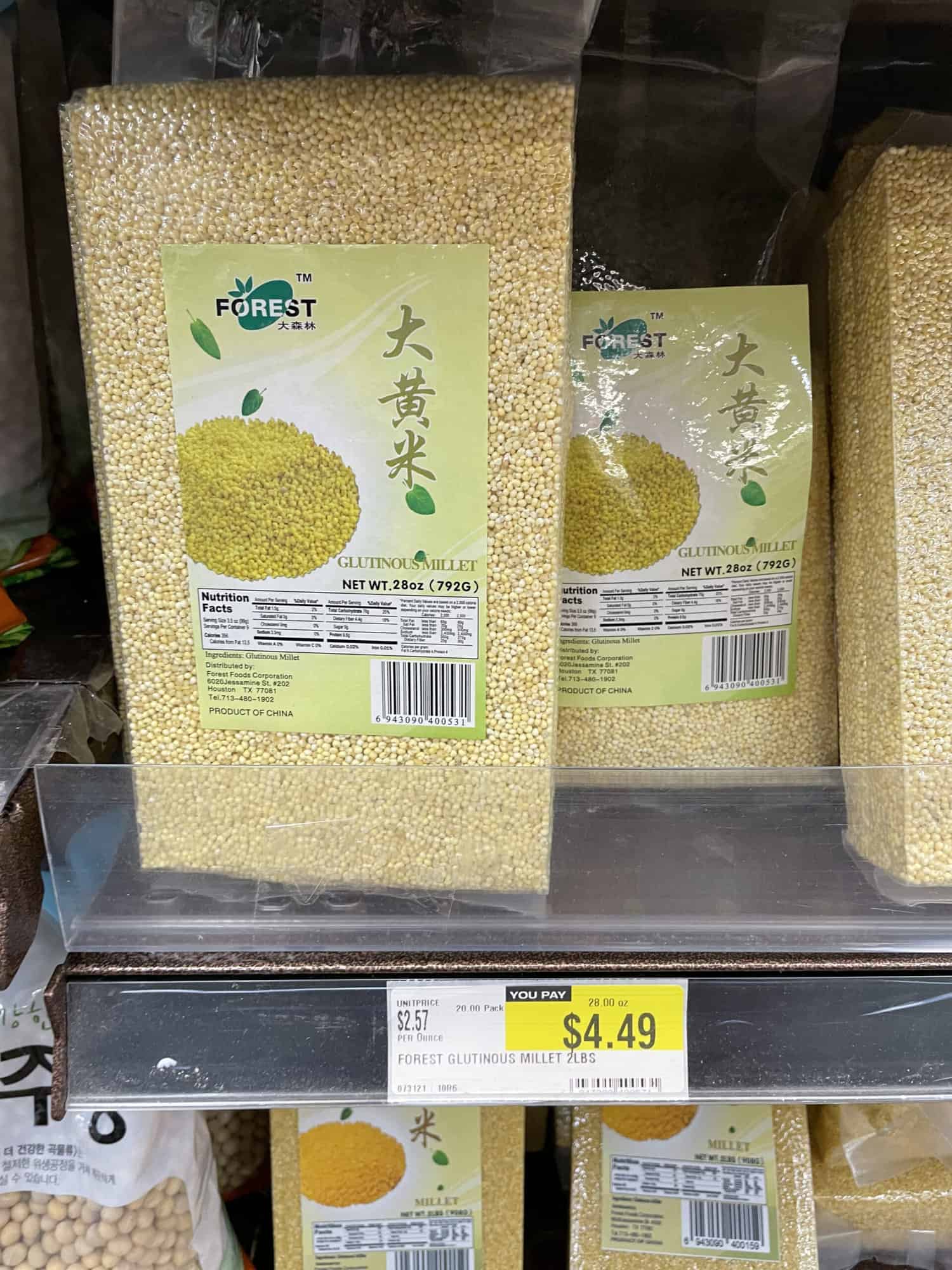 Multigrain rice
Specifically, Korean multigrain rice. This multigrain "rice" actually has rices and a variety of other whole grains mixed together. It usually has black rice mixed in, also. So, when you make it it'll have a lovely purple color to it. Delicious!
How to use it
To make multigrain rice in your Instant Pot, combine equal parts water and rice (3 cups rinsed rice and 3 cups water, for instance) in your Instant Pot.
Add a pinch of salt.
Cover with lid, set vent to "sealing", then press "Multigrain" and set for 20 minutes.
Allow to naturally release for 10 minutes, then quick release the pressure.
Serve in rice bowls, poke bowls, or with just about anything!
Black rice (Forbidden rice)
Black rice is a lovely and delicious whole grain rice (like brown rice) that cooks up into a deep purple color. You can find black rice at your Asian market - and often cheaper than at other stores!
Cook black rice like you would brown rice, since it is a whole grain.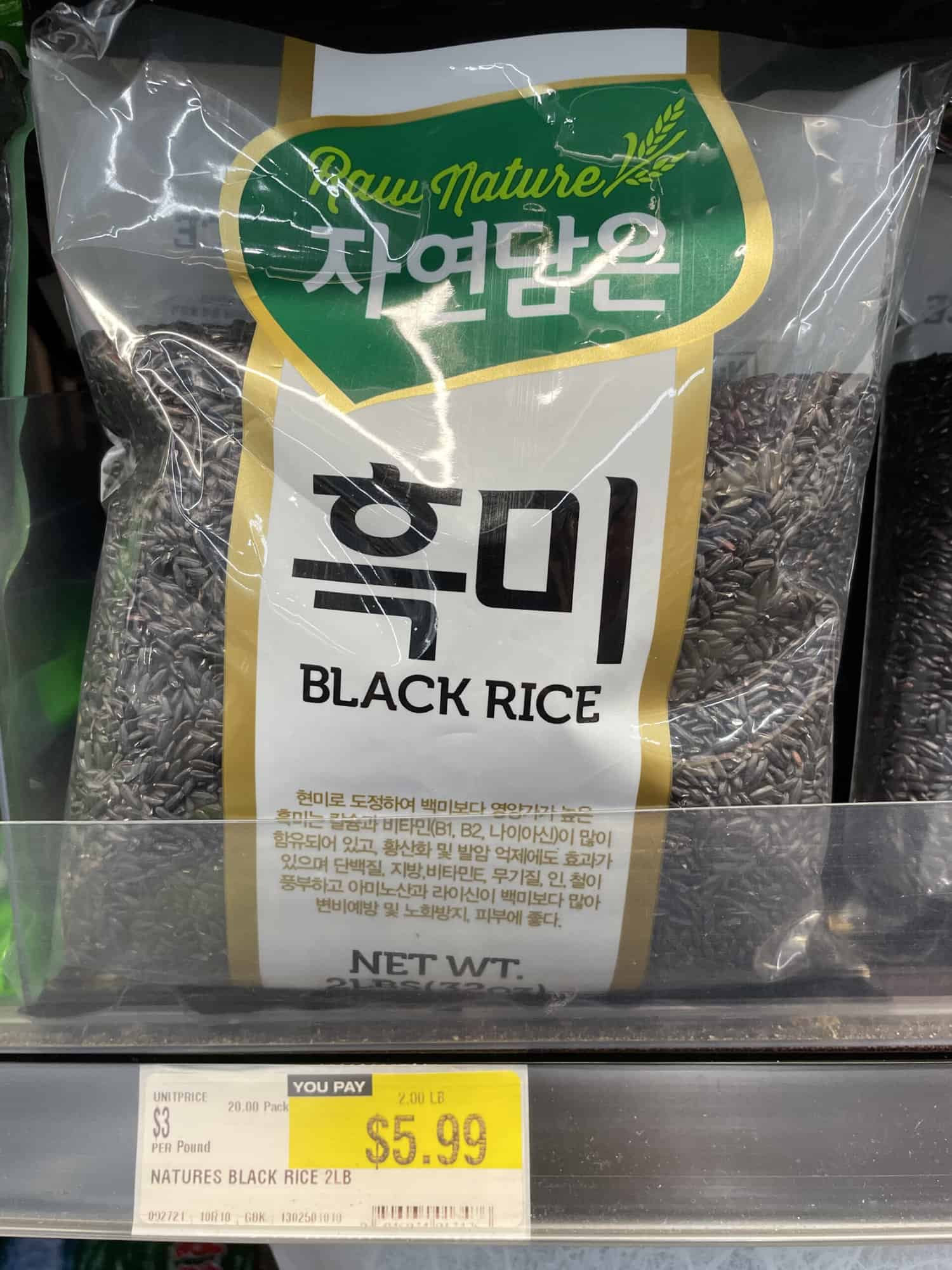 Red rice
Red rice is another beautiful variety of whole grain rice (like brown rice) that is usually available at Asian grocery stores.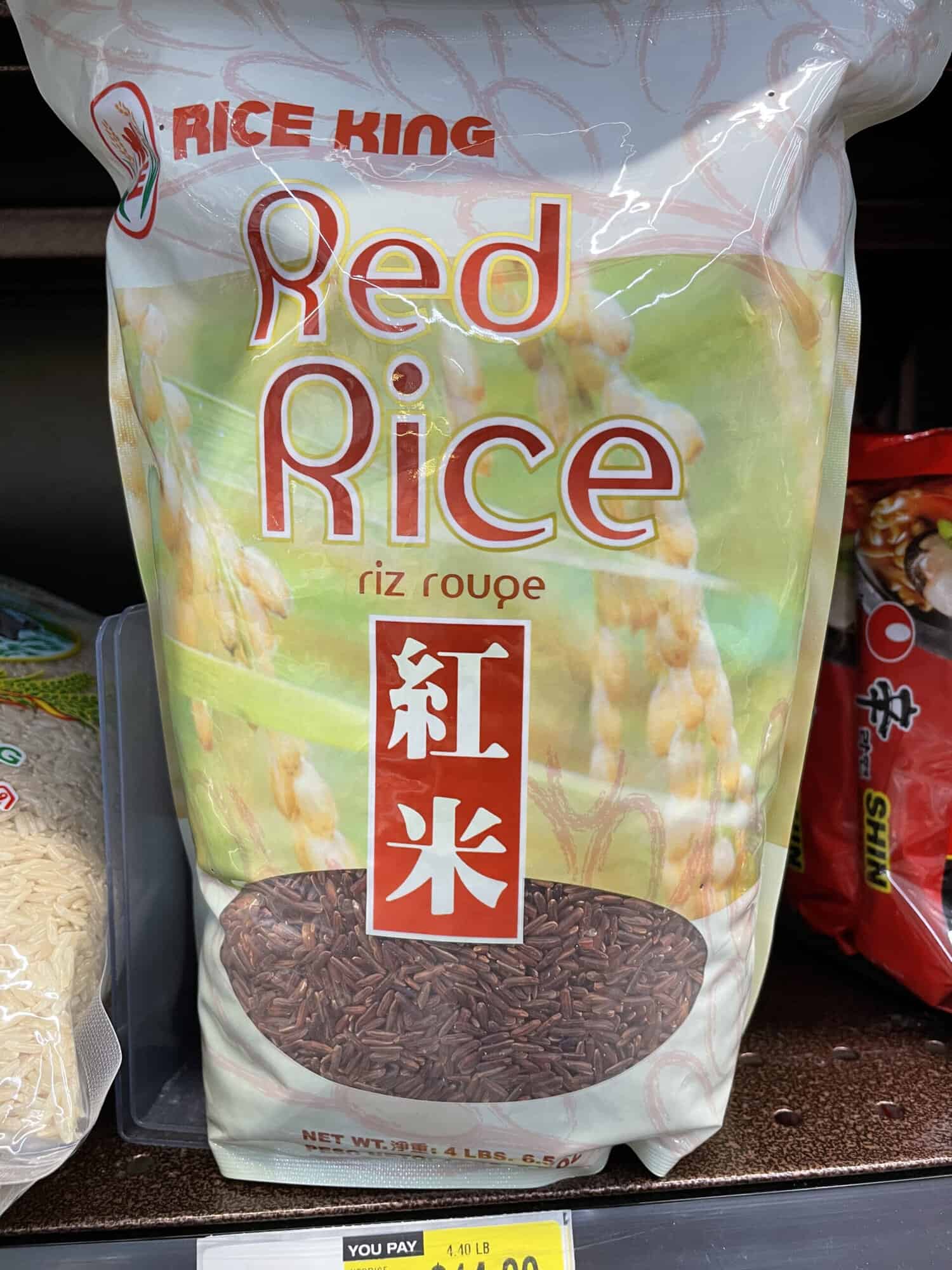 Thai sticky sweet rice
Thai sticky sweet rice, aka glutinous rice. It doesn't actually contain gluten. They are referring to the fact that it's a sticky rice.
If you've ever had sticky rice with mango as a dessert at a Thai restaurant, this is the type of rice that is used to make that dessert!
Oat groats
Oat groats are whole grain oats that have not been cut, like in steel cut oats or rolled, like in old fashioned rolled oats.
They can be cooked up like brown rice and eaten as a grain. Or, they can be cooked down into more of a chewy porridge, although they maintain their shape and texture well. So, they will not cook down as much as rolled oats or steel cut.
If you're looking to lose weight on a plant-based diet, then eating less processed foods, especially whole grains (like these oat groats) vs. refined grains, will keep you full and satisfied longer for less calories. On top of that, they are incredibly healthy for your gut!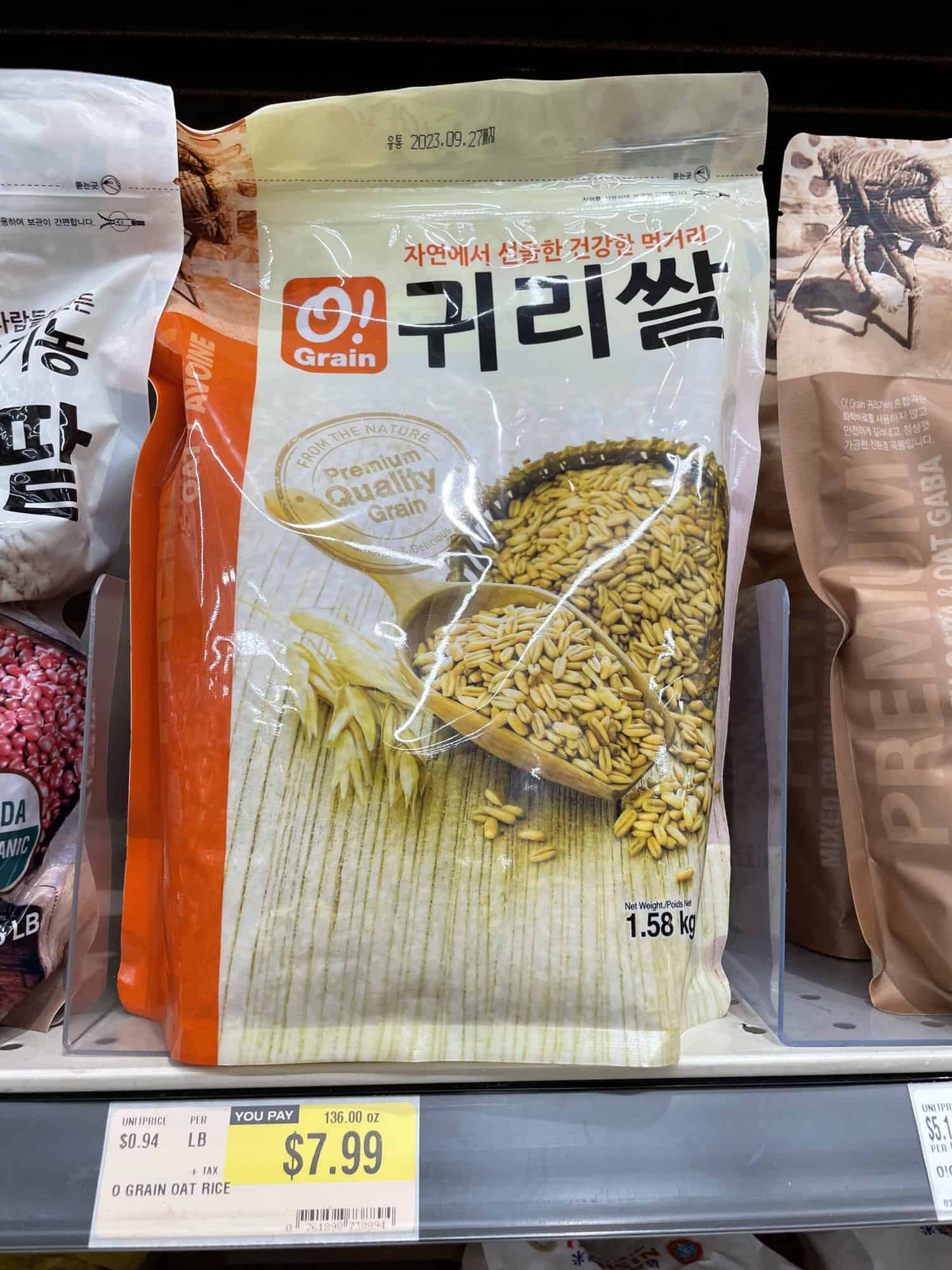 In addition to all of these above, you'll find countless other interesting grains and rices to experiment with. You may very well find a new favorite! There's a huge world out there beyond long grain white rice. It's time to enjoy it.
🥫 Condiments and Sauces
When exploring new sauces (there are tons!) at an Asian market, be sure to read the label to check for ingredients that you choose not to eat.
For example, we try our best to stay away from products with animal products, seafood products, MSG and high fructose corn syrup. So, reading the labels will help you determine if that sauce or condiment has something you'd prefer not to eat in it.
Soy sauce (light soy sauce)
Pearl River Bridge Superior Light soy sauce is the best soy sauce we've had. Highly recommend it!
Light soy sauce is the soy sauce you are most likely familiar with, that you'd find on tables at a Chinese restaurant.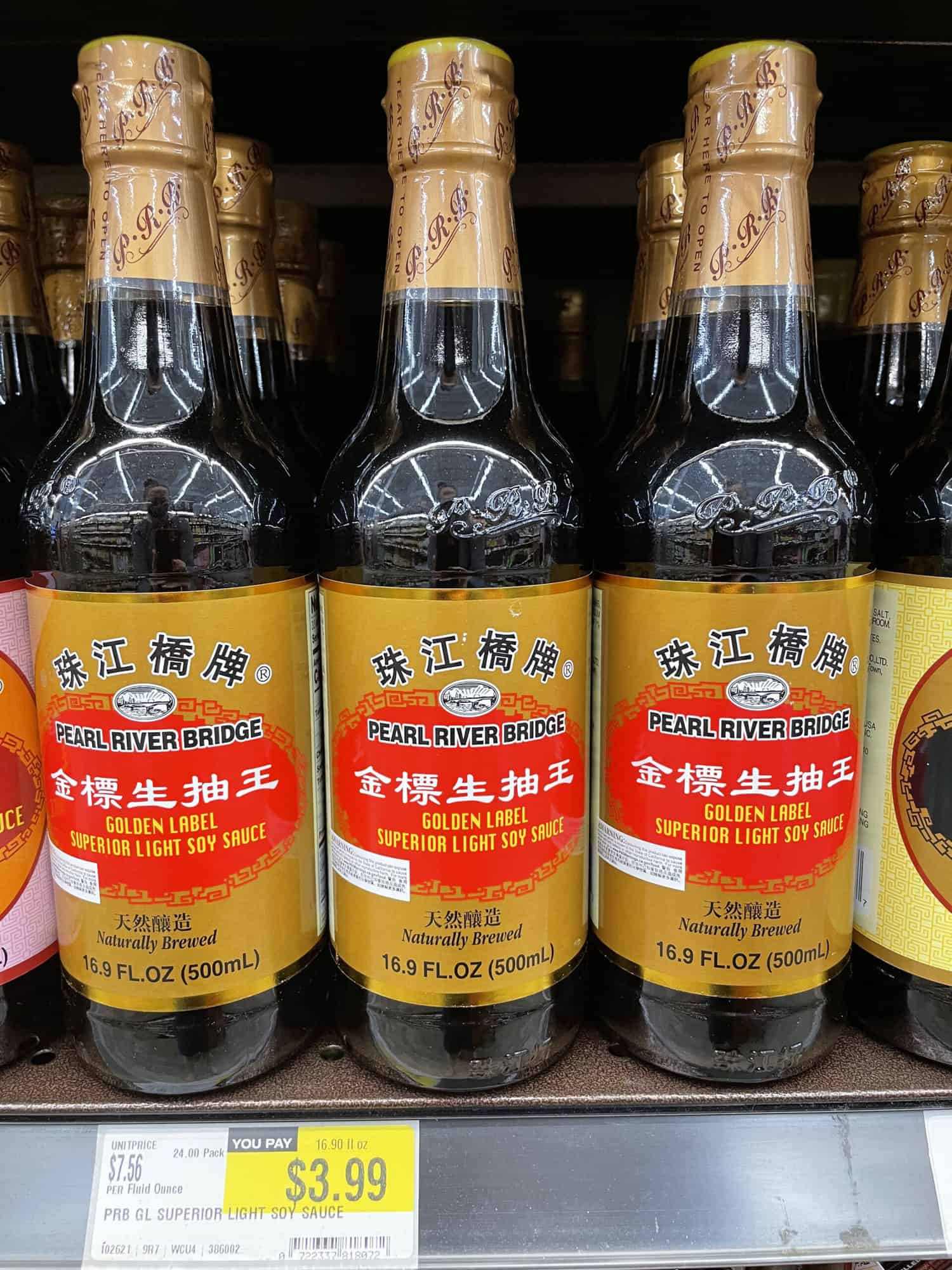 Dark soy sauce
Dark soy sauce is much more intense in flavor and color than light soy sauce and cannot be substituted for each other. They have different uses in cooking.
A little goes a long way with dark soy sauce. I use it to intensify umami flavors and to darken in color sautéed soy curls, mushrooms or a noodle sauce.
The two dark soy sauces I keep on hand are: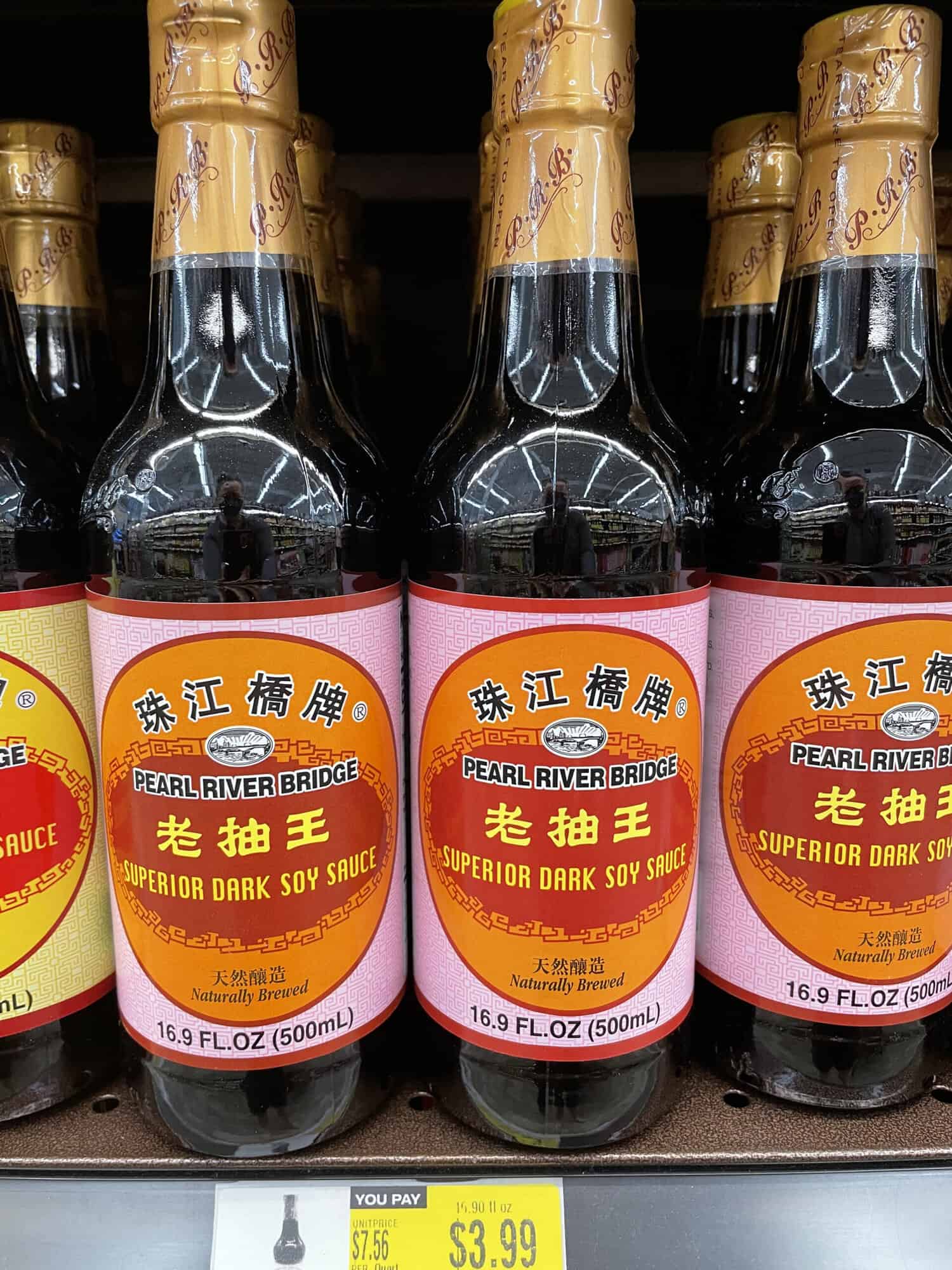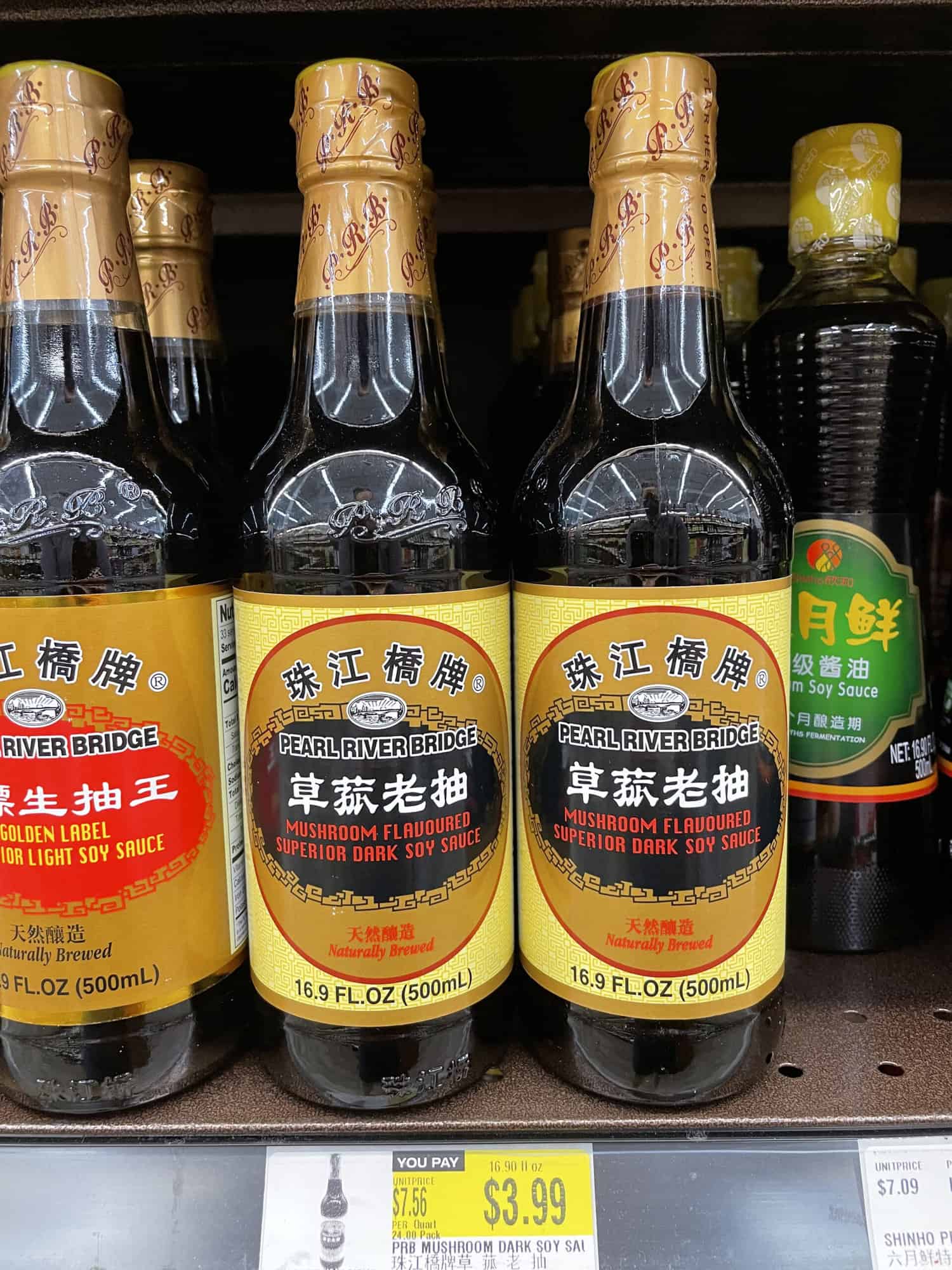 Rice vinegar
Plain, unseasoned rice vinegar has no added sugar or salt. It can be used in salad dressings, for making quick pickled carrots or any other recipe where you'd like a light vinegar. It may say "sugar-free, sodium-free".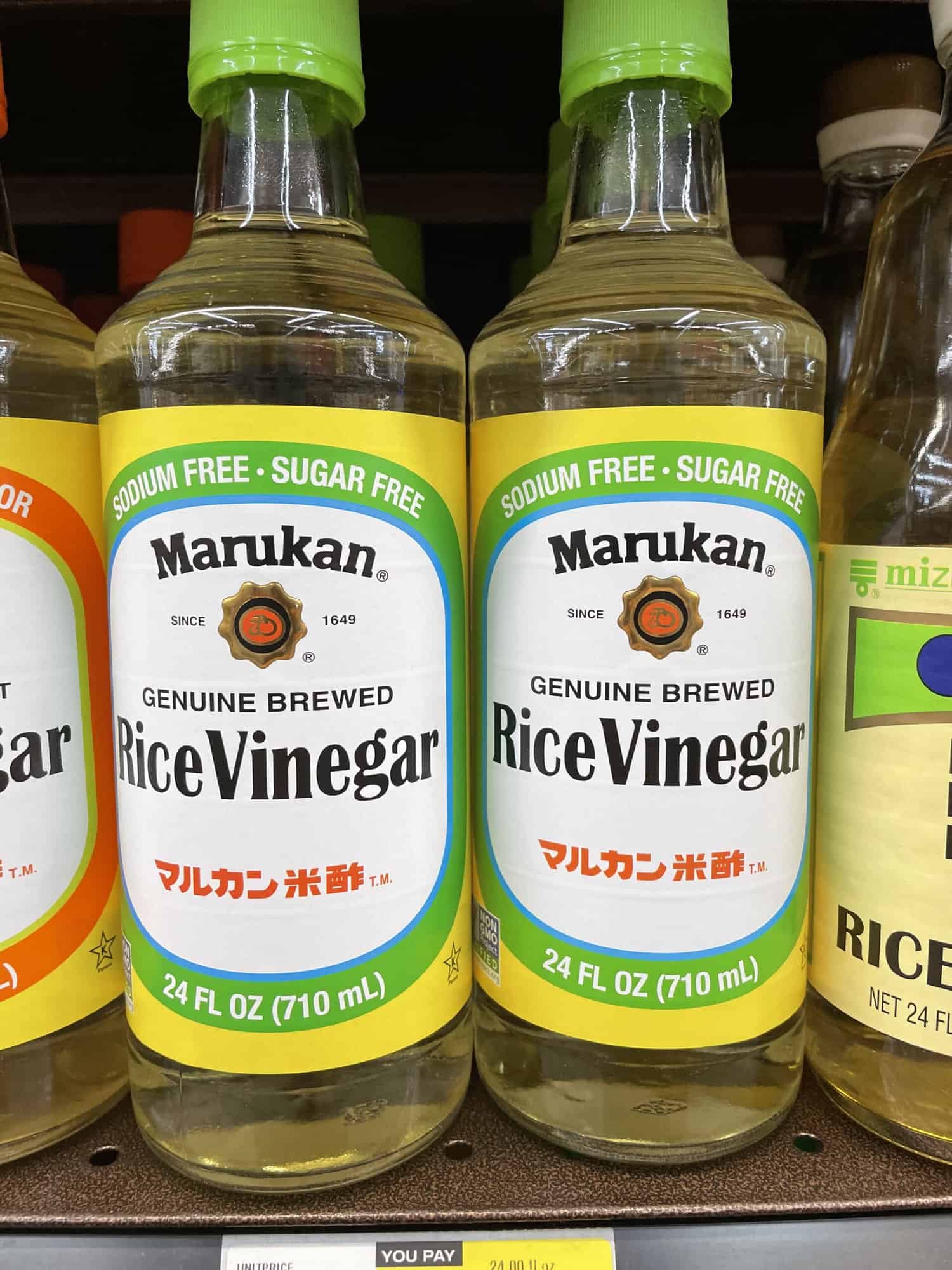 Seasoned rice vinegar has added sugar and salt. It can be used, as is, to flavor cooked sushi rice, so it has that characteristic flavor. Watch the ingredients here and be sure to get a seasoned rice vinegar that uses sugar, not corn syrup.
Seasoned rice vinegar mixed with soy sauce makes a nice, quick dressing for a veggie poke bowl, if you don't have time to make a more in depth dressing like this sweet soy ginger dressing.
I usually buy the Marukan brand for both of these vinegars.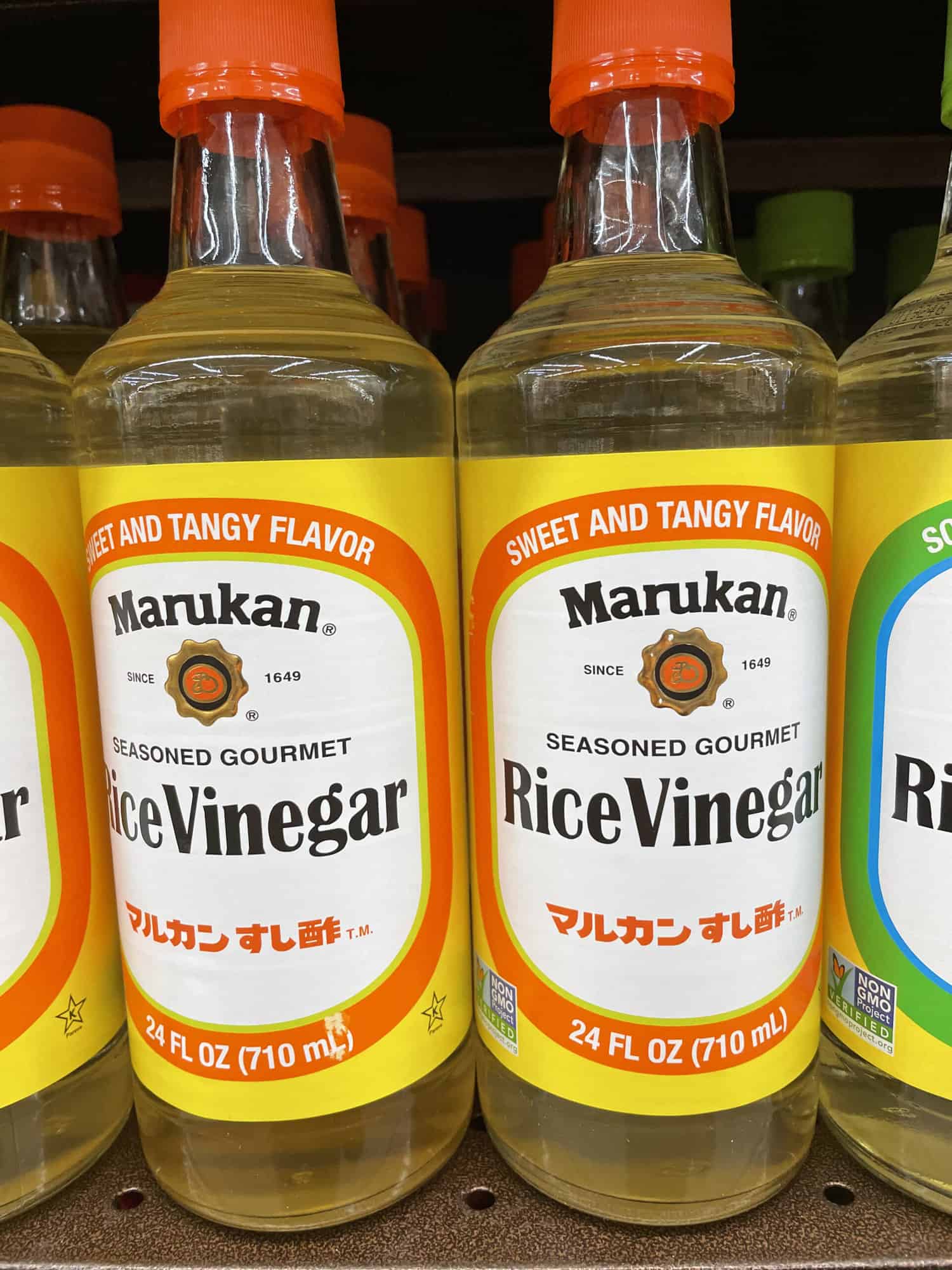 Black vinegar
Chinese black vinegar takes your dumpling dipping sauce to another level. I also recently discovered that our favorite Japanese restaurant, Oishii, uses black vinegar, mirin, and soy sauce to make their yaki udon stir-fried noodle dish. So, I'll be experimenting with that!
Look for Chinkiang Vinegar at the store, it will look black like balsamic.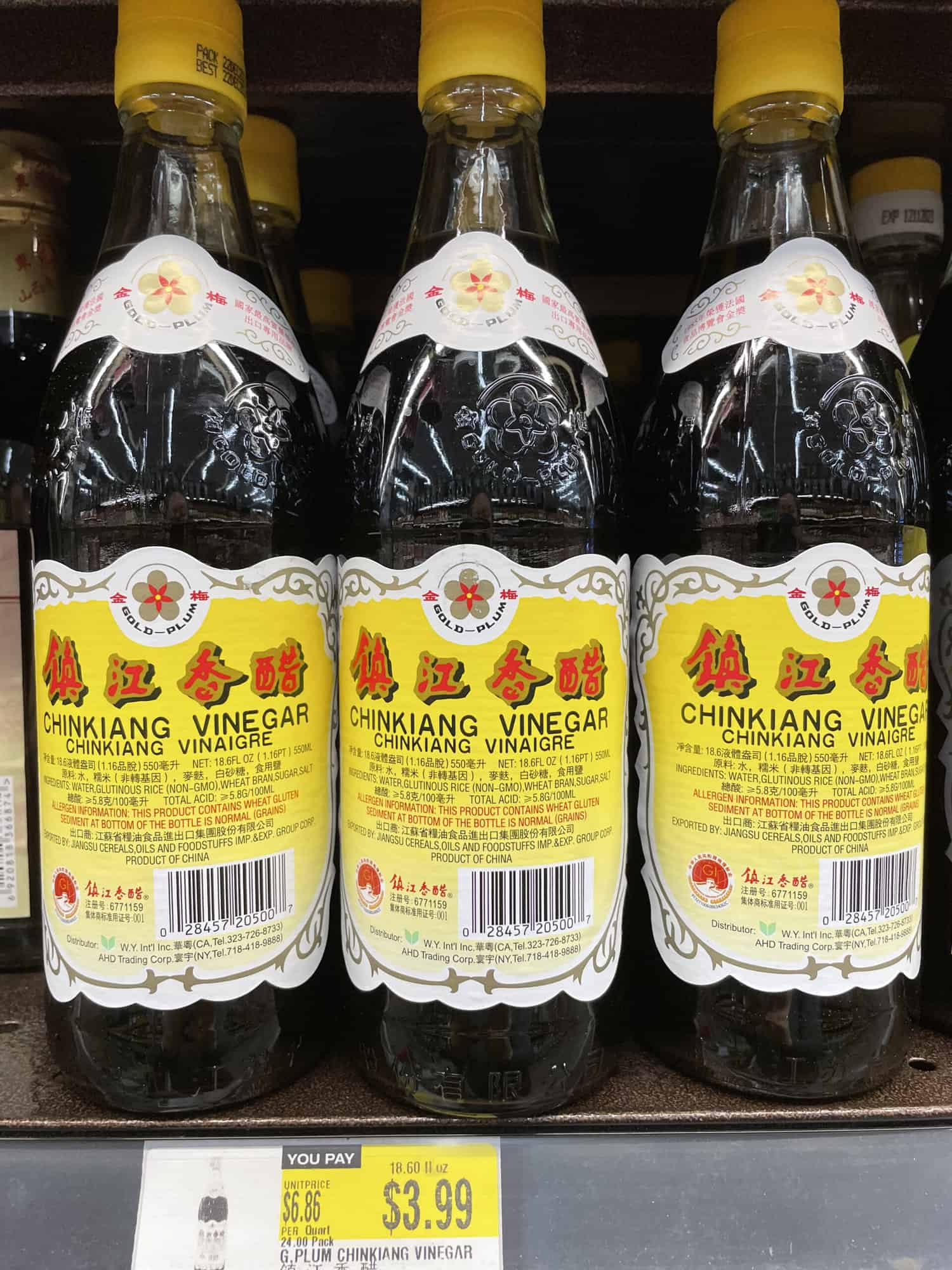 Vegetarian Oyster Sauce
Vegetarian oyster sauce is made with mushrooms, instead of seafood. Watch the ingredient list for items you may not be able to eat.
Vegetarian oyster sauce is so good on boiled Chinese broccoli!
Many Chinese or Asian recipes call for oyster sauce, like fried rice, udon noodle stir fry and others. This vegetarian oyster sauce makes a fantastic substitution for those recipes.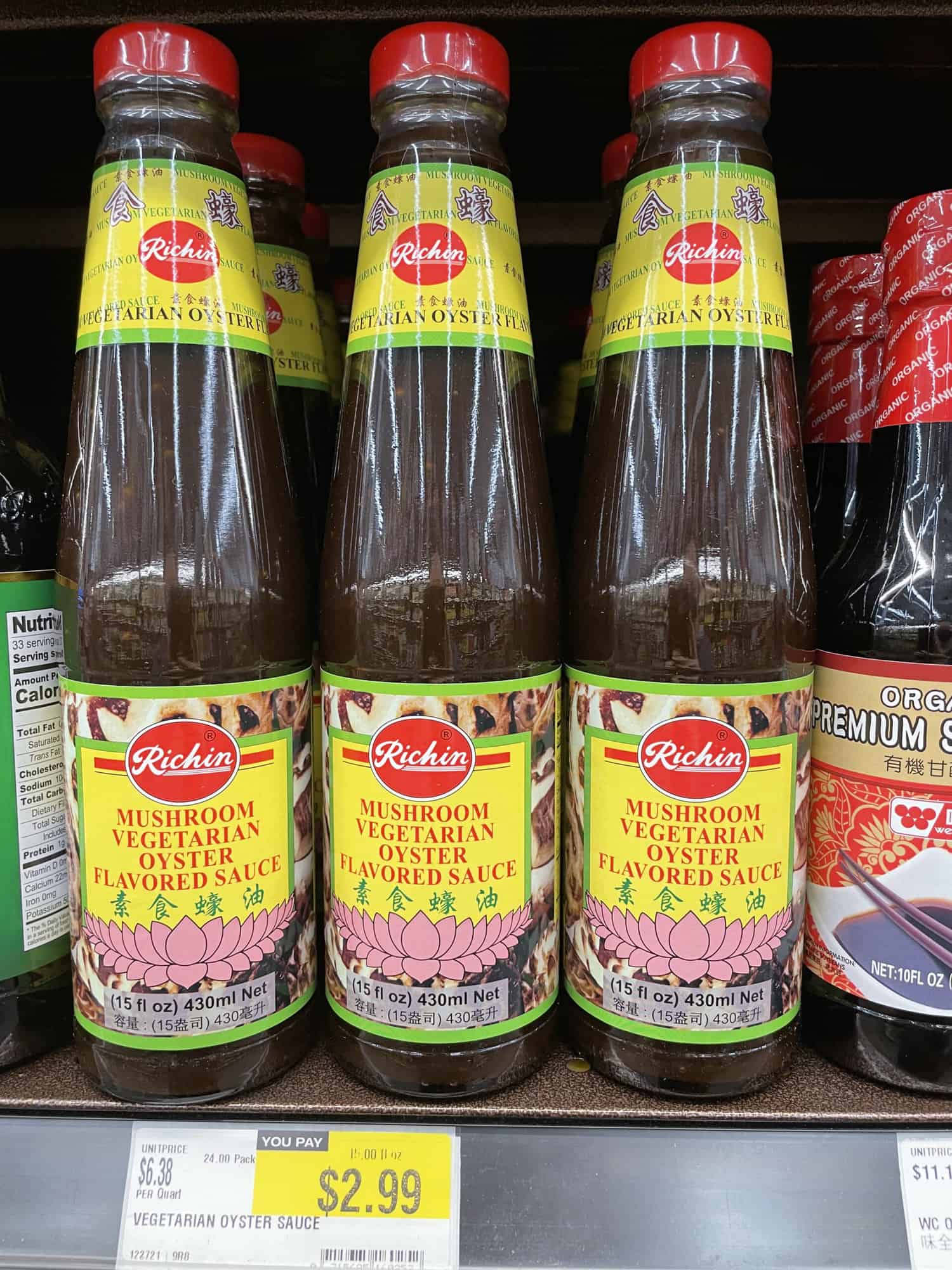 Sweet chili sauce
Sweet chili sauce is a main ingredient in my sweet chili tofu. We also use sweet chili sauce for dipping sauce for spring rolls. My son loves to eat rice with sweet chili sauce. It's a staple in our house, for sure.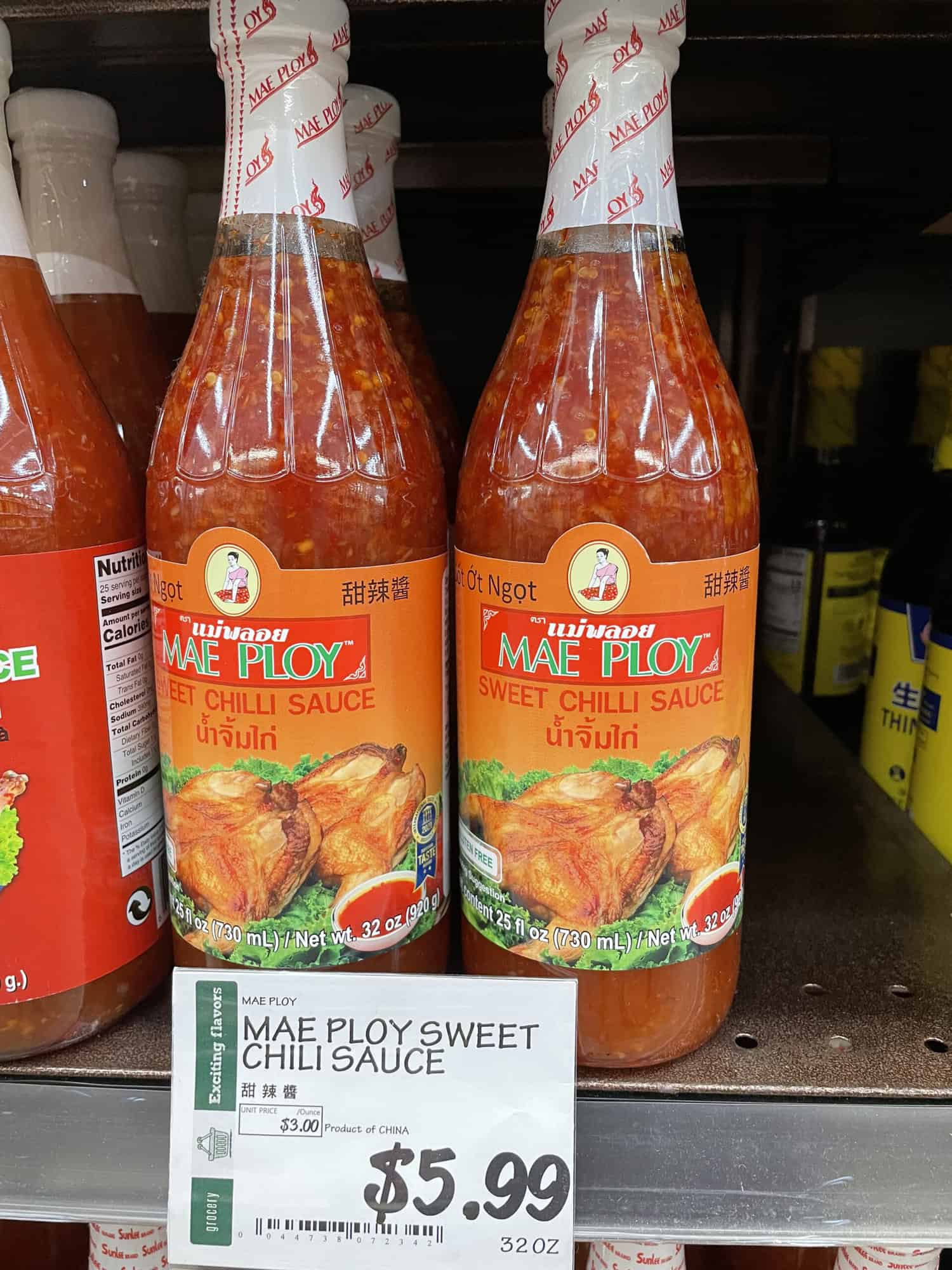 Mirin
Mirin is a Japanese sweet cooking wine. When purchasing mirin, look for a brand that uses sugar, not high fructose corn syrup.
If you don't have mirin for a recipe, you can substitute a sweetener, like cane sugar, honey or maple syrup, but it will lack flavor.
Mirin is key to my sesame noodles recipe.
Sriracha
Sriracha or rooster sauce, by now, is common in many grocery stores. But, you can also find it at your Asian market. You'll find it next to a slew of other hot sauces that you may even like better, so check them all out.
Chili garlic sauce
Chili garlic sauce is used to increase the spiciness and heat of any dish, especially those that are Asian-inspired.
Miso paste
Miso paste is fermented, so excellent for gut health! It is salty, so be sure to taste the recipe first, if possible, if using miso paste. You may not need to add as much sea salt.
Miso adds depth of flavor, umami and salt to any dish you add it to. I use it in my Fauxveeta vegan cheese sauce and vegan tofu feta cheese to amp up the flavor.
Thai curry pastes
Thai curry paste is essential if you enjoy making curries at home. There are many different curry pastes to choose from, but some may contain animal products. So be sure to check the ingredients.
The Maesri brand clearly marks their products with "100% vegan", which is super helpful. They have at least six vegan options: Karee (yellow) curry paste, Panang curry paste, Masaman curry paste, Green curry paste, Red curry paste and Prik Khing curry paste.
Gochujang paste
Spicy Korean gochujang paste is almost always vegan, but double-check ingredients, to be sure. This smooth, spicy paste is made with brown rice, sweetener, spicy Korean chili flakes (gochugaru) and other seasonings.
Gochujang paste can be used to heat up vegetables, noodles, rice dishes, tofu and more.
Shaoxing cooking wine
Shaoxing cooking wine is used in fried rice dishes and other Chinese dishes to deglaze pans or add depth of flavor. If you omit it when trying to make an authentic Chinese dish at home, it will be lacking "something".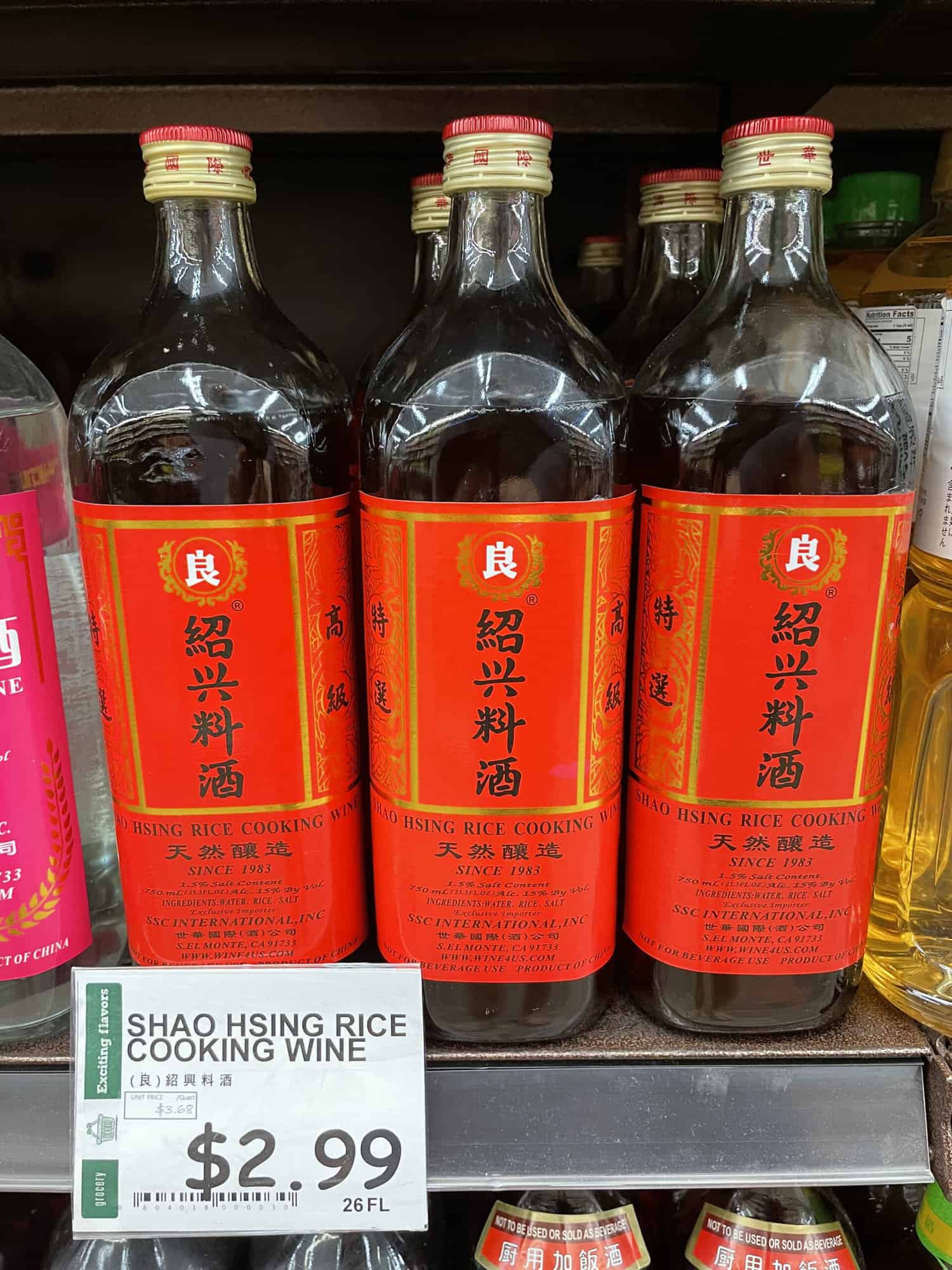 Sesame seeds
Sesame seeds come a few different ways. You can buy plain raw sesame seeds, toasted sesame seeds and black sesame seeds.
Toasted sesame seeds have that lovely sesame flavor to them, like toasted sesame oil. If you are oil-free, then try adding some toasted sesame seeds to a dish that calls for toasted sesame oil.
If you have raw sesame seeds and want to toast them, then just add some to a dry skillet and toast them for a few minutes, until they are fragrant and lightly brown.
Kala Namak
Kala namak aka Indian black salt has a sulphur-like taste and smell. Why would one want to buy such a thing? Well, that characteristic in the salt can make dishes you add it to taste like eggs. So, you'll get an egg-y taste without adding eggs themselves.
This is very useful for tofu scramble, vegan omelettes made of chickpea flour (besan), vegan frittata, vegan pasta carbonara (OMG, so good), etc. You get the idea. Pick some up for your vegan kitchen experiments.
Nanami Togarashi
Japanese 7-spice, nanami togarashi, adds heat and flavor to soups, rice bowls and more.
Furikake
Furikake is a Japanese rice seasoning. There are many different flavors and some have fish flakes or other ingredients added that wouldn't be suitable for a vegan, plant-based diet. Look at the ingredients list for the one that just contains seaweed, sesame seeds, salt and sugar.
Pickled Sushi Ginger
Pickled ginger is great to keep on hand for late night sushi cravings! It is also delicious mixed into a veggie poke bowl.
Vegan fish sauce
Unfortunately, I can't really recommend a good brand for vegan fish sauce, but have seen several options.
Chili oil
On the rare occasion that I make Chinese dumplings, I also make my special dumpling sauce. It's essential for me to enjoy dumplings and it's something I learned early on when our family would frequent Ta Hua in Houston. Sadly, the restaurant is no longer here. But, my love of dumplings remains.
Chili oil, along with soy sauce, loads of fresh ginger, sweet chili sauce (or duck sauce) and a little black vinegar is my dumpling sauce. If there's hot mustard or pickled minced jalapeños on the table, those may be added, too.
Of course, chili oil can be used for other uses to spice things up. A little goes a long way, it's hot!
Toasted sesame oil
Toasted sesame oil is one of those ingredients that packs a huge punch when using just a little bit. Be sure to get toasted sesame oil for that signature flavor and aroma you're expecting.
Why shop at an Asian market?
It's like taking a day trip to another country. Here, you'll find all kinds of new, exciting foods and products that have been imported from around the world.
You can easily spend loads of time just exploring and reading and having fun learning about the food cultures of other countries.
On top of that incredible cultural experience, many of the ingredients are often less expensive than you'll find in your neighborhood grocery store.
And, the variety will most definitely be wider.
💜 More recipes you'll love
If you're wondering what some of the condiments are and how to use them, I cannot recommend the folks at The Woks of Life more. They make Chinese food accessible and easy to understand. And, they have a glossary of terms that explain what different sauces are and what they're used for.